101 Funny Animated Cartoon Tattoo Ideas
Posted on
Cartoons can never be out of our life, they are something we grew up with. We all grew up learning new lessons of goodness every day from our favorite cartoon characters. We love them, adore them and remember them whole our life. This makes them a popular choice for tattoo ideas.
Cartoon tattoos are the best ways to express our love and adoration for these characters and to relive those fascinating and carefree days of childhood.
Though we are aging, we do not want to miss the chance to feel young at heart again and engraving our favorite cartoon character on our body, is the best way to do it and get reminded of, every day.
Not only cartoons are entertaining and fun, but they remind us of the fact that anything is possible and there is no boundary of imagination. Through animation, cartoon characters give us the liberty to create anything we can imagine.
As we get older and adulthood dawn upon us, we tend to forget that purity and innocence, that feeling of amazement and happiness that we used to feel due to tiny matters or events, as a child. Cartoon tattoos are the fabulous reminder that we can still be childlike and chaste at heart even as an adult.
Whether it is a tattoo of an adorable Disney character such as Mickey mouse tattoo designs, Minnie mouse tattoo designs, Donald duck tattoo designs, or our favorite cartoon friends such as Motu Patlu cartoon tattoos, Winnie the Pooh cartoon tattoo designs. Each one of them teaches us and make us remember something pleasant about our childhood.
Cartoon tattoo designs, images and meaning: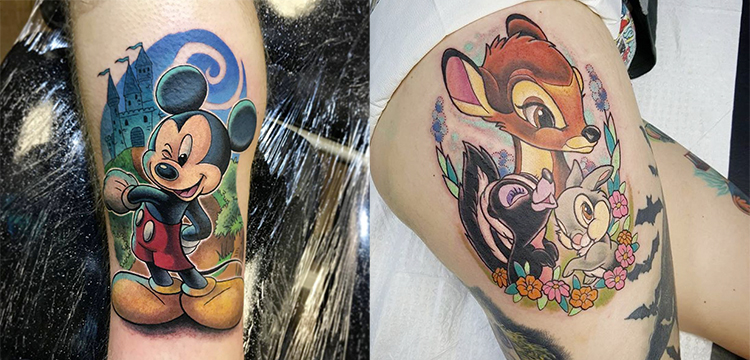 Each cartoon tattoo design signify something such as, Tom & Jerry tattoo design signify "Friendship", Mickey mouse tattoo design signifies "to be a good person", Aladdin tattoo design signify "nothing is impossible", Dale & Chip tattoo design signify "irrespective of size, you can still rock", Richie Rich tattoo design signify to "never be arrogant", Dexter tattoo design signifies that "Science is fun", and scooby doo tattoo design signify "never be afraid of screwing up".
People are always very eager and open towards flaunting these cute cartoon characters on their body, you can ink them in any size you want, at any place over your body, from tip to toe. Moreover, cartoon tattoos are often very colorful, but you can always opt for a black and white version making the pattern appear sharp, charming, and adorable.
If you want to relive your childhood days again and forever, every single day. Get your favorite cartoon character on you, today! Looking for design inspiration? Check out the list of some awesome cartoon tattoos we gathered just for you. Happy reliving childhood!
Please follow and like us: