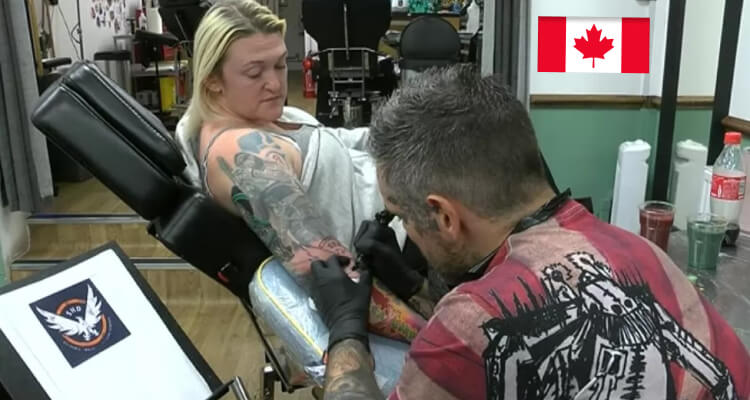 29 Canadian Tattoo Artist You Need To Check Out Right Now
Posted on
Many gifted artists are etching their unique stories onto willing canvases in the vibrant landscape of Canadian Tattoo Artist. From the majestic peaks of British Columbia to the historic streets of Quebec, these 29 talented tattooists showcase their mastery across various styles.
Their ink-infused brushstrokes bring life to intricate designs, capturing emotions and memories on the skin. Each artist weaves their passion, skill, and creativity into unforgettable tattoos, leaving an indelible mark on the hearts of those who choose to embrace their art. Prepare to be enthralled as we present 29 Canadian tattoo artists you must discover.
Here are the best tattoo artists in Canada
1. Steve Moore – Vancouver, BC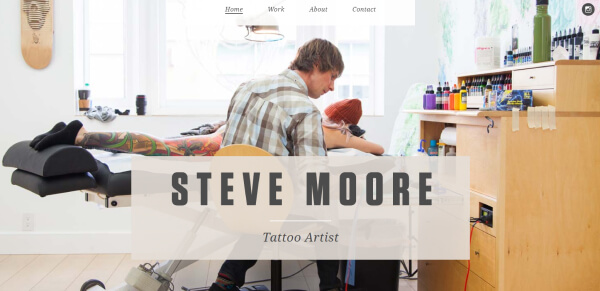 Steve Moore, a visionary tattoo artist from the picturesque city of Vancouver, BC, has carved his niche in the ink world with awe-inspiring large-scale tattoos. With a profound commitment to his craft, Steve's talent knows no bounds as he breathes life into majestic pieces across vast canvases. Each stroke of his tattoo gun weaves an intricate art tapestry, blending realism, mythology, and imagination seamlessly.
Drawing inspiration from nature's marvels and ancient tales, Steve's masterpieces narrate captivating stories that resonate with his clients on a soul-deep level. Through his exceptional artistry, Steve Moore continues to etch indelible marks on the skin and in the hearts of those fortunate enough to experience his remarkable creations. Steve is one of the best tattoo artist in Canada.
2. Liz Venom- Edmonton, AB, Canada.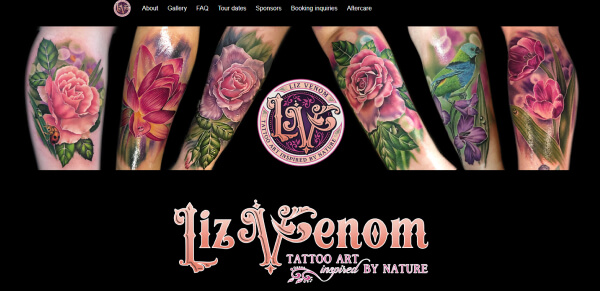 Liz Venom, a remarkable tattoo artist based in the vibrant city of Edmonton, Canada, brings a captivating blend of artistry and empathy to her craft. With a warm smile and a genuine passion for connecting with her clients, Liz creates a safe and welcoming space for them to express their stories through ink. Her specialty is crafting intricate and meaningful tattoos, each stroke infused with personal touches that make the art unique.
From delicate floral designs to powerful symbols of resilience, Liz's work reflects her client's innermost aspirations and memories. Through her talent and compassion, Liz Venom leaves an enduring mark on the skin and the hearts of all who cross paths with her. She is the best tattoo artist in Canada.
3. Jess Chen – Montreal, QC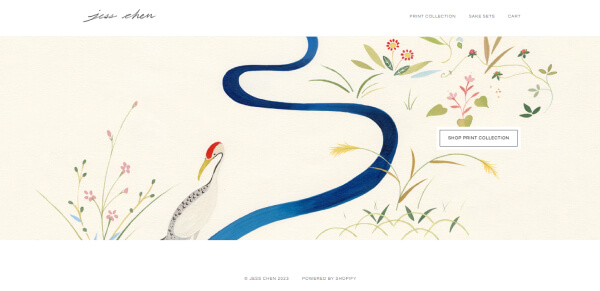 Jess Chen, an extraordinary tattoo artist based in the vibrant city of Montreal, QC, possesses a magnetic charm that draws people to her artistry. With a gentle demeanor and an innate ability to connect with her clients, Jess creates an atmosphere of trust and understanding. She pours her heart into every design, capturing the essence of her client's stories and emotions.
Specializing in blending styles, Jess's tattoos are a fusion of modern aesthetics and timeless symbolism. Whether a delicate watercolor piece or an intricate geometric tattoo pattern, Jess's art reflects her client's journey, etching their experiences onto their skin with skillful precision and heartfelt passion. Jess is one of the most talented tattoo artist in Canada.
4. James Tex-Blind Bay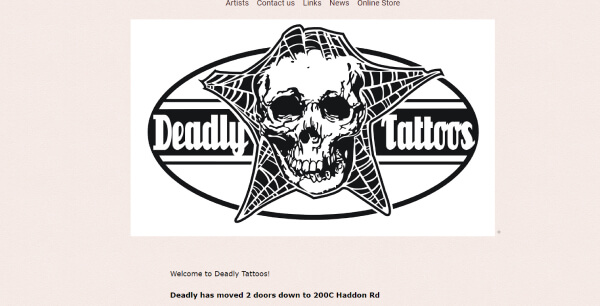 James Tex, a true artist in Irezumi-style tattooing, injects a fresh perspective into this timeless art form. His fusion of Neo-Traditional influences adds a contemporary flair to traditional Japanese designs, resulting in breathtaking masterpieces that mesmerize the eye. As one of Canada's most sought-after Irezumi tattooers, Tex's talent knows no boundaries. With a keen eye for color and impeccable attention to detail, he brings his creations to life, infusing them with vibrant and dynamic energy.
Tex's artistry extends across diverse canvases, from intricate head tattoos to sweeping back pieces and captivating full sleeves tattoo. His imaginative touch ventures into realms of fantasy and mystique, where celestial beings and fantastical motifs find their place among classic Irezumi elements. With each tattoo, James Tex creates an unforgettable experience, etching personalized narratives into the skin that reflect the inner essence of his clients. He is one of the most talented tattoo artist in Canada.
5. Sasha Made- Toronto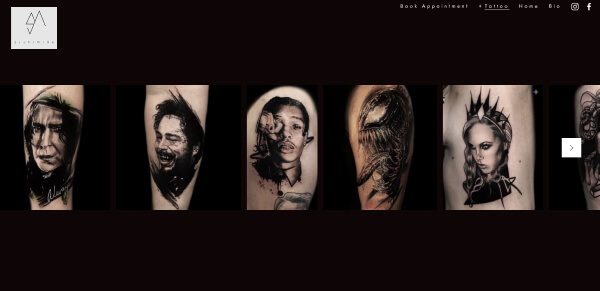 Sasha Made, a devoted dog-lover and House of Doberman Tattoo Studio co-owner is a standout talent among Canada's finest tattoo artists. Her distinct style, born from the fusion of Black and Grey Realism with Trash Polka parts, mesmerizes her. With a sharp eye for detail and a devotion to storytelling, Sasha creates captivating designs that leave a lasting impression.
Her artistry is a perfect harmony of darkness and sensuality, breathing life into pet and wildlife portraits and thought-provoking depictions of bondage and submission. Sasha's ability to portray the allure of women with a touch of mystery and soft ambient color is simply unparalleled. Her unique approach transforms visions into extraordinary abstract realities, making her a name to be cherished in tattoo art. She is one of the best Toronto tattoo artists.
6. Tracy Xu- Toronto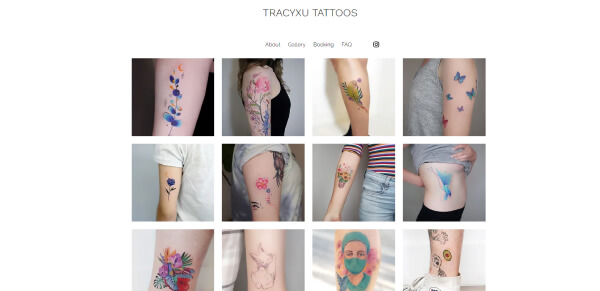 Tracy Xu, an artist with a heart full of child-like innocence, enchants tattoo enthusiasts with her delightful Fineline aesthetic. With a touch of whimsy and grace, Xu weaves delicate and cheerful designs that radiate charm and joy. Her soft and refined style is a testament to her artistry, crafting a world of femininity and romance in every nature-inspired tattoo.
Xu's creations are fresh air for those seeking a more subtle and tender approach to body art. Her work resonates with those seeking beauty in the gentlest strokes, from graceful peony rib pieces to mesmerizing arrays of butterflies. As a top-rated Canadian tattoo artist, Tracy Xu offers a heartwarming choice for those embracing the magic of art with a child-like wonder. She is one best tattoo artists Toronto.
7. Conrad Sandbacka- Toronto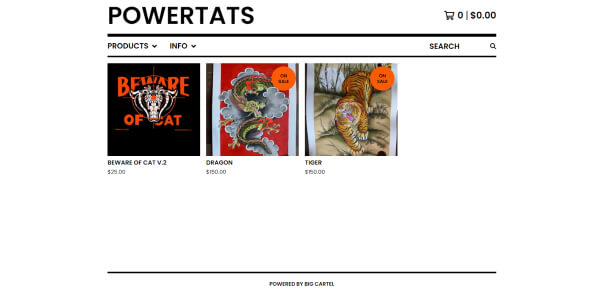 Conrad Sandbacka, a masterful tattoo artist based in Toronto, captures the essence of traditional Japanese and American motifs with a flair that commands attention. His designs, clean and saturated, evoke a sense of awe and admiration. For those drawn to the allure of fierce panthers and Hannya masks dripping with evil, Sandbacka's artistry is a captivating sight to behold.
He fearlessly takes on diverse styles with a versatile approach, crafting bold creations that leave a lasting impact. Whether it's a radiant Old-school style portrait or a commanding Japanese tiger tattoo, Sandbacka's skill and passion shine through, elevating every piece to a level that exceeds expectations. For lovers of timeless and potent tattoo art, Conrad Sandbacka is a name that commands respect and admiration. He is one of the best Toronto tattoo artists.
8. Rachel (AKA Stickswell)- Toronto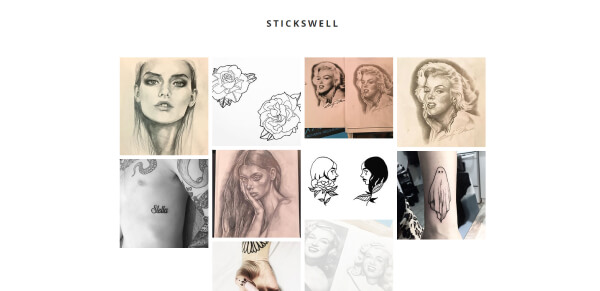 Rachel, known as Stickswell on Instagram, is a highly talented tattoo artist who calls Toronto her canvas. With an artistic prowess that knows no bounds, she specializes in crafting exquisite tattoos inspired by mandalas, flowers, enchanting women, and breathtaking nature scenes. Her distinctive all-black creations range from Minimalist to Ornamental, often adorned with meticulous Dotwork details that add depth and intricacy to her designs.
Whether you seek a custom botanical piece or choose from her captivating flash collection, Rachel offers endless possibilities. Versatility is her forte, as evidenced by her mastery of Black and Grey Realism, as seen in her trendy third-eye designs. Rachel's artistry leaves a lasting impression, making her a true gem in the vibrant landscape of tattoo artists.
9. Lee (AKA: Rat666Tat)- Totonto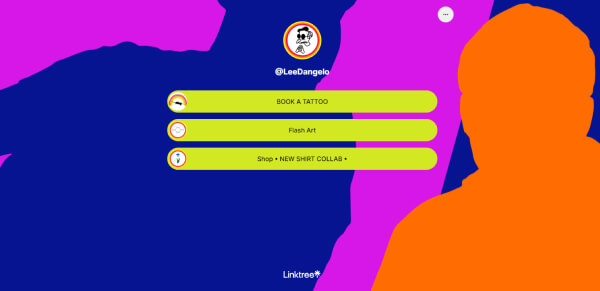 Lee, also known as Rat666tat on Instagram, is a beacon of artistic brilliance in Toronto's tattoo scene, captivating hearts with thought-provoking and socially conscious creations. Specializing in Illustrative tattoos, Lee's work goes beyond aesthetics, carrying profound messages that empower and bring visibility to the LGBTQ+ community. With a deep reverence for nature, Lee's motifs reflect the beauty and strength of the commonly marginalized aspects of our world, such as chain link fences and depictions of queer love.
Their tattoo studio offers a safe and inclusive space for queer and trans individuals to embrace their identities through art. For those seeking meaningful tattoos that make a statement and resonate soulfully, booking an appointment with Lee is an opportunity to wear art that embodies empowerment and advocacy. Lee is one of the best Toronto tattoo artists.
10. Ed Perdomo- Manitoba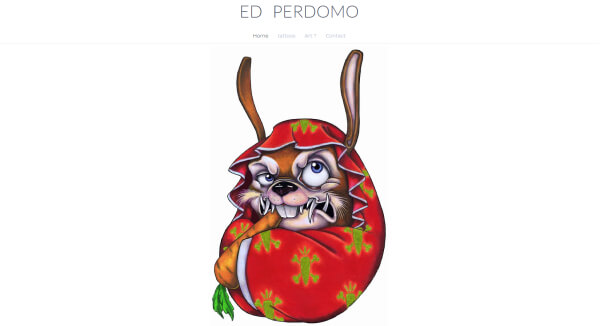 Ed Perdomo, a masterful tattoo artist, skillfully weaves the worlds of strong Irezumi motifs and playful New School aesthetics into his remarkable creations. His innovative tattoos burst with vibrant expression, conveying powerful emotions and palpable energy. Perdomo's signature style is a constant thread that runs through all his designs, whether a lively and colorful dachshund puppy sleeve or a strikingly distorted all-black Hannya mask tattoo.
As one of Canada's top-rated Irezumi tattoo artists, Ed Perdomo's artistry beckons those searching for bold and captivating body art. Each piece he crafts is a testament to his talent and imagination, leaving an indelible mark on the skin and in the hearts of those who seek his exceptional work.
11. Tyler Halle- Toronto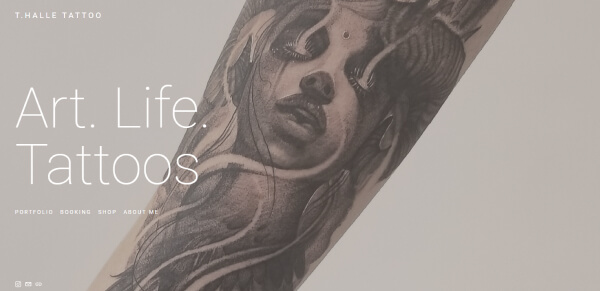 Tyler Halle, a highly acclaimed tattoo artist based in Toronto, brings a diverse and multi-disciplined artistic background to his craft. With over five years of experience in the film industry, Halle's creative journey led him to pursue his true passion: tattooing. He has sharpened his mastery from Los Angeles to Toronto and proved himself as a renowned figure in the tattoo community.
Halle's artistic range is impressive, offering a varied aesthetic that includes smooth and breathtaking Black and Grey Realism pieces, vibrant Illustrative tattoos, and captivating large-scale Blackwork designs. His precision and mastery of clean lines and shading elevate his work to exceptional beauty and detail. With every tattoo he creates, Tyler Halle leaves a lasting impression of artistry and excellence, making him a top-rated tattooer sought after by ink enthusiasts near and far. Halle is one of the best tattoo artists Toronto.
12. David Glantz – Toronto, ON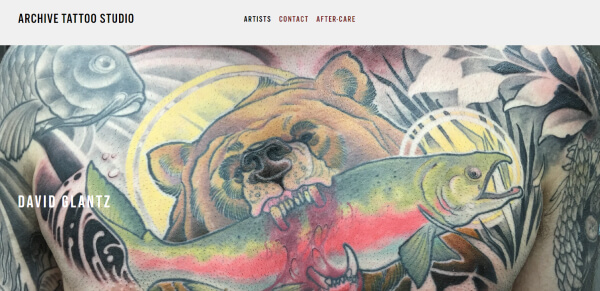 David Glantz, a gifted tattoo artist from Toronto, ON, is a true ink maestro. With a passion for his craft evident in every stroke, David's artistry captures the essence of human emotion and individuality. His work transcends conventional boundaries, blending many styles to create personalized masterpieces. From intricate geometric patterns to awe-inspiring realism, David's versatility knows no limits. He weaves a unique story with each tattoo, giving life to his client's visions.
Beyond his artistic prowess, his genuine connection with people sets him apart. Creating a welcoming and comforting atmosphere, David ensures that each client's journey is as memorable as the art he adorns them. A session with David Glantz is an experience that touches the soul, leaving an indelible mark on both the skin and the heart. He is one of the best tattoo artists in Ontario.
13. Kurt Wiscombe-Manitoba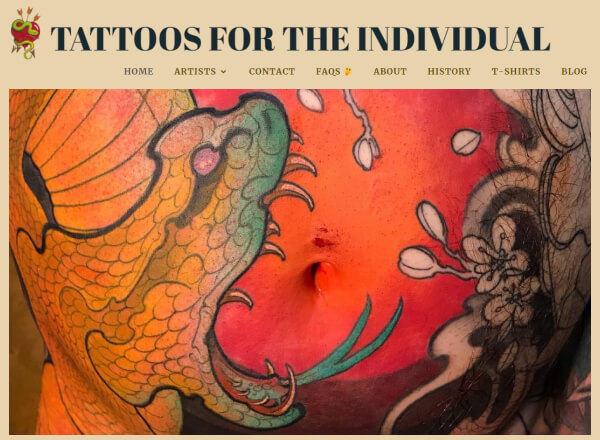 Kurt Wiscombe, a true tattoo virtuoso from Winnipeg, Manitoba, is an artist whose work transcends boundaries. With an illustrious career spanning decades, Kurt has left an indelible mark on tattoo artistry. His unique style is a captivating blend of various influences, fusing dark and haunting imagery with elements of surrealism. Each tattoo crafted by Kurt exudes raw and visceral energy, showcasing his unmatched talent for capturing emotions on the skin.
As a revered figure in the tattoo community, his mastery has earned him respect and admiration from peers and clients. Beyond his skill, Kurt's warm and approachable demeanor creates an environment of trust and connection, making every session an unforgettable journey of self-expression. A tattoo from Kurt Wiscombe is more than just body art; it's an extraordinary testament to the power of art in telling personal stories and leaving an enduring impact.
14. Jessica Smith-St. Johns, NL
Jessica Smith, a talented tattoo artist based in the enchanting city of St. Johns, NL, has carved her niche in body art. With a desire to create meaningful designs, Jessica's artistry celebrates individuality. Her work speaks volumes about her creativity and dedication, offering clients an array of unique and personalized tattoos that resonate with their souls.
Jessica's attention to detail and skillful technique shine through, whether a delicate floral piece, a fierce animal portrait, or a thought-provoking symbol. Beyond her talent with ink, her compassionate and understanding nature makes every tattoo session an intimate experience. Jessica Smith's artistry is not just skin-deep; it leaves a lasting imprint on the heart, empowering clients to wear their stories with pride and beauty.
15. Mike Kearney-Gander, NL
Mike Kearney, an exceptional tattoo artist nestled in the charming town of Gander, NL, is a true master of his craft. With a deep passion for art and a commitment to perfection, Mike's work reflects a dedication to creating captivating and intricate tattoos. Each design he conjures is a testament to his artistic flair and ability to bring his clients' visions to life.
Mike's talent knows no bounds, whether it's a striking portrait, mesmerizing landscape, or a whimsical illustrative piece. Beyond his skills with the tattoo machine, his warm and welcoming personality makes every client feel at ease in his studio. A session with Mike Kearney is more than just getting inked; it's an artistic journey filled with laughter, trust, and a shared passion for self-expression.
16. Taryn Roach-Halifax, NS

Taryn Roach, a gifted tattoo artist from the picturesque city of Halifax, NS, possesses an undeniable artistic prowess that leaves a lasting impression on every canvas she touches. Her creative journey began with a love for illustration and fine arts, which naturally evolved into a passion for tattooing. Taryn's tattoos are a captivating fusion of her artistic background and deep appreciation for storytelling. Each design reflects her clients' narratives, carefully crafted and meticulously designed.
Whether it's a whimsical watercolor piece or an elegant floral arrangement, Taryn's work exudes a sense of authenticity and emotional connection. Beyond her talents as a tattoo artist, her warm and compassionate nature creates a safe and welcoming space for her clients. A tattoo experience with Taryn Roach goes beyond the ink; it becomes a profound artistic journey where the human touch intertwines with creativity to create something truly extraordinary.
17. Heather Drew-Vancouver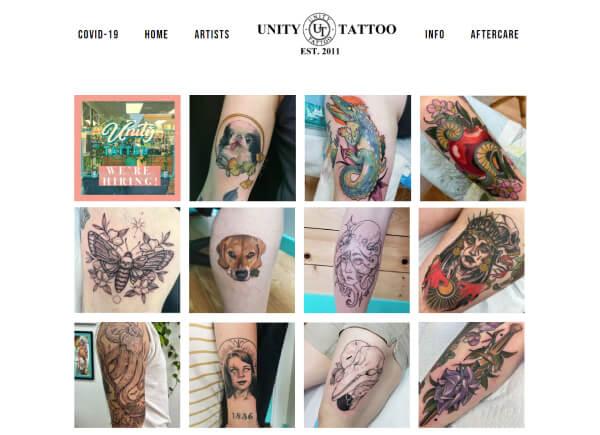 Heather Drew, a genuinely exceptional tattoo artist based in Vancouver, captivates art enthusiasts with her awe-inspiring talent. With a passion for pushing the boundaries of creativity, Heather's work is a mesmerizing fusion of surrealist mash-ups, flawless portrait artistry, and Neo-Traditional wildlife scenes. Working from Unity Tattoo in Vancouver, she has earned a reputation for her expressive and intricately detailed pet portrait tattoos and stunning Photo Realism pieces.
Heather's versatility shines through her art, allowing her to tackle various styles, from Color Realism Amy Winehouse tattoos to Black and Grey Realism style robots. Her ability to authentically tattoo anything that sparks curiosity makes her an artist cherished by those seeking personalized and extraordinary ink. Heather Drew's masterful touch in creating meaningful and mesmerizing tattoos brings visions to life, etching unforgettable memories onto the skin and into the hearts of her clients.
18. Nick Wolf-Montreal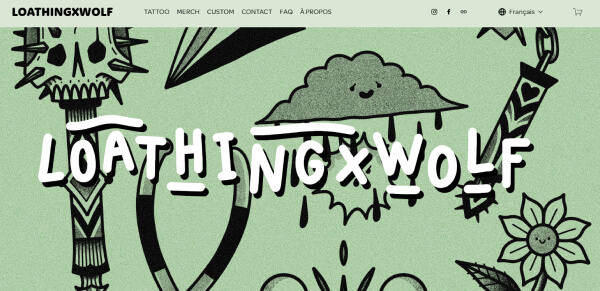 Nick Wolf's artistry revolves around mastery of skulls, creating striking and captivating tattoos. As a tattoo artist with a penchant for macabre and dark aesthetics, he brings these intricate skeletal designs to life with exceptional skill and creativity.
Each skull tattoo he crafts uniquely expresses his talent, infusing them with a sense of depth and character that sets them apart. Nick's artistry is a testament to his dedication to perfecting this distinctive style, leaving a lasting impression on those who seek his expertise in bringing the allure of skulls to their skin.
19. Alfonso Bustamante-Montreal
In the vibrant tattoo scene of Montreal, Alfonso Bustamante has swiftly emerged as a rising star, leaving a trail of admirers in his wake. Despite tattooing for just two years, Bustamante has already garnered attention for his exceptional versatility and clean technique. With an insatiable curiosity and an eagerness to explore diverse aesthetics, he has become a go-to artist for those seeking a medley of tattoo styles.
Whether it's delicate Dotwork style flowers or bold American Traditional portrait tattoos, Alfonso's artistry is a testament to his skill and dedication. Each design he creates is infused with authenticity and captivates with its stunning execution. For those who crave a blend of distinctive disciplines in their tattoos, Alfonso Bustamante is an artist who delivers artistry at its finest.
20. Mackenzie Evanjeline-Vancouver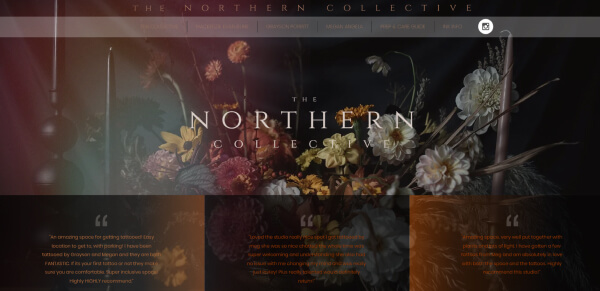 In the heart of Vancouver's tattoo community, Mackenzie Evangeline is a true master of her craft. With a unique flair for Fineline floral tattoos and captivating Blackwork foliage, she has garnered a reputation as one of Canada's top-rated tattoo artists. Her artistic prowess lies in her ability to seamlessly blend the delicate beauty of florals with a touch of muted nostalgia, creating designs that harmoniously complement the wearer's body.
Whether it's a mesmerizing Fineline portrait of a lion or a striking all-black squid tattoo, Mackenzie Evanjeline's skill and versatility shine through in every piece. Her talent goes beyond technique; her innate ability to infuse emotion and meaning into her work sets her apart. Mackenzie Evangeline is the artist to trust for those who seek tattoos that evoke a sense of subtle elegance and profound artistry.
21. Antony Flemming-Calgary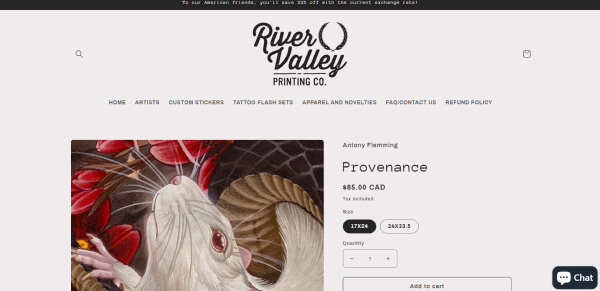 Antony Flemming's artistry has established him as one of Canada's finest tattoo artists. With a flair for Neo-Traditional style, his animal portraits, ranging from dachshunds to hippos, are breathtaking. A true master of foliage, flora, and fauna, Flemming weaves stunning nature tattoos with elements of Ornamental design and esoteric symbolism.
His work is a harmonious blend of skill and creativity, evident in every clean and meticulously crafted piece. Whether you desire a small hummingbird tattoo or a grand goddess backpiece, Antony Flemming's mastery of Neo-Traditional tattooing is bound to leave a lasting impression. For those seeking a tattoo experience that marries artistry and expertise, Flemming is undoubtedly the artist to entrust with your vision.
22. Vero Imbo-Montreal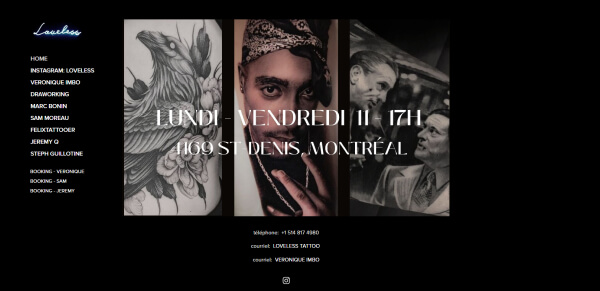 In the vibrant city of Montreal, Vero Imbo stands tall as an exceptional Realism style tattoo artist, unrivaled in her skill and 3-D accuracy. Renowned as one of Canada's best, she leaves a lasting impression with her jaw-dropping creations. From vivid and spine-chilling colorful clown sleeves to hauntingly captivating Black and Grey film stills, Imbo's artistry knows no bounds. Her tattoos exude a high-impact feel, each possessing a distinct personality.
As a result of her expert knowledge of anatomy and movement, Imbo's tattoos transcend mere ink; they become pieces of fine art gracing the skin. For those seeking extraordinary realism tattoos that push the boundaries of artistry, Vero Imbo is an artist who delivers awe-inspiring masterpieces that leave an indelible mark.
23. Amy Bliska-Edmonton, AB
Amy Bliska's exceptional talent as a tattoo artist has earned her a well-deserved spot on the list of top artists. Based at Lucky Strike Tattoo in Edmonton, AB, her work is renowned for its stunning realism. Bliska's ability to bring faces to life, recreate animals, and capture breathtaking scenery is a testament to her skill and dedication.
Each tattoo she creates is a masterful piece of art, carefully crafted to capture the essence of her subjects. With an eye for detail and a keen understanding of form, Amy Bliska's work captures the imagination and leaves a lasting impact. For those seeking tattoos that blend technical excellence with emotive depth, Amy Bliska's artistry is an exquisite choice.
24. Ryan Buttar-Edmonton, AB
Ryan Buttar, a talented artist at Easy Tiger Tattoos in Edmonton, AB, is a true master of his craft, known for his upscale and larger-than-life tattoos. With a meticulous eye for detail and a flair for creating breathtaking art, Ryan's work stands out as a testament to his dedication and skill. Each tattoo he makes exudes a sense of grandeur, meticulously crafted with precision and passion.
Whether an intricate portrait or a majestic nature scene, Ryan Buttar's artistry brings subjects to life with remarkable depth and realism. His tattoos are not just ink on skin; they are carefully curated masterpieces that leave a profound impression on both the beholder and the wearer. Ryan Buttar's work is an unrivaled choice for those seeking exceptional tattoos that blend artistry and grandiosity.
25. Ben Kelsch-Regina, SK
Based in Regina, SK, Ben Kelsch is an artist whose work exudes a unique and original vibrance that sets him apart. As a co-founder of Lucky Panther Tattoo, Kelsch's artistic skill has garnered attention and admiration from far and wide. His use of color is nothing short of captivating, breathing life and energy into every tattoo he creates.
The overwhelming vibrancy of his artistry is a testament to his commitment to his craft. For those seeking something exceptional and distinct in their tattoos, Ben Kelsch's work is a compelling reason to travel across the country. Kelsch leaves a lasting impression with every piece he designs, making his artistic skill a journey worth embarking upon.
26. Rodrigo Mondaca-Winnipeg, MB
Rodrigo Mondaca, an esteemed tattoo artist affiliated with the Collectors Club in Winnipeg, MB, is a true master of his craft, with exceptional attention to detail that sets him apart. His specialty is creating upscale tattoos that testify to his skill and precision. Regardless of the size of the piece, Mondaca's artistry is marked by meticulous attention to detail, ensuring that every stroke is flawlessly executed.
His larger pieces are no exception, as he infuses them with the same care and artistry, resulting in breathtaking masterpieces. For those seeking tattoos that exude sophistication and unparalleled artistry, Rodrigo Mondaca's work is an impressive choice. His dedication to perfection and focus on detail make him an artist revered by ink enthusiasts seeking top-tier craftsmanship. He is the best tattoo artist in Canada.
27. Tammy Kim-Toronto, ON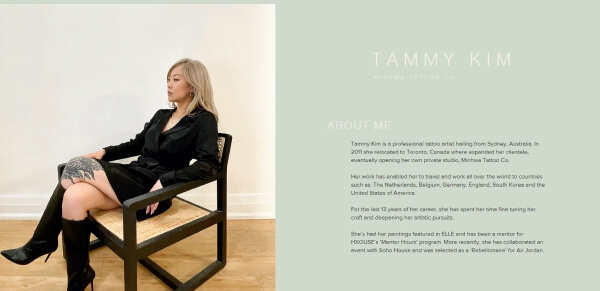 Tammy Kim, a renowned tattoo artist based in Toronto, ON, has earned a well-deserved reputation as a favorite among the city's tattoo enthusiasts. With her immense popularity among the Toronto tattoo crowd, Kim has become a standout figure in the local tattoo scene. Working her magic at The Okey Doke Tattoo Shop on Dundas Street West, Kim's artistry shines through in every piece she creates.
Her mastery of sketching ensures that each tattoo is a perfect and personalized work of art, transforming her clients' visions into stunning permanent skin stickers. Tammy Kim's skill, combined with her warm and approachable demeanor, creates an exceptional tattoo experience that leaves clients satisfied and eager to showcase her art on their skin.
For those seeking a tattoo artist who truly understands the art of bringing visions to life, Tammy Kim is a name that stands out in the Toronto tattoo community. She is one of the best tattoo artists in Ontario.
28. Charline Bataille-Montreal, QC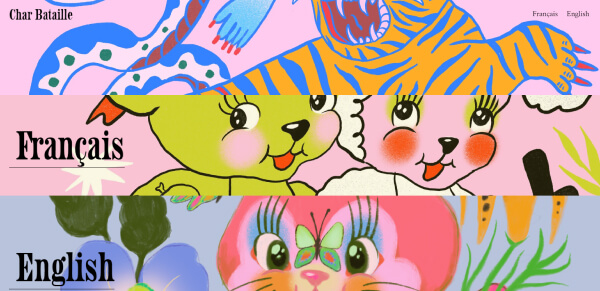 Charline Bataille, a talented tattoo artist based in Montreal, QC, brings a delightful and quirky charm to the city's tattoo scene. Her artistry is a vibrant and original addition to the tapestry of Montreal's tattoos. With a whimsical touch, Charline's designs uniquely awaken the inner curious child in her clients. Each tattoo she creates is a burst of creativity, reflecting her playful spirit and artistic ingenuity.
From adorable characters to imaginative motifs, Bataille's tattoos tell stories that captivate the imagination. Her work is a testament to the power of art in evoking joy and wonder, leaving a lasting impression that brings smiles to those who adorn her art on their skin. Charline Bataille is a captivating choice in Montreal's vibrant tattoo community for those seeking tattoos that radiate individuality and charm.
29. Shawn Milton-Moncton, NB
Shawn Milton, a talented tattoo and mixed media artist in Moncton, NB, has a unique flair for creating tattoos embodying art's essence. Each of his tattoos is a mesmerizing masterpiece, reminiscent of a captivating piece of art that demands contemplation and admiration. Shawn's skillful use of mixed media elements in his tattoos adds an extra layer of depth and intrigue, leaving viewers intrigued and satisfied by the complexity of the images.
His ability to evoke such contemplation and fascination through his art is a testament to the power of creativity and expression. For those seeking tattoos that blur the lines between body art and fine art, Shawn Milton's work is an exquisite choice that leaves an enduring impression on both the eye and the soul. He is the best tattoo artist in Canada.
Conclusion
As the tattoo industry in Canada continues to flourish, many talented artists emerge, each adding their distinct touch to the vibrant tapestry of body art. From the east coast to the west, from Neo-Traditional to Realism, these 29 tattoo artist in Canada represent a diverse and remarkable group, capturing hearts with their exceptional skills and unique styles.
Whether it's the intricate details of Tammy Kim's work or the thought-provoking designs of Lee, each artist brings something unique to the table. As ink enthusiasts seek out their dream tattoos, these artists stand ready to leave a lasting impression, adorning the world with indelible artistry one masterpiece at a time.
Please follow and like us: