280+ Best Chest Tattoo: Cool Ideas + Designs
Posted on
Chest tattoo is one of the most popular tattoo designs for men, everyone just loves chest tattoos, with a well-grown round chest, a twist of the tattoo is really transcendent stuff.
The fact that chest provides tattoo artists, a wide canvas to show their art, people often end up having awesomely beautiful tattoos on chest. They are elegant, beautiful, badass, and balanced.
Even while you are looking for designs to have on your chest, they are countless paths to explore, you can have just anything drawn on your chest. It is probably the most spacious place to have a tattoo.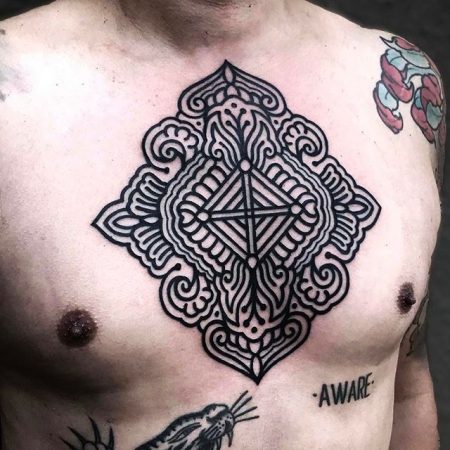 Chest tattoos are not much visible until you are shirtless, which you are seldom, except if you are on a beach, taking a sunbath. Hence, you can go for many intimate tattoos for chest, who are close to your heart and is not available for anyone else to see.
Eagle Chest tattoo is a very famous inspiration used for tattoos on chest, since, their wings are beautiful, chest gives enough space to allow those wings to extend, making you feel like you have wings on your chest. Not only an eagle, birds like Phoenix, owl, hawk, etc. are really liked by tattoo lovers.
Also, apart from chest birds tattoo, chest skull tattoo, chest animals tattoo, chest tribal tattoos, Chest flower tattoo, Japanese dragon chest tattoo, Chest rose tattoo, etc. There are almost endless designs and tattoo ideas you can find, while you are planning for a tattoo on chest.
A tattoo for chest is just not a normal tattoo, it is your identity, just like the medals on the uniform of army personals are tucked on their chest, similarly, when you go for a chest tattoo, make sure your design is great, it will define you for the rest of your life.
Chest tattoos being the most spacious place to have a tattoo design after the back, makes it a playground of creativity. Tattoo artists with this added liberty fill the chest tattoo designs with the extraordinary work, both in terms of impressive designs but also the color combinations they use to make it more attractive and appealing.
Make sure you go for a nice design, which you can carry whole your life, and can happily embrace your chest tattoo, every morning standing nude, in front of the mirror. Also, make sure you plan it in summers so that you do not have to stay shirtless on Christmas Eve, just because your tattoo has to heel.
Chest tattoos are awesome and one of the most popular categories among tattoo lovers, it is your pride. Have a look at our collection of some kickass chest tattoo designs in 2021, they will blow your mind, for sure.
Please follow and like us: