110+ Stunning Shoulder Tattoo Designs for Female & Male
Posted on
Shoulder tattoo is definitely my favorite and most probably my next tattoo designs as well, the beautiful shape of shoulders gives an excellent look to your tattoos on the shoulder like it is something external attached to your body. I am not a loner who is in love with tattoos for shoulders, this exceptional tattoo category is very popular among tattoo enthusiasts for both men and women. Both have plenty of fascinating options to choose from for their next tattoo on shoulder.
When going for a tattoo on shoulders, you can have any design you want, it can be shoulder flower tattoos, shoulder animal tattoos, shoulder tribal tattoos, shoulder 3D tattoos, shoulder dot work tattoos, shoulder skull tattoos, shoulder bird tattoos, and what not. Among these you can often see people looking for:
Flower Shoulder Tattoo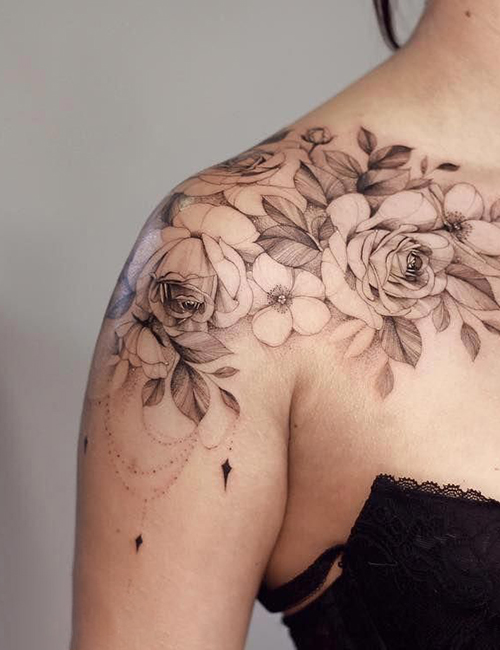 Rose is one of the most beautiful flowers, with its significance ranging from love, devotion, friendship, companionship to death and afterlife. These diverse significances coupled with its unmatched beauty makes it a great design for a tattoo on shoulder.
For men, shoulders are almost always hidden, except when it should be visible like when you are in the gym, on a beach, on your bed, or taking a shower, etc. they can easily go from intimate to kickass tattoo designs for the shoulder.
For women, it is visible often. Hence, women go for subtle, minimalistic and beautiful tattoos for the shoulder. Like a small butterfly tattoo, birds tattoo, dot work tattoo, etc.
Men Shoulder Tattoos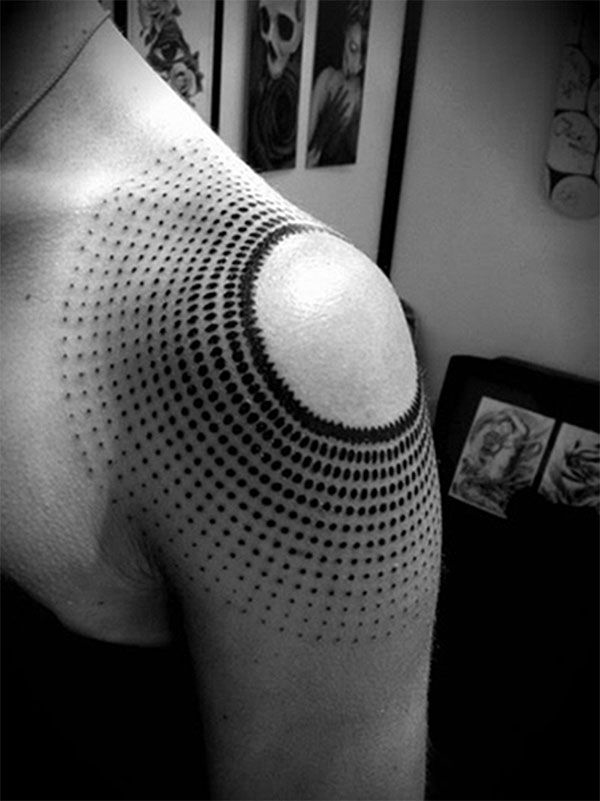 Irrespective of the design, shoulder tattoos are appealing and admiring for both men and women across the globe, who are looking for a comprehensive way to express themselves.
Tattoo lovers enjoy a great amount of freedom while choosing the size for a tattoo on shoulder, it can be on your round side shoulder covering half of your bicep, giving you a badass look, or it can be at the back of your shoulders, like a wing tattoo design, which make you appear like you are going to fly.
While deciding your tattoo for shoulder, it is very important to look out for a professional tattoo artist, since shoulders are always covered, and is always in motion, due to our daily activities, it takes a lot of time to heal completely. Moreover, you do not realize but your shoulder does sweat a lot, making it harder for the tattoo to heal.
Shoulder tattoos are great, you can combine them with your chest tattoo, back tattoos, bicep tattoo, etc. and they will give them an excellent complementary feel, and will make you happy, admiring your shoulders and the fine ink adorning over it.
If you want your next shoulder tattoo to be beautiful, elegant, yet make you feel like a knight, have a look at our collection of shoulder tattoos, gathered just for you.
Please follow and like us: