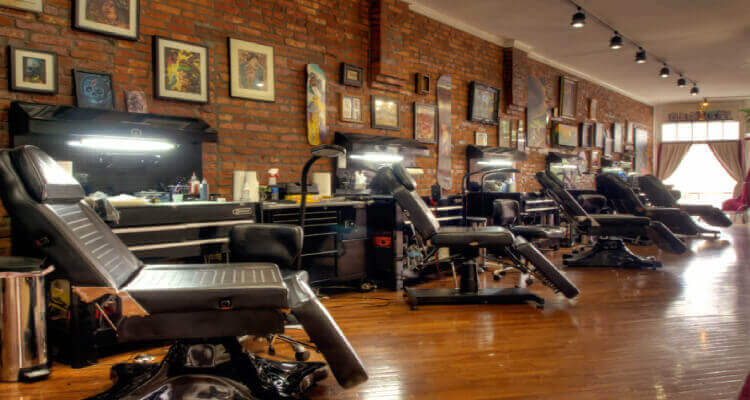 20 Biggest Tattoo Shops in The World
Posted on
The world is full of tattoo enthusiasts today. People across the world are getting tattoos for several different reasons, from personal to fashion statements. Well, whatever the reason may be for getting a tattoo, here in this post we are sharing with you 20 biggest tattoo shops in the World.
Have a look!
1. Fortune Tattoo
Fortune Tattoo Studio is located in Portland, OR (US). This tattoo shop is one of the biggest tattoo shops in the world. The studio was started by Ms. Mikki in the year 2010 on April 1st. The founder and owner of Fortune Tattoo, Ms. Mikki has been featured in many renowned magazines, including Tätowier Magazine and Skin & Ink. Fortune Tattoo is a very well respected and well-known tattoo shop in Portland.
2. The Tattoo Temple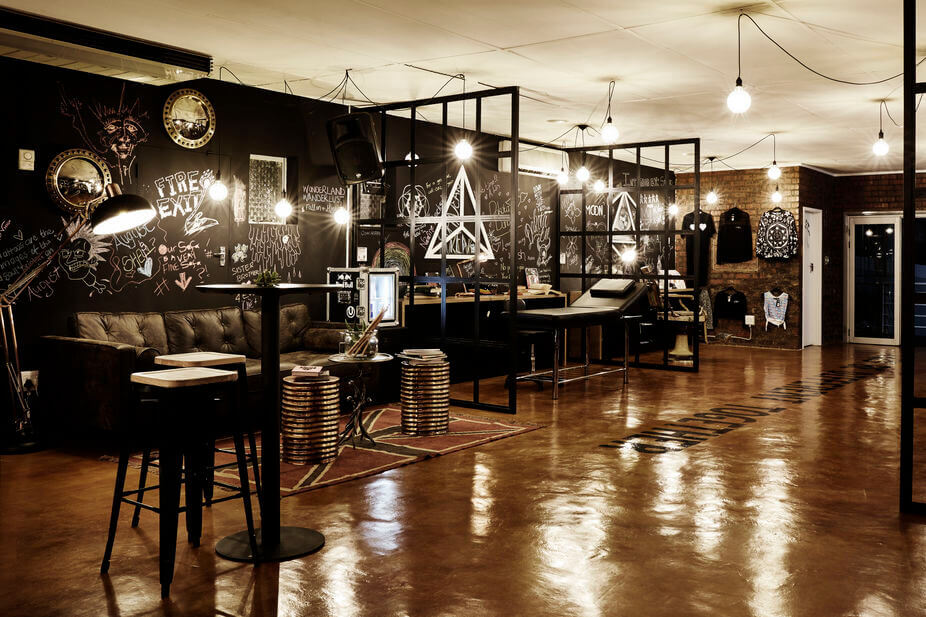 Another very famous and one of the biggest tattoo shops in the world is The Tattoo Temple. This tattoo studio is in the city of Hong Kong, China. The tattoo studio in Lan Kwai Fong, was founded by Joey Pang in the year 2006 with partnership with Chris Anderson, her husband, and father of her two sons (had parted ways). Joey is famous for her brush-stroke technique of tattooing, which is developed all by herself and the technique very much resembles elements of traditional Chinese calligraphy. Her tattoos have been featured on CBS, CNN, and The Travel Channel.
3. Tin Tin Tatouages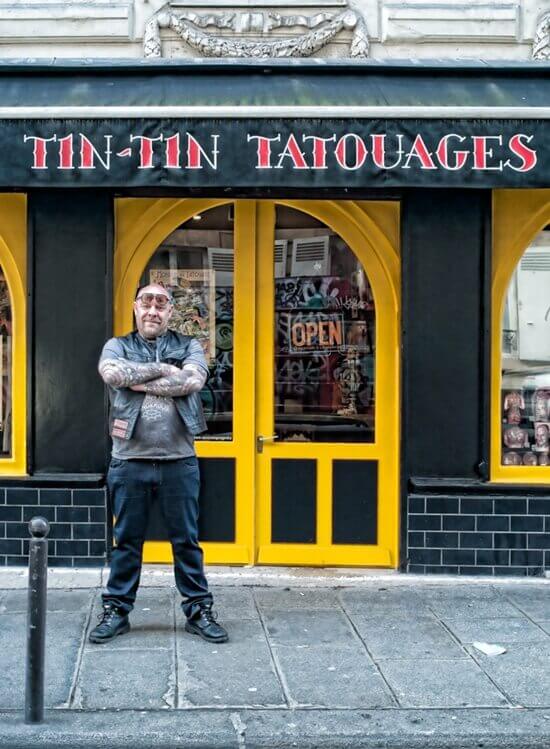 Tin Tin Tatouages is a very well-known tattoo shop in Saint-Georges, Paris, France. The name of the shop is after the owner and tattoo artist Tin Tin, who started this studio in the year 1999. Tin Tin is a renowned tattoo artist who has been tattooing for more than three decades now. His work has also been featured in various famous magazines, like GQ and Elle. Besides, his tattoos are also featured in advertisements for Givenchy perfume, and on celebrities like Philippe Starck and Marc Jacobs.
4. Caio Tattoo
Caio Tattoo Studio is in Rio de Janeiro, Brazil, located in a very beautiful location between the Copacabana and Ipanema beaches. The owner of Caio's shop is Caio himself. He has been tattooing for the past four decades now. He started tattooing without machines, yes, manually. Caio used to tattoo when it was considered the art for bandits.
5. Boston Tattoo Company
Boston Tattoo Company is a very young tattoo shop, as it was opened in the year 2010 in the city of Boston, MA (US). The shop was started by Jason Zube, who won the "Best of Boston" readers' poll by The Boston Phoenix 2011. Just in one year's span he could gather both immense name and fame for himself. Zube is a renowned tattoo artist, he is known world-wide for his extraordinary talent and stunning tattoo designs.
6. Angel Art Tattoo Studio
Angel Art Tattoo Studio is situated in the city of Bangkok, Thailand. Angel Art Tattoo Studio was started by Mr. Tung, who is one of the most popular tattoo artists in Bangkok. He is famous for his free-hand tattoo designs which are drawn right onto the skin rather than on paper. His designs are unique and original and are very much loved world-wide.
7. Last Rites
Last Rites was opened by Paul Booth. He is very–well known for his dark, surreal horror work. Paul Booth is considered one of the pioneers and innovators of the black and gray tattoo style. Last Rites offers a one-of-a-kind tattoo experience to its clients.
8. Saved Tattoo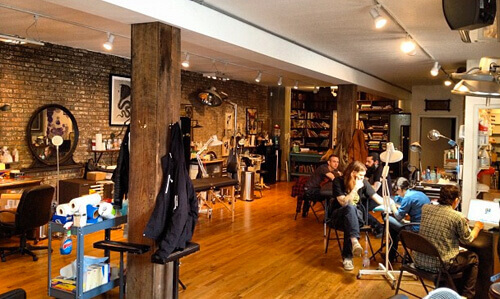 Saved Tattoo is a very famous tattoo studio formed by Scott Campbell in the year 2005. This studio is in the city of Brooklyn, NY, US. The studio is very famous in NY and its clientele includes famous celebrities, Sting, Heath Ledger, Orlando Bloom, and Robert Downey Jr.
9. Inkline Studio

Inkline Studio is a very famous tattoo studio in NY, US. Opened by Anil Gupta, a tattoo legend who is famous for his amazing tattoo designs. Moreover, you need to take an appointment very well in advance as a tattoo appointment with Anil Gupta can take even a year's wait. Anil is a brilliant tattoo artist who always comes up with original ideas and can customize any tattoo for uniqueness.
10. Black and Blue Tattoo
Established in the year 1996, Black and Blue Tattoo studio is in San Francisco, CA, US. The studio was started by Germany-born Idexa Stern. Idexa, who specializes in "black work, scientific imagery, geometric patterns, and organically inspired designs," was named 2009 and 2010 Best Tattoo Artist in the Bay Area in the San Francisco Bay Guardian's "Best of the Bay" Readers Poll. Apart from this, her work has also been featured in Black Tattoo Art and Tattoo World. She is a wonderful tattoo artist, whose work and studio both are famous world-wide.
Also See: 
11. Celebrity Ink Tattoo
Another very famous tattoo studio in the world is – Celebrity Ink Tattoo. The studio is located on the very beautiful island of Phuket, Thailand. The studio is run by Australians with a team of 31 Thai tattoo artists. This shop follows very high standards of cleanliness. The ones who come for tattoos here have to remove their shoes and sanitize their hands before they enter into the studio. They get their equipment along with ink imported from the U.S.A. It is one of the best tattoo studios in the world and very famous for its high quality work.
12. Toronto Ink
As the name says it all, this studio is in Toronto, Ontario, Canada and is one of the most famous tattoo studios in the world. This tattoo studio was started by Mark Prata in the year 2006. Prata is a very famous tattoo artist and TV reality artist, who has been featured on MTV Live in 2007 and was a tattoo designer for the A&E TV series "Breakout Kings". Prata is not only famous, but also a respected tattoo artist.
13. Daredevil Tattoo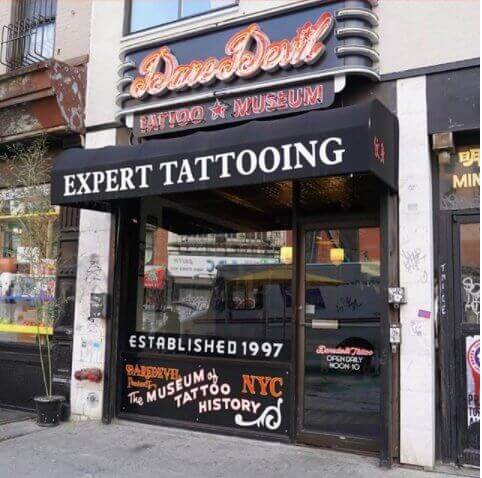 Daredevil Tattoo was started by Brad Fink, and Michelle Myles in partnership. This tattoo studio is situated in NY, US, it also has an onsite museum. Daredevil Tattoo Studio has a team of eight professional artists, including the owners. The Daredevil's Tattooists are specialized in multiple styles, like, Japanese, traditional American, and black and gray. If you are planning to get a tattoo by any of the co-owners, then you will have to plan ahead of time.
14. Shanghai Tattoo
Shanghai Tattoo studio is a very well-known tattoo shop in Shanghai, China. The studio follows western standards of Hygiene, Disposable needles, cartridges, etc. are imported. Shanghai Tattoo studio has some of Shanghai's most talented tattoo artists. The team of artists is expert in all styles of Tattoos from portrait realistic, black and grey, Asian traditional, American traditional, Neo-traditional, Dot works etc. The studio was started in the year 2007 by Zhuo Dan Ting, popularly known as the Queen of Tattoo in China. Shanghai Tattoo designs have been featured in many media, including Shanghai Daily, CNN GO, Adidas commercials, Inked Magazine, and Sueddeutsche.de.
15. Mana'o Tattoo Studio
Mana'o Tattoo Studio situated in the city of Papeete, Tahiti, French Polynesia. It is the studio-home of Manu Farrarons, the owner and one of the most famous Tahitian tattoo artists. He is very famous for his traditional Polynesian tattoo designs. In the years 2011, he was even named as the Best Tribal Tattoo Artist at the Ink n Iron International Tattoo Festival in Long Beach, CA.
16. Six Feet Under
Six Feet Under is a tattoo studio that is located in California, US. This tattoo shop is formed by tattoo artist and TV personality Corey Miller. Corey began tattooing at the age of 15. Besides Corey, other artists include Henry Powell, Obid Compran, Neil Wilson, and Kevin Childs. Corey is a very famous tattoo artist with a worldwide reputation. Six Feet Under is famous for its versatile tattoo designs world-wide.
17. Into You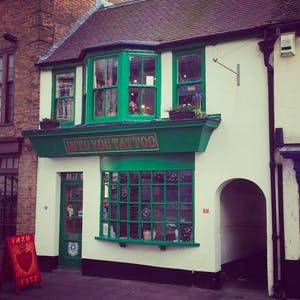 Another wonderful tattoo studio is Into You. It is located in the city of London, England. The studio was established in 1993. It is the first custom tattoo shop that was established in London. The studio is owned by Alex Binnie, who is popular for his large-scale tribal tattoo designs. His work is also featured in Henk Schiffmacher's "1000 Tattoos."
18. Monkey Fist Tattoo
Monkey Fist Tattoo is situated in Denver, CO, US. The studio was started in the year 2010 by Ortavio Griego, popularly known as OG. OG is famous for his various styles like Asian, new school, traditional, custom work, and black and gray. OG is famously known as the tattooer to the stars, as he has worked on Will Parks, Demaryius Thomas, Aqib Talib, Darius Kigo, Zaire Anderson, Brandon Marshall, Shaquil Barrett and too many other NFL stars and athletes.
19. High Voltage Tattoo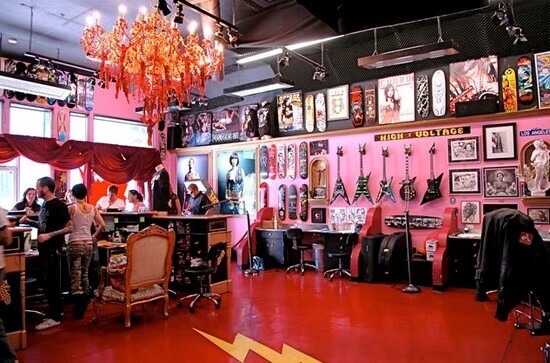 Located in the city of Hollywood, CA, US, High Voltage Tattoo studio was established by Katherine Von Drachenberg, popularly known as Kat Von D. The studio is also known as "Kat Von D's High Voltage Tattoo." Kat opened this studio in the year 2010. Her stint as a tattoo artist on "LA Ink" earned her a name in the tattoo world. She held a Guinness World Record for the most tattoos given by one person in a 24-hour period at 400.
20. Aliens Tattoo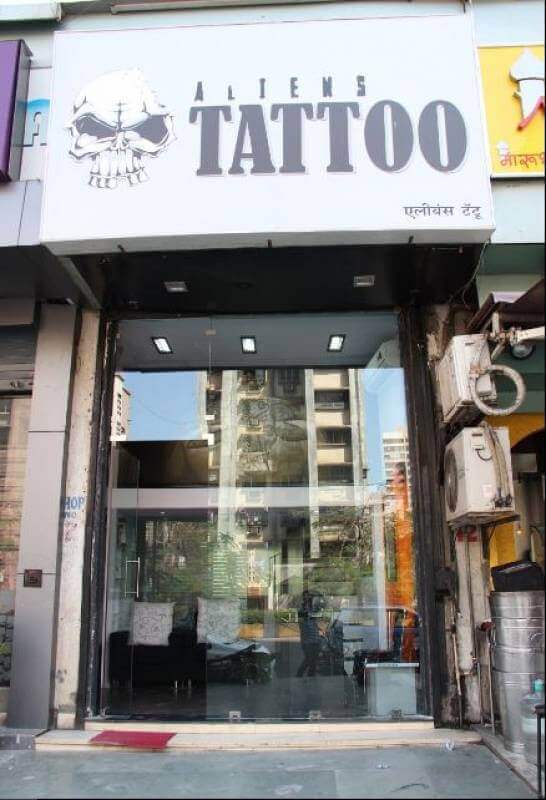 Aliens Tattoo is located in the city of Mumbai, India. This tattoo studio was formed by very famous celebrity tattoo artist Sunny Bhanushali. Sunny is a self-taught tattoo artist in Mumbai. He completed his Bachelor's degree in Computer Applications from the University of Mumbai and evolved from basic sketcher to a professional charcoal painter to mastering digital art. Started in the year 2011, Aliens Tattoo is one of the fastest growing chain of tattoo studios world-wide. The studio is famous for providing top-of-the-class tattoo designs and tattoo services to tattoo enthusiasts. So far many sports stars, including Virat Kohli and Hardik Pandya have got their tattoos etched from Aliens Tattoo!
So, these are the biggest tattoo studios in the world. Thanks for reading! I hope you loved the list!
Happy Tattooing…. ☺ ☺
Please follow and like us: