140+ Best Couple Tattoos that will keep your Love forever
Posted on
Tattoos have always been there to express the deepest emotions and feelings, in a very clear and beautiful style. it is not only a way to tell people what you think and stand for, but tattoos are also a great way to express your true feelings for your beloved. This makes the couple tattoos a famous choice for many tattoo enthusiasts around the globe.
Couple tattoos are a great way to express your purest emotions for someone you love eternally. Engraving their memories over us is the epitome of expressing your love for them.
Couples go for many tattoo designs such as quote tattoos, star tattoos, animal tattoos, bird tattoos, etc. Apart from these tattoos designs, couples go for,
Couple matching tattoos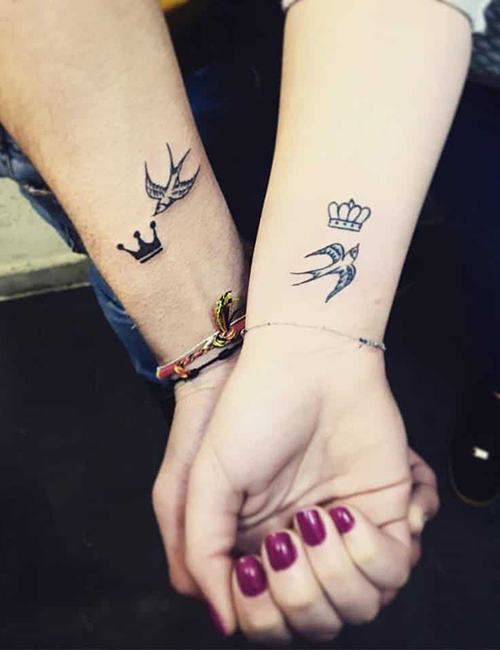 Well, the couple matching tattoos are the best way to have a token of love on yourself, a tattoo for each other's name, a picture of the crown of the king and queen and many more, the couple matching tattoos are very famous among tattoo lovers, across the globe.
But, before you overwhelm your lover with your gestures of affection, make sure you people are in something permanent. I have seen people getting a couples tattoo hastily and regretting later. Once created the tattoo will be there forever. If you want to remove the tattoo design, you have to undergo a surgery or have to cover it up with something else.
Whatever it takes to hide the tattoo, it will always leave a mark on your heart. Hence, tattoos are the epitome of expressing eternal love and affection, directed towards a single human being. Make sure you choose it wisely.
The placement of couple tattoos is also an issue because many couples do not want to publicize their relationship to others, and they go for tattoos places, who are hidden or secret and can only be seen to their loved ones.
Having a tattoo of someone on you is like writing yourself to them. They will own your spirit and mind forever. Even if you think this is not the case, that couple tattoo will always remind you of them, irrespective what you do with it. They are the permanent mark of someone over your soul.
Couple tattoos are really special, they are for very special people and express feelings of eternal adoration and affection. You can always show your feelings for your loved ones through a couple's tattoos, just make sure you are into a permanent thing, otherwise repenting is the obvious option.
Have a look at our collection of some awesome couple tattoos, they will give you amazing ideas of how to express your unconditional love for someone.
Please follow and like us: