Attractive Fantasy Tattoo Designs and Ideas
Posted on
The human race is the most advanced race of this planet, the most powerful and most the intelligent. The only reason why we are the mighty humans is our ability to fantasize and imagine things, through which we can create which is not yet present.
This ability of human beings has motivated and inspired humans for thousands of years and have brought us to where we are today. You can imagine anything, the extent of imagination is totally dependent on the power of the mind, it can be beautiful, devilish, delicate as silk or strong a diamond.
This creative side of imagination and fantasies has made fantasy tattoos a popular choice among tattoo lovers. They are enjoying the liberty to use their imagination as a source of their next tattoo.
You can have images of Draculas, wolfs, angels, gladiators, dragon, warriors, angels, demons, unicorns, etc. anything which you can think of can be drawn on your body. Things which are not yet on this planet, but are present only in your mind and fantasy.
People love to engrave themselves with the imaginative world of supernatural powers, that is picking popularity, especially in pop culture, and looking at the craze people have for these types of designs is the clear evidence that fantasy tattoo designs are going to be more innovative and elaborative in future.
Also, when we are talking about fantasies, who can ignore the beautiful world of fairies and angels, that charming world of beautiful creatures, flying and spreading the message of love, kindness, and magic.
Among the lovers of these extraordinary designs of fantasy tattoos, people are often seen flaunting the designs inspired from Tv series and movies, such as
Final Fantasy tattoos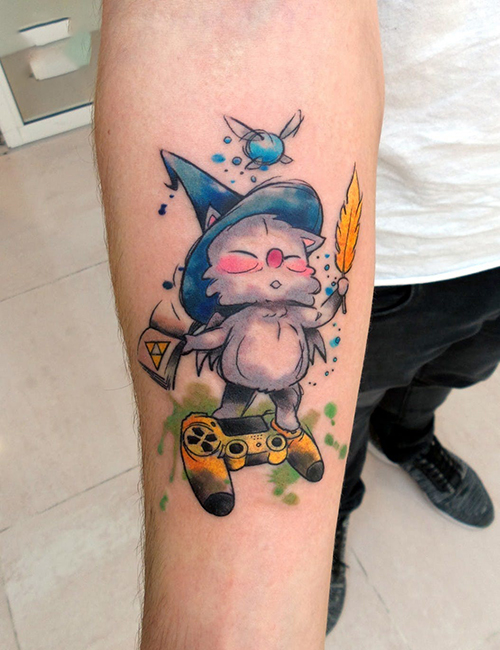 Final fantasy tattoo designs are popular since the series' first came on TV, in which a group of some brave and dynamic characters fought against the forces of the devil.
The characters such as Vivi, Griever, Yuffie, Tidus' sword, FF7, Sephiroth vs Cloud Strife, and Rydia are among the favorite designs people go for while having a final fantasy tattoo engraved over them.
People love to show their adoration for the characters of this magical and charming TV series.
The great thing about fantasy tattoo designs are the flexibility they have in term of the position of the tattoo, size of the tattoo, and the color combinations people choose to have these prints over them. You can go for a black color tattoo, grey shading tattoo, or a combination of colors, that too at any place of their body with corresponding sizes.
Fantasy tattoos are among us since a long time, in fact, every tattoo design is mixed with the imagination of the tattoo artist and the tattoo wearer, it is a great way to show your creative side and to reflect what you hold within you. Check out our collection of some fantastic fantasy tattoos, you will surely love them.
Please follow and like us: