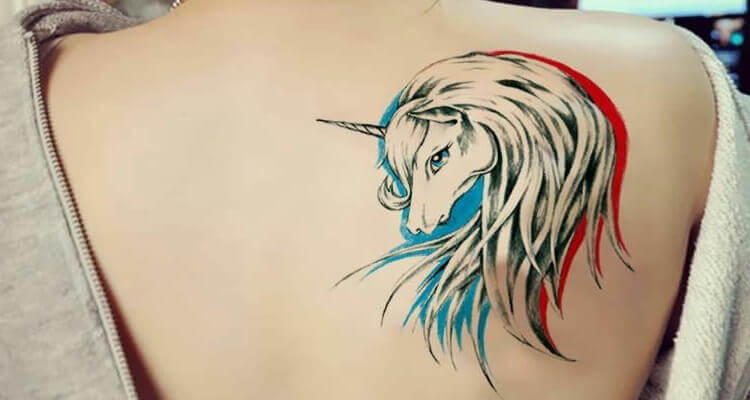 40 Best Unicorn Tattoo Ideas
Posted on
Unicorn Tattoos top the list when it comes to unique tattoo designs; the unicorn is a legendary creature described as a beast with a single large, pointed, spiraling horn projecting from its forehead. The unicorn has been depicted in ancient seals of the Indus Valley Civilization. Many writers, including Aelian, Ctesias, Strabo, Pliny the Younger, and Cosmas Indicopleustes, mentioned it in accounts of the natural history of the ancient Greeks. Even the Bible also describes an animal, the re 'em that some versions translate as unicorn.
The unicorn tattoo designs make for gorgeous tattoo designs. If you plan to get a unicorn tattoo but still not sure about it, you have landed on the right page. Here we are going to talk all about this beautiful symbol and what it stands for.
Let's dive in……
Unicorn Tattoo Meaning
In European fables, the unicorn is depicted as a white horse-like or goat-like animal with a longhorn, cloven hooves, and sometimes a goat's beard. In many cultures, this spirally wound horn is considered a symbol of the heavenly primal force, the transformation, the development, and the ascent. In the Middle Ages and Renaissance, the unicorn was considered an extremely wild woodland creature, a symbol of purity and grace that could be captured only by a virgin. It is said that its horn has the power to render poisoned water potable and to heal sickness. Apart from this, the unicorn also symbolizes fantasy or rarity.
Unicorn Tattoo Designs
There are myriads of ways you can get a unicorn etched on your body. Here are the 40 best unicorn tattoo designs for you two consider.
1. Geometric Unicorn Tattoo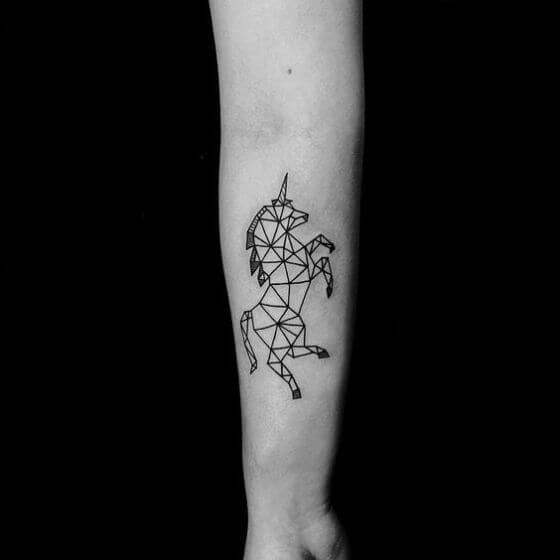 Geometric unicorn tattoos look awesome. The best thing is you can get a geometric unicorn in any size. It need not be big only; you can have it in a small size.
Also See: Geometric Tattoo Designs
2. Leg Unicorn Tattoos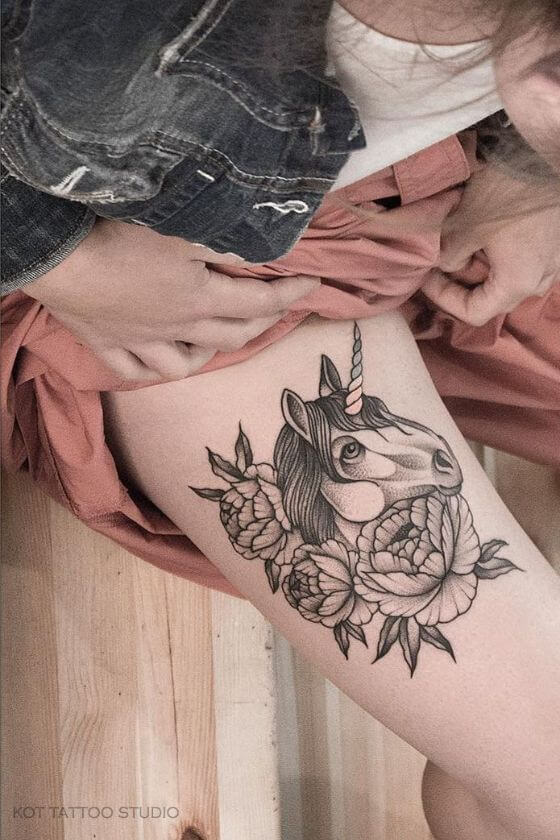 Have a style statement with a beautiful leg unicorn tattoo. You can get a small-sized or a medium-sized unicorn etched on your leg. It looks awesome.
3. Unicorn Tattoo with Quote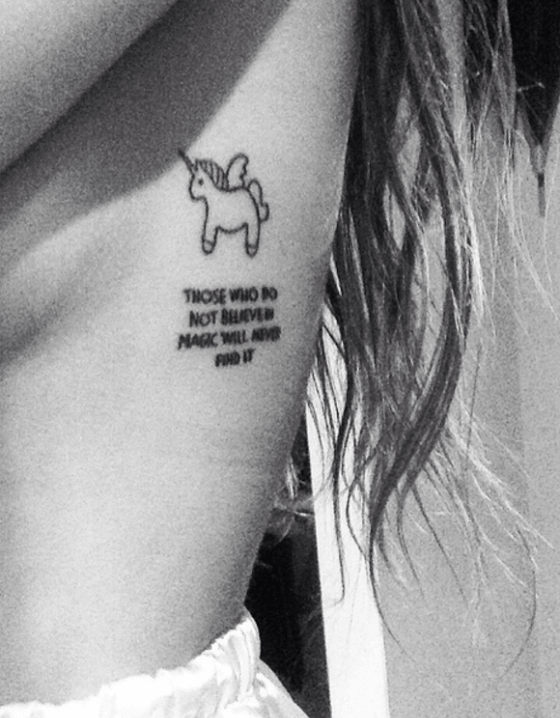 This one looks cool; you can have a quote of your choice added to your unicorn tattoo to add to the overall meaning of your tattoo.
4. Colored Unicorn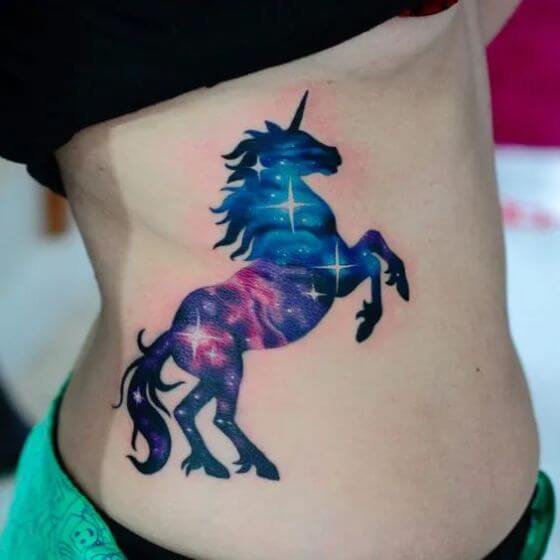 Just imagine how cool it will look! A colored unicorn tattoos makes for a unique tattoo design. And if you are looking for one, then get this one.
See More: Colorful Tattoo Ideas
5. Unicorn Head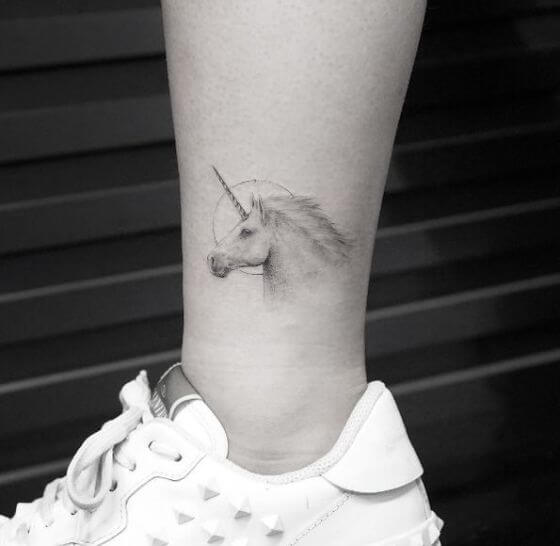 If you do not want to overdo anything, then this is the tattoo for you. It looks simple and very beautiful. You can get this one in black ink or colored ink, absolutely up to you.
6. Funny Unicorn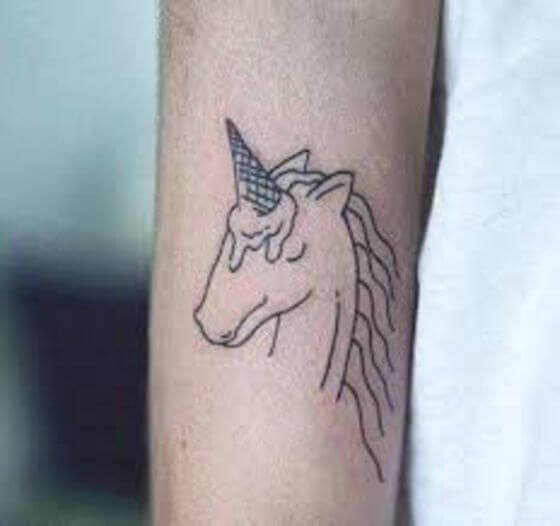 Add fun to your tattoo design! Get a small unicorn etched in different colors inked on your ankle.
7. Full Unicorn
A very thoughtful tattoo design for those who think they possess the qualities of the unicorn. A full unicorn can be done on your back, as they look good in big sizes. And your back could be the best place for a full unicorn tattoos.
8. Unique Tattoo
Get a unicorn head etched in black ink and grey shades on your arm or wherever you want. Simple unicorn tattoos look beautiful if done properly.
9. Ankle Unicorn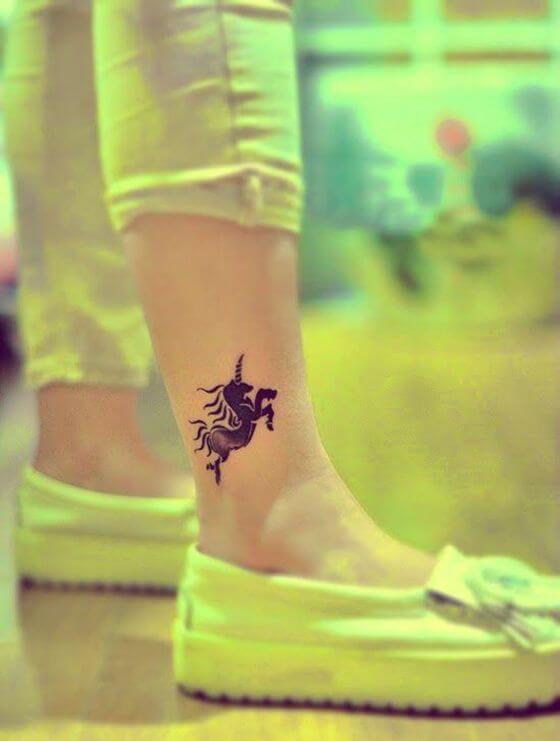 Ankle tattoos look awesome no matter what. Moreover, they can be kept hidden as and when you want. Ankle unicorn tatto is a great tattoo design for those who look for some outside the box tattoo design.
10. Unicorn with Flowers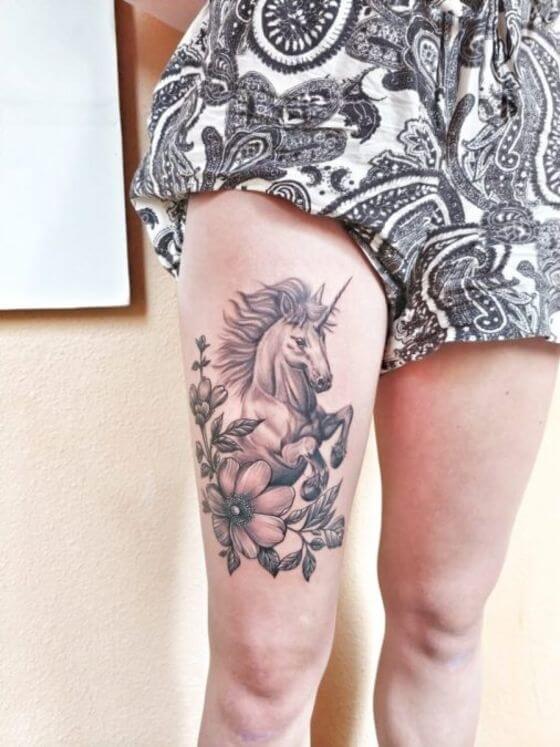 Think outside the box, and add some elements to make your tattoo beautiful. Adding flowers to your unicorn head tattoo will take it to another level. Try it out!!
11. Blue Unicorn Designs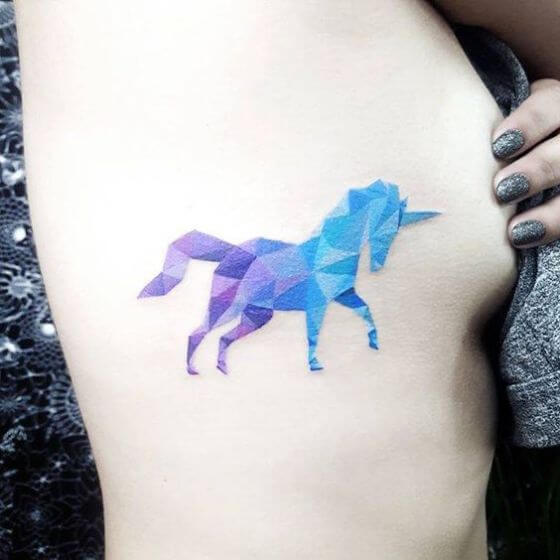 If you want to spice your tattoo up, then get a unicorn in blue. It will make for an eye-catching tattoo design. It looks great when etched on the arm or back.
12. Monster Unicorn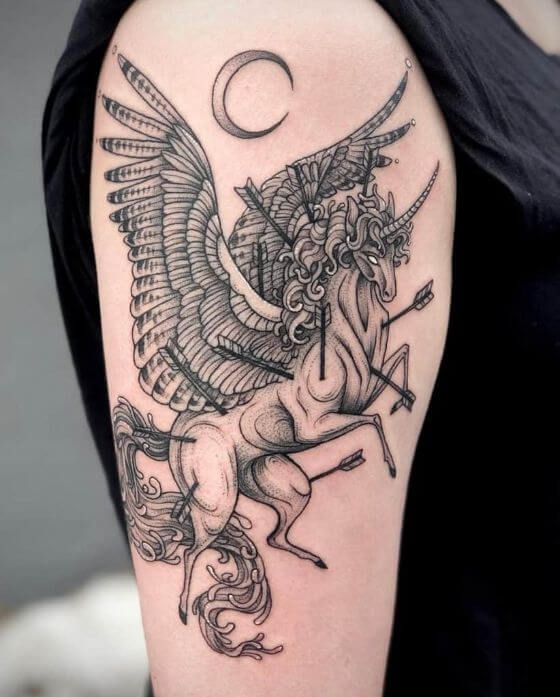 Monster unicorn tattoos look unique. Get it inked on your arm, as they make for sleek tattoo designs.
13. Outline Tattoo ideas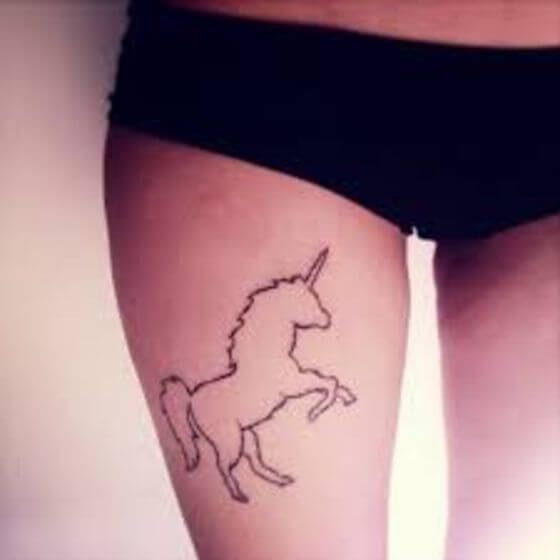 Outline tattoos look very simple and elegant. If you are looking for a simple tattoo design, then this one is a great pick.
14. Unicorn in Triangle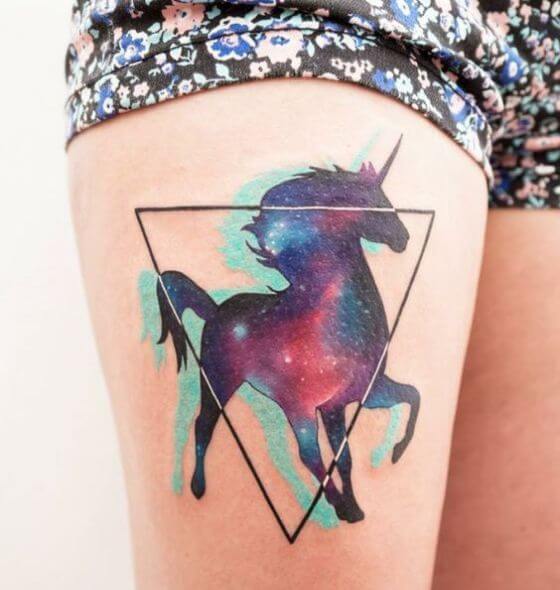 A triangle and inside it a unicorn will make for a fantastic tattoo design on your arm or shoulder blade.
15. Small Unicorn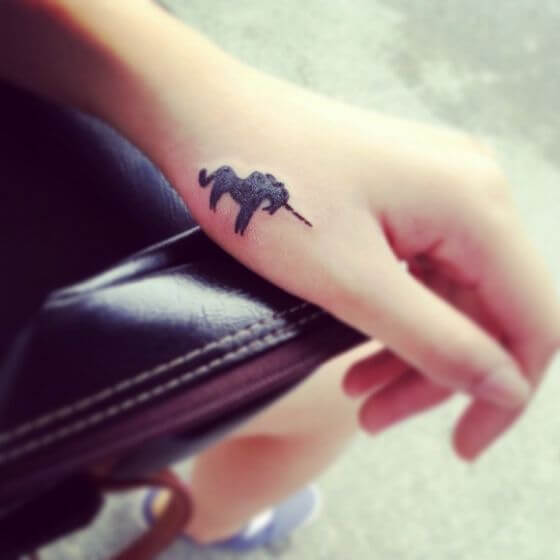 Get just the head of a unicorn etched on your arm in beautiful colors with some dazzling stars. It will look mesmerizing. Try it out.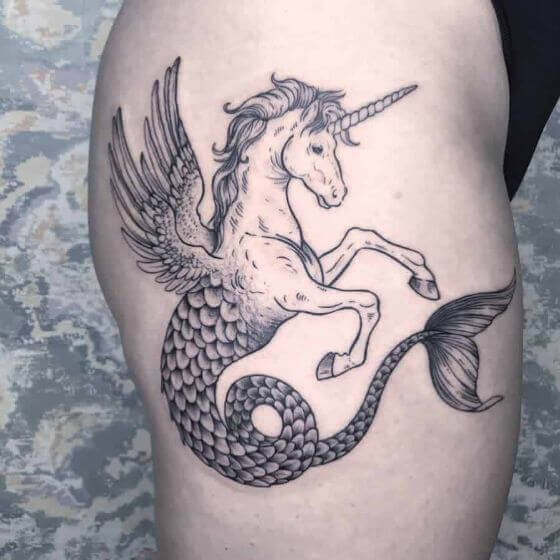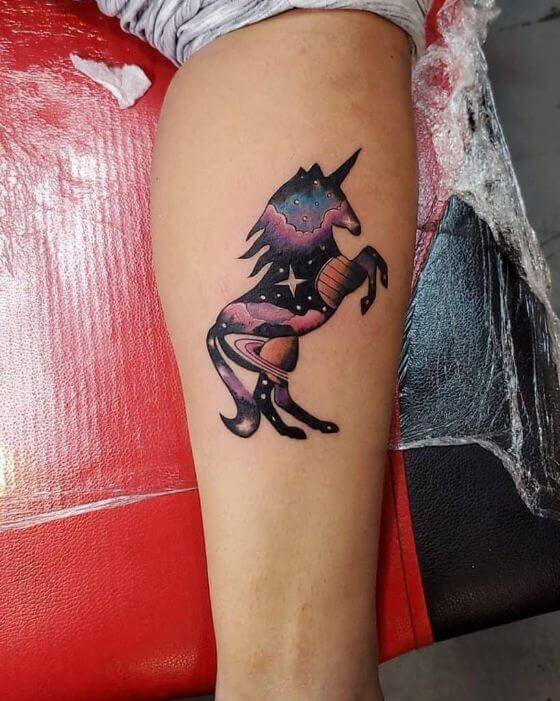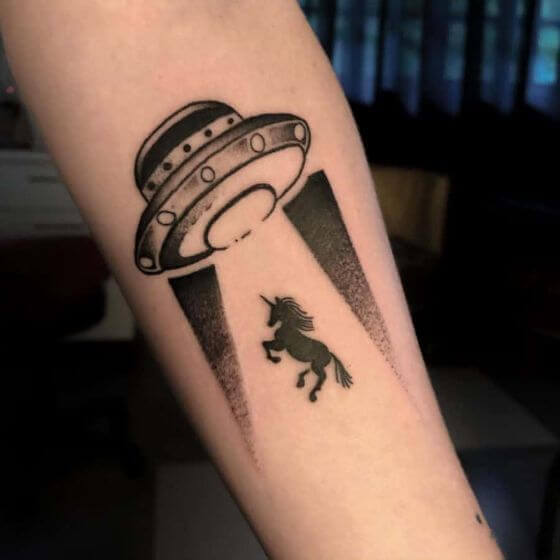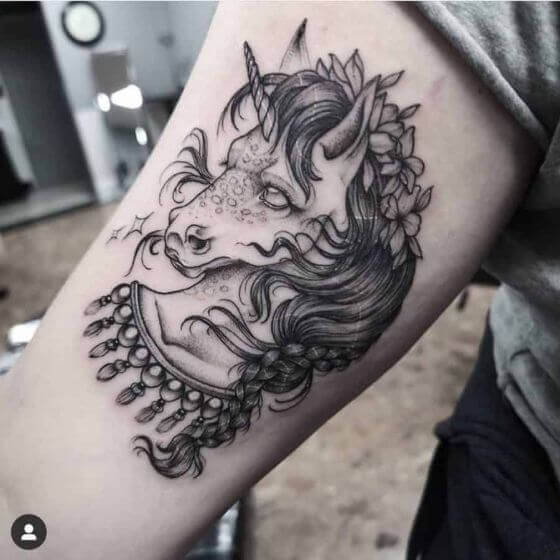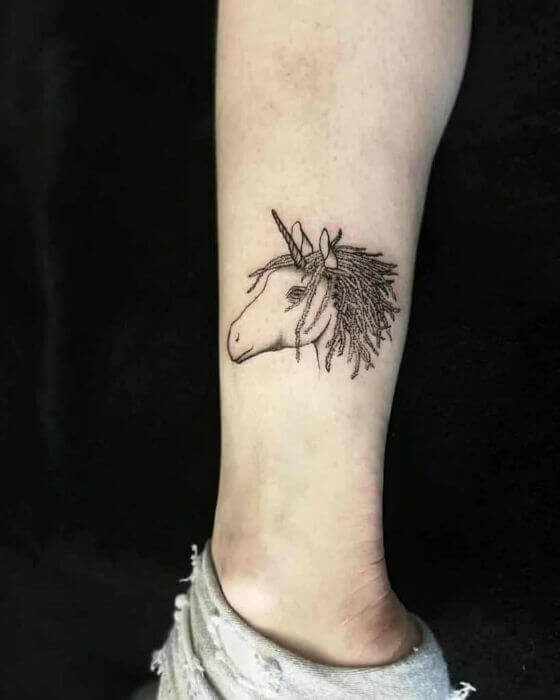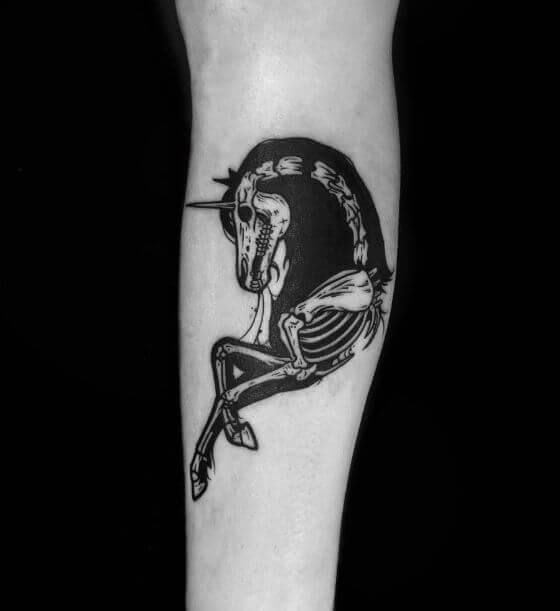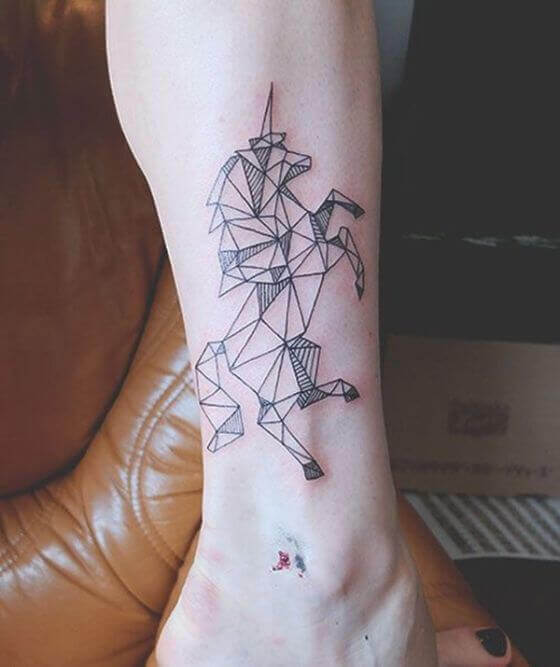 Also See: Geometric Tattoo Designs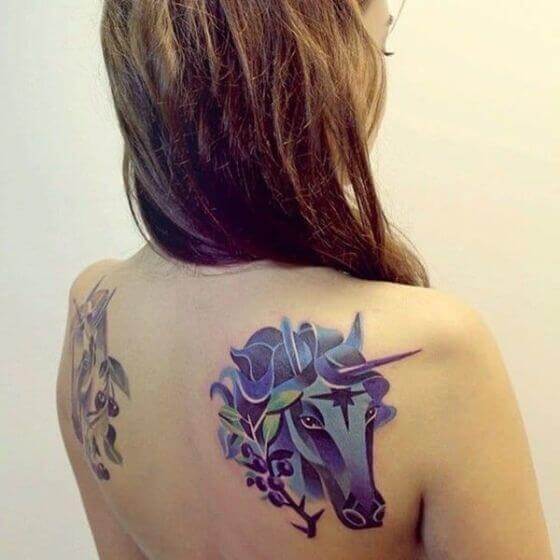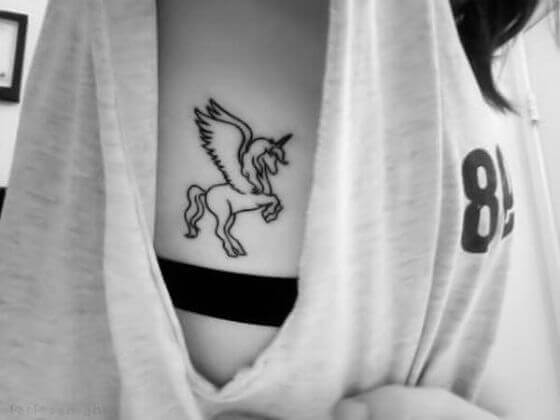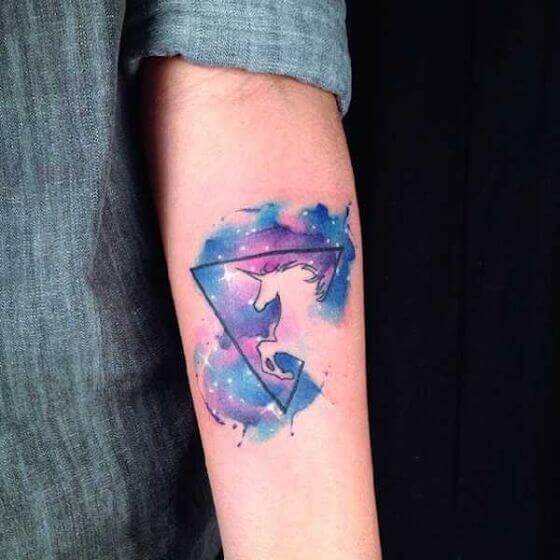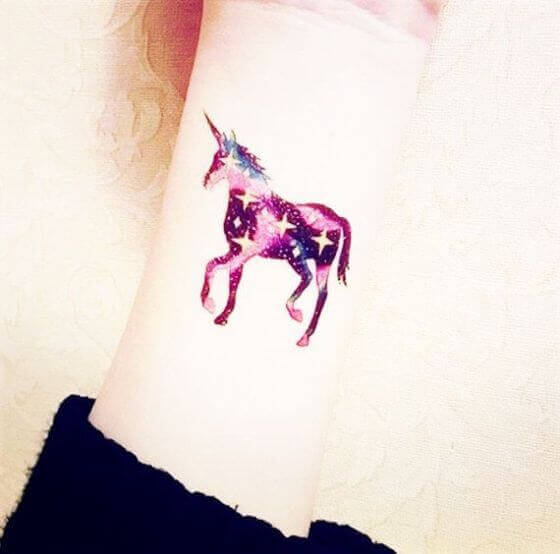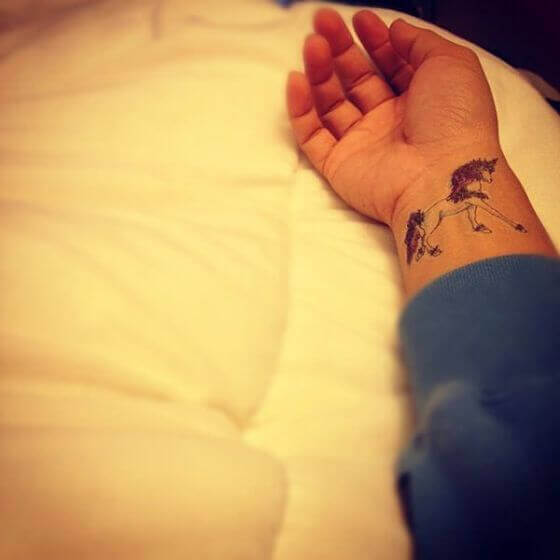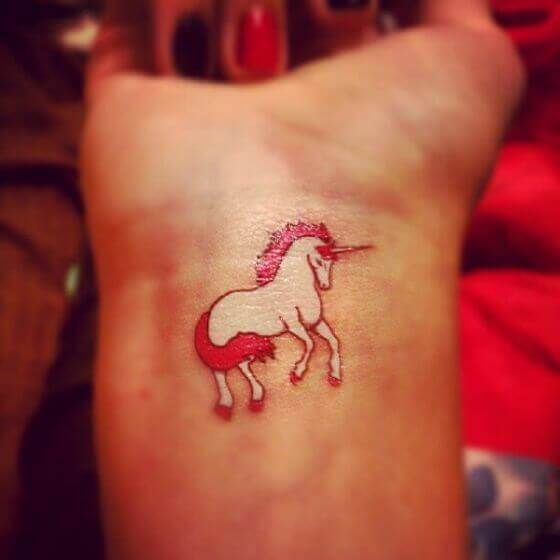 Where to Place A Tattoo
The unicorn tattoo can be placed anywhere according to its size. For instance, if a unicorn is small in size, you can get it on your arm, wrist, finger, forearm, shoulder blade, ankle, nape, near the ear, chest, etc. And if the unicorn is in large size, you can get it on your back, thigh, calf, etc.
FINAL THOUGHT
So, this is all about unicorn tattoo. I hope you got a fair idea about the unicorn images. Undoubtedly, unicorn tattoos look awesome; still, you have to make sure that you go to a reputable tattoo artist only. Unicorn is a symbol that should be done by some professional so that you get the desired outcome. Apart from this, take very good care of your tattoo design. Taking good care of your tattoo will let you have vibrant ink and add to your tattoo's life.
Happy Tattooing…. ☺ ☺
Please follow and like us: