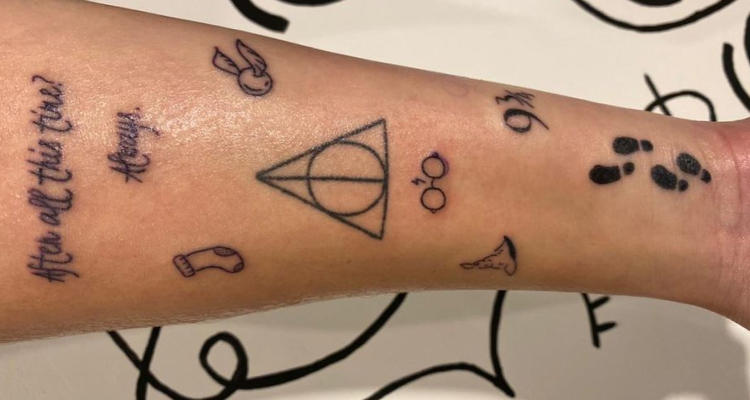 30 Harry Potter Tattoo Ideas And Designs Inspiration in 2023
Posted on
Introducing Harry Potter Tattoos – Harnessing Magic to Create Special Memories. With their wide range of designs and powerful stories behind them, Harry Potter tattoos have become an increasingly popular trend among fans worldwide.
From intricate sleeve designs featuring beloved characters like Hagrid and Dumbledore to small 'expelliarmus' charms hidden under clothing, these magical tattoos are an excellent way for any fan to honor their favorite books or movies creatively. This article explores why more people than ever are turning to this classic franchise as inspiration for body art – so get ready to tap into some real magic!
1. Harry Potter quotes tattoo
Tattooing Harry Potter quotes is a great way to express your love of the iconic series. Showcasing characters, symbols, and sayings from the beloved magical world on your skin can be an empowering reminder of everything you believe in! Whether it's Happiness doesn't come in a potion, or "It's our choices that show what we truly are, far more than our abilities, these timeless words will undoubtedly stay with you forever.
Whatever quote speaks most personally to you—from Gryffindor's courage to Snape's loyalty– go ahead and wear them proudly as beautiful reminders of strength and integrity every single day!
2. Watercolor Hogwarts school design
This watercolor Harry Potter Hogwarts school design tattoo is both vibrant and eye-catching. Crafted with professional detail, the image features iconic elements from the magical school's grounds, including the castle outline against a night sky backdrop filled with stars. The vivid blues and purples perfectly capture its unique elegance while adding personality to anybody's canvas they adorn.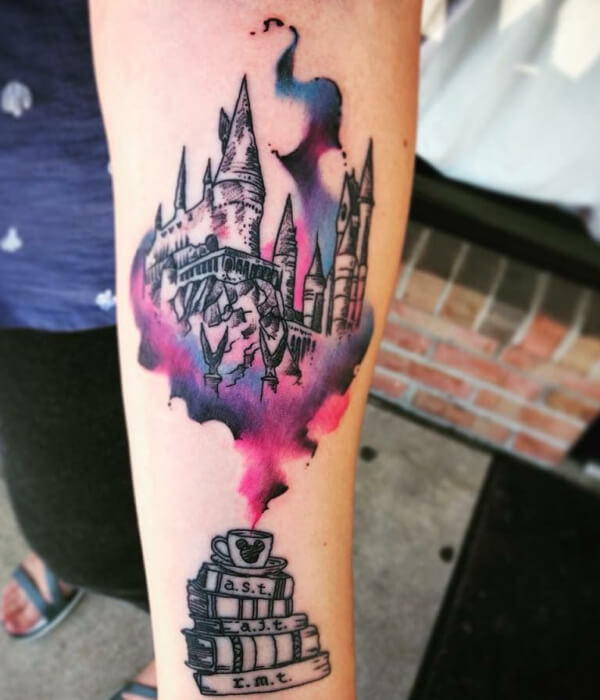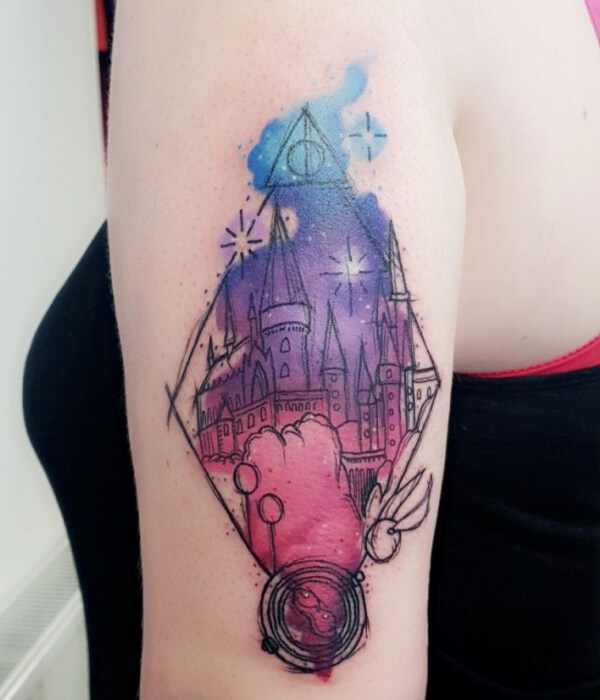 It also exhibits excellent color synergy that will draw in admirers of all ages − whether you're a diehard fan or just starting your journey into this world full of fantasy creatures and adventures! Get ready for an unforgettable experience when you pick up one of these beautiful tattoos today!
3. Hogwarts Crest Tattoo Idea
This Hogwarts crest tattoo is a unique and symbolic way to show off your Harry Potter fandom! This beautifully detailed design features the iconic school logo with intricate details capturing every aspect of its original look. The black ink stands out against any skin tone, making this an eye-catching choice for even experienced tattoo collectors.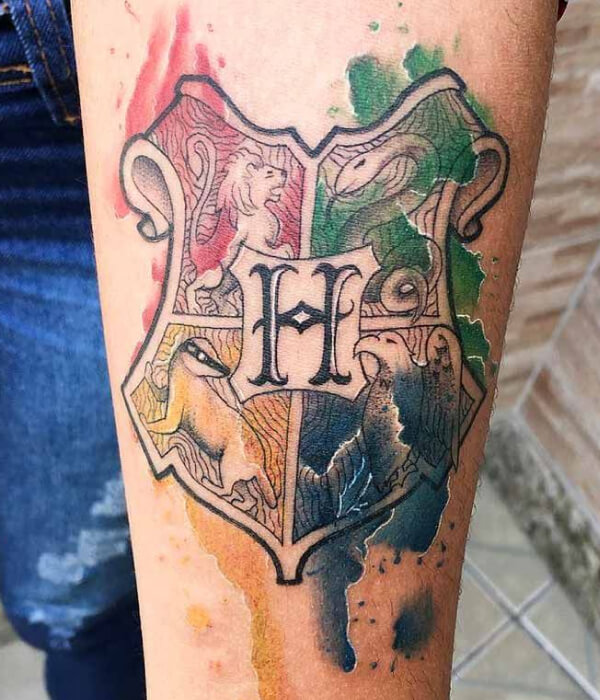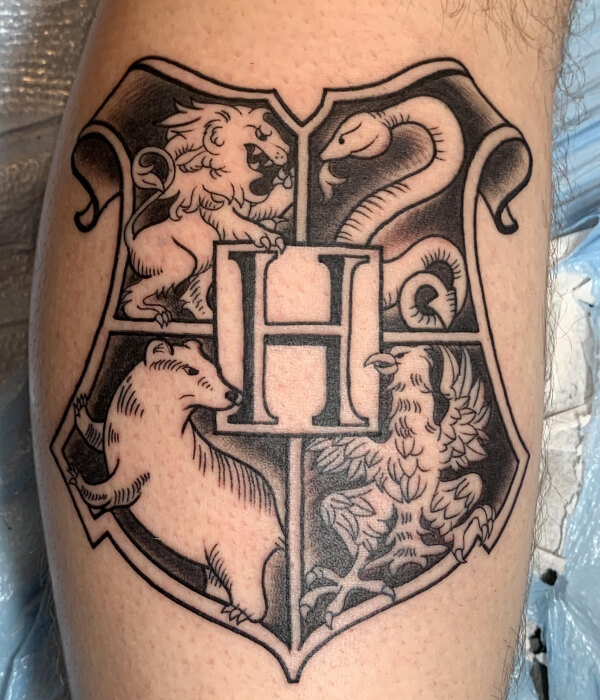 Showcase your magical side in style—with this stunningly crafted piece that will turn heads wherever you go! From the vivid colors to accommodating size, there's no doubt that our professional artist can prepare something special just for you. Get ready to celebrate House Gryffindor with pride today when choosing your favorite Hogwarts Tattoo Design.
4. Luna Lovegood Glasses Tattoo Design
This Luna Lovegood glasses tattoo design is the perfect way to make a statement. With its unique shape and intricate detailing, this Harry Potter-inspired piece captures all of the charms of one of JK Rowling's iconic characters. The small size makes it discreet yet noticeable enough to draw admiring glances as an eye-catcher on any body part you choose! From wristbands to crooked necks, even ankle tattoos – no matter where you're showcasing your artistry display in public or private – this beautiful design will be sure to stand out against any backdrop.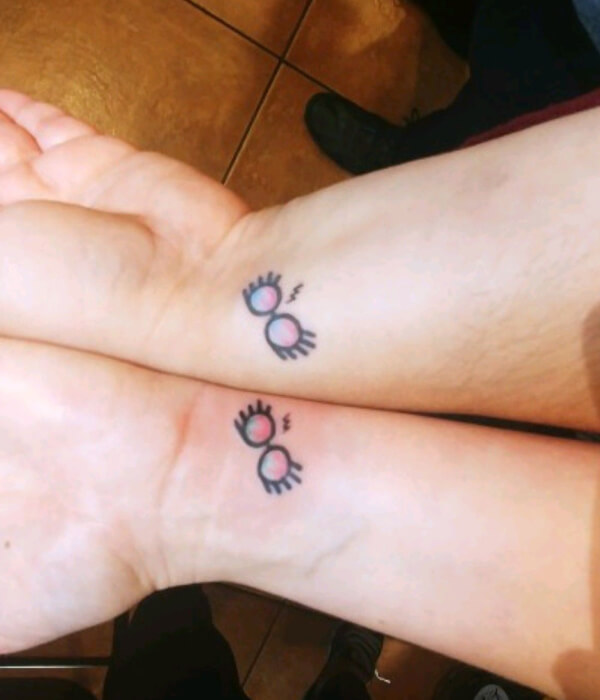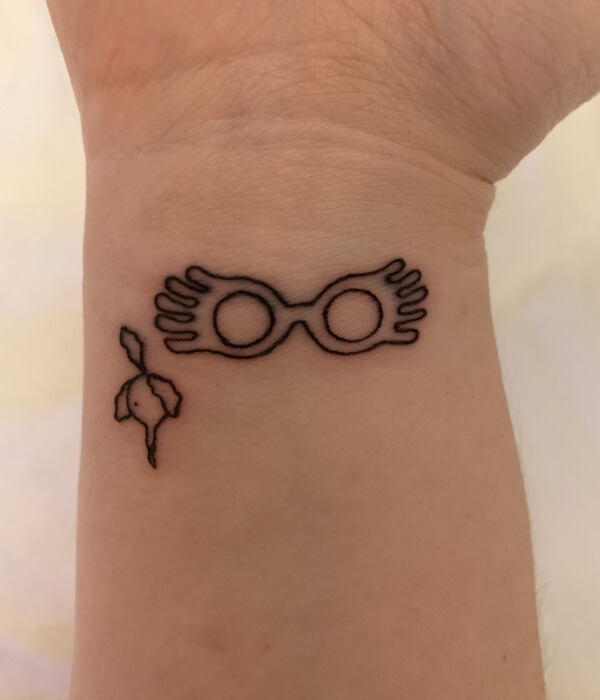 It fits just right with impeccable precision sitting upon your skin like a second layer of clothing that can never be taken off, ensuring equal comfort and long-lasting vibrancy for years to come regardless of how much time has passed by keeping up steady enchantment for life itself, making Luna Lovegood glasses ideal tattoo choice if looking advertisement bit extravagance without missing out on subtlety elegance desired from a truly timeless classic masterpiece.
5. Famous Platform Number Harry Potter Tattoo
Harry Potter Tattoo is a perfect way to show off your love for the wizarding world. This incredible, one-of-a-kind tattoo design captures all of the magic and wonders from JK Rowling's classic series without ever feeling overstated or overwhelming.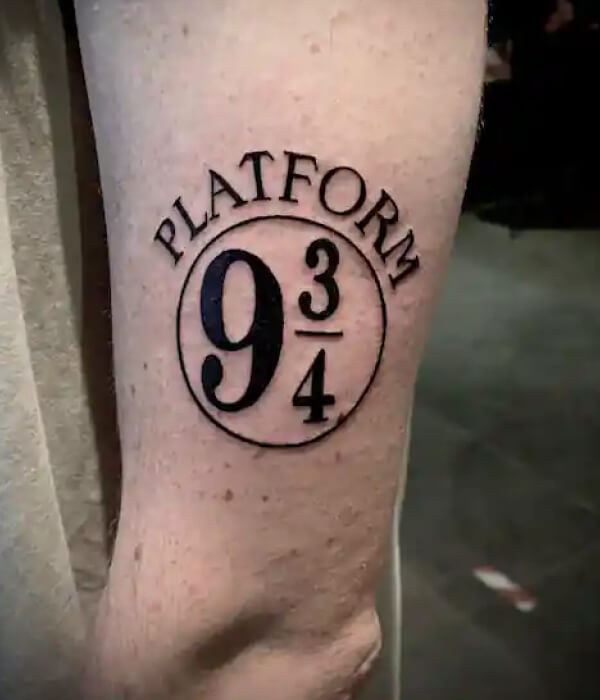 With detailed artwork featuring beloved characters like Harry and many of his adventures and allies, this platform number tattoo has earned its spot as a fan favorite – making it look professional and fun enough to highlight your inner superfan.
Whether you're adding flair to an existing piece or starting something new, each delicate line comes in dazzlingly sharp detail so fans can feel fully connected with their passion every time they take their outfit out on the town!
6. Quidditch Tattoos
Quidditch tattoos have become a popular way for Harry Potter fans to express their love for the franchise. From intricate broomstick designs to Golden Snitches, these unique and creative works of art are perfect ways to show off your fandom in a stylish yet subtle fashion.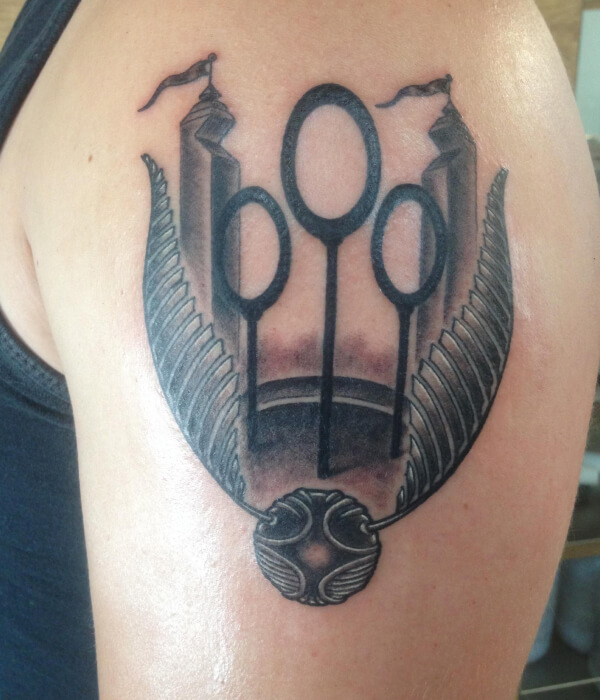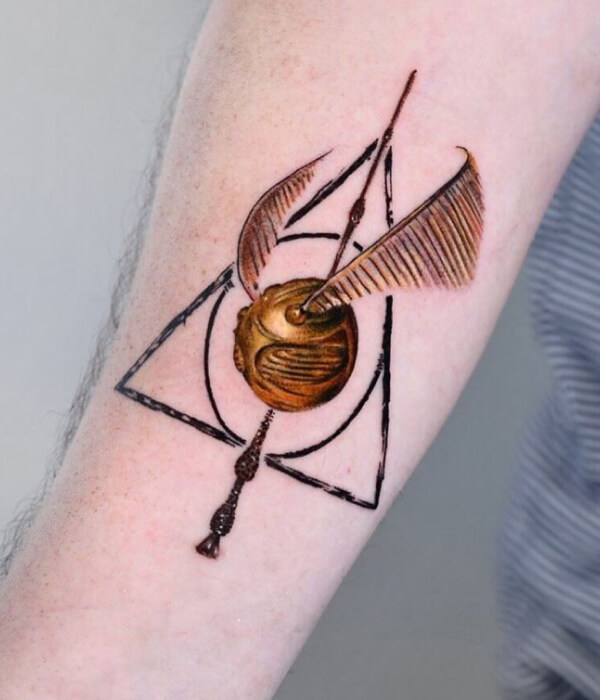 Whether you're looking for something small like a golden star-shaped tattoo or an entire Quidditch team design with every symbol imaginable, we've got it all here! No matter what design you pick out, rest assured that our experienced artists will give your vision life using only top-quality materials and threads so that each piece is as long-lasting as possible!
7. Harry Potter Wand Tattoos
Harry Potter Wand Tattoos are a popular way to express your inner fan. Whether for casual or formal attire, these tattoos can be adapted to any occasion without compromising style. With precision inking and detailed design, our professional artists create high-quality designs that will last for years.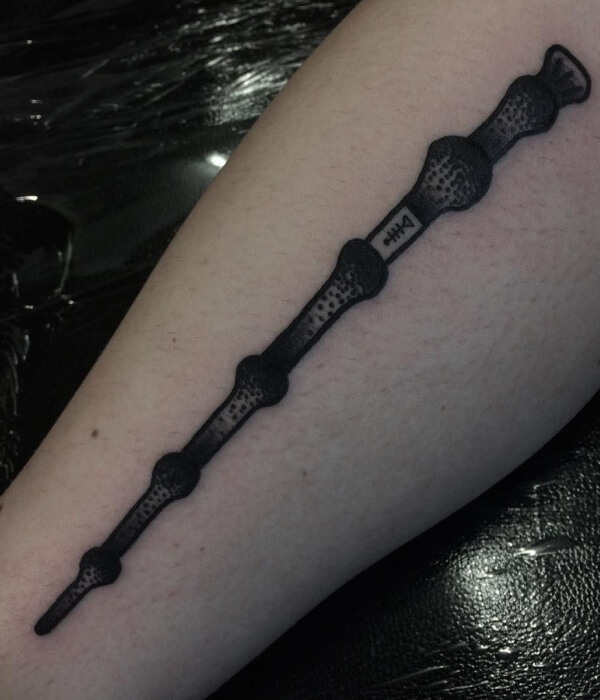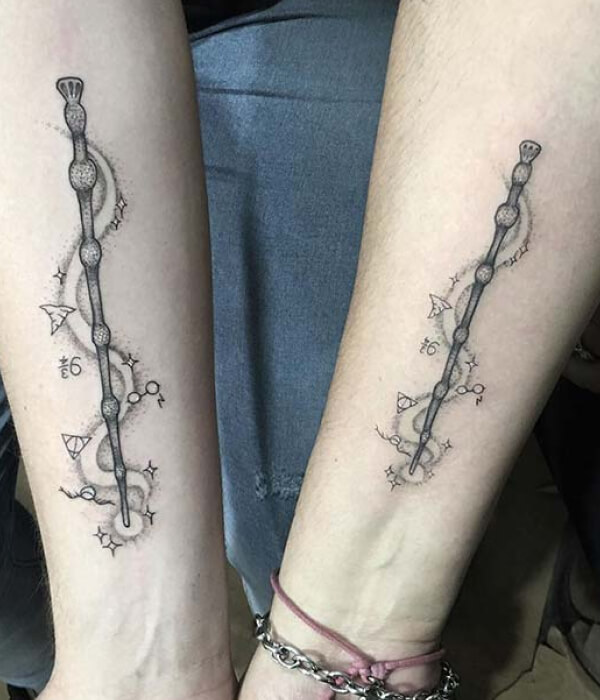 Choose from among the many Harry Potter characters available – each with their signature wand shape and depths of magical power – like those used by Voldemort himself! No matter what you choose, these tattoos will grant wearers an exquisite sense of pride, knowing they've taken part in experiencing something special within this beloved universe.
8. The Sorting Hat Tattoo Design
The Sorting Hat Tattoo Design is an original, creative tattoo inspired by the Harry Potter book series. It's a unique, one-of-a-kind design that captures all of the magic and mystery associated with witchcraft and wizardry.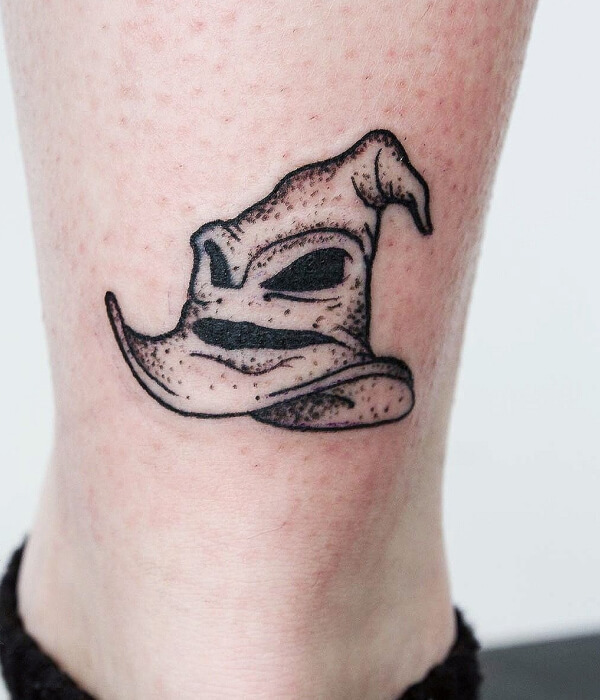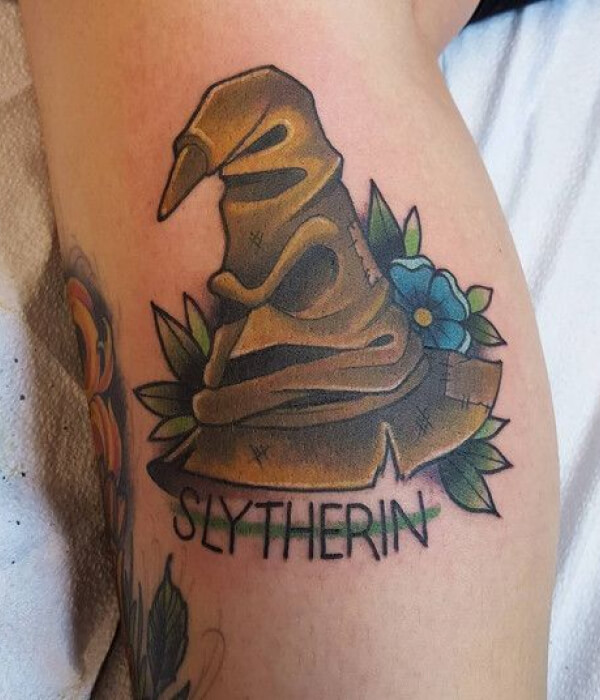 Show your love for this iconic series while adding a touch of style to your look with this whimsical ink artwork! The intricate linework highlights the details in each symbol beautifully, making it look like it belongs to any magical creature! Enjoy being a part of an elite club adorned with tattoos from classic franchises such as these.
9. Harry Potter Glasses And Scar Tattoo
Harry Potter glasses and scar tattoos are iconic in movie memorabilia. These tattoos capture the spirit of this beloved character, displaying his signature round spectacles with a lightning bolt above his forehead.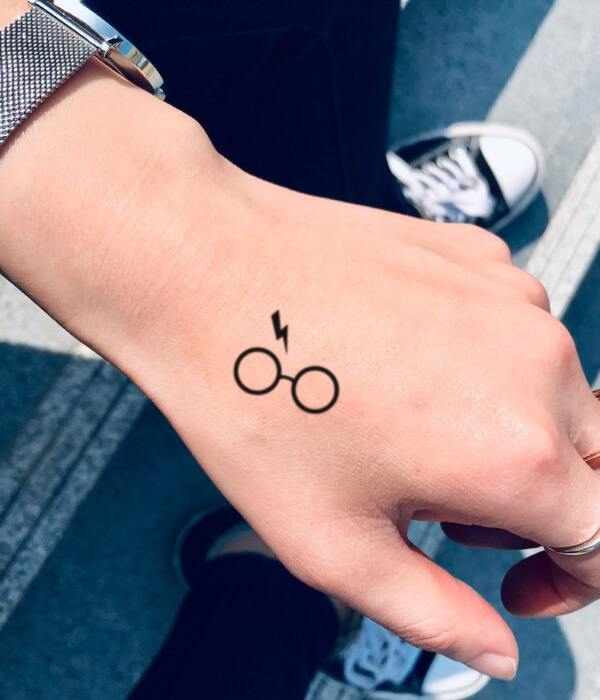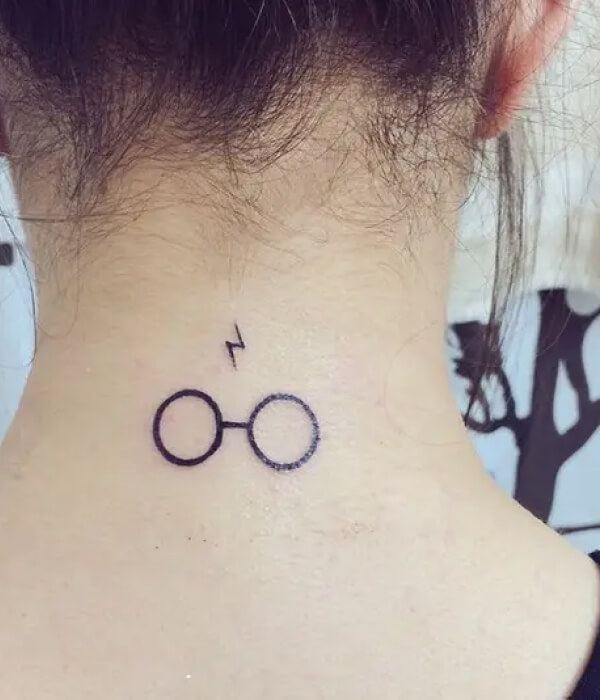 This distinctive design is perfect for those looking to pay homage to their favorite wizarding hero, giving them a unique way to show off their fandom. They can also make an instantly recognizable statement with other Harry Potter-related artwork or clothing items. With its bold lines and clean look, these timeless designs will stand out from any crowd!
10. Small, Simple Harry Potter Tattoos
Harry Potter tattoos are great for showing your love and dedication to the series. Small, simple Harry Potter tattoos let you express yourself with minimal commitment, as they are small and subtle enough for everyday wear. Show off Hogwarts' house crest or 'Always' in an elegant font; try Hedwig flying through the night sky.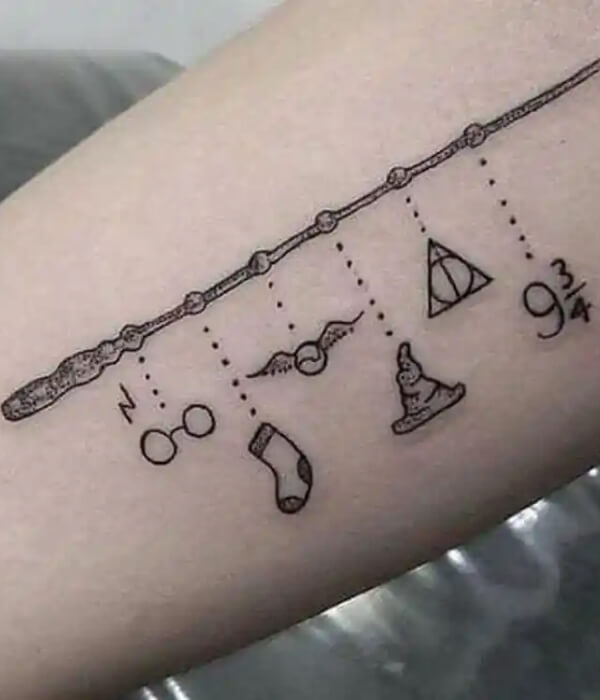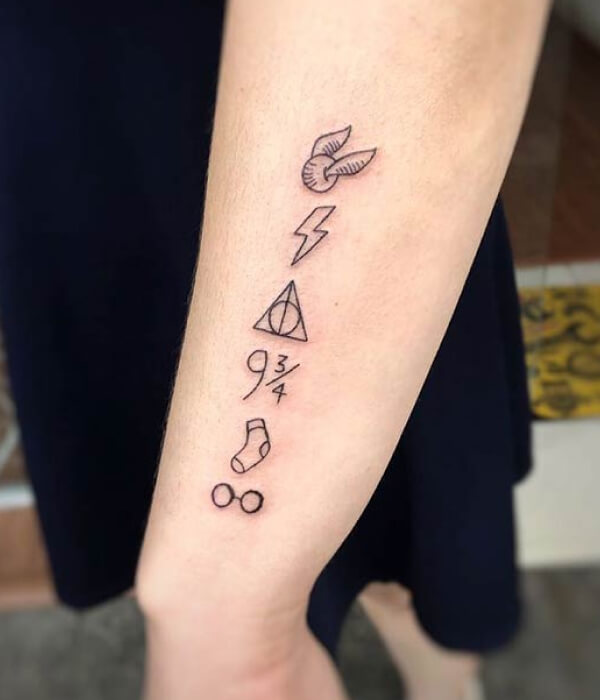 For those who want something more creative, explore diamond-shaped Deathly Hallows symbols combined with intricate hand lettering that tell unique stories about your favorite characters like Hermione Granger! With innovative design options available, it's easy to find just what you need – whether it's a reminder of magical adventures past or simply letting everyone know which house from Hogwarts School of Witchcraft & Wizardry you belong to. Have fun expressing yourself by choosing one of these fantastic Harry Potter tattoo designs today!
11. Flying Key Tattoo Idea
This unique Flying Key Tattoo design, inspired by the beloved Harry Potter stories, is sure to be a favorite of all ages. The tattoo depicts a magical key in full flight with wings spread wide – making it an ideal visual representation of freedom and adventure. Its detailed lines add depth, while its vibrant colors make it stand out on anybody's canvas.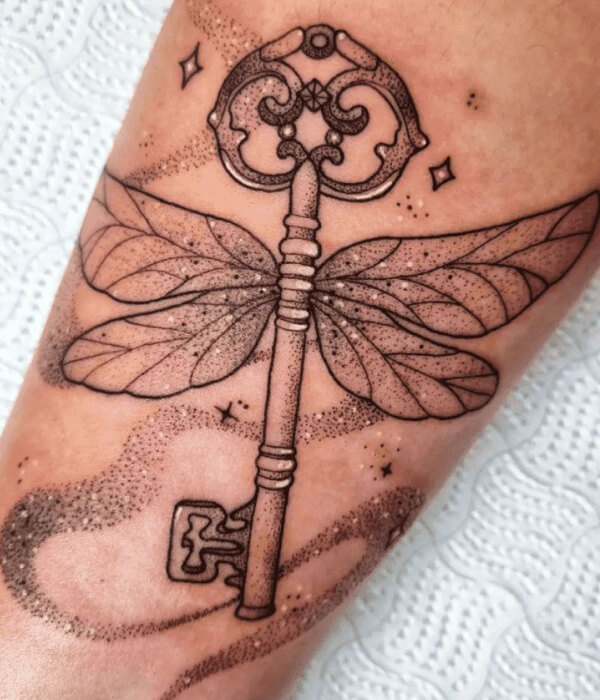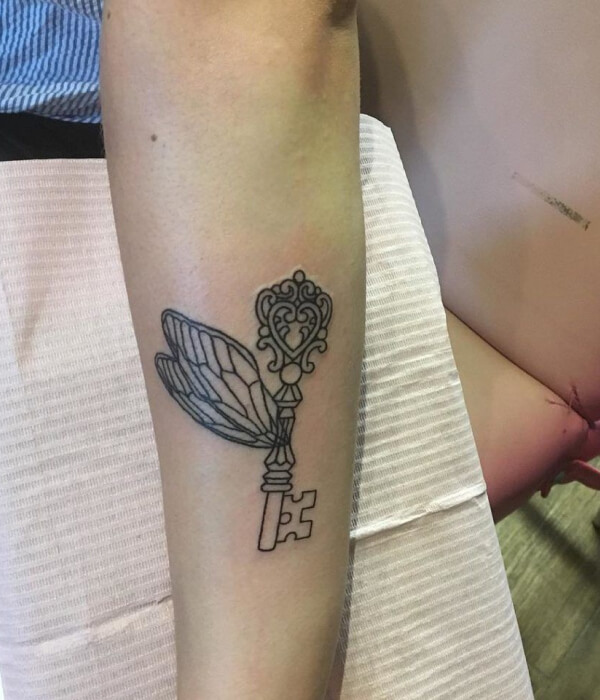 This carefully crafted piece offers creativity and individuality that can't be beaten! Whether you want to show your love for the series or express yourself artistically, this beautiful flying key makes for an unforgettable tattoo experience like no other.
12. Deathly Hallows Tattoo Ideas
The Deathly Hallows symbolizes courage, power, and eternal life – three traits that all Harry Potter fans can relate to. A tattoo of the iconic design will remind you daily of your passion for this beloved series by JK Rowling. Whether classic or creative in its presentation, there are endless possibilities when it comes to designing a timeless rendition on any part of the body- so get inspired!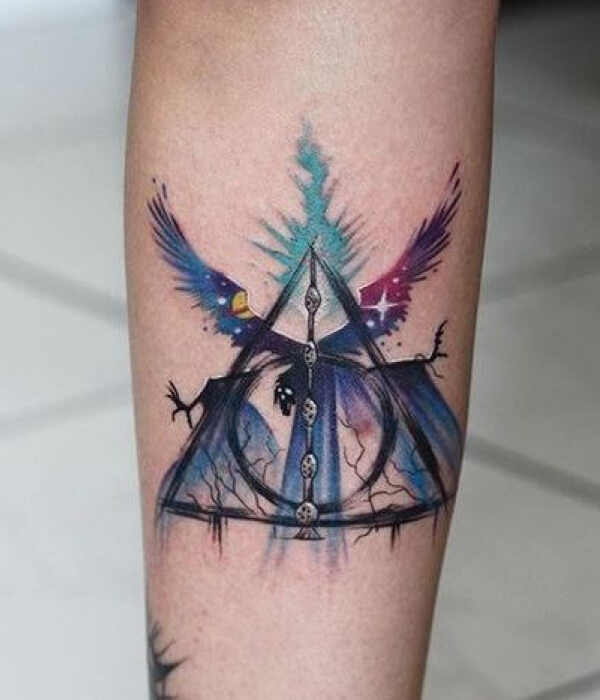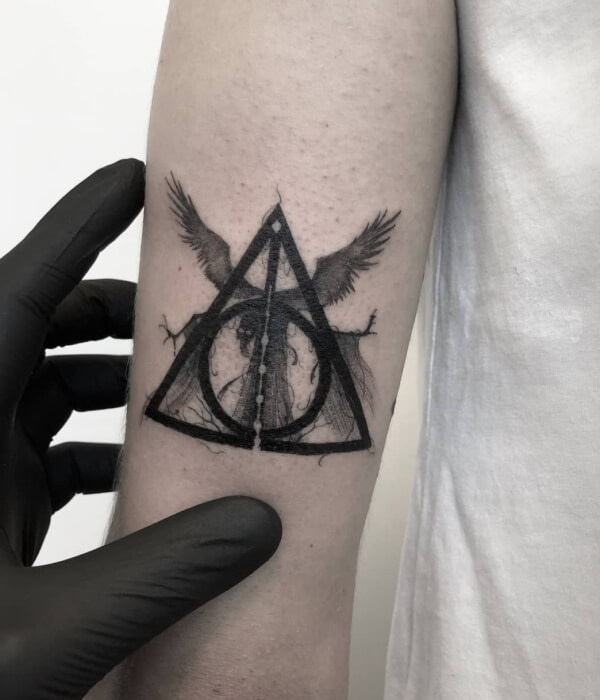 Whatever colors or styles you choose – from traditional black ink outlines to more subtle watercolor tints – always opt for an experienced artist specializing in permanent tattoos with high standards. Have fun expressing yourself through art while reaping the rewards and experiences of being a proud Harry Potter devotee!
13. Unique Harry Potter Tattoo Characters
Harry Potter tattoos are a popular way to express love for the iconic series. You can truly personalize your body art with various tattoo designs inspired by characters and elements of the Harry Potter universe.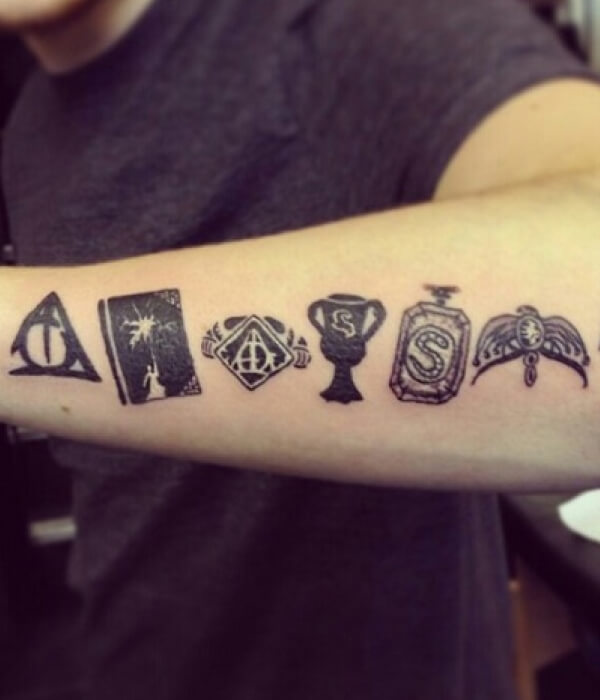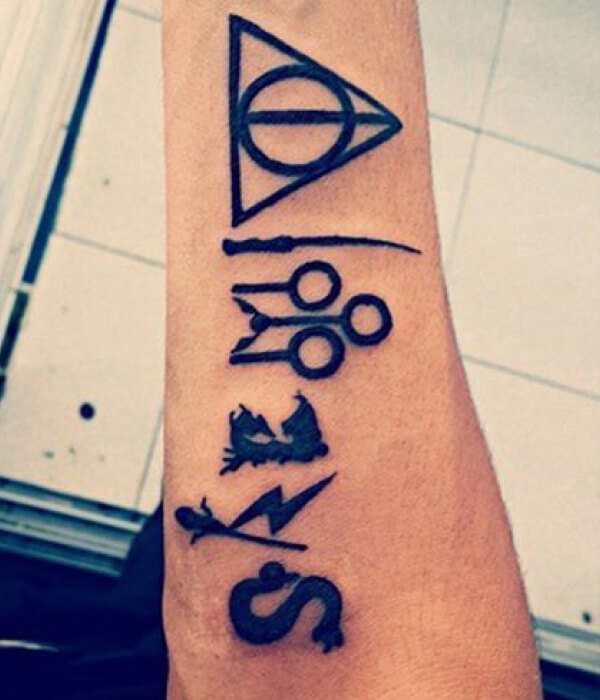 From simple yet meaningful logos representing different Hogwarts houses or enchanting creatures like dragons and Hippogriffs to portraits of beloved students such as Hermione Granger or Professor Dumbledore – there is something magical about these unique Harry Potter-inspired tattoos that will make them stand out in any crowd!
Whether it's subtle details hidden around larger pieces or full sleeves dedicated entirely to JK Rowling's wizarding world – all fans can find creative ways to commemorate this unique story on their skin!
14. Hogwarts House Tattoos
Hogwarts House Tattoos are the ideal form to exhibit your fondness for the Harry Potter series. With beautiful designs inspired by each Hogwarts house, you can create a unique tattoo with special meanings while showing off your favorite fictional school! From Gryffindor's lion, symbolizing courage and bravery, to Hufflepuff's badger, representing loyalty and patience, these tattoos capture the essence of each house in stunning detail.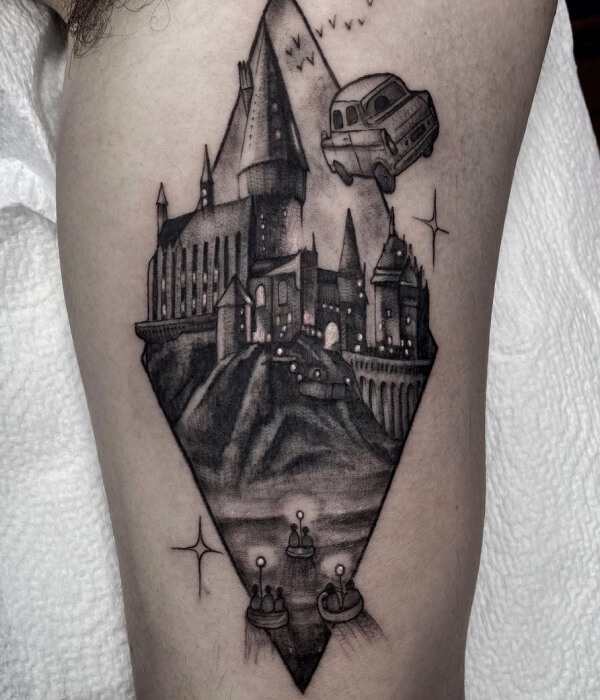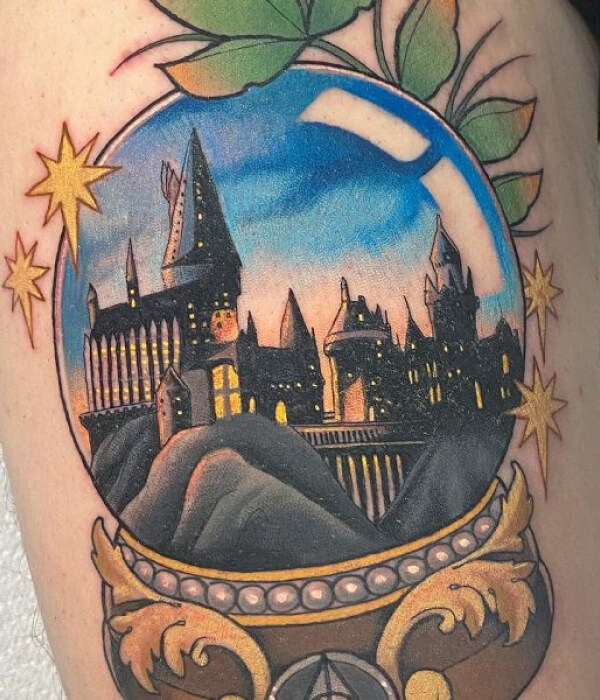 The tattoo is ideal for fans who wish to display their pride with a permanent commitment. Get ready for an enchanting experience as we bring some magic into your life – choose one of the fantastic Hogwarts House Tattoos today!
15. 3 Stars Harry Potter Tattoo
This three-star Harry Potter tattoo design is great for showing off your fondness for the magical world. With its unique and distinct look, this stunning piece will surely make an impression wherever you go. This stylish and vibrant tattoo can help bring some added flair into your life!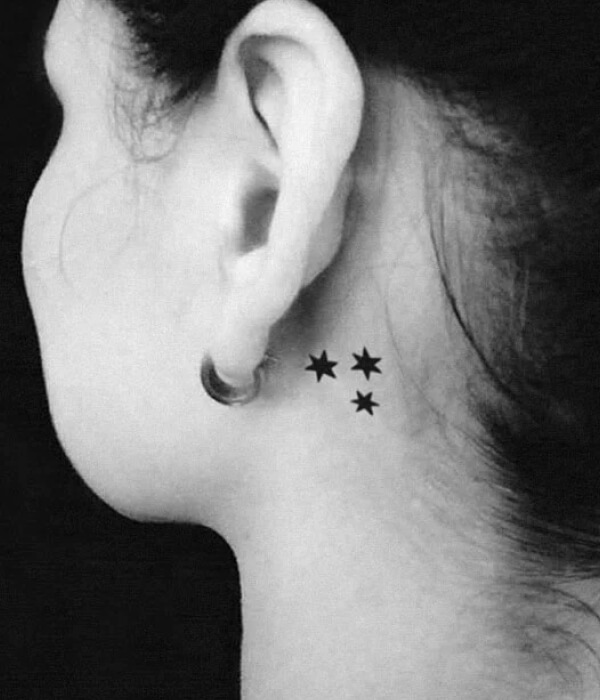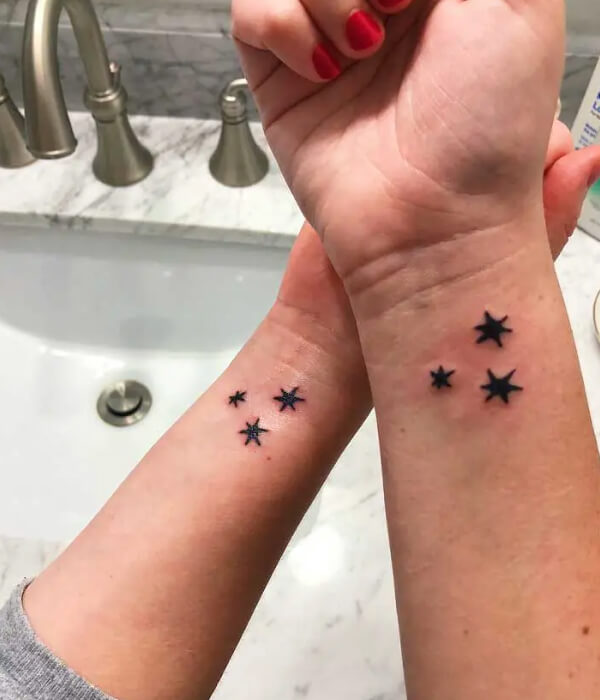 It features bold lines with finely detailed stars made up of tiny dots filled with bright ink. The perfect addition to any fan who loves everything connected to witchcraft and wizardry! Showcase your dedication today by getting one of these beautiful tattoos, guaranteed to turn heads everywhere you go!
16. Tiny Harry Potter Tattoo
Unique and meaningful Harry Potter tattoos can tell a remarkable story about your passion for the series. Whether you want something small or larger, there are countless ideas to choose from that express your love of this fantasy world.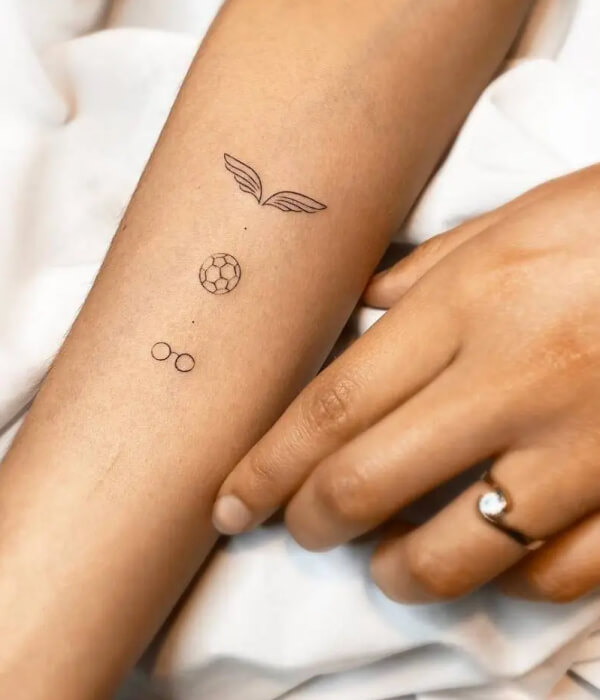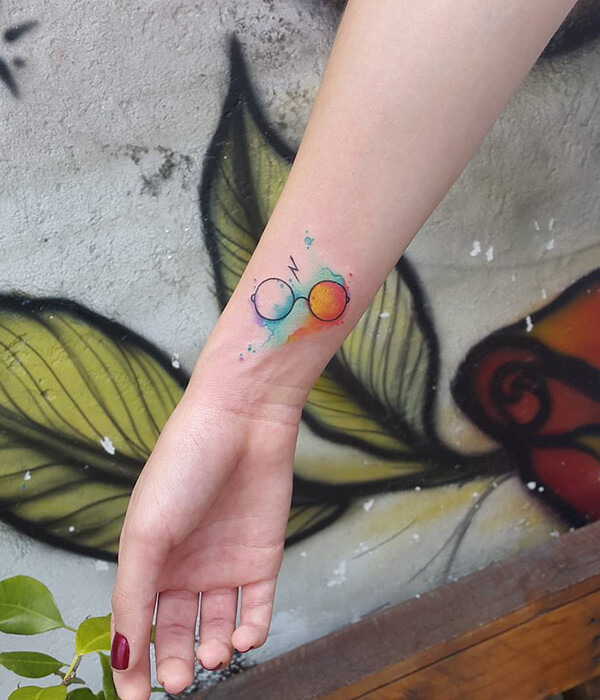 From tiny lightning bolts on wrists symbolizing strength to Hogwarts crests featuring all four house colors – bright reds, yellows, greens, and blues – these designs offer plenty of variety.
Different elements like wands, snitches, and quotes add depth while staying subtle enough not to distract from other daily activities. For those looking for an extra touch of magic, why not consider one of the charmingly whimsical Tiny Harry Potter Tattoos?
Conclusion
Harry Potter tattoos make for an excellent choice of body art. Whether it's a subtle symbol or a detailed portrait, these images can capture the memories and themes from this beloved series. They are versatile enough to incorporate into any style- from traditional flash designs to abstract interpretations by more experienced tattooists.
From depicting characters in symbolic scenes to writing quotes across your back, Harry Potter tattoos provide lasting tributes that everyone can appreciate, no matter their personal beliefs or tastes. With such unique styles and varied meanings behind each design, there is something special about getting a piece dedicated entirely to JK Rowling's masterwork!
Please follow and like us: