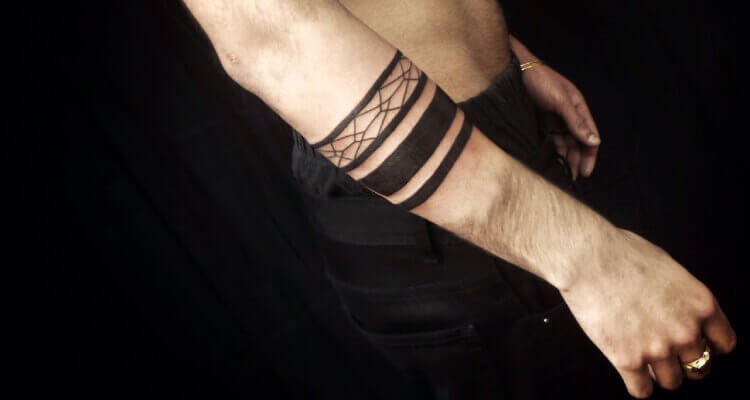 35 Best Armband Tattoo Designs and Ideas
Posted on
Tattoos are one of the best ways to express your true self!! And there are umpteen designs and patterns which one can choose from, to get it etched on his/her body. In fact, people today want to have something unique and different. They don't want to go for regular tattoo designs, and that's the reason tattoo artists come up with something new each day. And in the long list of tattoo designs, there is one design that is specifically meant for arms and i.e., Armband tattoo. Armband tattoos are very popular, they look classy, elegant and stylish.
If you're the owner of a tattoo parlor or a tattoo artist, it's a great idea to make your tattoo designs into stickers. Custom stickers not only allow guests to feel the effect of the pattern before getting a tattoo, but they can also decorate your store, making your store look more professional and artistic. You can even hand them over to people in your area or in public places. Or add your tattoo shop's information on every sticker for the people to reach you. In this way, it can increase the exposure of the tattoo artist.
In this post, I am sharing with you some of the best armband tattoo designs. But before that, I would want to tell you something about armband tattoos.
Here we go……
Significance of Armband Tattoos
As the name says, these are the tattoos meant for arms or are made on arms. These tattoos look like a band on your arm as they encircle your arm just like a band does. These tattoos look elegant and graceful complementing your well-toned arms. Band tattoos are meant for all, from regular gym-goers to college girls. Armband tattoos come in numerous designs, which include floral patterns, wrath, Polynesian, barbed fence, name armbands, and tribal patterns. These tattoos can be associated with people you love, or to the memory of someone who is no more etc.
What exactly does a black armband tattoo mean?
As the name implies, an armband tattoo is inked in such a way that it resembles a band around one's arm or forearm. Typically, it is a solid black band that represents the grief or loss of someone.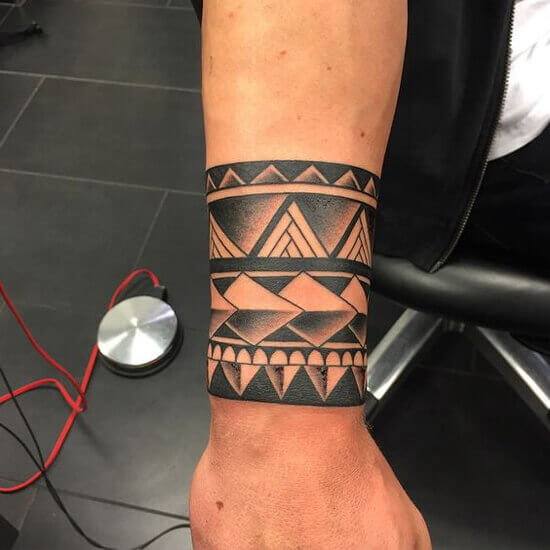 More often than not, people get black bands around their arms. A black armband in Western culture indicates that the wearer is in mourning or desires to connect with the commemoration of a family member, comrade, or team member who has died. After the death of a former player or manager, it is customary for a team to wear black armbands in some sports.
What do the red armbands indicate?
The red armband tattoo meaning is very much associated with the furious and violent 1966-1976 Cultural Revolution. It was when young people purged academics, officials, and other politically condemned groups, that red armbands became a status symbol for the militant Red Guards.
The Nazi party was a notorious wearer of red armbands, generally with a swastika embossed on them. These were popular with the military, and officers and regular troops both wore them as part of their formal uniforms. Nazi party officials at various levels of the party hierarchy wore them frequently.
If you're wondering how painful an cuff tattoos could be, continue reading.
Is It More Painful To Get An Armband Tattoo?
When it comes to whether or not getting a tattoo hurts, it all depends on the person who is receiving it. Additionally, the 'amount' of pain is dependent on the design and location. The procedure of obtaining a tattoo is painful for the first few days until the tattoo is healed. Areas that are softer and have more fat tend to hurt less.
Pinching a little piece of flesh between your nails is a fantastic technique to get an idea of how much it might hurt on the arms. It will hurt more when tattooed in the same places. As a result, one side of your arm will likely pain more than the other. It will also be determined by how much detail is included in the design. Outlines are more painful than colors. Moreover, if you get a wristband tattoo, then it will be painful compared to your arm, as the wrist is a boney region that will cause pain.
Thus, the very next thing that comes to mind following pain tolerance is Armband Tattoo Cost. Read ahead to know.
How much an Armband Tattoo Costs?
Depending on the design, placement, details, coloring, the time required to execute the design, tattoo artist's reputation, and location, the cost of an armband tattoo can vary significantly. In most cases, a solid armband tattoo will take anywhere from 2 to 4 hours to finish.
The typical hourly rate ranges between $150 and $250. Highly proficient artists can charge up to $500 per hour, while apprentices and less skilled artists can charge as low as $75.00 per hour or less.
Before you sit down to get inked, make sure you and the artist have discussed pricing and other details related to your armband tattoo design.
Armband tattoos help you express yourself and your emotions for your loved ones. Some of the best armband tattoo designs are as follows:
1. Three Circles as Armband Tattoo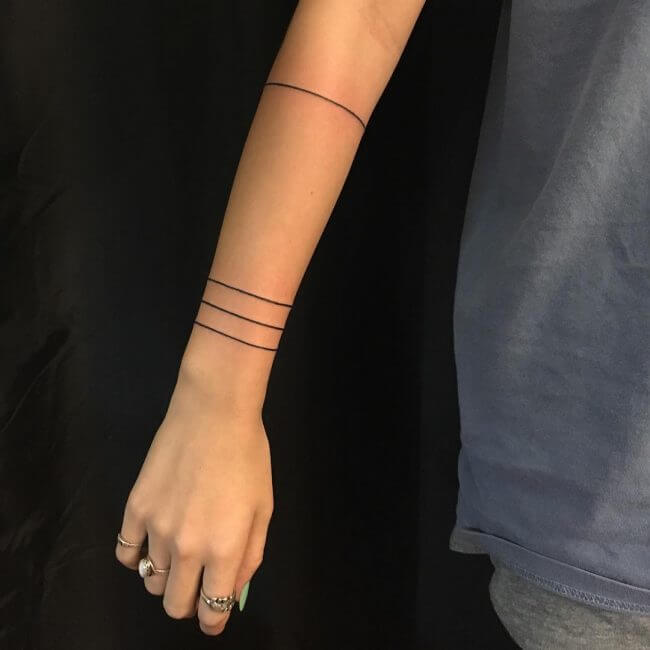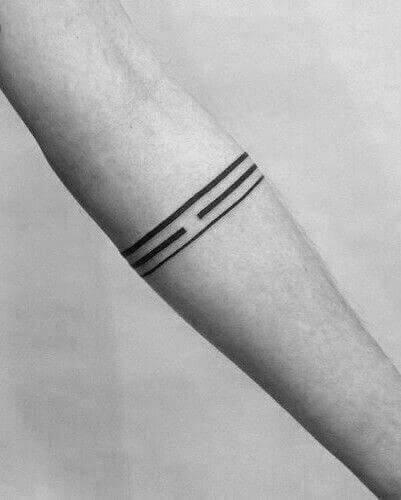 Thin circle encircling your arm signifies simplicity and lucidity. This armband tattoo looks gorgeous. You can get these circles in the same size or one thicker than the other. This armband tattoo makes for a very elegant tattoo design, people who don't want to go for a heavy tattoo design or want to have something simple, this one is for them. It looks great in black and mostly suits all skin tones.
2. Tribal Armband Tattoo
Tribal tattoo designs have always been popular amongst different cultures and regions for thousands and thousands of years. Tribal tattoo represents a society or culture or civilization, thereby making it an ethnic tattoo design. Tribal tattoos are usually inspired from the traditional tribal arts that by and large symbolize strength, valor and leadership qualities. Tribal armband tattoos are one of the best armband tattoo designs for males who believe in their inner strength and wish to flaunt it to the world that they are born leaders. Black is the perfect color for tribal tattoo designs. Can be done in small and medium sized as per your wish. Perfect for all skin tones.
3.

Names Armband Tattoo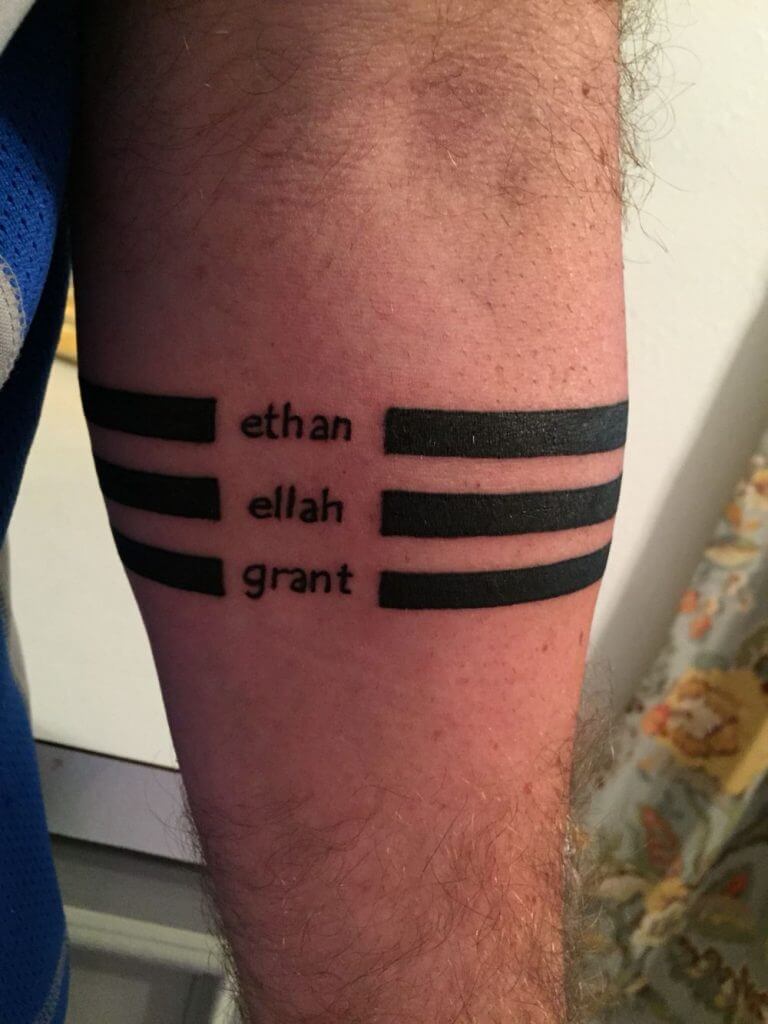 Name tattoos are the most sought after tattoo designs, especially for the ones who want to flaunt their love for someone special. So, if you know the name of the person you want to get etched on your arm then this is the tattoo for you. This is the easiest and the best way to express your love, feelings, and emotions for the person to the world. Get it done in black, it looks mesmerizing. Although, size is up to you but too big won't look that beautiful. But yes, small and medium sized name armband tattoos look stunning.
4. Cherry Blossom Tree Armband Tattoo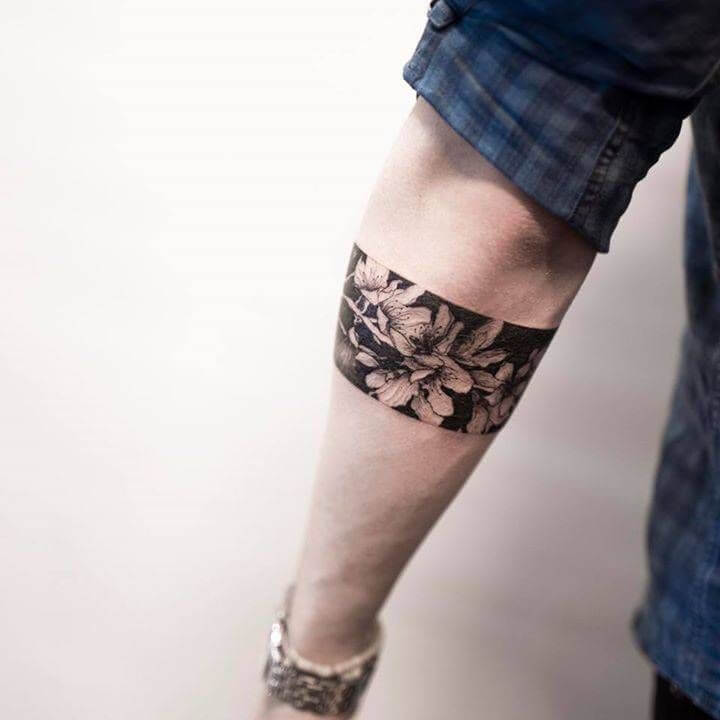 This one's for women, as cherry blossom tree armband tattoo designs look beautiful and elegant. In China, the cherry blossom tree is considered to be a symbol for feminine beauty, power and love. Whereas in Japan these trees are considered as the representation of the transience of life. The cherry blossom tree armband tattoo looks picturesque, and make for an amazing armband tattoo design for women. Looks great in shades of black, red and pink. Size can vary as per your wish. Suits all skin tones!
5. Celtic Armband Tattoo
An amazing way to represent the art and life of the Celtic people is to have a Celtic Armband Tattoo. Celtic Tattoos were specifically used during the war periods to appeal the enemies. Each tattoo has some significance. Women carries Celtic armband tattoos with feminine symbols such as hearts, butterflies, and flowers. Celtic knots represent no beginning and ending, meaning infinity or the endlessness of the Universe. Just like the Celtic knot Celtic tattoos are a way to express your endless love and trust for someone special.
6. Two Solid Bands
Solid bands on forearm look mesmerizing and elegant as well. Solid bands are for those who are looking for something simple as armband tattoo design. This tattoo looks great when done in black ink. It is very simple yet very beautiful armband tattoo design. It suits all skin tones. Also, there can be variations in solid bands, like you can get two bands in different thickness like one thin and other relatively thicker. Any which way you do it, it looks gorgeous. The best part is this design looks stunning on both males and females.
7. 3D Armband Tattoo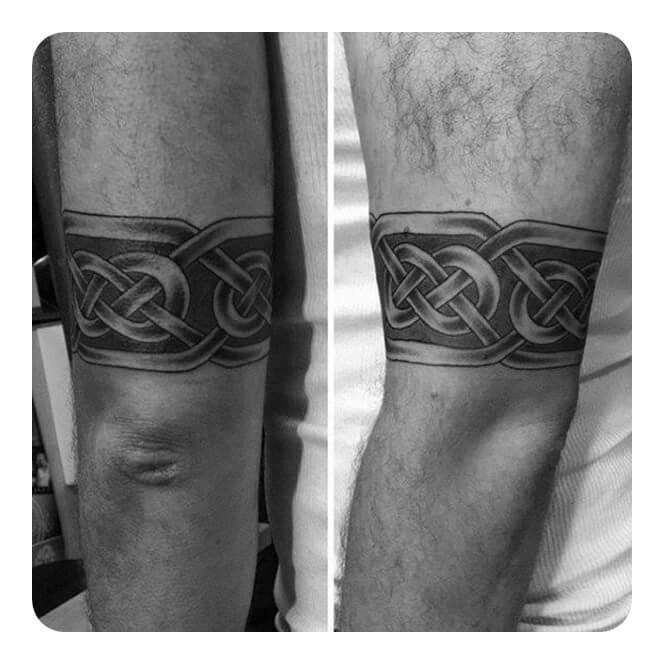 3D armband tattoos look stunning, but here is a catch. 3D armband tattoos are a bit tricky and do need skill and expertise to etch. These life like tattoos are difficult to etch, hence it is indispensable that you go a skilled artist, who has done such a job before also. Perfect armband tattoo designs for people looking for something unique and extraordinary. 3D tattoos look real, and are very creative designs. You can get anything etched on your arm from an eye to a wolf. Looks perfect when done on your biceps. 3D tattoos are done in multiple colors to make the tattoo look real. 3D tattoos look great in medium to large size.
8. Rose Thorn Armband Tattoos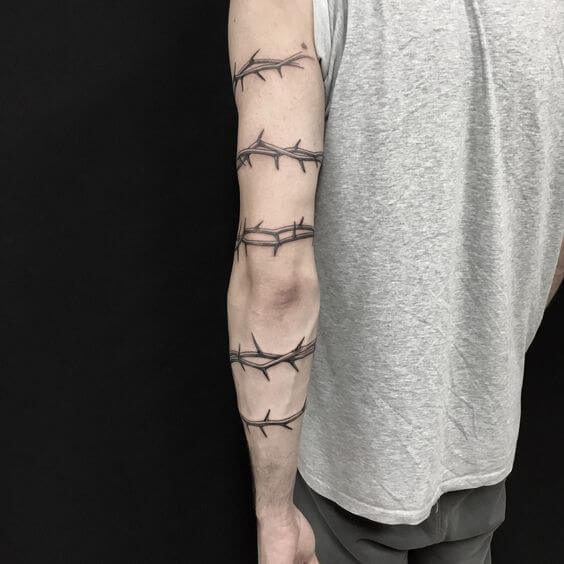 Rose Thorn Armband Tattoos are not only creative, but also they are colorful, as the red rose add an amazing color to the whole tattoo. This tattoo has a rose that is surrounded by thorns. Rose will be done in red color; however, you can use any color. Rose represents numerous things based on its color, like a red rose represents love, beauty, romance, while yellow is used to express joy and friendship and black rose will simply represent death and loss. This design can be done by males and females. An amazing tattoo to express you love, hope, or loss. It is usually done in red and black colors and looks amazing on arms or shoulder area. Suits all skin tones. Can be done in small to medium size.
Also See:
9. Butterfly with Flower Armband Tattoo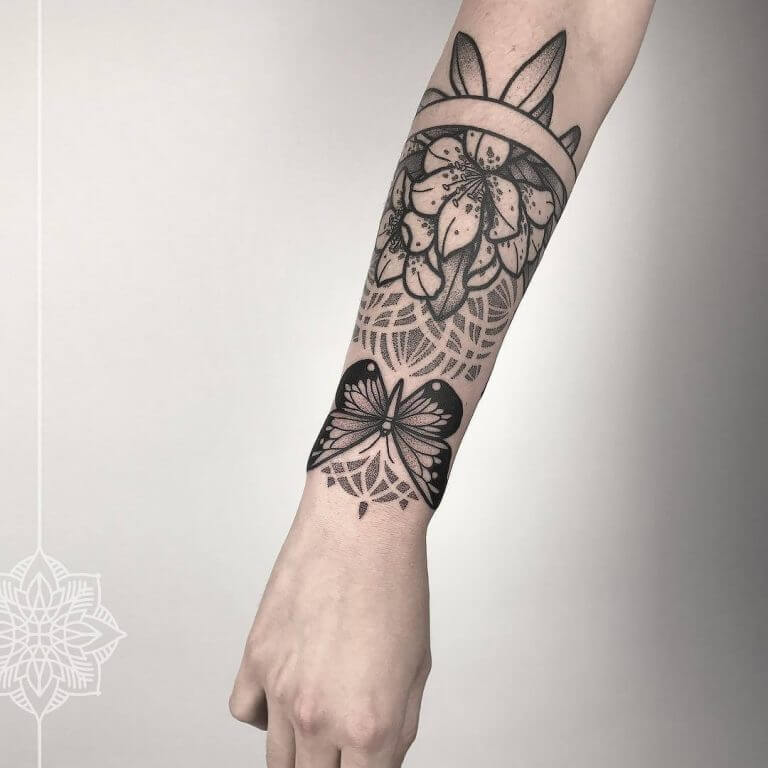 A beautiful and colorful armband tattoo that looks gorgeous on well-toned arm of a woman. Tattoos with butterfly are mostly liked by females. This tattoo will have butterflies and flowers making a beautiful band around your arm. The size however will be small to medium. Also, this gorgeous tattoo is done in multiple colors. This tattoo is for those who want to flaunt their love for nature and are connected to nature from core. Suits all skin tones and looks amazing when done in multiple colors.
10. Armband Tattoo with Feather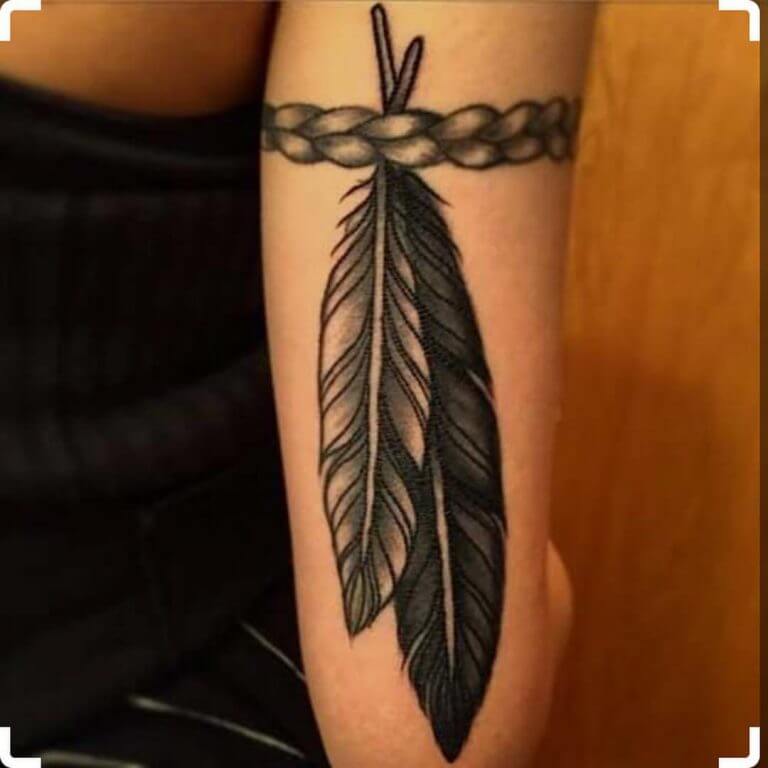 Feather tattoos already look amazing and they can be designed in several different and artistic ways. If you wish to express your patriotism for the country, then this tattoo is meant for you. A great way to display your pride and your loyalty for your customs and traditions. This tattoo can be done by both males and females and it looks stunning when done in multiple colors, having black ink in the background. It is considered a great choice for both men and women and this tattoo can be styled with different colors also. You can opt for a medium to large size tattoo. Suitable for all skin tones.
11. Bohemian Armband Tattoo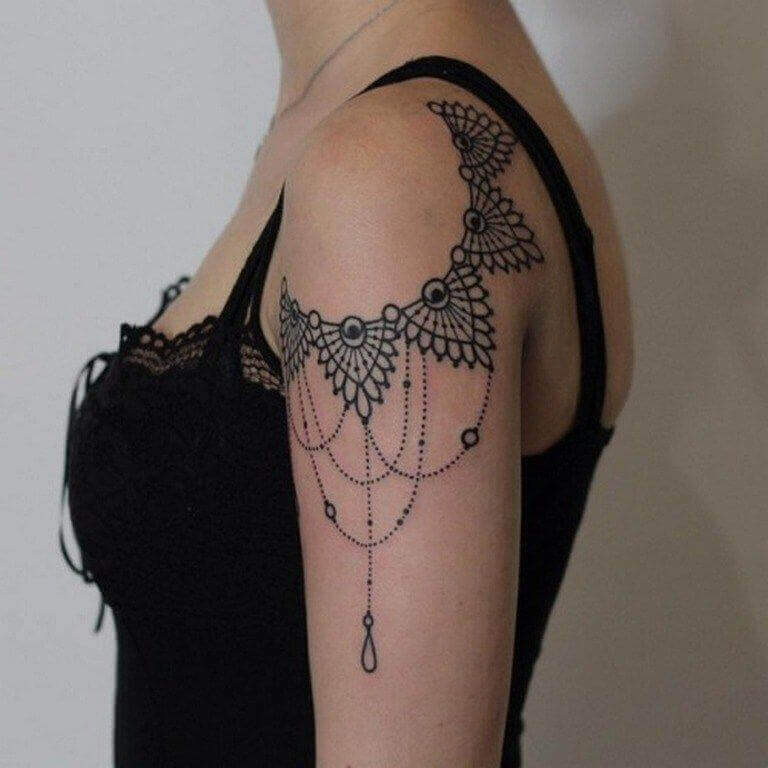 A perfect armband tattoo design for well-toned biceps, where it will accentuate the muscular curvature of strong men and women. This one makes for an eye-catching armband tattoo design due to its boldness. The best part of having this tattoo on your bicep is – it will always help you stay motivated to be in shape. The bohemian style armband tattoo is a beautiful way to express your fondness for this particular style. It can be done in medium to large size, and it is meant for both males and females. Get it done in black ink.
12. Forearm Band Tattoo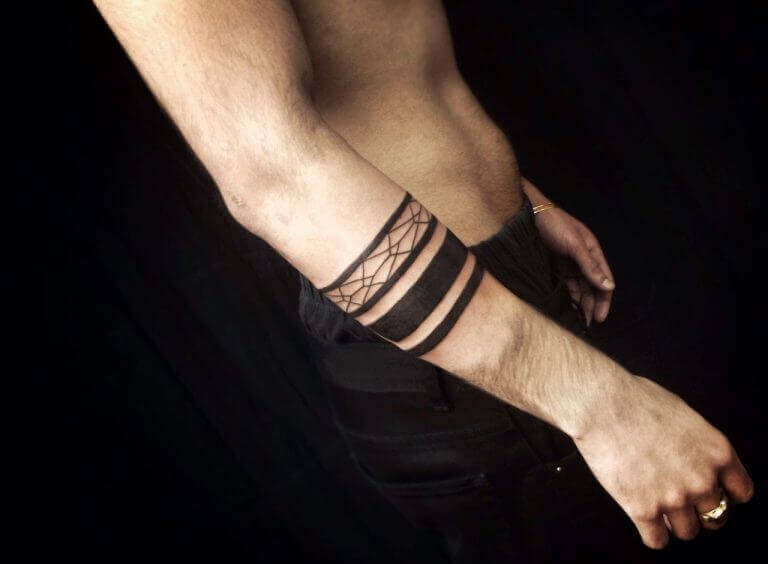 Forearms bands are another popular way of getting armband tattoos etched. More often than not, these tattoos are simple, and minimalistic, but they convey deeper meanings and look elegant. They can either be done in tribal patterns, or thick black lines, or in geometric patterns. Forearm tattoos are preferred by people who want to have something unique and bold. These simple yet elegant tattoos symbolize pride, self-confidence and modern ideologies. Forearms tattoos are famous amongst both males and females. Forearm tattoos look great in black, and done in small to medium size. Suits all skin types.
13. Geometric Armband Tattoo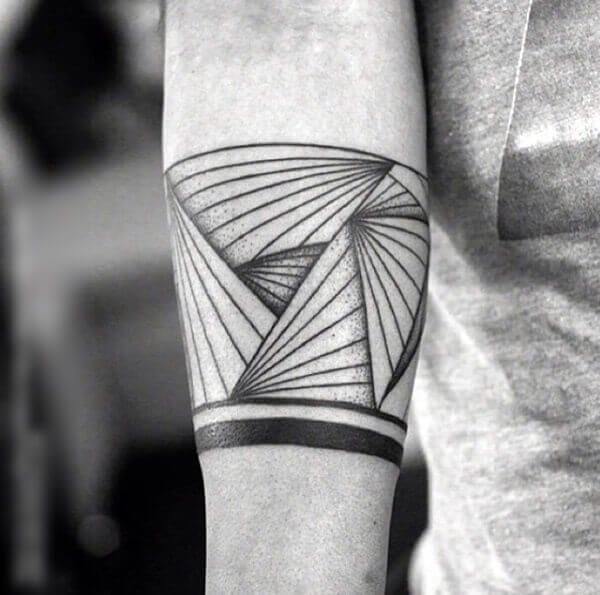 Geometric armband tattoo designs looks perfect and are best known for their symmetry. These tattoos have long been into existence, they were first found on the people of Micronesian islands around 2000 years. Geometric tattoos simply represent the passion for perfection and expertise in life. These tattoos are a bit difficult to make, hence require skill and expertise. More often than not, geometric tattoos are done in black, but if you wish you can add some colors to it to beautify it more. Geometric armbands can be done on wrist, elbow, and arms.
14. Native America Tribal Armband Tattoo
Originated from native America these tattoos specifically depict the culture and custom of the particular tribe. Back then each member of the tribe were inked with identical tattoos that would usually indicate their familial origins. But now tribal designs are opted by people who want to have some cool artwork on their body. Today, people go for tribal armband tattoo designs because these tattoos make for unique and extraordinary tattoo designs. Tribal tattoos simply represent love, peace, strength, wisdom, union and family. Tribal armband tattoos are common amongst men who want to flaunt their inner strength and velour. People who knows how to have a good balance between love, hate and other aspects choose this insightful armband tattoo design. It can be done in blue, red and black colors.
15. Polynesian Armband Tattoos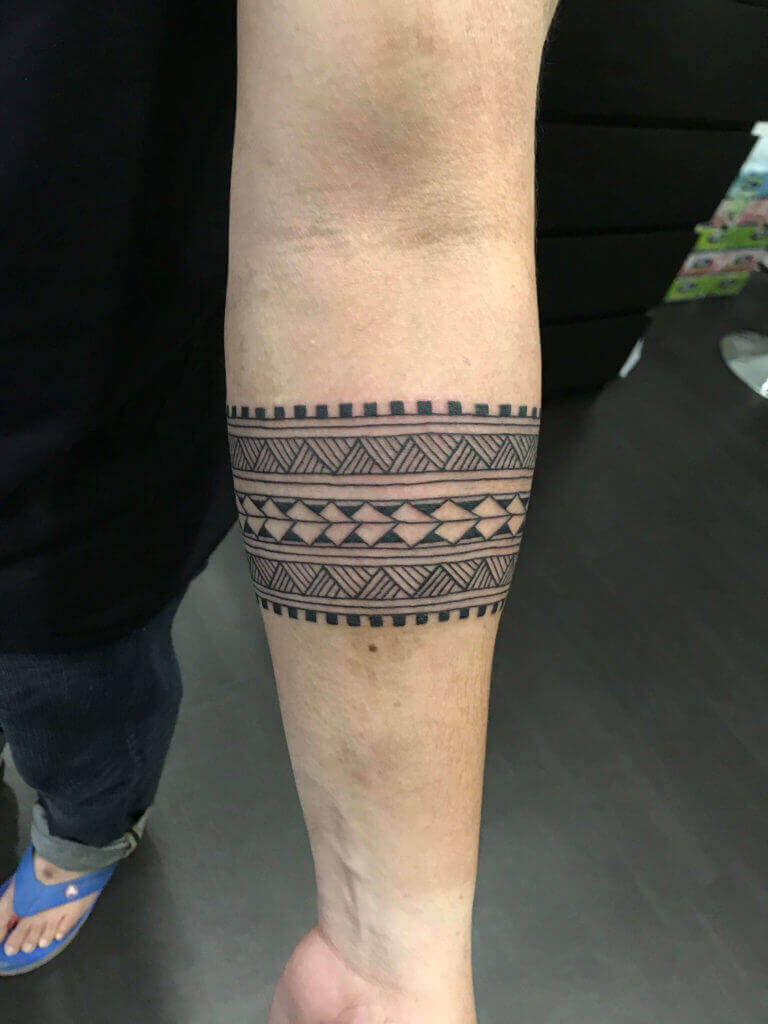 Polynesian armband tattoo designs look beautiful and enchanting. Polynesian armband tattoos basically represent the customs and culture of Polynesia. These tattoos are now becoming popular amongst male and females. Polynesian tattoos mainly symbolize strength and velour, these patterns follow different geometrical shapes based on the part on which they are etched. These tattoos represent different meanings. Moreover, these tattoos are difficult to etch and hence need skills and expertise. It is preferably done in black color. Polynesian tattoos are generally done in medium size, which suits all skin tones.
16. Barbed Wire Armband Tattoo Design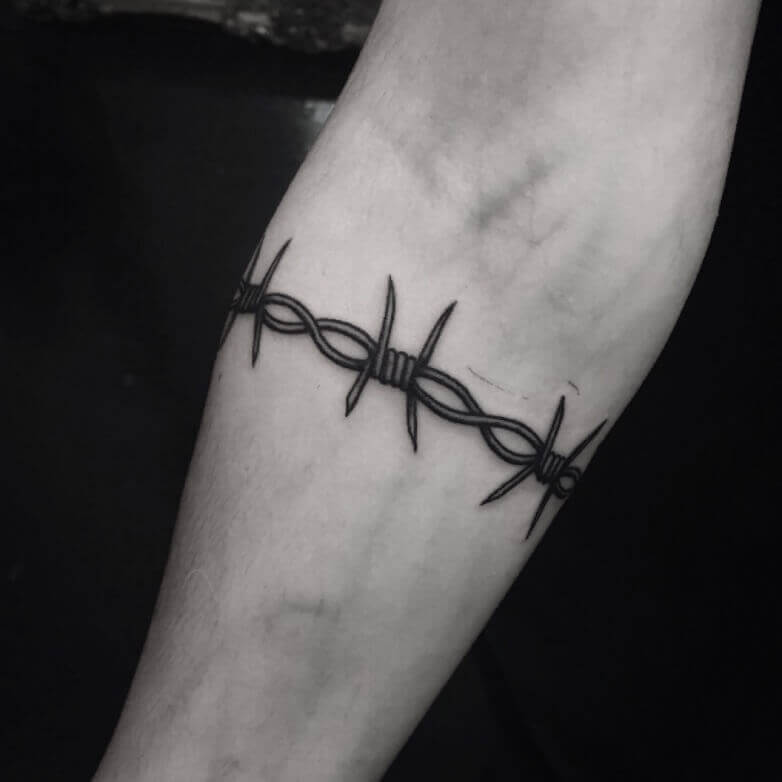 Having barbed wire surrounding your house may not appeal to you, but believe you me, barbed wire armband tattoos look mesmerizing and are liked by both men and women. Barbed armband tattoos are gaining popularity. They originally came from poison culture that was later taken up by the Latinos who used to live in Southern California. Barbed tattoos just like barbed wire around our houses represent security, preservation and of prohibiting a passage. Also, barbed wires represent the crucifixion of Jesus Christ and hence have religious representation as well.
If you believe in the power of the almighty, or if you are a private person, then this one's for you. Barbed armband tattoos can be done by both males and females; however, females often get them in small sizes. It looks perfect in black ink. Good for skin tones dusky to fair.
17. Birds Armband Tattoo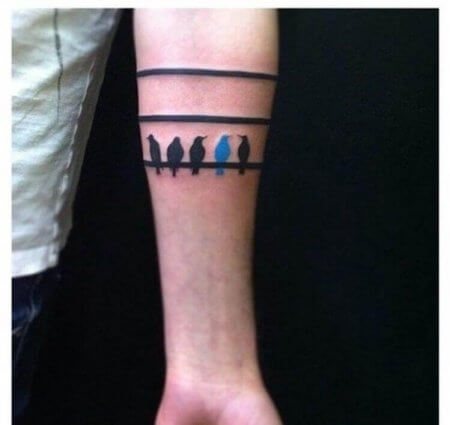 Birds armband tattoos look beautiful and stunning. These tattoos usually consist birds sitting on the string that is surrounding your arm. A beautiful armband tattoo that simply represent your love for other living beings. This tattoo design make for any eye-catching tattoos. This is usually done in black and the size can vary from small to medium. It looks good on all skin tones.
[ See More: Bird Tattoo Designs ]
18. Floral Armband Tattoos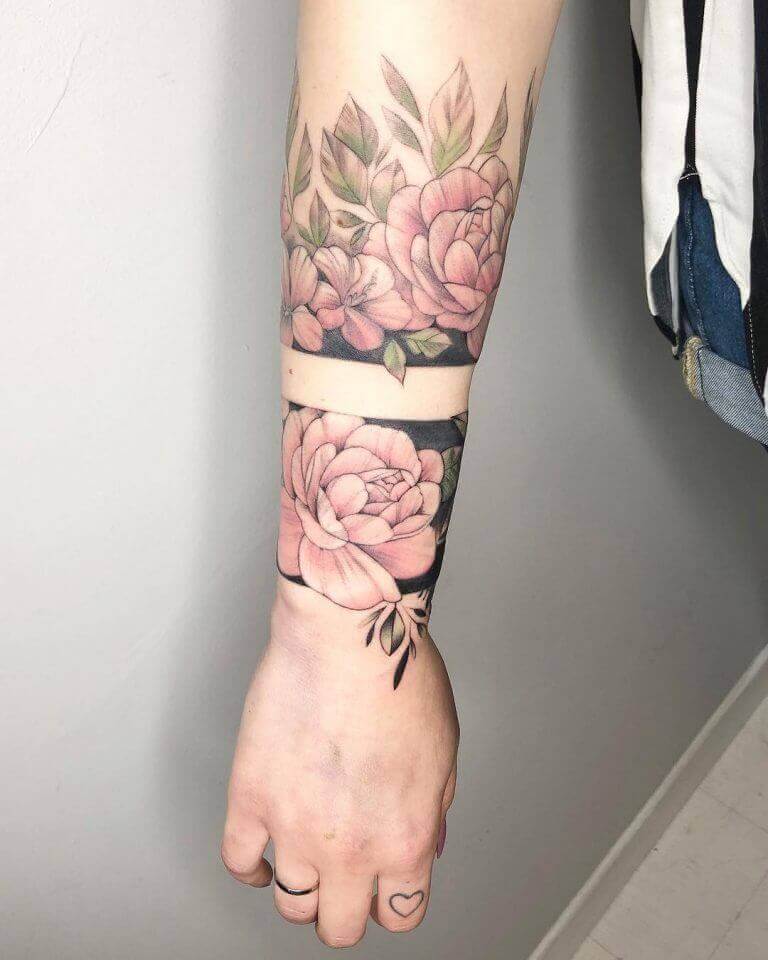 Floral armband tattoos are however simple, but they make for a beautiful armband tattoo designs. These armband tattoos are very popular amongst women and girls. These tattoos simply consist of beautiful flowers surrounded by vines. Floral tattoo armbands look attractive and come with numerous trendy designs to choose from. These armband tattoos depict power, strength, friendship and good luck. More often than not, women go for this armband tattoo design. This however looks good in black but if you wish it can be done in green and red. Small to medium sized flowers with vines look perfect. Suits all skin tones.
19. Hawaiian Armband Tattoos
The latest armband tattoos are Hawaiian armband tattoos. These tattoos simply represent the Hawaiian culture and more often they consist of Hawaii's flora and fauna such as dolphins, orchids, turtles and many more elements. Hawaiian armband tattoo appears like a tiara done on arm. These tattoos not only look stylish, but also they look trendy and elegant. If you also want to have a classy armband tattoo, then this is the one for you. These tattoos symbolize celebrations, strength and chieftain qualities, which are done to honor the rich culture and natural beauty of the Hawaiian Islands. Get this one in black, it will look amazing. And the size could be small to medium.
20. Musical Armband Tattoos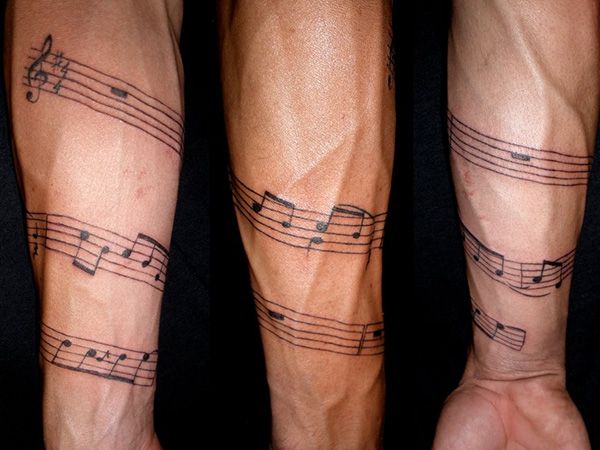 For all the music lovers, this another way to flaunt their passion for music to the world. Music tattoos simply symbolizes one's love, passion, and energy for the music. This armband tattoo is specifically for the ones who love music passionately and the ones who live for music. More often than not, musicians and artists get this one etched in order to flaunt their intense love and passion for music. It can be done by both men and women, whoever wants to express harmony and symphony of life through music notes in armband. Looks great in black ink, get your favorite music symbols etched around your arm. Also, for size medium sized bands look perfect. Perfect for all skin types, love for music is required, everything else is secondary ☺ ☺
See more: Incredible Music Tattoos To Show Off Your Passion
21. Native American Armband Tattoo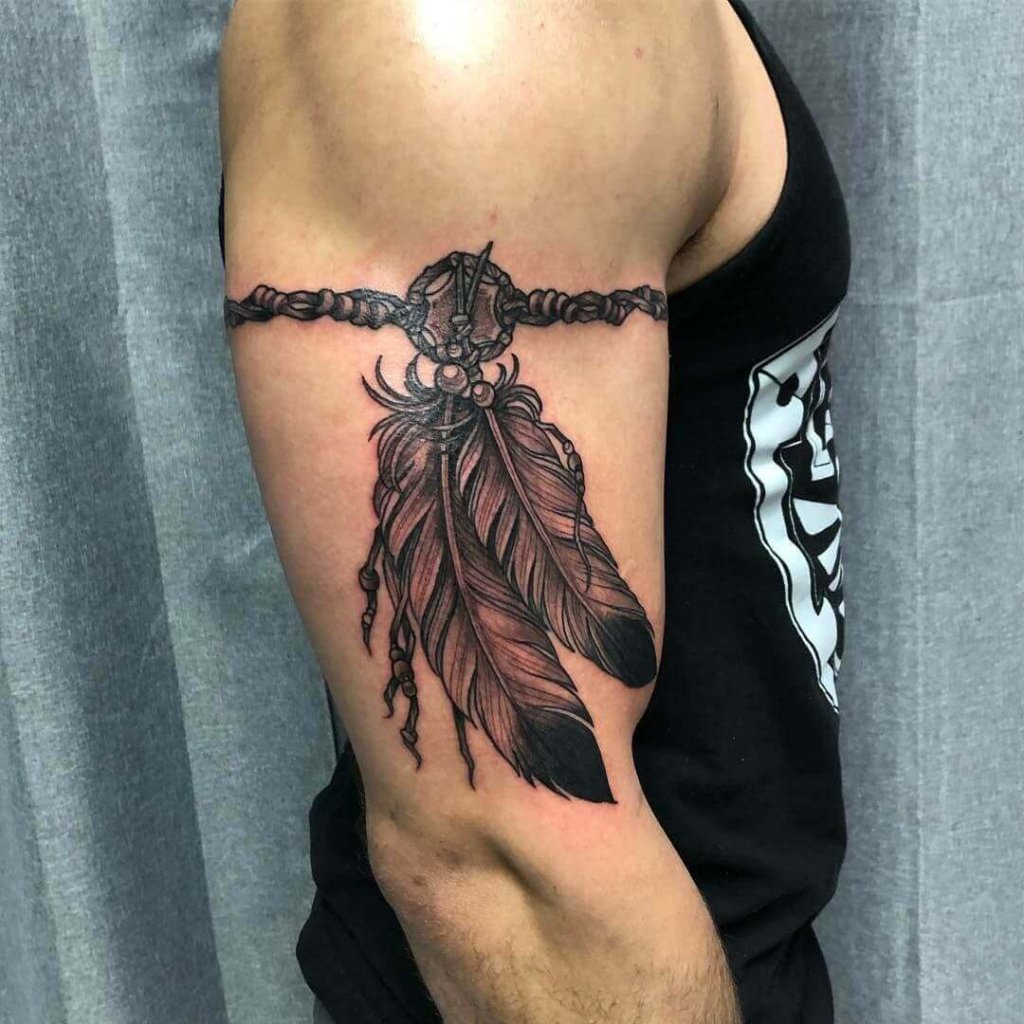 Native American armband tattoo designs usually have rope tied around the arms. However, this rope contains beads and couple of feathers hanging from it. This armband tattoo design is very much linked with the Native American culture. Also, it represents the Native American pride. One can add a few more elements like a bull skull, or a dream catcher to this tattoo design, to beautify it more. This is a perfect tattoo design for people who like to proudly flaunt their native culture and heritage. It can be done in black or may be in multi-colors. This tattoo can be done in small and medium size. Suits all skin types.
22. Landscape Armband Tattoo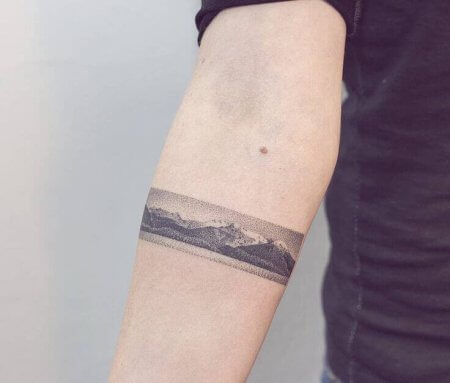 Landscape armband tattoo as the name says, will have all the elements from nature such as mountains, moon, trees, birds, etc. This tattoo design is for those who love nature and are connected to the nature from the core. The ones who want to flaunt their immense love for nature. This tattoo is usually done in black along with shades of grey to give it a perfect look. It suits all skin tones, and also the size can vary from small to medium. The perfect place can be your arm or your forearm.
23. Chain Armband Tattoos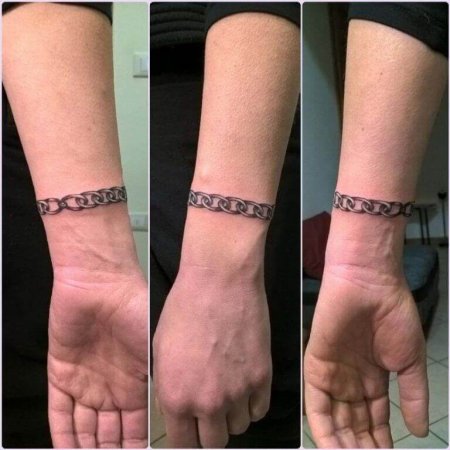 This is for those who love to wear chain, and if you are also looking for a permanent chain on your arm then this tattoo is for you. Simple yet beautiful tattoo design for both men and women. Men can have this armband tattoo in thick chain links and women can choose to have thing design. This tattoo looks perfect when worn on wrist, it will look like a wrist band. Looks perfect when done in black, if you want you can add a pop of color. Small to medium size is best for this tattoo. It suits all skin tones.
24. Aztec Armband Tattoo
Aztec Tattoos are originated from the ancient tribes viz Aztec. Aztec were known for their tattooing skills. More often than not, their tattoos used to be related to weather, fertility and creativity. And the other symbols could be sun, or moon tattoos, along with cross and eagles that signify the strength of a warrior. Also, the Aztec calendar and princesses do come in Aztec tattoo designs. Aztec Armband Tattoos make for an eye catching tattoo design. These tattoos are a great choice for the ones who believe in God. Aztec tattoos are especially done to honor the Aztec God. It is done in black color. You can get this design in medium to large size. It suits all skin tones.
25. Swirls and Stars Armband Tattoos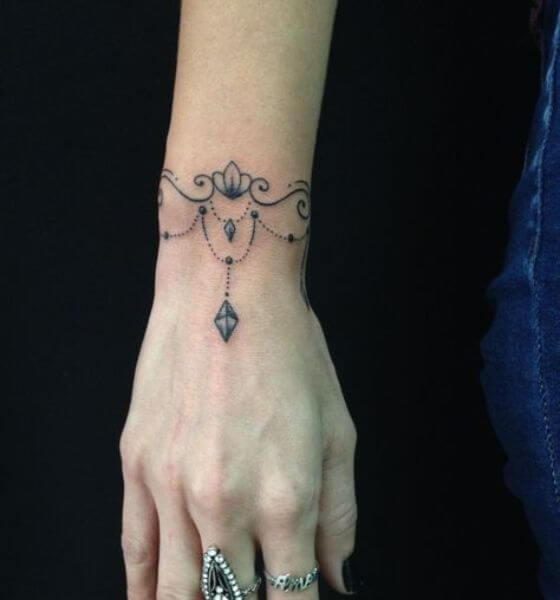 Most preferred armband tattoo design amongst men. These tattoos are however done in small size but the meaning they represent are worth having these tattoos. These tattoos usually stand for truth, hope, spirit, hope and religion. These tattoos require skill and expertise so as to etch it perfectly. They simply symbolize positivity and hope. Get this one in black with some beautiful colors. This can be done in small or medium size depending on your choice of size. It suits all skin tones from dusky to fair.
26. Card Designs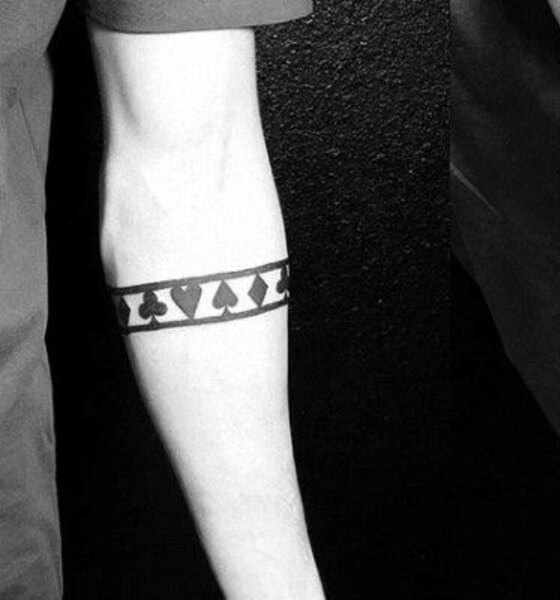 If you enjoy playing cards, you should consider having your arms adorned with card motifs. When etched in black, card tattoo patterns look absolutely stunning. If you like, you can add a splash of color to your card tattoo to make it more interesting. Get this tattoo etched in a modest to medium size on your arms.
27. Wristband Tattoo
Wristband tattoos are a fantastic addition for females, especially if they love wearing wristbands or bangles. A wrist band etched permanently on your skin will look mesmerizing as if you're wearing some permanent piece of jewel. Even males can get a beautiful wristband tattoo etched. Wristband tattoos look good in both black and colored ink. These tattoos look elegant; hence, they are a good option for people looking for minimal tattoo design.
28. Flower Band Tattoo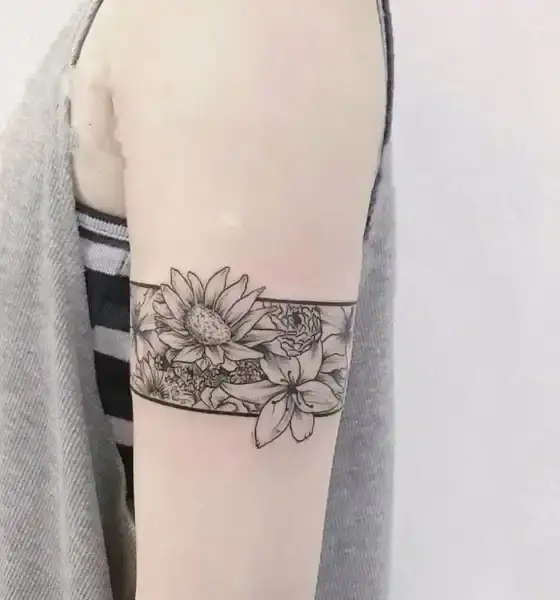 There are a plethora of stunning tattoo designs for girls to choose from. An arm tattoo with flowers is an excellent choice if you want a delicate tattoo design that is not too noticeable. Flower band tattoos are beautiful, and you may have this tattoo done in colored ink to have an even more appealing tattoo design to show off.
29. 3D Armband Tattoo Design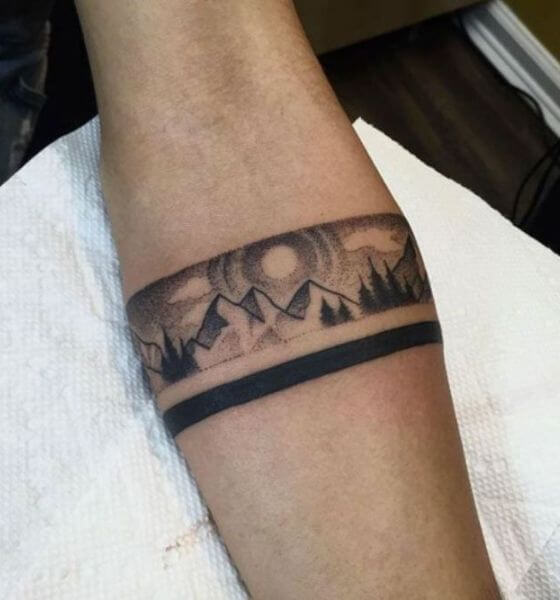 You can get your favorite armband tattoo etched in 3D for that appealing tattoo design. 3D tattoo designs look awesome. A 3D tattooing pattern simply adds an extra depth to your tattoo design, giving the impression that your selected design is coming to life on your skin. So, if you want a tattoo that looks like real thing sitting on your arm, then a 3D armband tattoo design is for you. Give it a shot!
30. Bicep Armband Tattoo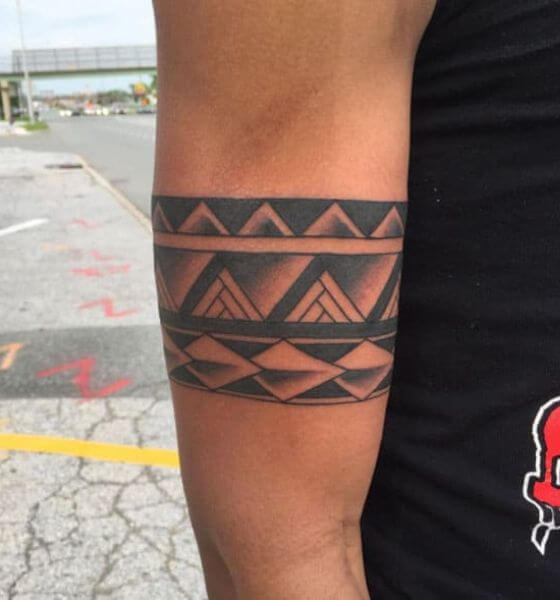 If you want to flaunt your toned bicep a little more, then a bicep armband tattoo is the way to go. When you have toned biceps, a bicep armband tattoo is a fantastic way to show them off while also having your arms adorned with your favorite tattoo design.
31. Viking Armband Tattoo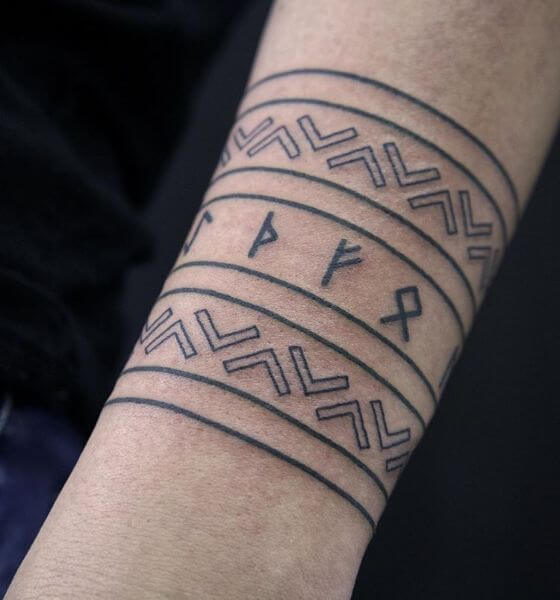 Viking armband tattoos, also known as Vegvisir Tattoos, are one of the most beautiful armbands tattoo designs. Tattoos were worn by Vikings as well as other cultures as a symbol of power, strength, and loyalty to the Gods. Tattoos were also worn to depict their devotion to family, combat, and the Viking way of life, which is a fascinating part of Viking culture.
Additionally, this tattoo is known as the Wayfinder, and it is said to assist people in, well, finding their path. The Vikings would carry a Vegvisir emblem to provide protection and direction during times of extreme weather and adversity. If you think you help people find their path, then a Viking armband tattoo design is for you. Think about it!
32. Wave Band Tattoo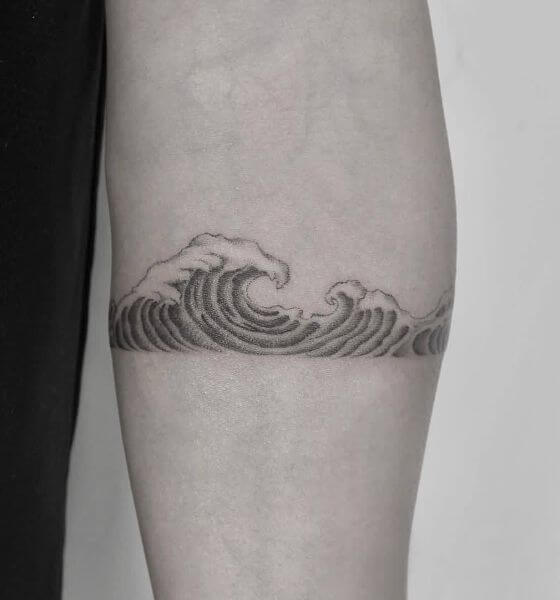 Another beautiful armband tattoo design includes a waveband tattoo. A wave of water tattoo design is pretty popular among males. Waveband tattoos appear lovely when etched on the arm, and when combined with toned biceps, this tattoo really glows. Waveband tattoos are meaningful tattoo designs; they represent the inexorable power of nature that keeps on indefinitely. Getting waves inked on arms depicts the fact that water can still manage to find its way to the surface despite all of the force in the world.
33. Arrow Band Tattoo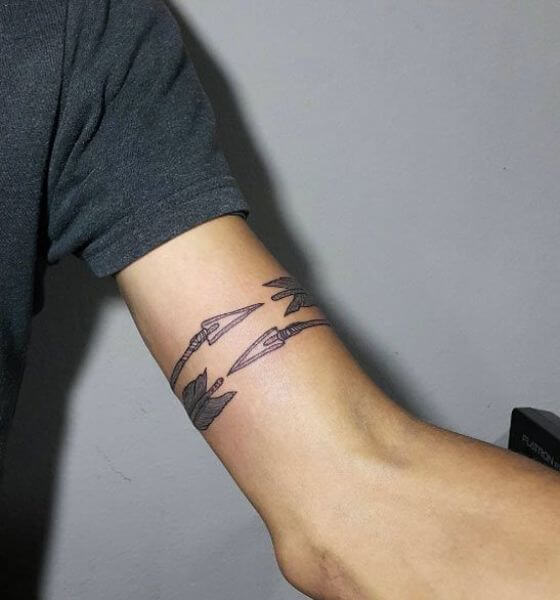 Arrow tattoos are absolutely amazing. And when you combine that with arrows in armband form, it screams. Arrow tattoos are symbolic; they represent power, direction, self-defense, focus, and individuality.
An arrow tattoo implies that you are constantly prepared and willing to combat everything that stands in your way, even if it is a war with your own inner demons. Therefore, if you are unafraid of any battle and like to demonstrate your preparedness, this is the tattoo for you. This one looks fantastic in black ink; try it!
34. Animal Armband Tattoo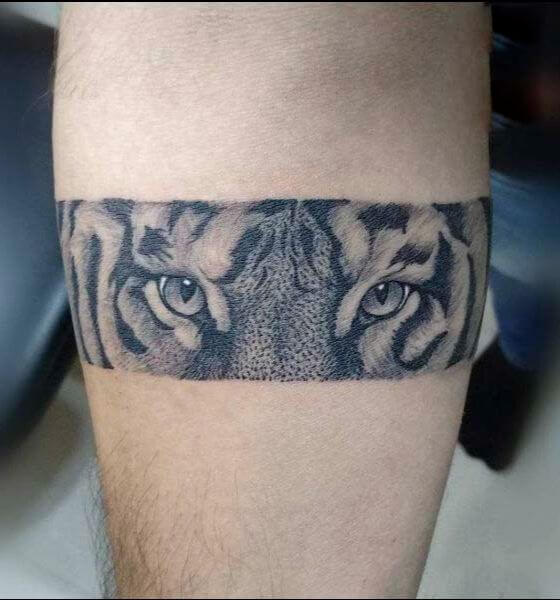 You can also have an armband tattoo of your favorite animal if that is your preference. Animal armband tattoos are enthralling to look at. You can choose to have a pack of dogs wandering in a circular motion etched on your arm, or you can choose to have only the face of a tiger etched on your arm in the form of an armband instead. Whatever you want it to look like, it will be absolutely stunning.
35. Native American Armband Tattoo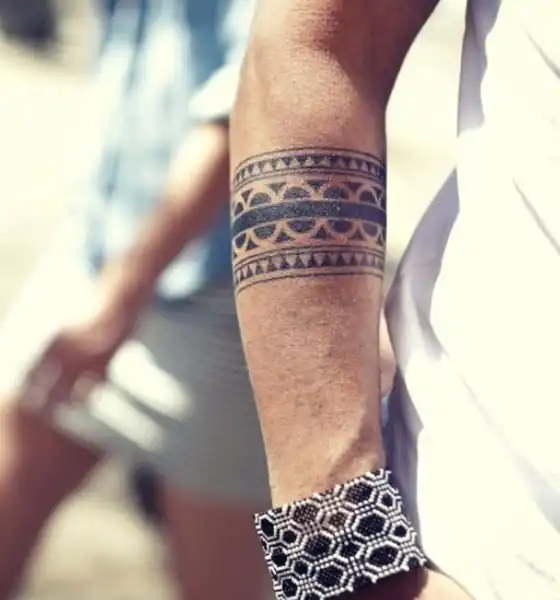 Last but not least, we have Native American armband tattoo design. Native American tattoos not only indicated which tribe one belonged to but also the individual's standing within that group. Members of Native tribes who held positions of authority were adorned with specific and distinctive tattoos in America. Some tribes used tattoos to represent specific deeds that a member had performed. Native American armband tattoos served as a visual reminder to others that this individual had accomplished something noteworthy. If you belong to the culture and want to show your association to the community, this is the tattoo for you.
36. Chain Tattoo Designs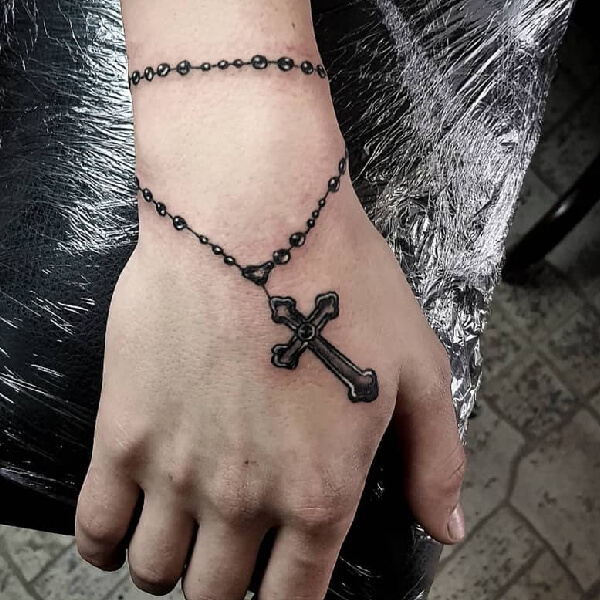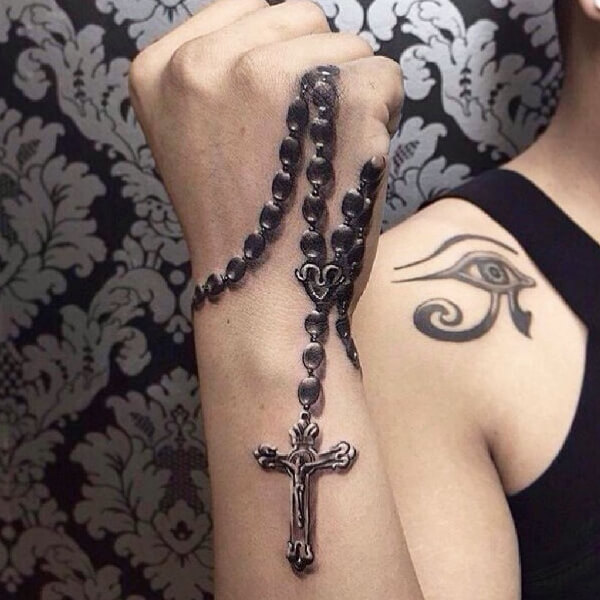 The Bottom Line
I hope this post helps you have some idea about your armband tattoo design. Besides finalizing your tattoo design, you need to make sure that you go to a skilled tattoo artists who has been doing such tattoos. A tattoo once done can't be removed so easily, so it's better to have a clear idea about the design, size and location before you go to your tattoo artist.
Pro Tip: Make absolutely sure your armband tattoo design is done exclusively by a skilled and reputable tattoo artist. Having the tattoo of your dreams can be made possible only with the assistance of a competent tattoo artist. Also, it is critical because a tattoo is a permanent thing, and you would never want an unsightly tattoo design on your body in the first place! In order to avoid any regrets, it's always a good idea to seek the services of a skilled tattoo artist.
Happy Tattooing…. ☺ ☺
Please follow and like us: