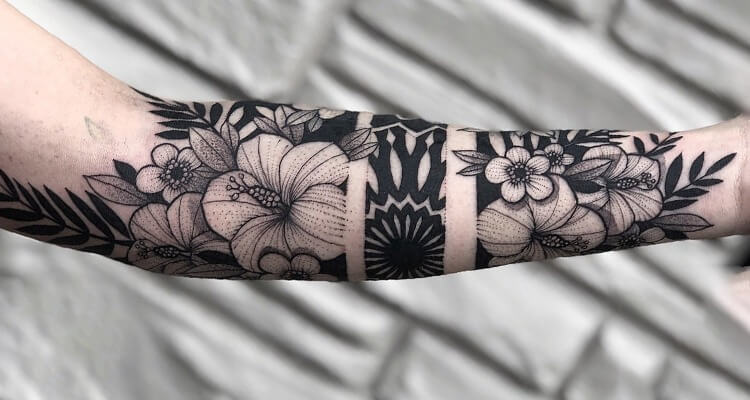 45 Interesting Half & Full Sleeve Tattoo Designs
Posted on
More often than not, a sleeve tattoo is large in size, or it can be a collection of smaller tattoos, that is etched to showcase a unified theme. A sleeve tattoo covers most or all of a person's arm, generally from shoulder to wrist. The term "sleeve" is referred to the tattoo's size similarity in coverage to a long shirt sleeve on an article of clothing. Also, there is a term used when a person goes for a sleeve tattoo and that's "getting sleeved", which means to have one's entire arm tattooed.
One can get either a full sleeve tattoo, half-sleeve tattoo, quarter-sleeve tattoo, or Hikae. Half sleeves tattoos and quarter sleeves tattoos are the ones, which cover only part of an arm, mostly above the elbow, but can also be done below the elbow. A sleeve however implies to complete tattoo coverage of a particular area, so a half sleeve tattoo will either cover the entire upper arm or the lower arm. However, a "quarter sleeve" usually covers the area of arm from the shoulder midway to the elbow. Hikae is a Japanese-style sleeve tattoo, which covers the chest area and extends either to the elbow or wrist.
Sleeve tattoos women are generally a collaboration between a tattoo artist and the client to demonstrate a personal and unified artistic theme. Sleeve tattoos are painful, are expensive (because they need a lot of work and detailing), take a lot of time, and for a sleeve tattoo you will need to find a talented tattoo artist who is able to create large masterpieces for you to love forever. Whatever it takes, sleeve tattoos look stunning!!
How a sleeve tattoo different from an arm covered tattoo?
People usually confuse arm covered tattoos with sleeve tattoos. But, there is a huge difference between both, arm covered tattoo and a sleeve tattoo, like sleeve tattoos have a unified theme, whereas an arm covered tattoos may have many tattoos of different styles etched together with no unity.
Fact about sleeve tattoos
Some organizations such as the United States Marine Corps prohibited Marines have banned their members from getting arm- or leg-sleeve tattoos after April 1, 2007. Those with sleeves already are protected under a grandfather clause. Notwithstanding, sleeve tattoos have become so popular that several clothing brands have started producing apparel that simulates the look of tattooed sleeves. They use transparent mesh fabric printed with sleeve tattoo designs.
Sleeve tattoos designs most commonly have faces of animals representing a feeling/culture like wolf tattoos or are inspired by nature or historical architecture. Besides, butterflies, flowers, landscapes, etc. are also used for creating a wonderful masterpiece on sleeves. Some people even go for both the sleeves tattoo design. Mostly sleeves tattoos are done by rock-stars, sports persons, and the ones who love to flaunt larger artwork on their bodies.
Sleeve Tattoo Ideas for Men and Women
Getting a sleeve tattoo simply means going big or just chucking the idea of getting one. Sleeve tattoo designs aren't for the faint-hearted, in fact they are for the ones who want to display big artwork on their skin, and they surely make an impact. A full sleeve tattoo is an excellent option for the ones who want to paint an entire masterpiece on their arms and flaunt it! And, if you're still not sure about larger tattoos or what will suit your personality the most, then check out these 45 incredible sleeve tattoo ideas for you. Choose the one that suits you the best…. ☺ ☺
1. Full Sleeve Tattoos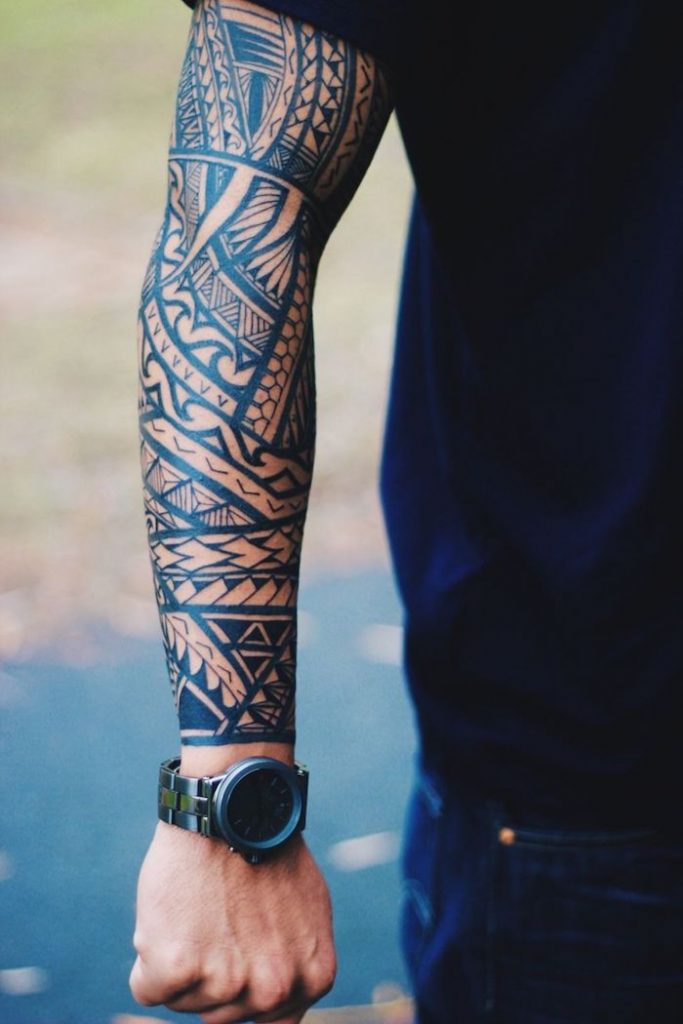 Full sleeve tattoos are most preferred by rock stars and sports stars, at no point you can go wrong with a full sleeve tattoo. For a full sleeve tattoo options are endless, you can get anything from Japanese designs to architectural full sleeve tattoo, or something in just black and white. There are so many options to choose from for a full sleeve tattoo.
2. Half Sleeve Tattoos for Women
If you don't want to get a full sleeves tattoo, then a half sleeve tattoo is a great option to go with. A half sleeve tattoo is an ideal option for the ones who want to have a limited work in their arms in order to conceal the artwork for the office or for a formal event, and can flaunt when the time is right. For a half sleeve tattoo, you can either choose the upper half or the one below the elbow. But choosing the upper half of your arm for concealing would be better.
Also See: Forearm Tattoo Designs
3. Female sleeve tattoo ideas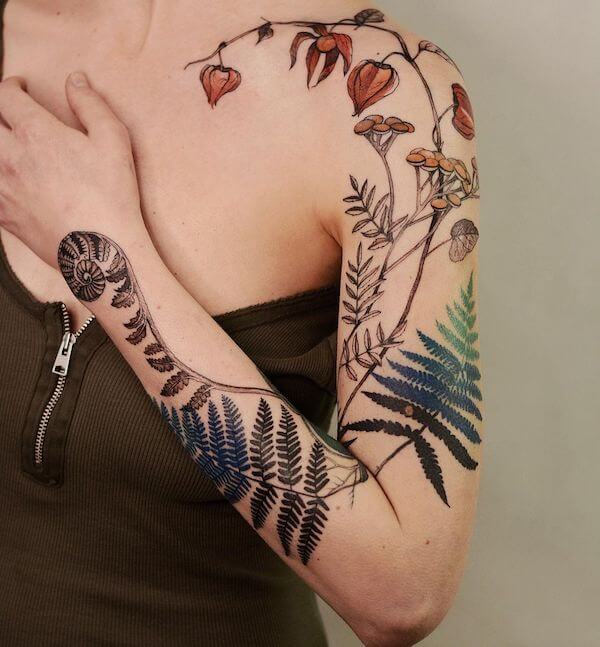 Floral designs are a great option if you're searching for Female sleeve tattoo ideas. These sleeve tattoos will embody power and femininity. Flowers are beautiful and chic, even on large sleeves.
4. Celtic Sleeve Tattoo Designs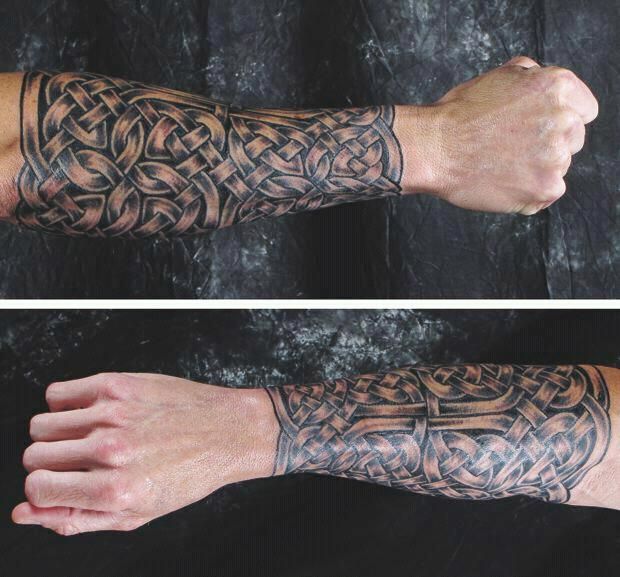 It's a great way to show your love for the Celts with this Indo-European full sleeve tattoo design. Celtic tattoos are a timeless options for the one who are looking for some traditional intertwined pattern. A typical Celtic artwork features motley of knots and patterns, which are easy to recognize and worth having it. If you are not scared of something intricate, then go for it.
5. Plant Sleeve Tattoos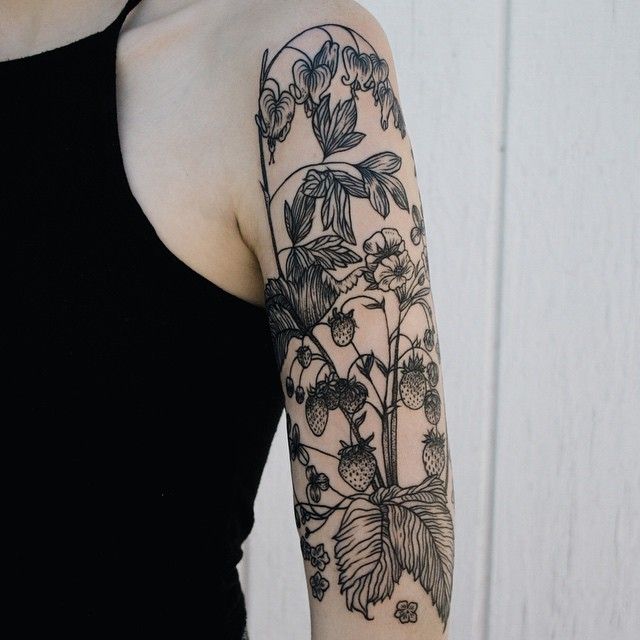 Plant sleeve tattoo designs are common amongst those who want to flaunt their love for nature. You can get a plant tattoo on your half sleeve or full sleeve. And believe you me, it looks amazing and mesmerizing if done properly. So, for this go to a skilled tattoo artist who can give your tattoo a unique effect!
6. Family Sleeve Tattoos
We all love our family…Right?? It's something we all have, and getting a family sleeve tattoo is the nicest way to celebrate the happiness of having our loved ones in our lives, and by our side. Undoubtedly, families are the most important part of our lives, they support us and stand by our side, whenever we need them! Nobody but only a family can love us unconditionally. So, for the love and bond of family get a family sleeve tattoo. An emotional way to pay huge respect and honor to those who are closest to us, and having a family sleeve tattoo can be a perfect way to keep your loved ones with you forever.
7. Skull Sleeve Tattoo
Skulls make for a cool sleeve tattoo. The best thing is – you can Keep a skull tattoo creepy and cool all at once. with a skull sleeve tattoo. Skull tattoos are available in a myriad of designs, so you will have no problem in finding the one that best suits you and your style. Whether you want to go for a realistic skeleton cascading down your arm, or looking for something subtle, it is going to make an eye-catching tattoo.
8. Landscape Sleeve Tattoos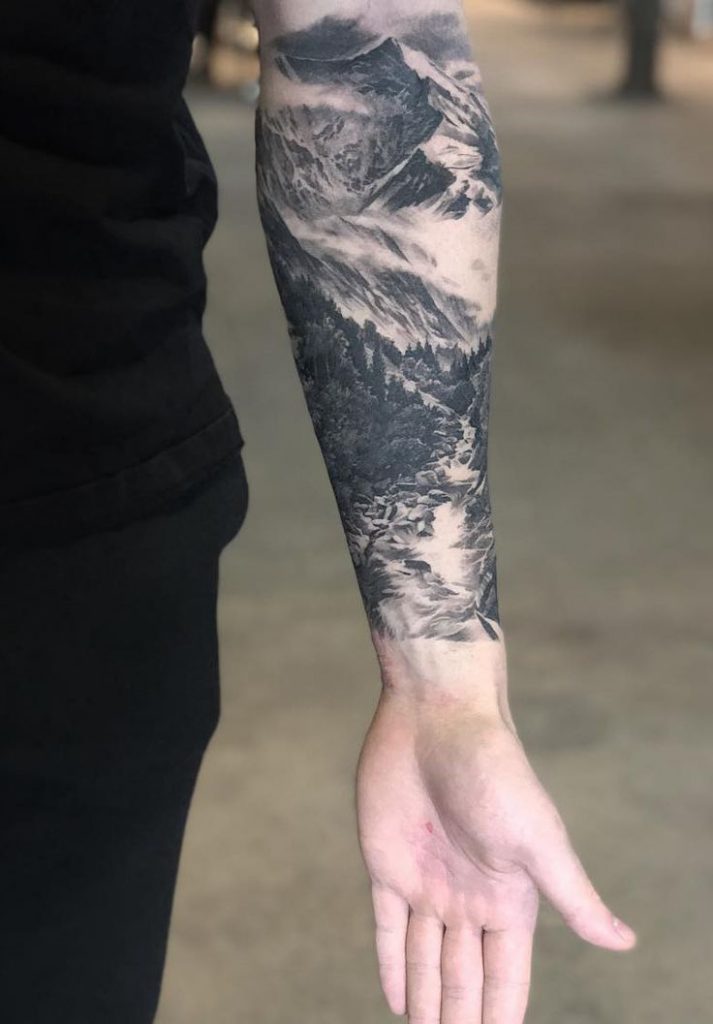 A beautiful way to display your love for nature and landscape is to have a landscape sleeve tattoo done on your body. A landscape sleeve tattoo however, will start from your shoulder and will make for a perfect and a unique tattoo design. If you think you have immense love for landscapes and you love to spend time amidst nature, then this sleeve tattoo is for you.
9. Tribal Sleeve Tattoos Ideas
Tribal tattoos are famous amongst those who really are connected or feel proud of their heritage, or the culture they have been following. Tribal tattoos are to let you have pride for your heritage. These designs make for an intricate, powerful and mesmerizing tattoos. If you're also looking to flaunt the ultimate culture of yours to the world, then a tribal tattoo is the best option.
10. Passport Stamp Sleeve Tattoo
For expressing your love for international travel, and showing off which all countries you made till date, a passport stamp sleeve tattoo is a great idea. This one is a beautiful travel tattoo design for those who love to travel and are born to travel. If you wish to or are already have traveled to many international locations, get this one! You can add some extra elements to it such as, a historical building of the place where you have traveled, or maybe an airplane or a travel bag.
Also Read: Why Does Everyone Have Tattoos Nowadays?
11. Jesus Sleeve Tattoo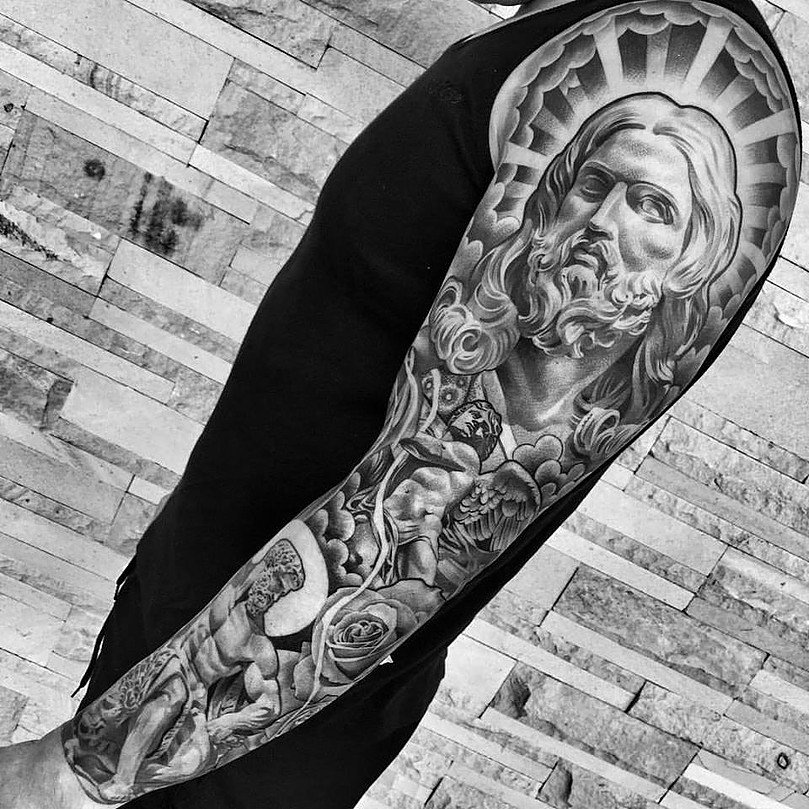 Jesus sleeve tattoo is for those who want to show his/her love and faith for Jesus. Jesus sleeve tattoo will be dedicated to your entire arm. This sleeve tattoo looks amazingly compelling and beautiful. Whether you want to feature Jesus as the focal point of your artwork or want to have Jesus alongside other significant tattoos; any which way this is going to be an eye-catching sleeve tattoo.
12. Egyptian Sleeve Tattoos
Egyptian styled tattoos make for a perfect sleeve tattoo design. Believe you me, Egyptian mythology is full of several wonderful designs, and you can get any for yourself. You will be mesmerized to see the options that Egyptian mythology presents to you. Egyptian-themed sleeve tattoos are artful, meaningful, and are for sure head turning sleeve tattoos.
13. Clock Sleeve Tattoo
Surprised to know that these timepieces are also used for making beautiful tattoo designs… Well, in that case I would want to tell… YES, and these timepiece tattoos look gorgeous. Clock sleeve tattoos have personal meaning behind them, whether you want to learn how to spend every minute of your life wisely or you want to utilize your time in the most constructive way. You can either get an ageless stopwatch from the history or choose a digital one from this era to demonstrate how our lives are always moving forward with time… and your passion to be on time. Get this one!!
14. Butterfly Sleeve Tattoo
Butterfly tattoos not only look beautiful, but also they look mesmerizing. The best thing about butterfly sleeve tattoo is – both males and females can get this one. You can have a butterfly in larger size or a mid-sized butterfly on your sleeves along with additional elements such as flowers, leaves, etc. Also, it is for those who are looking for a colorful and an enchanting sleeve tattoo design.
15. Dragon Sleeve Tattoo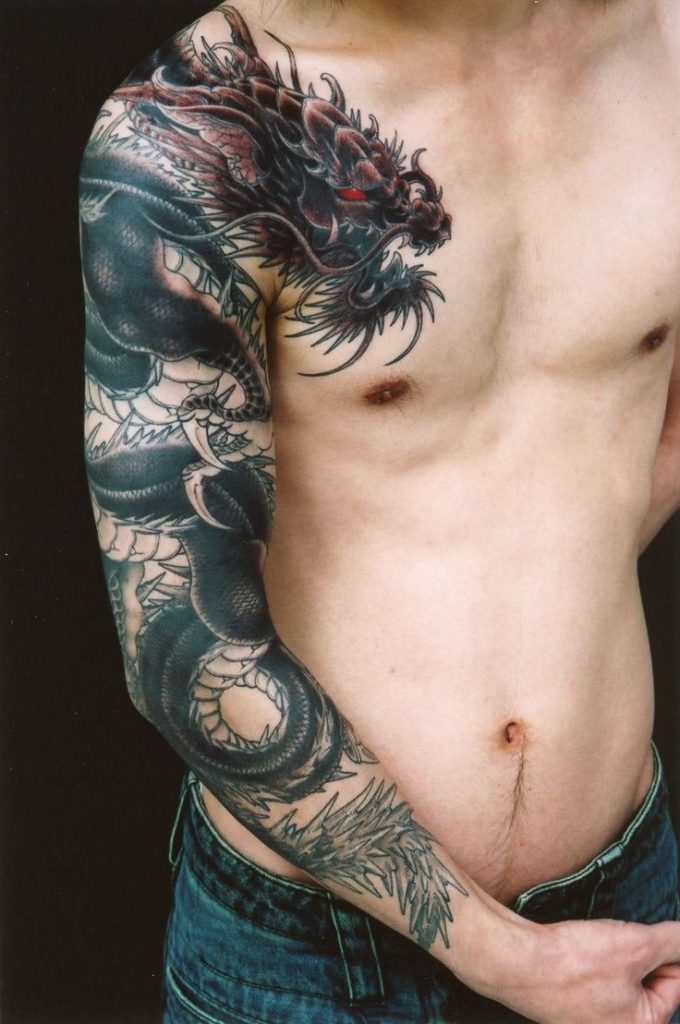 Dragon tattoos come with endless options, you can get anything from a Japanese style dragon tattoo design to a dragon from the medieval period. You can fill your dragon sleeve tattoo with lots of color, thereby making for an enchanting artwork on your skin. But if you are looking for something subtle, then go for a monochromatic dragon sleeve tattoo. Any which ways dragon sleeve tattoos look perfect, whether colored or with the black ink blended nicely with the rest of your sleeve. Howsoever you get it, this is going to be a breathtaking sleeve tattoo.
16. Architectural Sleeve Tattoo
You don't need to be an architect to appreciate the beauty of architecturally inspired body art. All it needs is to have passion and adoration for the history inspired tattoo designs. If you're amongst those who adore historical constructions and architectural landmarks, then an architectural sleeve tattoo is for you. These tattoos make for a perfect tattoo designs on sleeves. And the best thing is that they come in various designs and patterns. You can get any building or monument get from history etched on your sleeves
17. Wolf Sleeve Tattoo
Believe it or not, there are many animals which are used to create wonderful art work on your skin, and wolf is one amongst them. Wolf sleeve tattoos are for those who want to display their wolf like traits such as being wild, determined, ready for action, and strong, to the world. Those who are wild at heart wolf tattoos can help them unleash their inner beast. Wolf sleeve tattoos make for insanely beautiful tattoo designs for those who are looking for something unique. But make sure, your tattooist is great at creating wonderful animal artworks.
18. Travel Sleeve Tattoo
Are you a passionate traveler and want to flaunt your love for travel by getting an artwork on your body? Alright……!! Though, there are many ways to express your fondness and love for travel but getting inked with a travel sleeve tattoo is a unique way amongst all. Mostly travel tattoos consist of compass, airplanes, postcards, landscapes, passport stamps, camera, monuments, towers, and much more. Travel sleeve tattoo displays something unique and extraordinary about one's own travel experiences. If you feel to display your immense love for travel on a large scale to the world, then this is for you.
19. 3D Sleeve Tattoo
If planning to get a real looking sleeve tattoo, then 3D sleeve tattoo is the best choice. And people will come to you asking whether it's a drawing or something real… ☺ ☺ There are myriads of options to choose from, from a hyper-realistic portrait of a loved one to an abstract artwork, or a biomechanics design for your sleeves. But the major role is played by your tattoo artist, and hence it is crucial that he is skilled in his work. Because, these tattoos only look amazing when are done correctly, so find a reputable tattoo artist who knows the art of making 3D tattoos.
20. Feather Sleeve Tattoo
Feathers look beautiful, and really, absolutely really make for a wonderful tattoo designs. Feather sleeve tattoos can be done in many variations and designs. The feather sleeve tattoo designs represent deep symbolic meanings. They represent different meanings in different cultures. Some get a feather inked on their body to represent their freedom, while for some it symbolizes their strength. Whatever be the reason, the bottom line is they look stunning. This amazingly beautiful tattoo design is highly sought-after, especially amongst those who appreciate beautiful body art on their sleeves.
See more: Feather Tattoo Ideas
21. Viking Sleeve Tattoo
Do you wanna feel the Norse blood rush through your veins, then Viking sleeve tattoo is for you. Vikings, one of the fiercest soldiers of all time, make for the perfect sleeve tattoo design option for strong and brave men. If you want you can add elements from mythological characters, or you can add skulls or sailing motifs. This looks perfect when done on full sleeves. Go for it, it will look unique and enchanting.
22. Angel Sleeve Tattoo
Angels are another best option to choose for your sleeves. Angels represent innocence, purity and protection. You can add some other elements from other divine drawings. For instance, you can choose a cherub that's asleep, or shooting an arrow or playing the harp. Options are endless, you can get a wonderful tattoo on your sleeves.
23. Portrait Sleeve Tattoo
If you want to display your love for someone special in your life, then a portrait sleeve tattoo is the perfect option to go with. Dedicate your arm to someone you love or to an idol with a portrait piece, anything from your favorite celebrity to your loved one (s). Portrait tattoos hold a lot of meaning in themselves and are worth having sleeve tattoos. It's important to find an artist who possess great skills in making portrait tattoos, and have done it previously as well. Portrait sleeve tattoos make for insanely beautiful design on your sleeves.
See more: Portrait Tattoo Images
24. Anchor Palm Tree Sleeve Tattoo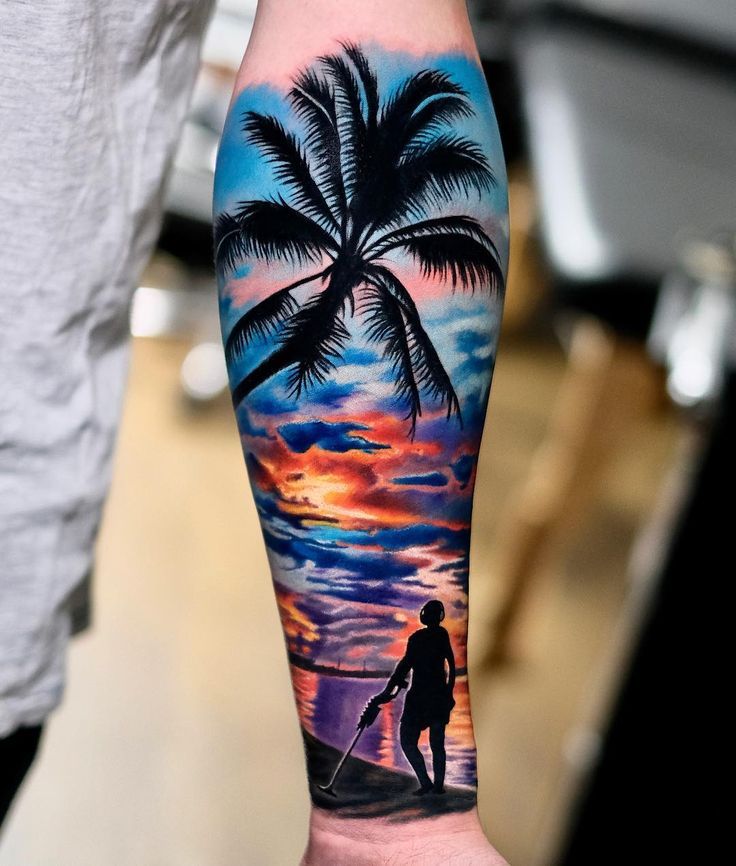 Another tattoo for sleeves for those who love beaches is this. In this tattoo you will have everything inspired from a beach and the surroundings. Specifically for the ones who love beaches and would want to spend their time on the beach side.
25. Cross Sleeve Tattoo
After Jesus sleeve tattoo, another tattoo for your sleeves to display your faith is the cross sleeve tattoo. The cross is a symbol that simply resonates with faith. Cross sleeve tattoo is a great way to display your belief with a crucifix tattoo. And believe you me, the options are endless, you can get anything from a simple block design along with rosaries or a more intricate design with flowers, a colorful depiction to a 3D design with some graphics in black ink. In all, you can create a wonderful tattoo design for your sleeves. Cross sleeve tattoos make for timeless piece that goes perfectly with other designs as well.
26. Religious Sleeve Tattoos
For the ones who want to display their faith via their ink or body art. Regardless of your belief, religious sleeve tattoos make for the perfect sleeve tattoos. And you have a myriad of options to choose from a cross to a hyper-realistic portrait, to a temple or a religious place etched on your sleeves. Religious sleeve tattoos make for an ultimate tattoo design.
27. Floral Sleeve Tattoo
Like other tattoo designs or patterns, floral tattoos also symbolize feelings and ideas. Flowers have always fascinated people, especially women, as they do describe one's soft and elegant side. Therefore, most women prefer to go for a floral tattoos. The best thing is, there are plenty of excellent plants and floral tattoo designs to opt from for your sleeves. Floral sleeve tattoos are versatile and make for genuinely jaw-dropping tattoo design.
28. Beach Sleeve Tattoo
Beach sleeve tattoos are for the ones who want to display their immense love for beaches and the beautiful scenery that surrounds the area. If you are a beach person, then go for a beach sleeve tattoo. You will surely love the idea. Also, you can add other elements to it to make it a beautiful scenery. Try it!
29. Music Sleeve Tattoos
For all the music lovers is music sleeve tattoo, an amazing sleeve tattoo design that makes for a great artwork. You can get anything from a single treble clef to a full symphony, creeping a manuscript up the arm to illustrating your favorite instrument, microphone to a DJ turntable, or just the musical symbols drawn in a pattern or music theme, appearing like some lyrics. Let the music in you come out with a music sleeve tattoo.
30. Batman Sleeve Tattoo
Batman is amongst the most popular superheroes, and the symbol of Batman makes for the perfect tattoo designs, especially for those who are great fans of these superheroes. Batman sleeve tattoos basically represent most amazing part of superhero movies and comics. Most of the Batman inspired tattoo designs make for really wonderful tattoos. If you're inspired by a batman, get this one on your sleeve.
See Also: Batman Inspired Tattoos
31. Half Sleeve Quote Tattoo
Quotes and phrases are for the ones who want to display something unique about themselves through those quotes, or something meaningful to the world. For a half sleeve tattoos, quotes are best options. You can get a quote etched on your half sleeve that compliments your personality and resonates with you completely. There are myriads of options to choose from the name of a loved one to a favorite saying. Quote sleeve tattoos are impactful and sometimes very motivating as well.
Related: 20 Inspirational Quotes Tattoo Ideas For Women
32. 3D Armband Sleeve Tattoos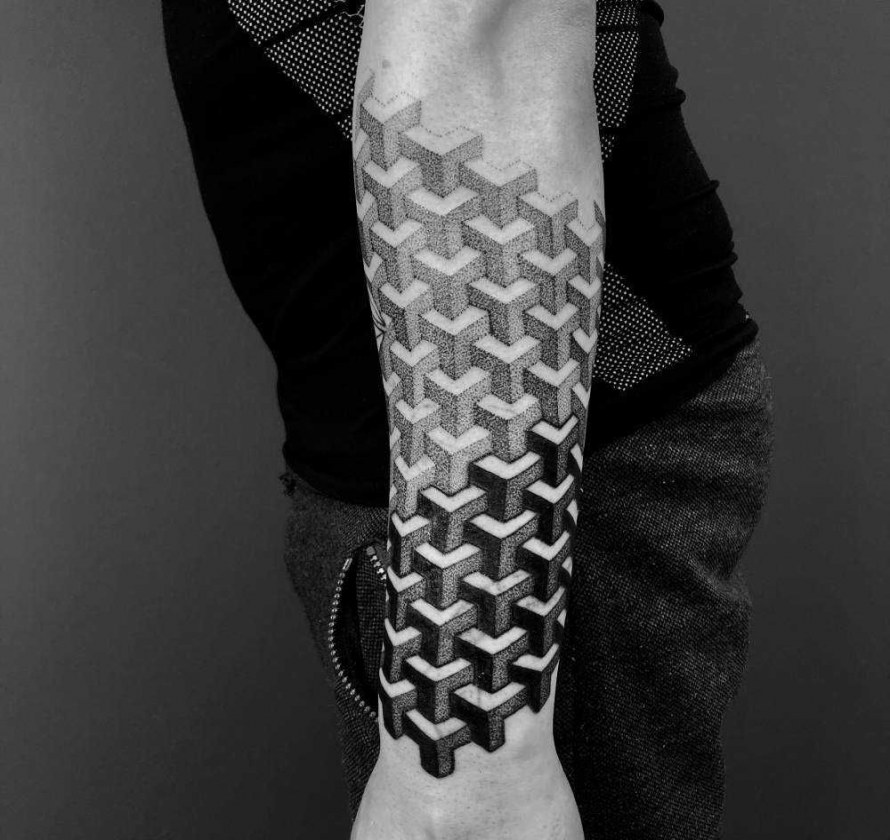 3D armband tattoos look stunning, but here is a catch. 3D armband tattoos are a bit tricky and do need skill and expertise to etch. These life like tattoos are difficult to etch, hence it is indispensable that you go a skilled artist, who has done such a job before also. Perfect armband tattoo designs for people looking for something unique and extraordinary. 3D tattoos look real, and are very creative designs. You can get anything etched on your arm from an eye to a wolf. Looks perfect when done on upper half sleeves. 3D tattoos are done in multiple colors to make the tattoo look real. 3D tattoos look great in medium to large size.
33. Rose Thorn Sleeve Tattoos
Rose Thorn Sleeve Tattoos are not only creative, but also they are colorful, as the red rose add an amazing color to the whole tattoo. This tattoo has a rose that is surrounded by thorns. Rose will be done in red color; however, you can use any color. Rose represents numerous things based on its color, like a red rose represents love, beauty, romance, while yellow is used to express joy and friendship and black rose will simply represent death and loss. This sleeve tattoo can be done by males and females. An amazing tattoo to express you love, hope, or loss.
34. Arrow Sleeve Tattoo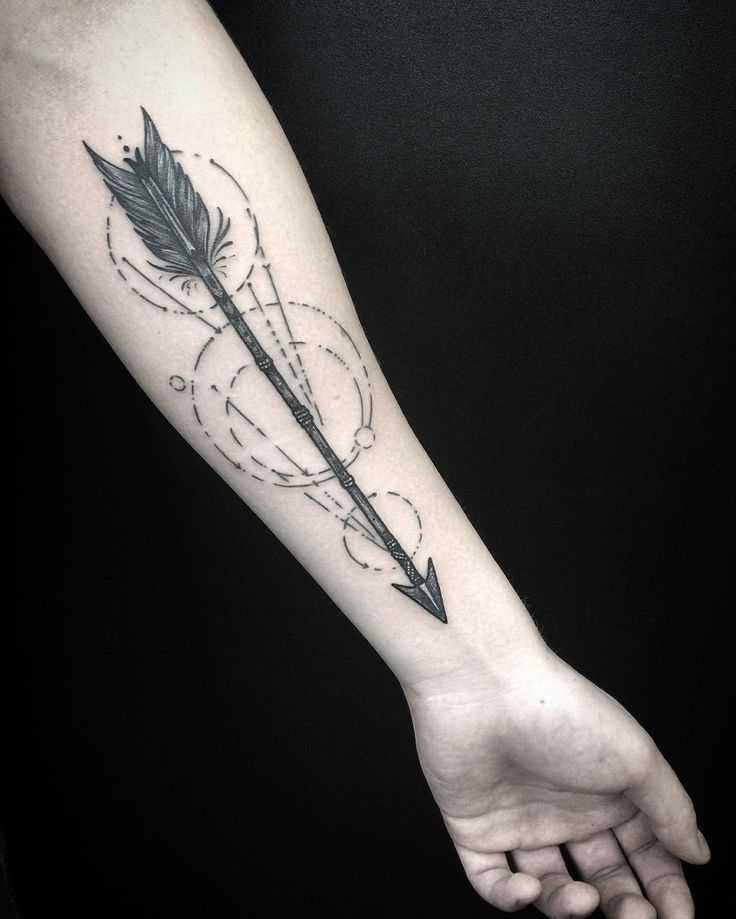 Arrows make for a perfect tattoo designs, and if you are also looking for something unique, then go for an arrow sleeve design. Arrow tattoo designs often signify guidance and remind you to always move forward. There are myriads of options to choose from a traditional dart on your arm to a geometric pattern. Arrow tattoos make for an out of the box design with a 3D illustrated piece.
35. Nature Sleeve Tattoos
A wonderful tattoo design for all those who have immense love for Mother Nature and they want to display it via their tattoos. Flora, fauna and other elements from nature make for a wonderful tattoos on your sleeves. For a nature sleeve tattoo you can choose anything from the traditional rose tattoo to a beautiful palm tree to express your love for plant life and nature that includes birds, flowers, plants and trees. Nature tattoos look great with bold colors, but you can also get it done in black ink.
Related Post:
36. Bohemian Sleeve Tattoos
A perfect sleeve tattoo design for well-toned biceps, where it will accentuate the muscular curvature of strong men and women. This one makes for an eye-catching sleeve tattoo design due to its boldness. The best part of having this tattoo on your sleeve is – it will always help you stay motivated to be in shape. The bohemian style sleeve tattoo is a beautiful way to express your fondness for this particular style. It is meant for both males and females. You can get this one in black ink, it will look perfect.
37. Watercolor Sleeve Tattoo Designs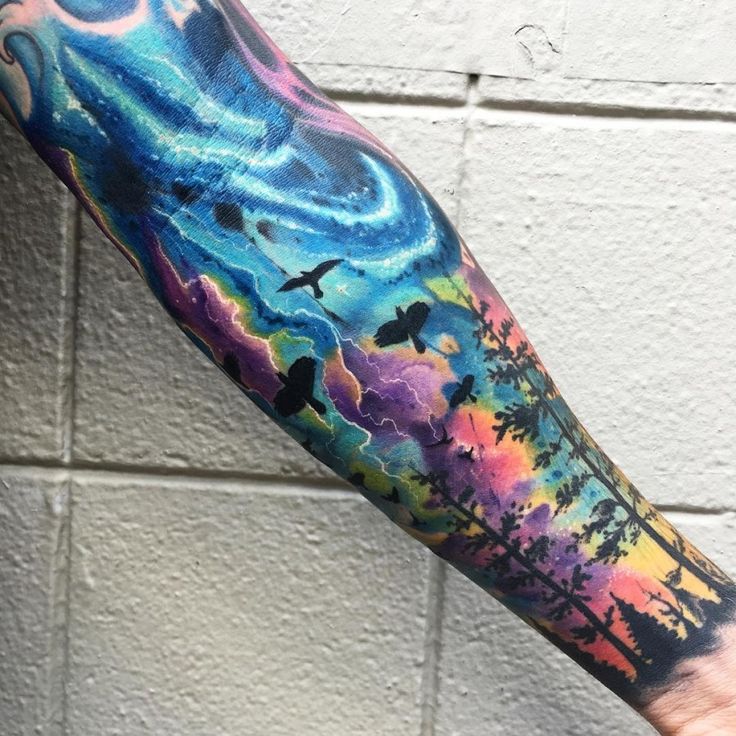 It is for those who are looking for some out of the box tattoo design for themselves. Watercolor sleeve tattoos look mesmerizing and gorgeous, when done properly. It is the ultimate way to express your personality. Watercolor sleeve tattoos are colorful and vibrant, appears as if you've had splashes painted on your skin. They can look both strong and delicate at the same time. No matter how you want to display this wonderful sleeve tattoo design, you're sure to make a head turner tattoo.
See more: Watercolor Tattoo Ideas
38. Geometric Sleeve Tattoos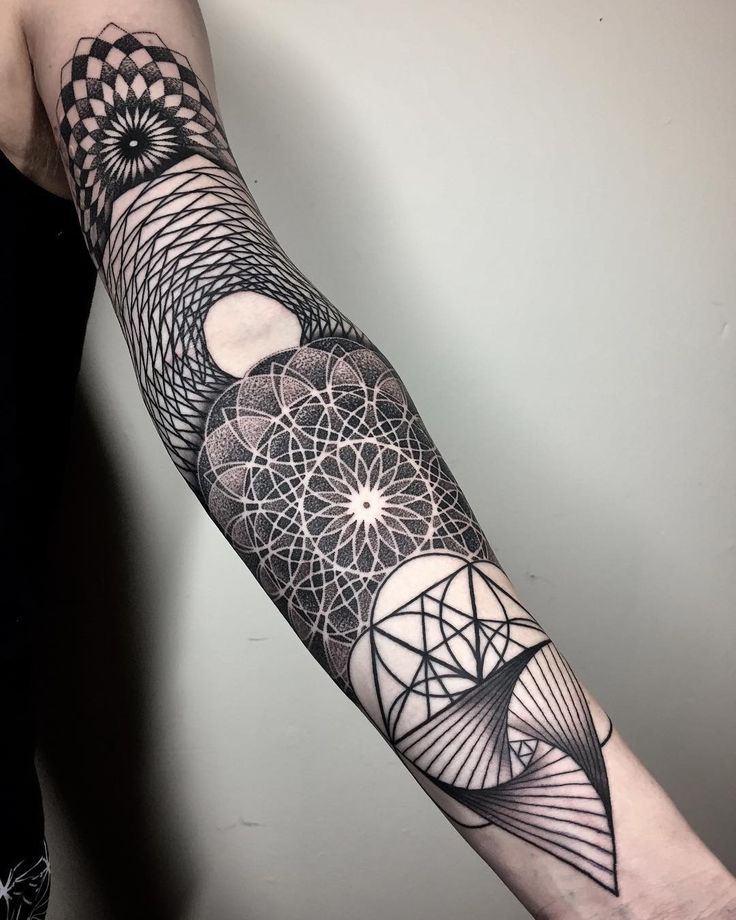 Geometric sleeve tattoo designs look perfect and are best known for their symmetry. These tattoos have long been into existence, they were first found on the people of Micronesian islands around 2000 years. Geometric tattoos simply represent the passion for perfection and expertise in life. These tattoos are a bit difficult to make, hence require skill and expertise. More often than not, geometric tattoos are done in black, and they look great. But if you wish you can add some colors to it to beautify it even more.
39. Harry Potter Half Sleeve Tattoo
For all the Harry Potter fans! These sleeve tattoos are the perfect way to showcase your dedication to the witches and wizards of Hogwarts. Get anything etched from the Deathly Hallows to portraits of your favorite characters from the movie. With a Harry Potter sleeve tattoo, you can easily show the world how much J.K Rowling's writing means to you!!
40. Polynesian Sleeve Tattoo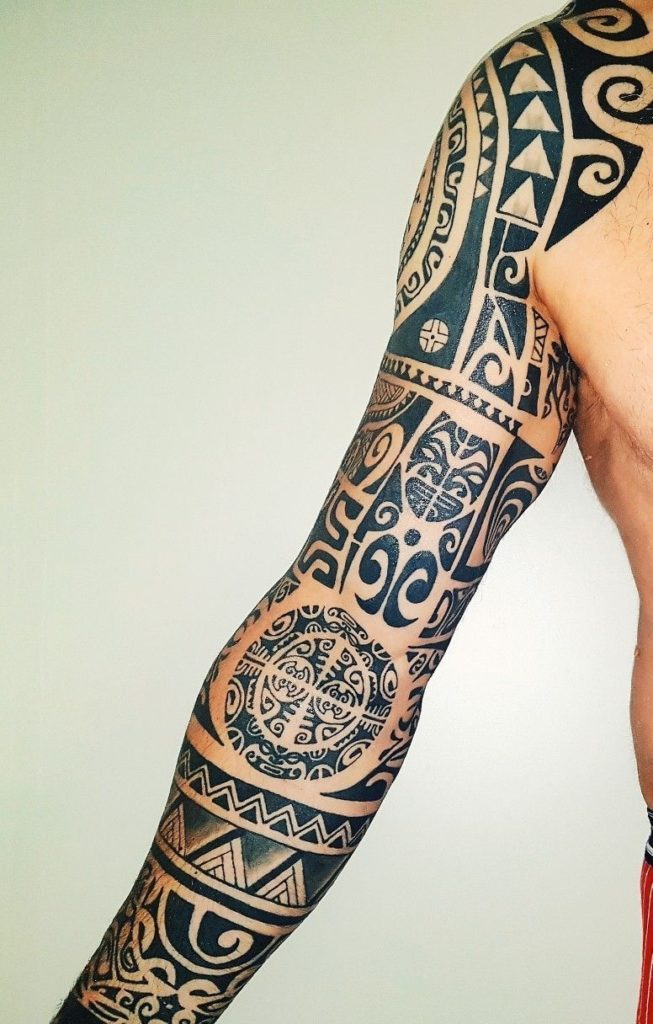 Another wonderful sleeve tattoo design is – Polynesian sleeve tattoo. These tattoos look beautiful and enchanting. Polynesian sleeve tattoos basically represent the customs and culture of Polynesia. These tattoos are now becoming popular amongst males and females. Polynesian tattoos mainly symbolize strength and velour, these patterns follow different geometrical shapes based on the part on which they are etched. These tattoos represent different meanings. Moreover, these tattoos are difficult to etch and hence need skills and expertise. It is preferably done in black color.
41. Abstract Sleeve Tattoo Designs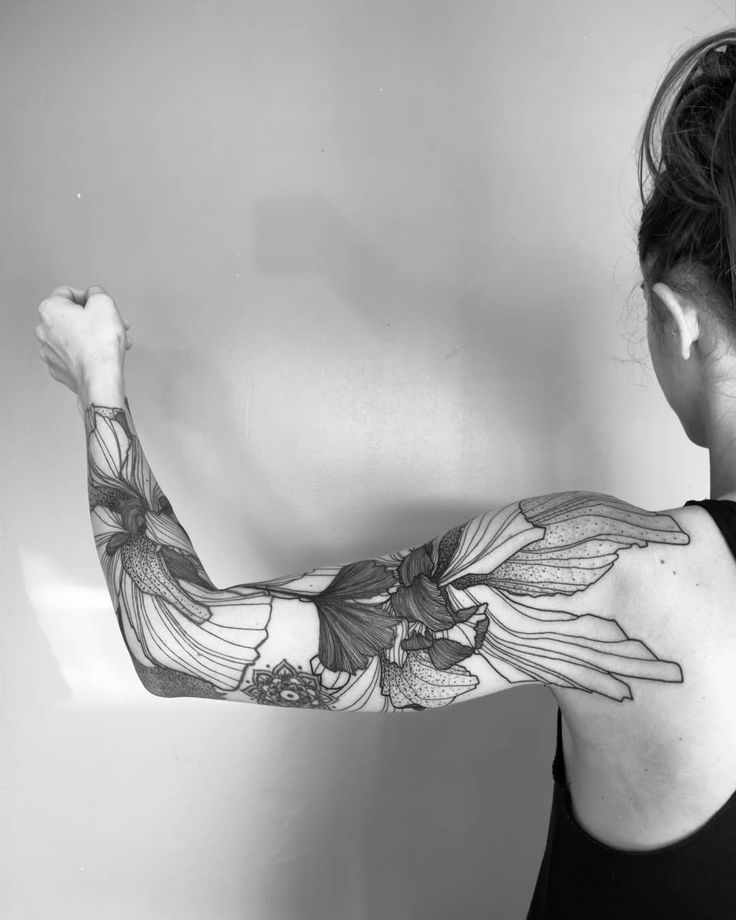 For the ones looking for an outside the box tattoo, then abstract sleeve tattoo is the perfect choice for them. And yeah, not all tattoos need to have a traditional approach. Abstract sleeve tattoos are the artworks that make one think and let his/her imagination loose! Abstract tattoos comes with no rules and fixed ideas. All you need to have a great sleeve tattoo is a bit of creativity and a wonderful tattoo artist, who possess great skill set and has done this previously also. You can get anything from different shapes and thought-provoking designs to futuristic patterns. Try out!
Also see:
42. Mechanical Sleeve Tattoo
Yeah, there are mechanically-inspired tattoo designs as well. Mechanical tattoos are meant for the working man. A mechanical sleeve tattoo features a combination of steampunk and traditional designs that signifies the past, the present and the future. You can choose anything from a timepiece to a robotic. It makes for a unique sleeve tattoo.
43. Mountain Sleeve Tattoo Designs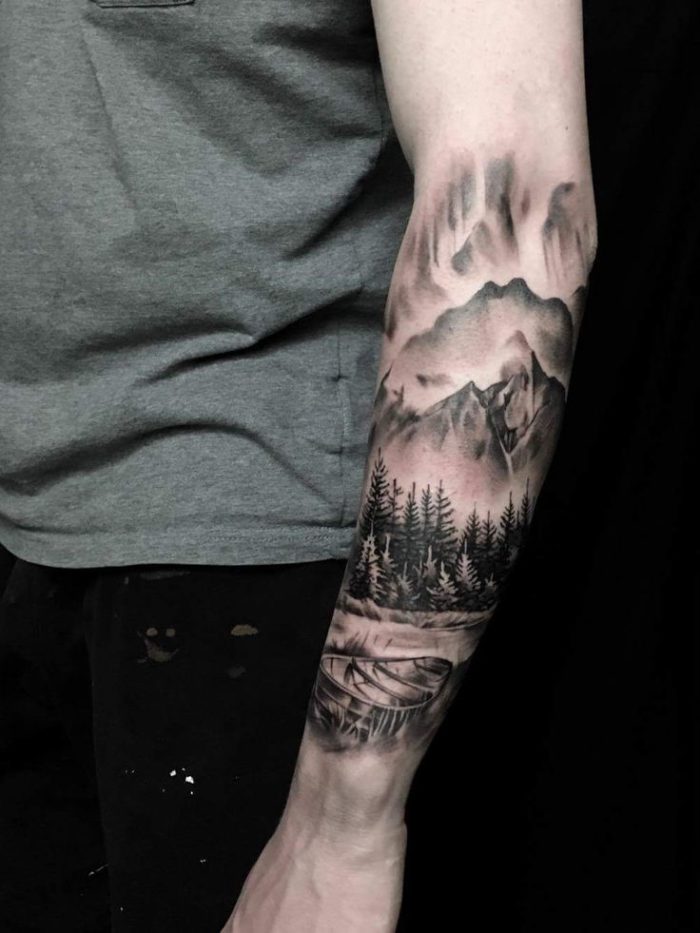 Get your favorite mountain etched on your sleeves, making it look like a scenery done on your sleeves. You can also add some quote or phrase or just a word to add a uniqueness to your tattoo. It's a great idea to display your own adventure experience on mountains. A great travel tattoo design for mountaineers who want to get their real experience etched on their arms.
44. Black and White Sleeve Tattoo
There are black and white sleeve tattoos as well, because not all the tattoos need to be in colors at all. Black and white sleeves are also an impressive way to showcase your great tattoo design. Black and white tattoos make for bold and sharp tattoo designs. These designs are the best option for people who don't want to get frequent touch ups.
45. Blackout Sleeve Tattoo
Of course, not for everyone!! It is only, and only for those who want to have something unique, outside the box, outstanding, and stunning tattoo design that will stand out amongst the crowd. Or the ones who wish to hide their past mistakes, blackout sleeves are the perfect option for them as well. A blackout sleeve tattoo Designs is a bit time taking, so be patient while choosing this design for your sleeves.
46. Hawaiian Sleeve Tattoo
Hawaiian sleeve tattoos are for those who want to flaunt their love for Hawaii. These designs look mesmerizing and stunning. You can get a Hawaiian sleeve tattoo either on full sleeves or on half sleeves, it is up to you!
To pan out……
Thanks for reading…!! I hope you like the designs and could find the one you have been looking for a long time now!
Pro Tip: Besides finalizing your tattoo design, you need to make sure that you go to a skilled tattoo artist who has been doing such an intricate tattoo designs. Remember, a tattoo once done can't be removed so easily, so it's better to have a clear idea about the design, size and which part of the sleeve, before you go to your tattoo artist.
Happy Tattooing…. Enjoy Tattooing☺ ☺
Please follow and like us: