220+ Amazing Must Have Rose Tattoos Designs
Posted on
Rose Tattoos are full of beauty and symbolism, it signifies elegance, passion, self-defense, and love. Moreover, its awesome appearance always attracts admiration from all glance, making it one of the most adored tattoo designs among tattoo lovers. Rose tattoo designs are appealing for both men and women, they gel up very well with other tattoos to give you the desired look, either feminine or masculine. A rose tattoo design can be cute as a darling or badass as hell, it offers everything.
Rose tattoos are forever, they never go out of fashion and never misses to steal the attention, they are gorgeous, eternal, versatile and illustrative. What else you need from a great tattoo design.
You can have a rose tattoo in many designs and color combinations, you can have them with thorns, or in combination with anything, each color of rose signify different meanings to the wearer, such as
Red rose tattoos
Red rose is always been a symbol of eternal affection and desire, it is used by lovers to express their deepest thoughts of love and adoration, for their beloved. You can combine it with thorns to give an effect of a strong person with lots of love filled inside him/her.
Yellow rose tattoo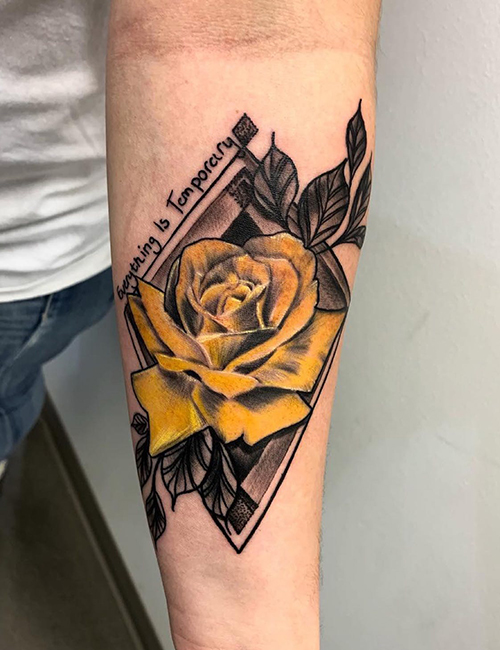 Yellow rose tattoo is a symbol of fellowship and celebration, the difference in the meanings signify by a yellow and red rose is that yellow rose does not signify romance, but endless love for a child, friends, and family.
Orange rose tattoo
An orange rose tattoo is a symbol of enthusiasm, idealism, and of course love and passion. This tattoo design is not as popular as red or black rose, but it definitely great if you want to express optimism and passion.
Black rose tattoos
Black rose tattoo designs is often associated with dark feelings and death. People often get a black rose tattoo engraved on them to remember their loved ones, who are no more. Moreover, it gives a badass look, when coupled with fire or any other contrasting masculine symbolism.
People looking for a flower tattoo, consider a rose tattoo as their first choice, as it is full of colorful options and is always meaningful. Moreover, you can have a rose tattoo at any place you want that too at any size you desire.
Rose tattoos are beautiful, meaningful and attractive. They are always in fashion, you will love your rose tattoo eternally, just like it will emit vibes of love and passion forever. Check out our collection of some awesome rose tattoo designs, who will blow your mind for sure, and will make you run and get any of them on you.
Please follow and like us: