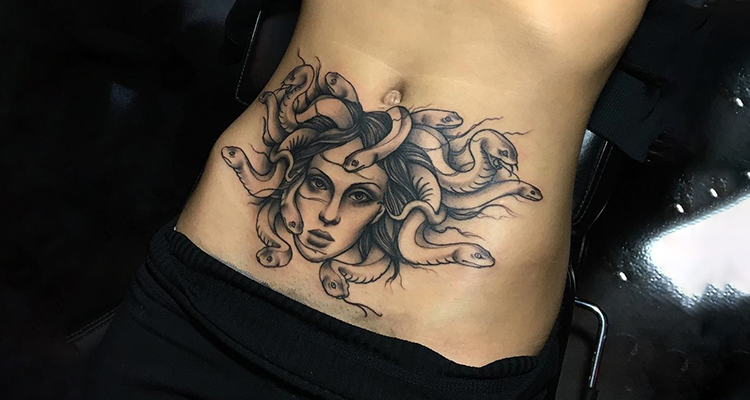 Tattoo Ideas for your Flat Tummy/Trunk
Posted on
Gone are the days when only thugs and gangsters used to have tattoos. Now tattoos have become popular among all walks of life. People are looking forward to have tattoos and they don't hesitate to get them on the most sensitive parts also. Tattoos are common aesthetic enhancements, they are meant to highlight the body parts. Also, tattoos can be perfectly used to express one's feelings.
Some people love tattoos which are not so easily visible or noticeable such as tattoo on back or on stomach. Tattoo on these parts are only visible when a person want to flaunt it deliberately. However, these parts make the perfect place for your tattoo placement. Here are some fantastic tattoo ideas for your flat tummy/trunk:
Super Girly Lower Stomach/Tummy Tattoo Designs
1. Rose Flower Tattoo
Any flower looks girlie….. A rose flower on her flat belly will look stunning at all times. Moreover, when she will flaunt the rose in her crop top, she will act as head turner on the road. A rose in colored ink will look fantabulous on your flat belly. Also, you can get a rose tattoo with the stem or leaves, it will simply beautify it. A Rose with leaves and stems designed finely will look cute, it is a widely opted design but looks cool on flat tummy. Suitable for all skin tones.
2. 3D Butterflies Tattoo
Butterfly tattoos are the most common tattoos among girls and make the perfect tattoo on a flat tummy. Go for a 3D butterfly tattoo on your flat tummy, it looks real and mesmerizing. While you have a 3D butterfly on your tummy it will appear as a real butterfly is sitting on your tummy. 3D butterfly tattoos are really eye-catching tattoos. Suitable for all skin tones.
3. Phoenix Tattoo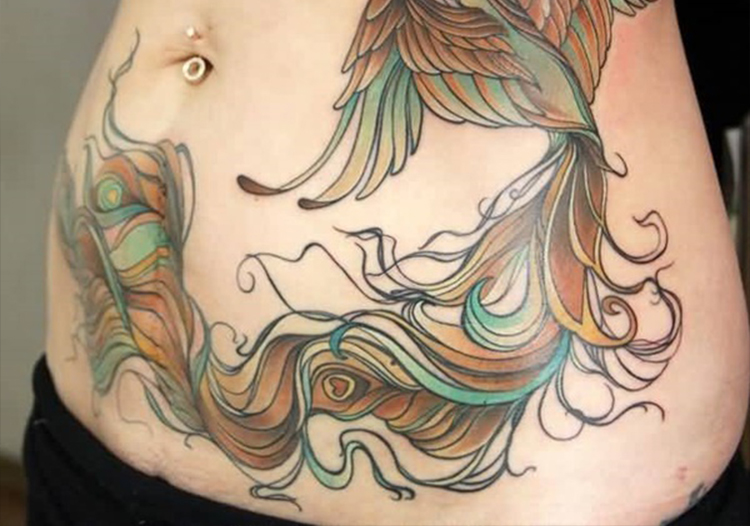 We all know Phoenix are mythological birds which reborn from their ashes. Phoenix is one of the most powerful and beautiful creatures. Getting a phoenix tattoo on your flat trunk will signify your strength and courage to fight back all the odds and come up more powerful and stronger than ever. Phoenix are for the ones who want to express their true self through their tattoo. Besides, a phoenix tattoo will represent rebirth, growth, life, longevity, and other attributes.
4. Arrow Tattoo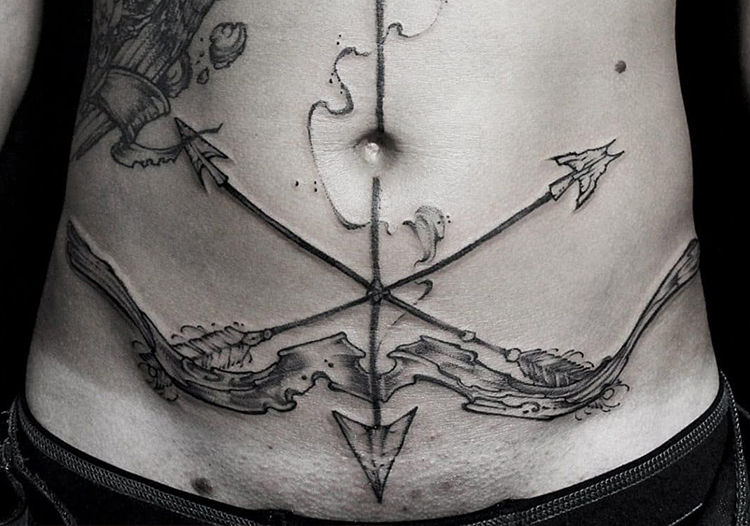 This is for her, this tattoo design for the girls who doesn't want to flaunt it to the world. Tattoo looks simple yet beautiful in black with a touch of grey shades. Perfect tattoo design for women, suitable for all skin tones.
5. A Giant Elephant Tattoo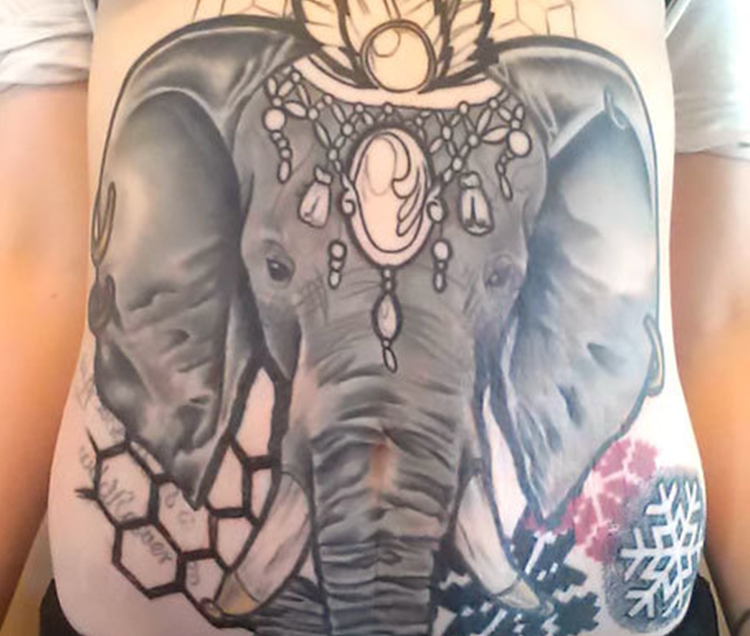 People love getting elephant tattoos these days. Any animal tattoo on the body part represent one's love for animals. This one is also one of those tattoos meant for animal lovers. One can simply go for an Elephant's face part including trunk. Just eyes, ears and the trunk will make a perfect Elephant Tattoo in grey. However, elephant tattoo can be done in any part of the body but flat tummy will be more attractive place. The size of the tattoo can vary according to your choice.
6. Three-Eyed Wolf Tattoo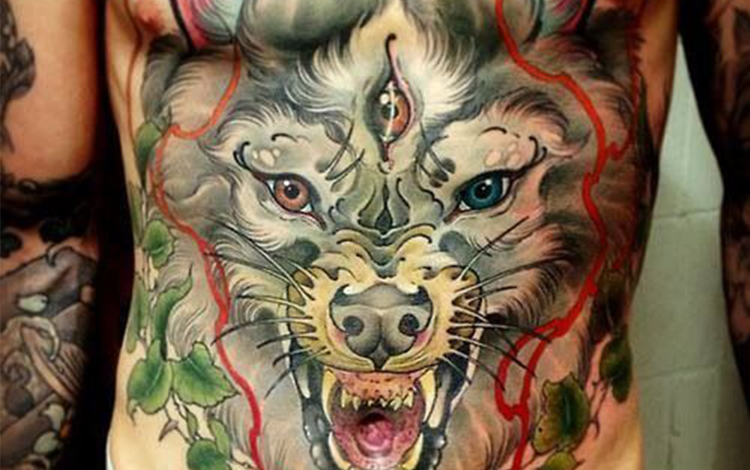 It is very manly tattoo. One who is inspired by wolves and want to flaunt his tummy with a stunning wolf tattoo then this is the one to go for. Wolves are however, associated with great leadership, noble warriors and even protectors of the innocent. Moreover, wolves mate for life and make very adoring parents, so these majestic creatures also represent family, loyalty, and devotion along with power, strength and intelligence. If you think all these qualities and want to represent your personality to others than go for this one!
7. An Owl Tattoo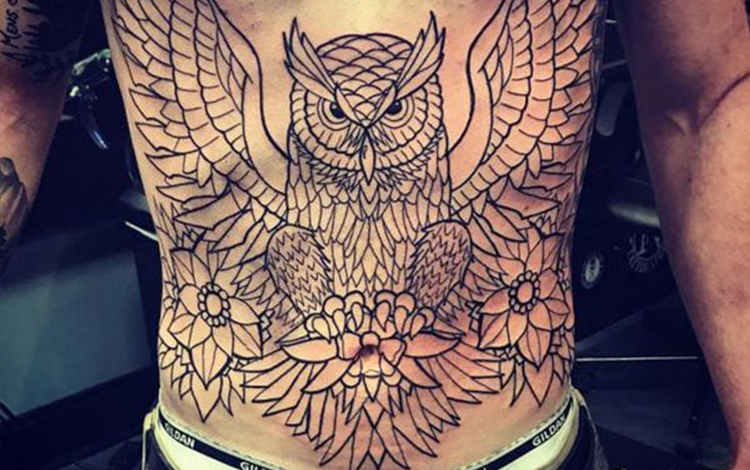 Well, don't get scared owls also look good and make beautiful tattoo especially on your flat trunk. If you don't know then let me tell you that owls are considered as icon of knowledge and a symbol of wisdom, besides, owls also represent deity, freedom, and vision. An owl tattoo in shades of grey will look amazing on your flat trunk and it is accompanied by some design it will simply rock.
8. Small Colorful Mandala
Mandala is all time favorite design and is always in trend. Small and colorful tattoos look great on a fairer skin girl. A mandala is a Sanskrit word, which means "circle." It is a spiritual and ritual symbol in the Indian religions of Hinduism, Buddhism and Jainism, which represents the universe. A small colorful mandala design is perfect for the ones who are in the path of spirituality, mandalas represent perfection, eternity, unity and completeness.
See More:
9. Skull Tattoo
Though skull represents death and mortality, but believe you me they make perfect tummy tattoos for men. If done on lower stomach it will be more seductive. If you combine it with some flower the tattoo will have a different meaning altogether.
10. Just a Wolf Tattoo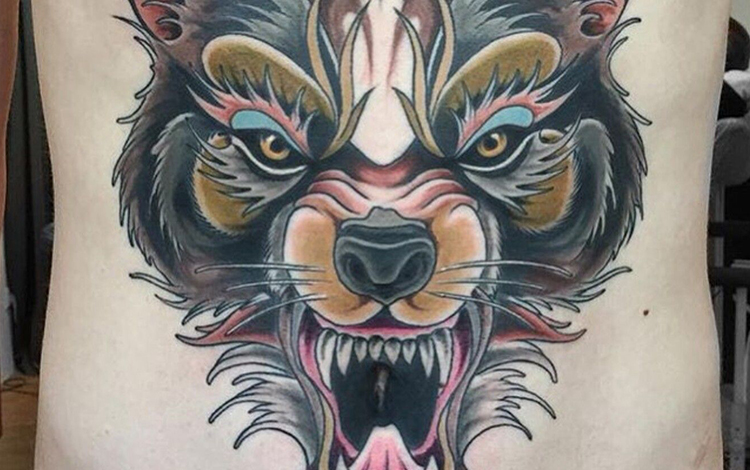 Wolves are for those who stand for others, as wolves are tend to sacrifice their own lives to protect their teammates (pack). Some literally go for wolf tattoo as they want to express their felling of protection to people who they are close to. A wolf represents devotion, success, victory, and secrecy. If you think possess all these traits then go for it….
11. Tribal Tattoo
Tribal tattoos are all time favorite, people love them as they look stunning. Traditionally, these tattoos were used by the tribes to represent their social status, religious or spiritual belief, their way of self-protection and for medicinal purposes. Now, tribal tattoos are becoming popular among people who want tattoo a little out of the box. You can use tribal tattoos to represent your artistic expression. More often than not, these tattoos are made in black, but you can be creative and get them in any color combination of your choice to make them look stunning. Also, you can add other elements such as starts, butterflies, angels etc. to your tattoo.
12. Peacock Tattoo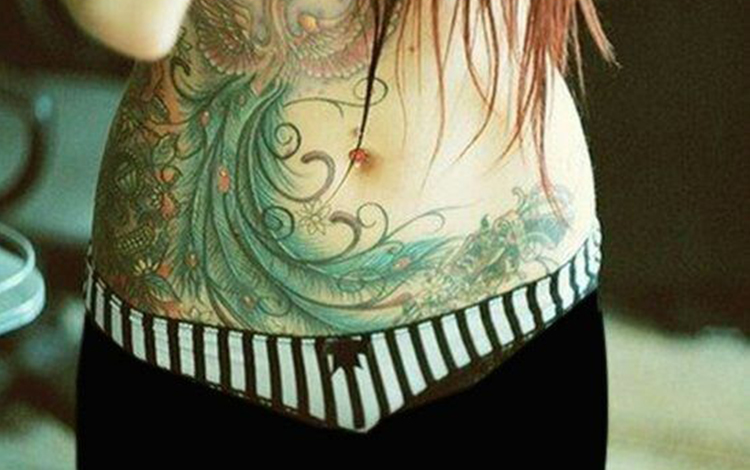 Different cultures see peacock differently, like in Indian culture, a peacock stand for nobility, divinity, and royalty. Whereas in Christianity, a white peacock presents a secret symbol of church and Jesus Christ. Moreover, peacock is the national bird of India. You can get a peacock tattoo on your flat trunk to represent wisdom, knowledge, and also as a symbol of prosperity, and good luck. You can also add some elements on your peacock tattoo to beautify it more.
13. Giraffe Tattoo
Yes, Giraffe make for a perfect tattoo. Though they look perfect on your back but try it out a Giraffe sitting on your stomach will also look equally good. Go for a colored Giraffe it will really look cool on your flat tummy. The tattoo will cover your entire lower stomach including the upper part also. This one is a perfect design for animal lovers who do not hesitate to flaunt their love for animals.
14. A Floral Pattern Tattoo
When it is floral, it is girlie….. That's how it is. Floral patterns look really cool on any girl. And the best part of these tattoos are they look good on any part of body. A beautiful and intricate floral pattern with leaves and stems including some cute little butterflies will look mesmerizing on your skin. And whenever you will flaunt it, people will admire you for the design.
See More:
15. Orchids Tattoo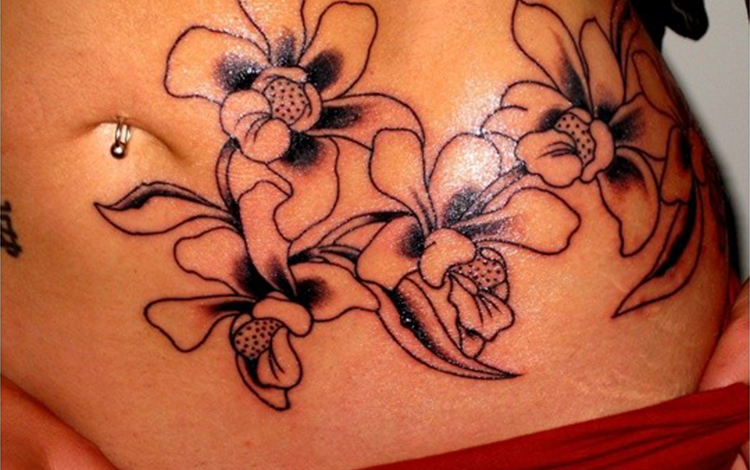 If you think other flowers are now common then there is something different for you to go with and that is the orchids. Orchids make for a rare tattoo design and looks really amazing on a flat tummy. This unique and exotic flower makes a perfect tattoo design. Orchids are considered to be an aphrodisiac. Get one and see if it increases libido in you too……!
16. Geometrical Pattern Tattoo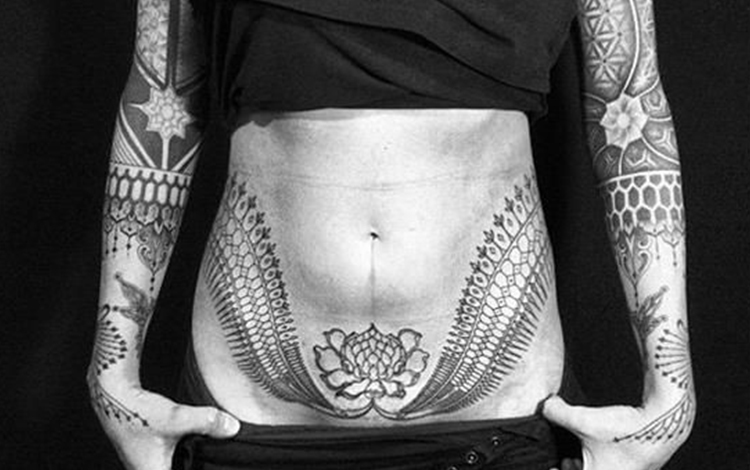 Geometrical patterns look good and make a perfect tattoo designs for males and females too. Too many geometrical figures when clubbed together into a beautiful design it looks stunning and mesmerizing. The tattoo is usually done in black but if you want you can add some more elements such as stars, or butterflies to make your design unique and different.
17. Butterflies In A Mandala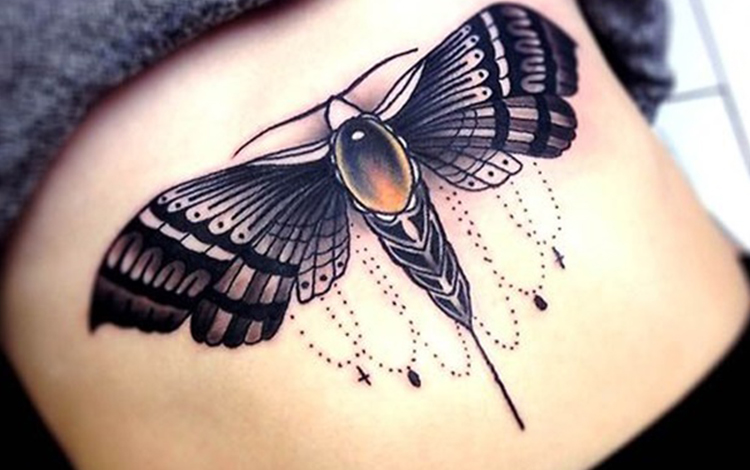 Too many butterflies clubbed to make a beautiful intricate designs looks really amazing. The tattoo will have have a butterfly either flying away or it's flying into the mandala. Either way, it will look beautiful in any case. The design looks detailed and gorgeous on flat trunk. All in all this design will look super sexy especially when you will flaunt it with your crop tops.
18. Tribal Tattoo With Flowers
The tattoo is for girls who want something appealing on their body. The design contains a tribal pattern in flowers and looks really beautiful if done in some different color such as purple.
19. Tribal Sword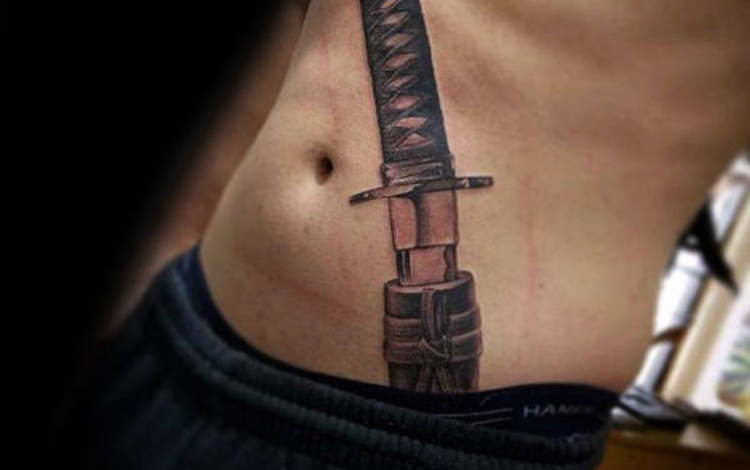 A manly tattoo, if you love something like this then go for a tribal sword etched on your flat trunk. The tattoo will look good and sensuous. A tribal sword tattoo will look great and will give depth to your muscularity.
20. A Cat Face Tattoo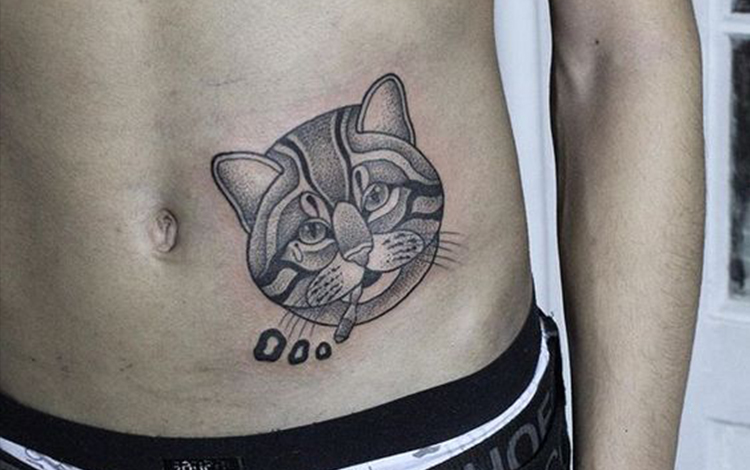 If you love your little kitty then this is the time to flaunt your love for your dear cat. A cat face with some shades of grey will look perfect on your flat trunk and it will also express your love for your cat. Go for it, it will look great.
21. A Peace Symbol Tattoo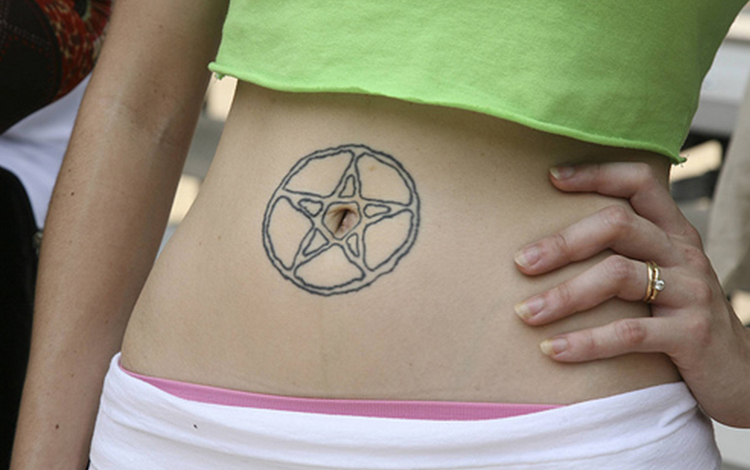 You can get a peace symbol along with some beautiful elements on your flat tummy and it will look mesmerizing, If you think you are a peace lover then this one is for you. Add all the elements of your choice and come out with a beautiful design for yourself.
22. Music Symbol Tattoo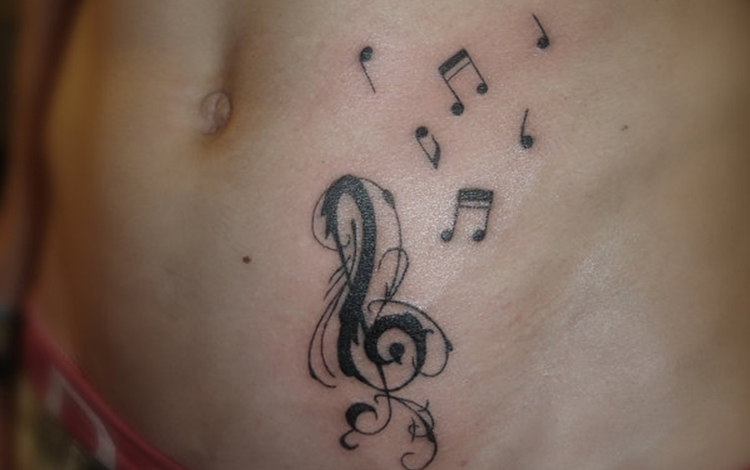 This is for all the music lovers, who want to flaunt their love and passion for music. A tattoo with music symbols along with the butterflies flying on your flat tummy will look melodious and breathtaking. This tattoo is usually bigger in size, which will cover almost the entire tummy of yours. The tattoo looks perfect on a flat and fair tummy of a girl. It is absolutely feminine and appealing. Men can go for music symbols with some manly elements added to it to make their tattoo look unique.
23. A Giant Butterfly Tattoo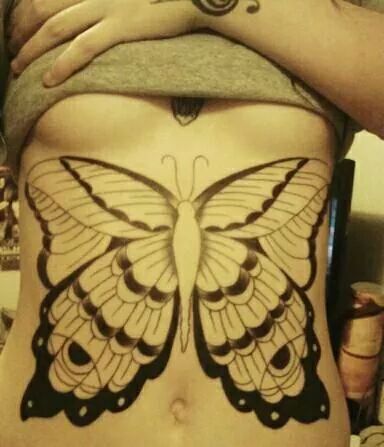 Get a giant colorful tattoo done on your flat tummy and believe you me the design will look super cool. Butterflies make real perfect tattoos for one and all. The design looks impressive on your tummy. You can use the color combination which will make the tattoo look realistic and actual. The tattoo is especially meant for the girls with curvy figure and who are not willing to put on weight any sooner.
24. Batman Symbol Tattoo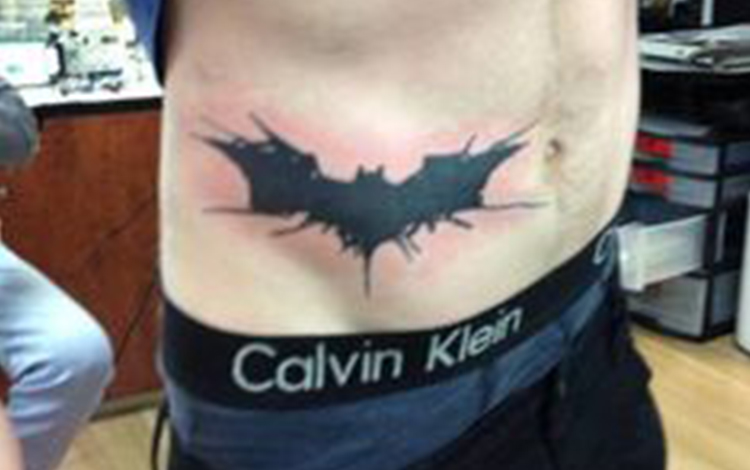 For the batman fans it is a perfect tattoo to express their fondness for the movie and the character itself. Though the tattoo looks good on any part of your body. But getting it on tummy will add an extra flair to your tattoo. This one is done in black, also size is up to you, and you can either go for a small sized tattoo near your navel or for the big size covering your lower tummy. The design looks stunning in males and females both.
To pan out……
Besides these 25 designs, you can create your own design which you think will suit your personality the most. Tattoo on trunk are meant for everyone whether a person is shy or bold. Try out!! You will surely get admiration from others for your tattoo.
I hope the list inspires you to get the one on your tummy too…Very best of luck for your tattoo….. Be creative and enthusiastic…… Get the best tattoo on your tummy and flaunt it!!
Enjoy Tattooing!!
Please follow and like us: