15 Best Tattoo Shops in Edinburgh, Scotland
Posted on
It's always a good idea to research the design you want on your skin, as well as the most respected artists in your area. After all, a tattoo is something you'll have for the rest of your life, so get one you're proud of. Fortunately, Edinburgh is home to a plethora of award-winning tattoo parlors that can assist you in designing and inking your dream tattoo. However, with so many options, a person may become perplexed. Some of the essential must-see tattoo studios are listed below.
1. Studio XIII Gallery Tattoo and Piercing: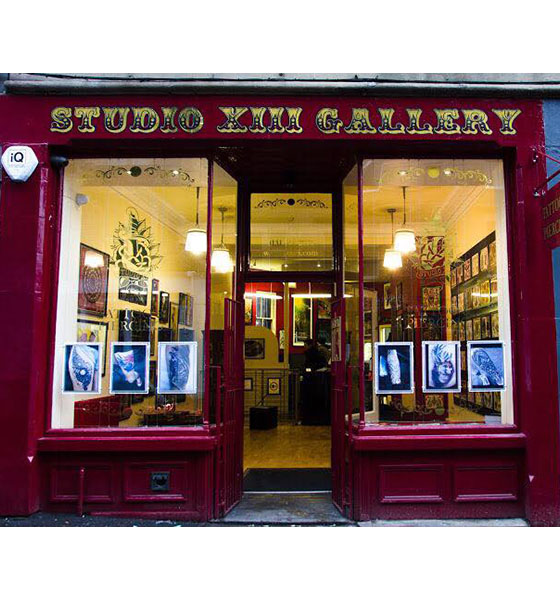 Original art by some of the top graffiti and underground artists from across the world, including work by renowned tattoo artist Ami James, is on display here. The owner of this business is a well-known tattoo artist who has toured the globe and whose extensive experience is invaluable to clients. This was a non-toxic color studio that specialized in Japanese, Celtic, and fantastical patterns. You can also get piercings with jewelry from our stock or something custom-made to your preferences.
2. The Devil's Scribe Tattoo:
The Devil's Scribe Tattoo is a high-end tattoo studio in Edinburgh, Scotland's downtown area. Their tattoo artists create high-quality tattoos and piercings in a safe and clean environment. The studio's welcoming staff has a wealth of experience in creating current tattooing techniques, ensuring that you get the best results possible. Their top focus is hygiene, thus they constantly adhere to correct sterilization procedures to assure your safety. They take pride in offering their customers one-of-a-kind and extraordinary tattooing services. The Devil's Scribe Tattoo is delighted to provide a free consultation session, which will assist you in better understanding the design process and its implications.
3. Watermelon Tattoo: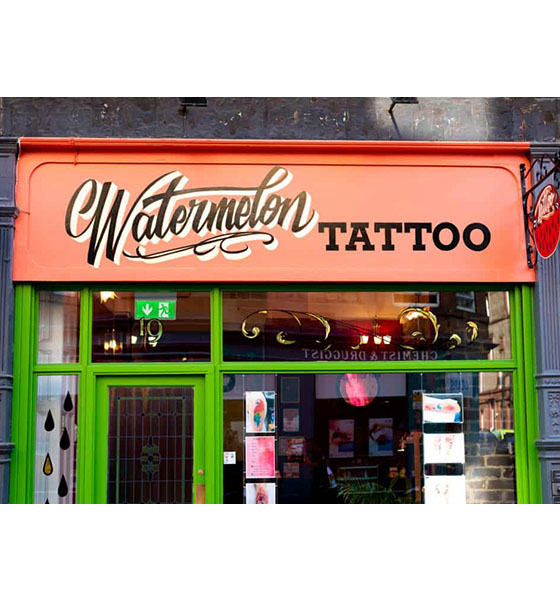 Watermelon Tattoo on Easter Road provides bespoke tattoos in a friendly, warm, and inviting environment, with the main goal of making sure you are completely satisfied with the design. Watermelon Tattoo, founded in 2018 by partners Noemi Sorrentino and Sandie Tweedie, is a family-run tattoo studio in Edinburgh. Noemi is a well-known and internationally acclaimed tattoo artist. Although many people flock to her for her unique watercolor technique, she specializes in conventional, neotraditional, and linework tattoos. Sandie is in charge of the studio's overall management and day-to-day operations.
4. Tribal Body Art: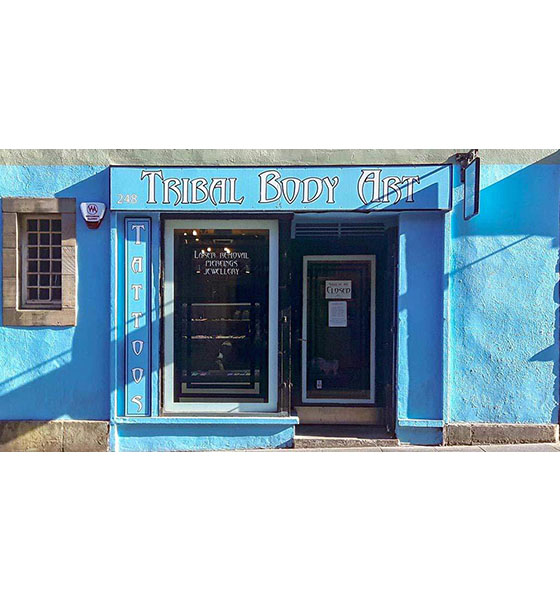 Tribal Body Art, located on the Royal Mile in Edinburgh's center, offers Tattoo, Tattoo Removal, and Body Piercings with a focus on quality and compassion. They have three tattoo artists on staff that can assist you in turning your tattoo ideas into a beautiful piece of body art. Their skilled and experienced tattoo artists offer a wide range of cutting-edge tattoo designs that consistently exceed your expectations. To safeguard their customers' health and safety, the studio's artists follow federal rules.
Related: Important Skills For A Tattoo Artist
5. Relatively Painless Tattoo: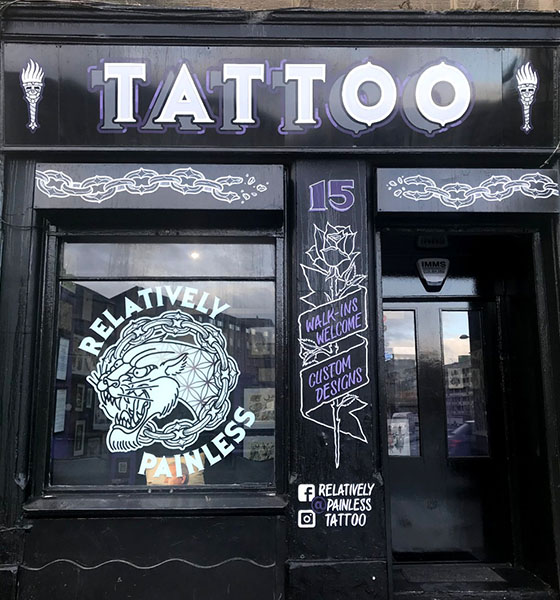 Relatively Painless Tattoo is a fully licensed tattoo shop located near the Docks of Leith in Edinburgh, which opened in 2013. They offer a friendly and relaxed environment. The artists are on hand to give their full focus on every tattoo, regardless of size and style. They work closely with the customer so that the customer receives what he desires. They also offer a variety of piercings and also walk-ins are welcome here.
6. Red Hot And Blue Tattoo: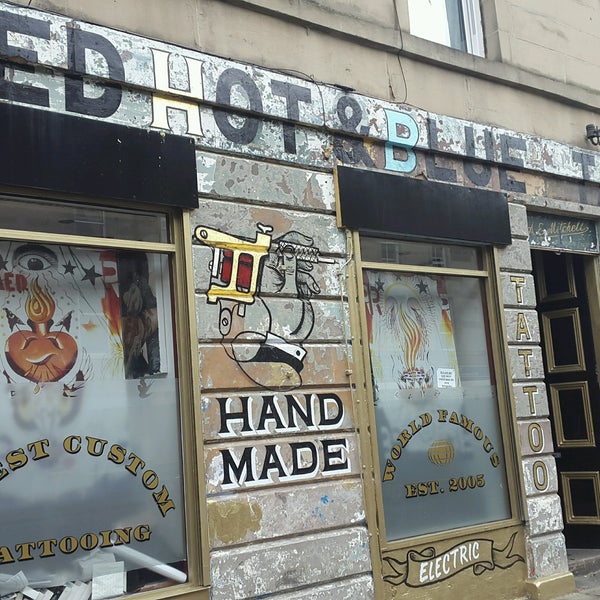 On this list, it is one of the oldest studios. Red Hot and Blue first opened its doors in 2005 and quickly established itself as a well-respected studio not only in Edinburgh but throughout Scotland. Their resident artists offer a wide range of styles to appeal to a wide range of clientele, and they produce high-quality tattoos in a pleasant and welcoming environment.
7. DragonHeart Tattoo: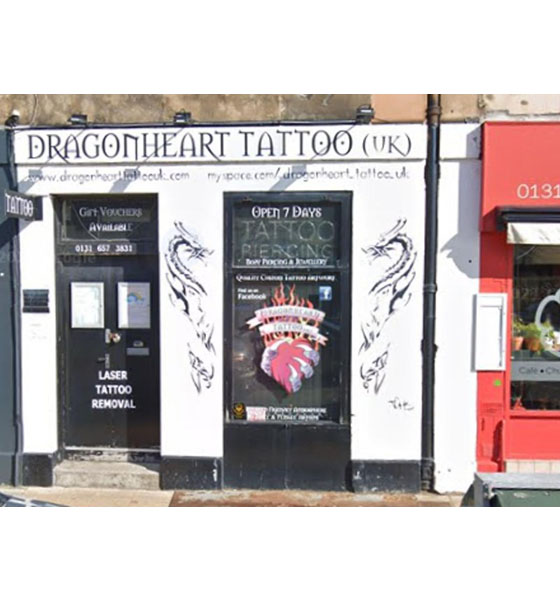 DragonHeart Tattoo studio, established in 2008, is located at 260 Portobello High Street in the heart of Edinburgh's famous Seaside area, with a proven reputation for specialized in excellent bespoke tattoo artwork. They feel that, in addition to having a one-of-a-kind piece of body art for life, the process of getting tattooed creates lifelong memories. Their goal is to make your visit to the studio relaxing, informative, and enjoyable! They not only offer reasonable hourly tattoo rates, but they also offer custom design services and, of course, Gift Vouchers for the gift that keeps on giving.
8. Insider Tattoo:
Insider Tattoo is a wonderful modern open-plan studio with stunning views of the shore, and their artists' work is as stunning. They also have some excellent guest rooms.
9. Ace Tattoo Studio: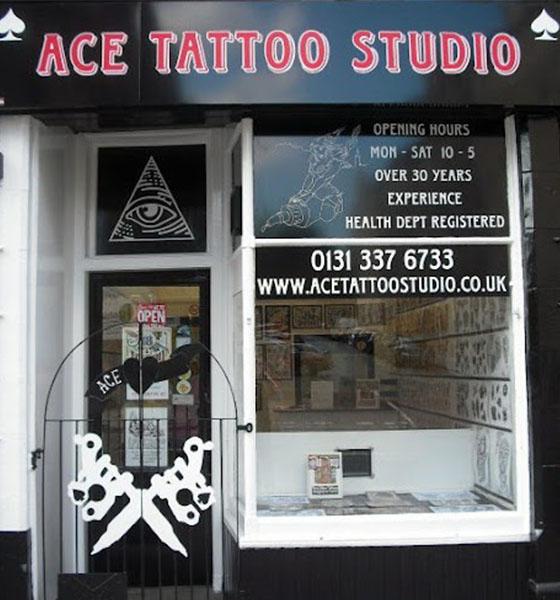 Ace Tattoo Studio is a tattoo studio where tattoo artists create a wide range of body art. Based in Edinburgh's Gorgie Road. On Google reviews, this Gorgie Road tattoo studio has a five-star rating.
10. Adept Art Collective Edinburgh:
Gordon Patterson founded Adept Art Collective, which has two studios: one in Livingston and the other in Edinburgh. The studio has won numerous awards and consistently creates high-quality work. It's in Edinburgh's 'New Town,' and it's easy to get to and from the studio.
11. Bizarre Ink Tattoo Studio: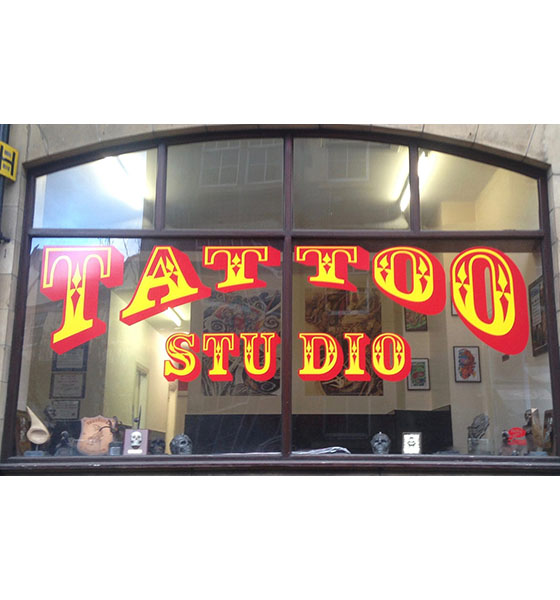 This studio, which opened in 1995, caters to a wide range of styles. They are a group of extremely competent artists with a keen eye for detail that strives to provide top-notch artwork using vegan inks seven days a week. You can choose from a variety of inspiring materials in the shop to assist you to choose a piece, or you can bring your own creative artwork for us to work with or use as inspiration. Come in for a free tattoo consultation and to schedule an appointment for a new tattoo or cover-up.
12. Den Of Iniquity:
Den Of Inequity, which opened its doors in 2010, is a fantastic traditional tattoo business that specializes in bold, clean traditional work, new school, and black work-inspired tattoos. The studio is conveniently located in the middle of Edinburgh's 'New Town,' with regular bus connections and local parking. This studio might be right for you if you enjoy traditional work.
13. Semper Tattoo: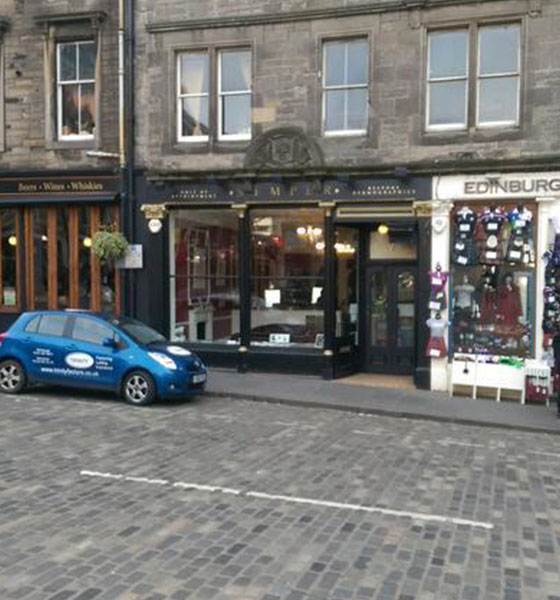 Since 2007, David Corden has started tattooing. His first studio, Semper, is located in Edinburgh's historic Grassmarket. Since 1477, it has been one of the city's primary marketplaces and has historically been the site of public executions. David has developed a stunning studio that exudes elegance. He and his team of resident artists only produce high-quality work in a variety of styles.
14. Independent Tattoo Studio: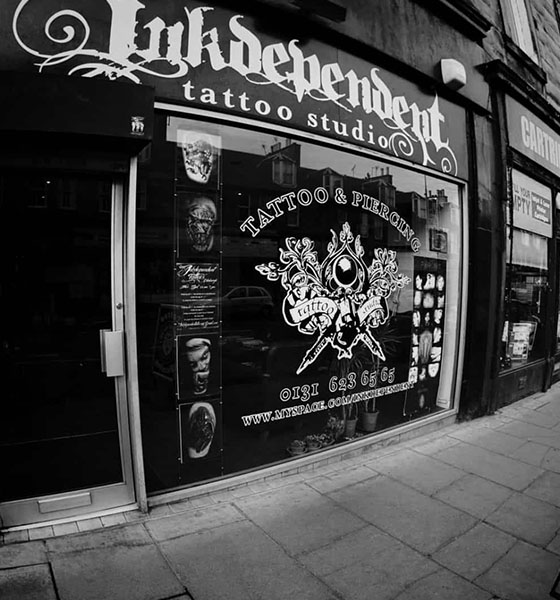 Inkdependent Tattoo Studio was founded in 2009, but their ink journey began ten years prior. Inkdependent soon established itself as one of Edinburgh's best studios, and it has only improved over time. They have some of the best tattooers in the country, including award-winning artists like Marcin Ptak, the realism wizard, and the outstanding Daniel Baczewski.
15. Venus Flytrap Tattoo:
Charlotte Paterson, an Edinburgh-based tattoo artist, and painter founded Venus Flytrap Tattoo. Venus Flytrap is her professional moniker, and Venus Flytrap Tattoo is a tattoo shop in Edinburgh's historic district. The majority of the work is one-of-a-kind, updated versions of traditional Japanese tattoo subjects, especially geisha, almost usually with flowers. The important difference is that while sketching tattoo ideas, they adhere to the traditional Japanese principle of creating the design to fit the part of the body it will be placed on, allowing the design to flow in harmony with the body shape.
Please follow and like us: