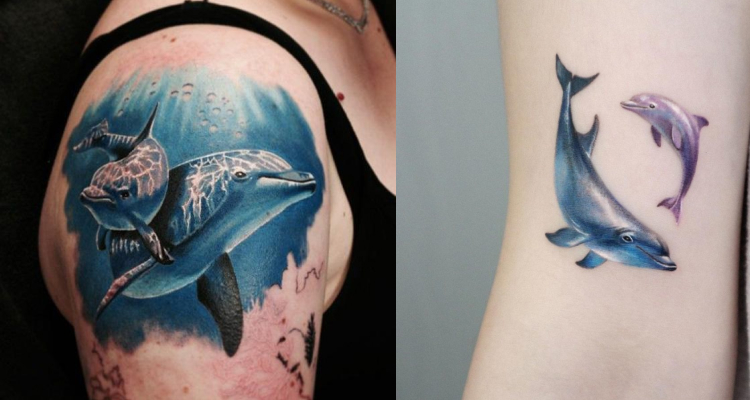 30+ Amazing Dolphin Tattoo Ideas And Designs with Meaning
Posted on
Welcome to our blog about Dolphin Tattoo Ideas! We are keen to communicate our insight into this trending topic. Dolphins can represent qualities such as friendship and joy, so why not show off your cheerful side through body art? We will explore different designs in detail here on the blog, discussing the meaningful meaning behind each design.
From realistic full-body dolphin tattoos to more abstract watercolor inkings, we've got you covered for inspiration that stands out from the crowd. So whatever kind of statement look you're after — join us now as we dive deep into these fantastic options!
Dolphin tattoo meaning
A dolphin tattoo carries many different meanings. It is seen as a symbol of compassion and protection, as dolphins are known to help protect humans and other sea creatures in danger. They can also represent intelligence, joyfulness, courage, playfulness, and friendship – attributes we admire deeply in others! Dolphin tattoos may even be thought of as symbolic of one's emotional strength or ability to manage difficult situations.
This creative expression has become increasingly popular due to its versatility and design options, from minimalist black line art designs through complex watercolor pieces – each artist conveying their own story with this beautiful image.
1.  Dolphin tattoo with crescent moon
This stunning Dolphin tattoo with a crescent moon will make you stand out from the crowd and add a flair to your look. This eye-catching design will surely draw attention for its unique combination of symbolism, artistry, and craftsmanship. The intricate detailing ensures perfect lines that last forever without fading or smudging over time.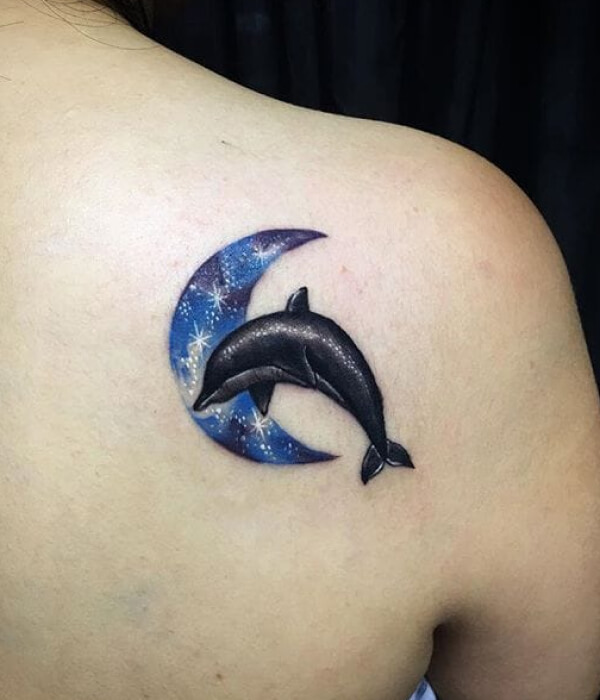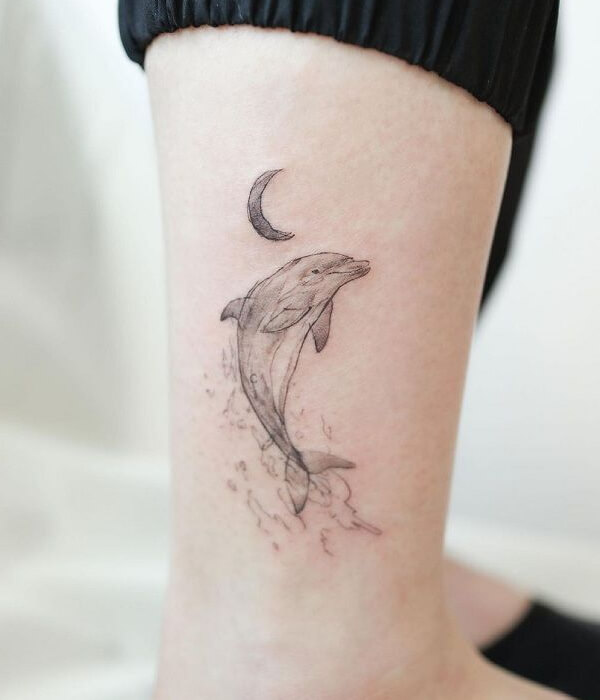 Whether placed on an arm, leg, or back, this black ink masterpiece brings harmony between features while exuding confidence in all who see it. If you're looking for something truly special with a powerful meaning behind it, go no further than our gorgeous Dolphin Tattoo With Crescent Moon!
2. Map-themed dolphin tattoo ideas
This striking map-themed dolphin tattoo is sure to be a conversation starter! This unique design will stand out on any skin tone, featuring intricate national and international map detailing. The fine line work gives it an expertly crafted look, while the carefully chosen colors make it captivating. A perfect choice for those wanting something different with a special personal meaning – no two tattoos are quite the same!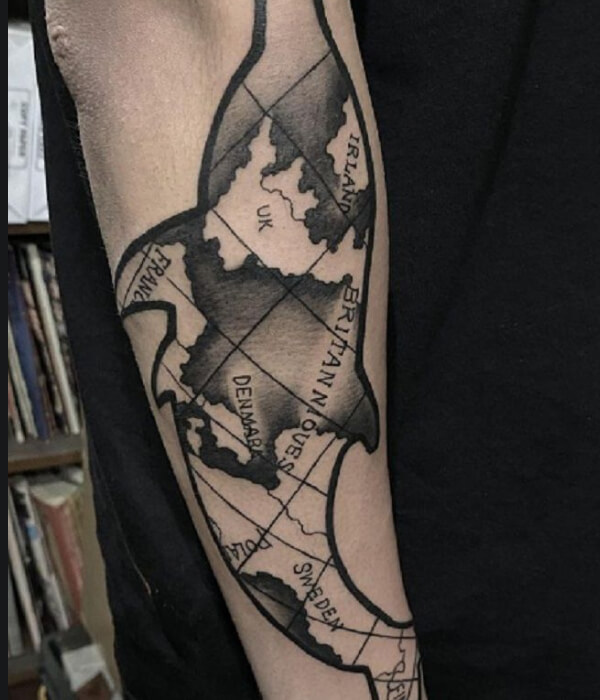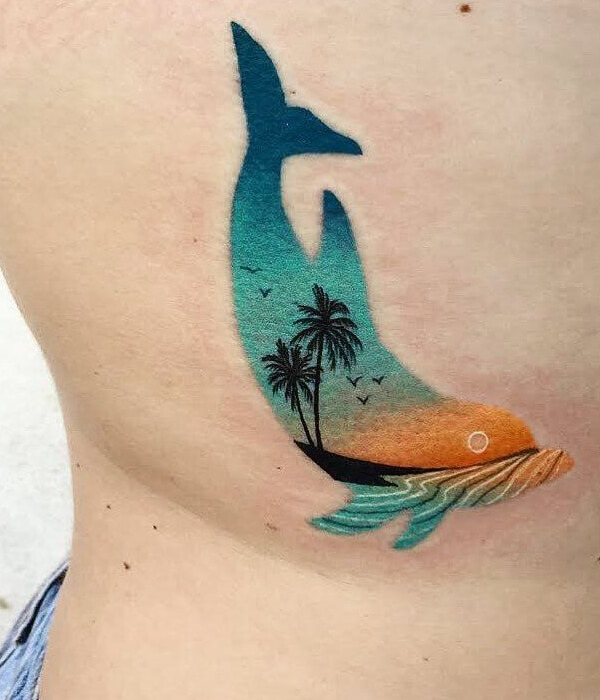 With its detailed realism, this poignant piece of body art can reveal aspects of your life in ways more subtle than words alone ever could. Expertly done by the artist, you can be confident knowing your new tattoo will turn heads wherever you go!
3. Tribal dolphin tattoo designs
A tribal dolphin tattoo is a classic choice for those seeking artistic and meaningful body art. This stunning design, depicting the graceful form of a leaping creature surrounded by intricate shapes and lines, can be tailored to each individual's preference; done in traditional black shading or more vivid colors depending on how bold you want your look to be.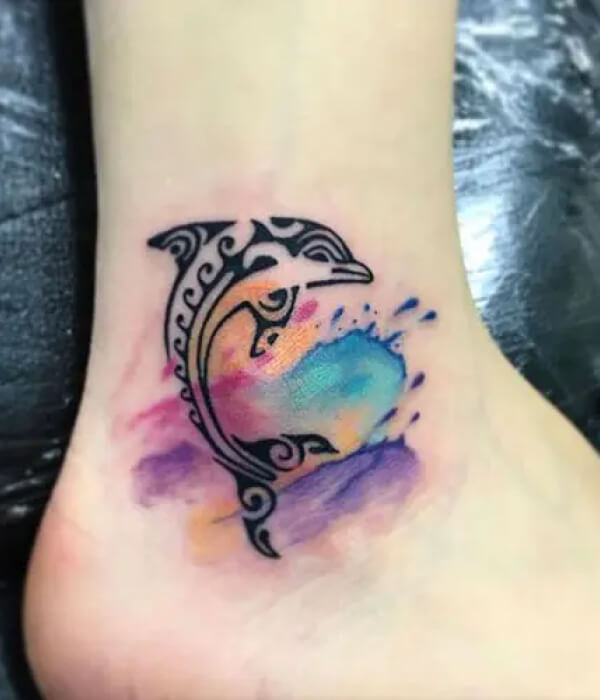 It also carries deep symbolic significance – from representing love, joy, and friendship at its core to spiritual beliefs about protection against evil influences. Whatever message this unique artwork has for you personally will stay with you forever!
4. Watercolor dolphin tattoo
This beautiful watercolor dolphin tattoo is a unique and stunning way to show off your one-of-a-kind style. The bright, vibrant colors are carefully blended for maximum impact, featuring an abstract representation of the animal's majestic form. It's ideal for someone who likes to be unique with their ink with something extraordinary!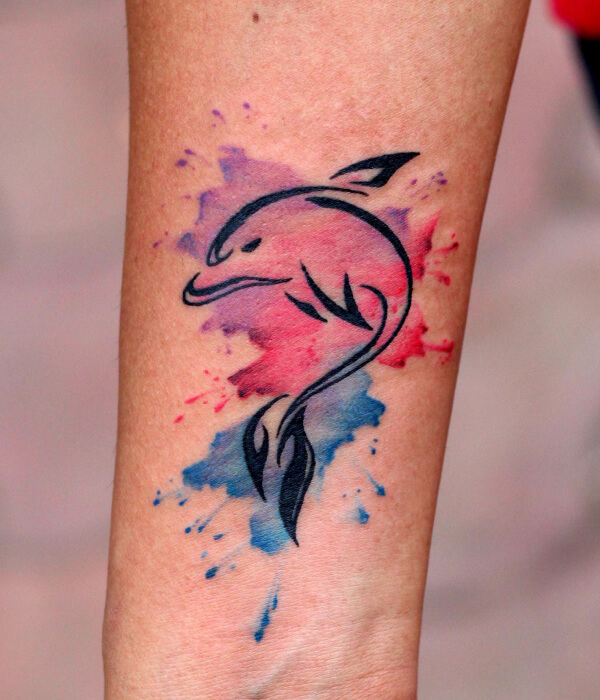 With its clean lines and intricate detail, this tattoo will be eye-catching wherever you go – whether on a beach or just boldly displayed in everyday life! A timeless piece that can quickly move between traditional designs while maintaining modern elegance, this specific design is sure to make you feel proud every time you see it.
5. Realistic dolphin tattoo ideas
This realistic dolphin tattoo is a beautiful example of body art. This intricate and lifelike design features detailed scales, shading and vibrant colors that make it look like the real thing. It's also perfect for creating an individual statement or celebrating marine life in style! The expertly applied tattoo should last many years with proper care – you can enjoy its beautiful presence year after year!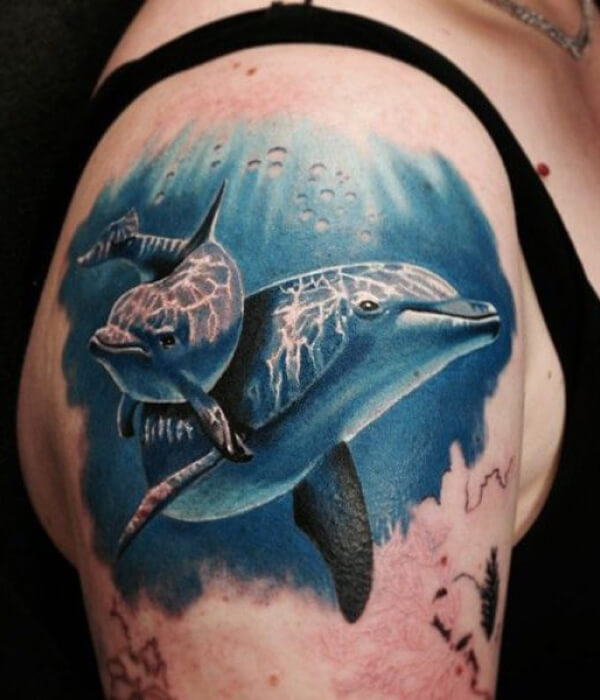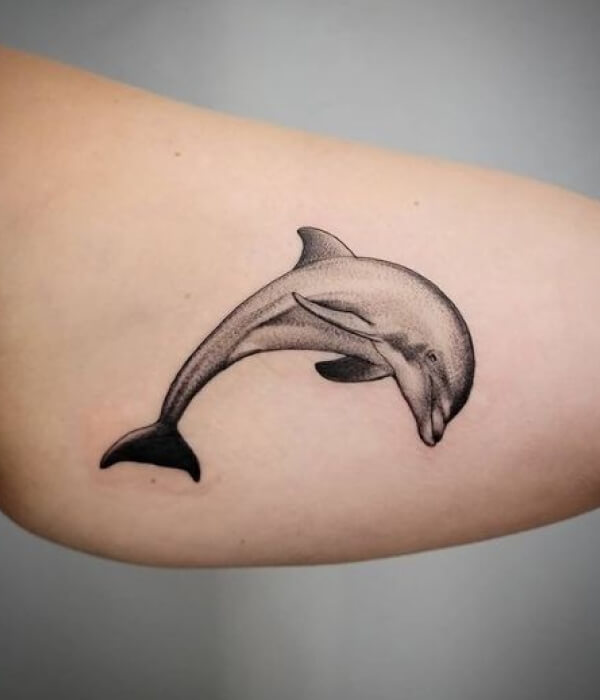 With this unique artwork, your skin will be adorned with something extraordinary – stand out among others by showcasing one of nature's most beloved creatures in true realism on your canvas!
6. Jumping dolphin tattoo
This jumping dolphin tattoo is a beautiful example of body art. This intricate and lifelike design features detailed scales and shading that make it seem natural. It's also perfect for creating an individual statement or celebrating marine life in style!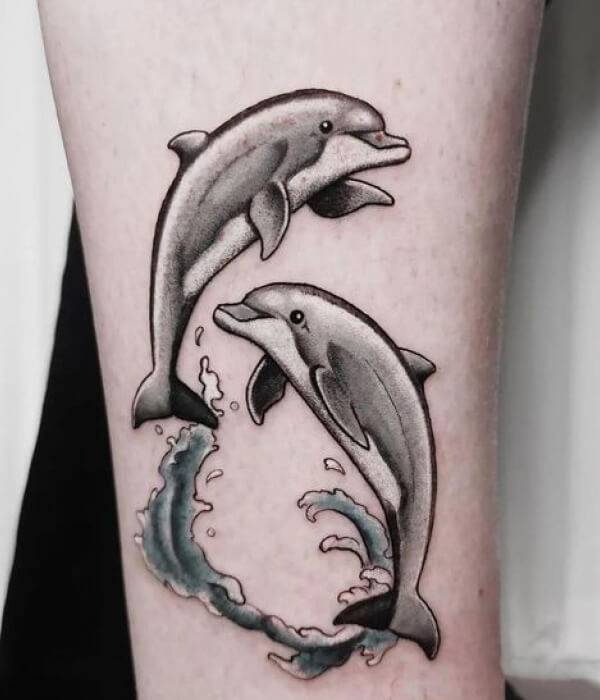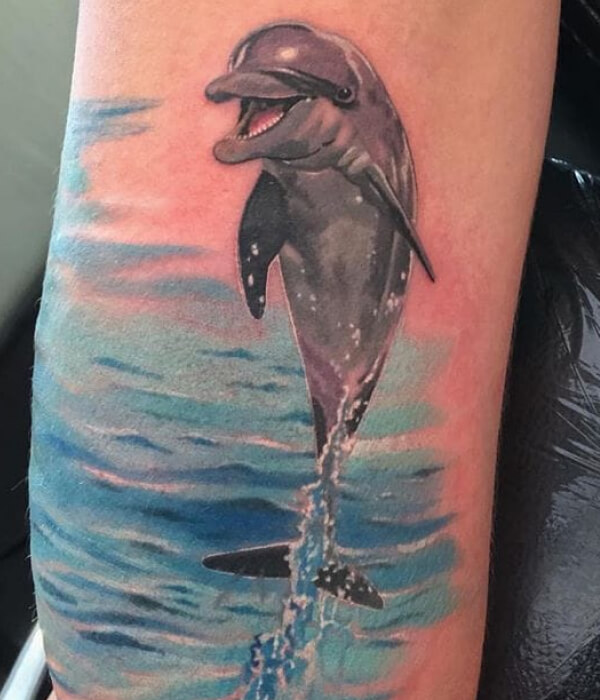 The expertly applied tattoo should last many years with proper care – you can enjoy its beautiful presence year after year! With this unique artwork, your skin will be adorned with something truly special – stand out among others by showcasing one of nature's most beloved creatures in true realism on your canvas!
7. Cute dolphin tattoo ideas
This beautiful dolphin tattoo is the perfect way to express your love of marine life. This unique piece's details and attractive colors exude a sense of freedom and beauty. Its outline features graceful curves which capture the shape of dolphins in their natural environment with dynamic movement that is captivating to look at.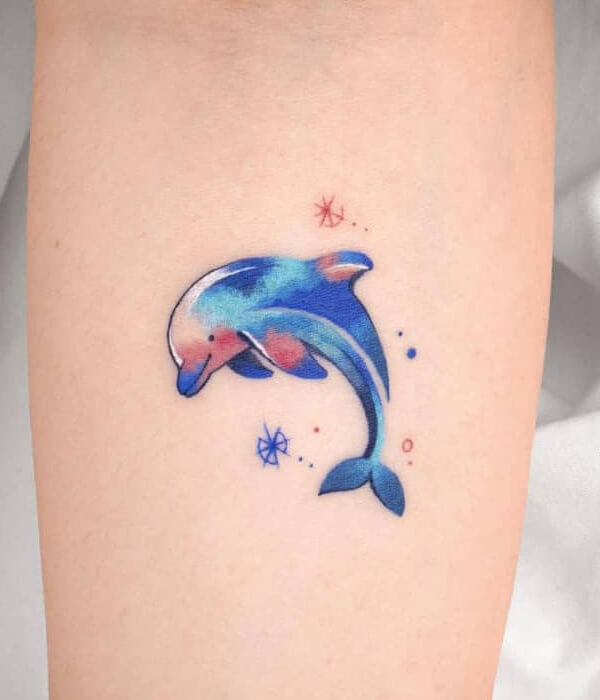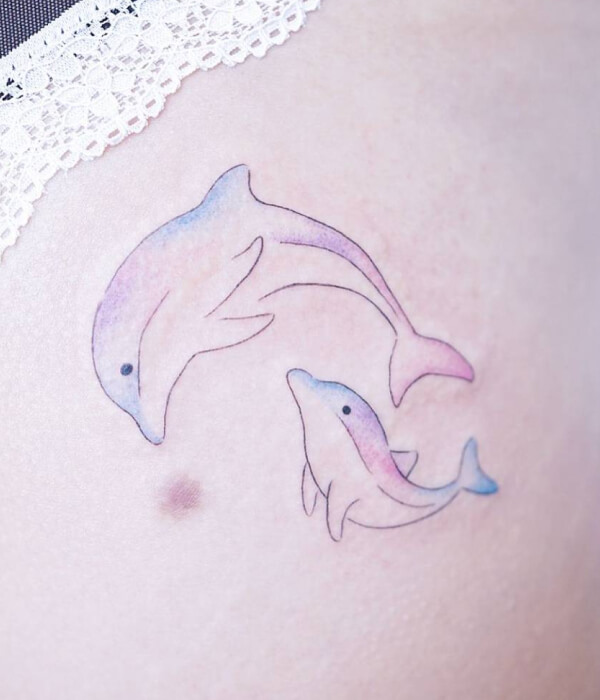 The delicate shading adds texture while maintaining an airy quality — making it ideal for anyone looking for a subtle but meaningful design that can be highly personalized. It's also suitable for anybody's location, adding versatility to enjoy its enchantment wherever you go!
8. Dolphin tattoo with anchor 
design
This dolphin and anchor tattoo is a stunning combination of classic design elements. It's ideal for those looking to make a daring declaration. The black ink lines are expertly crafted with an artisanal eye, creating intricate details that draw attention without appearing too busy or overwhelming the skin.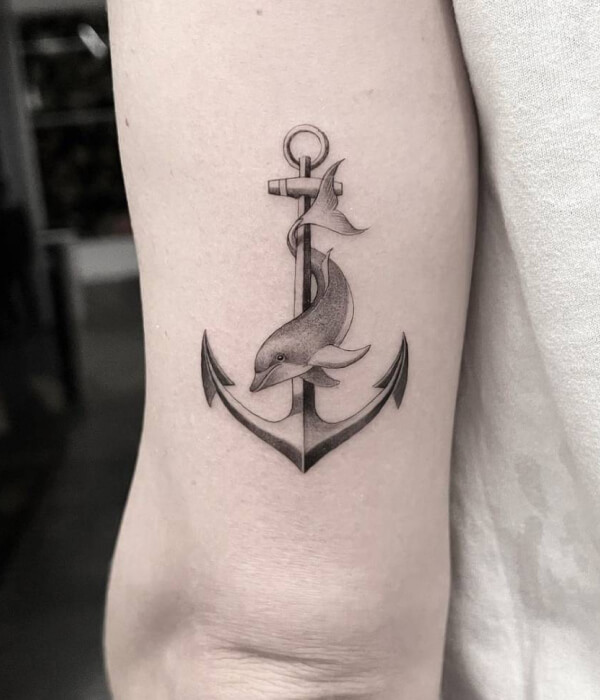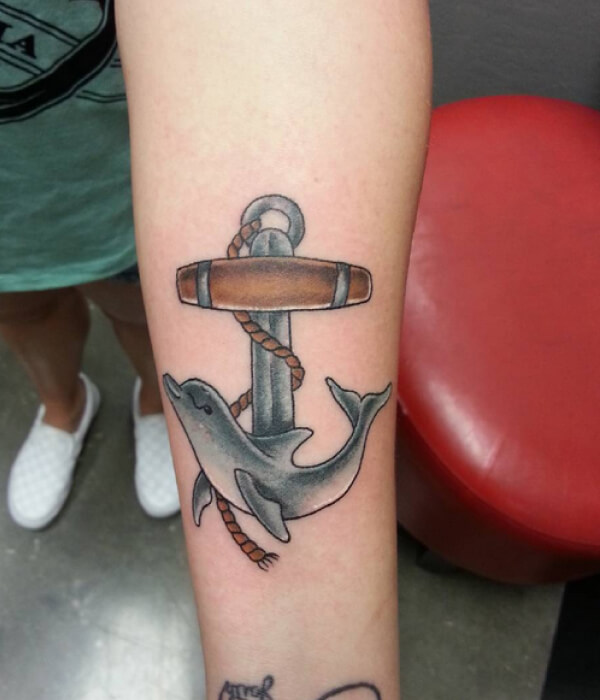 This beautiful piece features a dolphin swimming around an elaborate anchor of delicate curls and twisted patterns that come together seamlessly in the center. With its timeless style, this marine-themed body art offers depth while still being lighthearted enough to make it suitable for any occasion!
9. Baby and Father dolphin tattoo
This stunning baby and father dolphin tattoo perfectly represents the connection between parent and child. Showcasing detailed artwork, this beautiful design features two dolphins swimming alongside one another in an embrace.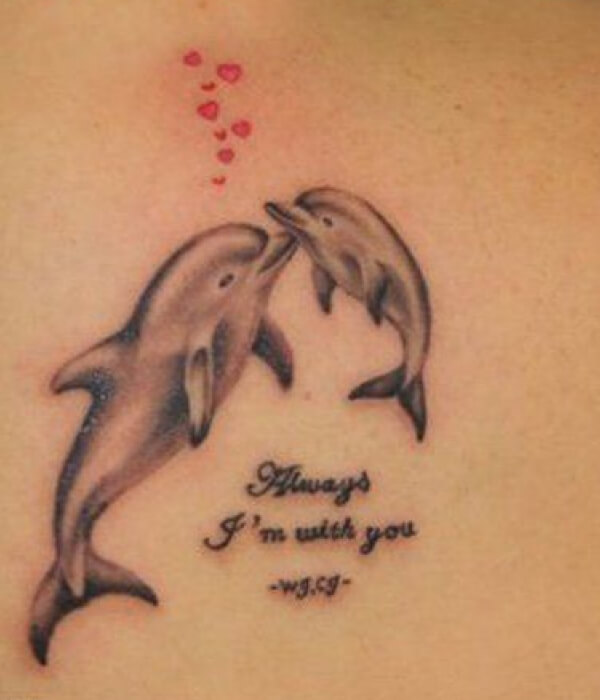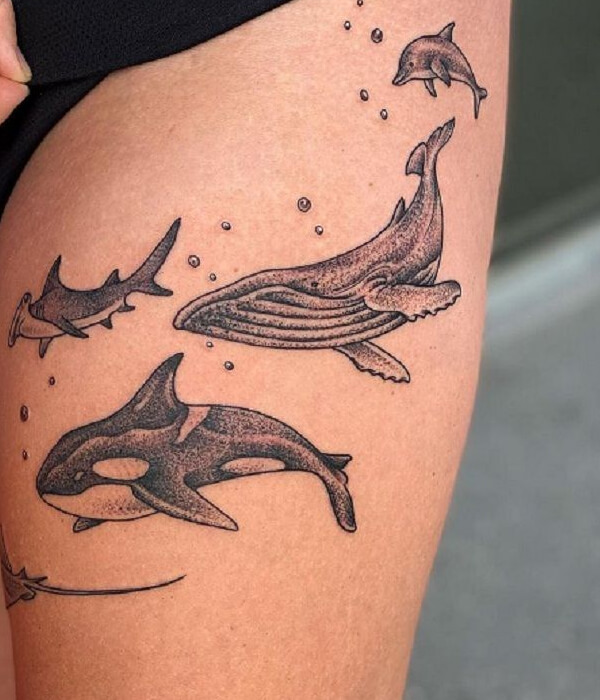 Created with detailed work to give it a realistic appearance, its intricate shading brings out each detail that makes these magnificent creatures so spectacularly unique. The warm emotions evoked by this piece make it ideal for those who wish to honor their relationship with someone special or commemorate the joys of parenthood forever!
10. Dolphin tattoo with butterfly
This bold and beautiful dolphin tattoo with a butterfly is the perfect way to show off your fun, vibrant style. This stunning body art captures the freedom and joy associated with these fantastic creatures in an eye-catching design.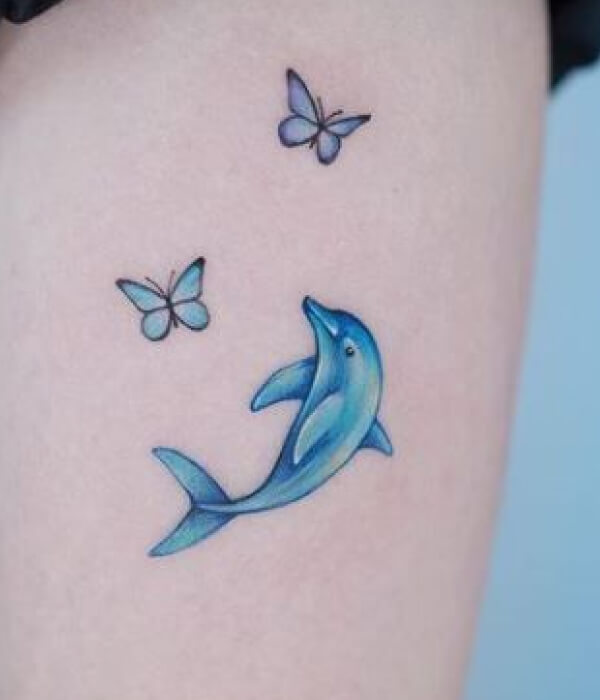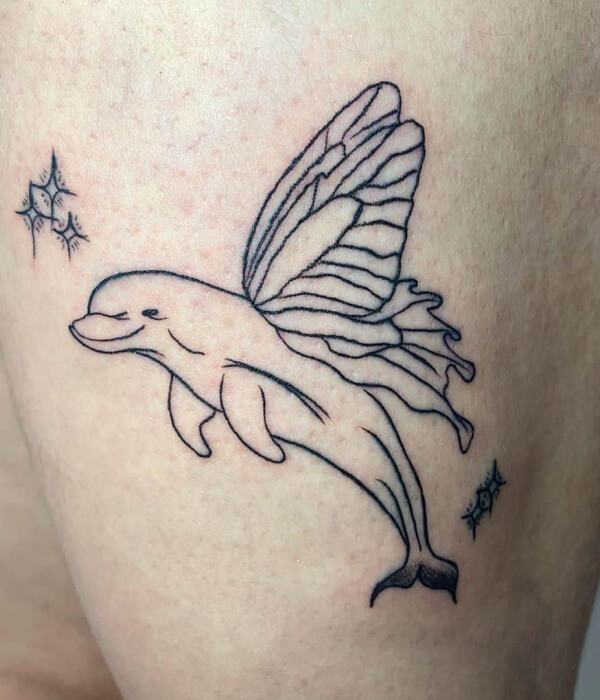 The intricate design brings out the best of both elements as they come together on your skin for maximum impact. With its detailed hues, this unique artwork will make your tattoo distinct! Letting go of inhibitions while expressing yourself has never been easier – or more stylish!
11. Dolphin tattoo with sunset
This breathtaking dolphin tattoo with a sunset backdrop will make you stand out from the crowd. Made using only high-quality inks, this beautiful piece of body art will ensure that your look never goes understated. With its stunning color palette and realistic details, this professional tattoo will provide long-lasting results for years – guaranteed!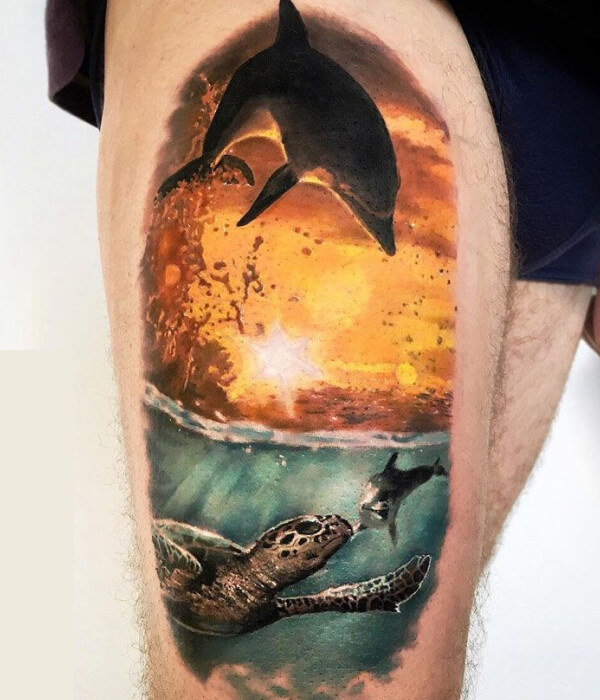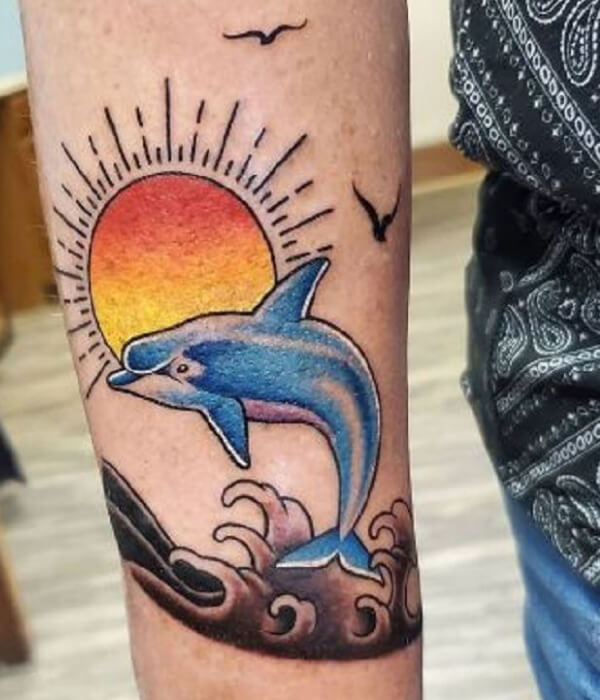 Whether you choose it as a focal point on an arm or shoulder or want something subtle placed elsewhere – it's up to you – we promise satisfaction every time with our experienced artist who can work within whatever style requirements you have too. So don't miss out on securing yourself one of these fantastic tattoos today!
12. Lunar dolphin tattoo designs
This one-of-a-kind lunar dolphin tattoo design is ideal for showing your originality and class. The exquisite swirls of black ink create a captivating image that's eye-catching and full of artistic flair.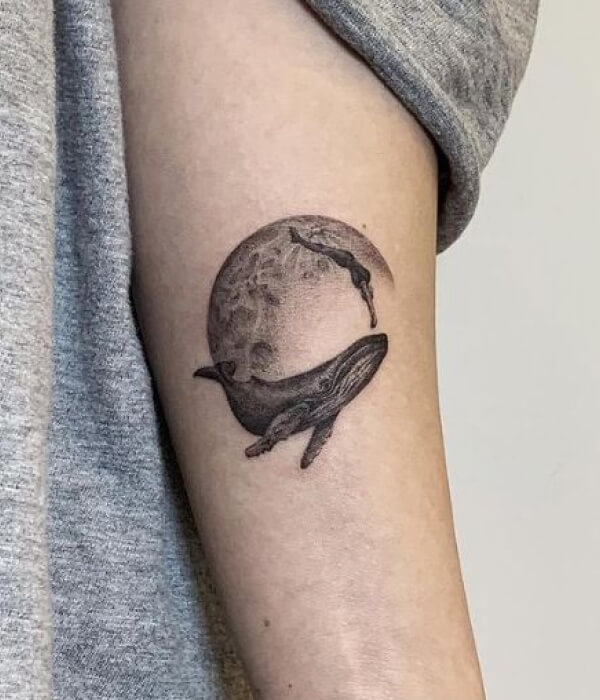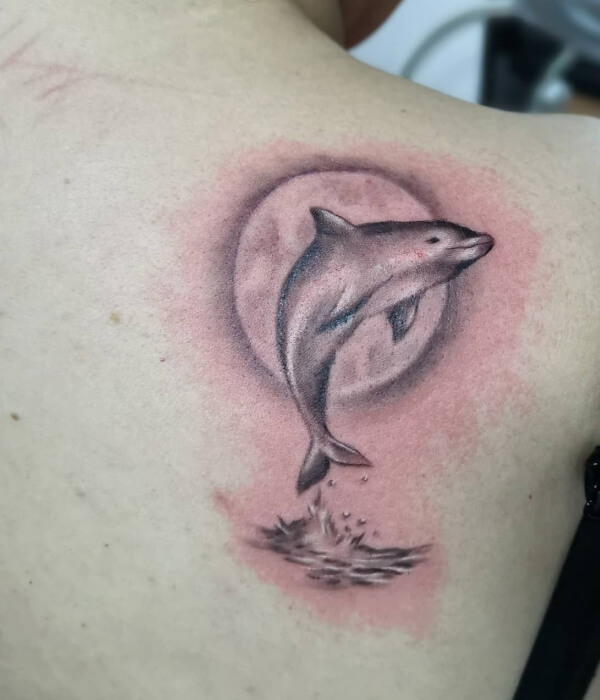 This unique design incorporates traditional nautical elements with modern styling, creating an elegant yet edgy look that pairs perfectly with any clothing or accessory. If you're peeking for something unpretentious or more attractive, this lunar dolphin will stand out amongst all others!
13. Mini dolphin tattoo designs for women
Mini dolphin tattoos are the perfect choice for women looking to add a unique, subtle, and meaningful design element to their look. The small size of these designs makes them ideal for discreet placement on both hands or wrists. Ideally suited for anyone who loves dolphins, they symbolize playfulness, intelligence, and loyalty – making it an especially poignant reminder of shared memories with friends and family.
Mini dolphins also bring good luck in money matters and are seen as protectors from harm while traveling long distances by sea or air water – something that's been especially relevant this past year! Choose mini dolphin tattoos if you want to subtly express your personality while simultaneously enjoying protection throughout life's journey.
14. Minimalistic dolphin tattoo designs
A minimalistic dolphin tattoo is a perfect choice to add subtle beauty and grace to their body art. The unique shape of the dolphins provides an eye-catching visual, while the soft grey lines in this piece give it an artistic edge that makes it stand out from other designs.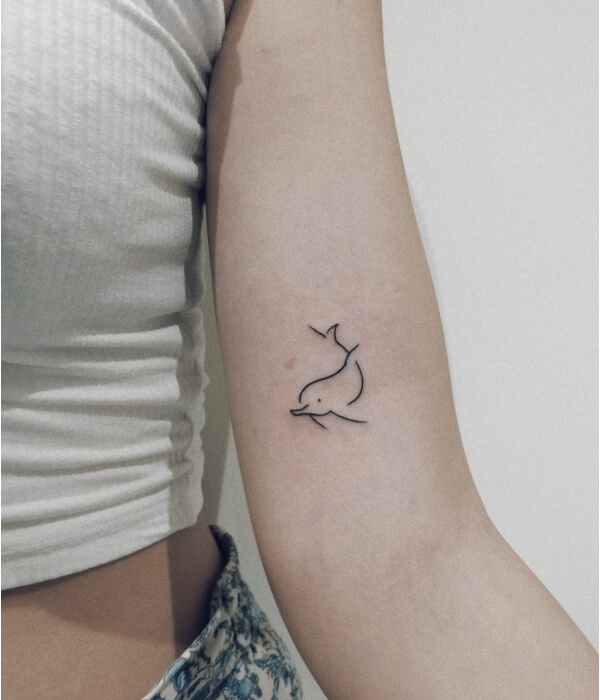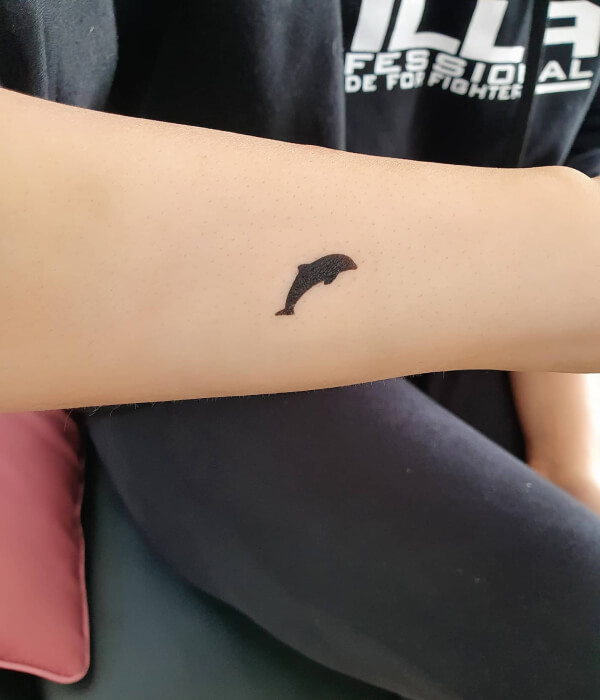 With careful attention paid to fine details and overall composition, this understatedly gorgeous work of art can be appreciated by all viewers alike. Whether as a standalone statement or paired with complementary pieces, this beautiful design will surely make its wearer proud!
15. Dolphin tattoo designs with flowers
Professional and exquisite, this dolphin tattoo with flowers is perfect for expressing a deep connection to the ocean. With delicate lines, vibrant colors, and intricate detailing, it stands out in any room.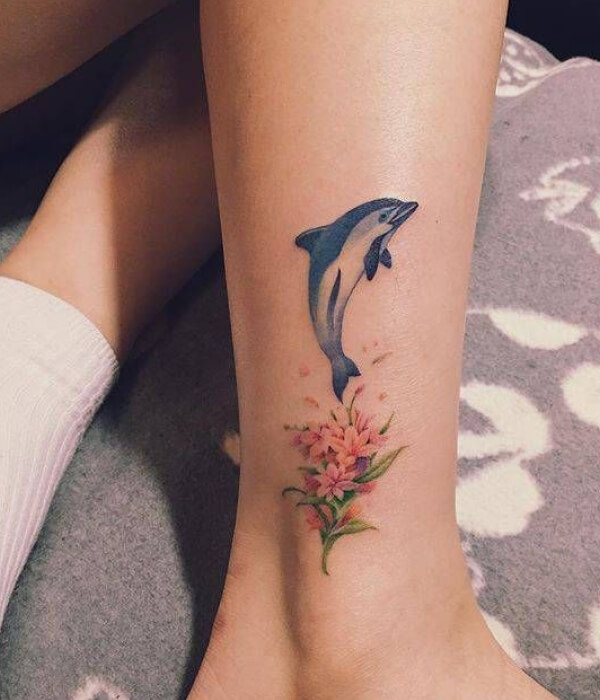 .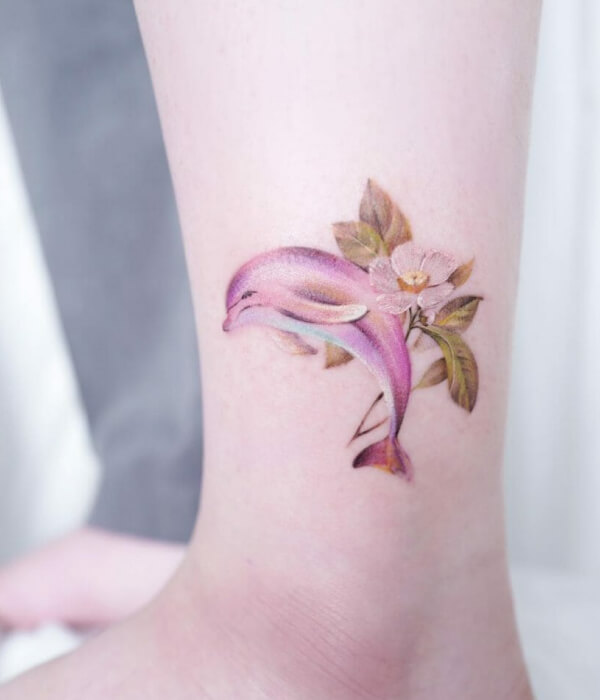 The combination of the playful, majestic creature surrounded by bright blooms adds an extra layer of beauty that will surely mesmerize viewers from all angles. This unique work encapsulates power, gracefulness as well as tranquility depicting beloved animals at ease amidst nature's wonders. A timeless piece is sure to dazzle one's gaze!
16. Simple blue dolphin tattoo
This stunning Simple Blue Dolphin Tattoo is a fresh, captivating design that will make heads turn! This timeless piece of art features a vibrant, dreamy blue dolphin gracefully leaping through bright azure waters. Ideally placed to enhance the beauty of any body part, this adorable icon perfectly encapsulates nature's wondrous aquatic life with its graceful energy and friendly expression.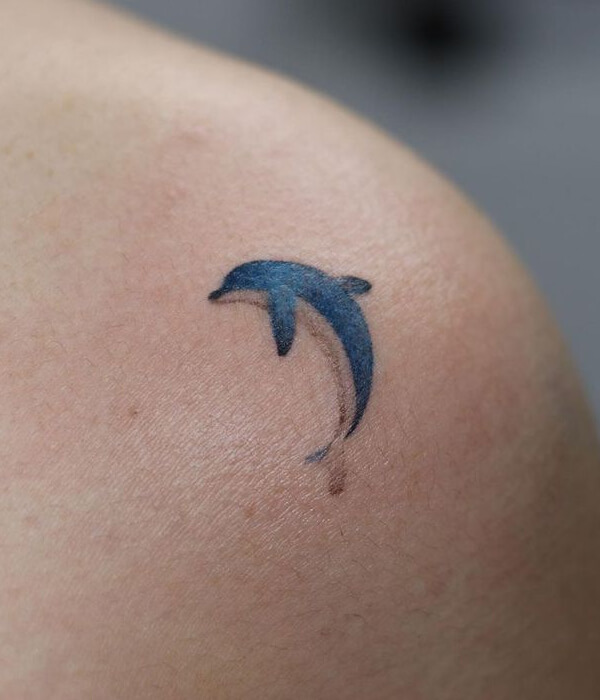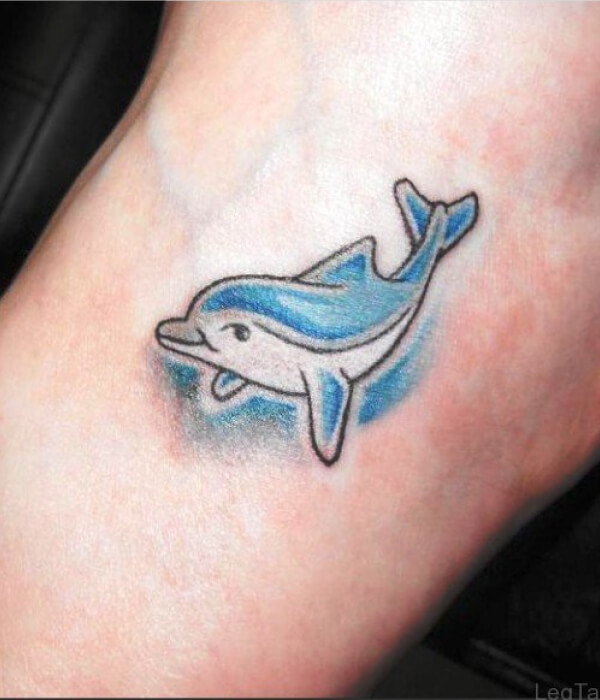 From scaled shimmering hues reflecting off its back as it jumps in satisfaction for freedom – you won't find another match like it! So why not show off your wild side today by adorning yourself with this charming companion?
17. Dolphin tattoo for couples
A dolphin tattoo is a captivating and expressive form to signify the special bond between two people. An intricately designed couple's dolphin tattoo can symbolize loyalty, wisdom, and harmony in one's relationship. From a stylistic perspective, dolphins look great when placed on either side or connected by a small motif. Whether you're looking for matching tattoos that show your commitment to each other or want something unique, like an intertwining pattern, plenty of ideas are ready to make their debut!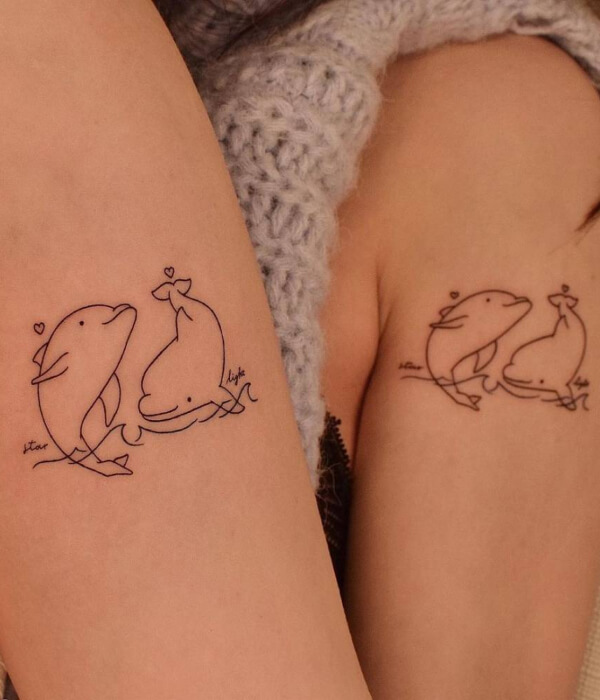 With professional expertise from experienced artists around the world, couples can get customized designs that fit just right for them. Investing in such artwork adds beauty and expresses eternal feelings, which will bring joy every time it catches your eye!
In conclusion, dolphin tattoos can provide a creative and meaningful way to express individual styles. They are beautiful art forms that represent intelligence, playfulness, and harmony between humans and the environment. It's important to consider all aspects of applying a permanent tattoo before making decisions – such as design options, placement on the body, or even finding an artist with experience in creating these fantastic designs.
With careful research before decision-making, wearers will have satisfaction in mind learning they made the correct choice for their unique look! We hope this blog on dolphin tattoo ideas is useful to the readers.
Please follow and like us: