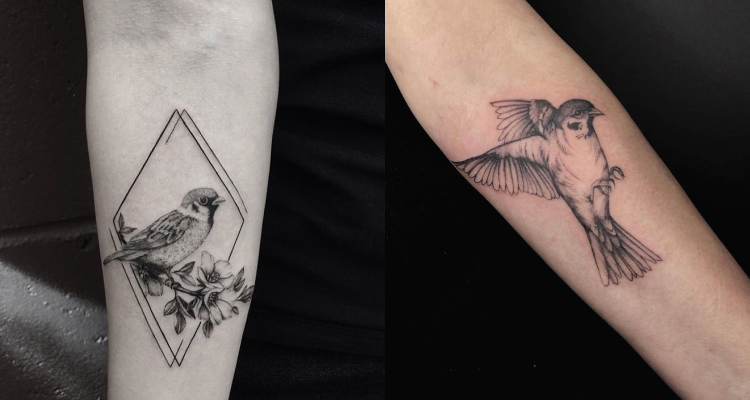 35 Amazing Sparrow Tattoos With Meanings, Ideas, and Designs
Posted on
Welcome to the beautiful world of Sparrow Tattoo Ideas! For centuries, these little birds have been a source of inspiration and beauty for human beings. Whether you are searching for an abstract design or something more realistic, there is always a sparrow tattoo that speaks your language.
We've got all sorts of creative ideas here – from classic black-and-white styles to colorful watercolors – so explore with us! Let's take flight together and discover why people across cultures have found such joy in these majestic creatures' wings.
Sparrow bird meaning
Sparrows are small birds known for their social, cheerful personalities and resourcefulness in finding food. In many cultures worldwide, sparrows symbolize resilience and friendship due to their ability to survive harsh circumstances with limited resources.
Sparrow's meaning is also associated with love as traditionally; they have been viewed as a sign of loyalty—being devoted to one mate while caring for young together —and harmony in relationships between partners. With these powerful symbols, sparrow symbolism has taught us that perseverance can lead us through difficult times when we work hard and stay loyal to those we care about most!
Sparrow tattoo meaning
Sparrows have been a famous tattoo symbol for centuries, with many meanings ascribed to them. They are often associated with freedom and hope, as these tiny birds can readily take flight. Their bold designs also provide positive protection from bad luck or ill omens while representing never-ending energy and vitality.
Sparrows may signify homecoming after a journey away; their return brings joy, love, and good fortune—a reminder that we always have something (or someone) waiting at the end of our travels! Finally, sparrow tattoos represent resilience in challenging times: no matter how small it seems when faced with an obstacle, it still has the power to move forward and succeed on its terms.
Here are some unique sparrow tattoo ideas
1. Jack Sparrow tattoo
Are you skimming for an anxious way to give yourself a unique identity? A Jack Sparrow tattoo is an ideal choice! Known as one of Hollywood's most iconic pirate characters, this unique design features all piracy-related elements, including swords, anchors, and sailboats. Whether it's colorful or straightforward black lines, these tattoos can be customized to fit your style.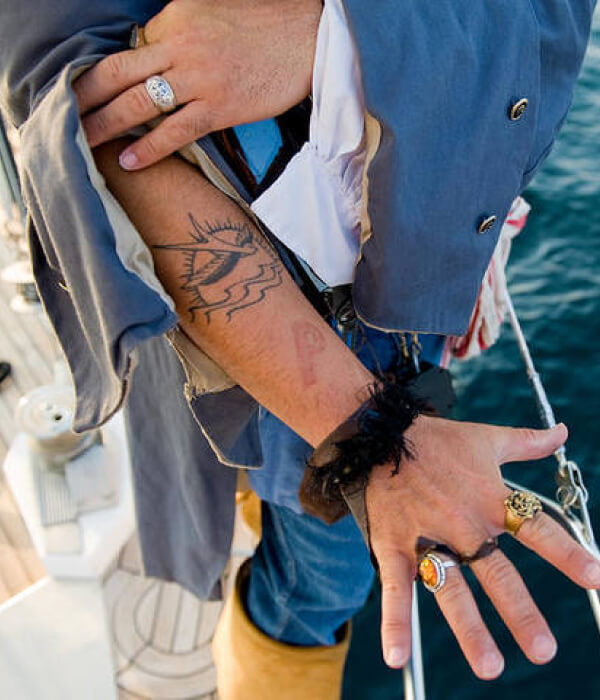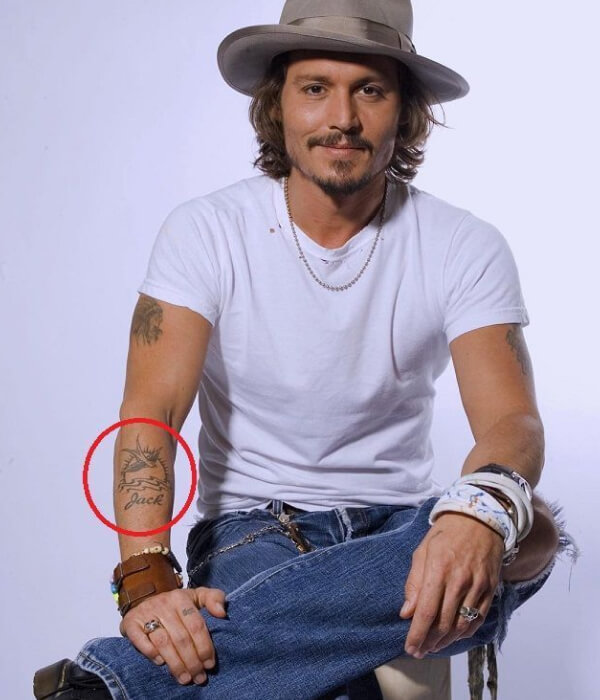 The popularity of Captain Jack Sparrow has grown across the world – from fashion trends to television shows – so why not get his favorite look as a part of your skin art? Get ready for a creative adventure when you decide on getting a Captain Jack Sparrow tattoo – show off who you indeed are with some edge and coolness that only he could provide!
2. Traditional sparrow tattoo
Are you looking for unique body art? Traditional sparrow tattoos are becoming increasingly popular among those seeking to express their personalities and stories. Whether inked onto your hands, arms, or elsewhere on the body, this tattoo has long been prized by cultures worldwide as a symbol of courage, resilience, and freedom.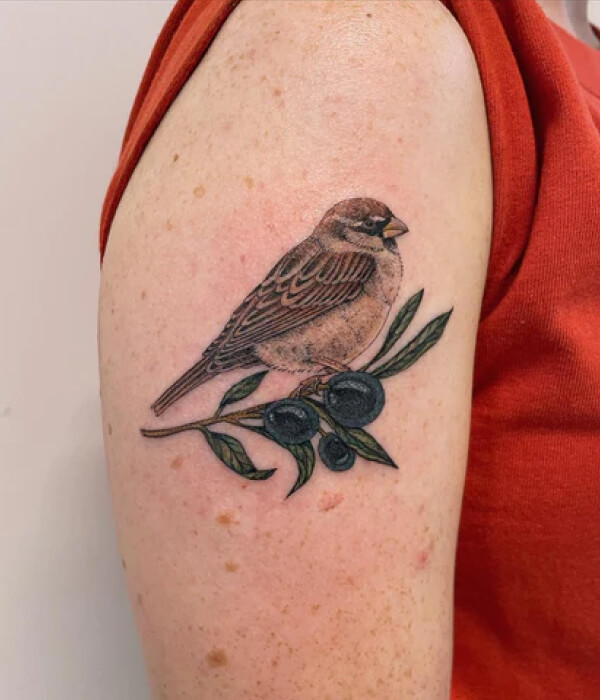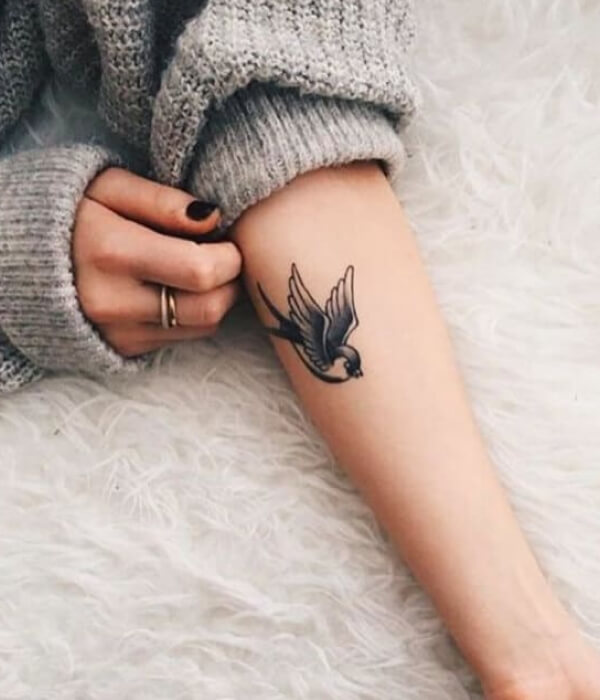 The intricate details offer distinct shapes that will not fade over time, embodying qualities like loyalty, humility, and hope — all they require is a commitment because removing them can be difficult if ever wanted. Why not join thousands in wearing these meaningful pieces with pride?
3. Sparrow tattoo with flowers
Having a sparrow tattoo with flowers is becoming more popular between people from all walks of life. From couples expressing their love for each other to individuals who want something unique, this creative and symbolic body art has become more widely accepted across the globe. Not only does it represent freedom, but it also speaks volumes about those wearing them – such as courage, wisdom, and even good luck!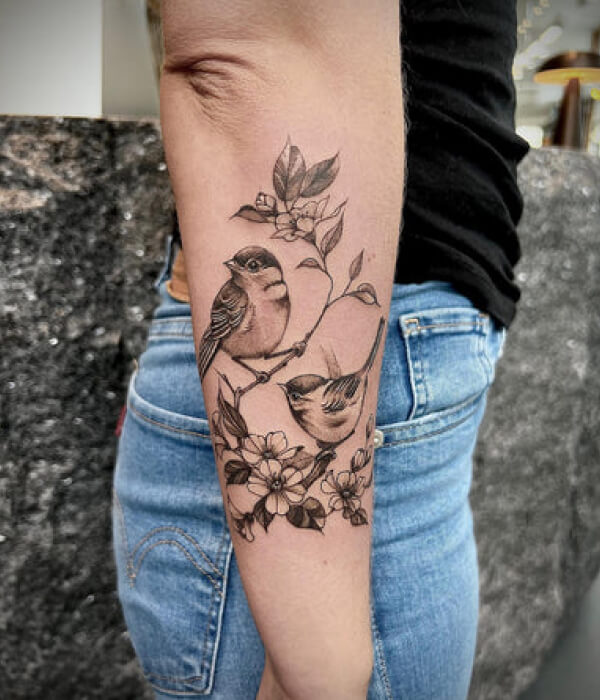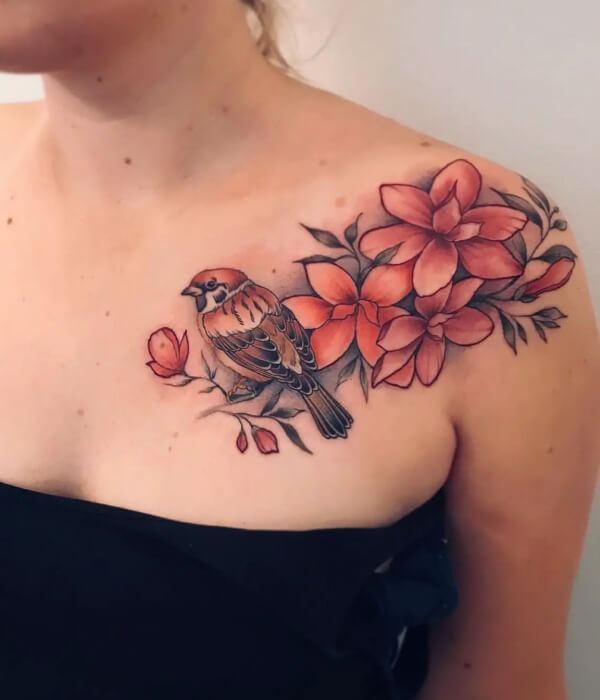 While some opt for simple designs that are meaningful in themselves or customized ones reflecting personal stories, many choose intricate styles featuring vibrant hues which bring out their beauty from every angle imaginable. With so much artistic potential up your sleeve- you can make yours just like no one else's while at the same time – adding striking elements to any look or style statement!
4. Two sparrows tattoo
This unique tattoo of two sparrows is becoming increasingly popular among those looking to express their individuality and add a personal touch to their look. This timeless design, often called the twin birds, combines strong symbolism from both Eastern and Western cultures aesthetically pleasingly – representing complex ideas such as loyalty, freedom, companionship, courage, and protection.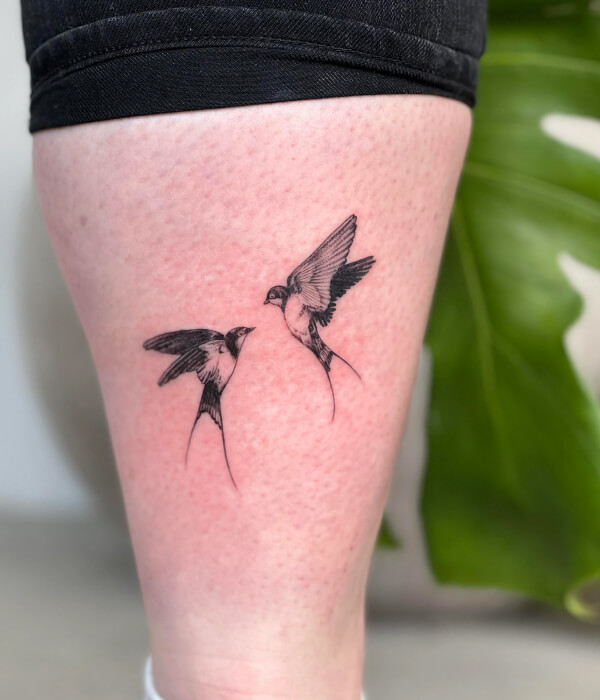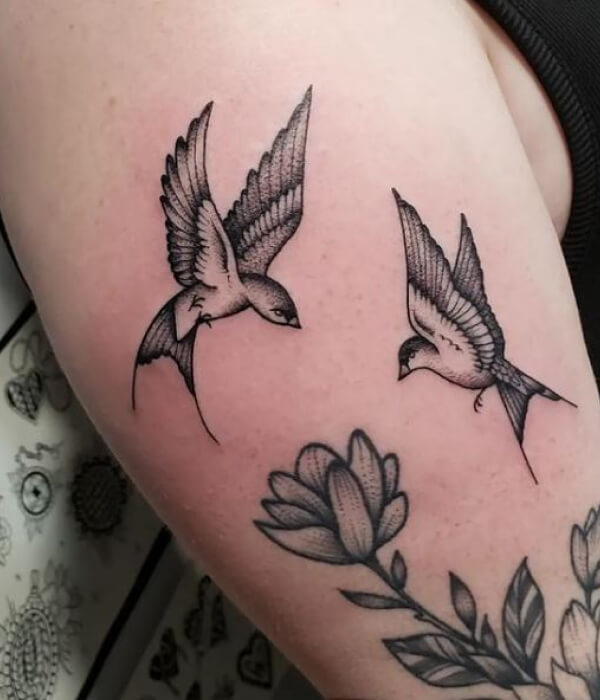 It's also perfect for couples or friends who want matching tattoos that capture these shared values between them! This iconic symbol will make you stand out with style, whether a forearm sleeve or something small on your wrist.
5. Colorful sparrow tattoo
Colorful sparrow tattoos have become increasingly popular among young adults looking to express their individuality. These adorable little birds, with various hues and styles, are the perfect way to show off your personality while paying homage to nature's beauty.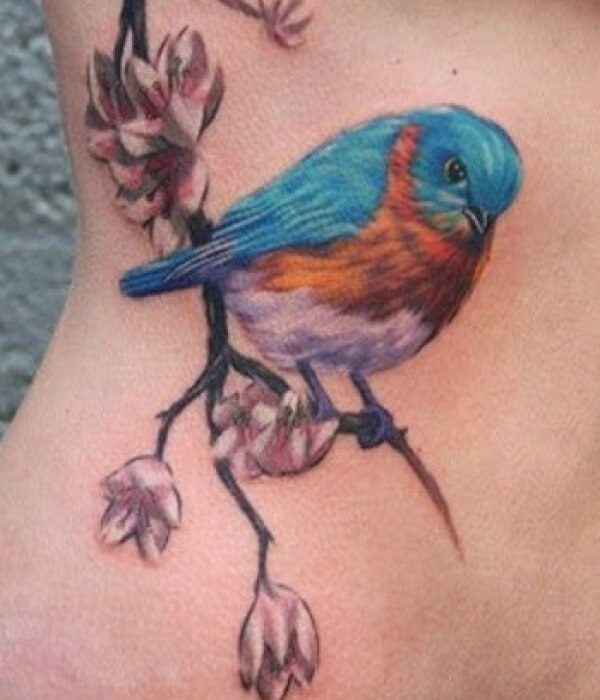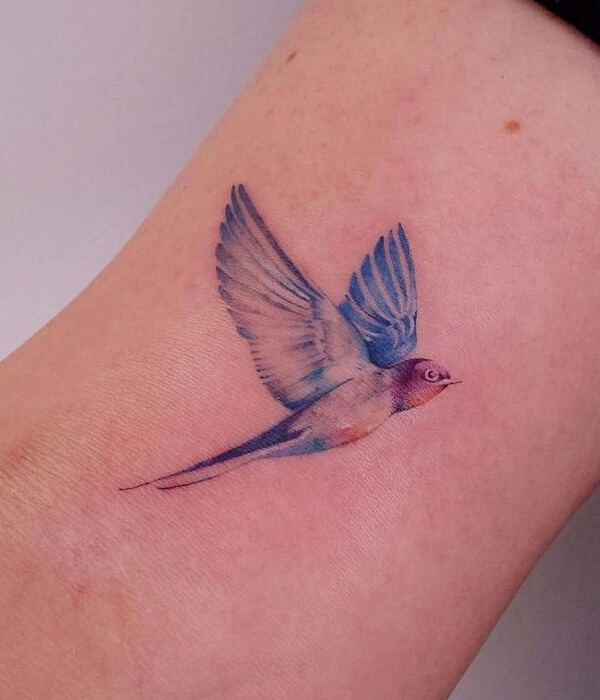 Whether you choose just one color or an assortment of vibrant tones for your unique tattoo design, it's sure to be eye-catching and memorable! For those seeking something unique that will stand out from the crowd, colorful sparrow tattoos can provide intense visual impact without sacrificing elegance or subtlety. Plus, they'll remain timelessly stylish, making them an excellent choice for people who want long-lasting art on their bodies!
6. Black sparrow tattoo
Are you looking to make a courageous statement with your next tattoo? If so, the Black Sparrow Tattoo may be for you! This unique design puts an edgy spin on traditional bird tattoos and is gaining popularity among those seeking something different. The style of this body art is distinctly modern, featuring dark lines that symbolize strength and courage complemented by beautiful accents ranging from shades of black to vibrant colors.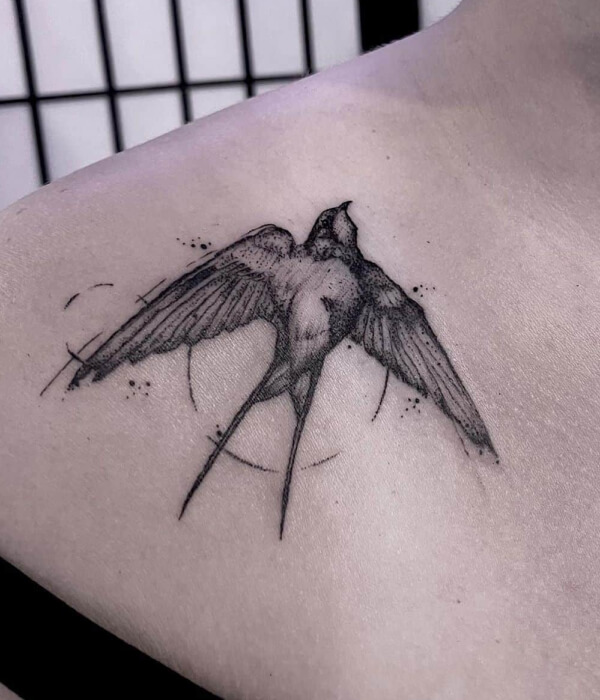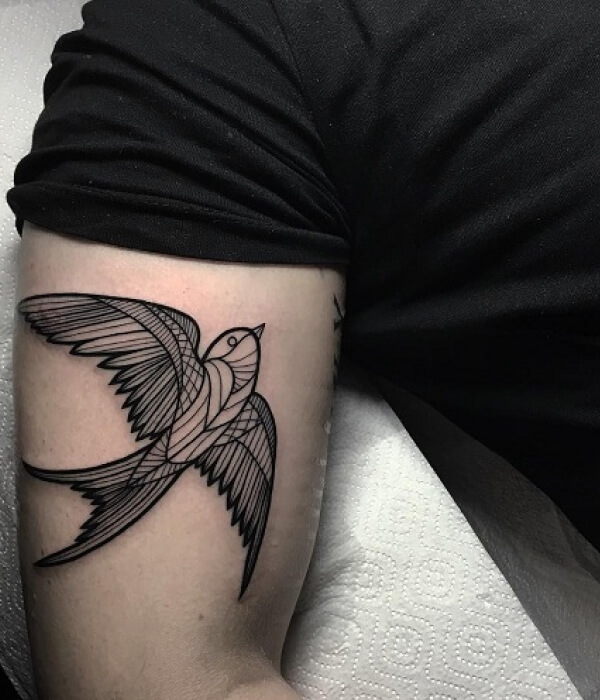 Whether small or large, these tattoos will turn heads, representing a powerful message when placed strategically on any part of the body. With its meaningful symbolism and stunning visual appeal, the original Black Sparrow Tattoo might be perfect for anyone wanting to express themselves in ink!
7. Small sparrow tattoo
Sparrows are among the most famous symbols of freedom, loyalty, purity, joy, and luck—which makes them a perfect choice for those looking to express themselves through art on their skin. Small sparrow tattoos offer an eye-catching design that packs a lot of symbolism into a tiny package. This minimalist tattoo will turn heads whether you opt for simple black ink outlines or bold colors with intricate details!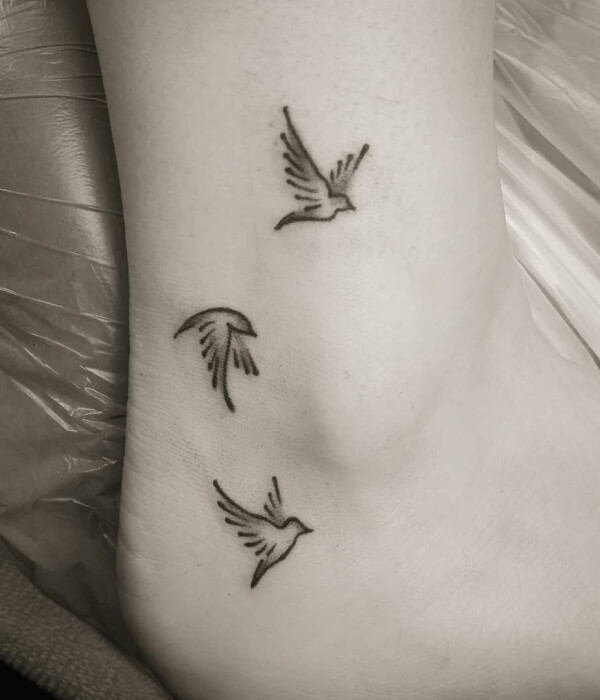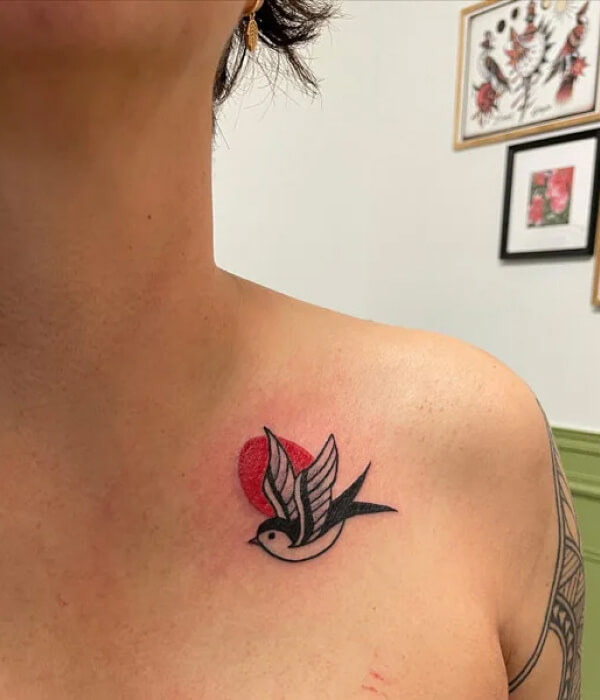 Not only does it look great, but it also conveys meaningful messages about your life journey without being too overwhelming in size or fact. So if you want something unusual yet unpretentious, why not get a trendy small sparrow tattoo? It's the perfect way to show off your individuality while keeping things understated simultaneously!
8. Shaded Sparrow tattoo
Shaded Sparrow tattoos are one of the most scalding body art trends. These unique designs feature a single sparrow, often with subtle shading and intricate details that draw attention to its beauty. The design can be used as a reminder of life's fragility or serve as an expression of freedom from fear – it all depends on what you want your personal story to say!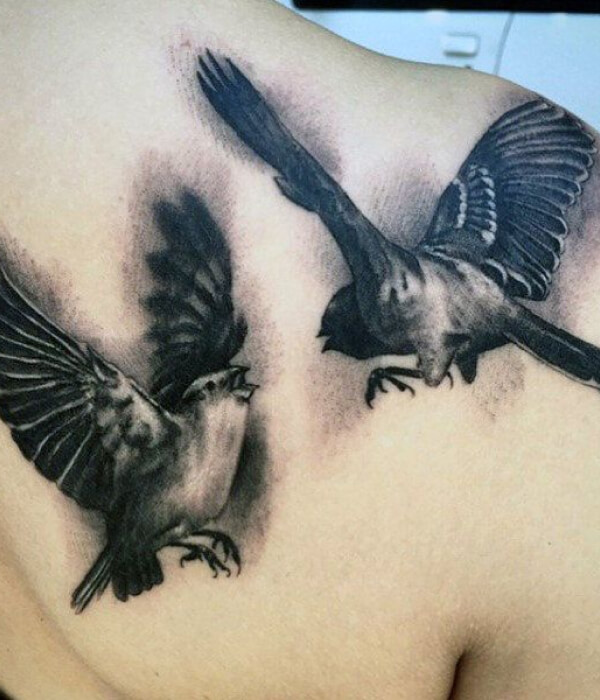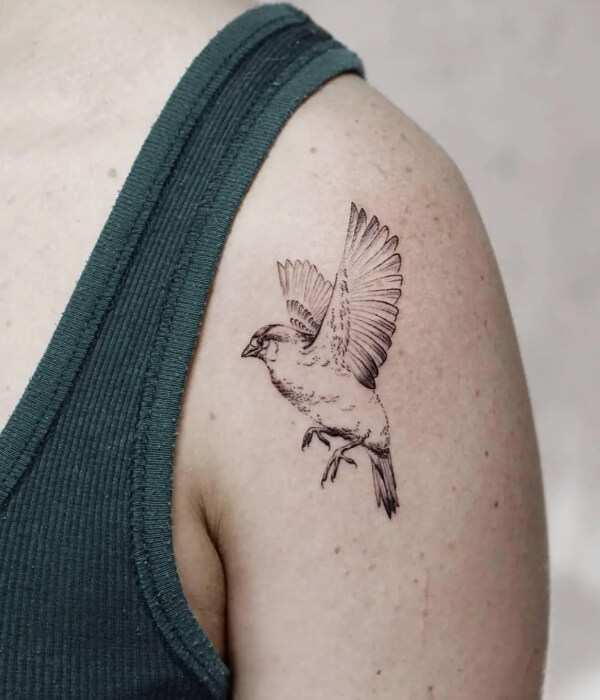 Convincing yet minimalistic, these tattoos are quickly becoming some of the most popular styles requested by those looking for beautiful works of art they will always treasure. So why not make a statement that lasts forever? Get yourself an eye-catching shaded sparrow tattoo today!
9. A sparrow in flight tattoo
A Sparrow in Flight Tattoo symbolizes hope, new beginnings, and the courage to journey. For many, it has come to stand for strength in adversity, resilience against all odds, and an unstoppable spirit even when life throws curveballs. What makes this tattoo so unique is that you can customize its design according to your preference; whether it be color or size, there are endless possibilities for one to choose their perfect representation!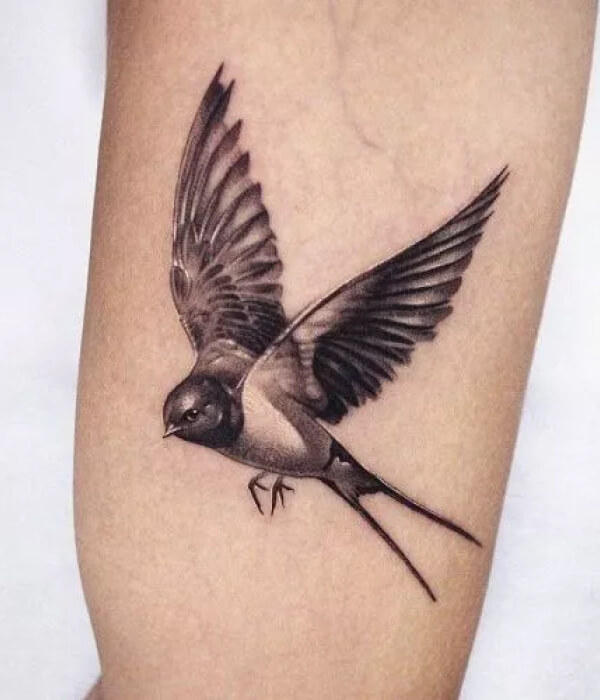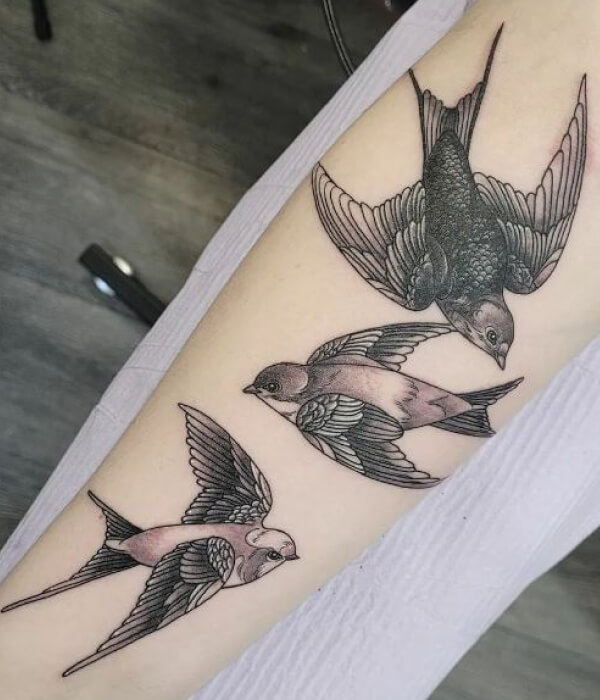 If you're looking for something unique yet meaningful as a constant reminder to never give up, look no further than A Sparrow In Flight Tattoo.
10. Red sparrow tattoo
Tattoos are a popular way to express yourself, and the Red sparrow tattoo is no exception. A beautiful mix of classic symbolism with modern flair, it's become one of the hottest trends in body art today. This unique design conveys strength and beauty, featuring a red-breasted bird entwined around an intricate web of branches covered in vibrant flowers and leaves.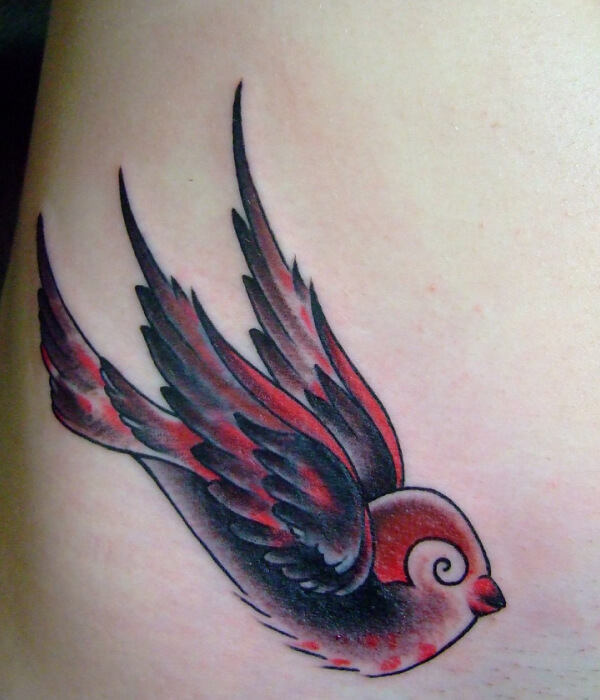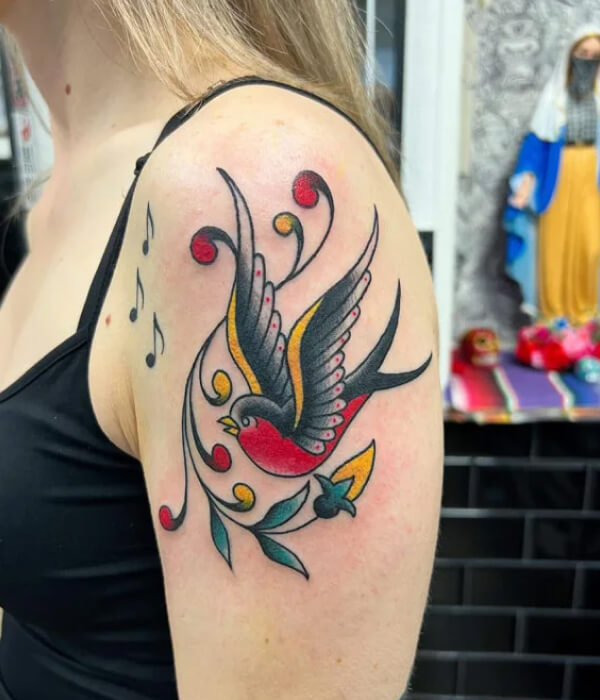 Whether drawn onto bare skin or worked into existing artwork, this timeless design will be eye-catching for many years. With its powerful story behind it and stylish appeal—an excellent choice for those looking to adorn their body with something special!
11. Watercolor sparrow tattoo
A watercolor sparrow tattoo may be the perfect choice for those looking to express themselves through body art. The use of vibrant colors and soft lines makes this tattoo unique. It's also versatile in that it can portray various meanings, from freedom or joy in life to faithfulness and loyalty – no matter what your intent is behind getting one!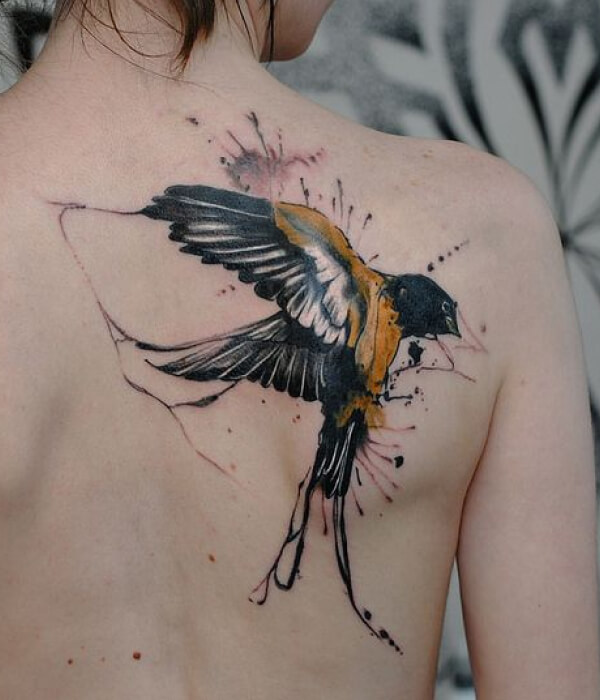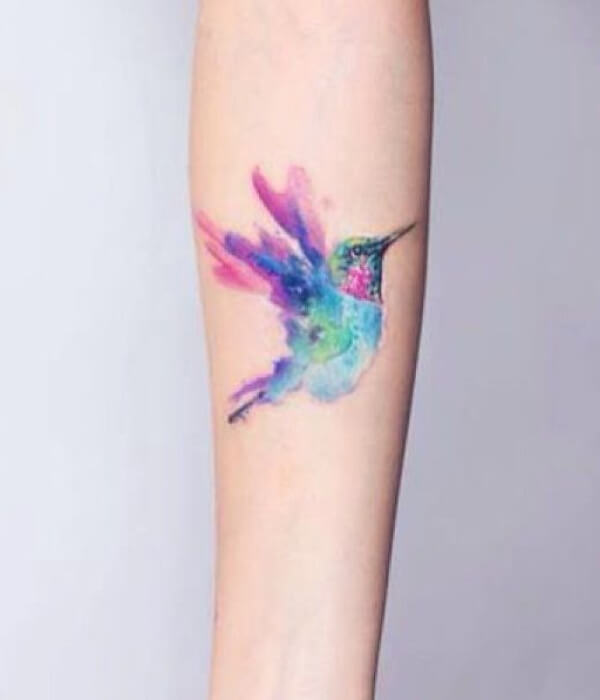 Thanks to their comfortable size and subtle design, these tattoos have become increasingly popular with people of all ages in recent years. So whether you're going for something bolder than traditional black ink designs or just trying something new altogether – why not consider having a beautiful watercolor sparrow grace your skin today?
12. Neo-traditional sparrow tattoo
The neo-traditional sparrow tattoo is a popular trend among people looking to add an edgy flair to their style. With its distinct and vibrant colors, detailed lining, bold shading techniques, and loose designs, this type of artwork has become incredibly sought after due to its unique aesthetic qualities.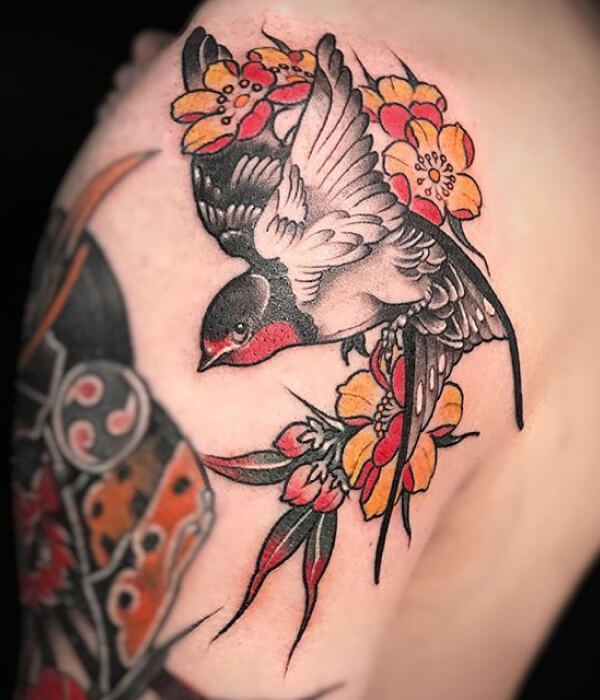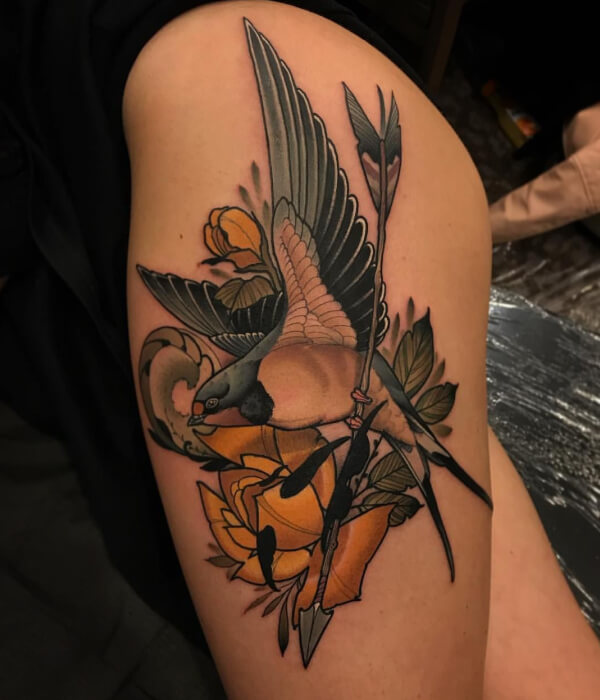 The nostalgic yet modern quality of the design conveys deep meanings about a person's identity in today's world while also paying homage to traditional stipple tattoos from decades ago. If you're into body art that stands out with captivating color combinations, then the Neo-Traditional Sparrow Tattoo might be for you!
13. Black and white sparrow tattoo
A black and white sparrow tattoo is a popular choice among the younger generations, but its roots go back much further. This classic style of body art has been around for centuries, from ancient times to modern-day culture, as an expression of freedom and individualism. Not only does this design look beautiful, but it also carries deeper meaning – such as strength, independence, or even hope against adversity.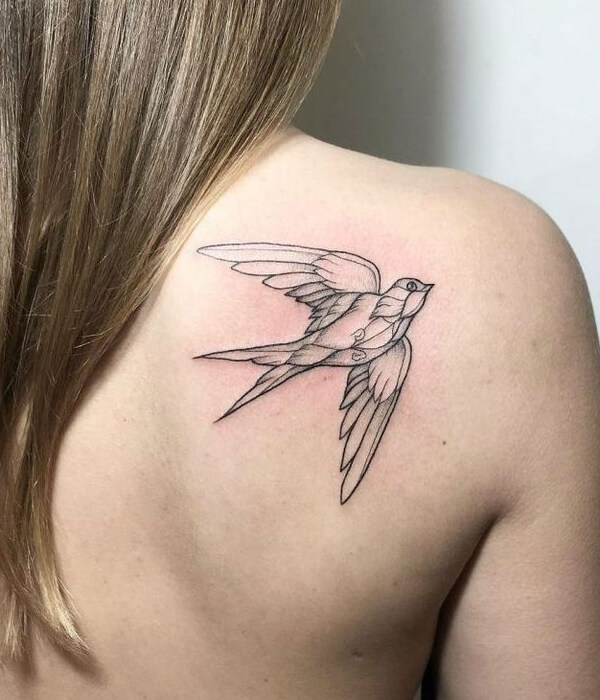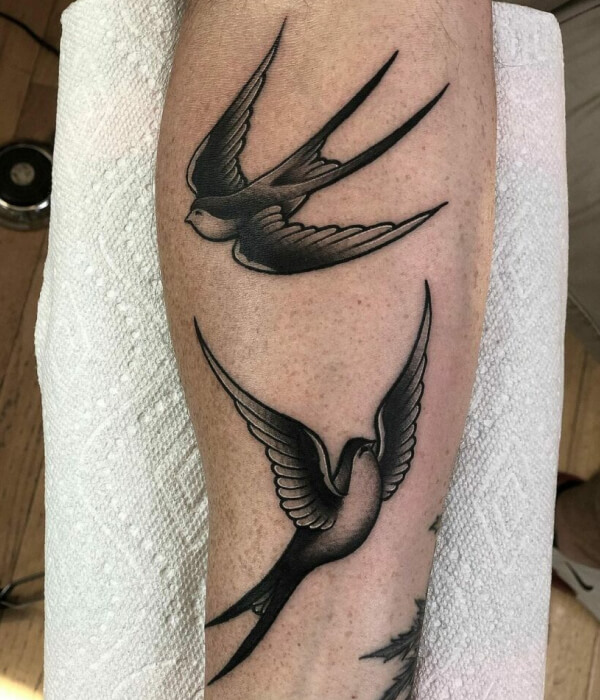 Many professional artists specialize in creating these unique tattoos that will represent each wearer's story in ink form. With intricate detail and smooth lines, they make small yet powerful statements on your skin – conveying an undeniable sentimentality through timeless artwork.
14. Sparrow tattoo with anchor
The sparrow tattoo with anchor has become popular in recent years, as it symbolizes hope and resilience. It's an excellent choice for people looking to express their appreciation of nature or demonstrate their determination to overcome life's challenges.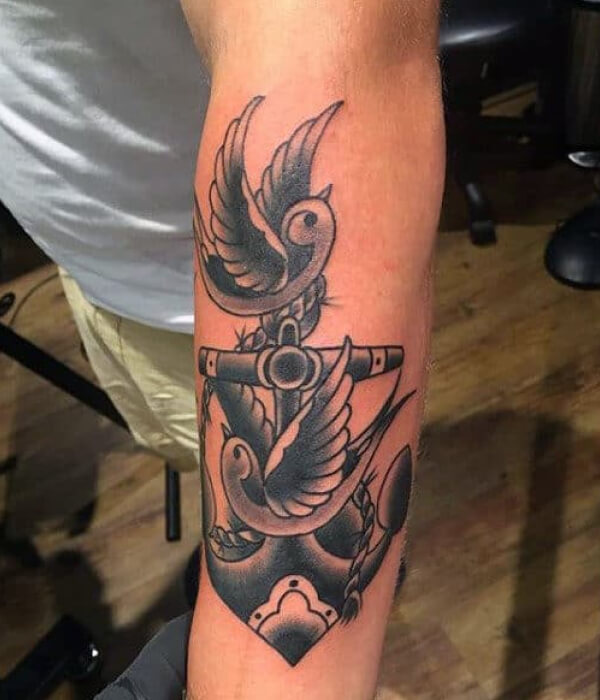 The design often varies according to the meaning each person wishes to convey but typically shows a small bird atop an anchor firmly planted into the skin, creating a visual representation of stability and security during challenging times. Professional tattoo artists can help create unique designs that reflect personal feelings while ensuring safety standards are always met when performing this artistry on your body.
15. Melodious sparrow tattoo
A melodious sparrow tattoo is a beautiful piece of art that can quickly become the centerpiece in any room. Not only does it add style and flair, but its symbolism speaks to many people's journeys – we often take flight with courage and faith in search of our dreams. For those looking to show their love of nature with something more than just a jewelry piece or painting, tattoos like this are perfect symbols – relentless striving against all odds until success is achieved!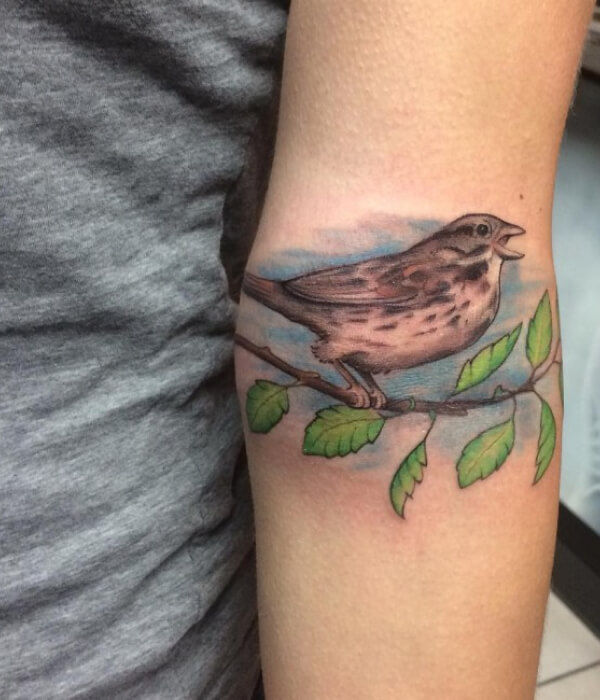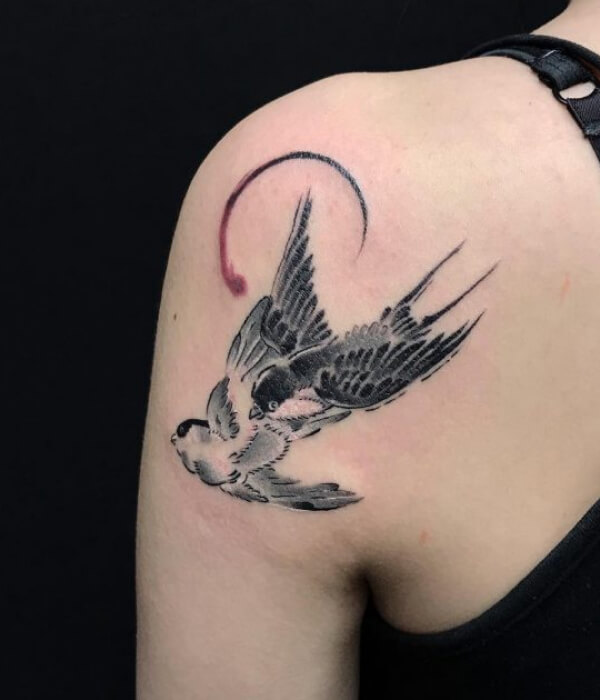 A professional artist can turn your unique design into an eye-catching work of art that stands out from the crowd. Whether you choose traditional black ink or vibrant colors, having a melodious sparrow as part of your journey makes for an unforgettable experience!
16. Sparrow tattoo with stars
Sparrow tattoos featuring stars are becoming increasingly popular due to their stylish look and unique design. Whether choosing single or multiple small sparrows on one arm, the possibilities are limitless! Small star detailing is often paired with these designs – perfect for making your tattoo stand out.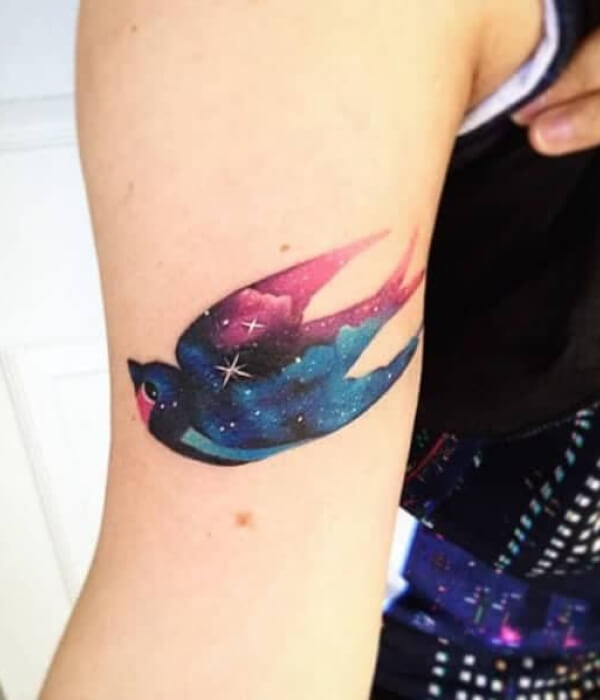 With its symbolism of freedom, hope, and determination, this motif makes an excellent reminder for those times when life gets tough. Elegant yet robust, consider getting a timeless sparrow tattoo today if you'd like something beautiful that won't go unnoticed!
17. Sparrow tattoo with the moon
A sparrow tattoo with a moon is an excellent way to express your personality. Tattoos have become increasingly popular, and the beauty of this particular design makes it stand out from all others. While some may think that birds symbolize freedom, for those who opt for this style, they represent hope and resilience in difficult times.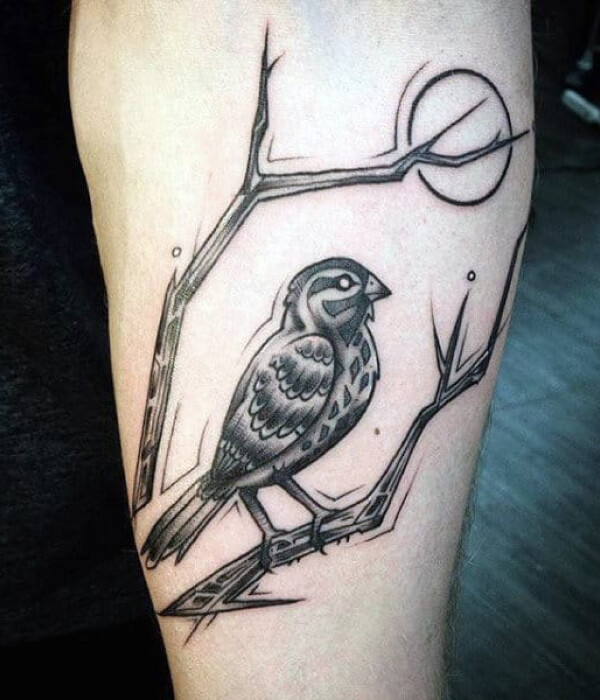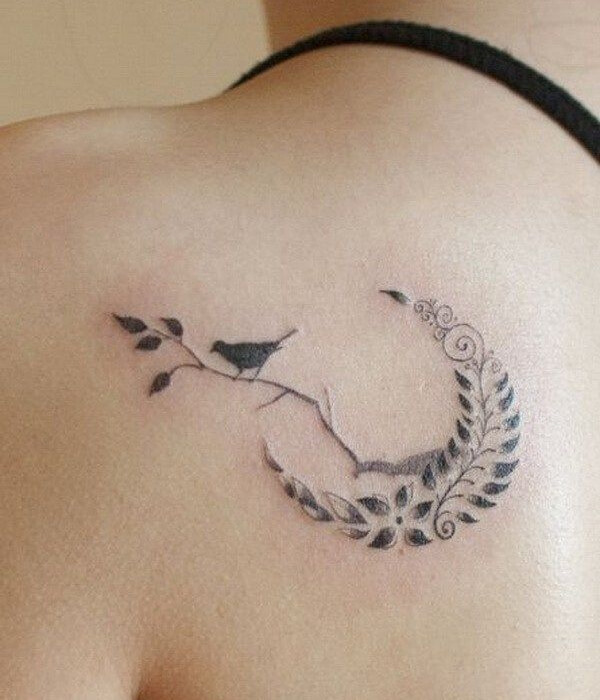 Including a crescent moon adds to the symbolism as it brings forth feelings of rebirth or starting anew after challenging circumstances arise. With its deep meanings combined with stylish designs, getting a sparrow tattoo can simultaneously be meaningful and aesthetically pleasing!
18. Sparrow tattoo with quotes
Are you seeking a unique way to express your personality and remember something meaningful? Consider a sparrow tattoo with a quote. This timeless art form can represent strength, freedom, or any meaning you choose. Sparrow tattoos are exceptional because they capture nature's energy and spirit in an aesthetically pleasing manner.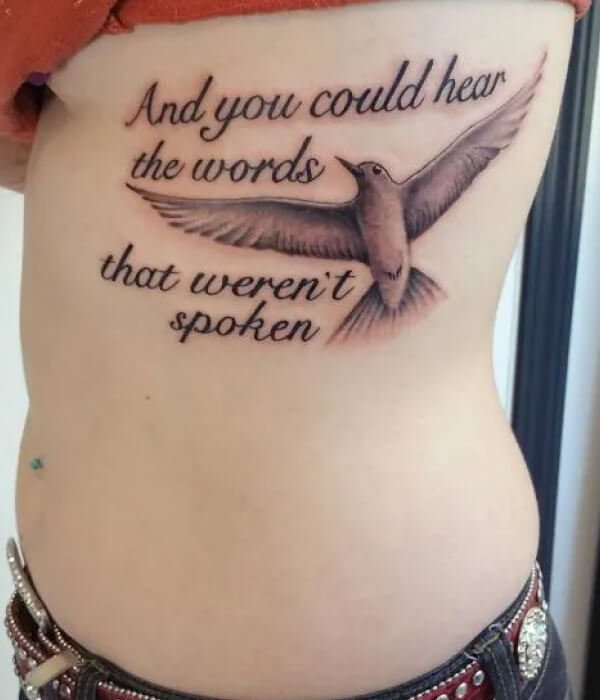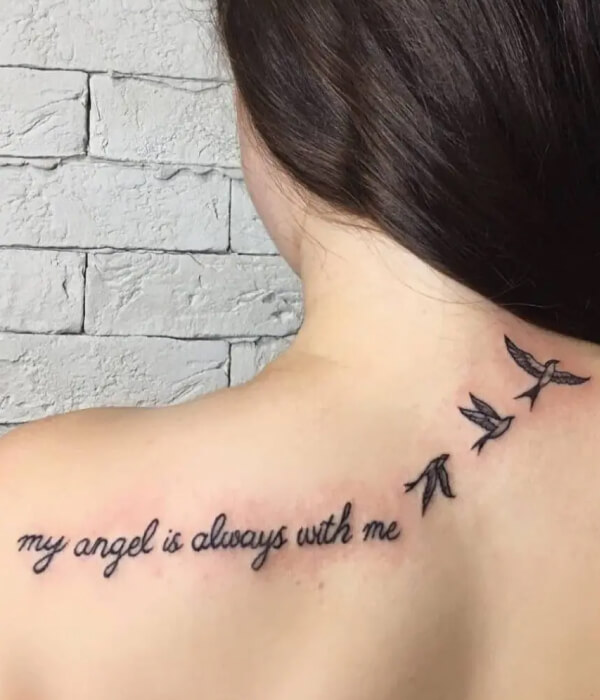 It looks beautiful and helps convey emotions through quotes that bring out stories within us while still capturing those captivating colors we love so much on our skin! These creative ideas come with endless possibilities for expression, as nothing compares to expressing oneself through art.
Conclusion
The sparrow tattoo is a timeless design that has been prevalent throughout the centuries. Its simple beauty makes it easy to adapt to any style or lifestyle, making it a flawless choice for those looking for something extraordinary and distinguishable.
With its small size and variety of designs available, there are plenty of ideas for everyone. Whether you want something classic or more modern, take the time to explore all the possibilities so you can choose one perfect sparrow design that speaks directly to your soul! We hope this blog on sparrow tattoo ideas is useful to the readers.
Please follow and like us: