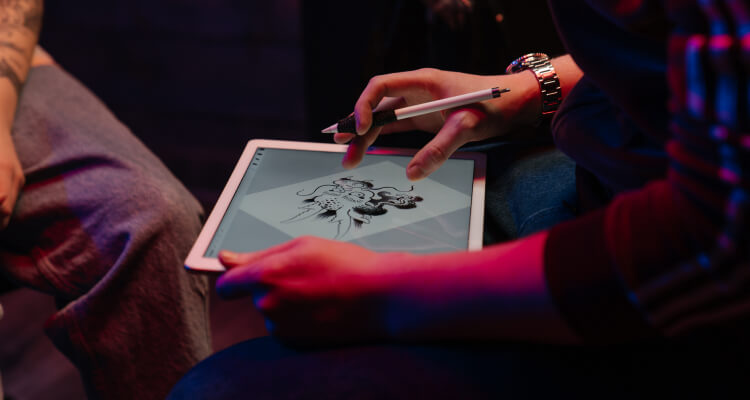 5 Best Apps for Creating Custom Tattoo Designs in 2023
Posted on
For centuries, people have used tattoos as a way of expressing themselves. The designs range from basic symbols to complex patterns and portraits. Thanks to the advancements in digital technology, both tattoo enthusiasts and artists now have more options and precision when making decisions. If they are looking for a creator or a design to create custom tattoo designs, they can use Ink-Match, an online platform that allows them to book tattoo artists.
This article will discuss the top best apps available in 2023 that can be used to create custom tattoo designs. These tools provide various features and options, including augmented reality technology, virtual fitting, and design inspiration, allowing you to create a unique tattoo plan that will stand out from the rest. So let's take a look at them!
InkHunter is available as a free app on both iOS and Android devices. Once you've downloaded the app, you can browse a wide range of tattoo designs or upload your own. This app uses your phone's camera to scan the skin, then superimposes the tattoo design onto the image of your body in real-time, so you can see how it will look before getting inked for real.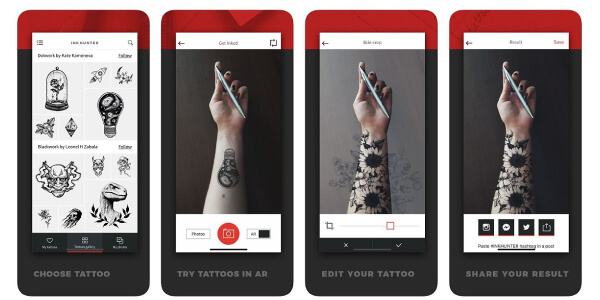 In addition to its augmented reality technology, InkHunter offers a range of other features, making it a popular choice for tattoo enthusiasts and artists in 2023. These include:
You can share your designs and virtual try-ons with friends and family, and get their feedback before committing to a real tattoo.
You can save your favorite tattoo designs to a personal collection for easy reference later.
You can collaborate with tattoo artists and other users on custom designs and projects, making InkHunter a community-driven platform.
You can browse a wide range of tattoo designs and styles for inspiration, from minimalism to intricate patterns and portraits.
With its precision and flexibility, InkHunter can help you find the perfect tattoo design and placement. Experiment and enjoy!
Tattoodo is a comprehensive app that connects users with tattoo artists and offers a range of features for exploring, designing, and sharing ideas. With a vast library of techniques, articles, and resources, app provides a one-stop shop for all your tattoo needs.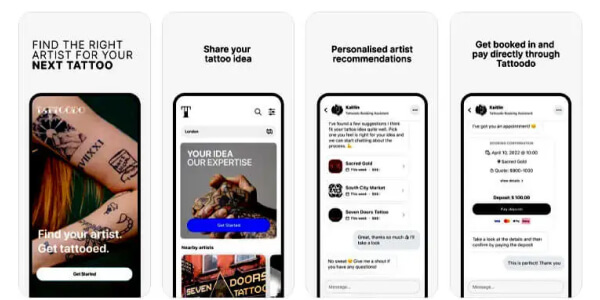 Tattoodo's remarkable attribute is its vast collection of tattoo artists. The app empowers users to peruse local artists' portfolios, assess feedback from previous clients, and reserve appointments via the application.
In addition to its matchmaking capabilities, Tattoodo also offers a range of tools for exploring and creating tattoo designs. Users can browse through a vast collection of designs or upload their images to get inspiration and feedback from the community.
MediBang Paint is a flexible software for digital art that provides an extensive array of tools for producing personalized tattoo designs. The app boasts a neat and uncomplicated interface, which makes it effortless for users to browse through and experiment with its different functions.
The app has features that distinguish and raise it in the ranking compared to others. Here are some of them:
With MediBang Paint, users can create and manage multiple layers within a single design. This allows for greater flexibility when working with complex, as users can easily edit or remove individual layers without affecting the rest of the image.
Screen tone is a unique feature of MediBang Paint that allows users to add pre-made textures and patterns to their designs. This can be useful for adding depth and dimension to your structures and can be customized to fit your specific needs.
This app provides a range of 3D perspective rulers that enable users to design with a more authentic perception of depth and space. These rulers are user-friendly and can be customized to suit individual requirements.
4. Skin Motion
Skin Motion is a unique art app that allows users to bring their tattoos to life with sound. To get started, people just need to upload a clip to the app, which is then converted into a sound wave image. This pattern can be tattooed on the user's skin, and when scanned with the app, the corresponding audio is played in real-time.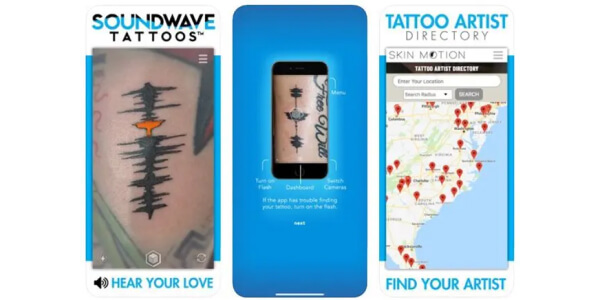 One of the key benefits of Skin Motion is its ability to create personalized and meaningful tattoos. Users can choose any sound they want, from a favorite song to a recording of a loved one's voice, and turn it into a design. It makes the app a popular choice in 2023 for tattoos that commemorate significant life events.
Skin Motion provides various customization options for users to create personalized audio tattoos that match their style and preferences. With the app, people can select from a variety of fonts and design options, as well as modify the size and shape of the soundwave.
5. Tattoo Maker
The Tattoo Maker app streamlines the task of designing a personalized tattoo. You can easily manifest your ideas by using a variety of tools like drawing and text options, incorporating images, and choosing from a vast array of templates, all within the convenience of the app. With just a few taps on your phone or tablet, you can bring your tattoo vision to reality.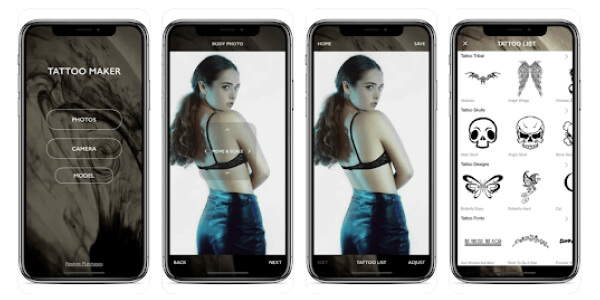 With Tattoo Maker, designing your tattoo is a breeze thanks to its user-friendly interface and editing capabilities. You can easily modify design elements' size, color, and positioning until you achieve the ideal look.
Furthermore, you have the option to collaborate with other users and tattoo artists to enhance and personalize your design. Tattoo Maker simplifies the process of creating a distinctive picture that represents your flair.
Final remarks
To sum up, as tattoos have become more popular, there has been a growing desire for creating custom tattoo designs. Luckily, many apps now provide users with a wide range of features and tools to help them produce their one-of-a-kind tattoos. These apps offer limitless possibilities, from InkHunter's use of augmented reality to Skin Motion's integration of audio in designs.
In 2023, people have access to the most advanced tattoo design software that allows them to unleash their creativity and produce tattoos like never before. With an intuitive interface, powerful design tools, and an extensive library of pre-made sketches, these apps make it easy and cost-effective to create unique tattoos.
Author Bio
Liam Mills is an expert in writing content and an ex-Product Expert, and the Founder of ValueHunta, a contributor to Ink-Match.
Please follow and like us: