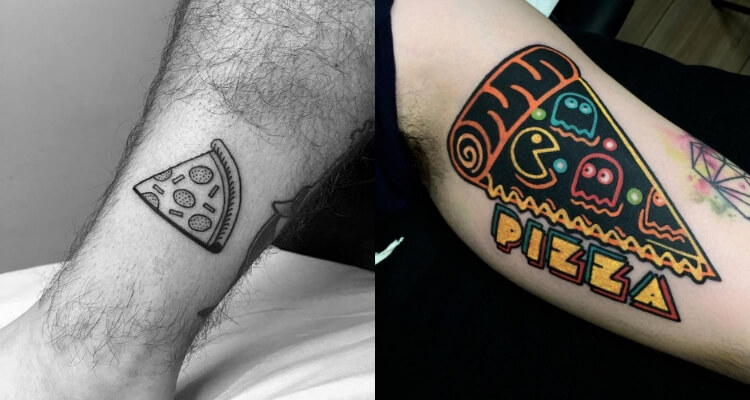 15+ Best Pizza Tattoos Designs and Where Should you Get a Pizza Tattoo
Posted on
Pizza is a dish that originated in Italy and is famous worldwide. It is a mouth-watering delicacy hard to resist. The crispy and yummy cheese slices can make anyone's day the best. In addition, the smell of Pizza can trigger your heart and mind, which will feel your happy hormones.
A lot of people love Pizza so much that they feel like getting permanent marks on their bodies. This is the cause why individuals are getting Pizza ink on their bodies. The list of best pizza tattoo ideas and their explanations and meanings is endless; this blog will teach you about various pizza tattoos and where to get them.
where should you get a pizza tattoo
For women
Ankle

Finger faces

Hands

Wrist

Behind the ear

Shoulder blade
For men
Forearms

Back

Neck

Chest

Biceps
Here is the list of Pizza tattoo ideas
1. Vegan Pizza tattoo design on the forearm
This tattoo is explicitly designed for vegans who enjoy Pizza. A piece of Pizza and vegan written with it give it a great look.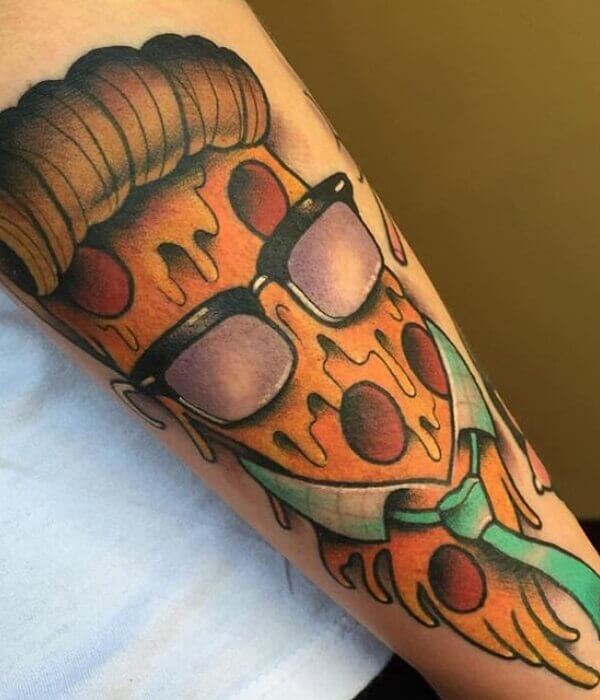 2. Trendy Pizza tattoo on the forearm
In the tattoo, two diverse approaches are employed to provide a distinctive look; the tattoo looks great and is a unique Pizza slice tattoo.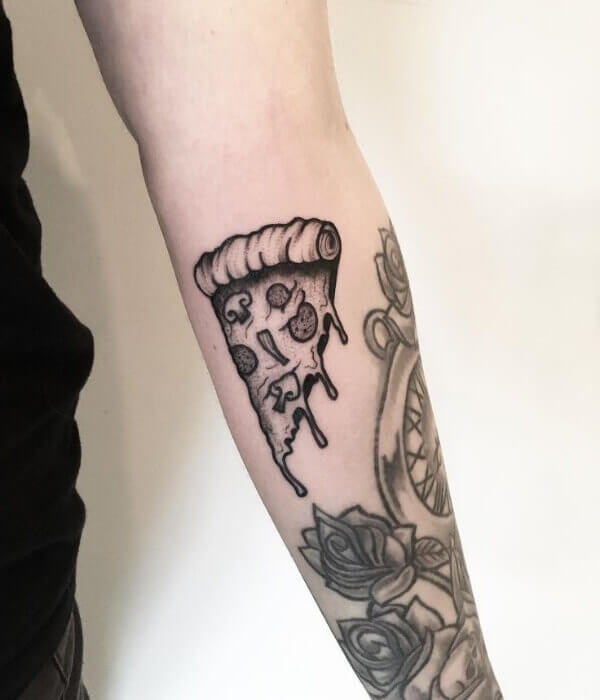 3. Skeleton is carrying a Pizza tattoo design.
The tattoo represents the individual in the love of feasting Pizza; even after dying, the adoration of Pizza will be endless. So the Skeleton carrying a pizza makes it one of the unique Pizza tattoo designs.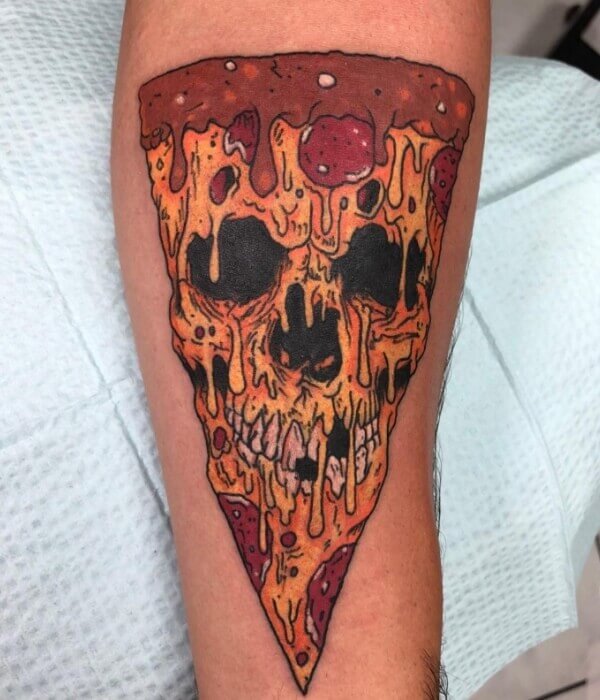 4. Shark and Pizza tattoo design 
Sharks are famous as excellent hunters, and simply as a shark, the recipient of this tattoo does not want to skip any portion of Pizza.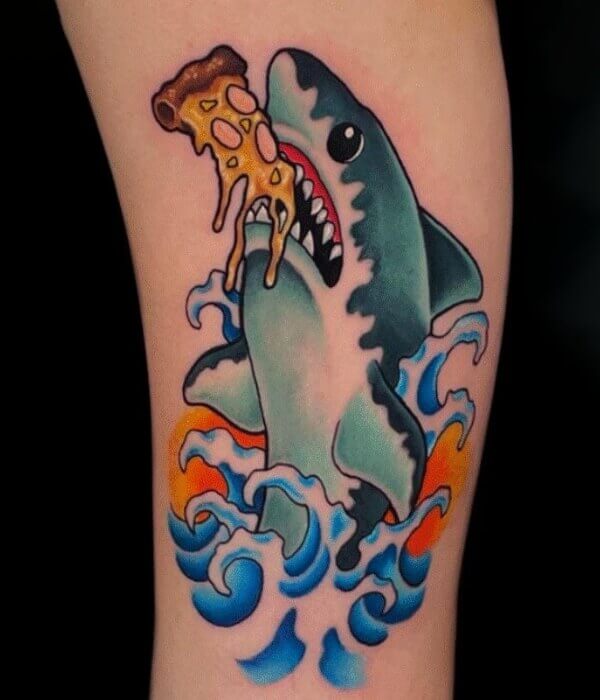 5. Rat consuming pizza tattoo design 
Rats are famous for chewing at speed and eating small bites, so this tattoo is for someone who loves Pizza and wants to be like a rat.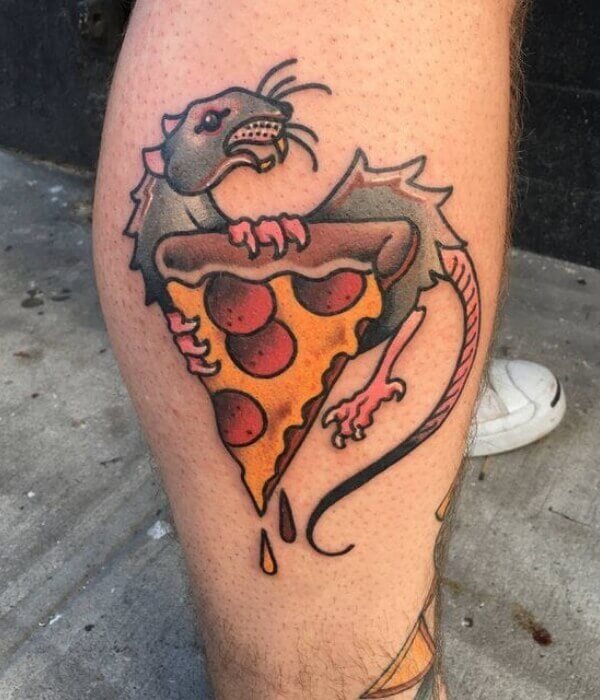 6. Pizza with a sunglasses tattoo design on the forearm
This tattoo design is for someone who wants to look fantastic and enjoy every bite of the Pizza.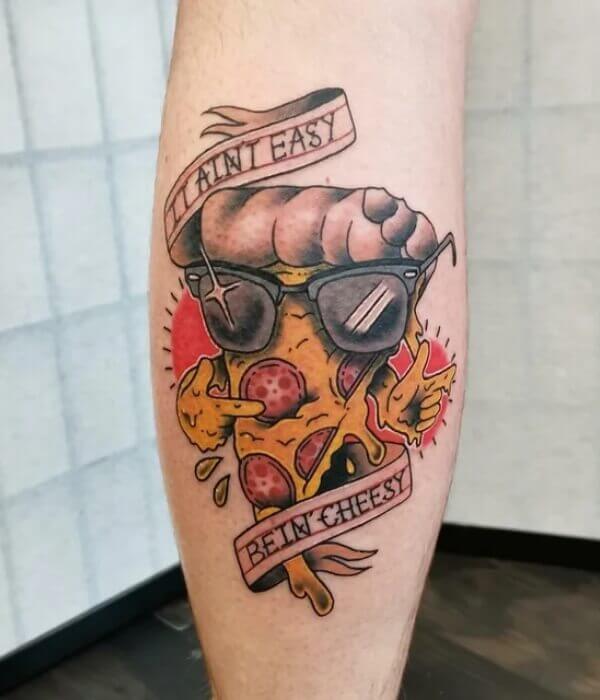 Also See: 30 Delicious Food Tattoo Designs
7. Pizza with flavorings tattoo design 
Pizza is incomplete without sources like ketchup and oregano. In this tattoo, the Pizza is holding hands with the sauces, and it's a unique Pizza tattoo ideas.
8. Pizza with a dumpling tattoo design on the forearm
Pairing pizza with dumping makes it uninteresting, but many people still get this tattoo.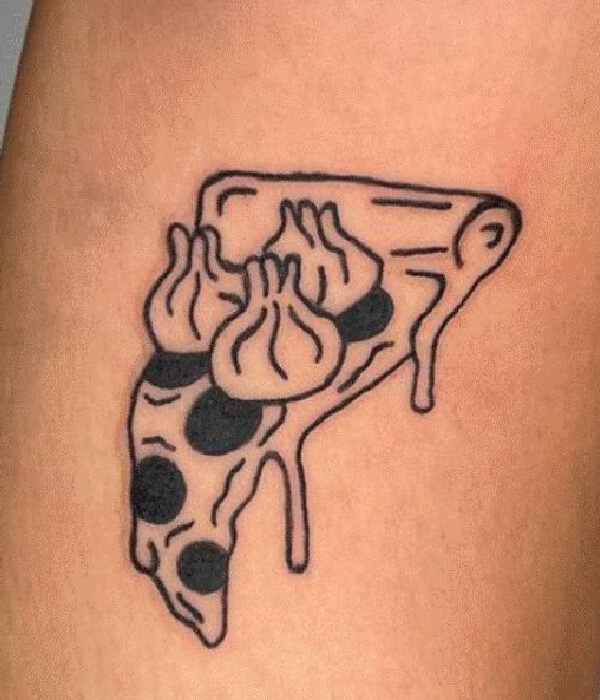 9. Pizza with cold drink tattoo
Pizza is never complete without cold drinks. So the combination of Pizza with a cold drink tattoo is excellent; you will love having them together whenever you feel happy or sad. This is one of the coolest Pizza tattoo ideas.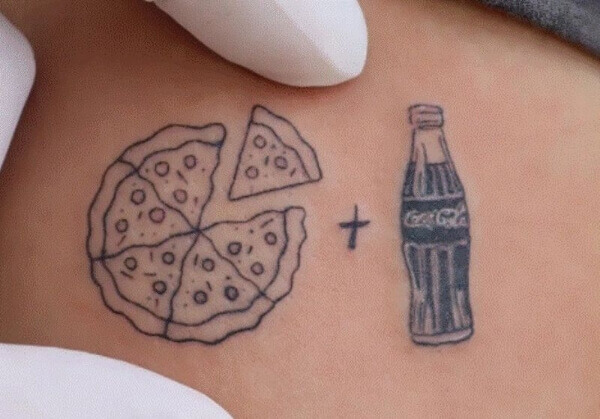 10. Pizza with burger tattoo
This tattoo is perfect if you love to eat both Pizza and burgers. The tattoo is placed on the forearm, and both the Pizza and the burger look very delicious, and this is a unique pizza with a burger tattoo idea.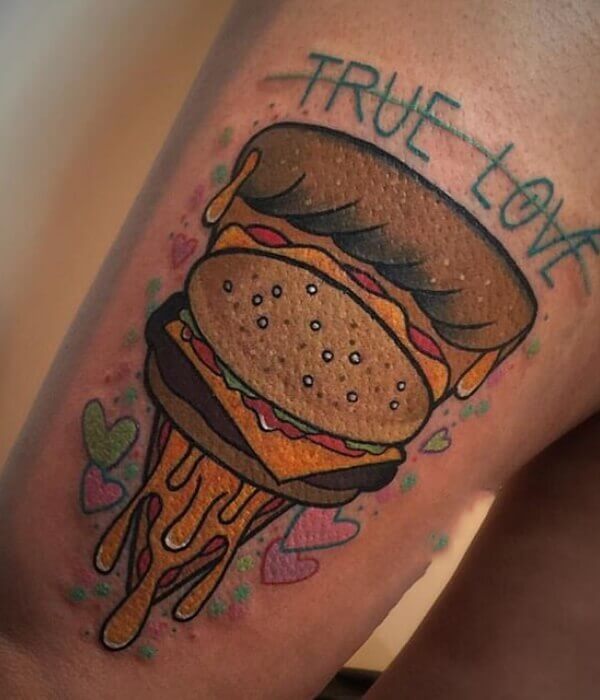 11. Pizza slice tattoo small
This tattoo looks great on the forearm in black color, and the tattoo is relatively small in size. This tattoo is perfect for somebody peeking for a minimalistic pizza tattoo. The pizza slice tattoo small is a great pizza tattoo ideas.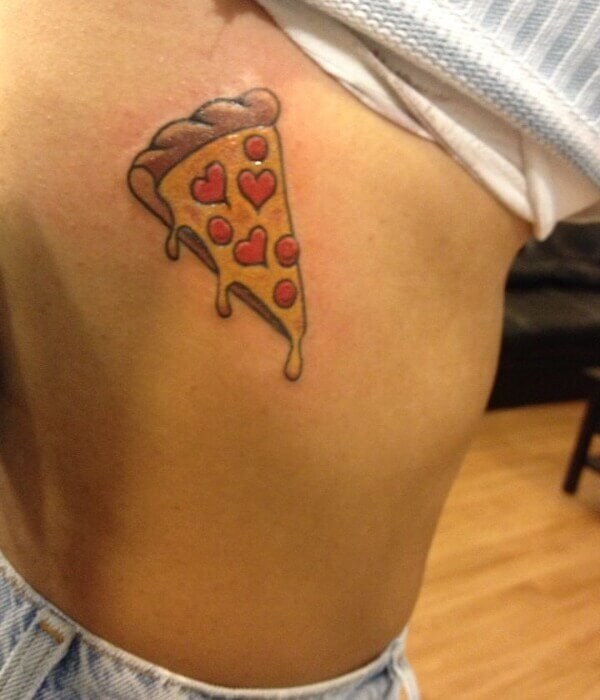 12. Minimalistic small Pizza tattoo
A minimalistic small Pizza tattoo is great for someone who wants to hide his tattoo easily.
The design on the forearm is unique and can easily be hidden by clothing.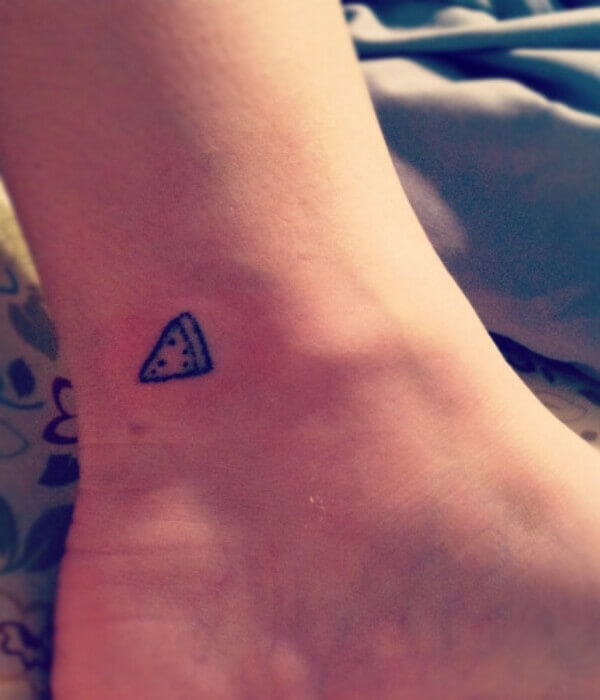 13. Pizza tattoo simple
This pizza tattoo is simple, with no shading and just a tiny pizza. The design is best for someone who likes Pizza and wants to get it inked in a simple style without shading.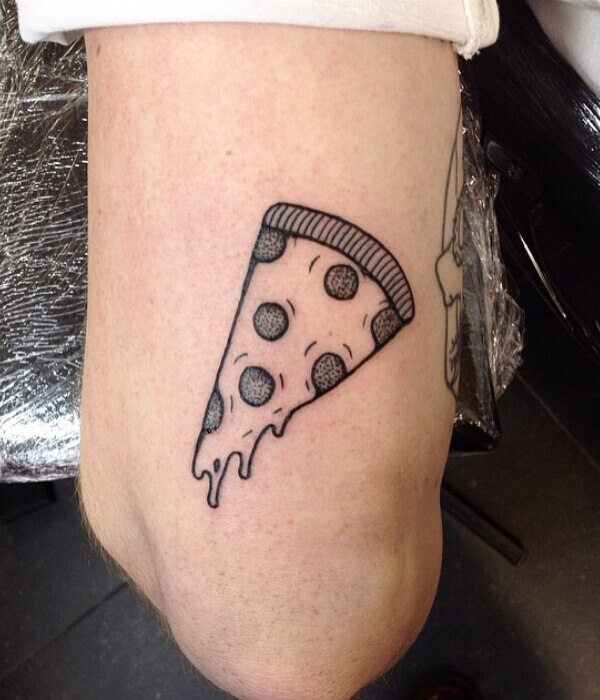 Also Read: What Foods Can You Not Eat After Getting A Tattoo?
14. Pizza tattoo couple
Pizza tattoo couple is a unique idea for couples who like your pair. A pizza with a piece missing is inked on your loved one, and the missing piece can be inked on you. This is a good Pizza tattoo ideas for couples.
15. Pizza tattoo flash
pizza tattoo flash is a unique idea with many small tattoos together in black and white with different pizza shapes. This design is ideal for die-hard pizza lovers.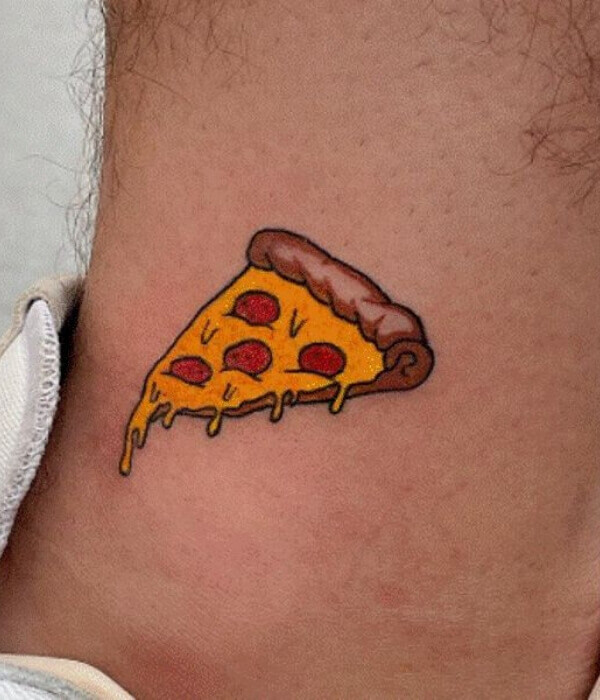 16. Pizza slice tattoo black and white
A pizza slice tattoo in black and white is best suited to you if you love Pizza more than anything else. This tattoo is done on the bicep of a true pizza lover.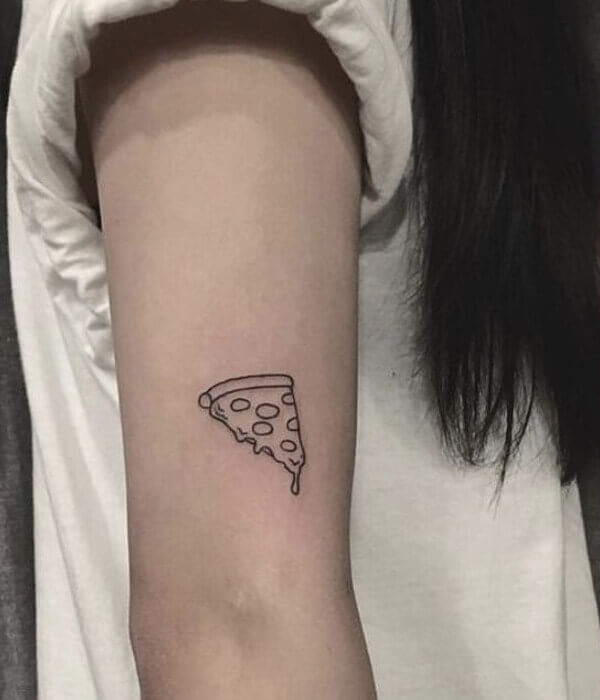 17. Pizza with French fries tattoo
This tattoo is someone who is a big foodie and loves both Pizza and french fries. The design is simple but looks good. A pizza with a french fries tattoo is a unique idea.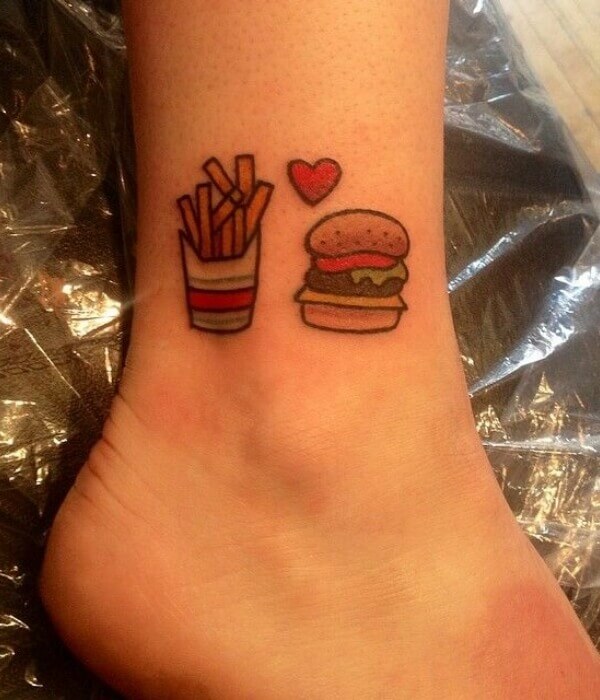 18. Pizza tattoo with flowers
Pizza tattoo with flowers is excellent for females, who always like flowers and like to have them in their tattoo. This simple yet attractive design is one of the best pizza tattoo ideas.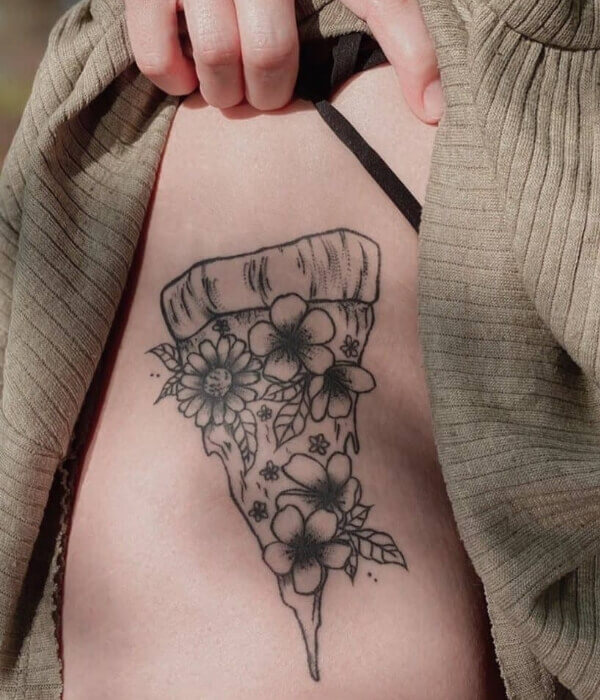 19. Black outline pizza tattoo on the palm
This is a tiny tattoo on the palm, with just a black outline of the Pizza; you can have it with your friends to show your love for it.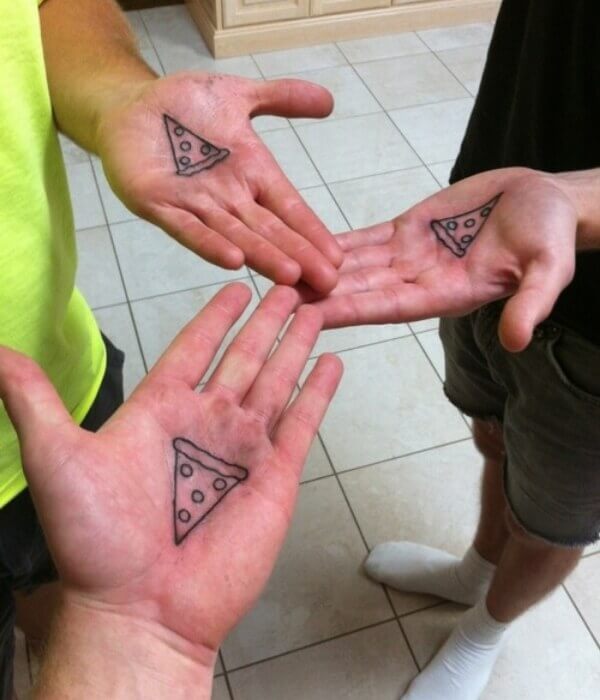 FAQs
Why do people like to have pizza tattoos?
There are numerous causes why individual loves to have pizza tattoos. First, it's a famous reality that millions of individuals worldwide love to have Pizza. So people like to have this tattoo since it is one of their favored meals. Another reason people go for Pizza tattoos is because they remind them of the great times the head when we were younger.
Pizza is a food that is eaten during significant events, especially in America. For example, you eat pizza while hanging out with friends on weekends or after school sometimes. The pizza tattoo represents the good times you had with your friends. So it's more meaningful than a lot of other tattoo designs.
On which part of my body can I have a Pizza tattoo?
The pizza tattoo is one of those tattoo ideas that can be done on any part of the body; you can have a big piece of Pizza on your back, or you can get a small slice of Pizza on your ankle or wrist. You can even include other images around the Pizza to add more meaning to your tattoo.
How much does a Pizza tattoo cost?
There is no fixed price for any pizza tattoo, as the cost depends on the factors such as the size of the tattoo, the detail of the design, and the part of the body you have it. The tattoo shops generally quote the price only after knowing all the details.
How to prepare for the tattoo appointment?
Make sure you have much sleep, water, and proper food. In particular, you should not consume liquor and medicines that thin the blood a day before getting inked. All these precautions will improve the look of the tattoo. You should also wear suitable clothing that does not obstruct the part of your body from getting inked. Also, avoid light-colored clothes as the tattoo ink can stain them.
How to take care of the new tattoo throughout the healing process?
Clean the tattoo 2 to 3 times daily with germ-killing soap and lukewarm water. Never use regular towels to clean a new tattoo; instead, pat the ink dry with paper towels. Never use cotton buds, tissue, or anything that can harm the tattoo and lead to infection.
When the tattoo is dried, apply the cream, there is a variety of creams available on the market, but we recommend consulting your artist before buying any cream, as some can be for different skin types.
How much time does a pizza tattoo take to heal?
Healing times can be different for different people and designs; you should consider the detail of the tattoo as well as its size and placement. On average, a tattoo may take 4 to 6 weeks to heal and three months to settle into the skin.
Is it essential to meet the artist prior to getting inked?
It is a great idea to meet the tattoo artist, as you can share your thoughts with the artist so that they can execute the design to perfection. You can even show some photos for reference and understand how extended the procedure will take.
SUMMARY
Pizza tattoos are an excellent manner to display your fondness for Pizza. Some people have vivid memories associated with Pizza. Pizza tattoos are all the rage nowadays, and people from Italy and America associate them with their cultures. Pizza tattoos can be inked in various sizes and on any body part. We hope you found this article on the best pizza tattoo ideas useful.
Please follow and like us: