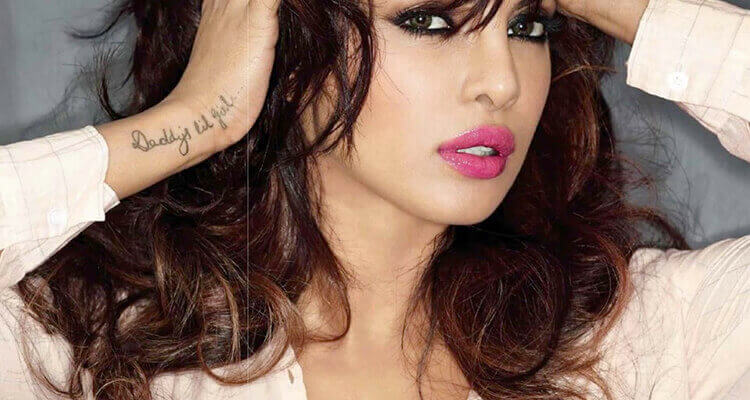 Bollywood Celebrities with Tattoos
Posted on
Tattoos are not only popular amongst the youth, but they are also famous amongst Bollywood stars. Many Bollywood actors have got inked; however, most of them have got tattooed for personal reasons. Bollywood stars tattoos hold significant meanings for them. Here we are presenting you top 18 Bollywood celebrities with Tattoos.
Here we go…..
1. Sushmita Sen
Besides being famous as Actor, model and Miss Universe 1994, Sushmita Sen is also known for her amazing tattoos. The actress has got four tattoos on different parts of her body. All four are unique and beautiful. One of the most prominent tattoos of her is a Latin saying that reads "Aut Viam Inveniam Aut Faciam", which means 'I shall either find a way or make my own.' She has got this on her left forearm. The diva is very-well known for her chic choices for body art.
2. Priyanka Chopra
Priyanka Chopra, popularly known as PeeCee, has got an adorable tattoo etched on her side wrist, which reads 'Daddy's Lil girl'. PeeCee was very close to her father, and that's the reason she dedicated to her tattoo to her late father. The tattoo that she got shows the lovely bond that she shared with her father.
3. Ranbir Kapoor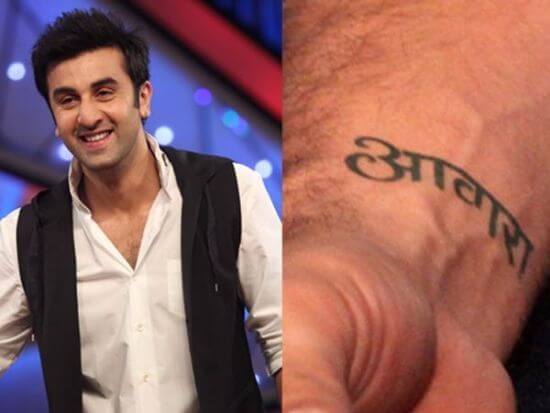 The chocolaty boy Ranbir Kapoor is also in the list of Bollywood celebrities with a tattoo. He got his tattoo on his right wrist; the tattoo reads 'Aawara'. His tattoo is a tribute to his grandfather, Raj Kapoor, for the classic 1951 movie Aawara. Wow! That's cute!
4. Deepika Padukone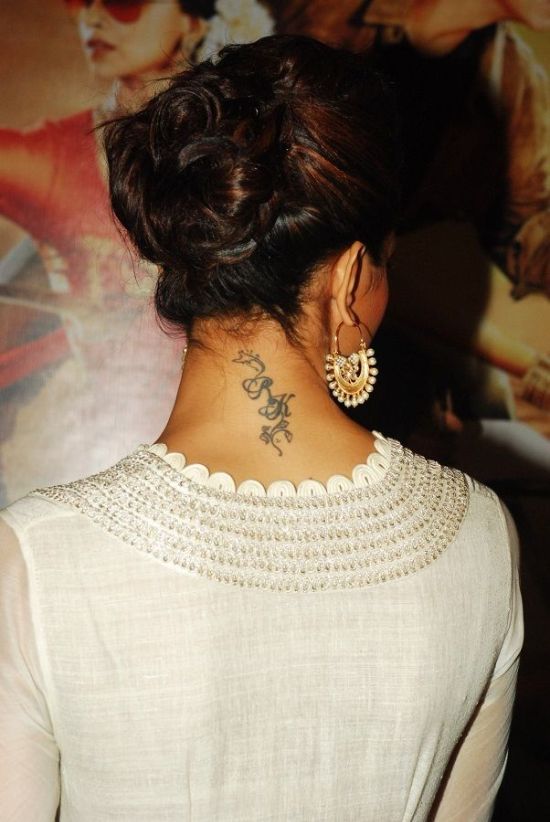 Well, it is not hidden from the world that Deepika got her first tattoo when she was in love with Ranbir Kapoor. She got that tattoo etched on her back that read "RK". However, the relationship didn't work, due to which she had to modify her tattoo after their breakup. Now, she has got another tattoo on her ankle. It is a cute and beautiful anklet that looks beautiful.
5. Alia Bhatt
Patakha girl has got the word 'Pataaka' etched on her back. Pataka is a Hindi word, which means firecracker. Alia's tattoo on her back looks sexy and coquettish. The actress is known for her convincing acting, youthfulness, and energy. And the same is represented by her tattoo as well.
6. Kangana Ranaut
Queen star is another celebrity who has got more than one tattoo. Kangana is known for her fantastic acting skills, and of course, for her gorgeous tattoos as well. She has got two tattoos, one on her nape and another on her ankle. Both her tattoos look stunning because of the design and their placement. She has got a threatening winged sword on her nape and a winged angel on her ankle. Both the tattoos represent her grace and intellect in a very well manner!
RELATED: 
7. Hrithik Roshan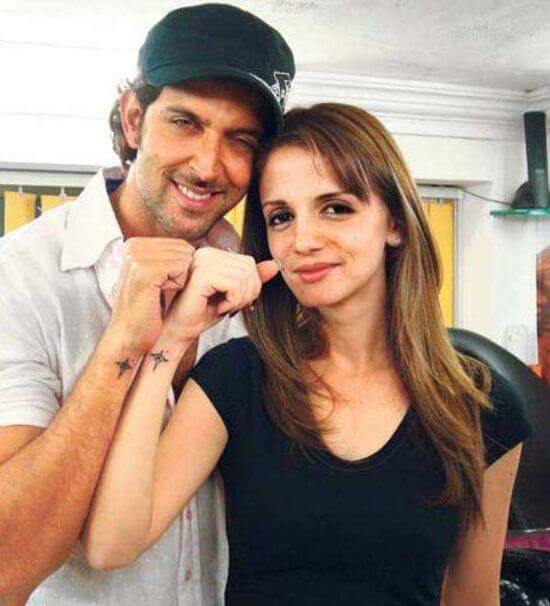 Hrithik Roshan, popularly known as the Greek God of Bollywood, has got star inked along with his ex-wife Sussanne Khan on their wrist. It is a six-pointed star that represents the interaction of the divine with the mortal, as per the Super 30 actor.
8. Malaika Arora Khan
The actress is known for her sexiness and amazing style has got a gorgeous tattoo on her lower back, and another tattoo on the side of her finger that reads love is italics. Tiny tattoo on her finger looks stunning!
9. Arjun Kapoor
Arjun Kapoor has got two tattoos, one on his arm and another on his wrist. The one on his right wrist is a fantastic minimalistic tattoo that says 'Maa' in Hindi. He got this tattoo etched in the memory of his late mother. Undoubtedly, moms are TRUE love!
10. Shilpa Shetty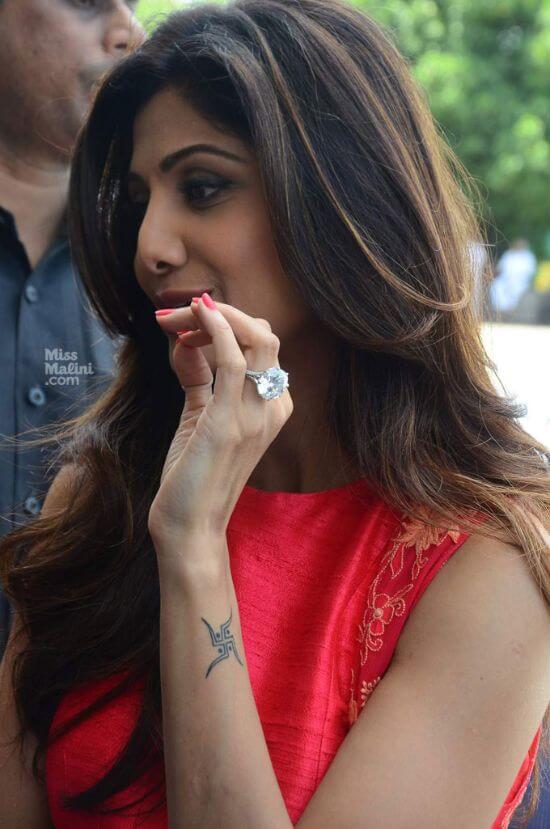 Another star in the list of Bollywood celebrities with tattoos is Life in a… Metro star, Shilpa Shetty has got the sacred symbol, swastika, etched on her left wrist. The 40-year old star, who is famous for her fitness regimen, even shared a picture on Instagram where she is seen posing for a tattoo while the tattoo artist works away on her wrist. She captioned the photo, "Getting my First Tatoo a Swastika."
11. Sushant Singh Rajput
Small screen artist turned actor, Sushant Singh Rajput is another celeb to join the group. Sushant got his first tattoo on his back that he dedicated to his mother. It is a beautiful design that depicts five fundamental elements of the universe, namely, earth, water, fire, air, and space, including a mother and a child. These elements represent the laws of nature and are used to attain more excellent health, power, knowledge, wisdom, and happiness.
12. Akshay Kumar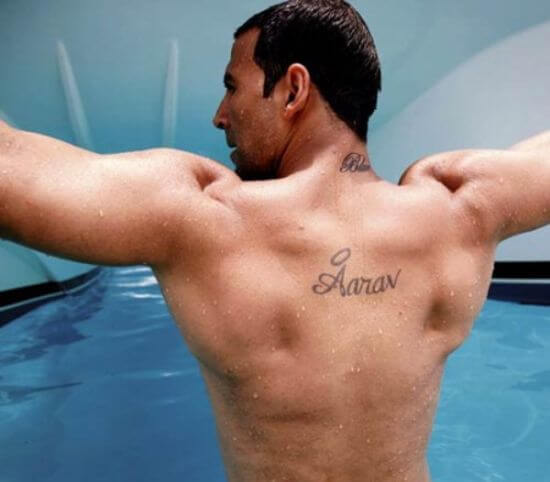 The fittest Bollywood star, Akshay Kumar got his tattoo inked in the name of his first child 'Aarav,' soon after he was born in the year 2001. He got his tattoo etched on his back, which looks terrific. His tattoo indicates the Love that Akshay has for his son.
RELATED:
13. Imran Khan
Imran Khan, another chocolaty star, famous for his cutest smile. He has got multiple artful tattoos etched on his body. One he has got on his right arm and the other on his nape, which is a robust disc-shaped design. However, the cutest tattoo that he has got is on his chest, which is his daughter Imara's footprints.
14. Saif Ali Khan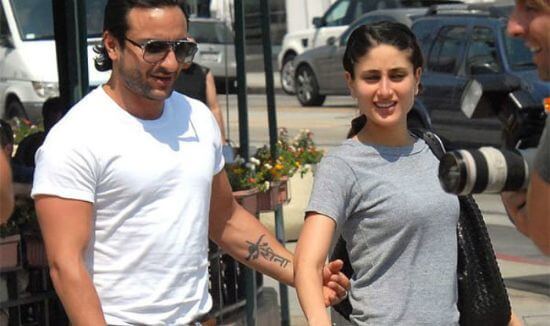 Who doesn't know about Saif and his tattoo! It was a famous tale in the town once. Saif has got a tattoo of his wife's name on his left forearm. The tattoo reads 'Kareena' in Hindi, which he got just after he started dating the love of his life, Kareena Kapoor. Saif's tattoo clearly shows his love for his wife.
15. Shruti Hassan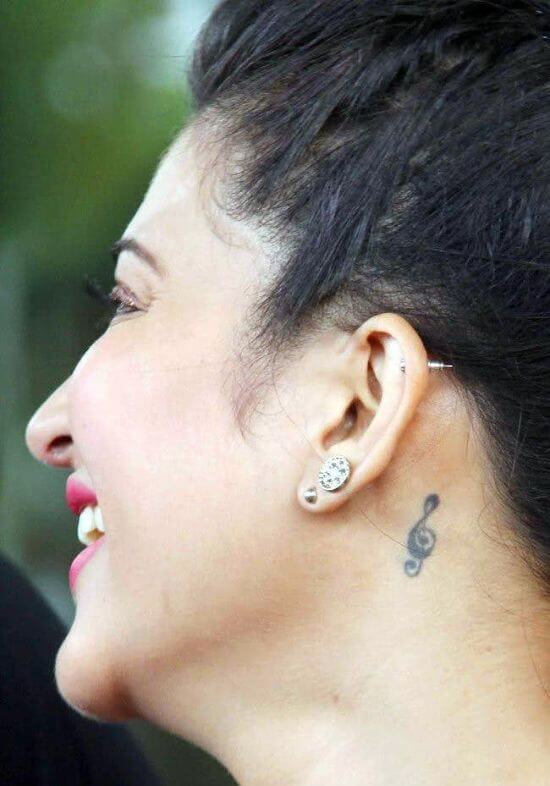 Kamal Hasan's daughter and the beautiful actress Shruti Hasan has a music note etched behind her ear, which shows her love for music. Her tiny tattoos look cute and make for an eye-catching tattoo design.
16. Prateik Babbar
Son of one of the finest actresses of yesteryear, Prateik Babbar has got 'Mera Pyaar Meri Amy' etched on his forearm. Prateik was in love with the blue-eyed beauty Amy Jackson; that's the reason he got a similar tattoo on his left forearm saying 'Mera Pyaar Meri Amy'. However, he regrets having a permanent tattoo as the relationship is ended and has left its bitter mark on Prateik's arm.
17. Sonakshi Sinha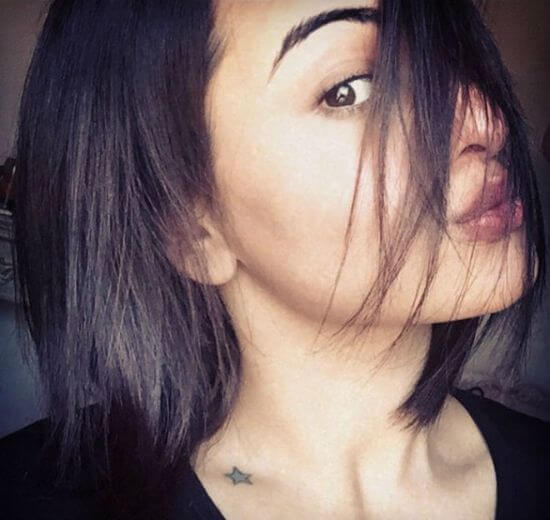 Dabangg actress Sonakshi Sinha has got a cute guiding star tattoo etched on her collar bone. She got herself a tattoo on her 27th birthday, which she gave herself as a gift. She even took to her Instagram account to break the news of a tattoo to her fans. The tiny star etched on her collar bone look mesmerizing due to its size and positioning
18. Bani J
Lastly, Bani J, the popular MTV VJ, and Bigg Boss Season 10 contestant is quite in love with tattoos. As both her arms are just filled with tattoos. However, the cutest one is the one on the front of her wrist, which reads 'Shine'. It looks cute and sweet!
So, these are the Bollywood Celebrities with Tattoos, if you feel inspired by them, then get a tattoo for yourself too. Tattoos look serene and beautiful, no matter who carries!
Please follow and like us: