150+ Sharp and Classic Dagger Tattoos Designs
Posted on
Dagger tattoos are uncommon tattoo designs, as they signify very strong message to the people looking at it. You can have amazing dagger tattoo designs over you by combining them other tattoos. You can have them in various sizes and designs, but make sure they have sufficient area to be drawn on to give them the required shape and staggering effect.
A dagger is always been a critical weapon for the warriors, who use it in close range fights with their opponents. A sharp and shining dagger with its beautiful wooden handle is an awesome treat to eyes for sure. Hence, making it a nice choice for an amazing dagger tattoo.
Daggers have been part of human history and are considered to be the first weapon designed by ancient humans by using rocks and grinding them to give them sharp edges, making them very useful for the purpose of hunting animals and cutting wood.
Daggers are also used in various religious and royal symbols, starting from bronze age till now. In ancient Egypt, they were worn as a symbol of royalty and in World War II, they were regarded as a symbol of bravery and valor. Till now, the daggers are kept as a backup weapon by soldiers and spies.
Dagger tattoos signify many meanings such as magic, intimacy, spying, trickery, bravery, courage, secrecy, and hate towards disloyalty. Whatever is your reason to wear a dagger tattoo, dagger tattoo designs are very appealing and awesome to look at.
You can mix dagger tattoo designs with many other appealing designs such as snakes, swallows, hearts, feathers, dragons, roses, skulls, vines, and flames. Among them some of the most popular are
Dagger rose tattoo
This tattoo design is a powerful reminder of the need for courage and persistence required by an individual to endure the hardships offered by life. This appealing dagger rose tattoo design can be either be engraved using rose designs over the blade of the dagger or a dagger cutting through the rose or any way you want, it will surely intrigue every glance.
Dagger heart tattoos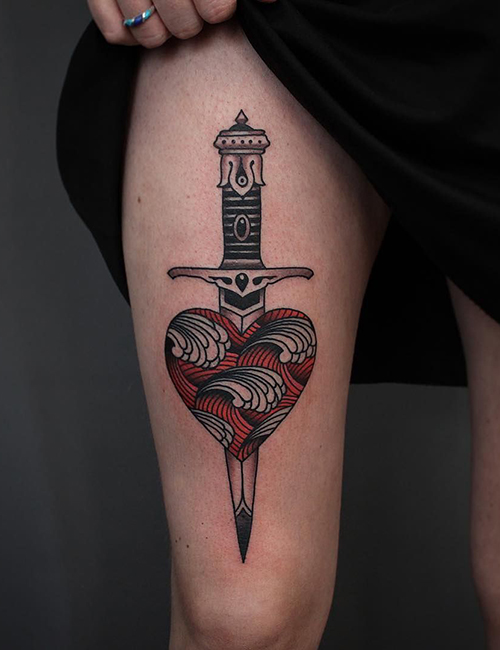 Dagger tattoos are not only a symbol of courage but also people choose to go for dagger heart tattoos to remind themselves of past betrayal or treachery, leaving them heartbroken or hurt. This tattoo design reminds them to be cautious about such experiences in life.
Dagger tattoo designs signify strong emotions of courage, bravery, and hardship. You can easily combine them with other tattoo designs and make it look more attractive and adoring.
Before you have your dagger tattoo, make sure it is well accepted and understood by the people around you. In any case, this tattoo design will attract the attention of each and every person. Check out our latest collection of dagger tattoos from around the world, just for you!
Please follow and like us: