180 Trendy Face Tattoo Designs for Women and Men
Posted on
Face tattoos are not the most common tattoo designs, but definitely the most unique ones. People generally avoid going to face tattoos, simply because everybody loves their face. right? even if they choose for a face tattoo, they try to keep the design minimalistic.
Also, instead of going for a tattoo design, people especially women, go for cosmetic face tattoo, which uses skin color inks to give a good shape to your naturally existing features.
People go for numerous designs for their tattoos on the face, such as letter tattoos, quote tattoos, dot work tattoos, skull tattoos, 3D tattoos etc. They try to keep them modest and small enough, to avoid damaging their original looks.
Also, people often go for tattoos on the face of celebrities such as
Post Malone face tattoo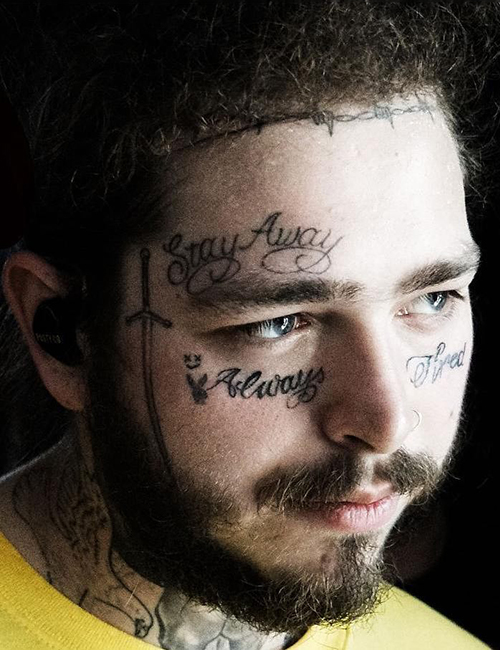 He is a famous American rapper, singer, songwriter and record producer. Also, Post Malone flaunts numerous face tattoos and often people are intrigued and attracted towards Post Malone face tattoo and music.
Justin Bieber face tattoo, well, there are so many speculations revolving around that, is Justin Bieber really having a face tattoo, you can often see images of some marks on his face, and people are claiming them to be his new face tattoo. The superstar singer carries many tattoos over his body.
One important issue with tattoos on the face is the fact, that it is always visible, and is almost unacceptable in your professional arena. A person having a face tattoo is very hard to talk. You will always get distracted by his face tattoos and lose the track.
Also, look for highly expert tattoo artists to give you an awesome face tattoo. Face skin is very delicate, and you often do not have much muscle over your face, so make sure you go for skillful tattoo artists, who can engrave a safe and beautiful pattern over your face.
Well, you can go for any color combination while choosing your face tattoo, it can be a cosmetic tattoo, using your skin color or hair color to give you beautiful lips and sharp eyebrows. Also, it can be minimalistic black tattoo over your face, or a full-face skull tattoo, making you look scary.
Face tattoos are very unique and are opted by people who are totally committed to having a unique tattoo design over them. Your tattoo will look beautiful or scary, depending on your tattoo design. We have gathered a long and elaborate list of some surprising and attractive face tattoos from every corner of the world, have a look at them. You will surely adore them even if you are not going to have one.
Please follow and like us: