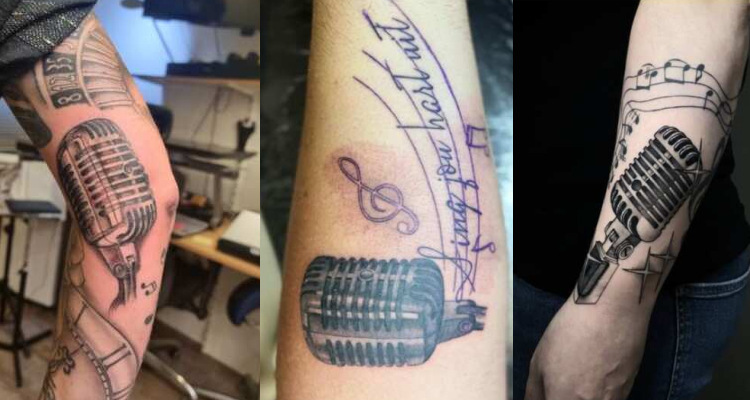 28 Unique Microphone Tattoo Designs and Ideas
Posted on
Microphone tattoos are a fantastic choice for tattoo designs. They have gained significant popularity among individuals who possess a profound love for music. If music is your life, you might enjoy having a tattoo of a microphone on your body. You may get a mic tattoo with or without other elements.
Mic tattoo designs look incredibly cool and extravagant. There are numerous contemporary microphone tattoo designs that you can choose from. If you're looking for unique microphone tattoo ideas, read this post.
Whether you want to get a vintage microphone tattoo or a contemporary mic tattoo, we have it all listed here. Take a look at the incredible options listed below:
15 Inspirational Microphone Tattoo Designs
1. Tiny Microphone Tattoo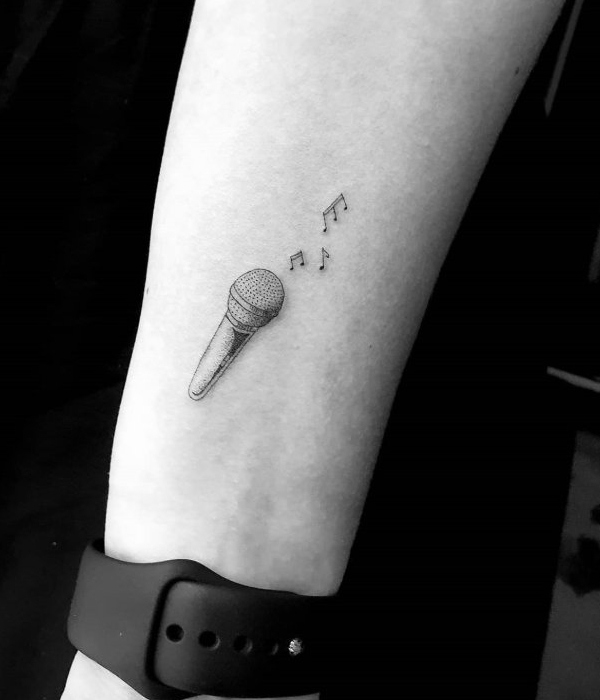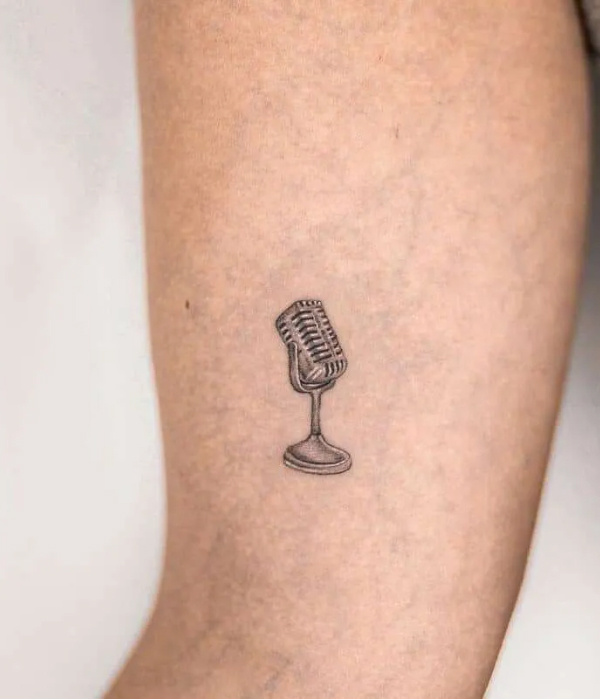 When it comes to mic tattoo designs, tiny tattoos top the list. A tiny microphone tattoo is a great option for people looking for a minimalist tattoo design. A beautifully curated small microphone design is an excellent way to showcase your passion for music while maintaining an understated elegance. You can even give it a personal touch by adding your name initials, or other element to make a difference. A tiny mic tattoo looks great etched on your arm, wrist, ankle, or neck.
2. Customised Medium Mic Tattoo
Customized medium mic tattoo is yet another wonderful microphone tattoo design you can consider. There are myriads of ways you can customize your tattoo design. You can have a bracelet tattoo with a mic hanging with it to have a huge impact. There are many other ways you can customize your medium-sized mic tattoo design. Have this stylish medium-sized microphone tattoo on your wrist.
3. Full Sleeve Mic Tattoo
If you're looking for a large-sized microphone tattoo, then a full-sleeve mic tattoo is a perfect option for you. The most remarkable thing about a large mic tattoo is that you can incorporate additional elements into your design. There are several musical elements that you can consider adding to your tattoo, including music symbols, instruments, and so on to showcase your deep passion for music. In addition, you can also consider adding flowers, leaves, etc., to your tattoo design.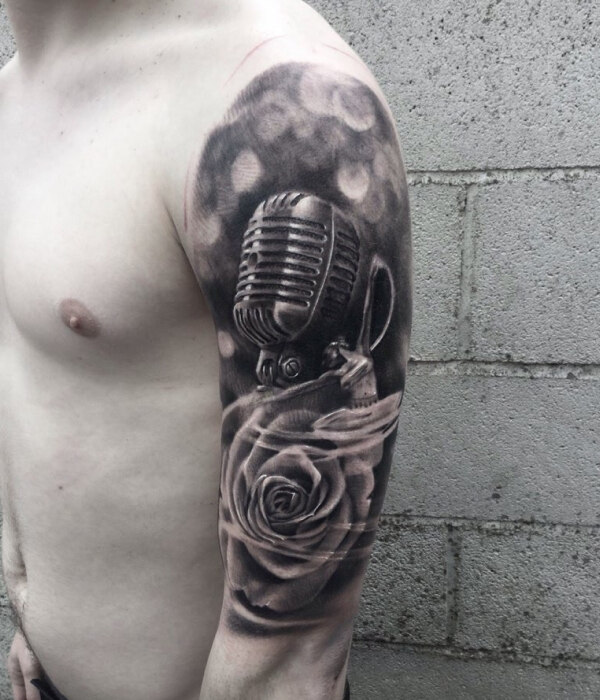 Also See: 40+ Latest Full Sleeve Tattoos For Men
4. Black & Grey Microphone Tattoo
If you're looking for a subtle tattoo design, consider getting a black and grey microphone tattoo on your shoulders. The shoulder is an excellent place for showcasing a medium-sized black and grey microphone tattoo design.
5. Skull Mic Tattoo
If you're looking for a one-of-a-kind tattoo design, then this is the one. A skull with a microphone would make for an incredible tattoo design. You can get this tattoo in medium size on your shoulder.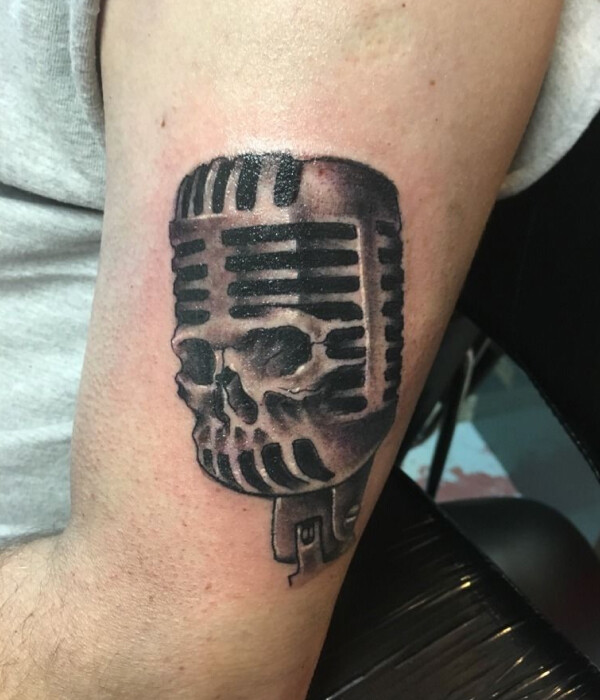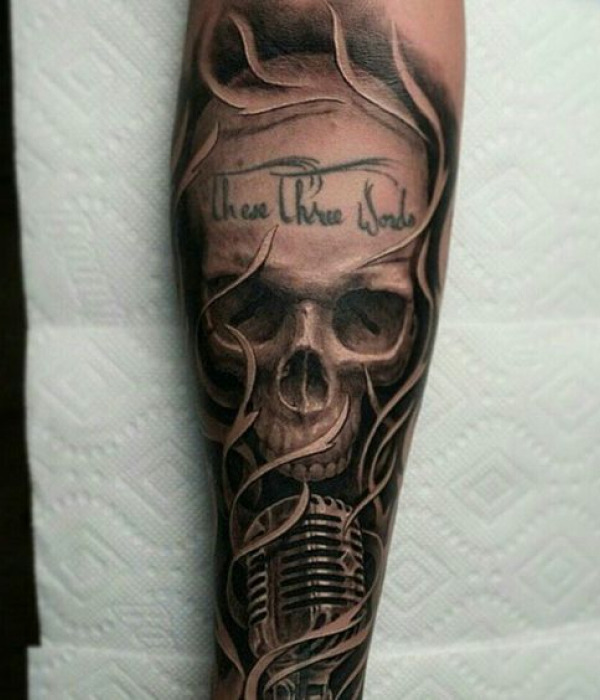 6. Chest Microphone Tattoos
If you're looking for a discreet tattoo option, consider getting a chest microphone tattoo. You can conceal your chest microphone tattoo whenever you desire, especially if tattoos are not favoured at your workplace. You have the option to choose between a small mic tattoo or a medium-sized microphone tattoo for your chest. Both of them appear quite impressive!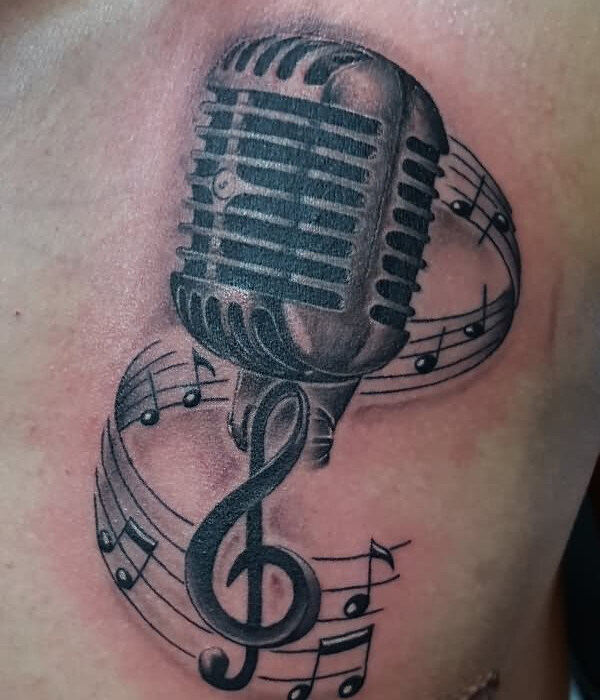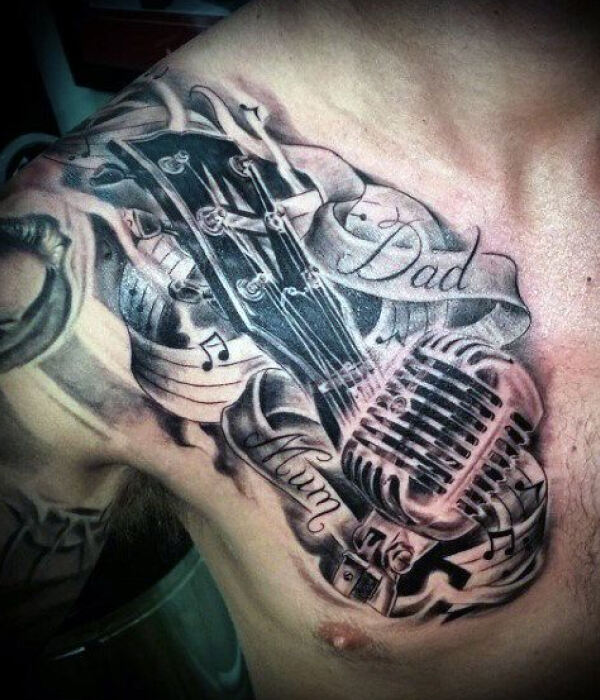 7. Back Mic Tattoo
If you want a tattoo that can be concealed, then a back mic tattoo is apt. Back tattoos offer tattoo artists a great deal of creative freedom. With a back mic tattoo, you can be sure of a creative tattoo design that you will adore all your life. To make it more impactful, you can have additional elements, such as hearts, flowers, quotes, or any other element you desire, alongside the microphone incorporated into it. If you want, you can even get a small-sized mic tattoo etched on your nape.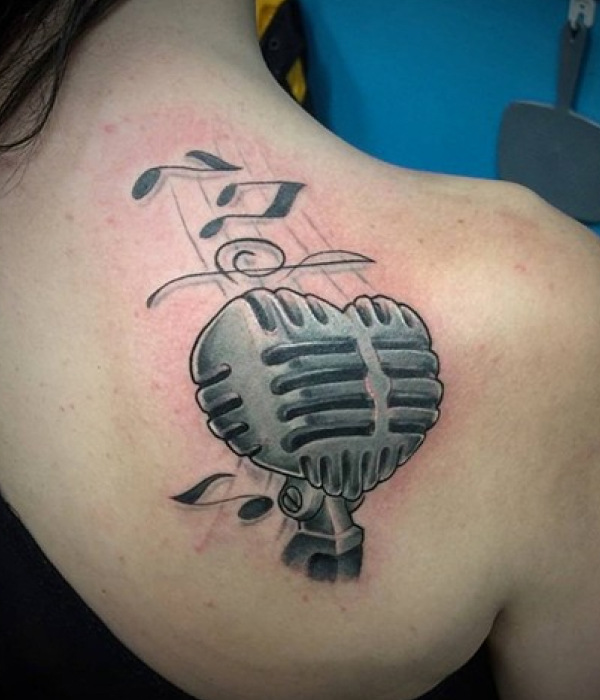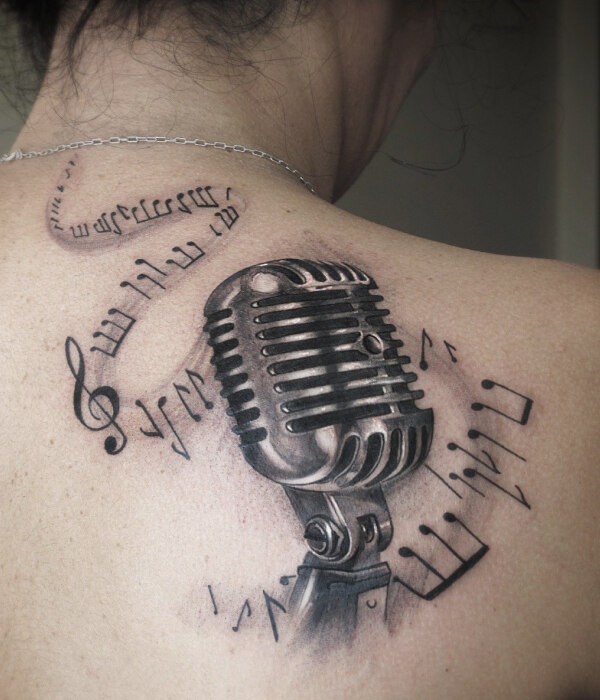 8. Striking Microphone Tattoo on Arm
Your arms, adorned with a stylish musical tattoo, will look intriguing.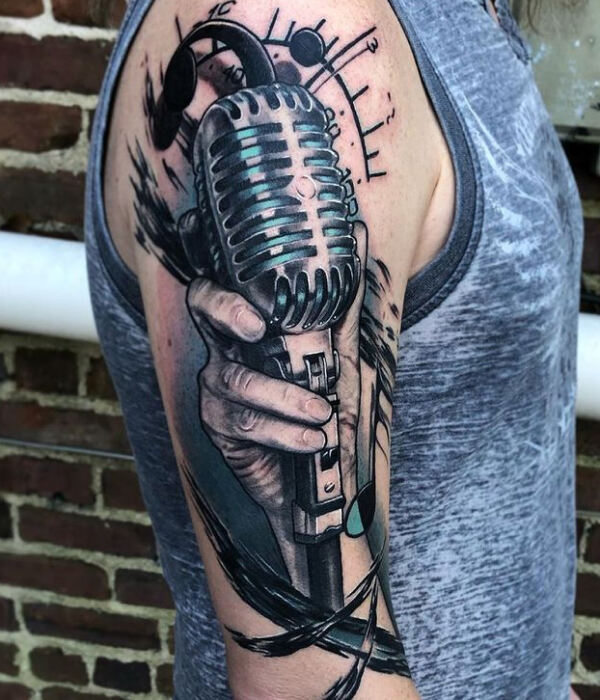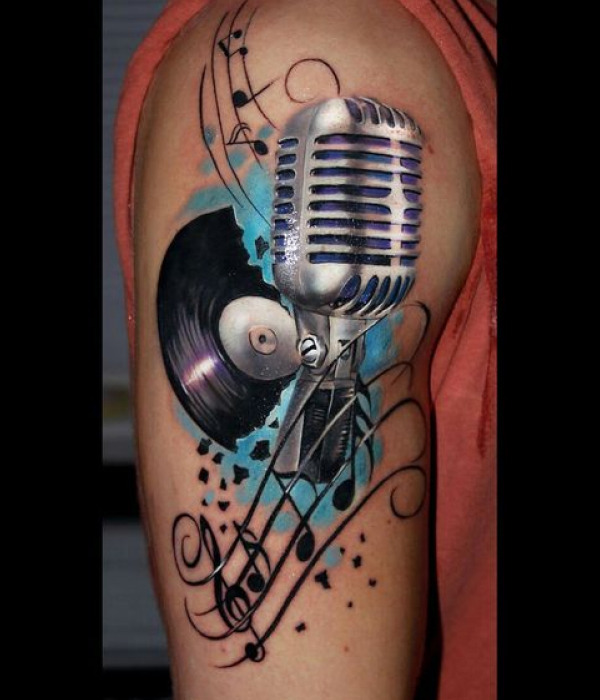 Getting a striking microphone tattoo is a fantastic way to showcase your deep passion for music. To make it more personalized, you may consider incorporating a music symbol delicately etched around the microphone tattoo.
9. Microphone Tattoos on Calf
The calf is the perfect spot for a breathtaking microphone tattoo. It's a fantastic place to get a medium-sized retro mic tattoo. Whether you believe it or not, calf tattoos look incredible. Moreover, what makes calf tattoos truly remarkable is their ability to be discreetly hidden whenever desired.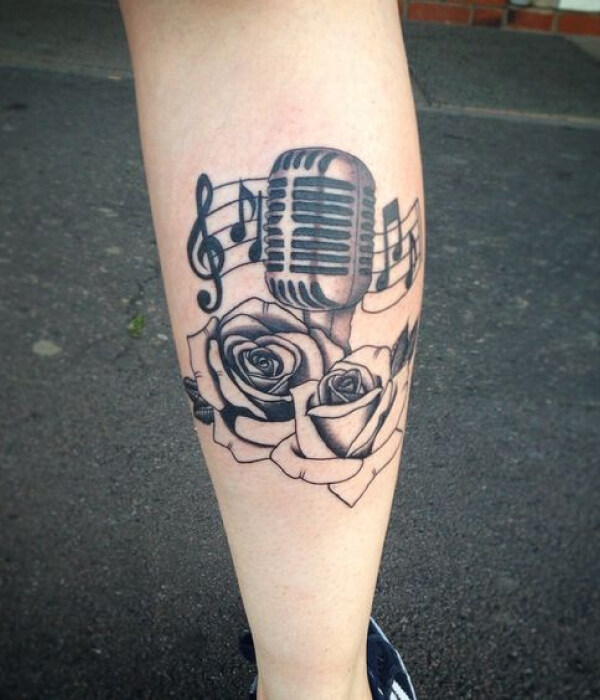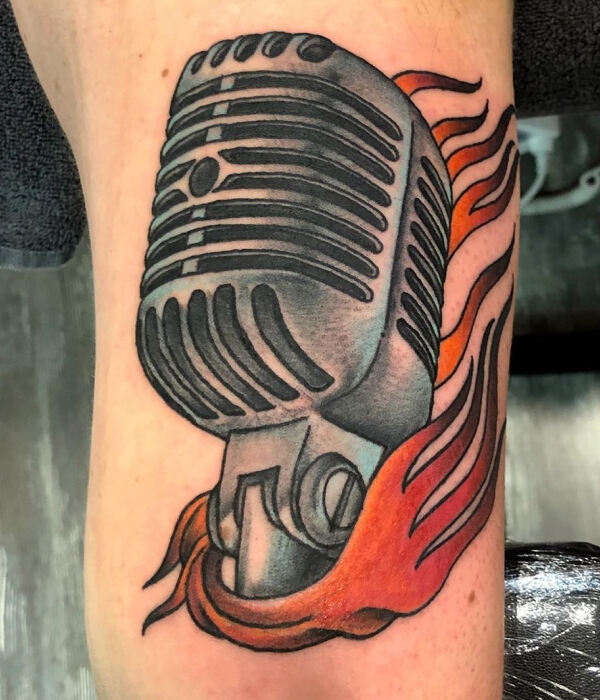 10. 3D Microphone Tattoos
If you're in search of a realistic microphone tattoo design, then a stunning 3D mic tattoo would be the perfect choice for you. A 3D tattoo on your body will create the impression that a real mic is resting on your skin. However, it is crucial to have it etched by a skilled and experienced tattoo artist. Make sure that the tattoo artists you choose have the expertise in creating stunning 3D tattoos.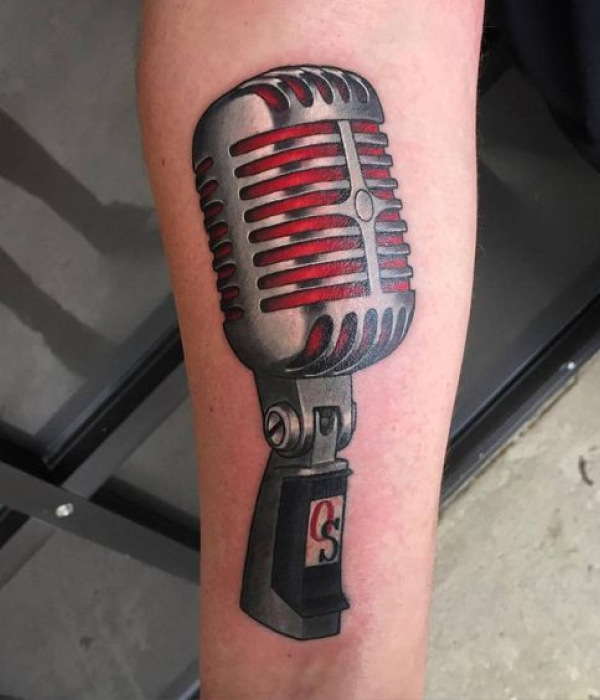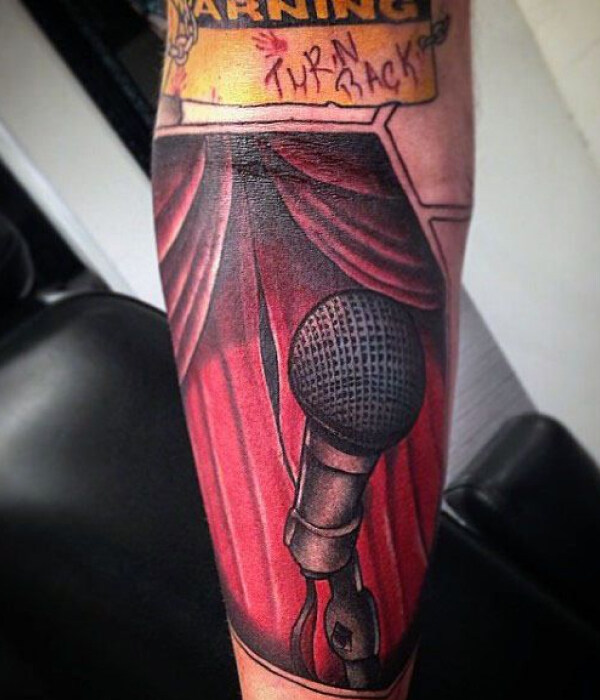 11. Microphone Tattoo with Music Notes
A mic tattoo with music notes is a fantastic choice for people looking for a one-of-a-kind tattoo design. If you're fond of music, then this is the design for you. When paired with a striking musical note, microphone tattoos become exceptionally eye-catching.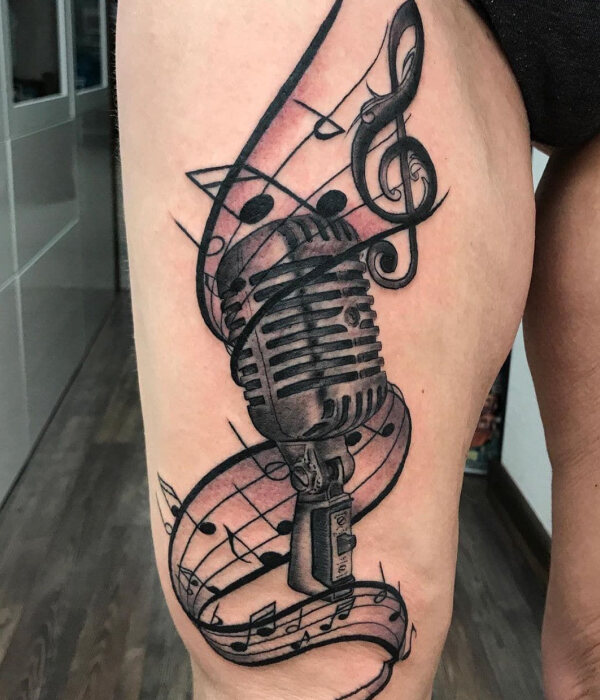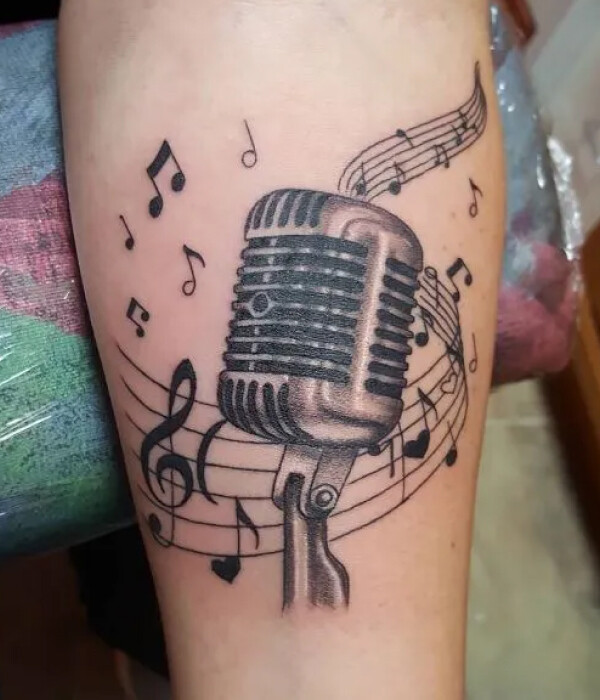 12. Microphone with Rose Tattoo
If you want to add some vibrant hues to your microphone tattoo, consider enhancing your design with beautifully vivid red roses. The microphone etched along with red roses will create a stunning and sophisticated appearance. Your arm is a perfect spot for a mic with a rose tattoo design.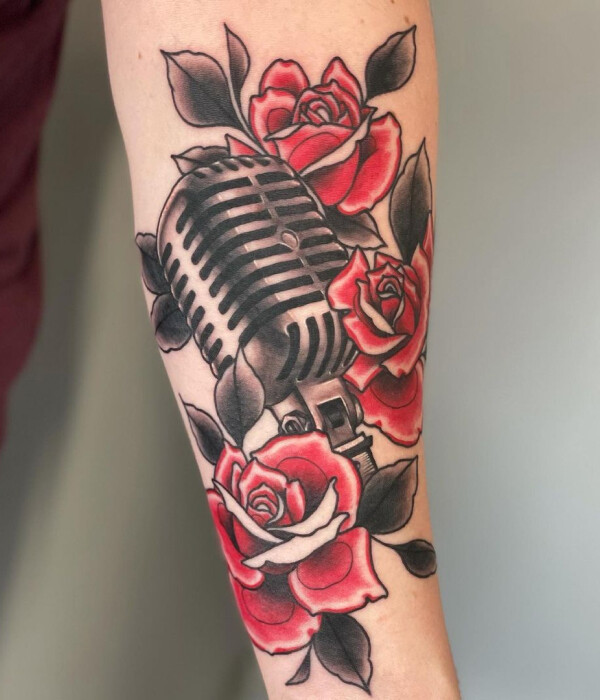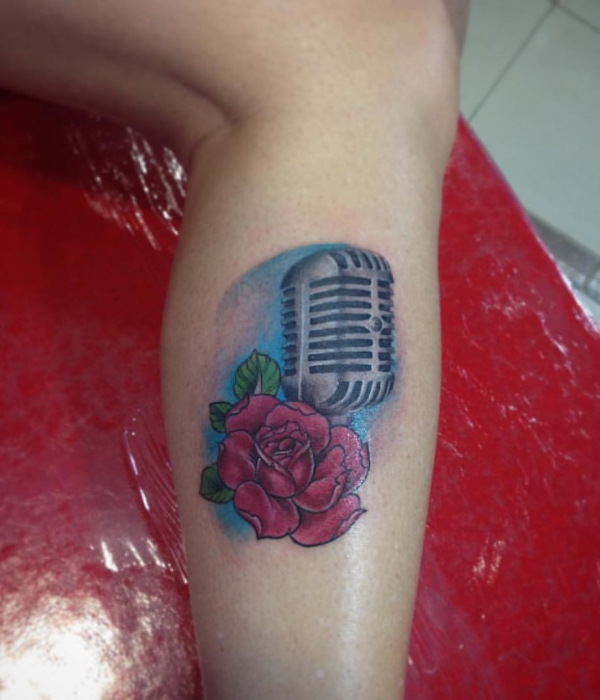 13. Microphone with Quote Tattoo
Add your favourite quote to your microphone tattoo for a greater impact. Adding a quote to your mic design can truly elevate its impact. There are several quotes tattoo to choose from. You can even consider adding a quote in a different language. However, make sure that you understand the significance of it before integrating it into your design.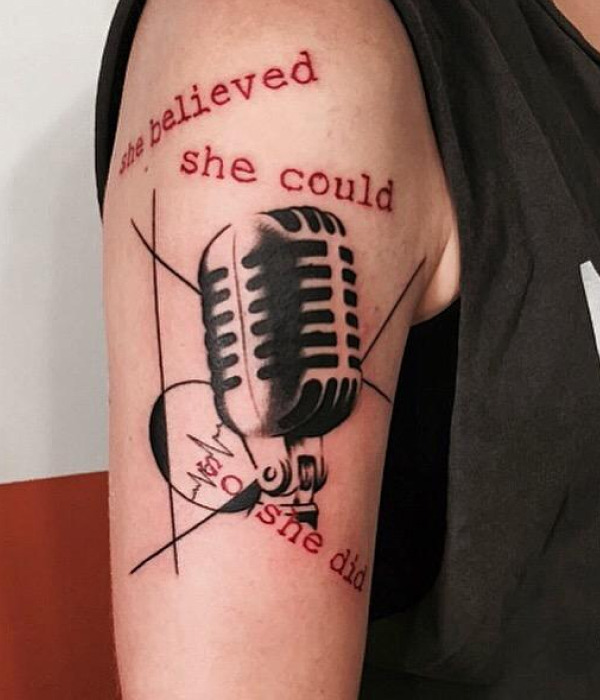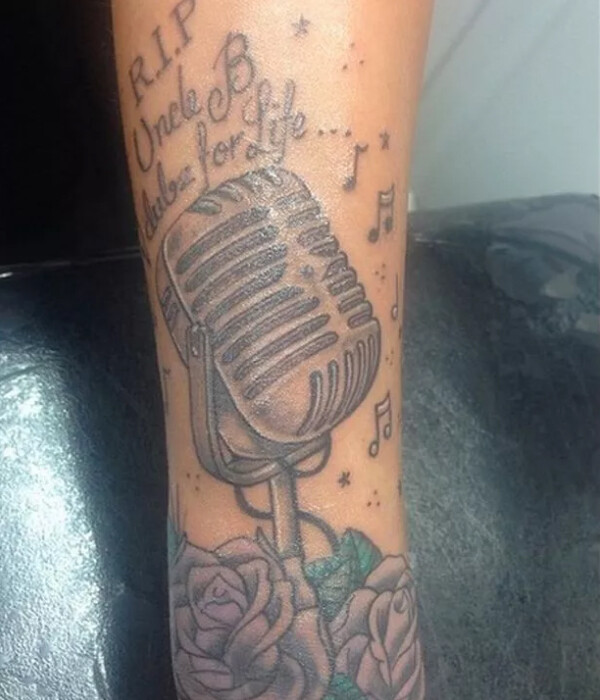 14. Retro Microphone Tattoo
Vintage mic tattoos make for perfect tattoo designs for people looking for outside-the-box tattoo designs. You can get a retro tattoo anywhere on your body, from your arms to your neck. Make sure you choose its placement based on its size. You can even make your microphone tattoo uniquely distinct by incorporating personal elements, such as music symbols, lyrics, or quotes that hold a deep significance to you. A retro microphone tattoo is a great way to showcase your profound adoration for music. Talk to your tattoo artist before you get a mic tattoo design in order to make sure you two are in the same page.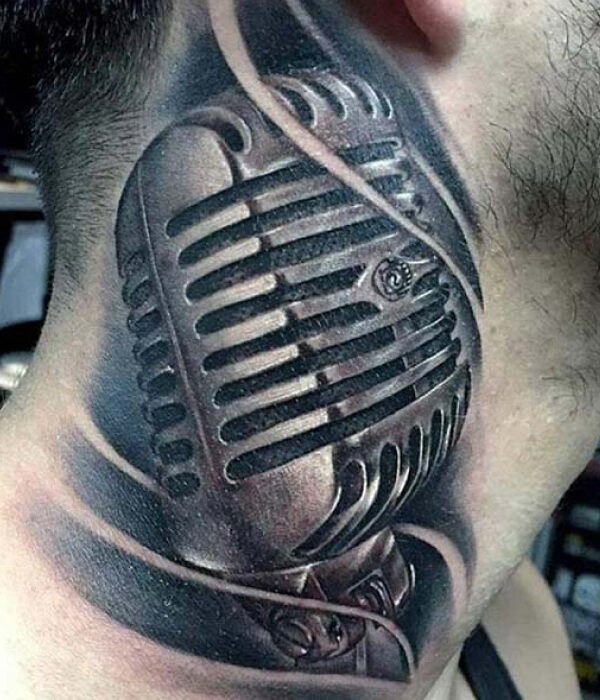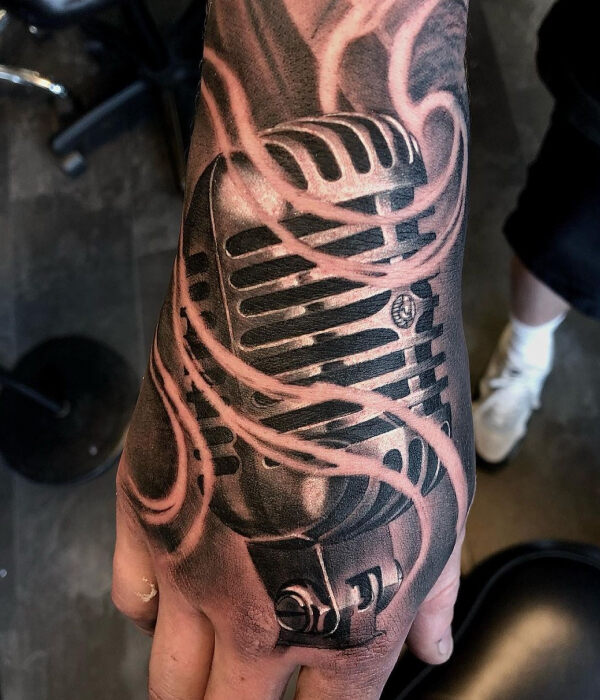 15. Contemporary Mic Tattoo
Last but not least, contemporary microphone tattoo design. It is one of the best mic tattoos that most people prefer for its unique appearance. If you want to explore beyond the traditional vintage microphone aesthetic, get a contemporary microphone tattoo. Pick a unique microphone design that aligns perfectly with your individual style and preferences. You can even get it customized to your unique preferences to have a tattoo that STANDS OUT!
Wrapping it up…
So, here we end our list of the top 15 microphone tattoo ideas. Hopefully, this article will provide you with some inspiration for your next tattoo design. We have created this list of mic tattoo design ideas keeping your unique preferences in mind.
All the tattoo designs listed above are ideal for individuals of all age groups, ranging from young ones to adults. No matter which tattoo design you choose, make sure it is well thought out tattoo design. It is because a tattoo is a permanent endeavour, and removing it will be difficult later. Hence, it is crucial that you give careful consideration to your mic tattoo design and its size and placement.
It's now time to take a look at some mic tattoo FAQs.…
Mic Tattoo FAQs
1. How to get a perfect mic tattoo design?
Tattoos are permanent endeavours. Therefore, it is essential that you give careful consideration to your tattoo design. Also, it is important to choose the right tattoo artist for your body artwork. Know that tattoos are pricey affairs. This means you will need to spend money to get an appropriate tattoo design, and only a professional artist can help you with one. That's the reason we emphasize more on picking a professional artist.
More often than not, people get their tattoos from unskilled or random tattoo artists to save money. However, they end up getting disappointing pieces that they despise all their lives. We don't want you to be despising your artwork at any cost. That's why it is suggested to find a professional tattoo artist. Do enough research and gather enough information regarding the tattoo artist you choose for your tattoo.
Spend time searching for a highly skilled tattoo artist who has expertise in creating intricate and detailed designs. A professional tattoo artist would be able to give you a one-of-a-kind microphone tattoo. Know that an exceptionally skilled artist can only transform your unique vision into a stunning reality, guaranteeing that your tattoo will be a perfect reflection of your imagination. In addition, it is important to have a clear idea about your tattoo size and its placement in advance.
2. Which is the best place for a microphone tattoo?
The placement of your mic tattoo will primarily depend on its size. We mean to say that the size of your tattoo will determine its placement. For instance, if you choose to get a larger mic tattoo, then your back, tummy, thigh, and chest would be better places. However, for smaller pieces, your arm, wrist, nape, neck, thumb, finger, and ankle are great places. And if you want a medium-sized microphone tattoo, then your calf, thigh, shoulder, arm, and sleeves are a great place.
That's the reason we emphasize deciding your tattoo design and its size in advance. Only when you know exactly what you want would you be able to explain your artist. When deciding where to have a microphone tattoo, you should also think about your profession, religious beliefs, and other reasons.
3. How much does a microphone tattoo cost?
The cost of a mic tattoo might vary based on the size of the design, the reputation of your artist, the city where you get your tattoo, the detailing, and its placement. The price of a tiny microphone tattoo can range anywhere from $50 to $80, while a larger piece can easily cost you around $250 to $500. Make sure to do enough research before getting a mic tattoo.
You can either search online or ask for referrals to get a stunning microphone tattoo design. Compare the prices that different artists are charging for their services. Decide your budget in advance, and accordingly, you can do your search. Know that tattoos come with a cost. If you really want to have a great piece, make sure to get it from a professional artist. It is critical not to base your decision on cost. If you get a tattoo from an unskilled artist, you will end up spending more money, which is not wise. It is a good idea to meet the tattoo artist in person before getting your tattoo. This will allow you to ensure that you and the tattoo artist are on the same page regarding the design of your tattoo.
4. What should I do to take care of the newly etched mic tattoo?
When it comes to taking care of your brand-new tattoo, it is imperative to follow your tattoo artists. More often than not, tattoo artists provide their clients with tattoo aftercare guidelines. Following them ensures that your tattoo heals correctly and that there is no chance of an infection developing in the area.
You'll be asked to keep the newly etched tattoo clean and moist at all times to prevent contracting an infection. Keeping the area clean and moist will also help speed up the healing process. In addition, your artist will ask you to avoid direct exposure to the sun and refrain from taking long, hot showers or baths. Doing so will not only ensure rapid healing of your tattoo, but it will also ensure that your tattoo always looks awesome.
5. How to choose a stunning mic tattoo design?
Choosing a beautiful mic tattoo may look like a challenge at the outset. However, with the right planning and enough research work, you will be able to get exactly what you desire. Before settling on a design, you should think about things like your job demands, your religious beliefs, cultural beliefs, your budget, and so on. Think of every aspect before you get a mic tattoo.
It is because tattoos are not allowed in some religions, including Islam. Then are some jobs where your tattoos are not encouraged. For instance, if you want to join the force, you may not be allowed to have body artwork. Consider these things before deciding on your tattoo design and its placement.
Aside from that, it is crucial to ask yourself what exactly you are looking for. How do you envision your microphone tattoo?
Talk to your tattoo artist if, despite your best efforts, you still can't decide on the appropriate mic tattoo design. Professional tattoo artists usually help their clients with their tattoo designs. Discuss your preferences with them so that they may assist you with a stunning mic tattoo design.
Happy Tattooing… 😊 😊
Please follow and like us: