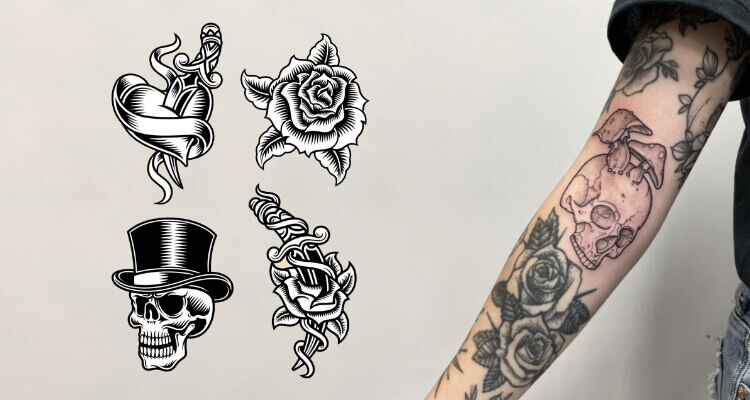 30+ Best Flash Tattoo Design Ideas for Your Next Tattoo
Posted on
A flash tattoo is an already made tattoo design that you can easily find on posters of a tattoo artist. This doesn't take much time like the other tattoo designs. You can have a flash tattoo in one sitting without wasting so much time. All you have to do is select an already drawn tattoo which is why it's called flash. The styles of these flash tattoos are western.
Not only does a flash tattoo make your skin look beautiful within a short time, but it's also a great tattoo design.
So, if you want to learn more about Flash tattoo designs, keep reading this post.
This post will cover everything there is to know about Flash tattoos, including the meaning of flash tattoos and flash tattoo ideas.
Meaning Of Flash Tattoo
Flash tattoos are tattoo designs already drawn on a sheet and then placed on the shop walls of a tattoo artist. When you visit the tattoo artist, you can choose any design. This will be done on your skin in just one sitting. If you are one of those individuals who want to get a quick tattoo without taking so much time, then Flash tattoos are the best choice.
Flash tattoos can be customized according to your requirement. These tattoo designs are entirely different from regular tattoos. Back in the early days, flash tattoos were common and mostly preferred by many people. There are so many beautiful memories attached to flash tattoos which is what makes them relevant to date.
You will find all you need to know about a flash tattoo as you read this post. Not only that, but you will also come across the different unique designs that you can choose from.
Perfect Placement For A Flash Tattoo
You are free to place flash tattoos wherever you like on your body.
The location of your flash tattoo is something that should be given a lot of thought if you want it to look its best. You need to decide where it will look best once it is tattooed, as there are many potential locations.
Before moving on with the tattoo, you need to give careful consideration to both its size and its design. If all you want is a little tattoo, you have the option of getting it on your wrist, hands, neck, the area around your collarbone, or any of your fingers. You might have a tattoo in the shape of a star or any other symbol you like.
If you want it to be enormous, you need to select a location that gives your artist enough room to create the design in the way that you want it.
If you want a tattoo to stand out, consider getting it on a prominent portion of your body, like your chest, legs, thighs, neck, or back.
You have a wide variety of options available to you for flash tattoo designs to pick from.
Flash Tattoo Designs
Here is a list of the top 11 Flash Tattoo Designs for you to get some ideas from for your next tattoo design:
1. Traditional Flash Tattoo
Sailor Jerry creates a flash tattoo that is in the traditional style. They have designs that are not just spectacular but also timeless. These tattoo designs can be done in color palettes or in black and white.
The motifs that make up standard tattoo flashes are, at times, based on the work of renowned tattoo artists from the past. It offers a variety of applications, from which you can select, and it may be placed on any part of your body that you wish.
You now have multiple options to choose from, thanks to the classic American flash tattoos. You can have it created to go around your chest, neck, or arms.
2. Floral Flash Tattoo
Floral flash tattoo designs are quite popular. The fact that it is available in a wide range of shapes and dimensions contributes to its widespread popularity. Women are significantly more likely to get these flowery flash tattoo designs than males. Such tattoo patterns are chosen by very few males today. You have the option of selecting a flower arrangement with swirls or one that features a single flower designed with lines.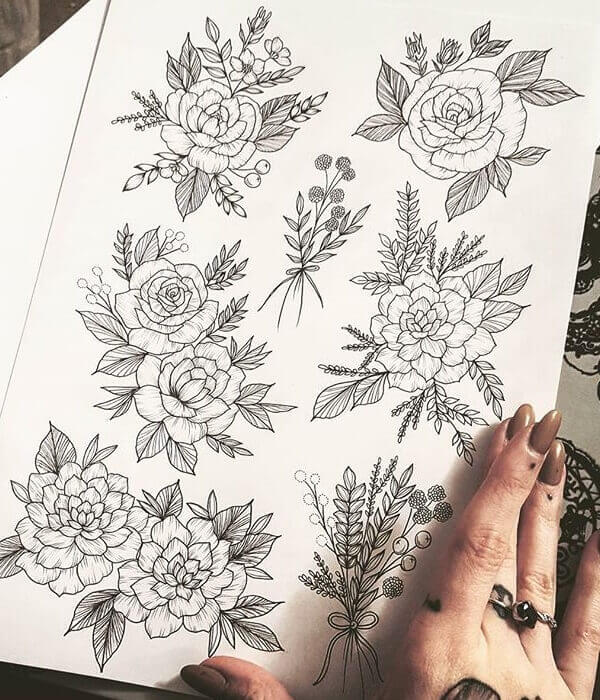 These tattoos are versatile enough to look great on any part of the body, including the back or the thighs. A floral flash tattoo design represents beauty or strength, and that's one of the reasons why many ladies opt to get it. You can spice up your tattoo design with a splash of color and make it look stunning.
3. Mandala Flash Tattoos
Are you looking for a one-of-a-kind design for a flash tattoo? The mandala flash tattoo is a contemporary and distinctive option. The pattern for this tattoo is made up of lines, and you have the option of making it bigger. You can have it etched in a large size to distinguish it from other designs.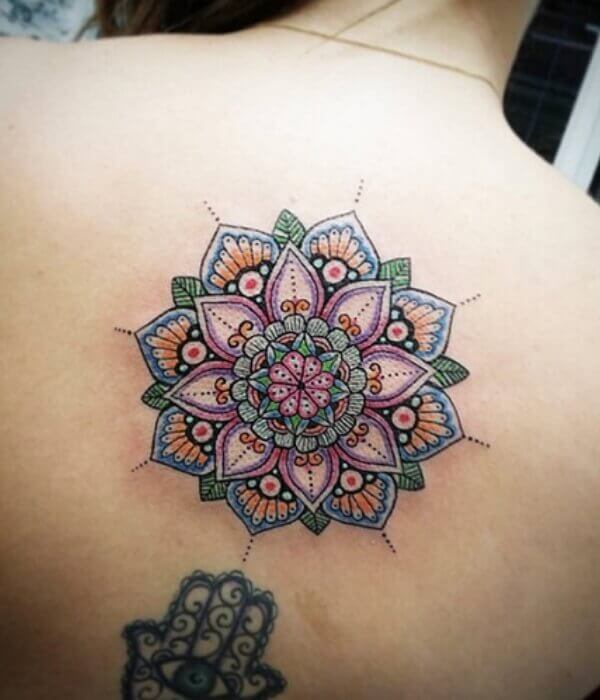 Mandala tattoos look awesome. All you have to make sure is find a reputable tattoo artist who has a knack for mandala tattoo designs.
4. Neo Traditional Flash Tattoo
You have greater creative leeway with neo-traditional flash tattoo designs due to the fact that you can add a variety of colors to them. Because of its unique look, this flash art would make an excellent choice for a tattoo.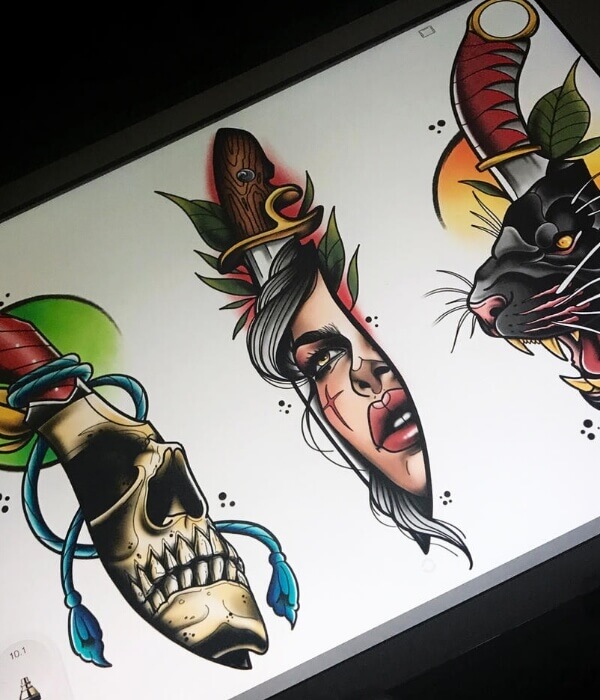 These tattoos have a wonderfully illustrated appearance, and the color schemes are excellently designed. Neo-traditional flash tattoo designs look outstanding.
Also See: Neo-Traditional Tribal Tattoo: History And Influences
5. Japanese Flash Tattoo
Japanese tattoos mostly take up a large area of the body when tattooed on your skin. It can either be in a whole sleeve or a body suit. Japanese flash tattoo designs are sometimes big because of their style.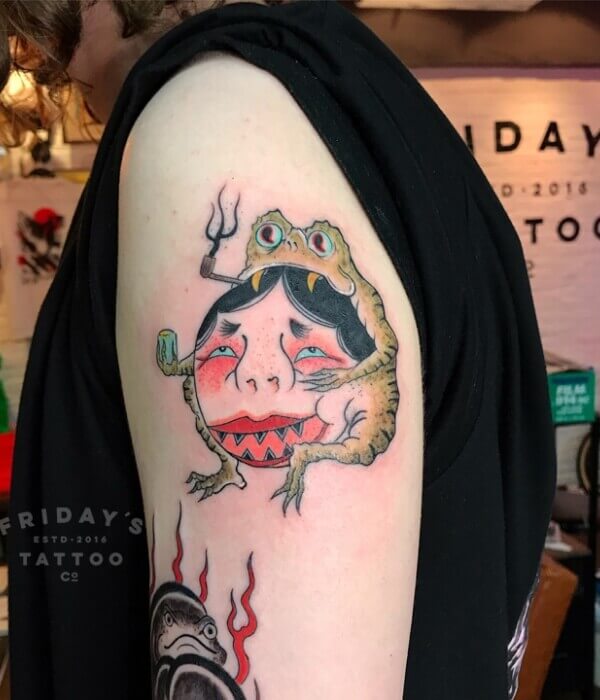 It's one of the best flash tattoos which you will like. The best thing about Japanese flash tattoo designs is that these designs are meaningful. Often they serve as spiritual symbols for the wearer.
6. Feminist Flash Tattoo
A significant number of women love to get feminist flash art tattoos. This particular tattoo design is ideally suited for women because it depicts only the lower half of a lady while her hair obscures the upper half.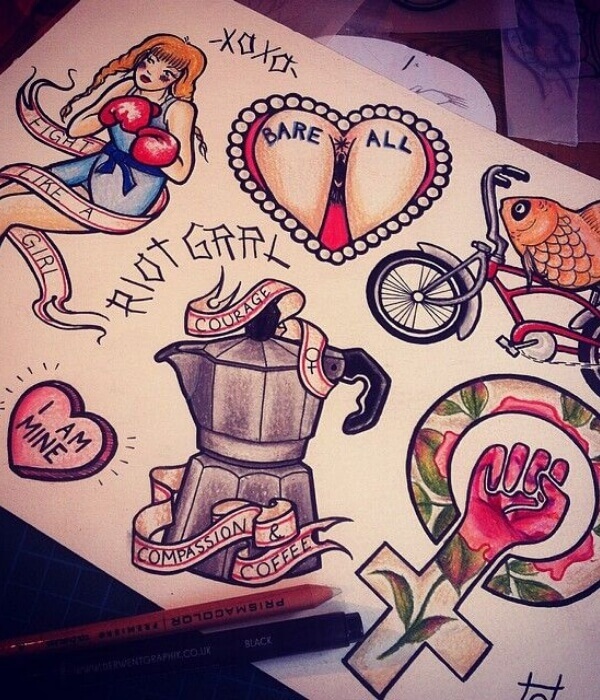 The straightforward outline that's been applied to the style is what sets out this particular tattoo design from others. It is a representation of the degree to which a woman values her femininity and the degree to which women are prepared to fight for their rights. The amazing thing about this particular tattoo is that it can be worn beautifully by either a man or a woman.
7. "Diamonds on Me" Flash Tattoo
A diamond flash tattoo design can be etched onto your flesh if you so like. It's entirely up to you whether or not you want to get more than one diamond flash tattoo on your body. It is a fantastic flash tattoo design that you should really consider getting permanently applied on your flesh.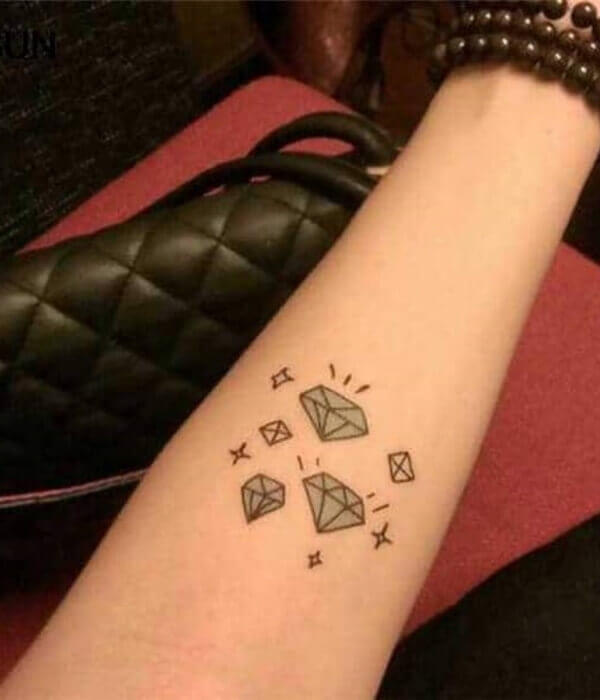 It's gorgeous and distinctive. This is a beautiful tattoo design since it can be inked on any part of your body. The versatility of this design is what makes it so appealing. It is a representation of the radiance that emanates from within you, and it reveals aspects of your personality.
8. Feather and Birds Flash Tattoo
You might consider getting flash tattoos on your skin of lovely birds and feathers for a design that is truly one of a kind. This design features blackbirds atop a feather that has been drawn in black.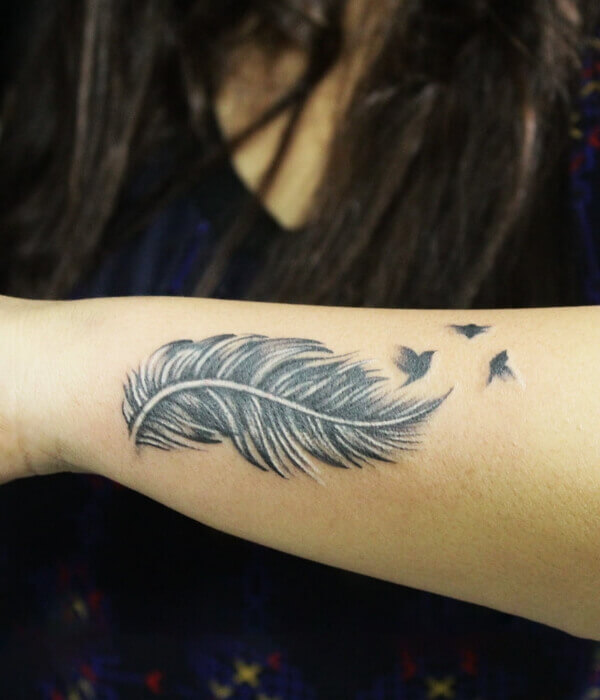 This particular tattoo design brings out a lot of the features of its appearance.
This tattoo is said to represent a person's faith as well as their power.
A bird in flight is a symbol of freedom and the value you place on yourself.
9. Triangular Floral Flash Tattoo
Your selection of this stunning triangle floral flash tattoo is going to turn out to be the best choice you'll ever make. This flash tattoo design of a triangle-shaped flower is one of a kind. Compared to the conventional floral flash tattoo, this particular design stands out because of the flowers tied to it.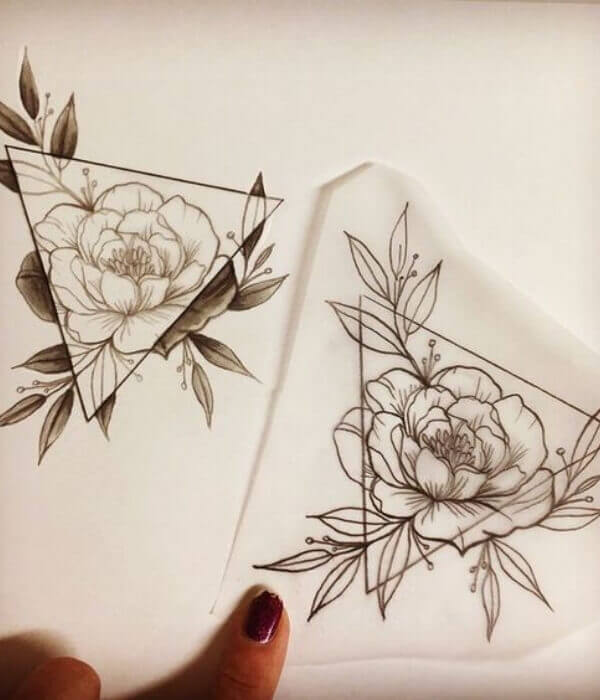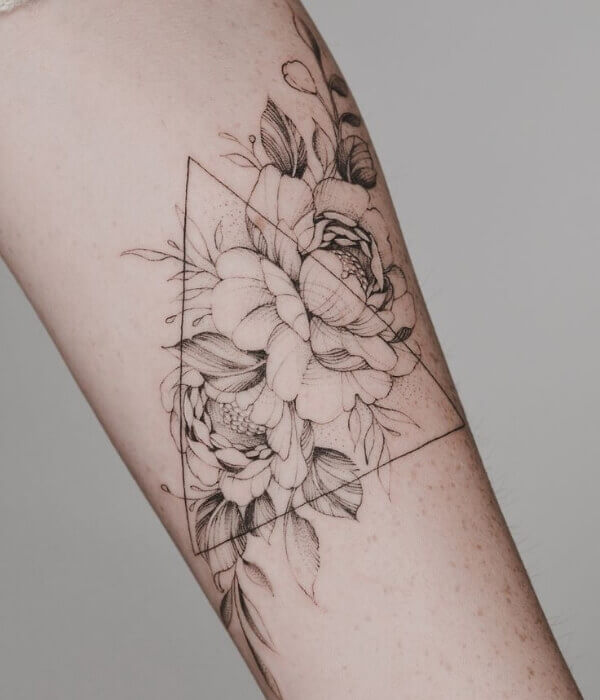 It also represents the beauty and love that should be present in a person's life and shows how hopeful a person should be. Aside from that, it represents the concepts of equilibrium, self-assurance, and positivism.
10. Floral Clock Flash Tattoo
If you're seeking for a tattoo design that stands out from the crowd, consider getting a flowery clock flash tattoo. It comes with a clock that is printed in black ink and is surrounded by drawings of gorgeous flowers or foliage. It has the appearance of a sketch, which lends it a distinctive flair.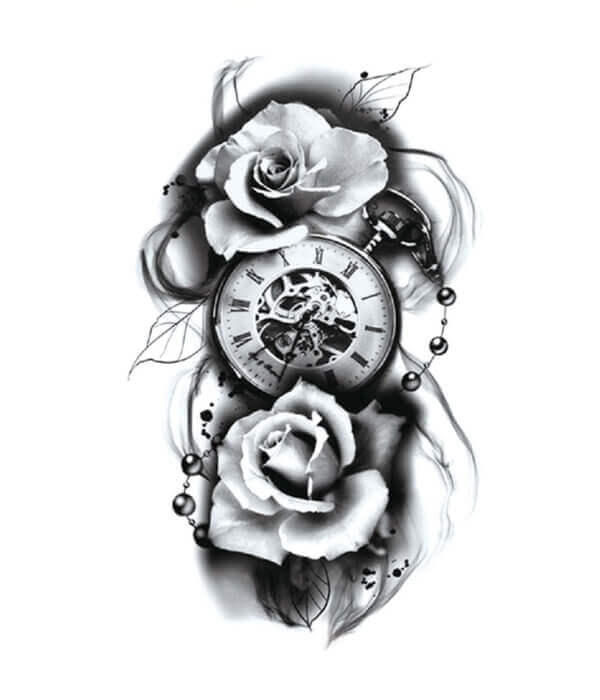 When it comes to the meaning of this tattoo, all it implies is that you are someone who is aware of the passage of time, which is important because it is what enables you to do anything you want to in life. It's a unique way of expressing how you pay attention to time.
11. Goth flash tattoos
Last but not least, goth flash tattoo – This is one of the best flash tattoo ideas that you can consider having on your body. You can try this tattoo design if you want an outside-the-box body artwork. Make sure to choose a professional tattoo artist so that there are no regrets later.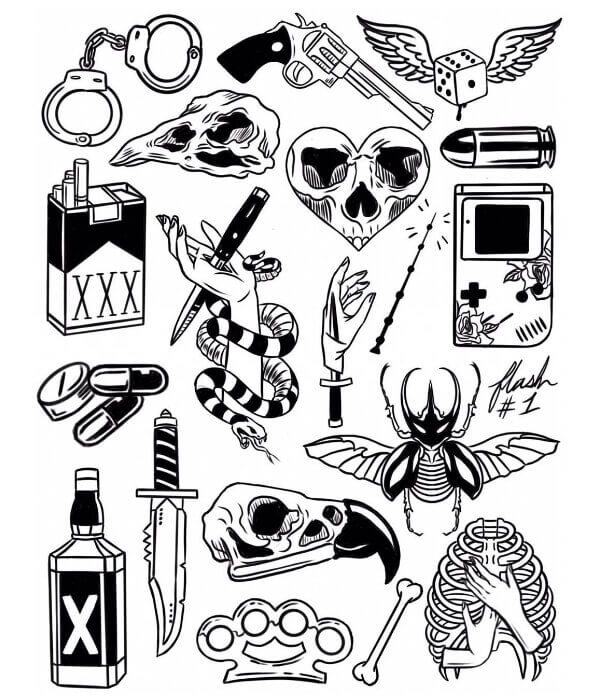 Wrapping it up…
So, these are the top 11 flash tattoo ideas for you. We hope that this article will help you get some ideas for your next body artwork.
If you are getting a tattoo for the first time, it's advised that you start with small flash tattoo designs. Flash tattoos are very simple and unique. The best thing about flash tattoos is that you don't need to spend too much time brainstorming a tattoo design. You can choose any design of your choice from the existing tattoo. You can even add extra elements to your flash tattoo design to make it look unique and extraordinary.
Frequently Asked Questions
⇒ Why Are Flash Tattoos Referred To As Flash?
The term "flash" is used to refer to these tattoos since, in the early days of tattooing, they were not widely accepted in society. Everyone who wants one just chooses a pattern, and the work is completed in a single session.
⇒ How Long Does A Flash Tattoo Last?
Usually, a flash tattoo design lasts about 4 – 6 days on your skin. However, activities such as exfoliating with soap when showering or using lotion can significantly reduce the longevity of your tattoo.
⇒ How Much Does A Tattoo Artist Collect For A Flash Tattoo?
A tattoo artist charges $100 – $200 for a flash tattoo design depending on the size and design of the flash tattoo.
Happy Tattooing… ☺ ☺
Please follow and like us: