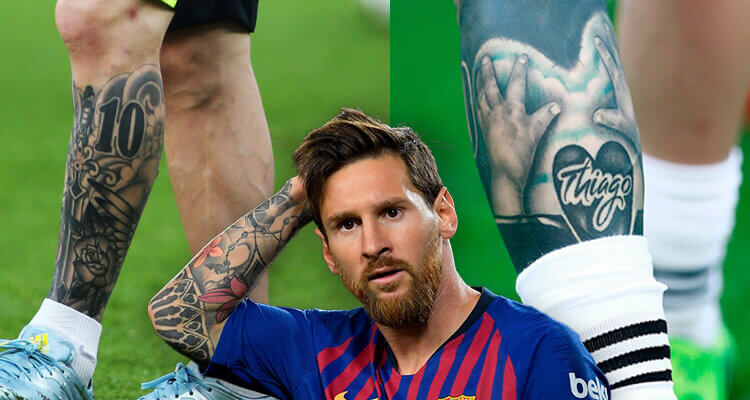 Lionel Messi's 15 Tattoos and their Meaning
Posted on
For quite some time, Lionel Messi, Barcelona's icon and football legend, has been going under the needle to cover different regions of his body with ink. Messi was inspired by Dani Alves, a colleague known for his full-body tattoos.
Messi was apparently afraid of the pain at first, so he had his wife Antonella get a tattoo first, and once he got his first tat, he couldn't stop himself. On his back, arm, and legs, the actor has some really stunning tattoos. For him, each of his tattoos has a special meaning.
The tattoos of Lionel Messi are quite famous among football fans. La Pulga's back, elbow, arm, and leg are covered in more than 15 tattoos, some of which have tales and significant significance behind them, while others are done simply for fun.
Tattoos have become the trendsetters and fashion style in modern football, with many players deciding to be tattooed. Messi isn't the only footballer with tattoos; David Beckham and Zlatan Ibrahimovic, for example, each have numerous tattoos.
Tattoos are a unique and artistic method to express oneself. When you look at Leo Messi, you can't help but think that getting tattooed is one of his favorite kinds of art. The Barcelona captain has a total of 17 tattoos, each with its own meaning, individuality, and meticulous workmanship.
List of Tattoos and their Meaning:
1 Mother's Portrait Tattoo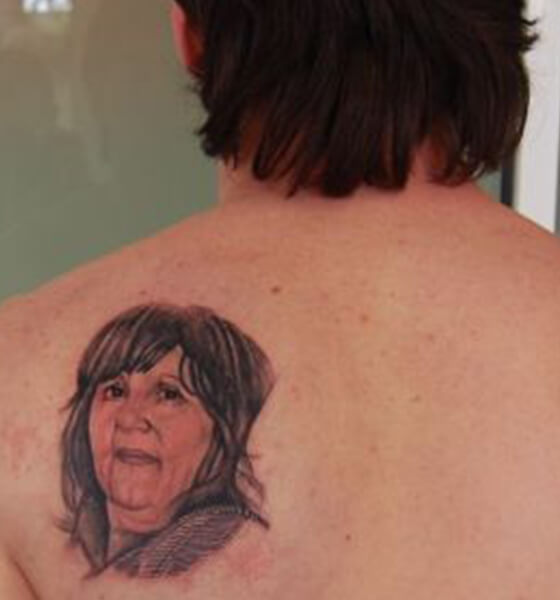 It is the first tattoo etched on Messi, and it is undoubtedly one of the greatest memorials any tattoo admirer could offer to his or her mother. He has a strong bond with his mother, and the fact that Celia has aided Messi in accomplishing his goals justifies the decision to carry her photo on his back.
In 2007, Messi established the Leo Messi Foundation to aid the less fortunate, which is operated by his mother and brother, Matias.
2. Child Hands Tattoo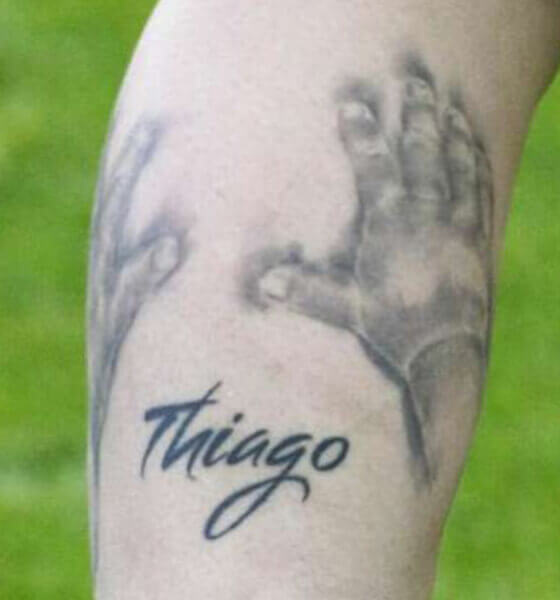 This is the delight of becoming a father for the first time, as seen on the calf of one of the greatest footballers in history. Messi's first son, Thiago, was born on November 2, 2012, making him a parent for the first time.
3. 'Thiago' Tattoo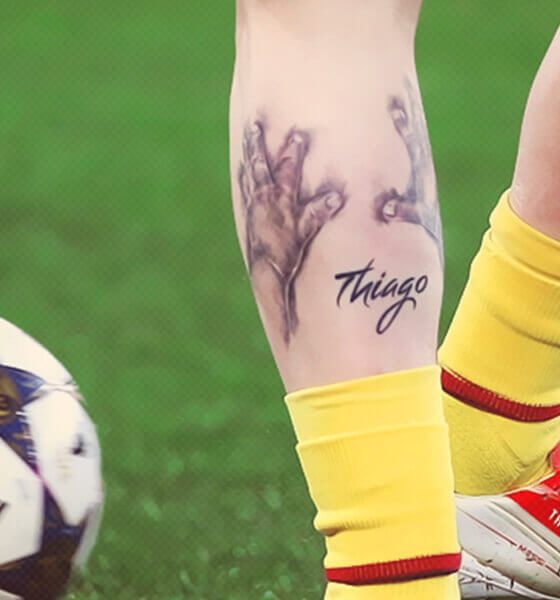 Messi underwent another procedure to show his love and affection for his newborn son, Thiago. Messi had his son's handprints inked in a gorgeous heart-shading tattoo at first.
There were theories that the hands signified 'Maradona's Hand of God's objective, but he dispelled those beliefs by tattooing his son's name 'Thiago' within the handprints tattoo.
4. The Lotus Flower Tattoo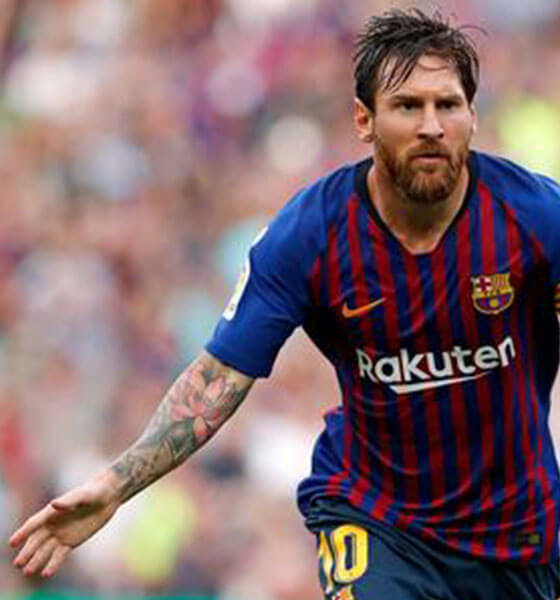 Leo Messi's narrative is one of following your aspirations and living to your full potential, from humble beginnings in the little Argentinian city of Rosario to becoming a six-time Ballon d'Or winner and one of the greatest players of all time. His Lotus Flower tattoo serves as a symbol and reminder of this.
5. Football Tattoo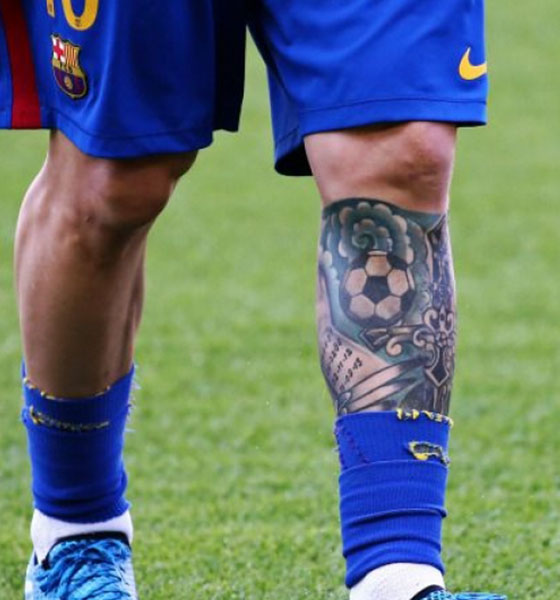 Messi is the type of person that devotes all to his passion and is aware of every crucial detail in his life. His undying love for football became obvious when he decided to ink the circular leather game on the same leg a few years after Thiago's arrival, just like his son's name is inscribed on his left calf and his strong feet.
6. Jesus Christ Tattoo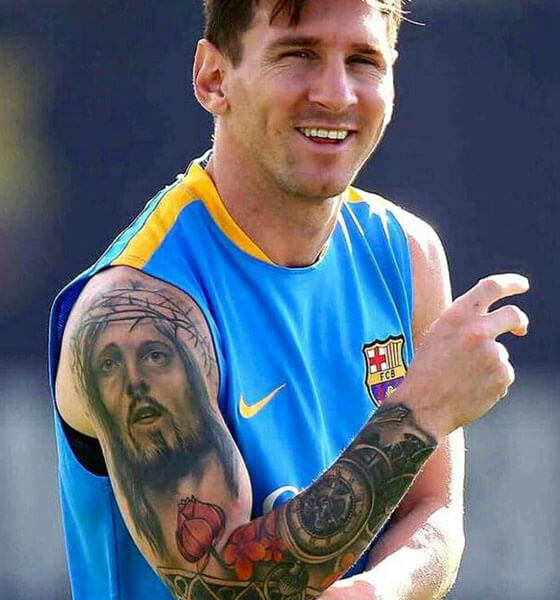 Lionel Messi's tattoo symbolizes his commitment to Christianity and Jesus Christ. Messi was reared in a Catholic family; Catholicism is Argentina's official religion, with Catholics accounting for 92 percent of the country's population. So it's no surprise that Messi is a devout Catholic.
7. 'Rose Window' Tattoo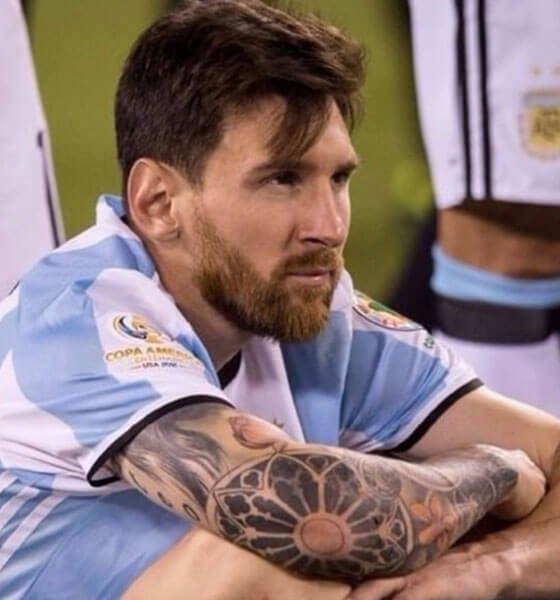 The Sagrada Familia basilica in Barcelona inspired the 'rose window' tattoo that is a key element of this football star's sleeve tattoo.
8. Crown Tattoo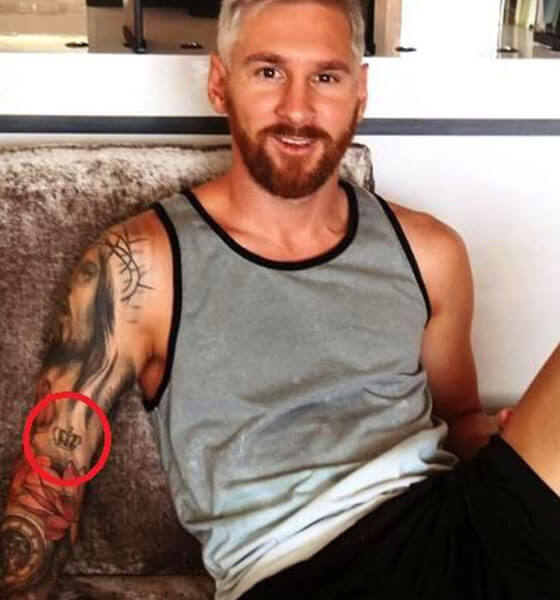 Leo and his wife Antonella have matching crown tattoos on the inside of their right arms. These represent their undying love: she is his queen, and he is her king.
9. Matteo Tattoo
It's the name of his second son, so it doesn't require much interpretation. Knowing that he had already tattooed the name of his first child on his leg, he decided to tattoo Matteo's name on his right arm.
10. Antonella Eye Tattoo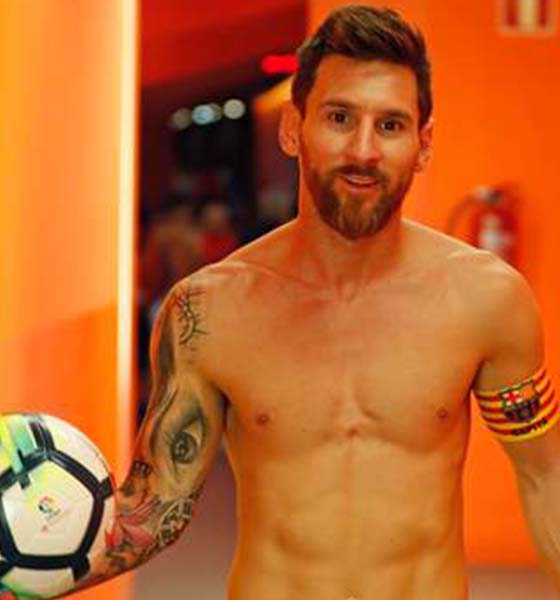 The message of this Lionel Messi tattoo is clear: it expresses Messi's love for his wife. Messi and Antonella have been in a serious relationship since 2008. Messi and Antonella have known each other since they were five years old. They married in 2017, and they had three sons as a result of their union.
11. 'Giant Clock' Tattoo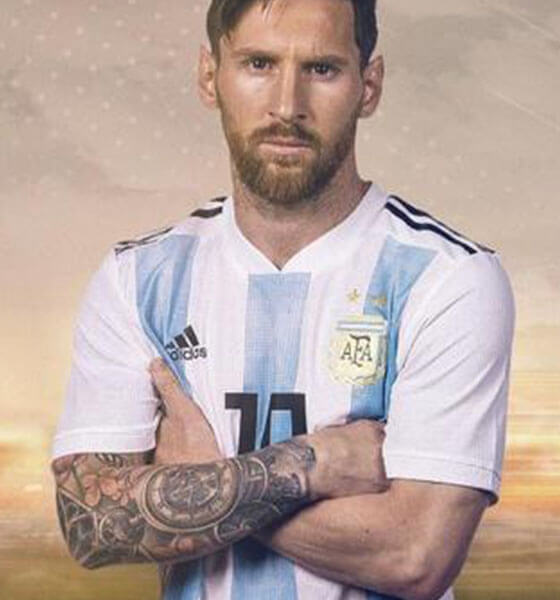 Messi got timepiece cogs in addition to a gigantic clock that covers his entire right forearm. This proves that time is the most valuable commodity a person may possess during his lifetime.
Related: 20 Attractive Clock Tattoo Ideas For Men
12. Timepiece Cogs Tattoo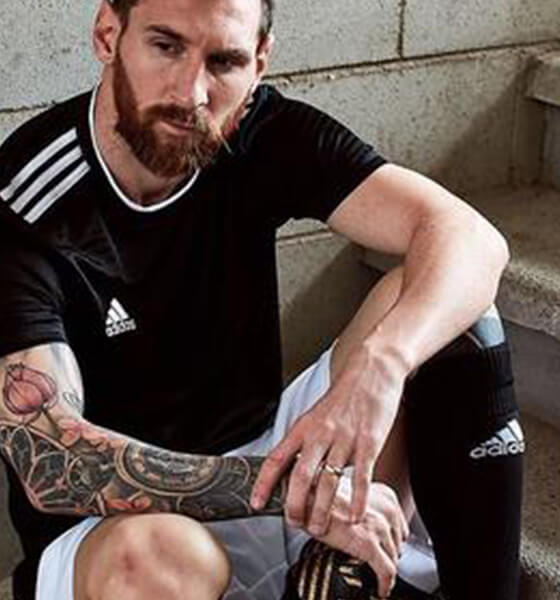 Timepiece cogs can be found beneath the massive clock. A watch's cogs assist the clock in turning its gears. These are most likely part of the massive clock component and relate to the passage of time and how fast or slow it can travel.
13. Kissing Lips Tattoo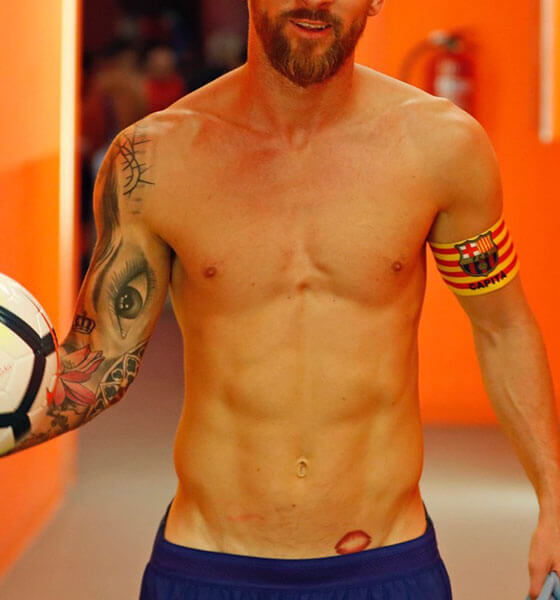 Kissing his wife, Antonella, on the lips is unquestionably a symbol of affection. In addition, it represents the love that leads to reproduction. The kissing lips represent the main reason for his undying love for his wife and three children.
14. 'Rosary' Tattoo
Messi received a rosary tattoo that depicts the outline of Rosario, Argentina, where he was born. Messi's tattoo artist, Roberto Lopez, revealed that the original plan was to make a rosary that depicted his life's stories through various imagery.
Along with this tattoo, there are also tattoos of South American and European maps. Not only that but orange-colored flowers are also inked to cover the entire region and give it a distinct look.
15. 'Birthdates' Tattoo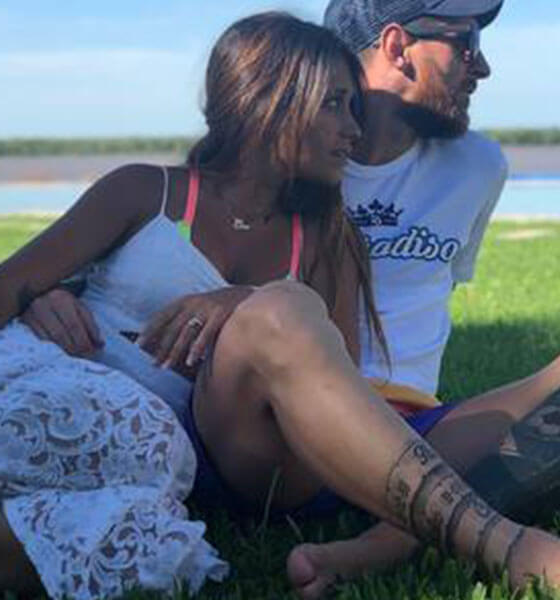 Messi inscribed the birthdates of his three sons and his wife Antonella on his left calf, inside the handprints tattoo of his eldest son Thiago.
Thiago, Mateo, Ciro, and wife Antonella were born on November 2, 2012, September 11, 2015, March 10, 2018, and February 26, 1988, respectively. Messi had the names of his three sons and his wife Antonella, as well as their birthdates, tattooed on his right thigh.
Please follow and like us: