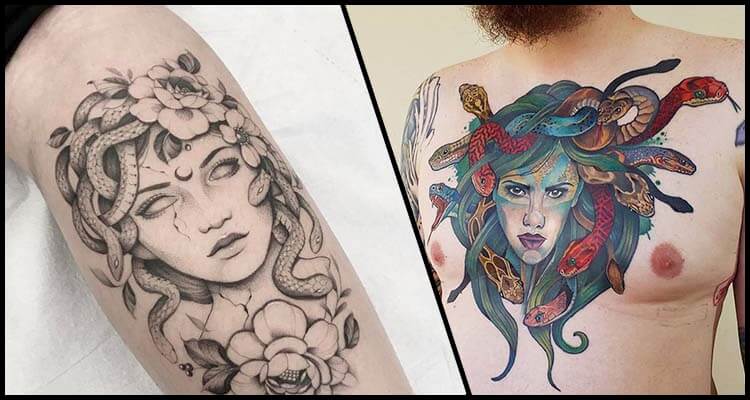 40+ Medusa Tattoo Designs and Their Meaning
Posted on
If you want a one-of-a-kind and beautiful tattoo with a lot of symbolism, then the Medusa tattoo design is for you. In this article, we'll share everything about the Medusa tattoo, including the meaning of the Medusa tattoo and what does a medusa tattoo symbolize, along with the best Medusa tattoo designs.
So, let's get started…
Medusa Story
Not only do Medusa tattoo designs look enticing, but also they make the viewer curious about the story behind Medusa or the snake-haired maiden.
Take a look at the story behind Medusa…
The snake-haired maiden is said to have been cursed by the goddess Athena. Anyone who came into contact with her turned to stone. Because she was associated with the God Poseidon, she became a victim of Athena's wrath. Some believe that she represents female power, freedom, and transformation. In contrast, others feel that she represents evil and jealousy. Her reptilian skin and hair are said to represent the cycle of death and rebirth.
Since she was cursed by the goddess Athena, she is regarded as a monster and one of the Gorgons of Greek mythology. She is frequently depicted as a creature with snake hair, reptile skin, and fantastic features. Perseus, who is lauded in Greek mythology for his bravery and courage, beheaded her.
What does Medusa Tattoo Mean?
The snake-haired maiden symbolizes female power, and she is also linked to the ideas of freedom and transformation, or evil and jealousy. The idea that Medusa's head can ward off evil is part of the symbolism associated with it.
There are numerous ways one can get a Medusa tattoo etched on his/her body; if you want to know about them, keep reading!
Best Medusa Tattoo Designs
We've here rounded up a list of the 40 best Medusa Tattoo designs for you to get some inspiration from. Take a look…
1. Simple Medusa Tattoo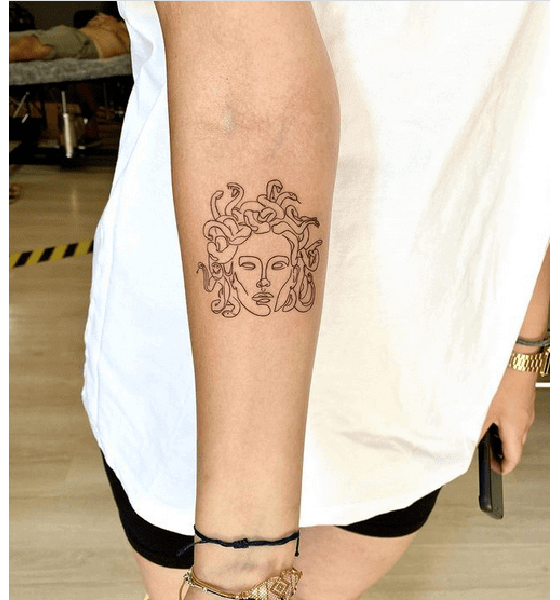 Simple medusa tattoos look awesome. They are the best option for women looking for some elegant body artwork. A simple medusa tattoo will look amazing etched on your back or calf.
2. Tiny Medusa Tattoo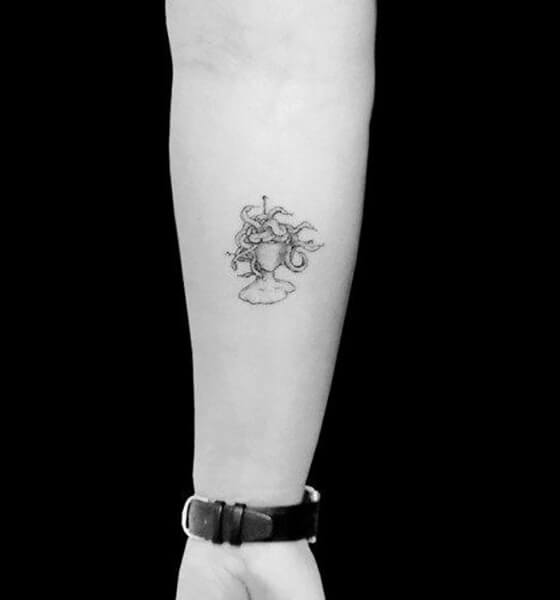 Tiny tattoos look neat and delicate. Although your medusa tattoo won't be extremely detailed, due to its small size; however, the piece will still look awesome. The best thing is tiny tattoo come with less pain and discomfort, besides being budget-friendly options. You can get a tiny Medusa tattoo etched on your arm or hip.
3. Traditional Medusa Tattoo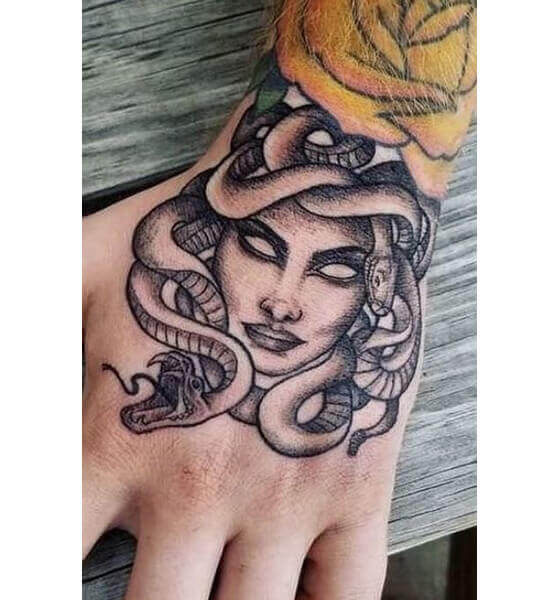 Medusa tattoos are rich in symbolism, due to which more and more people opt for a traditional medusa tattoo. The body artwork looks incredible due to its bright colors and thick lines. Get this one, as it is sure to make a statement piece.
4. Medusa Tattoo on Stomach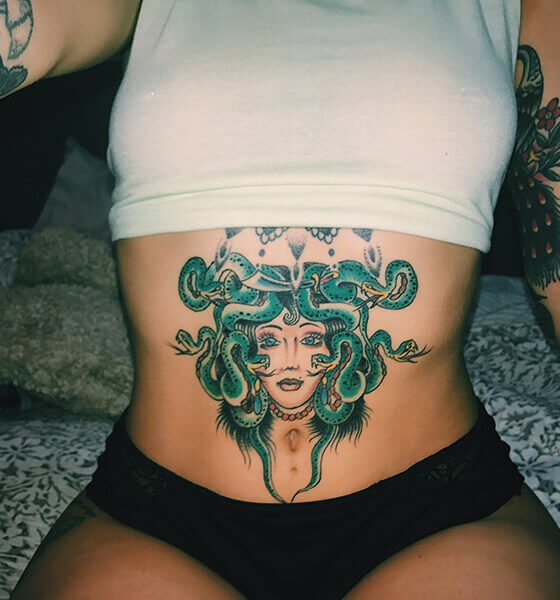 If you're looking for a sexy placement of your medusa tattoo, then get a medusa tattoo on stomach. The snake-haired maiden will make for an appealing placement there. Get it done in color ink to make it more impactful and captivating. Moreover, a medusa stomach tattoo is a great way to hide ugly marks, including stretch marks, cesarean scar, or discoloration.
5. Realistic Medusa Tattoo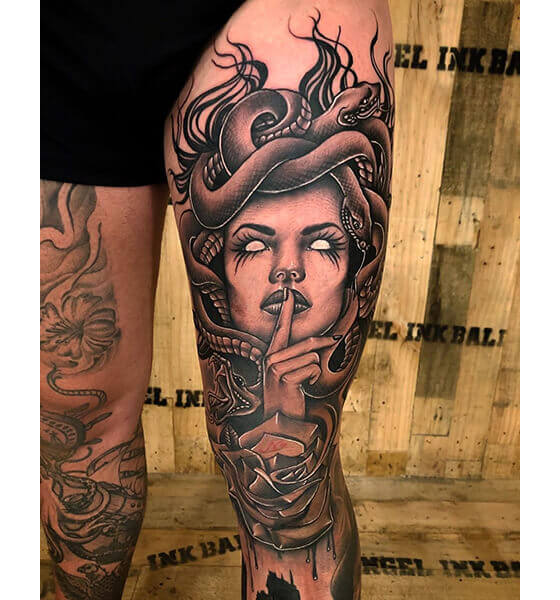 Realistic tattoos are stunning. If you want a one-of-a-kind medusa tattoo design, go for a realistic one. It will appear that your ink has come to life. Make certain that you select the best tattoo artist for your realistic medusa body artwork. A skilled and experienced tattoo artist should perform this type of body art. It is a piece that requires a great deal of detail and intricate work.
6. Medusa Tattoo Hip
If you want your tattoo to be visible to only a few, then go for a medusa tattoo hip. Hip makes for stylish and seductive tattoo placement. So, if you're also looking for a seductive body artwork with lots of significance, this is the piece for you!
7. Medusa Back Tattoo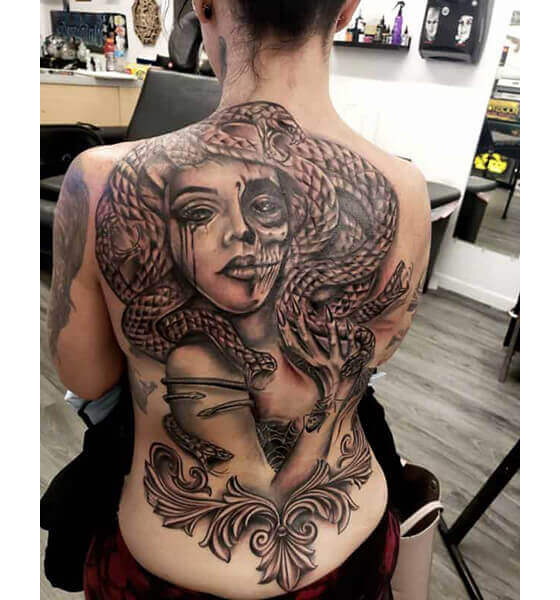 Back tattoos look gorgeous. Due to their placement, they attract a lot of attention. And if it is a medusa etched on your back, this is sure to make a statement. Your back is one of the best places for your medusa tattoo design. It can be a bit painful to get a tattoo on your back, but it will be worthwhile!
8. Medusa Statue Tattoo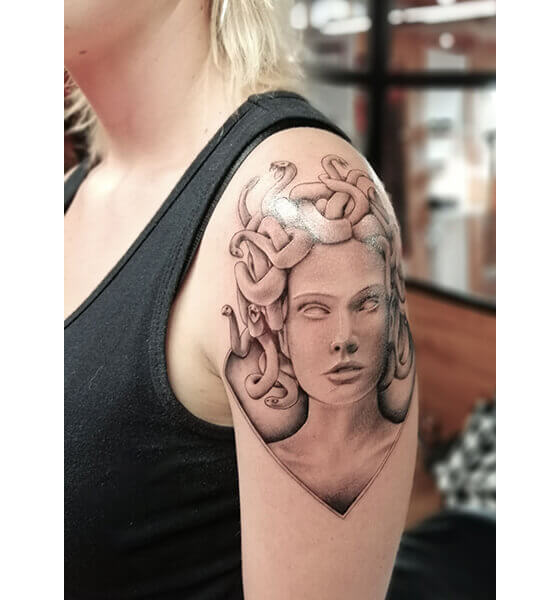 If you are associated with Greece in some way or are fascinated by Greek mythology and Medusa's story, the medusa statue is for you. Get a medusa statue tattoo etched. It's one of the best medusa tattoo designs for women looking for a piece with a lot of symbolism. A medusa statue represents many things, including freedom, femininity, and transformation.
9. Medusa Tattoo With Flowers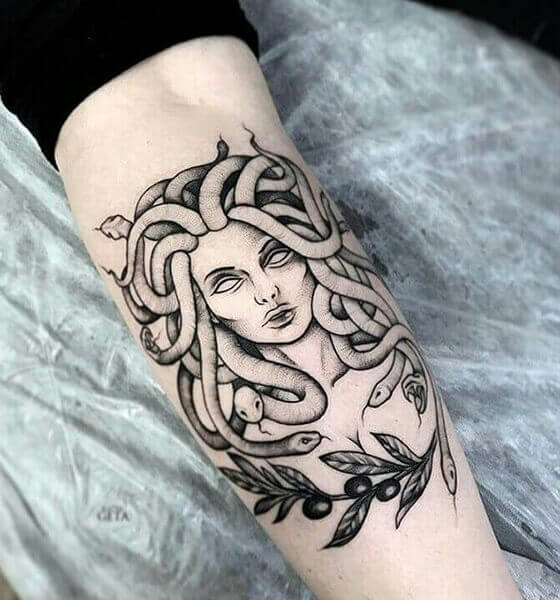 Medusa tattoo with flowers is yet another wonderful body artwork for women looking for unique tattoo designs. This tattoo looks like a medusa tattoo drawing etched on the body if done by a skilled and experienced artist. You can get this amazing tattoo etched on your back, neck, or calf for a statement.
10. Perseus and Medusa Tattoo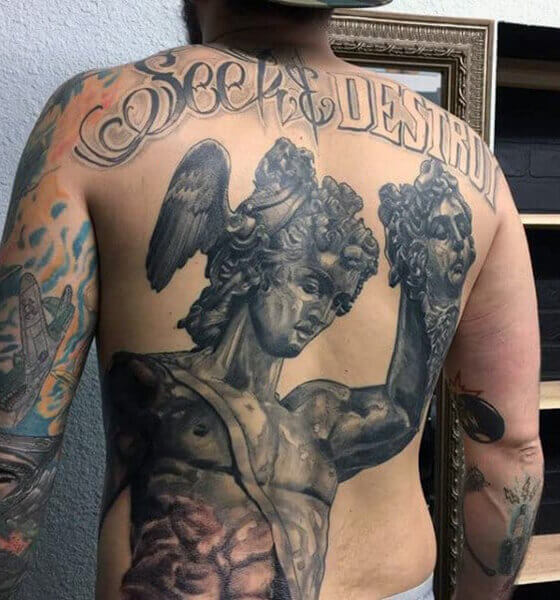 Medusa is considered a monster; however, some people believe she was a victim of Athena's wrath. Perseus, a legend in Greek Mythology known for his bravery, beheaded Medusa. A tattoo having both Perseus and Medusa will make for a powerful tattoo design. It will depict both bravery and courage along with good triumphing over evil.
11. Medusa Skull Tattoo Ideas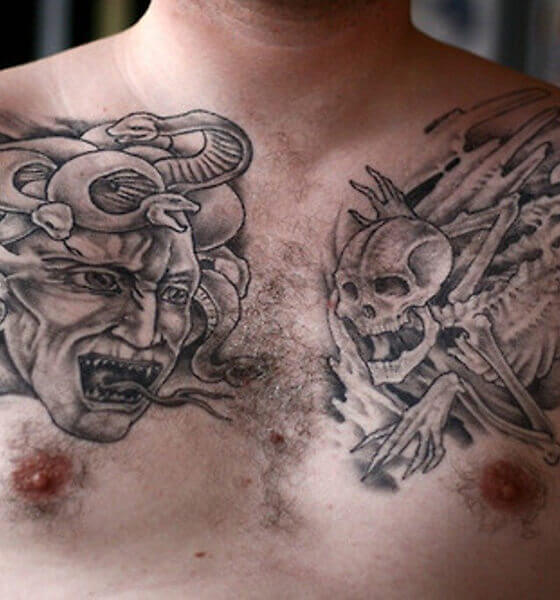 There are numerous ways to get a medusa tattoo etched on your body. One of the most beautiful is to depict Medusa's face with a skull. This tattoo has a visually appealing design. Get it etched on your arm or thigh, as these areas have enough space for the piece's detail.
12. Medusa Chest Tattoo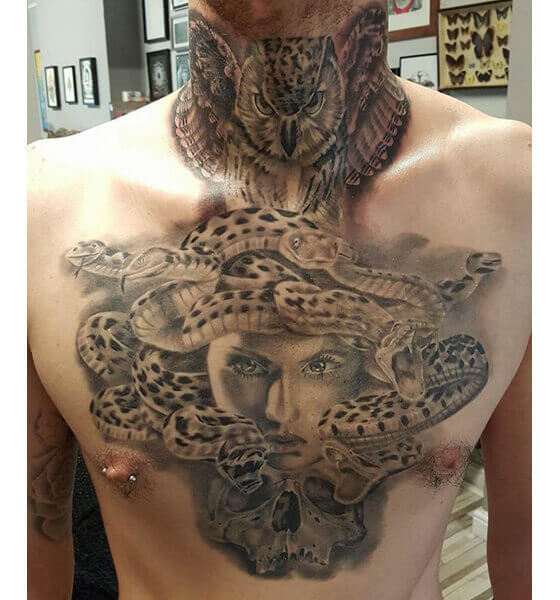 Medusa represents freedom, so get a medusa chest tattoo if you love your freedom and want to flaunt it your way. The location is close to the heart, implying that the chosen design signifies something really important to the wearer. Medusa chest tattoos are quite popular among women and have the potential to make a statement. Understand that a chest tattoo can be painful, but it will be worth it in the end.
13. Medusa Tattoo Sleeve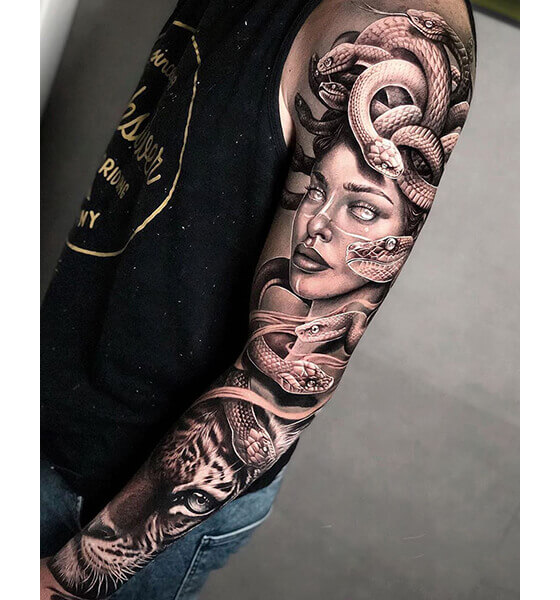 Get a medusa sleeve tattoo if you want a one-of-a-kind tattoo placement. Make sure it's done by a skilled and experienced tattoo artist, as designing a sleeve tattoo requires a lot of creativity due to the various elements that must be incorporated.
14. Medusa Tattoo in Color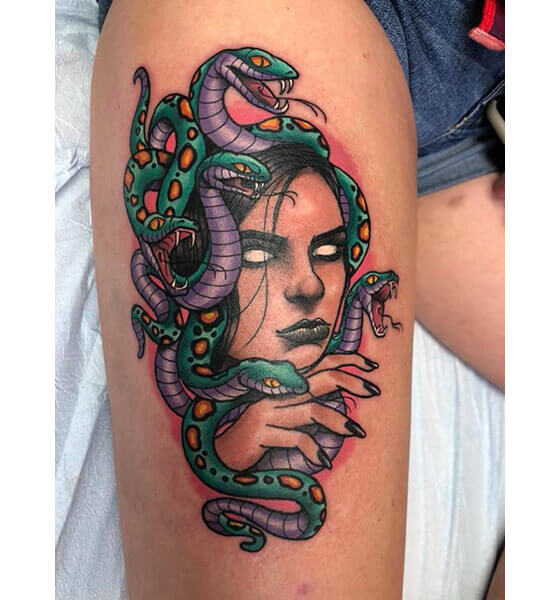 If done in color, the snake-haired maiden makes for an eye-catching tattoo design. Make a statement by having it etched in vibrant colors and bold lines. Get it engraved on your back or lower stomach to keep it looking rich and beautiful all the time.
15. Medusa Tattoo Lower Stomach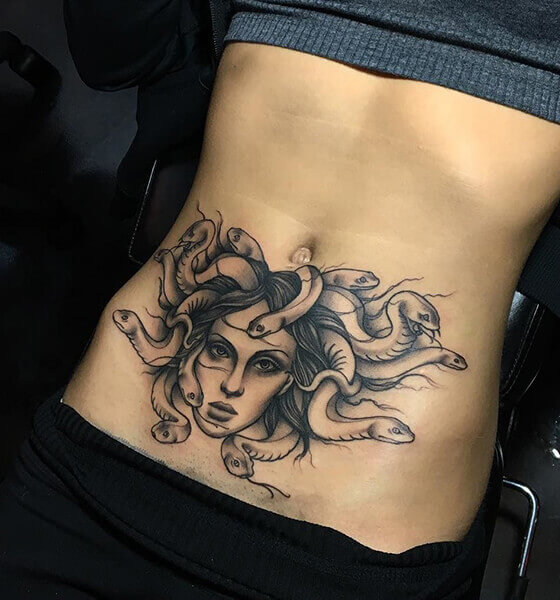 If you want a colored medusa, get a medusa tattoo on your lower stomach. It's because color tattoos fade faster. If you want your piece to remain vibrant and vivid for a long time, have it etched in an area that is not frequently exposed to sunlight. And what better place for this lovely body artwork than your lower stomach?
16. Dark Medusa Tattoo designs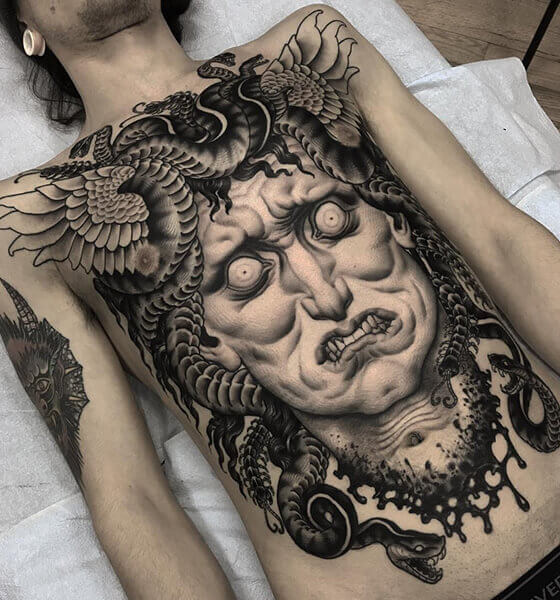 Medusa is a horrific creature that symbolizes evil, but she also represents female power and transformation. There are several approaches to take when deciding to get inked with her image. Women who want to concentrate on the story's darker aspects can opt for a dark Medusa design. Adding a forked tongue, scales, and snake fangs to your Medusa tattoo design will make it more impactful.
17. Calf Tattoo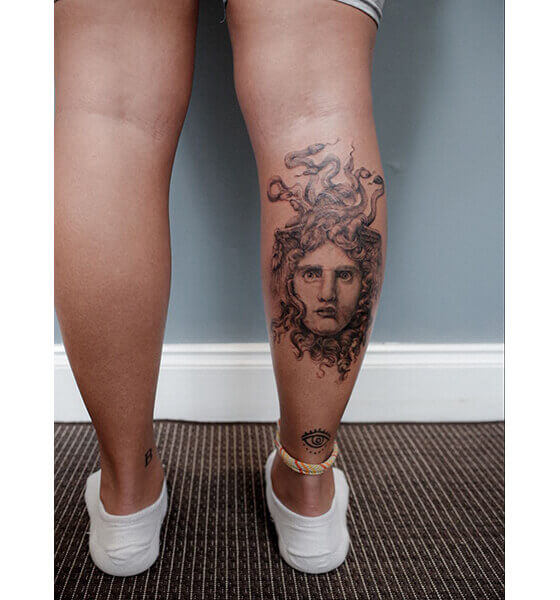 If you want a calf tattoo, get a medusa calf tattoo. The area is large enough to allow for extensive detailing, and the ink can be displayed or kept hidden as desired.
18. Half Sleeve tattoo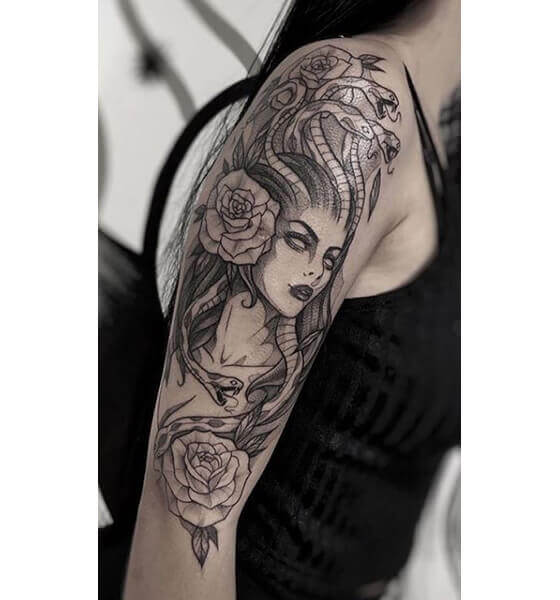 If you don't want to overdo a tattoo design, then go for a half sleeve medusa tattoo. You can get a beautiful medusa etched on your sleeves. If you want, you can even incorporate other elements such as flowers, hearts, geometric shapes, patterns, etc., to make your tattoo more appealing.
19. Medusa Tattoo With Roses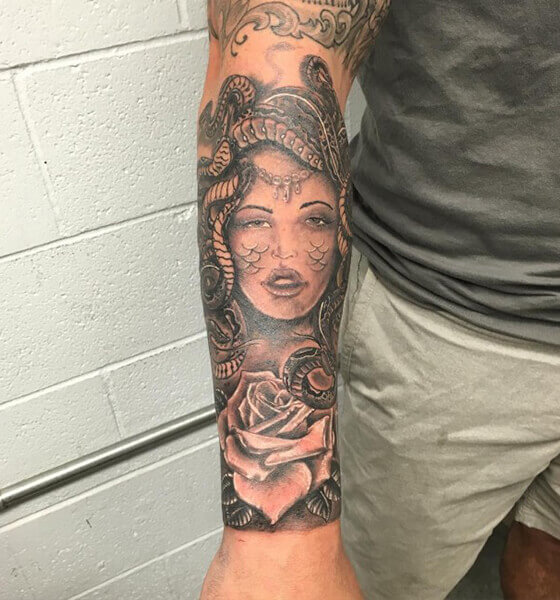 When unable to decide the best tattoo design, go for a medusa tattoo with roses. It is an excellent tattoo design that will act as a conversation starter, especially if you're a shy person. Get it etched on your hand or neck for a gorgeous placement.
20. Geometric Medusa Tattoo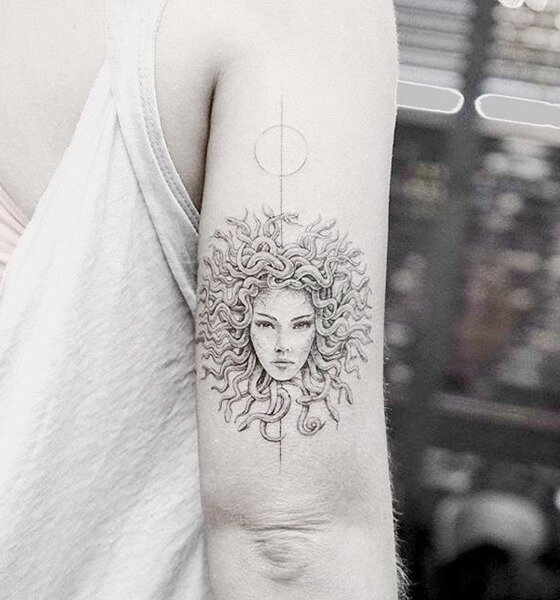 Why settle for a standard tattoo design when you can create a fantastic medusa tattoo design? Get Medusa Tattoo Geometric for a unique tattoo design. Get a large-sized medusa tattoo geometric etched on your tummy if you want a large-sized medusa tattoo geometric. Your stomach is large enough for a sizable, detailed design, and it is simple to conceal if desired.
21. Medusa Thigh Tattoo Ideas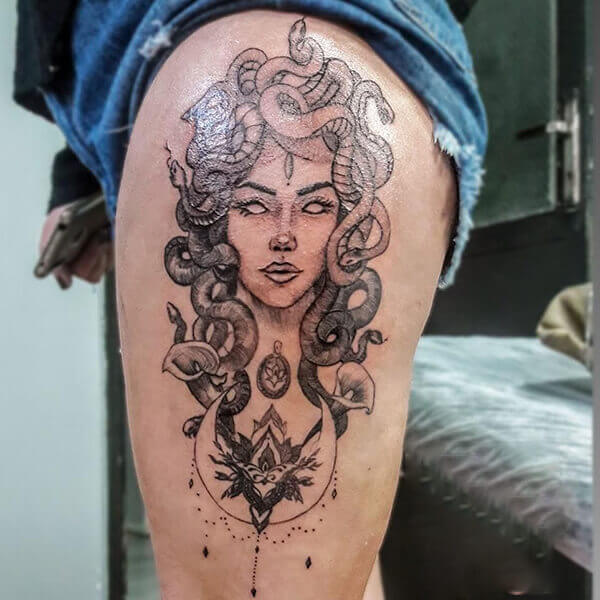 Your tattoo's placement is just as important as its design! If you want to show off your ink while also keeping it intimate, get a Medusa Thigh Tattoo. The thigh is one of the most attractive places to get a visually appealing tattoo design. The good news is that your thigh is one of the least painful parts of your body. So you don't have to be concerned about the pain. Because of the muscle and fat in the area, it will not cause much pain.
So, this is all about the Meaning of Medusa tattoos. Hopefully, this article helped you understand what a medusa tattoo represents and assisted you in making an informed choice. All of the medusa tattoo designs mentioned above are specifically picked for you to help you get some inspiration. If you have any designs other than the ones mentioned above, do share them with us.
Now, it's time for Medusa FAQs.
Here we go…
FAQs
1. Which is the best placement for a Medusa tattoo design?
Medusa tattoo designs look awesome etched anywhere on the body. However, the placement of your tattoo can be determined by its size. A Medusa thigh tattoo is popular among those seeking a medium to large tattoo. Thigh provides a large enough surface for a detailed, intricate tattoo design. Those seeking a small-scale medusa tattoo design should have it etched on their sleeves. And your back is the best place to display the largest and most impressive pieces.
2. Can men also get a medusa tattoo etched?
Yes, men can also get a medusa tattoo etched. There are several medusa tattoo designs that men can choose for themselves. One of the commonly used medusa tattoos for men is Medusa with the skull. An excellent piece for men looking for an outside-the-box tattoo design.
3. What does a medusa tattoo symbolize?
Medusa tattoo has a lot of symbolism associated with it. It represents feminine power—a great tattoo design for powerful women to showcase their true selves.
The beheading of Medusa can be interpreted as a symbol of silencing powerful women who express their opinions. Strong women have historically been viewed as threats who necessitate male conquest and control in Western culture. Medusa is a perfect example of this.
Medusa has been stigmatized and unfairly blamed for the results of male lust. She was wrongfully accused of "provoking" a god with her beauty. Instead of punishing her abuser, Athena, the supposedly wise goddess, punished her by transforming her into a hideous monster.
Medusa is the classic femme fatale. Medusa is associated with death, violence, and erotic desire. She was once a stunning beauty who was transformed into a monster after being raped by a god. Her beauty is so captivating that even powerful men couldn't resist her enchantment. She can be both enchanting and dangerous, and in some cases, fatal. Even today, she is one of the most recognizable femme Fatales. Modern strong women boldly wear a snake-haired maiden to represent power, sexuality, and acceptance of their new role in society.
Happy Tattooing… ☺ ☺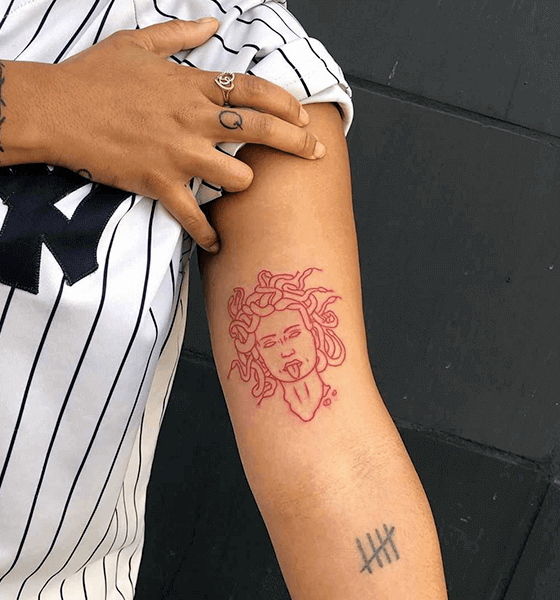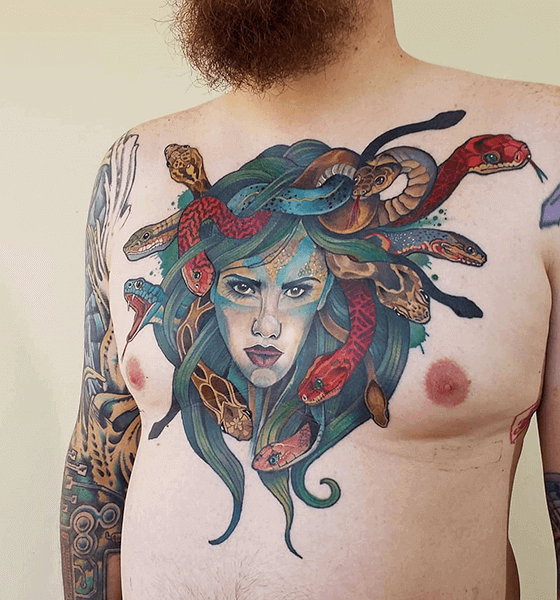 Please follow and like us: