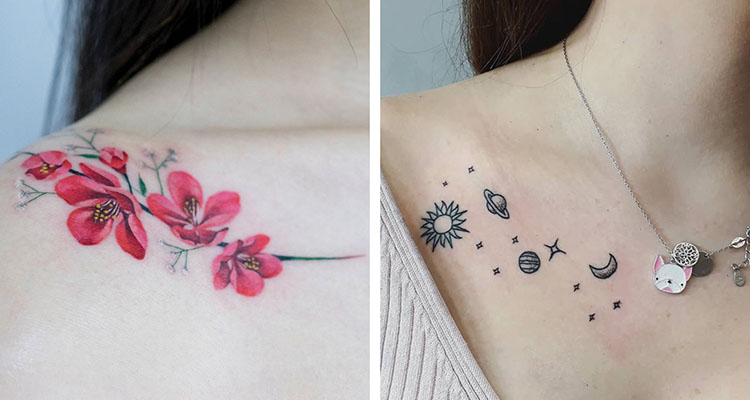 30+ Unique Tattoo Designs For Women
Posted on
Women are unique, and the body art they choose to adorn themselves with is as well. Research indicates women are more interested in having tattoos than males. Approximately 59% of women, compared to 41% of men, have at least one tattoo.
Flowers, butterfly tattoos, angel tattoos, angel wings, heart tattoos, and butterfly wings of various sizes are some of the unique tattoo designs for women. And one of the most spectacular tattoo locations is on the lower back, which is sultry. The best part is that lower back tattoos can be kept hidden if the occasion calls for it.
Other wonderful areas where you can get your tattoos are Ankles, feet, navel area, shoulders (front and back), breasts, buttocks, and thighs. Some of these places are great for small tattoo designs.
But the most important thing that everybody should take care of before getting a tattoo is finding the right artist. For that, you need to conduct thorough research and give your tattoos more thought.
So that before you go to the tattoo parlor, you know what you want, where you want it, and what color (or black and white) you want it to be. You may shop or download designs on the internet at your leisure. It is crucial to give your tattoo more thought because it will remain with you for the rest of your life. It's a big decision – choosing a custom tattoo at a shop might be a rushed affair with limited design options.
Here in this post, we shall discuss unique tattoo designs for women. Scroll down to read the full post.
Let's get started…
Table of Contents
Unique Tattoo Design Options For Women
I. BUTTERFLY
II. QUOTES AND PHRASES
III. FLOWERS
Rose
Hibiscus
Lily
Orchid
Jasmine
Lotus
Peony
Daisy
IV. ZODIAC SYMBOL FLOWERS
Aries
Taurus
Gemini
Cancer
Virgo
Leo
Libra
Scorpio
Sagittarius
Capricorn
Aquarius
Pisces
Conclusion
Before you check out the designs, what's your reason for getting a tattoo?
Typically, people decide to get a tattoo in response to a significant event in their lives, and women are no exception. Marriage, death, divorce, a new relationship, a new baby, a milestone birthday, a celebration, and other life events influence their decision. You may want to choose a design with a specific meaning depending on your cause.
Here are a few suggestions.
Unique Tattoo Design Options For Women
I. BUTTERFLY
The butterfly is one of the most popular and unique tattoo designs for women. This beautiful creature represents the soul and spiritual ascent; hence it has a spiritual meaning. The butterfly tattoo looks cool in small size, allowing it to be readily worn on the ankle, breast, or other body parts while remaining sophisticated.
If you want, you can even choose to get butterfly wings. The colorful butterfly wings will make for a beautiful cute tattoo design.
II. QUOTES AND PHRASES
Quotes and phrases also make for excellent tattoo designs. The best thing about quotes and phrases is that they can be etched in many other languages also. There are numerous quotes available on the internet. Choose the one that represents you well and is meaningful to you.
III. FLOWERS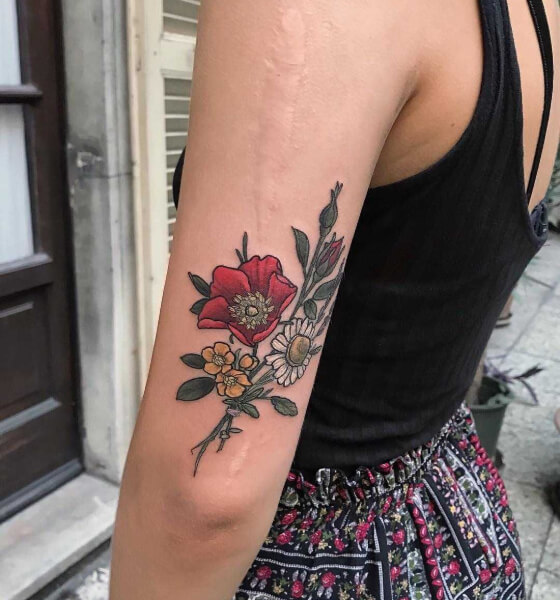 Flowers are the next most popular tattoo designs among women. The best part about flowers is that they come in a wide range of colors and shapes. And each flower signifies something unique that appeals to women:
Also See: 135+ Prettiest Flower Tattoos To Brighten Your Day
1. Rose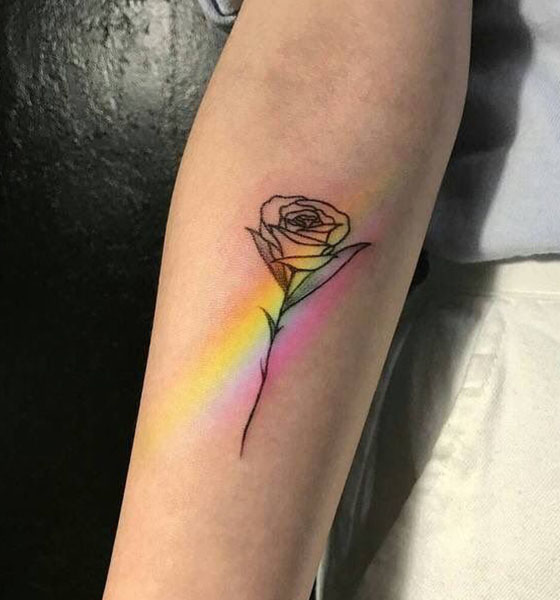 Red roses, for example, represent romance, while black signifies death. And like that, there are myriads of color options you have when you get a rose tattoo. This implies you can have your own hue rose with a special significance etched.
2. Hibiscus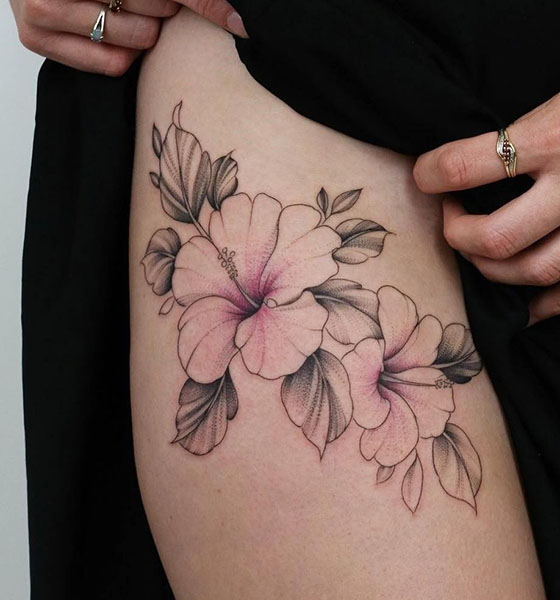 The state flower of Hawaii is yet another widespread tattoo option for women. The Hibiscus flower looks beautiful. Moreover, you can get it etched in any size, from small to medium.
3. Lily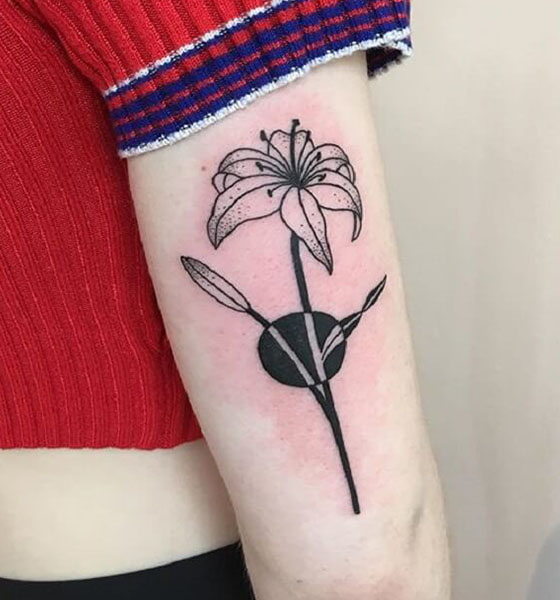 The symbol of purity is one of the most popular and unique tattoo designs for women. Besides representing purity, it does represent erotic love. So, if you want to dedicate your tattoo to your beloved partner, this is the one to go for.
4. Orchid
Orchid is the flower of love, luxury, beauty, and strength. If you possess any of these qualities, then this is the design for you!
5. Jasmine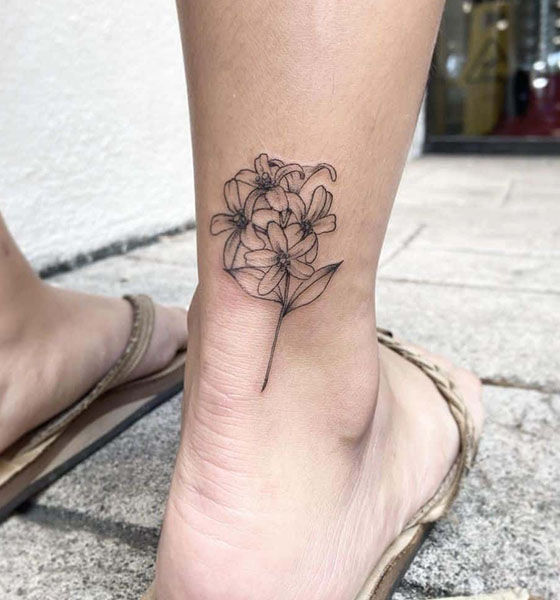 It's no surprise that jasmine is one of the most popular flowers in the world, thanks to its sweet and enticing aroma and delicate appearance.
The term jasmine literally means "gift from God," and white jasmine flowers have long been connected with purity, innocence, respect, and good fortune.
6. Lotus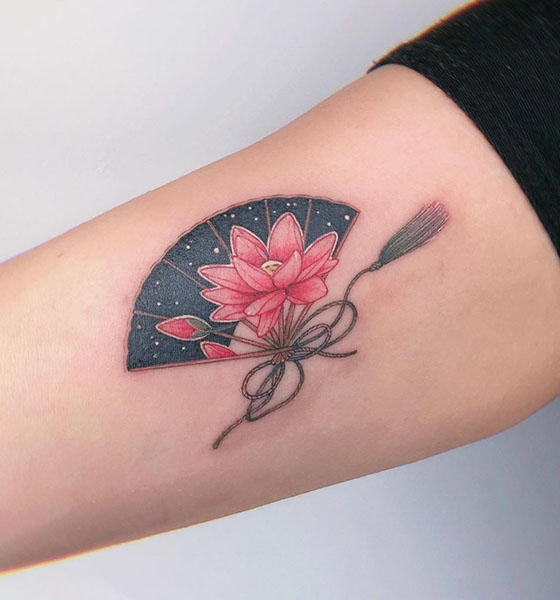 The national flower of India symbolizes good fortune and peace. No wonder why most women prefer lotus over other flowers.
See More: Lotus Flower Tattoo
7. Peony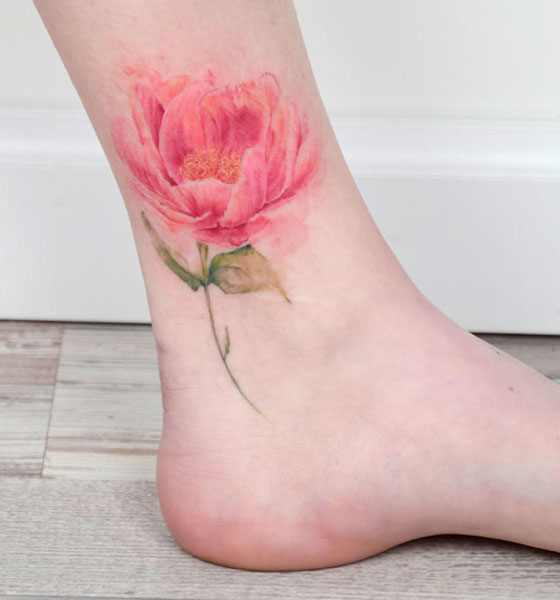 Peonies are the ideal selection for a beautiful floral tattoo. These flowers with ruffled petals and delicate pink and white tones represent long life and are lovely and romantic.
8. Daisy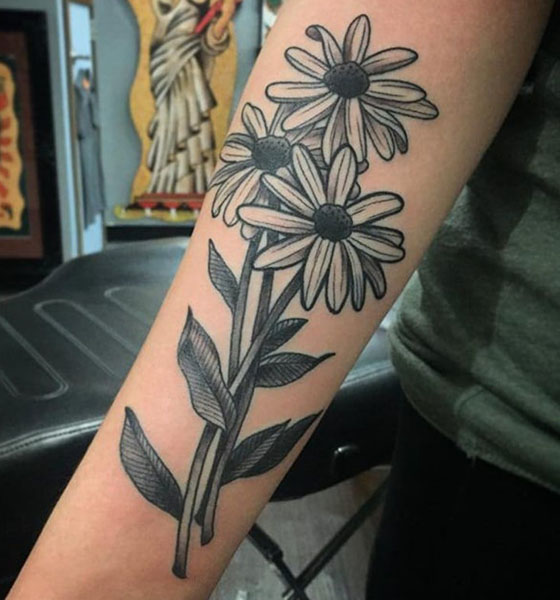 If you've recently become a mother, a daisy tattoo is a lovely option for you. Daisies are composite flowers, which implies they are made up of two blossoms in one. They are also associated with Freya, "the goddess of fertility," therefore, they symbolize motherhood and new beginnings.
Besides these, there are numerous other flowers that you can consider for a cute floral tattoo.
IV. ZODIAC SYMBOL FLOWERS
Zodiac symbols are another popular tattoo choice for women. Every individual on this planet is born under a different zodiac sign. These zodiac symbols are ideal for women who want to express their unique personalities. It is easier to understand a person when they have a zodiac sign.
Most importantly, there are flowers connected with each Zodiac sign. Here is the list of flowers associated with each zodiac sign that you can consider for your next tattoo design.
So, here is a catch, ladies!
Wondering what's that?
Well, with zodiac signs, you can choose to have just the flower associated with your zodiac symbol. Or you can have a zodiac symbol along with the flower, making it a gorgeous tattoo design in all.
1. Aries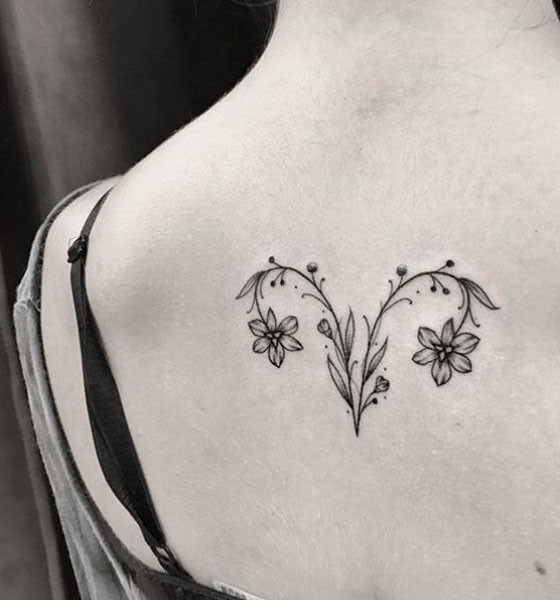 Symbol: Ram
Flower: Aries' official flower is thistle and honeysuckle. These blooms are unusual and eye-catching and are usually used as greenery in bouquets.
Aries are renowned as trailblazers since they are the first sign of the zodiac thistle and honeysuckle demonstrate their personality traits. Other flowers that go well with Aries are red poppy, geranium, and hollyhock.
2. Taurus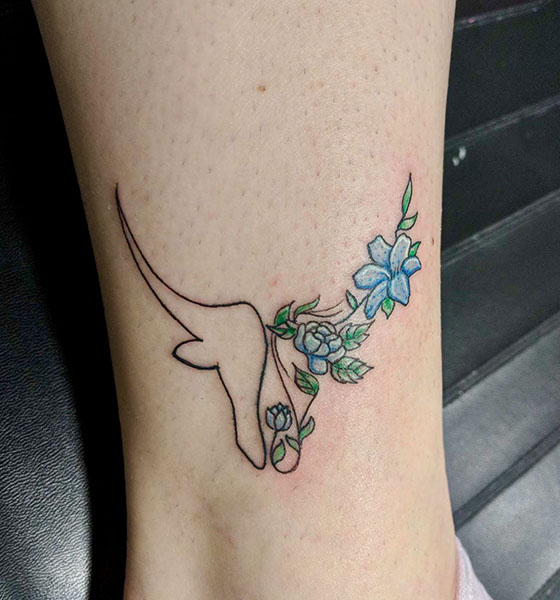 Symbol: Bull
Flower: Taurus is ruled by Venus, one of the most alluring planets that governs love, beauty, and money is well represented by daisy, lily, red rose, and daffodil
3. Gemini
Symbol: Twins
Flower: Lavenders are the Gemini natal flower, and they represent harmony. Lavender's rich purple hues and invigorating aroma are a fantastic match for Gemini's innate gregarious and inviting nature. Besides, azalea, lilac, and lily-of-the-valley are great flowers for Gemini people.
4. Cancer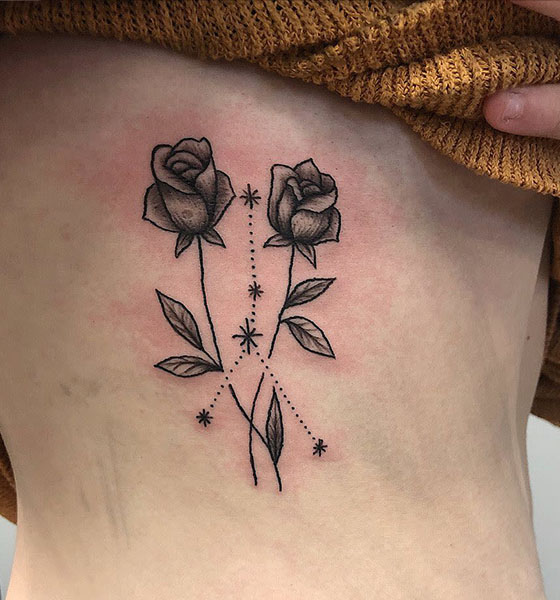 Symbol: Crab
Flower: The Cancer zodiac sign's natal flower is the rose. The majority of women think of roses when they think about getting floral tattoos.
Roses are not only timeless, but they also represent deep feelings. Other flowers associated with Cancer are white carnation, lotus, iris, southern magnolia, water lily, and white poppy.
5. Virgo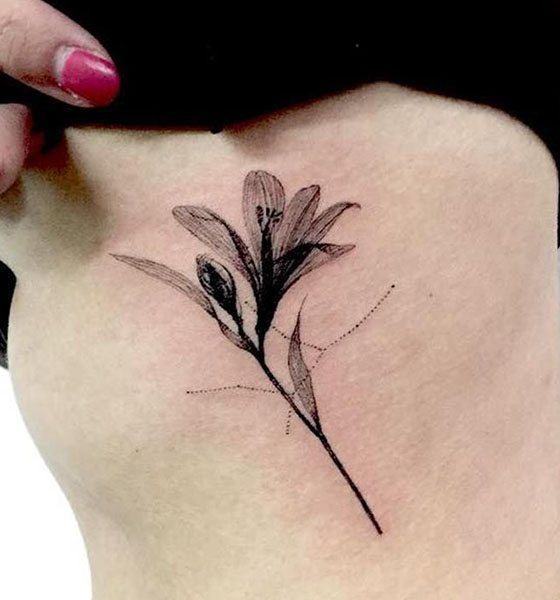 Symbol: Maiden
Flower: The flowers most closely associated with Virgos are bright and tiny, such as the buttercup and chrysanthemum. The vibrant features of the buttercup and chrysanthemum are a positive reflection of Virgos' joyful and optimistic outlook on life. Other flowers associated with Virgo include Astor, chrysanthemum, and ivy.
6. Leo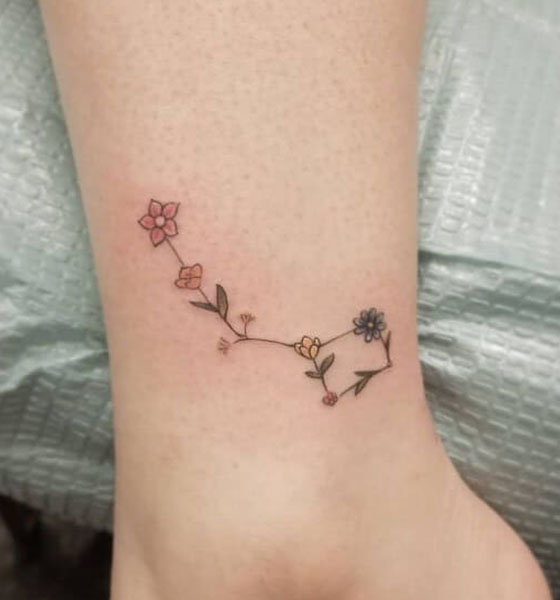 Symbol: Lion
Flower: Sunflowers and marigolds are their birth flowers, and both are as bright and joyful as Leo's. The marigold, also known as the "herb of the sun," is associated with the sun's vivid yellow and gold color, which is thought to represent passion and creativity. Besides, dahlia, yellow lily, red poppy, and heliotrope are also associated with Leo.
7. Libra
Symbol: Scales of justice
Flowers: Everyone who meets a Libra is enamored with them.
Roses are a fantastic match for Libra's desire for justice and a strong sense of right and wrong because they symbolize peace and love. Besides roses, daisies, violets, asters, orchids are the flowers that showcase Librans very well.
8. Scorpio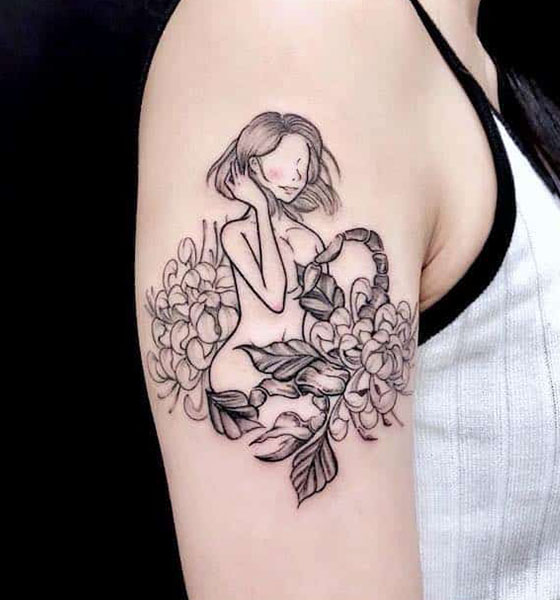 Symbol: Scorpion
Flower: Scorpio's official natal flower is geranium. Geranium is a group comprising around 400 flowers, making it an easy winner for the ambitious Scorpio. In any case, these one-of-a-kind flowering plants are noted for their vibrant flowers and scented foliage. Other flowers that represent a Scorpion zodiac sign include anemone, heather, gardenia.
9. Sagittarius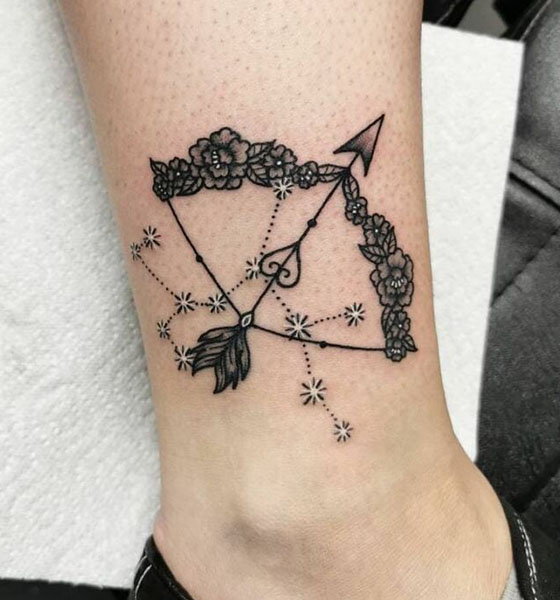 Symbol: the Hunter (archer) and a mythical half-man and half horse
Flower: The chrysanthemum is Sagittarius' natal flower. With its wide variety of colors, it is one of the most popular flowers around the world.
Sagittarius, the self-assured and outgoing sign, takes pride in its ability to integrate into almost any situation. Other flowers that associate well with Sagittarius include peonies, mums, hydrangeas, dahlias.
10. Capricorn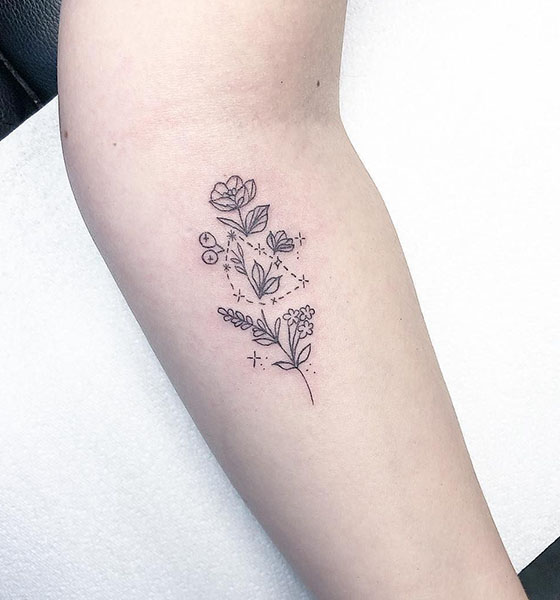 Symbol: Sea-goat
Flower: The Pansy and African violet are the official flowers of Capricorns. Since this sign's hues are black and indigo, flowers in deep, muted colors, such as Red carnation, camellia, baby's breath, magnolia, also go well with Capricorns.
11. Aquarius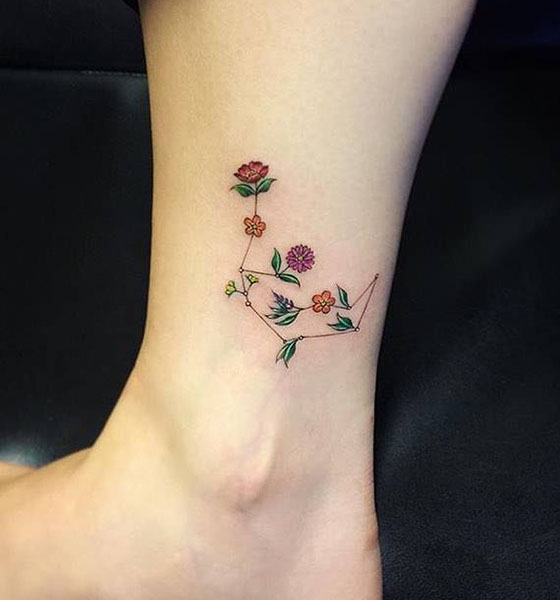 Symbol: The Water-Bearer (Man pouring water)
Flower: Aquarius' official natal flower is the orchid. It is one of the most cherished and sought-after ornamental plants in the world. The orchid is a symbol of wealth, love, strength, and beauty. Besides, it also represents fertility and intimacy due to its name's origin. Other flowers that Aquarians can get etched are gladiola, tiger lily, bird of paradise, and trillium.
12. Pisces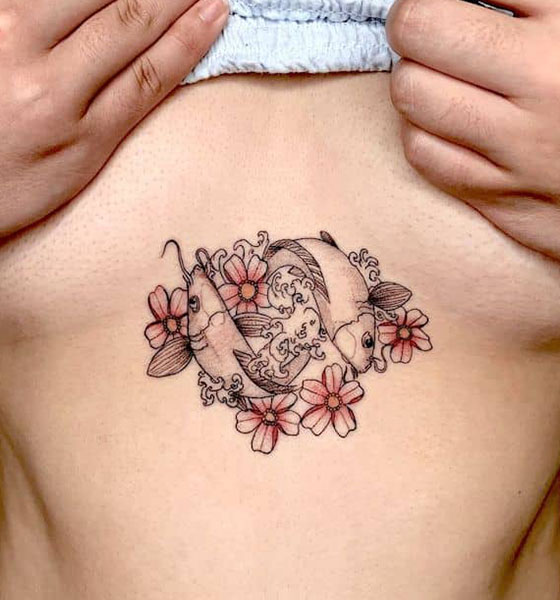 Symbol: Fish
Flower: The water lily is Pisces' official flower. Even though it is not utilized in floral arrangements, this flower is one of the most gorgeous. Besides, orchid, lilac, wisteria, lotus, white poppy, and pansy are also apt for Pisces.
Bottom Line…
So there you have it: unique tattoo designs for women. Aside from this, there are hundreds of tattoo ideas for women to choose from. Doing your homework before seeing a tattoo artist can be really beneficial. Find a tattoo that has a personal meaning for you and the one that you'll cherish all your life.
Happy Tattooing… ☺ ☺
Please follow and like us: