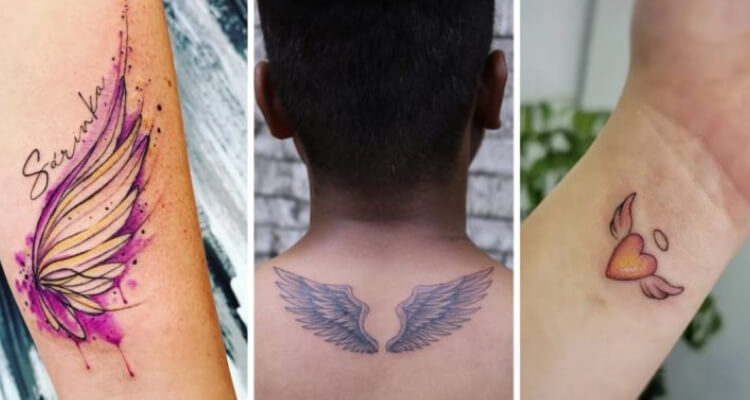 Discover 25 Best Wings Tattoo Ideas for Men and Women
Posted on
Wing tattoos look awesome. Wing tattoos are some of the designs that are pretty popular among tattoo enthusiasts. The best thing about wing tattoo designs is that they look good on both males and females.
There are numerous wings tattoo ideas that you can choose from. These tattoos represent independence and freedom. So, if you want to flaunt the idea of being free to the world, a wing tattoo is for you.
However, the question arises – which wing tattoo to select? It is because there are several wings tattoo designs out there. Finding the right tattoo designs is the very first step to having an impactful tattoo design.
A wing tattoo design that is carefully crafted and presented can attract a lot of attention to its wearer. In addition, you can get it in any size you like, ranging from extremely enormous to extremely small.
So, if you're planning to get a wing tattoo, this post is for you. In this post, we shall discuss different wing tattoo ideas along with what a wing tattoo means.
Let's get started now…
What Exactly Does A Wing Tattoo Mean?
A wing tattoo can signify a great number of different things to you. You may get a wing tattoo to demonstrate a deep and spiritual bond to someone you love or have lost. Aside from that, a wing tattoo also symbolizes freedom and independence.
It could mean freedom from fears, freedom from a toxic relationship, and freedom from conflicts you faced as a child or as an adult. All in all, freedom can mean different things to different people. Having a wing tattoo can be a constant reminder that you are not at all to be confined in any way. A beautifully created wing tattoo can inspire you to continue to strive for more difficult goals.
If you want tattoos that have meaning to you and are easy to modify to fit your personal style, a wing tattoo is the best option. You can have a wing tattoo design in coloured ink or simply done in black and white. There are a lot of different ways you can adorn a gorgeous wing tattoo idea on your body.
Wing tattoos can be simple or intricate, large or little, simple or elaborate. You can even get a wing tattoo customised with a variety of additional components to make it look attractive.
All you need to do is to be creative and that's all!
Top 25 Wing Tattoo Designs
We've compiled a list of 35 distinct wing tattoo designs to help you get some inspiration for your next tat. Take a look…
1. Angel Wings Tattoo
When we talk about wing tattoos, angel wings top the list. Angel wing tattoo designs look awesome in coloured ink. You can get an angel wing tattoo etched either on your back or nape. You can get this tattoo etched in remembrance of a deceased loved one or even to celebrate one's own angelic nature.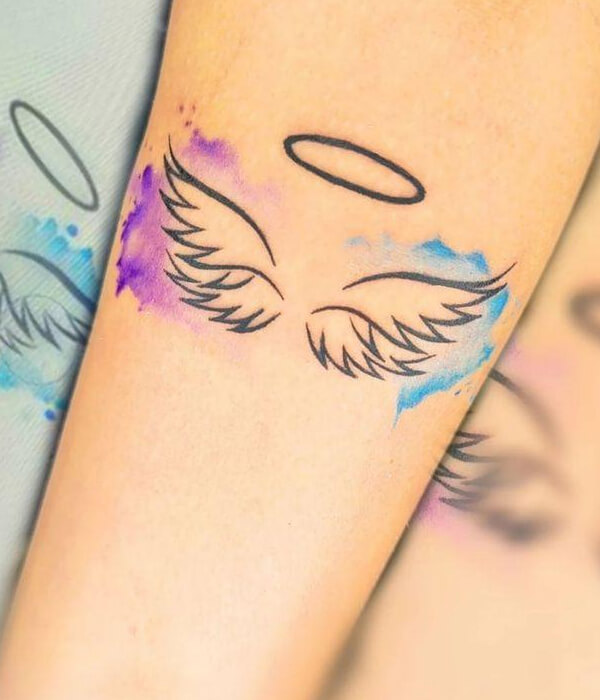 2. Angel Wings Heart Symbol
Give your wing tattoo design a unique twist by having it etched in a heart shape. Heart shape tattoos look great. You can get this tattoo etched either in small size on your thumb or have an elaborate design on your back.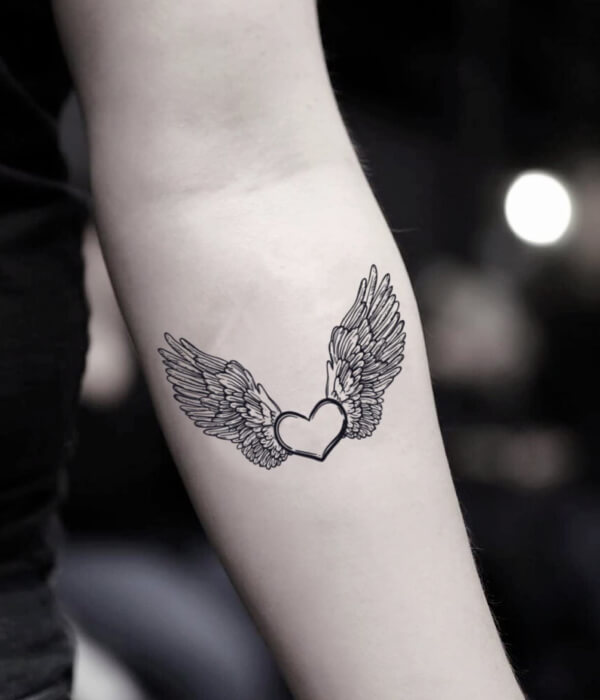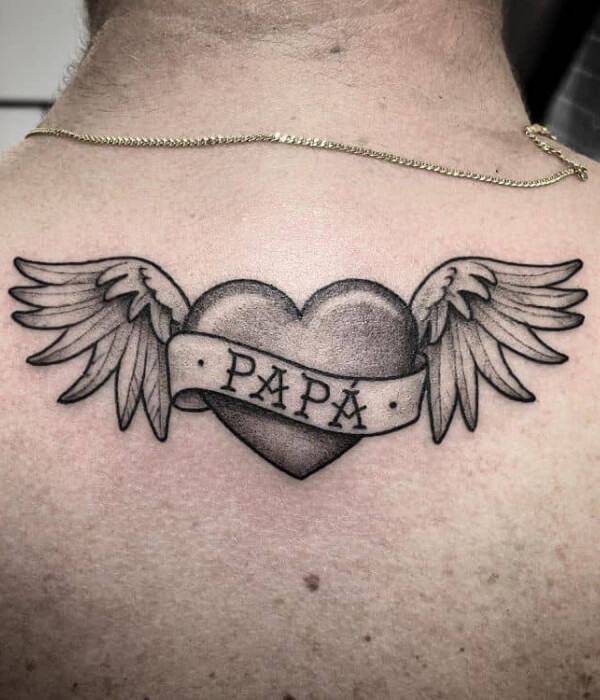 3. Blackwork Side Wings
There is something about blackwork that imparts a sense of solemnity to any tattoo. So, if you're looking for a one-of-a-kind wing tattoo idea, this is the one for you. Blackwork side wings tattoos look great! Males can choose to have it on their chests, while women can have it inked on their back or neck.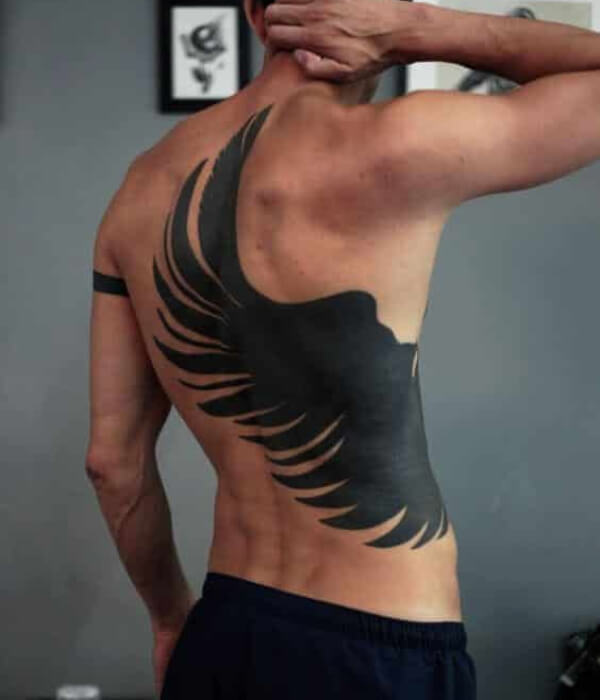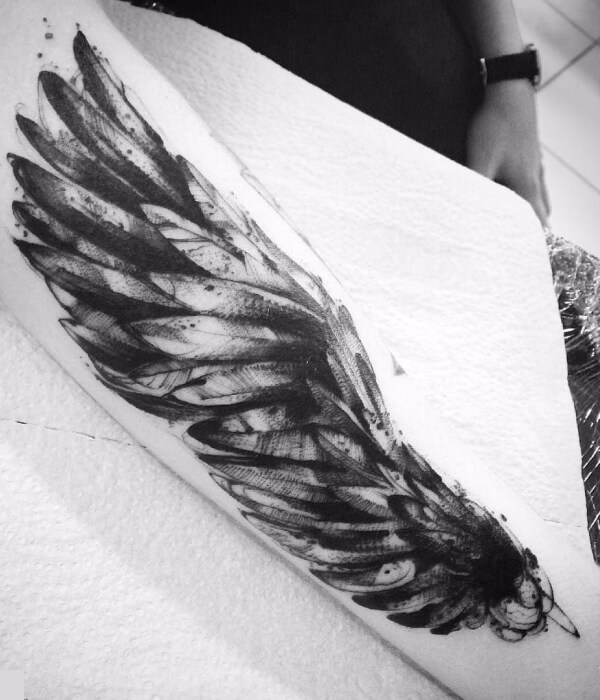 4. Matching Wings Tattoo
If you want to have a wing tattoo in a stylish way, then get a matching wing tattoo etched. You can have one side of the tattoo on your arm and another side on the other arm, making an appealing tattoo design. Arm is the best location for a matching tattoo design.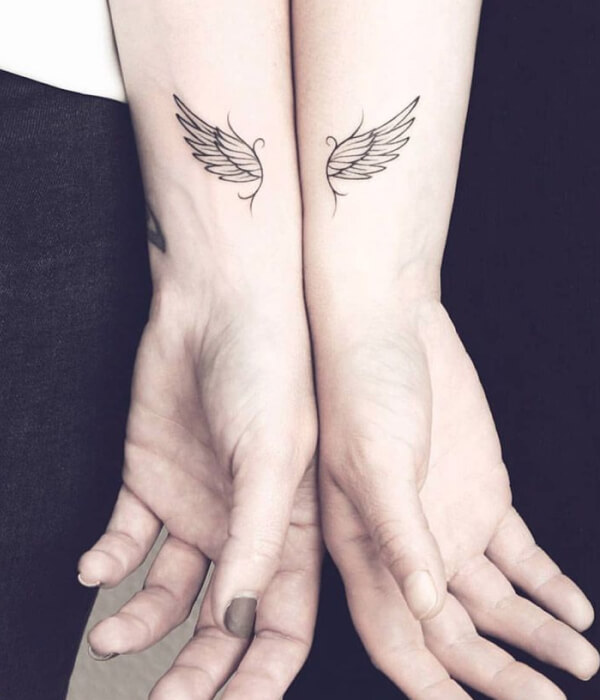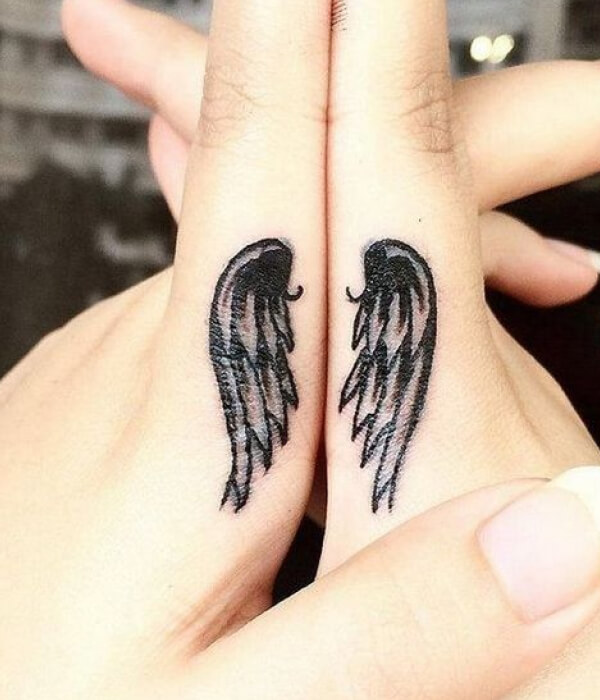 5. Wings Tattoo on the Chest
When it comes to getting a stunning wing tattoo, your chest is the best place for that. Chest makes for ideal placement for wing tattoos, especially for men. You can get a simple wing tattoo or an intricate wing tattoo on your tattoo. Just make sure to pick the right artist.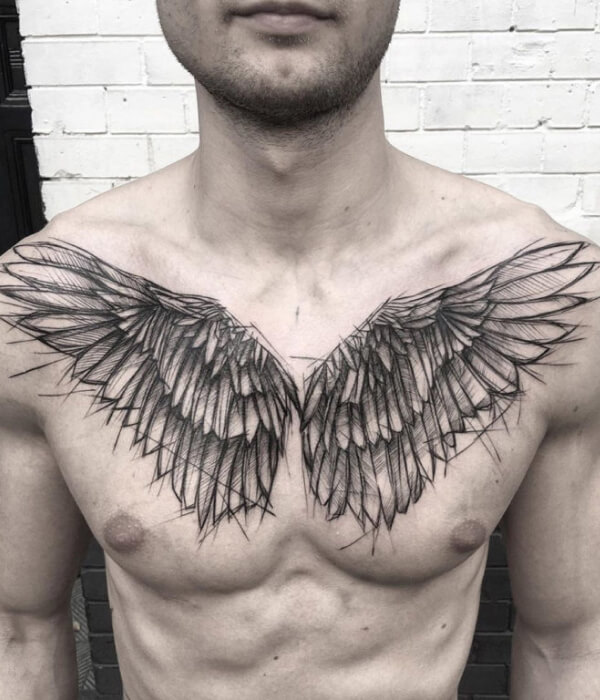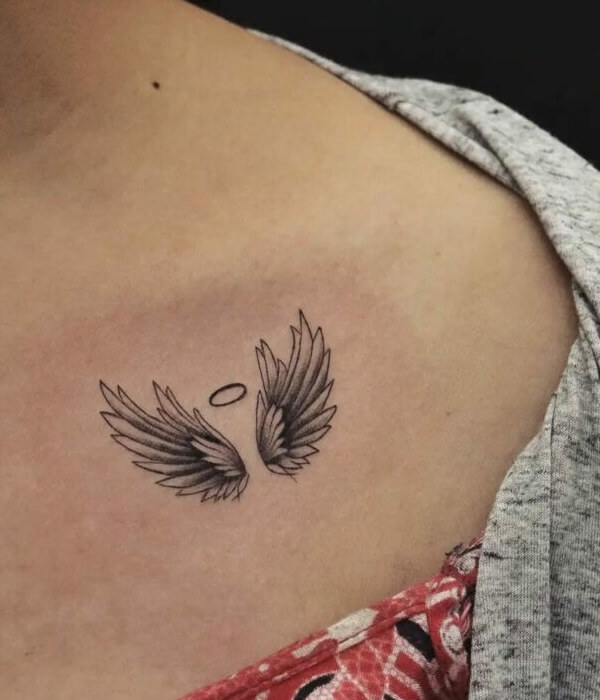 6. Fallen Angel Wing Tattoo
Fallen angel wing tattoos signify loss, such as the death of a loved one or a breakup with your partner. While for some, it represents the side of freedom in which one rebels against authority and seeks freedom of will.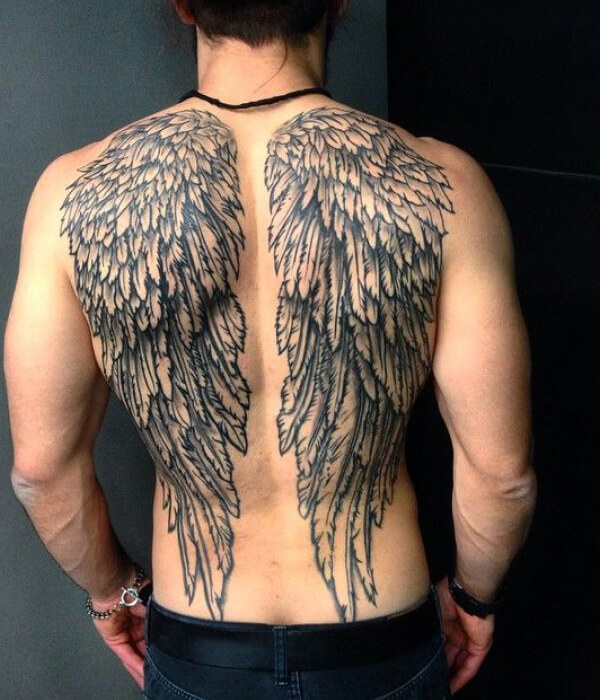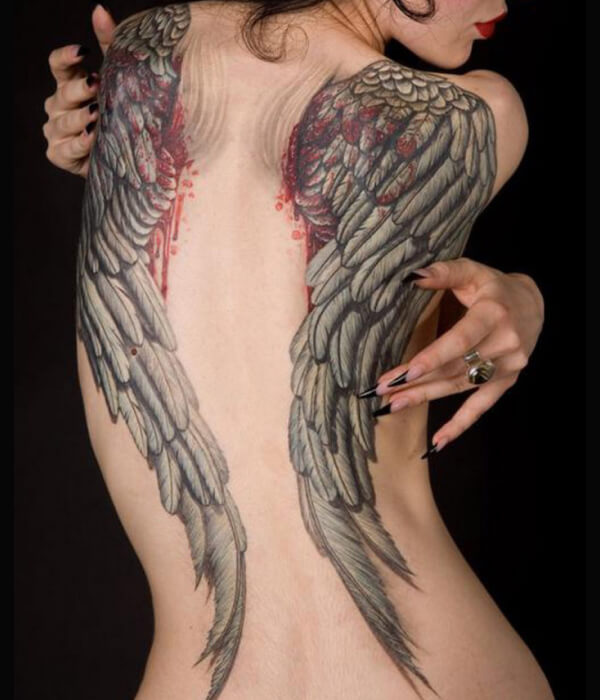 People often choose to have a tattoo of a fallen angel after experiencing a loss that is very meaningful to them. Fallen angel wing tattoos usually have fallen wings looking either up or down, with the angel kneeling or sitting with his head bowed.
7. Colourful Wings Tattoos
Colourful angel wings tattoos look great. These are the perfect pick for girls looking for unique tattoo designs. If you love colourful tattoo designs, then this is the design for you. You can have it in small size on your arm or shoulders.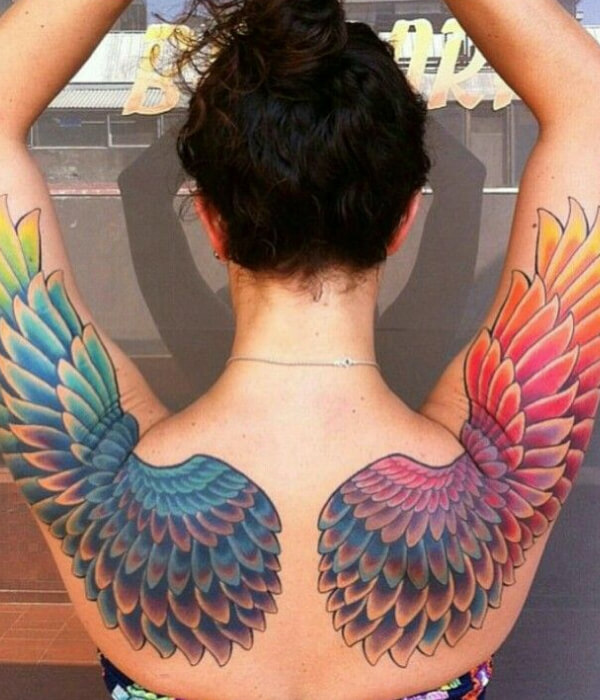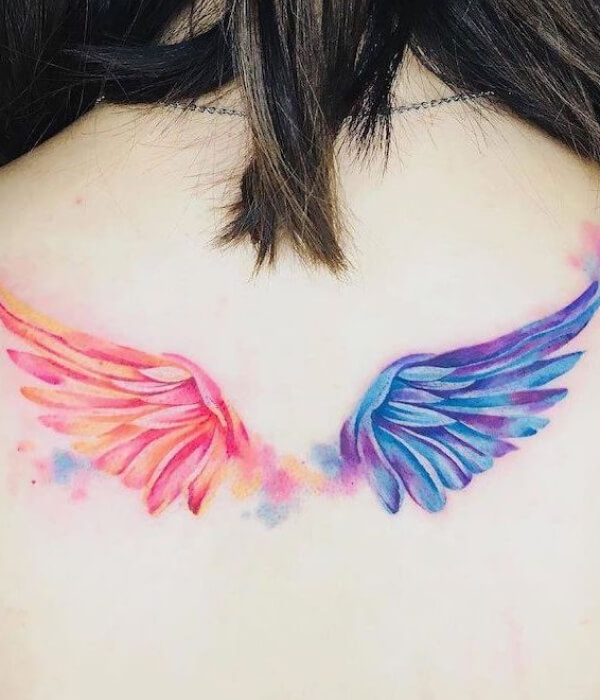 8. Minimal Wings Tattoo
If you want a minimal tattoo design, then get a minimal wings tattoo. Minimal tattoos are significant. The best thing about these tattoos is that you don't need to pay much for these minimal wings tattoo designs.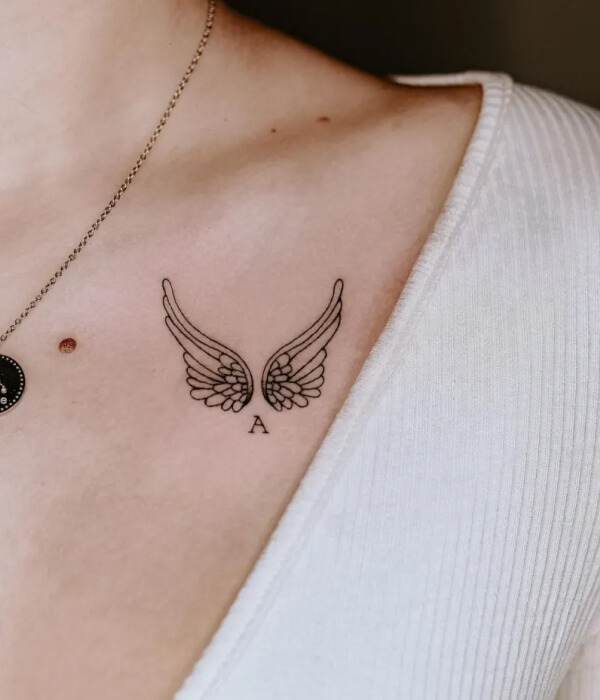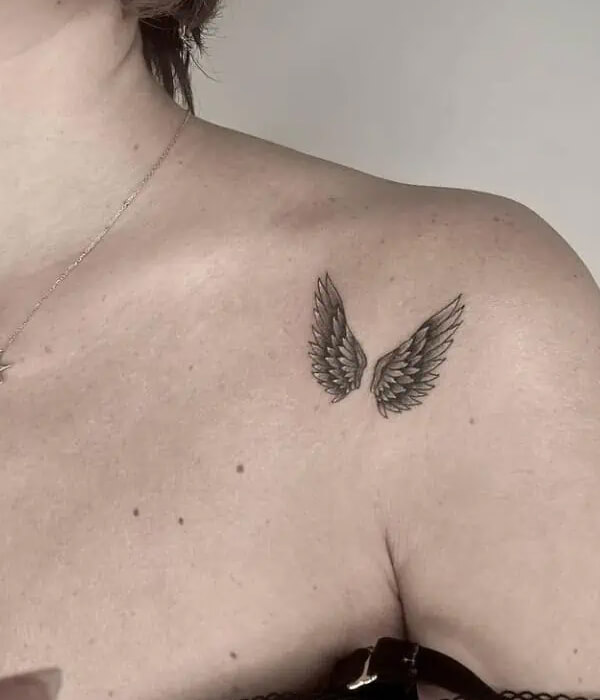 9. Wings Tattoo with Cross
Wings tattoos with a cross are a perfect option for guys who like to be the centre of attention. You can get this tattoo etched on your neck. You can have this tattoo to show your faith in Christianity.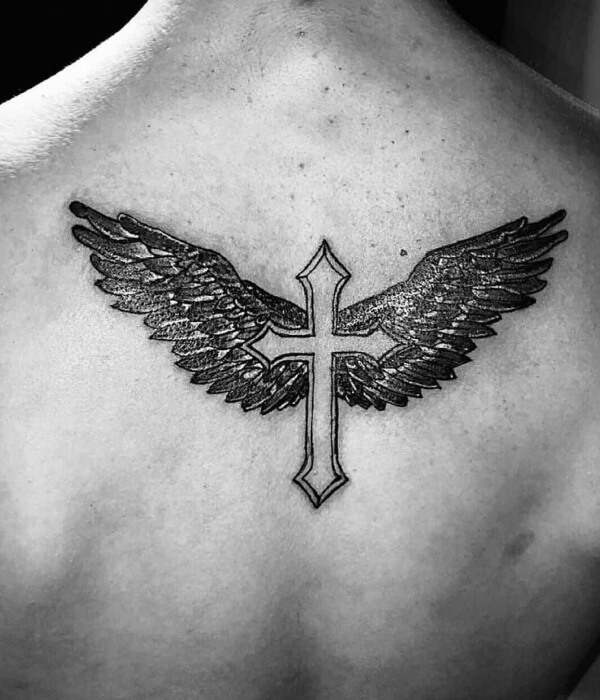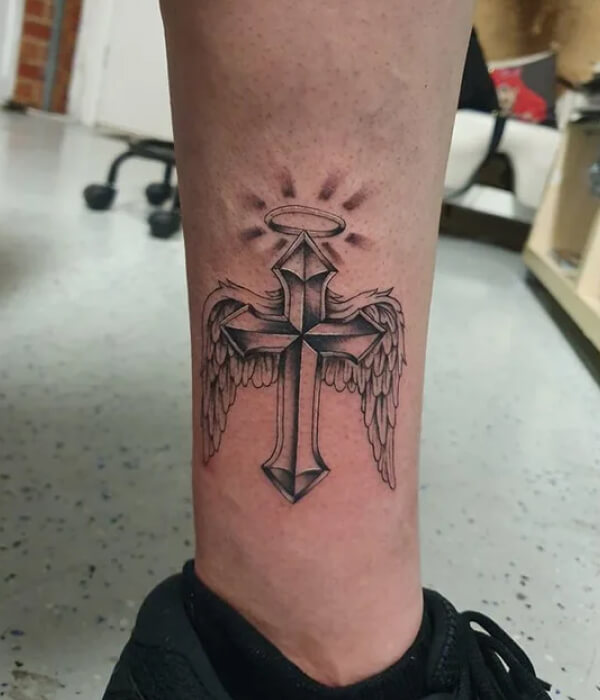 Neck tattoos look bold and very stylish. However, know that neck tattoos can be extremely painful due to the less muscle and thinner skin. So, be ready to endure a greater level of pain.
10. Fairy Wings Tattoo
Fairy wings symbolize freedom and independence. Fairies are considered spirited beings. These spirited beings defy description in every way. They have the qualities of being both demure and immodest, submissive and defiant, naive and naughty. Fairy tattoos are on the rise due to their unique significance.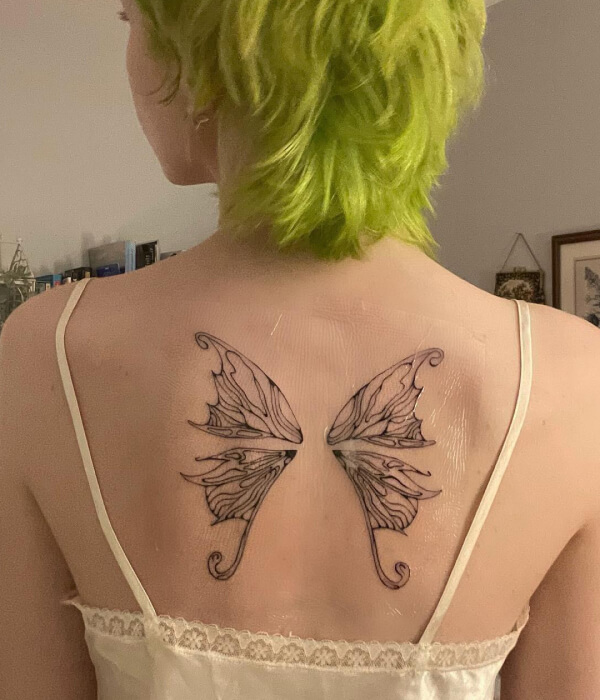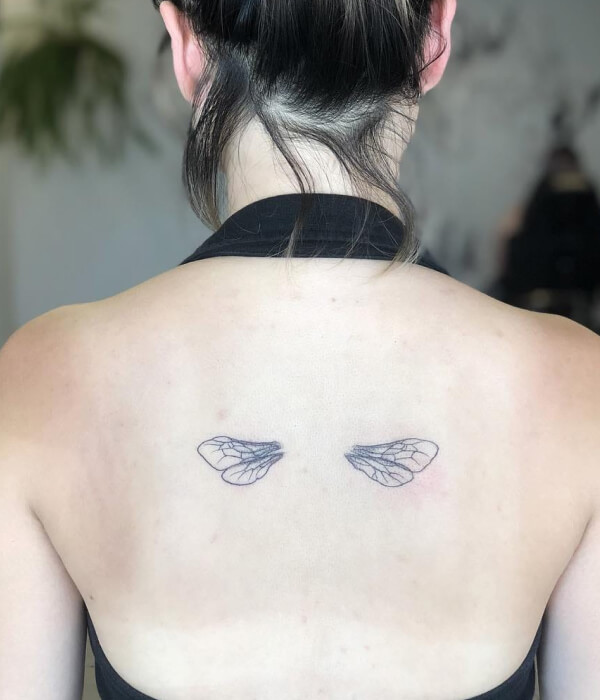 11. Simple Arm Wings Tattoo
A simple tattoo of wings can signify many different meanings, from representing your inner and profound spiritual connection to someone to showing your love for someone special. You can even get a simple arm wings tattoo with flowers or amidst clouds. Make sure you choose the right placement for your simple wings tattoo.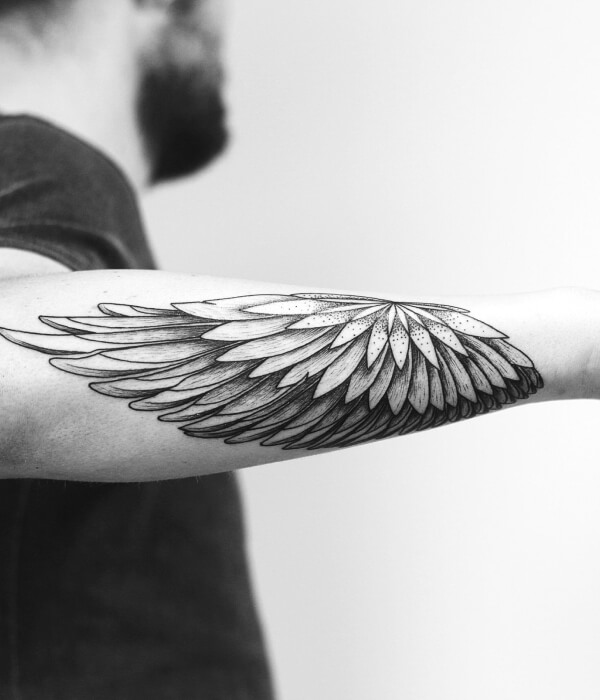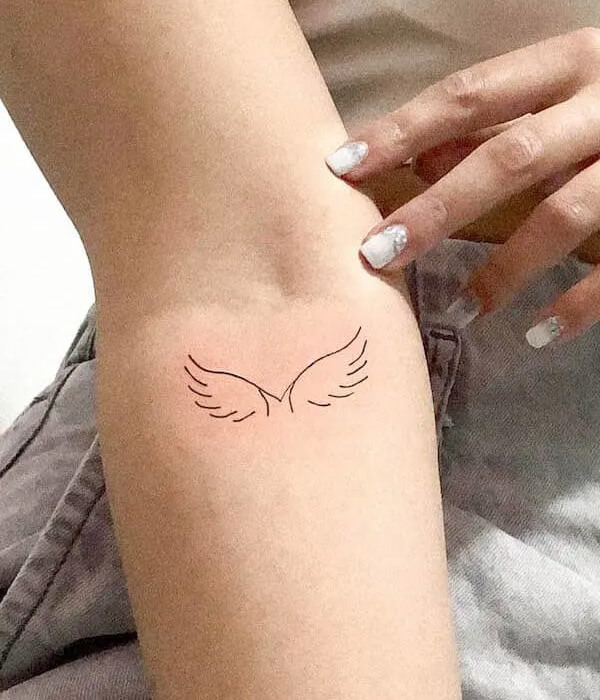 12. Abstract Wing Tattoo
Abstract tattoos are pretty popular amongst youngsters. These tattoos look creative and cool when done by a professional artist. Abstract tattoo artwork needs a lot of experience. Therefore, it is crucial that you choose a tattoo artist with experience in abstract body artwork.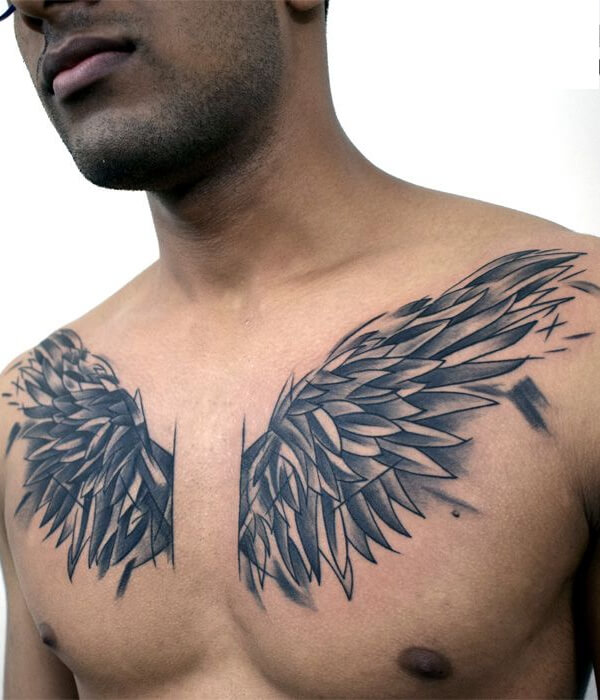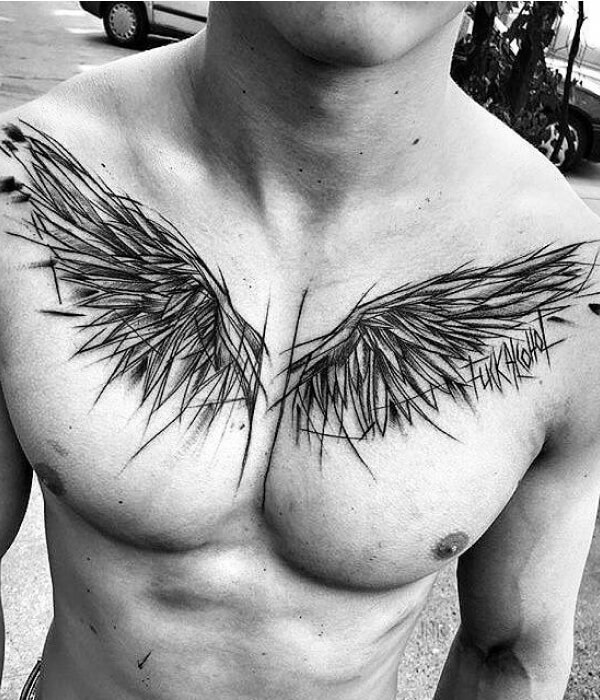 13. Small Angel Wings Tattoo
If you don't want to overdo your wings tattoo design, then get a small angel wings tattoo etched. Wings tattoos in small sizes look stunning. These designs are perfect for people looking for very simple body artwork. You can get it etched in black ink or in coloured. It's a perfect way to represent how valuable your freedom is for you!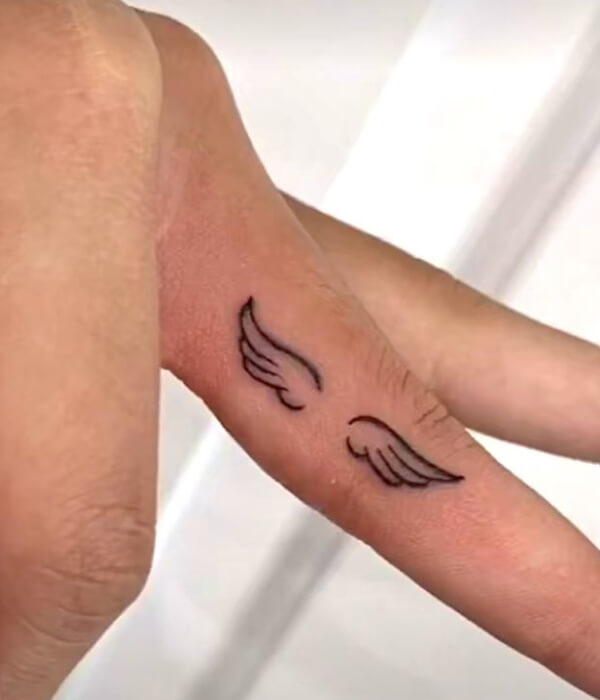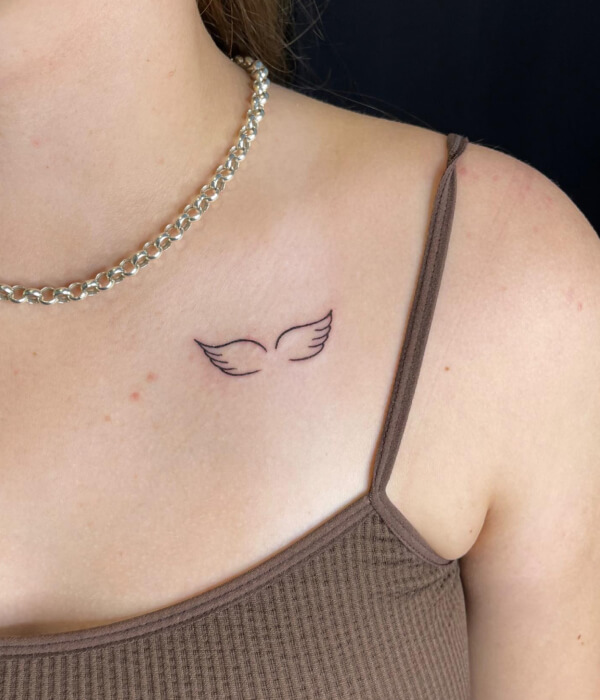 14. Wings Tattoo with Dates
Each of us has significant dates in our lives, including the birth date or the death date of our loved ones. If you want to commemorate your love for someone special you have lost via a tattoo design, then a wing tattoo with a date is a perfect choice. You can have a wing tattoo with the person's date of death.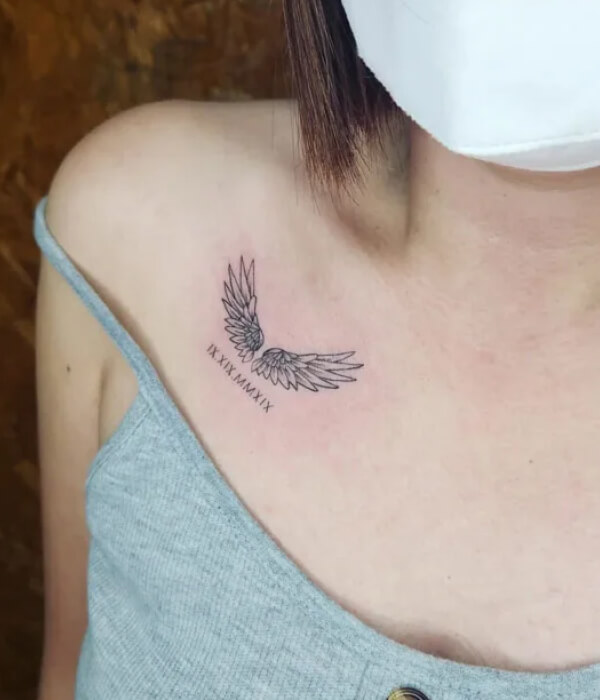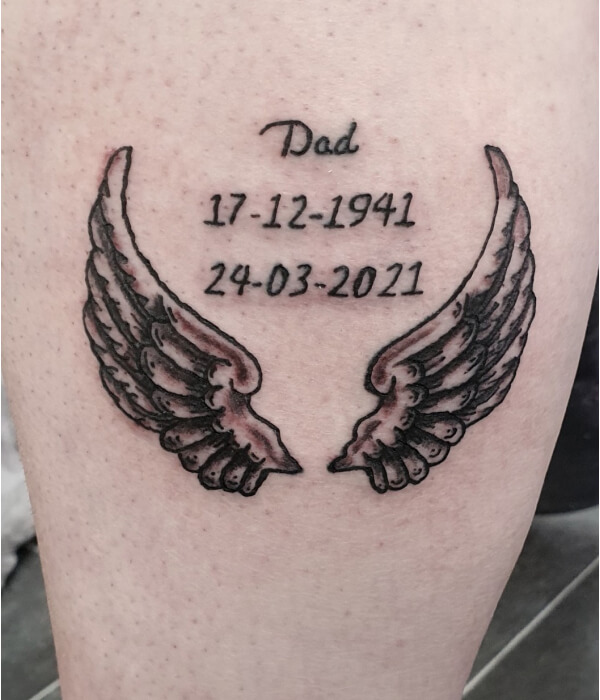 You can even add a date to your wings tattoo as an homage to the day you finally felt liberated. It will represent the day you achieved the freedom that you had been striving to achieve.
15. Wings Crown Tattoo
Give your wings tattoo a royal touch by having it inked with a crown. A tattoo with both wings and a crown shows royalty at its best. You can have a wing crown tattoo etched on your forearm or the back of the neck. It looks awesome there.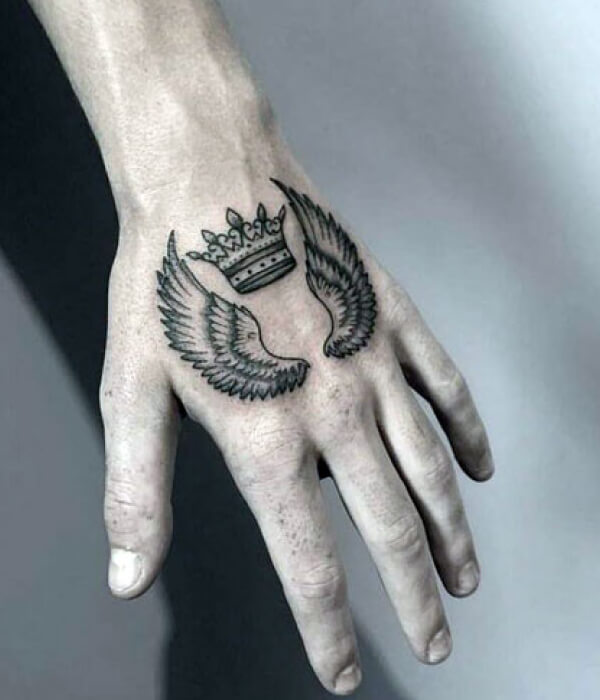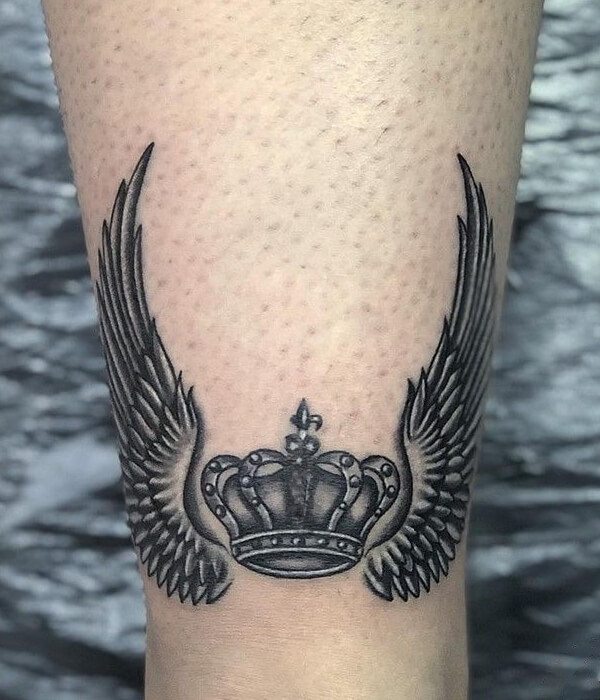 16. Wings Tattoo Back
Your back is a perfect place for a giant-size wings tattoo design. Wings tattoos back look great on both males and females. So, if you're looking for a big-size tattoo design for your back, wing tattoo back is perfect for you. Get it in black ink for an impactful appearance.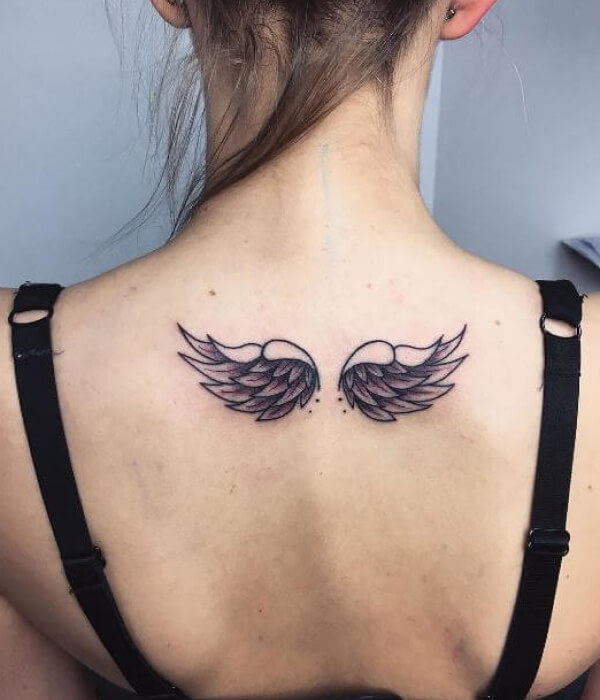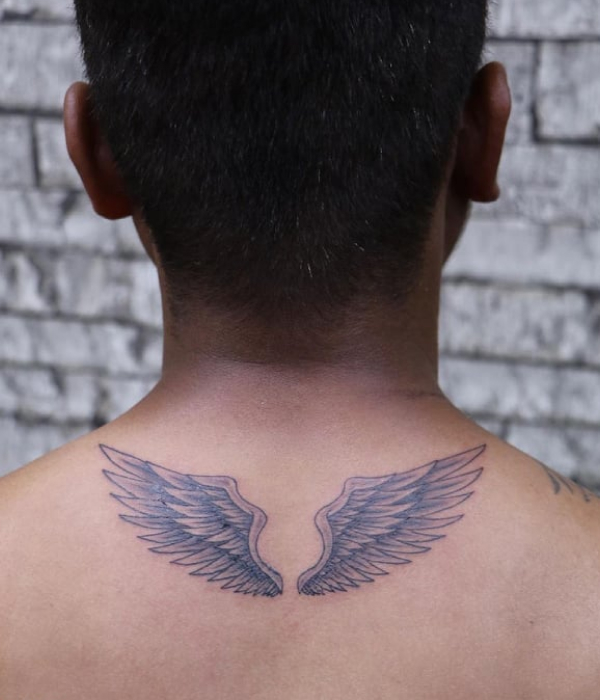 17. Wings Tattoo Quotes
Show off your freedom with your favourite quote. Wings tattoos quotes make for significant tattoo designs. If you have some such quote that you stand by in every situation, then a wing tattoo with a quote is apt for you. All you have to do is to choose a meaningful quote for your tattoo. Also, if you are opting for a quote in a different language, make sure you get its right meaning.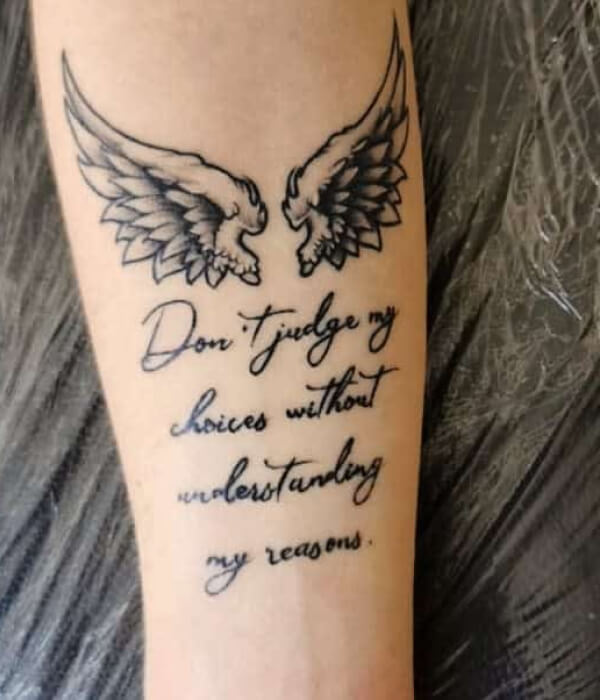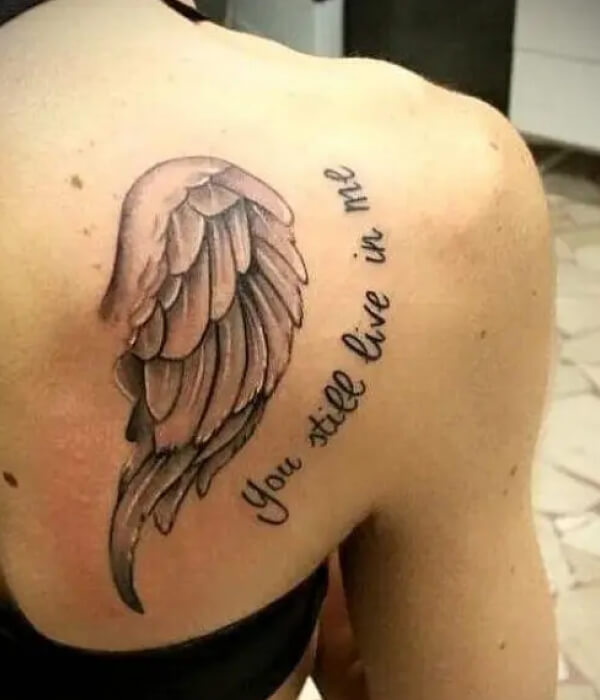 18. Wings Musical Symbol Tattoo
You can be very creative when it comes to wings tattoo ideas. Wings with musical symbols are one of the ways you can flaunt your creative side. It is an ideal tattoo design for people who love music or are connected to music in some way or another.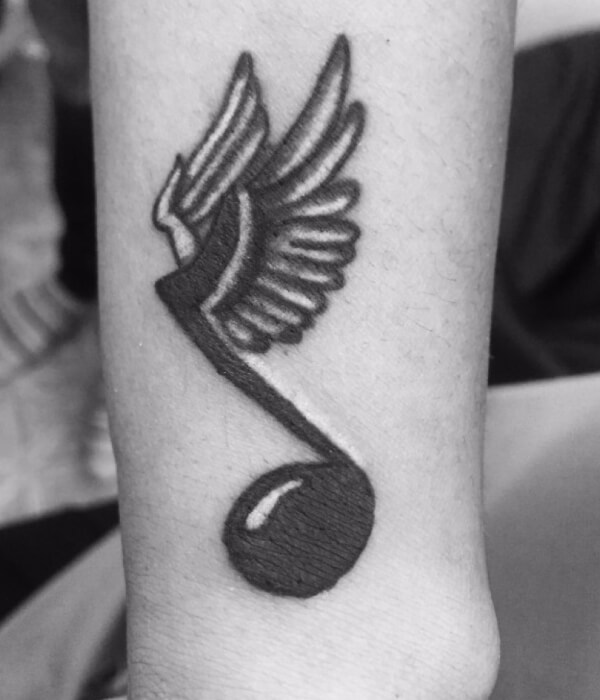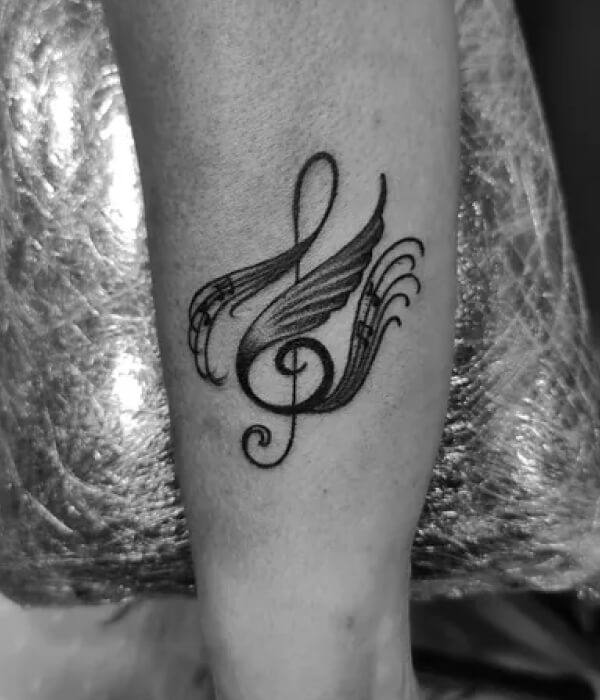 19. Shoulder Wings Tattoos
Get a wing tattoo etched on your shoulder if you're looking for a place that can be kept hidden when needed. You can keep your shoulder wings tattoo covered when you're at your workplace and flaunt it when you're out.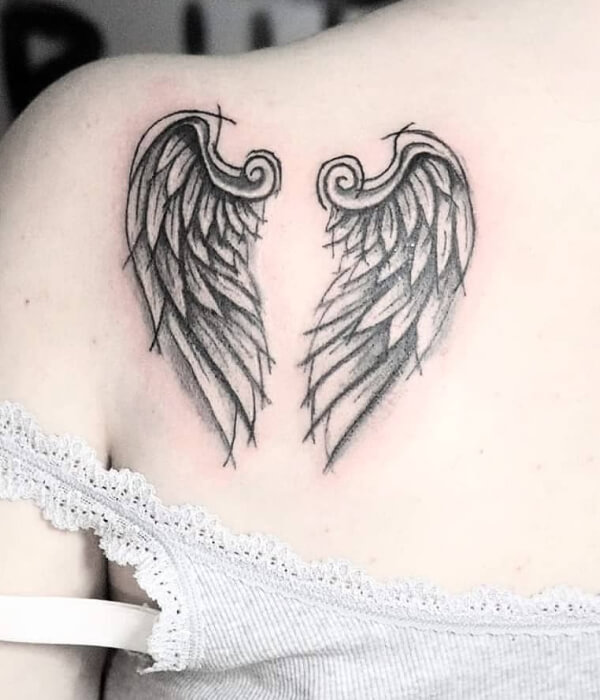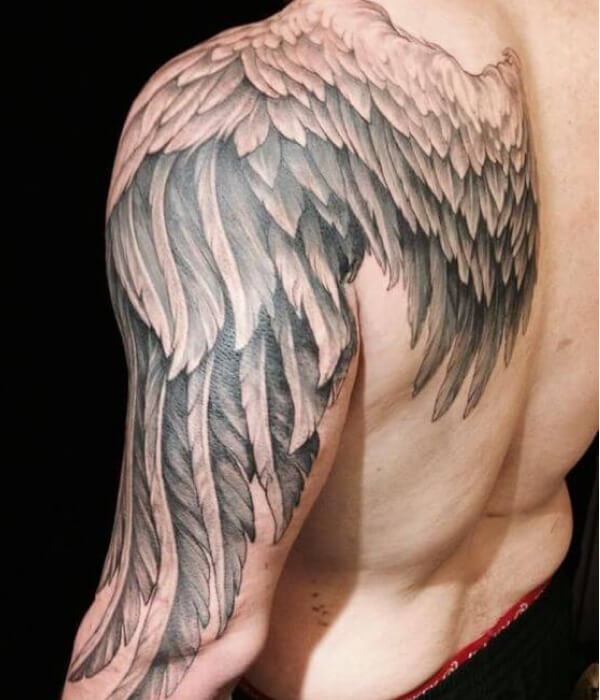 20. Wrist Wings Tattoo
The wrist is a perfect place for small wings tattoo designs. If you want a small-sized wings tattoo, then your wrist is apt. You can have a stunning blackwork wings tattoo to convey the sense of freedom in a strong way.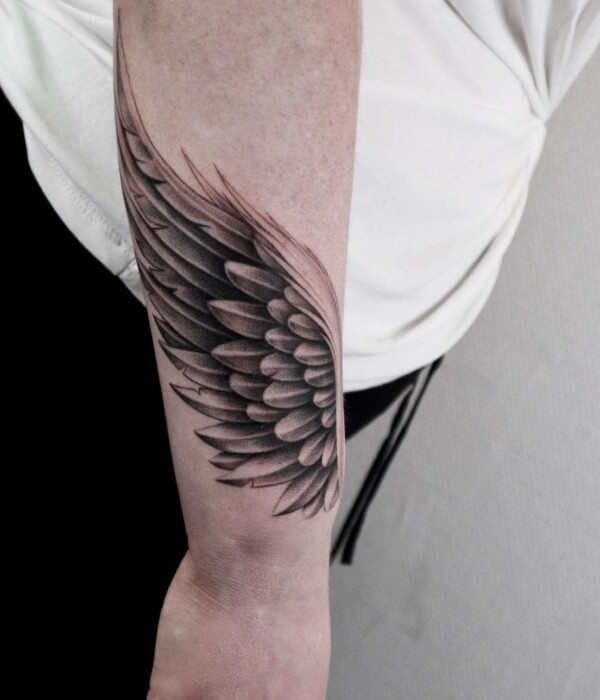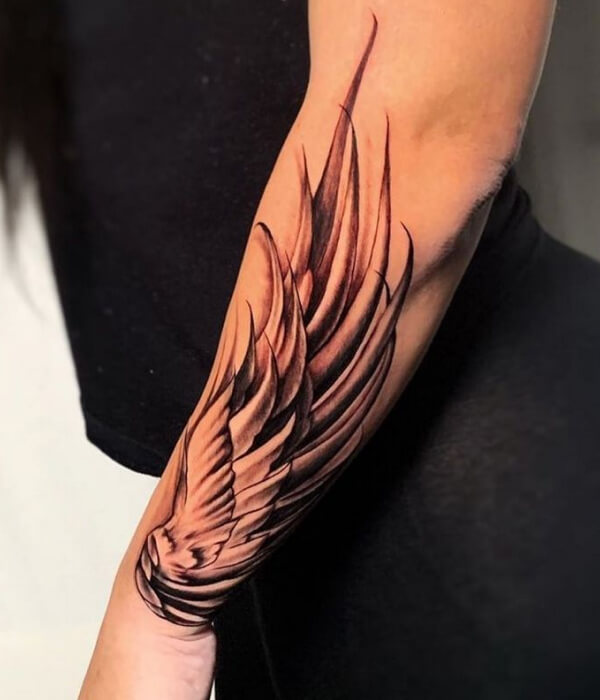 21. Wings with Shades
Wings with shades look stunning. You can have a unique and colourful set of wings, representing different colours that liberation may bring into your life.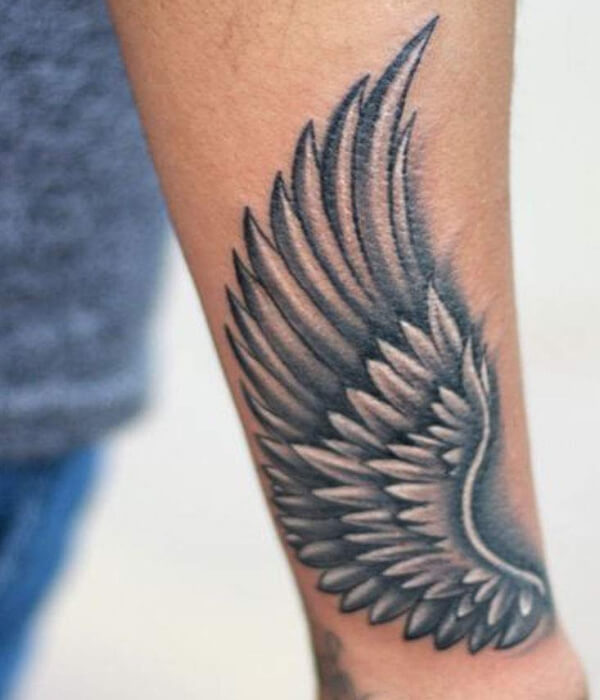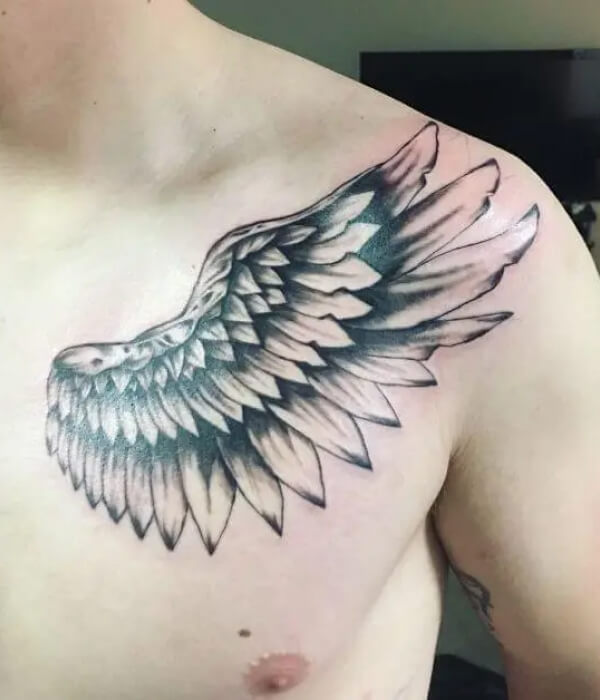 22. Outline Angel Wings Tattoo
Outline angel wings tattoos look great. You can have an outline of angel wings tattooed on your nape, wrist, ankle, near the ear, fingers, and collarbone. Outline wing tattoos can be etched in a variety of colours, including white, red, pink, and so on.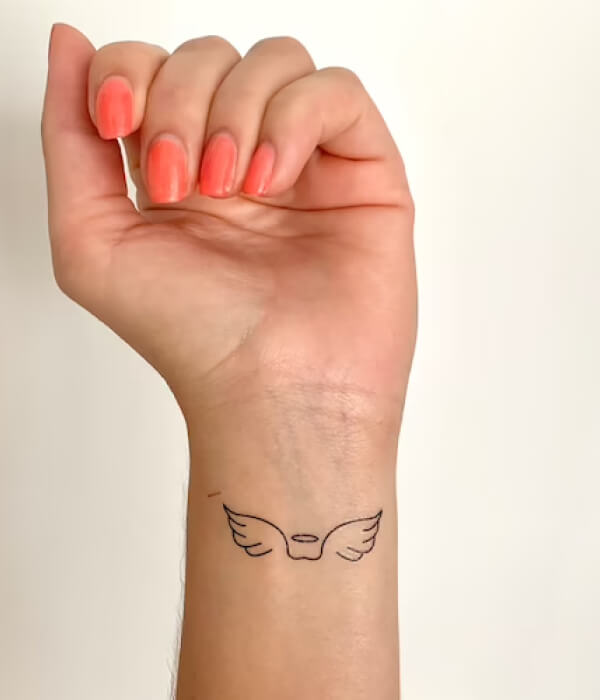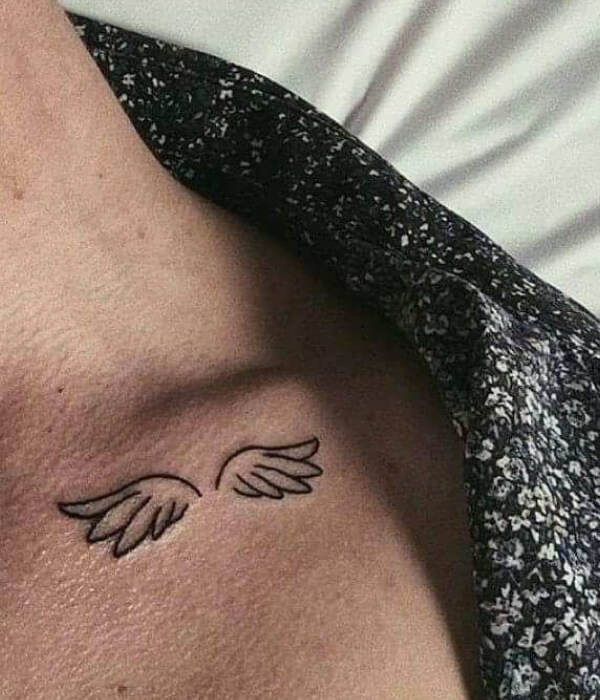 23. Sleeve Wings Tattoo
If you are the type of person who would rather show off their wings than keep them hidden, then your sleeve is the ideal place for a stunning wings tattoo design. Make sure to choose the right tattoo design and its size in advance.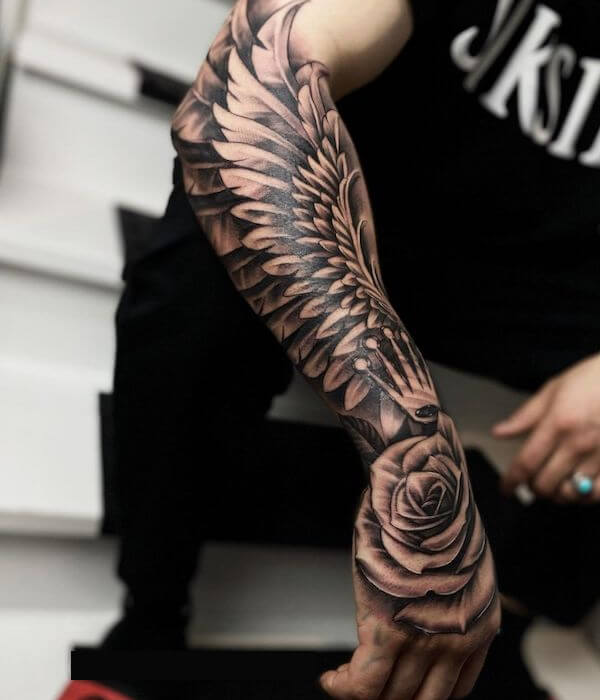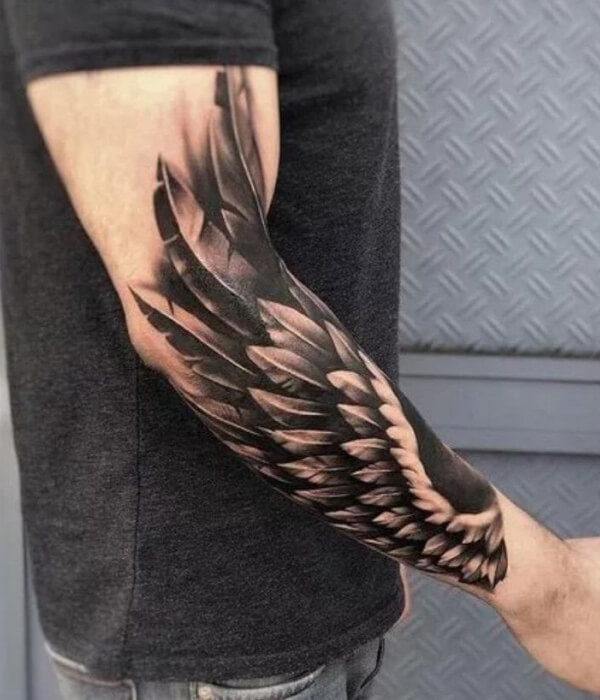 24. Wing Tattoo with Sword
A tattoo of a sword with wings is a fantastic idea. Swords symbolize valour, bravery, and strength. So, if you're looking for a way to proclaim your independence and bravery at the same time, a wings tattoo with a sword is for you.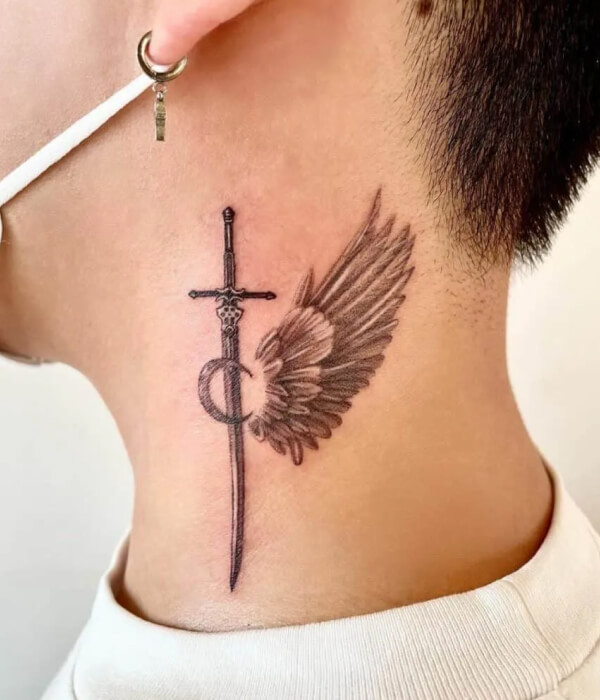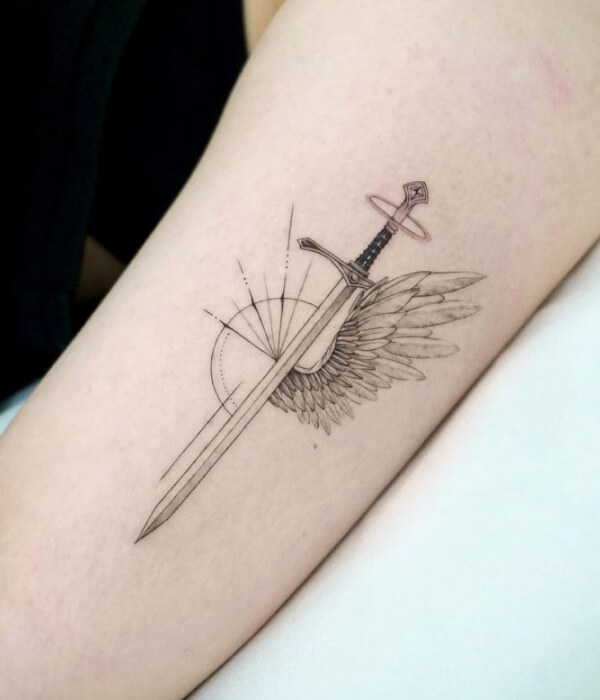 25. Wings Tattoo with Rose
Rose tattoos are pretty popular among women. You can consider adding a wings tattoo with a rose to make it look appealing. This tattoo is a great way to share your intimate relationship with the world. You can get a wing tattoo with rose on your arm or back, depending upon its size.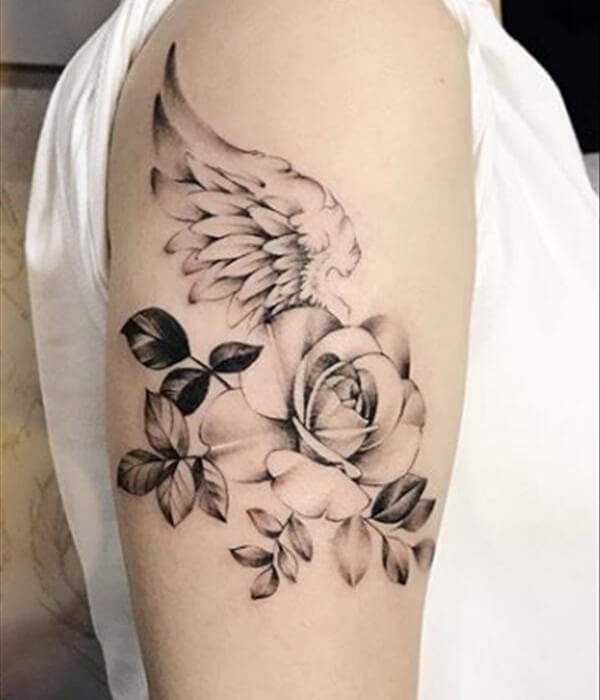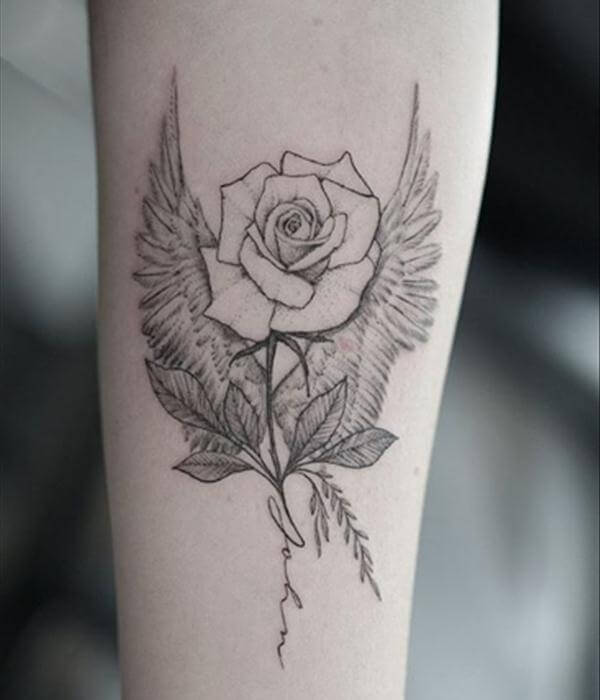 Putting it all together…
So, there you have it: top 25 wings tattoo ideas. All of these tattoo designs make for stunning wings tattoos. We hope that our list of wings tattoo designs will help you get some inspiration. You'll be able to pick the right body artwork using this list.
Remember that you have the freedom to add any element of your choice to your wings tattoo. You can choose to add flowers, a sword, a cross, quotes, symbols, and so on to your wings tattoo.
FAQs
1. Where can I place my Wing Tattoo?
You can choose to place your wing tattoo anywhere on your body, from your fingers to your ankle. Here are some of the top placements for a wing tattoo design:
Arm
Neck
Nape
Forearm
Ankle
Chest
Wrist
Finger
Thigh
Tummy
Back
Spine
Shoulder
The place of your tattoo primarily depends on its size. Therefore, make sure you first decide the size of your tattoo and then choose its placement. Small tattoos look good on places such as the nape, neck, wrist, fingers, and ankle. Whereas your back, chest, and tummy are good for large-sized tattoo designs. Thigh, Arms, Shoulders, etc., are perfect for medium-sized tattoo designs.
2. What do wings tattoo represent?
Wings tattoos are timeless. These delicate and sentimental tattoo designs are apt to demonstrate your free and independent side to the world. It is a great way to showcase that you are an independent person who is capable of living your best life without clinging.
3. What is the cost of Wings Tattoo?
The cost of a wings tattoo depends on the size of the wings tattoo design, the experience of the artist, the location of the tattoo studio, and the design of the tattoo. If you want a really tiny and intricate set of wings, you should expect to pay about $80. Whereas, for a larger wings tattoo design, such as wings tattoo back, you may have to pay somewhere around $300 to $400. The larger the size, the more the price – it's that simple!
Happy Tattooing… 😊 😊
Please follow and like us: