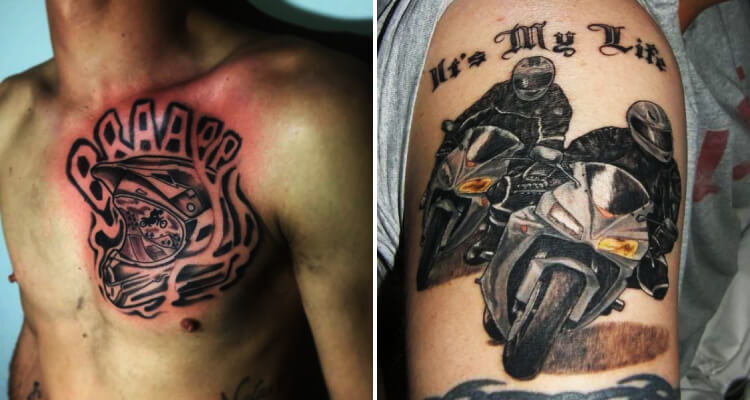 30 Top Biker Tattoo Ideas: Tattoos For Hardcore Bike Rider
Posted on
Whether you like body artwork or not, you cannot deny that rider tattoo ideas are fun! Biker tattoo designs typically incorporate detailed artwork. Undoubtedly, the majority of rider tattoos are for guys; however,
it doesn't mean that girls can't have a biker tattoo.
The best part about these tattoos is that there is something for everyone, from biker tattoos for ladies to traditional biker tattoos for passionate bikers.
Rider tattoo ideas are excellent for those who want to showcase their love for bike riding. Having a biker tattoo design will help the wearer relive their best memories. Aside from that, it is the best way to show your love for speed and your biker friends. Memories, camaraderie, fun, and whatnot are all part of an experience their rider tattoo will make them remember all their lives.
You can have the classic and conventional biker style tattoo and ghost riders from movies and amusing and humorous developments.
Table of Contents
What distinguishes rider tattoos from other tattoo designs?
Biker Tattoo Positioning
Why are Biker Tattoos Colorful?
Riders Tattoo Design Ideas
1. Colorful Rider Tattoo on Bicep
2. Harley-Davidson Bike Tattoo on Arm
3. Harley Logo Tattoo
4. Traditional Biker Tattoos
5. Knuckleheads Engine Tattoo
6. Biker's Skull Tattoo
7. The Ghost Rider Tattoo
8. Three Rider Tattoos
9. Back-to-Back Motorcycle Scene
10. Resting Man on Motorcycle
11. Biker Quotes Tattoos
The Bottom Line
What distinguishes rider tattoos from other tattoo designs?
The first and foremost thing that distinguishes biker tattoo designs is that they're comparatively larger in size. Yes, with a few exceptions, most biker tattoo ideas are for larger areas of the body, such as the back or ribs. This is due to the fact that a complementary scene frequently accompanies the motorcycle and its rider.
Another important aspect of rider tattoos is that these tattoos are colorful, flamboyant works of art that wearers proudly flaunt in and outside their community.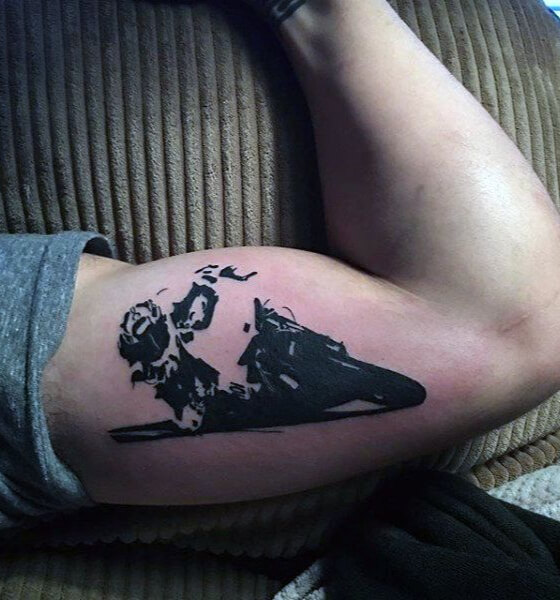 The bike is the first love for all the riders. They value everything about their motorcycle, from its brand to its appearance. For them, it's the most important part of their lives that they can't live without! And a tattoo is a great way to commemorate their love for their bikes. Believe it or not, bikers take both their bikes and their ink too seriously.
Biker Tattoo Positioning
The best places for Biker Tattoo are:
Arms
Biceps
Shoulders
Back
Leg
Thigh
Ribs
Chest
Most of these places offer enough area for the artist to etch a large size biker tattoo design. That's the reason these placements are pretty popular among bikers for their rider tattoo design.
Why are Biker Tattoos Colorful?
Yes, if you've ever seen a biker tattoo, you must have noticed that biker tattoo designs are etched in colored ink. It is due to the fact that different colors are required to give depth and dimension to a biker tattoo design. Often rider tattoo designs include hues of blues, blacks, reds, oranges, grays, yellow, white, metal colors, and so on.
Riders Tattoo Design Ideas
So, here is a comprehensive list of top biker tattoo designs for you. This list has something for all, from passionate male riders to female bike enthusiasts. So, let's take a close look at the list.
Here we go…
1. Colorful Rider Tattoo on Bicep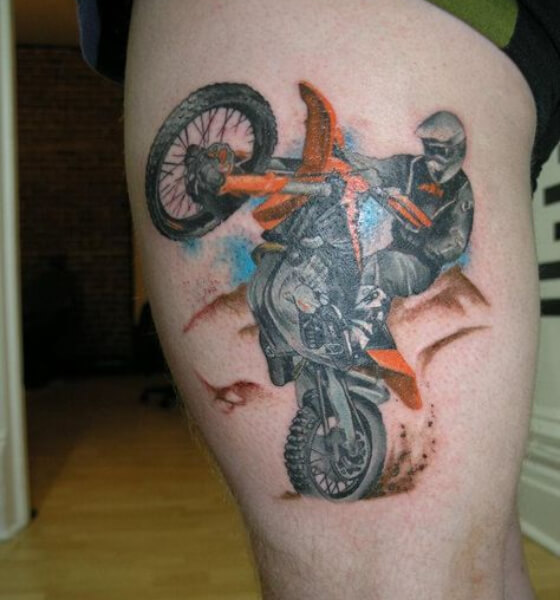 Tattoos and motorcycles go hand in hand; the two are inextricably linked. So, if you want to express your immense love for your bike and enjoy riding it, this is the biker tattoo design for you. It's a great way to tell your riding stories with the help of a colorful biker tattoo. You can have greenery, skylines, and other fantastic elements incorporated with your colorful biker tattoo to make it look stunning.
2. Harley-Davidson Bike Tattoo on Arm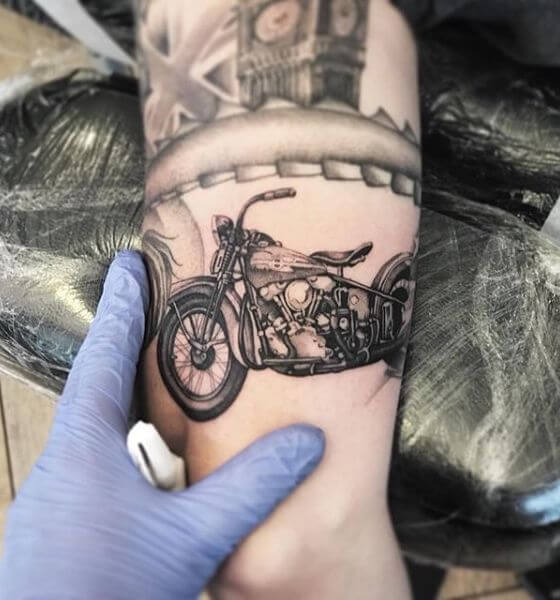 Only who owns a Harley knows that it's not just a bike; it is life! So, having a Harley biker tattoo becomes indispensable if you own a Harley. You can have a tattoo of a side view of a chopped Harley with you alone or with your lady love.
3. Harley Logo Tattoo
As said earlier, biker tattoo designs are often larger in size. So, get a Harley logo tattoo if you do not want to overdo your rider tattoo design or want to have a minimalistic tattoo. The Harley logo is a fantastic choice for those who are proud owners of Harley and want to flaunt it to others.
4. Traditional Biker Tattoos
Traditional biker tattoos look extremely amazing. You can have a traditional rider tattoo etched on your arm or thigh. These tattoos look when etched in colored ink.
5. Knuckleheads Engine Tattoo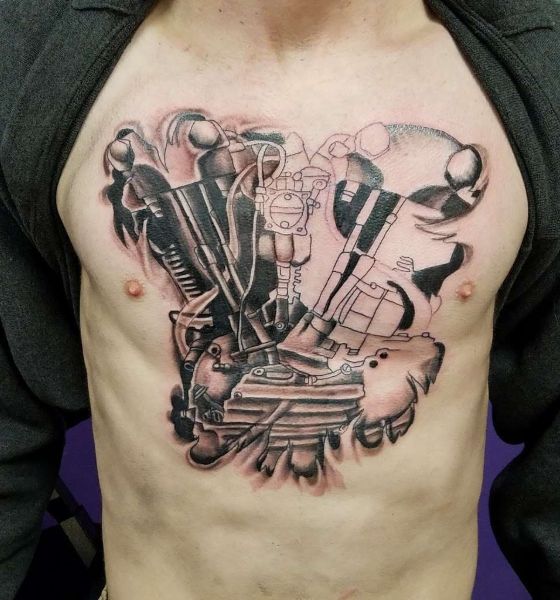 The term "knucklehead" refers to a Harley-Davidson motorcycle engine. It is a perfect tattoo design for those who are looking for a simple yet distinct biker tattoo design. These tattoos are highly popular among Harley Davidson motorcyclists. You can get this design in colored or black ink; it will look fantastic anyway.
6. Biker's Skull Tattoo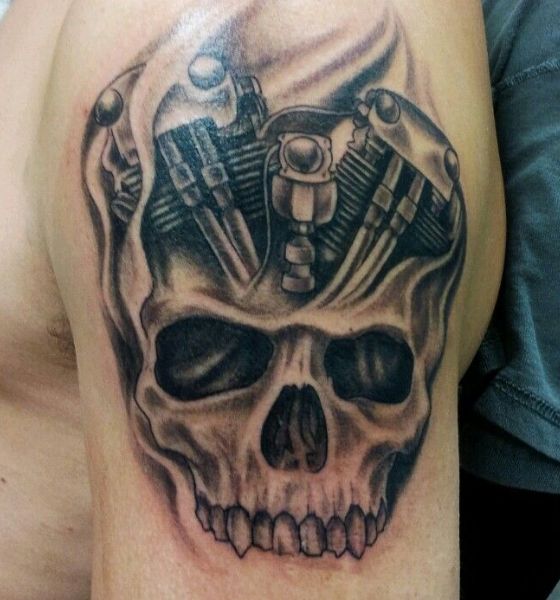 Skull tattoos are popular among bikers. A big skull being blasted apart by the force of the wind from your bike as you pass by would make excellent biker tattoos. Besides this, there are numerous biker skull tattoo designs you can choose from. It's just how imaginative you can go while you choose a biker tattoo design.
7. The Ghost Rider Tattoo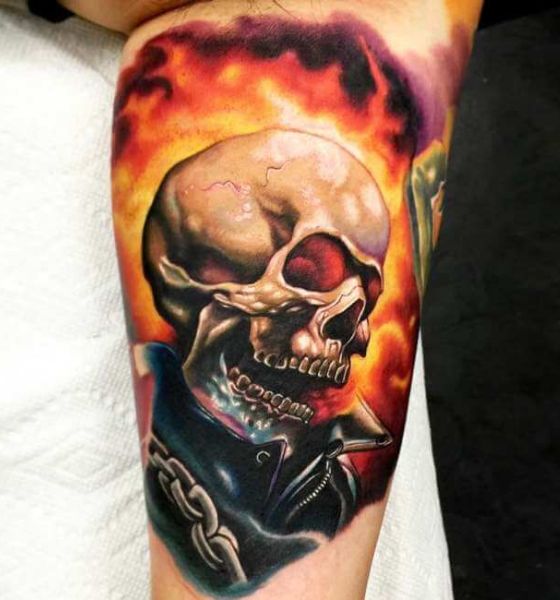 Ghost rider tattoos are a lot of fun. It's because this design has a lot of potential. The ghost rider images are quite vivid and iconic.
To understand the design in-depth, just flip through any Marvel comic book featuring the character of Ghost Rider. You will immediately notice the artists' vibrant and gorgeous artwork. The Ghost Rider's skull is encircled by hellfire; there will be a lot of yellows, orange, and red along with subtle white and blue, making the tattoo stand out significantly.
If you want your Ghost Rider tattoo to stand out and be different from the rest, just get it in numerous colors rather than opting for dull and monochrome. This will significantly improve the appeal of your tattoo.
8. Three Rider Tattoos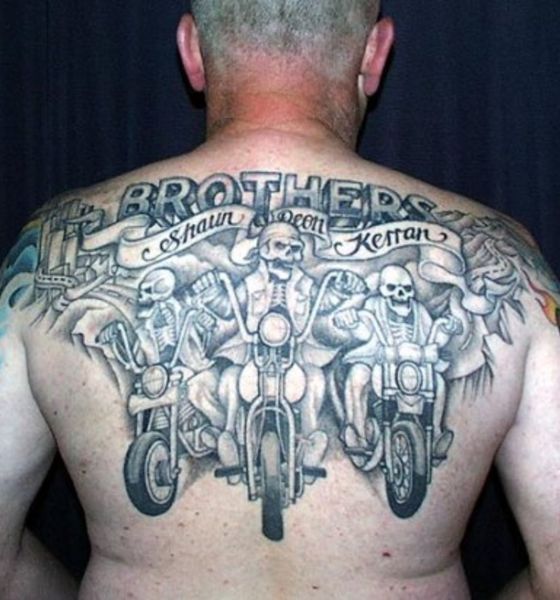 Bike riding is a team activity. Most riders love to go on long trips in a group. So, if you love biking in a group, this is the design for you—a great tattoo design to showcase your camaraderie.
Just flaunt your camaraderie and shared experience of riding that makes you an integral part of the bikers group. You can customize your tattoo design by having additional elements incorporated into it.
9. Back-to-Back Motorcycle Scene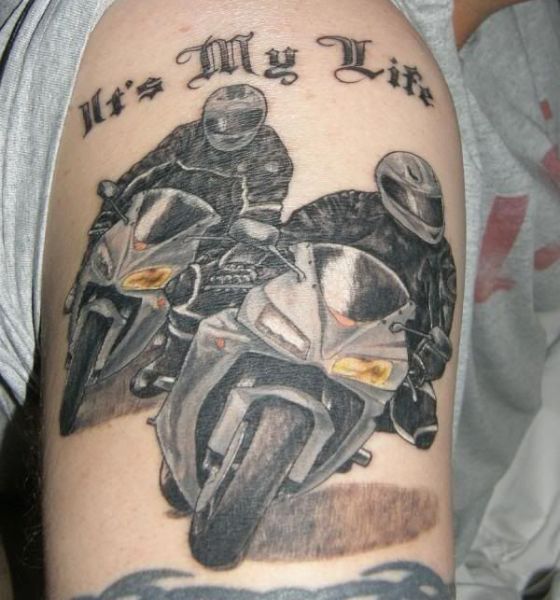 Well, this is going to be a large tattoo design. So make sure you get it etched on your back. Also, it is crucial to choose a professional tattoo artist as it will have a lot of details, making it a gorgeous tattoo design. You can have this piece in colored ink or in the shades of black and gray for that eye-catching tattoo design.
10. Resting Man on Motorcycle
Bike riding is an extensive activity. If you go for long rides, you feel tired. And stopping and resting on the ways is one of the important aspects of bike riding. So, if you know how crucial it is to rest in between while riding and love that part, this is the design for you. A resting man-on-bike tattoo design looks stunning. Moreover, it makes for a unique bike tattoo design for all bike lovers.
11. Biker Quotes Tattoos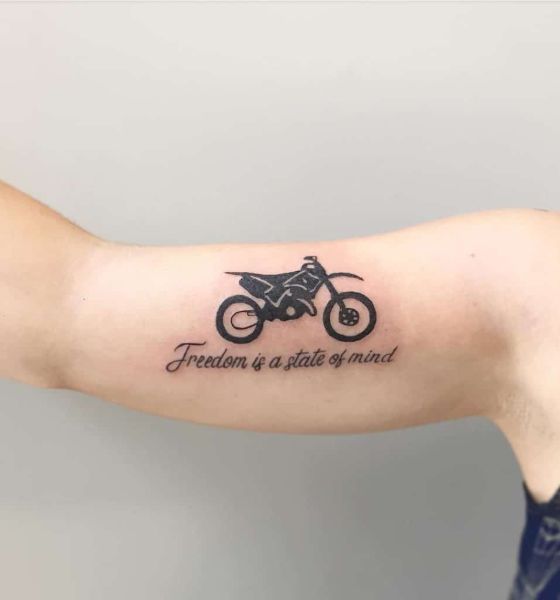 Well, if you're looking for a simple biker tattoo design, then biker quotes tattoos are for you. Like any other motivational quote, biker quotes also make for stunning tattoo design. Moreover, biker quotes are the best way to showcase your love and passion for bike riding. Some of the most iconic biker quotes include "Live to Ride," "Born to Ride," and so on.
Also See: 115+ Inspiring Quote Tattoo Ideas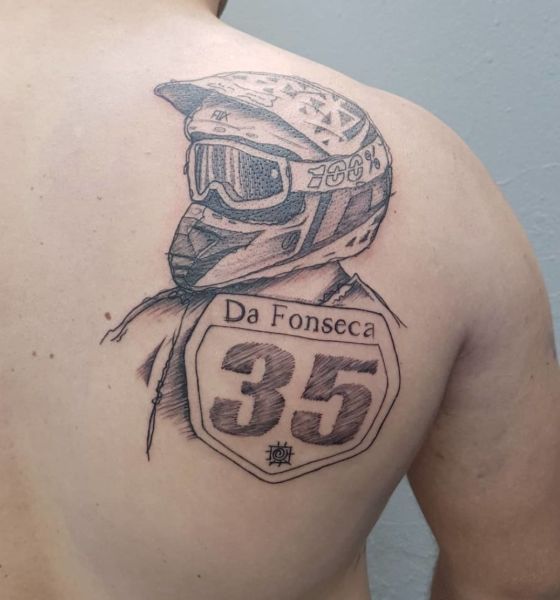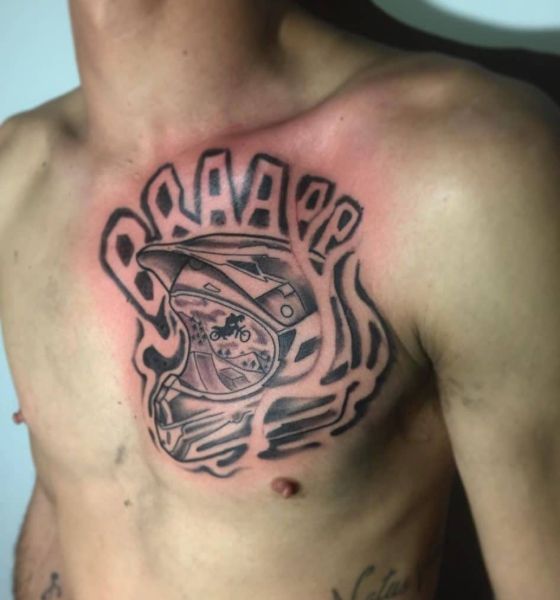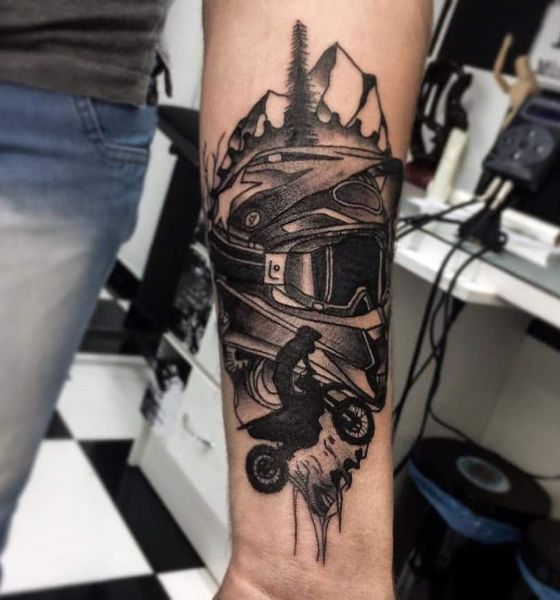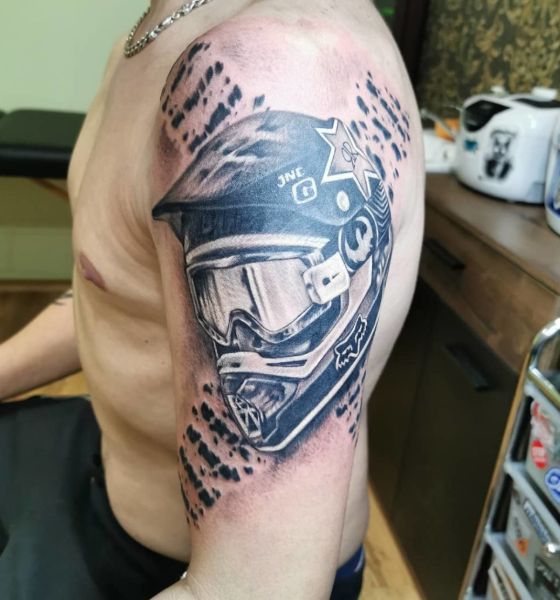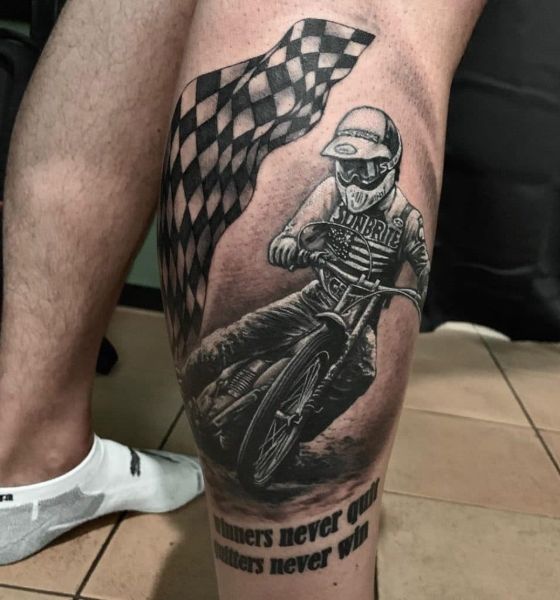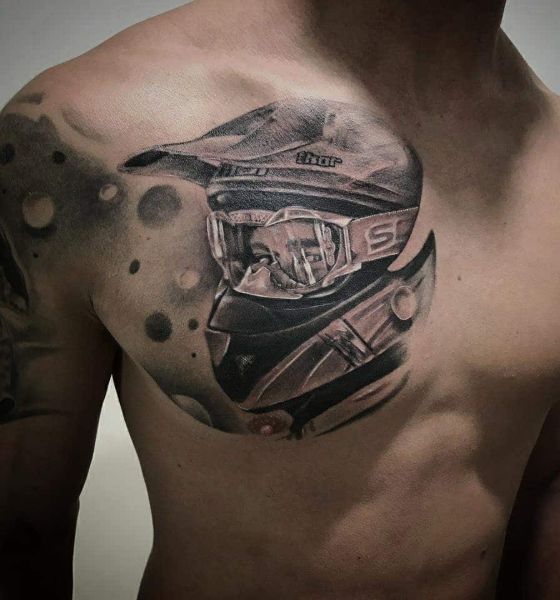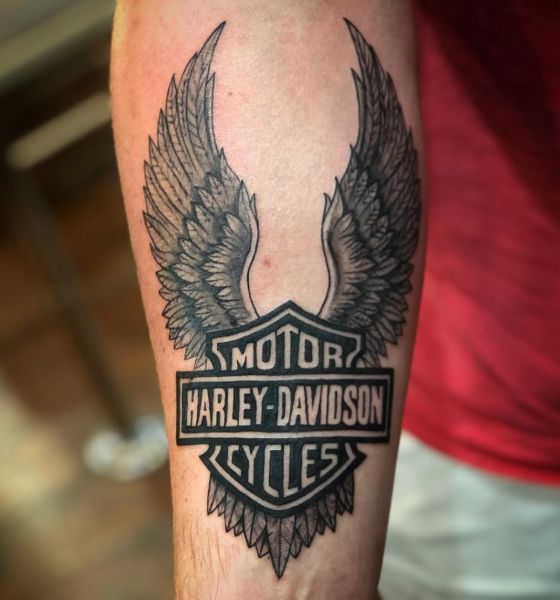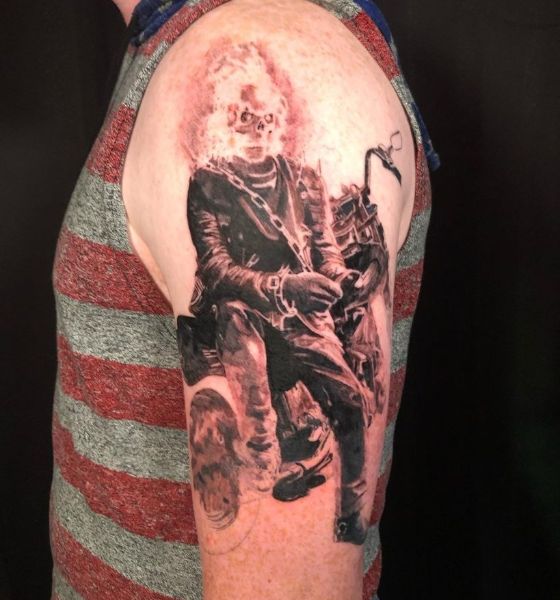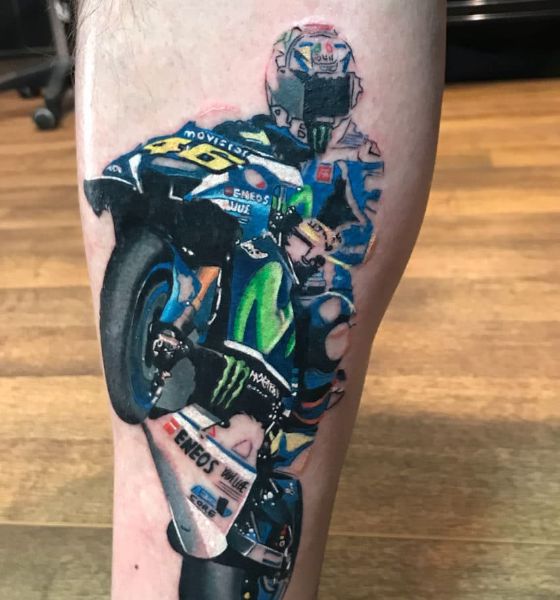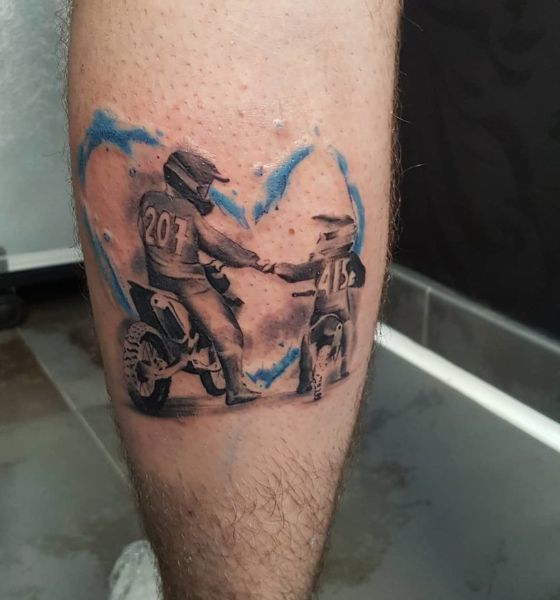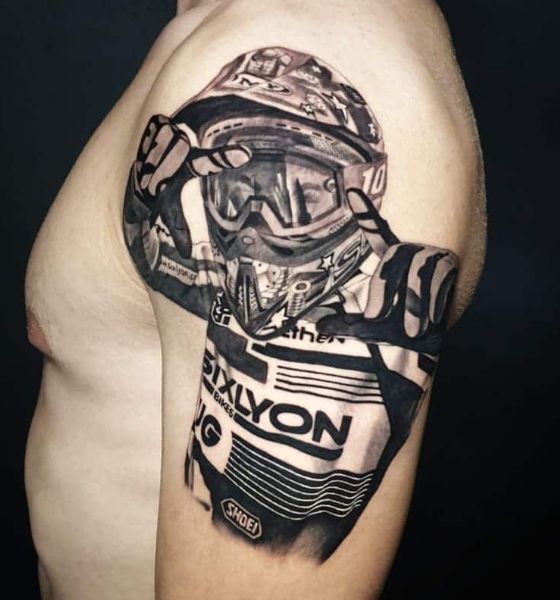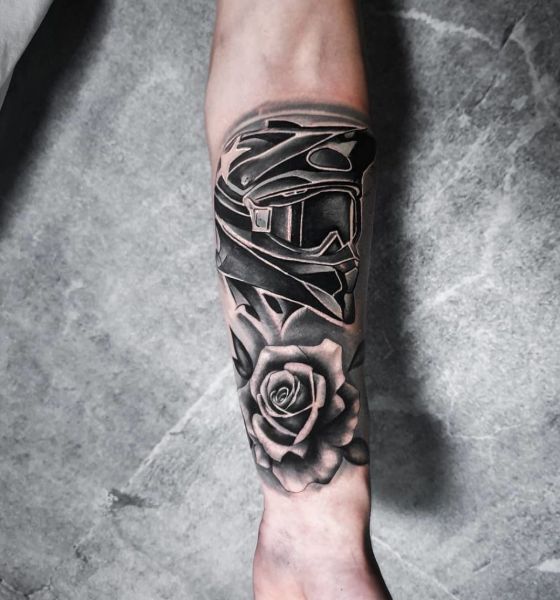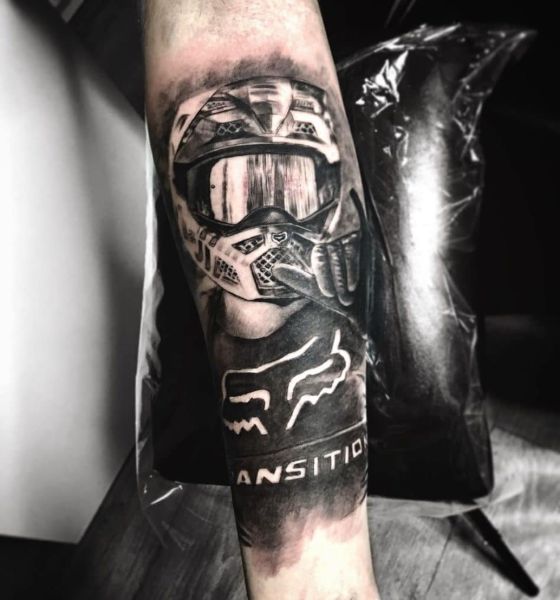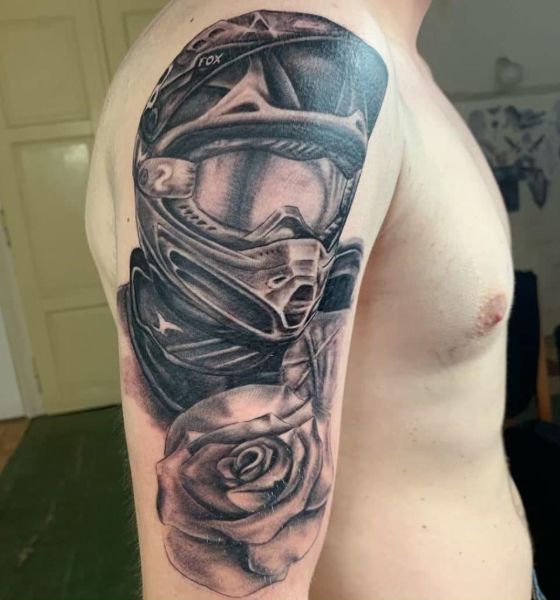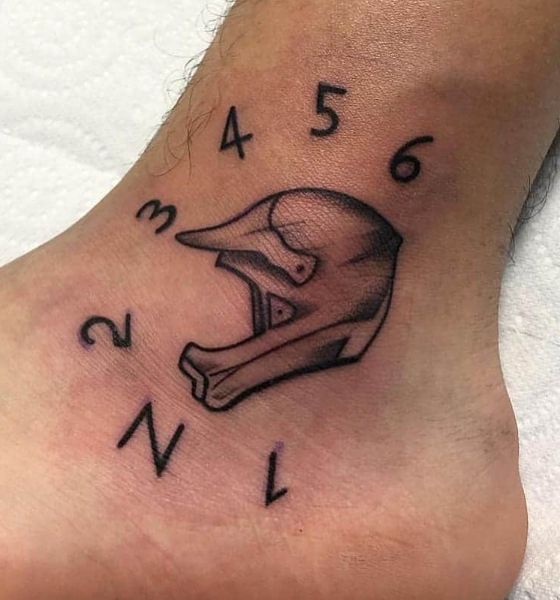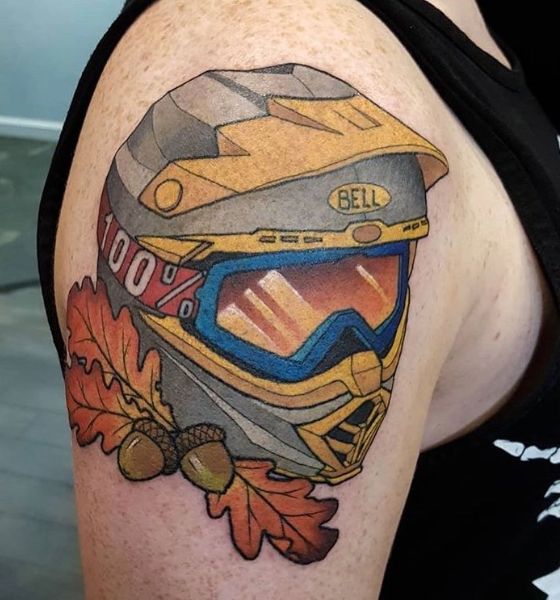 Wrapping it up…
So, this is all about bikers' tattoo designs. Hopefully, these rider tattoo ideas are enticing and encouraging that will help you get some inspiration for your next tattoo design. Remember, a stunning biker tattoo very much depends on how creative you are while you choose a design for yourself. So, be creative!!
Happy Tattooing… ☺ ☺
Please follow and like us: