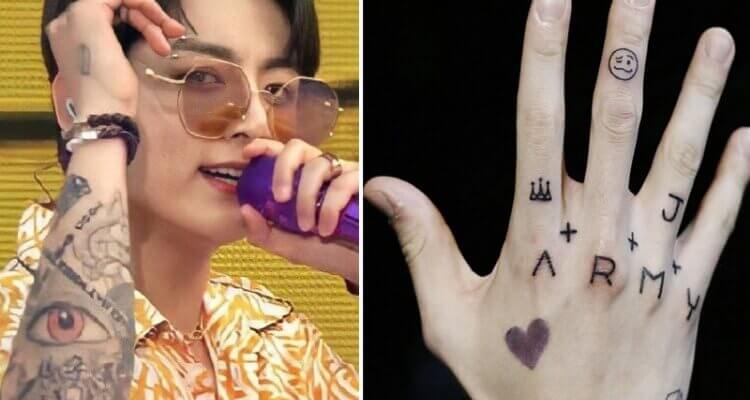 BTS Jungkook's 14 Iconic Tattoos and Their Meanings
Posted on
Are you a die-hard fan of BTS or an ARMY in their language? If yes, then, like any other fan, you must be curious too about a lot of things that the seven band members like, including BTS jungkook tattoo.
BTS is a K-pop band that has now emerged to be an international pop sensation. BTS is winning millions of hearts of not only this generation but also middle-aged and old age people.
BTS stands for 'Bulletproof Boy Scouts' or 'Bangtan Sonyeondan' in Korean. They first debuted in the year 2013. Since then, they never seize to charm their audience, especially young teenage girls. Although the band consists of 7 members, many of the fans have a 'bias' among them. Don't worry! A bias just means the favorite member of the group.
One of the seven members of BTS is Jungkook, the nation's crush and one of the most handsome K-pop idols. For those of you who wonder that our Golden Maknae, Jungkook, has exactly how many tattoos? And what do those tattoos stand for? Then you have arrived at your right destination. This article will help you know exactly how many tattoos our COOKY has and what they mean.
So, scroll down to learn about BTS Jungkook tattoos and get some inspiration for your next tattoo design.
Let's get started…
Let's first talk a bit about Jungkook.
About Jungkook
Jungkook is one of the members of BTS. He has always been very generous and devoted to the ARMY. He likes to dedicate most of his work to their fandom. But recently, fans have noticed that Jungkook has gotten inked and yet hasn't revealed anything publicly. The golden maknae is renowned and loved for several things, including his fashion and his adorable "bunny smile," which has won the hearts of his fans.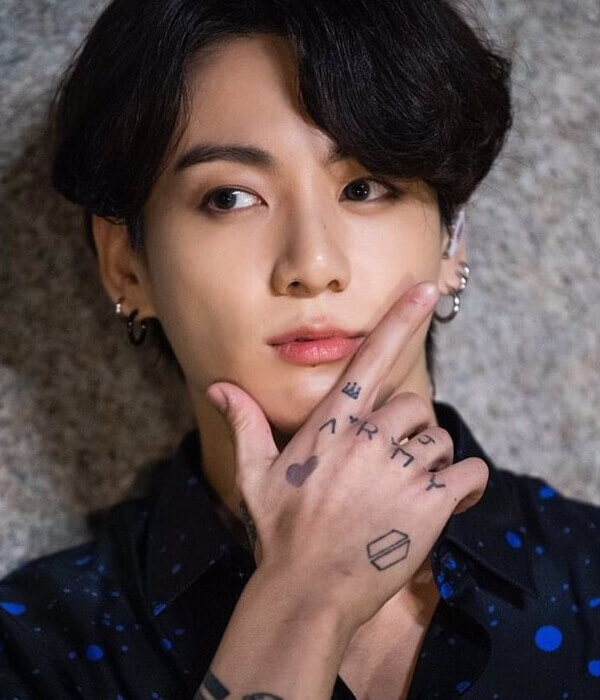 In addition to being a fan favorite, Jungkook stands out owing to his iconic style and now his stunning variety of tattoos as well.
It was back in 2019 when his first tattoo was revealed, which left many fans stunned. ARMY had a 'pinch me' moment, as they all were not ready to believe that those were actual tattoos. Call it the typical
Korean culture or many other things that K-pop idols are prohibited from doing, among which getting inked is a big NO. But Cheers! To those who are breaking these stereotypical barriers like Jungkook did by getting himself tatted.
Let us start from the beginning when Jungkook disclosed his first tattoo in September 2019. The tattoo display took place when a fan in Busan, his hometown, came up to meet him and asked him for his autograph. While signing, the fan glared at the little tattoo on his knuckles which said "ARMY." By that, we know that even if it was the first tattoo, it still was dedicated to their fandom, which brings him the utmost happiness and success. Later, when the band got together at the airport, that's when his tattoo was revealed to the media as well.
14 Iconic BTS Jungkook Tattoos
Here is a list of tattoos our Cooky has got by far.
1. ARMY + J
The BTS member started off by getting inked on his hands. Jungkook has various tattoos on his hands. Among which, the first and most prominent is the "ARMY," which was created for their fandom. It is also known to be an acronym for the members of the K-pop band. It represents the letters "RM" and "Min Yoongi" (Suga). It is thought that Jin, Jimin, and J-Hope are represented by the letter "J" along with ARMY. The letter "A" in ARMY is an inverted "V" for V.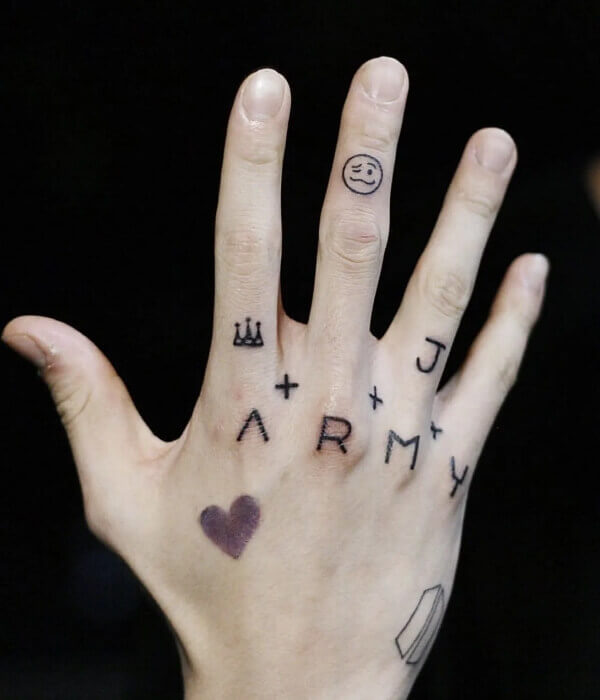 2. Purple Heart
Even while Jungkook hasn't officially confirmed any of the fan-given interpretations of his tattoos, the heart is generally understood to be a representation of Jungkook's unending love for his members and fans. Purpleheart: Borahae, which translates to "I purple you" and is an expression that is quite similar to the common phrase "I love you."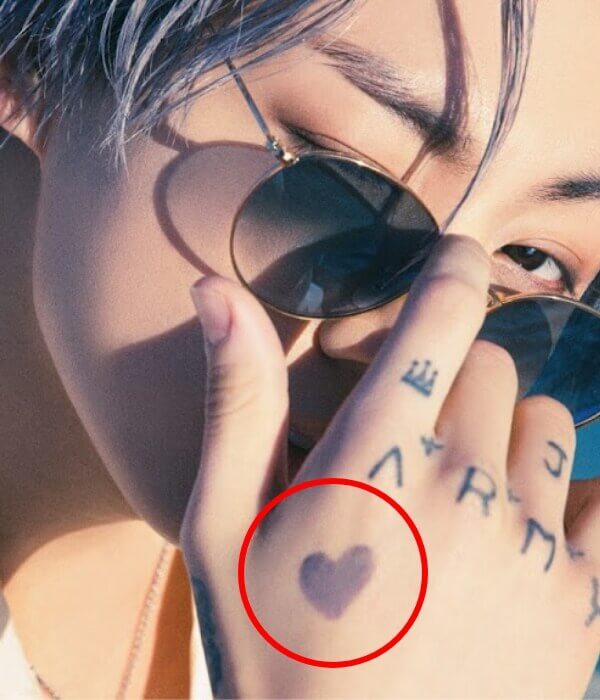 3. 0613
The third tat that Jungkook has is a date. Being very close to our golden maknae's heart along with other members of the band. The tattoo "0613" holds a special place as this date is when they first debuted in the year 2013 in June. He flashed this tattoo to the audience during his performance of "Euphoria" on stage.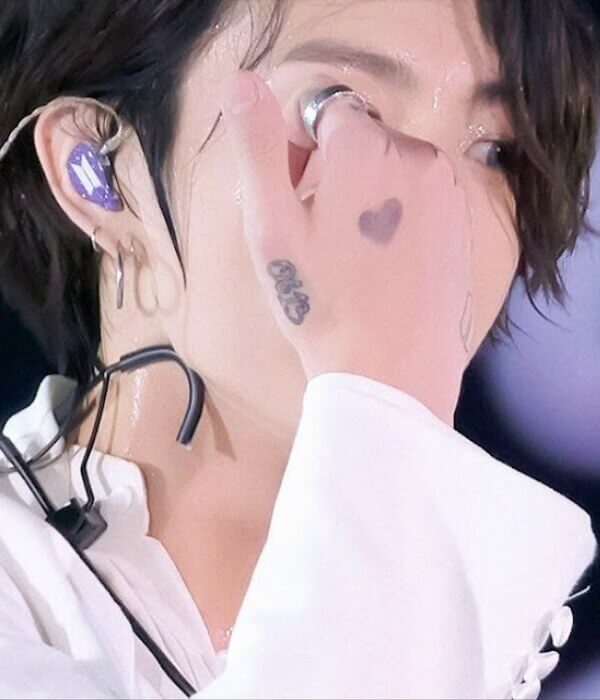 4. Smiley Face and Crown
Seeing Jungkook's smiley face tattoo, the first thing that comes to mind is that Smiley's face is his favorite emoji. But it could also just be an aesthetic detail. The confused smiley face he drew on his middle finger, the significance of which is still a mystery. However, many people have pointed out how the eyebrows of the emoticon are comparable to those of Cooky. It's possible that the crown is a reference to BTS's reign as Kings of K-Pop.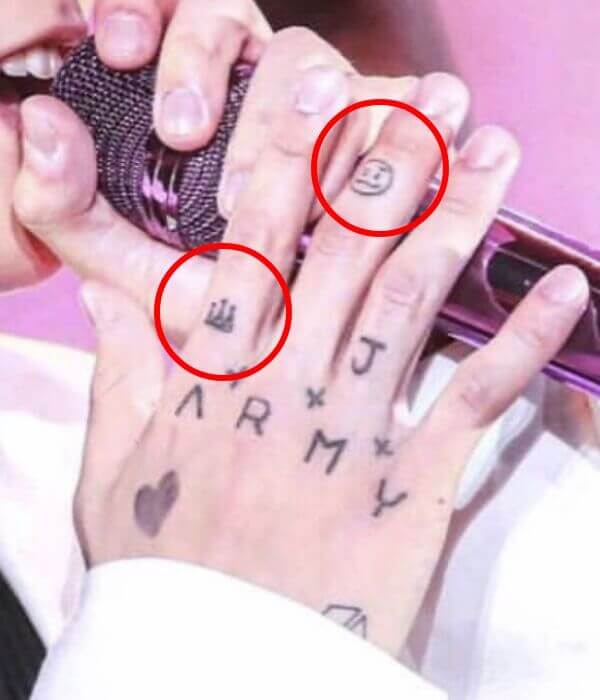 5. Shield
It was disclosed that Jungkook even has the ARMY logo tattooed on his hand. The fandom indeed loved the kind of emotions he has attached to them. Although, it's intriguing to note that he chose to get the ARMY logo tattooed rather than the BTS one! The BTS ARMY logo, which had been covered under his sleeves, was only discovered years afterward.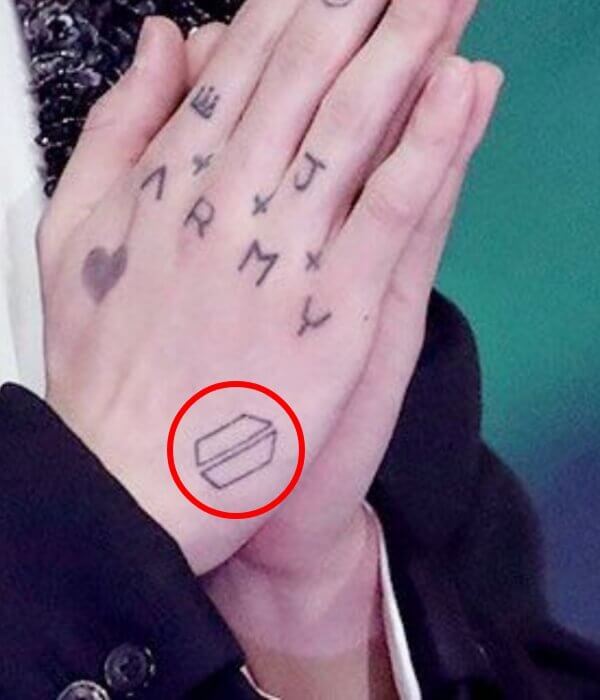 6. "Rather be dead than cool."
Jungkook also has a tattoo of a crossword on the inside of his right forearm. The phrase "Rather be dead than cool" is taken from the song "Stay Away" by Nirvana, and it is written in vertical lettering that is a part of the design. In April 2018, while participating in a live stream, Jungkook expressed how much he adores the phrase in question. It is something that he lives by!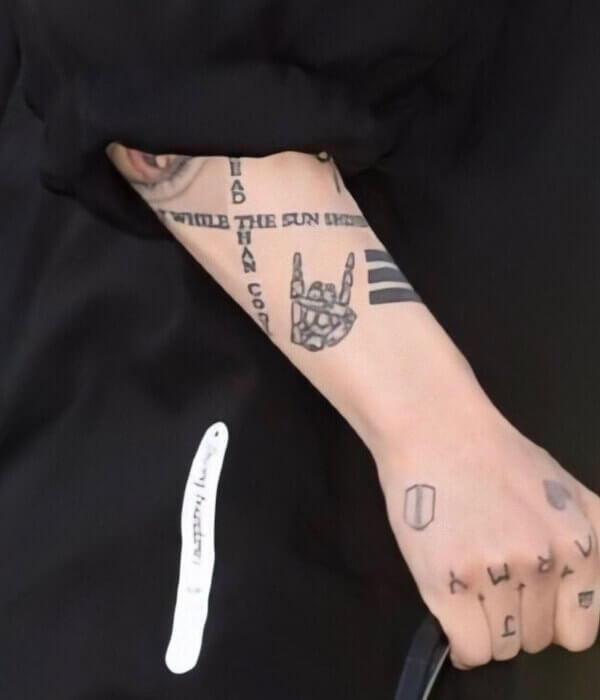 7. "Make hay while the sun shines"
Although it is considerably more difficult to make out clearly, the horizontal sentence in the crossword did make a cameo appearance in the music video for BTS's song "ON." An old saying that encourages people to make the most of the present moment is "Make hay while the sun shines."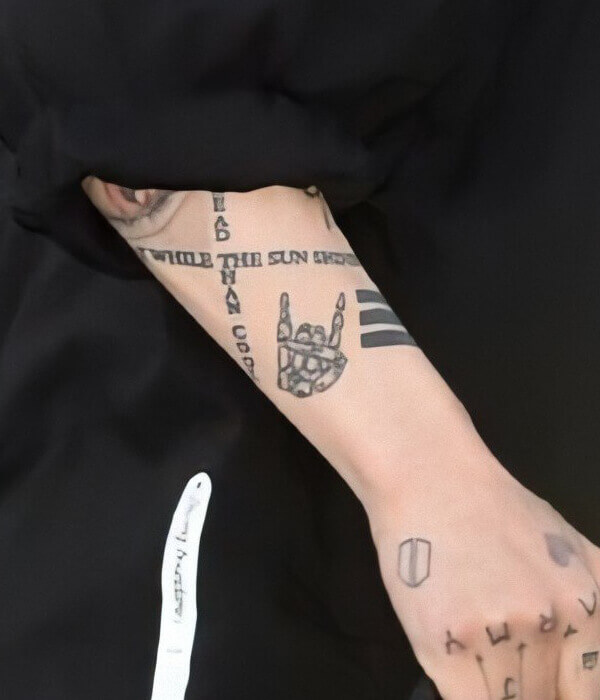 8. Skeleton hand & black stripes
Another tattoo that Jungkook has is a skeleton hand. The skeleton hand is claimed to be an outgrowth of Jungkook's "Rather be dead than cool" ink. The skeleton hand's pinky and index fingers are pointed up in a traditional "rock on" motion.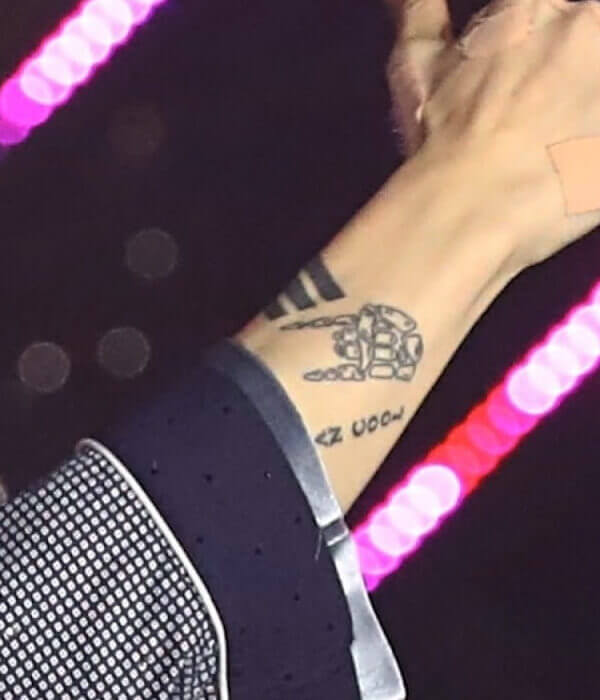 The stripes adjacent to it are strikingly similar to the stripes that appear on the geon (건) flag of South Korea, which translates to "justice."
Also See: 50 Incredible Skeleton Hand Tattoos
9. Tiger lily
Jungkook also has a Tiger Lily flower etched on his right forearm. The tiger lily is said to be Jungkook's birth flower, and some fans believe that this tattoo resembles that bloom. The meaning of the tiger lily Jungkook tattoo arm is "please love me."
10. TRUTH
The "BTS Focus" version of the "Kinetic Manifesto Film: Come Prima" music video has this text, which was discovered by fans. Some people believe it says "TRUTH," which is a word that Jungkook's GOT7 friends Mark and Yugyeom also have tattooed on their bodies in the same location as Jungkook's. However, the lettering is tough to make out.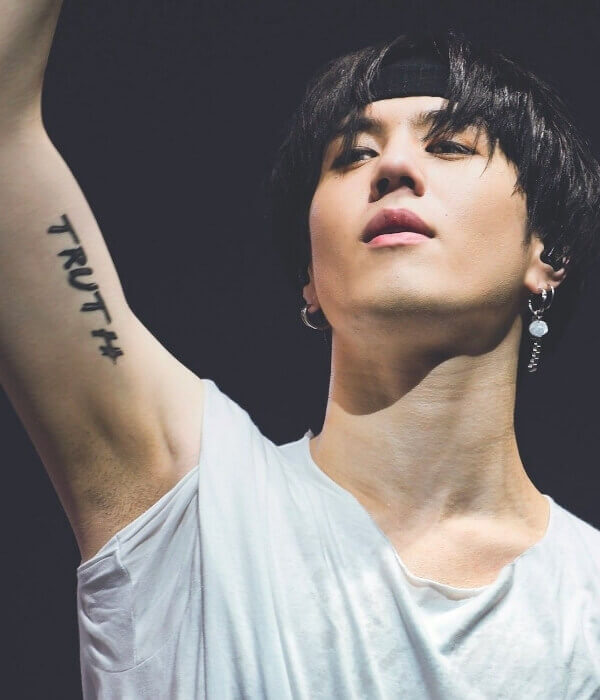 11. Tiger
The "ON" music video of BTS featured this fan-spotted tattoo. It's hard to tell for sure, but it looks like Jungkook might have a tiger tattooed on his arm somewhere. Tigers are considered to be symbols of good luck in Korean mythology. They also stand for bravery and pride.
12. Chinese Characters
A video of one of the singer's rehearsal sessions shows him with a tattoo beneath his elbow that reads "The Most Beautiful Moment in Life." And the lettering also has traditional Chinese characters etched over it.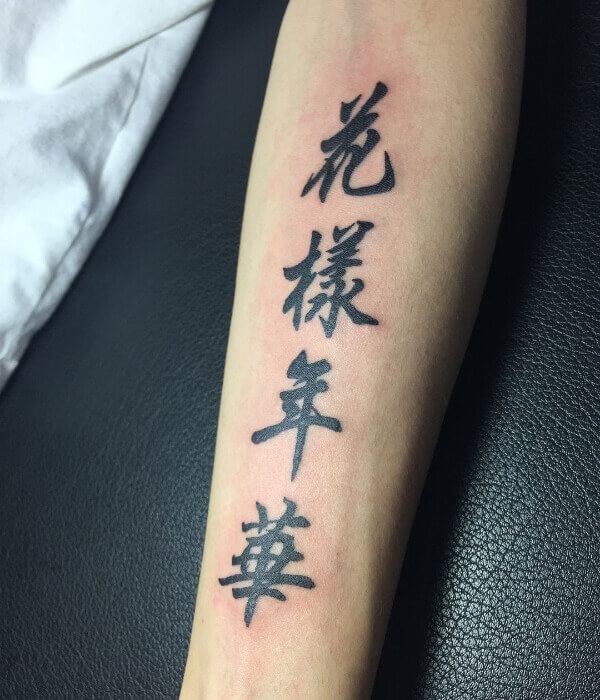 13. 'MY TIME' CLOCK
A timepiece is depicted in the form of a tattoo on one of Jungkook's sleeves. It is speculated to be a tattoo designed in the form of my time clock. My Time is Jungkook's solo track, and it can be found on the "Map of the Soul: 7" album by BTS. The song was co-written by Jungkook himself.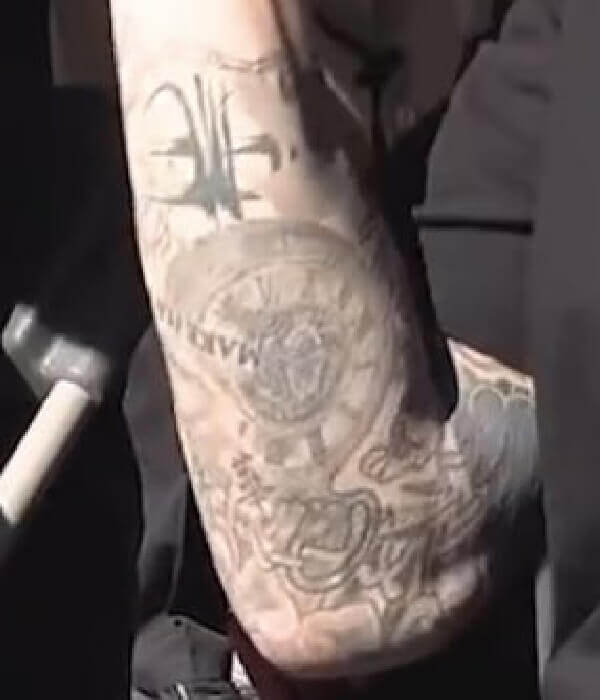 14. '7' Tattoo
Recently, our Cooky got inked yet again, and this time with the band's lucky number '7'. This is Jungkook's new tattoo that he recently got. He got it tattooed behind his ear. The number 7 holds a unique significance for the band. It is because the band consists of seven members in total.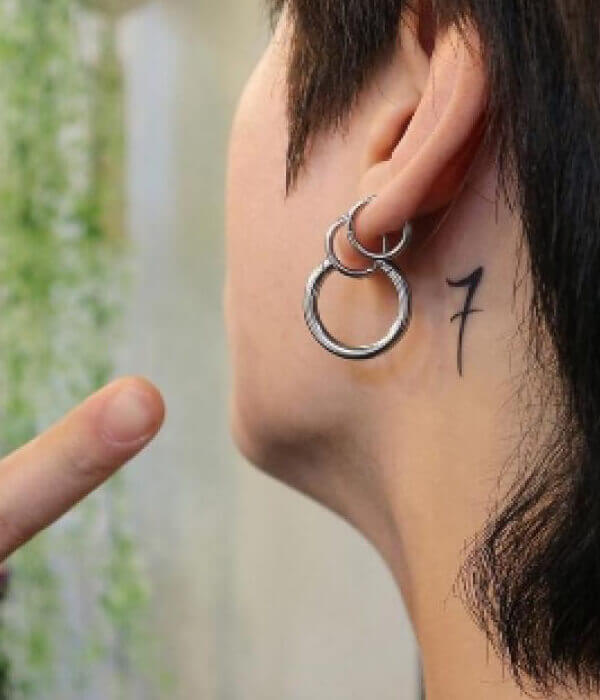 Wrapping it up…
So, these are the 14 iconic tattoos that BTS Jungkook has in total. We are sure that the list will help you get some inspiration for your next tattoo design. And if you're one of the fans of this handsome dude, then surely this list is going to be really helpful for you.
Aside from having stunning tattoos, Jungkook is known to have a great sense of fashion and style. Also, his admirers like him not only because he is extraordinarily charming or on the cutting edge of fashion but also because he is humble and kind.
Thanks for reading!
Happy Tattooing… ☺ ☺
Please follow and like us: