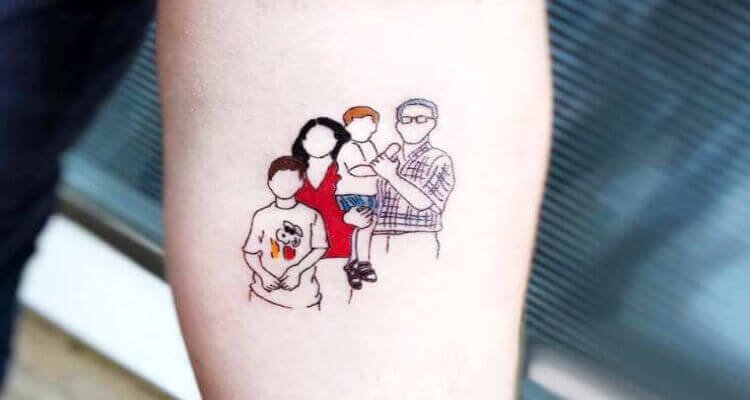 25 Best Family Tattoo Ideas for your Inspiration
Posted on
Family tattoos are symbols that represent a permanent commitment. Individuals get family tattoos etched on their bodies to showcase their loved ones' importance in their lives. There are myriads of family tattoo ideas; however, the most popular family tattoo designs include names of loved ones, date of birth of their children, symbols, and family quotes. Some even get the portraiture style family tattoos as well.
People who are lucky to have a loving and caring family or are connected to their families can consider a family tattoo design for themselves. It is imperative that one chooses a Meaningful Family Tattoo design before getting it finally etched on his/her skin.
Besides family members, there are many animals that an individual can depict in a family tattoo design. Animals that represent a strong bond, include:
Lion: More often than not, lions are incorporated into family tattoos for their recognizable familial bond.
Wolf: Another animal that is often incorporated in family tattoos is a wolf. This is because they always travel in a pack that represents a close bond, familial order, and leadership.
Dog: Dogs are also incorporated in family tattoos because most people domesticate dogs and treat them as their family members only. Pet lovers very much prefer dog tattoos. Sometimes they only go for the dog's paw to represent their close connection with their pet.
Cat: Another very popular family animal is a cat. Many people domesticate cats, and to showcase their love for their cats, they usually get a cat outline, or their paws etched along with their family tattoos.
Elephant: Elephant family tattoo ideas are also popular due to their protective instincts towards their families.
Family Tattoo Placement
It matters a lot where you place or position your family tattoo. Well, when it comes to positioning a family tattoo, different people set it differently. For instance, men prefer to get their family tattoos etched across their chest to showcase how close to their heart their family or loved ones are. Besides their chest, they also get their Tattoo inked inside their forearm or forearm, or on their back.
While women love to love to get their family tattoos on their wrists and inner forearm, they also get it etched on their legs or ankles.
You can get your Tattoo etched anywhere on your body. The main thing that influences the Tattoo's placement is the size of the Tattoo. Apart from it, the other factors that affect the placement of a tattoo include, your country of origin (if you live in a country where tattoos are not welcomed, then you cannot have a tattoo which is visible easily), your work nature (if you are not allowed to have tattoos are work, then you will need to get your Tattoo in some hidden place, like your back), and your comfort (if you are not comfortable revealing your body art, then what is the point having it in an open area of your body).
The 25 Best Family Tattoo Designs
When it comes to a family tattoo, there is no dearth of beautiful designs. Here we are sharing fantastic family tattoo ideas that you can use effectively for a great, meaningful family tattoo. Take a look…..
1. Just the Word "FAMILY."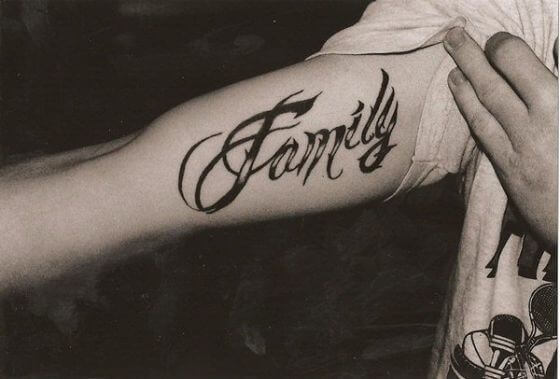 You need not to overdo your tattoo design; just the word "FAMILY" etched in bold or cursive is enough to represent your strong bond and connection.
2. A Family Quote
Just scroll over the internet, and you will come across thousands of family quotes. You can get any quote etched on your body. Or you can also come up with your own quote for that personal touch. Make sure that the quote you choose fits in well with your needs.
See More: Inspiring Quote Tattoo Ideas
3. A Family Quote in Other Language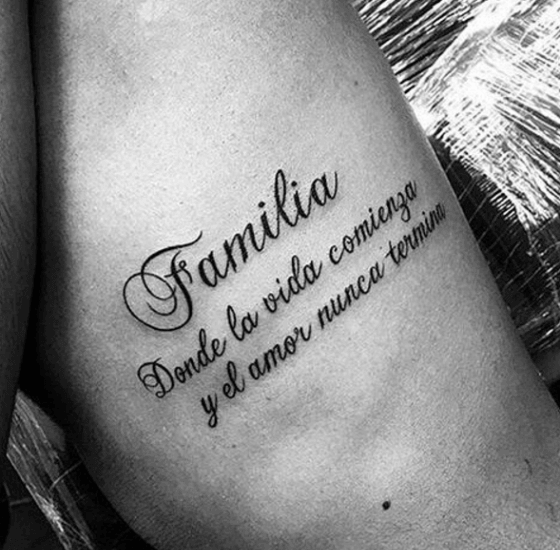 Believe it or not, quotes in other languages look awesome. Quotes in other languages create excitement in other's minds; they are, in fact, the best ice breakers. So, get a family quote in another language; however, make sure you get its meaning also at the same time. Because getting a quote in a different language without knowing its meaning can also become a cause of embarrassment.
4. An Elephant Family Tattoo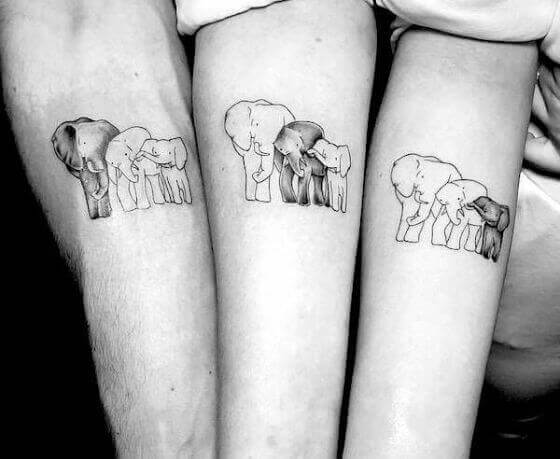 If you have that protective instinct for your family that elephants have, get an elephant family tattoo etched on your body. Let the world also know how concerned and protective you are towards your family.
5. A family Tree Tattoo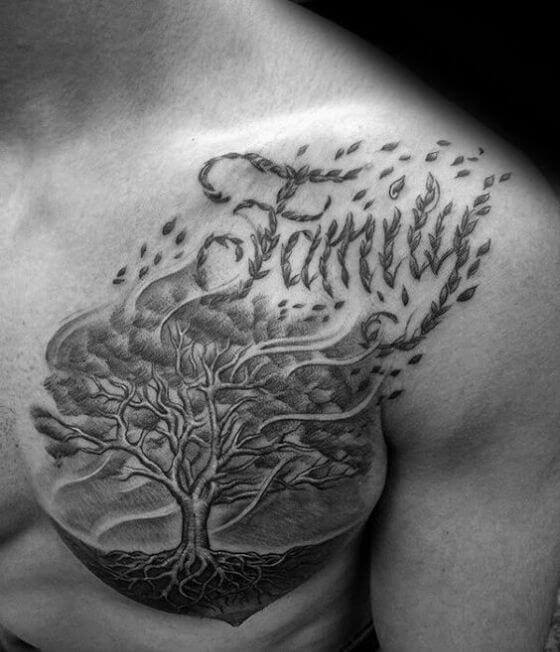 Another trendy family tattoo designs include a family tree tattoo. Family tree tattoos look very beautiful and mesmerizing. The best thing is you can get them in any size from big to small according to your needs.
6. Silhouettes of You and Your Loved One
A silhouette makes for a beautiful and very sultry family tattoo design. If you want to flaunt a stylish yet unique tattoo design, then this one is apt.
7. Infinity Family Tattoo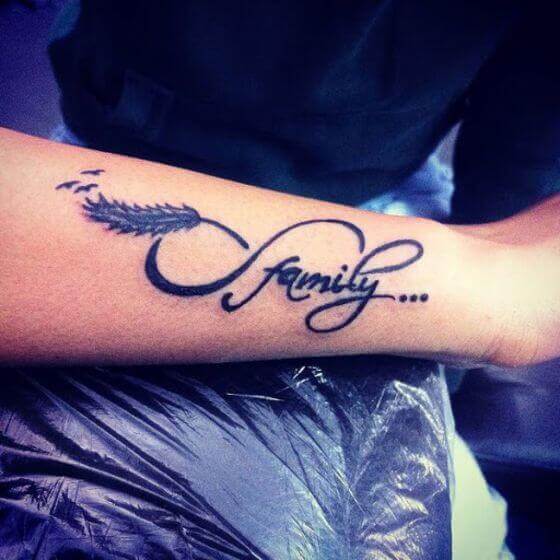 Infinity tattoos are prevalent amongst both men and women. And when it comes to a family tattoo design, the infinity family tattoo tops the list. If you want to have a simple yet elegant family tattoo, then an infinity family tattoo is the best tattoo design.
8. Baby Palms Tattoo
Cute little baby palms make for the best tattoo designs for the people newly entered into parenthood and want to showcase their love for the newly born. This is the most adorable family tattoo design one can opt for!
9. Baby Feet Tattoo
Similar to baby palms, baby feet tattoo design is popular amongst new parents. An excellent way to embrace the new stage of your life and let your baby know how much you love him/her.
10. A Heart Depicting Your Family
Get a heart depicting your family as a whole, it will looks cute and lovely. You can get it in colored ink or black ink and in any size, from small to large.
Also See: Heart Tattoo Designs With Meanings
11. Stick Figure Family Tattoo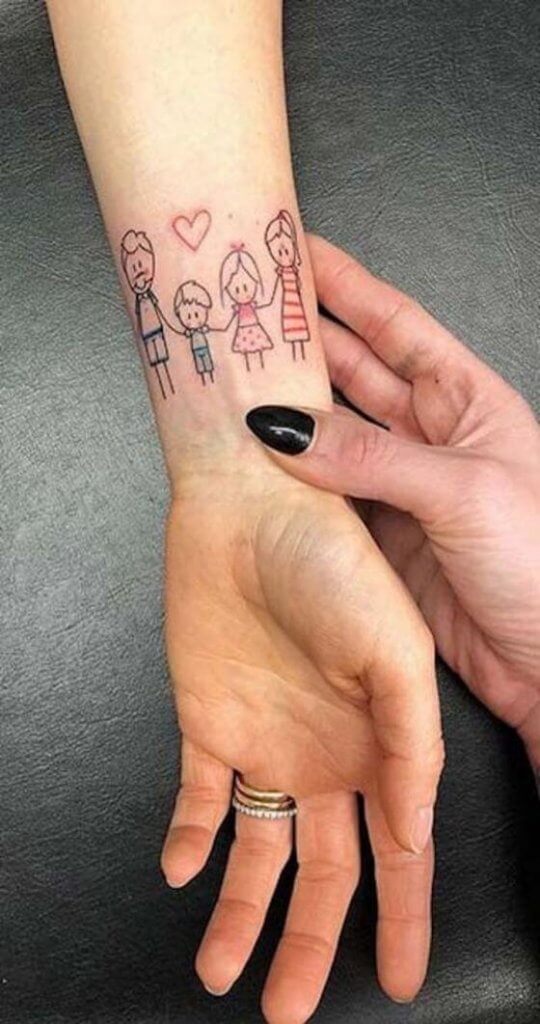 Another gorgeous and unique family tattoo design is the stick figure family tattoo. You must have seen kids making stick figures in their drawing books. Trust me; a stick figure looks awesome when tattooed on the body. You can have all your family members' stick figures etched on your body; it will look mesmerizing. If you want, you can even add additional elements, like a heart or an infinity sign, or a word FAMILY, or a small quote incorporated along with your stick figure tattoo design.
12. Matching Family Tattoos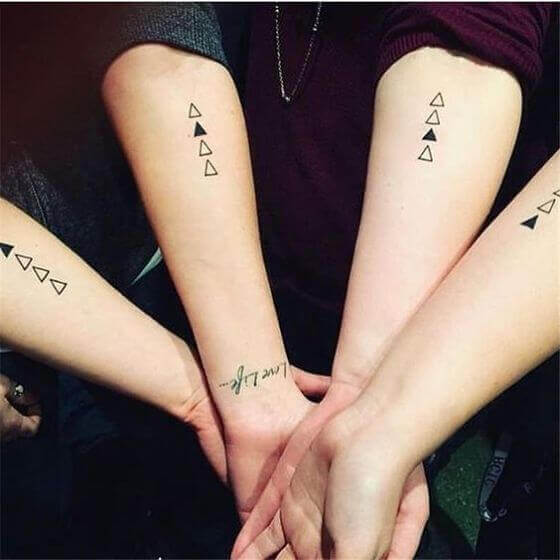 People choose to go with matching tattoos to showcase their relationship, love, and bond. More often than not, couples go for a matching tattoo. If you also want to have something similar to your partner or your sister, then a matching tattoo will make for a cute family tattoo design.
13. Name Tattoo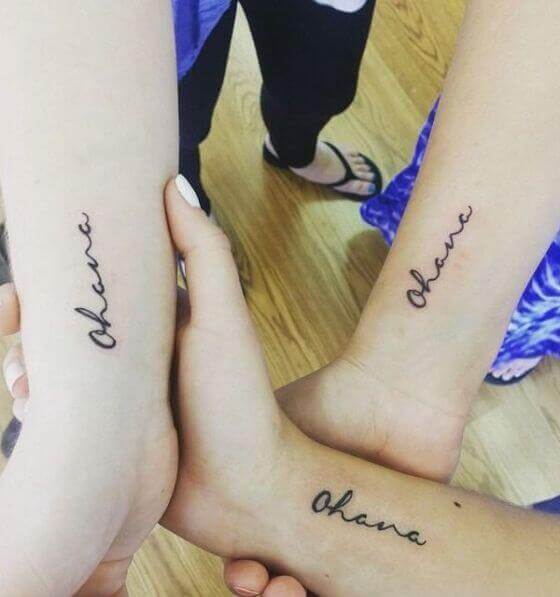 Another very popular family tattoo design is a name tattoo. Couples prefer to get name tattoos. They love to get their partner's name etched on their body to show their love for their partner. It is a great way to show your partner how much you love him/her.
14. MOM DAD Tattoo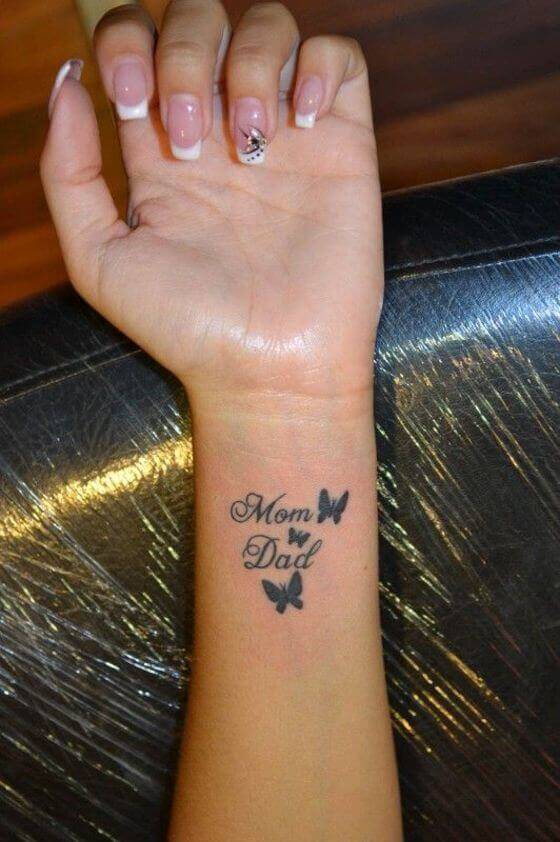 Individuals who feel too connected to their parents get a Mom Dad tattoo. There are myriads of ways you can get a mom dad tattoo. You can simply get MOM DAD etched on your body, or you can have some additional elements, like crowns, quotes, heart symbol carved along with your mom dad tattoo. Not only does this Tattoo look cute, but also it looks very elegant.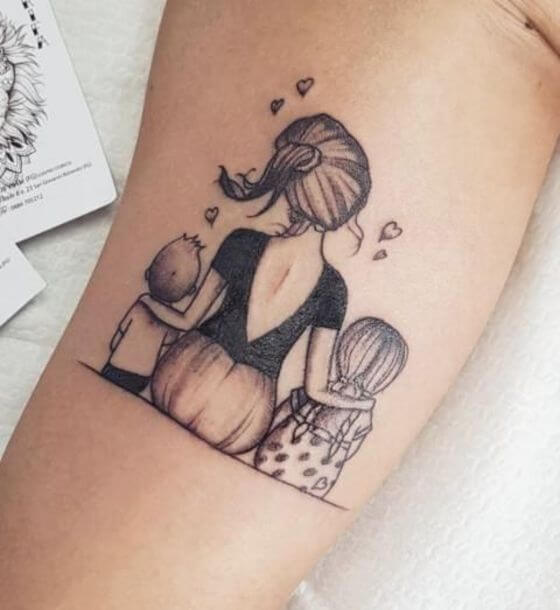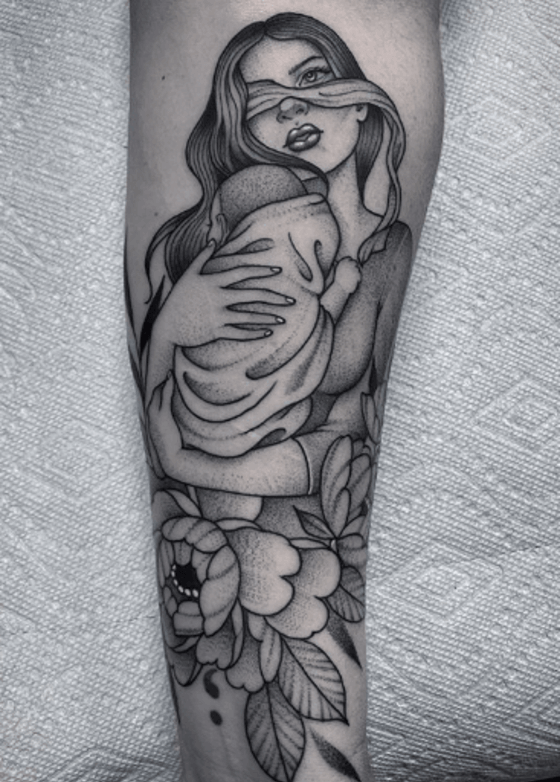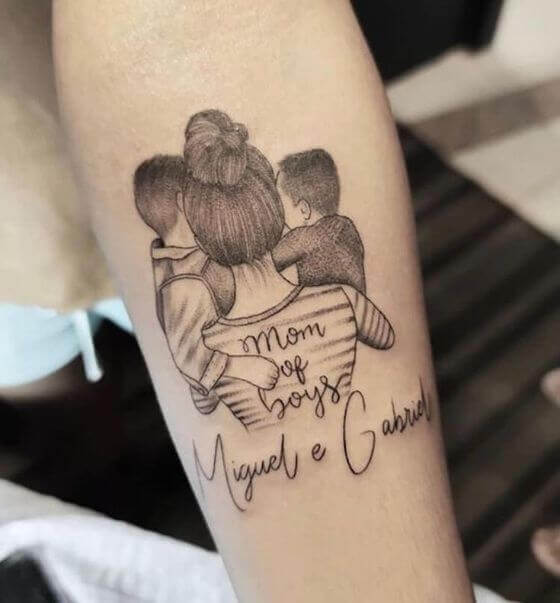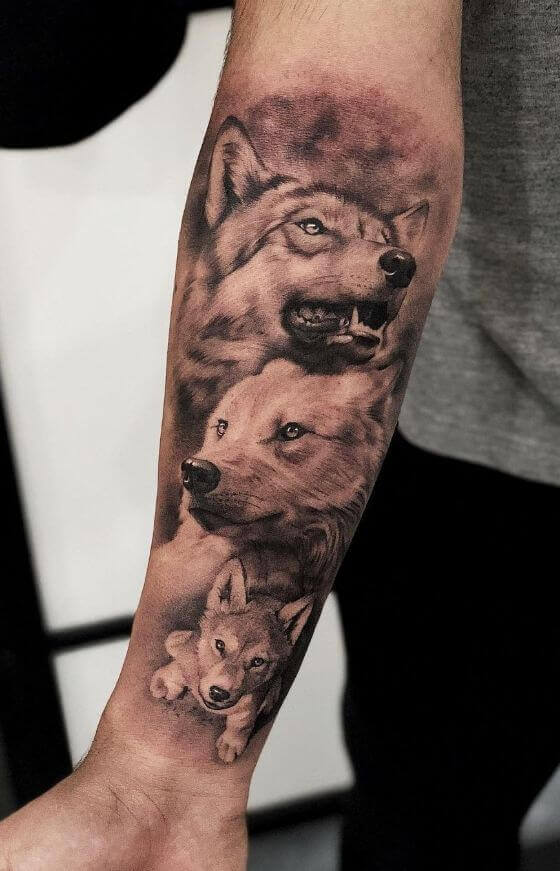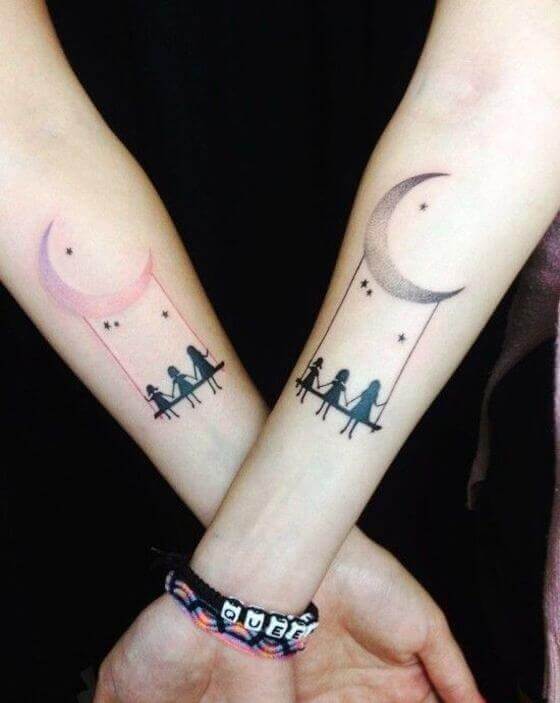 FINAL THOUGHT
This is all about family tattoos; I hope this post helps you get family tattoo ideas and help you decide on the right tattoo design for yourself. You can get any design inked on your body as long as it is meaningful. All you have to make sure is to go to a professional tattoo artist to get your Tattoo so that there are no disappointments later. So, choose the right tattoo artist for your Tattoo!!
Happy Tattooing…. ☺ ☺
Please follow and like us: