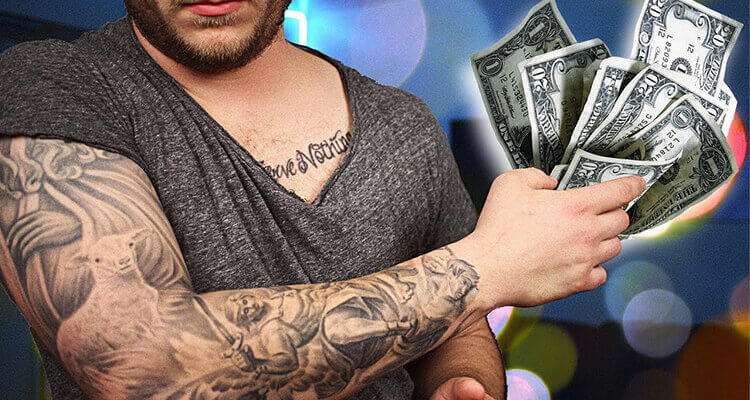 Tattoo Prices: How Much Does Sleeve Tattoos Cost in 2023
Posted on
Sleeve tattoos are finely detailed and have a massive skin space to cover. Making such designs takes a lot of time and energy to be invested from both sides apart from a great skill set of the tattoo artist. Therefore, these tattoos are certainly on a higher end of cost as compared to usual or smaller tattoos.
These large and minutely detailed tattoos are attractive and cool enough to make heads turn. They are not for somebody who has a low threshold on pain bearing ability, low patience or for those who are a little tight on budget. They consume both time and money sufficiently. Sometimes, they can also take days for completion for maintaining the quality of a tattoo or it also depends on the size and detailings of the tattoo. Talking about round figures, it can cost between $2000 and $16000 approximately i.e. average being $9000. But in case if you want to have the tattoo made with different colors then price can go even higher.
Tattoo artists also charge on hourly basis sometimes especially when it is a massive tattoo like a sleeve tattoo. The rate of tattoo per hour also depends on the tattoo artist making it for example a popular and expert tattoo artist would charge more than a less experienced tattoo artist. The cost of getting a tattoo per hour would settle around $40 per hour to $190 per hour approximately again depending on the tattoo size and the tattoo artist. Hence, the average per hour cost of getting a half sleeve tattoo cost and full sleeve would be around $120 in round figures. Sleeve tattoos are a large piece of work in the categories of tattoos. To have it made on your arm is a painful job and also it will last all your life so that's why be particular about the tattoo artist from whom you want to get it made. Go only for the tattoo artist whom you trust the most. Some detailed designs on bigger arms would cost even more as they would take more time. Hence, arm size and design are also important parameters for deciding the cost.
Sleeve tattoos take a minimum ten to fifteen hours of time to get completely but can also go up to eighty hours for completion depending on the complexity of design and the size of the arm. That's why try to discuss the design details, arm size, time taken, price per hour etc and all other factors that come into your mind with your tattoo artist beforehand to get a better picture of the cost for your customized tattoo. Get a suitable quotation from the artist depending on your need and discuss the style and colors in detail for a satisfactory work.
Also check: Tattoo Price Calculator You should try it!🔥
All in all, there is no set price for getting a sleeve tattoo as it depends on many factors which are different for everyone according to their needs. Some major parameters which affect the cost are design complexity, arm size, colors required in the tattoo, tattoo artist, place, time required for making that particular tattoo and much more similar factors.
Please follow and like us: