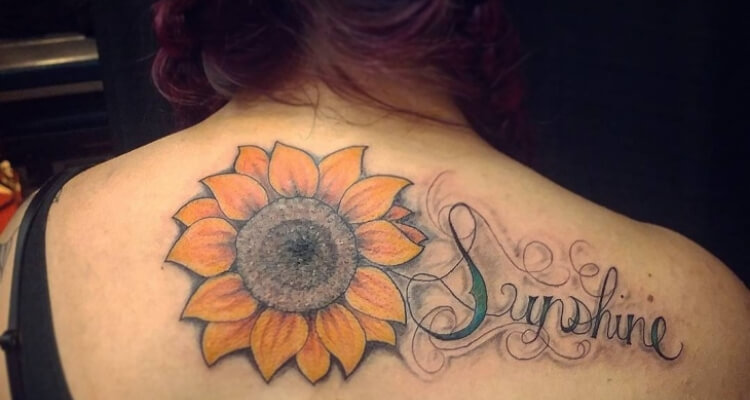 45 Bright Sunflower Tattoo Designs for Men and Women
Posted on
Flowers bloom freely for all to see all over the world. It's no surprise that flower tattoos have been worn for nearly as long as tattooing has existed. People all over the world are drawn to their beauty and the variety of different types available.
For a multitude of reasons, flowers have been among the most popular tattoo designs in the world. Sunflower tattoos are at the top of the list when it comes to floral tattoo designs. And here, in this post, we shall discuss popular sunflower tattoo designs for women and men, including the meaning and symbolism of the Sunflower Tattoo.
Let's get started…
Meaning and Symbolism of Sunflower Tattoo
Flowers are often used to symbolize personal and spiritual development. In many cultures around the world, different flowers represent different things. Sunflower tattoo meaning differs for different people; they can represent a multitude of things to the people who get them.
Sunflower tattoos are welcoming and pleasant, and they usually convey a positive message. Yellow is connected with life, happiness, and intelligence in Chinese culture. To the Chinese, the sunflower represents good fortune and long life. Sunflowers are often associated with the warmth and beauty of summer in American culture. Sunflower tattoos symbolize a variety of things, including joy, happiness, faithfulness, vitality, intellect, kindness, and reproduction.
Best Sunflower Tattoo Placement
Tattoos with sunflowers look fantastic in any size, from small to enormous. However, you must ensure that the sunflower tattoo is placed correctly in relation to its size. Know that sunflower tattoos are more symmetrical, rounder, and full blossoms. They appear best on symmetrical body parts, like the back of the neck or the lower back, even your hip. Suppose the design is excessively circular and bold. In that case, it can overwhelm a sensitive area like the wrist or ankle, and it can also make areas like the calf, which have room for larger tattoos and hence are a great spot for them, appear shorter or truncated. However, you can have them in smaller sizes in various areas, such as your wrist, ankle, calf, chest, and so on. So, depending on the size and design of your sunflower tattoo, you can have it in the following places of your body:
Arm
Shoulder
Sleeves
Behind the Ear
Neck
Hip
Thighs
Wrist
Finger
Calf
Forearm
Foot
Neck
Nape
Back
Chest
Ribs
Tummy
Ankle
Top 45 Sunflower Tattoo Designs
We have rounded up a list of the amazing 45 sunflower tattoo designs for you to get some inspiration. This list contains sunflower tattoo designs for men and sunflower tattoo designs for women. Ans also small sunflower tattoos, simple sunflower tattoo. Take a look…
1. Sunflower Hip Tattoo
A sunflower hip tattoo is for you if you're seeking badass tattoo placement. You might find this position peculiar because hip tattoos are usually hidden. You can flaunt your sunflower tattoo on the beach, albeit not completely, but at least a portion of it.
2. Sunflower and Bee Tattoo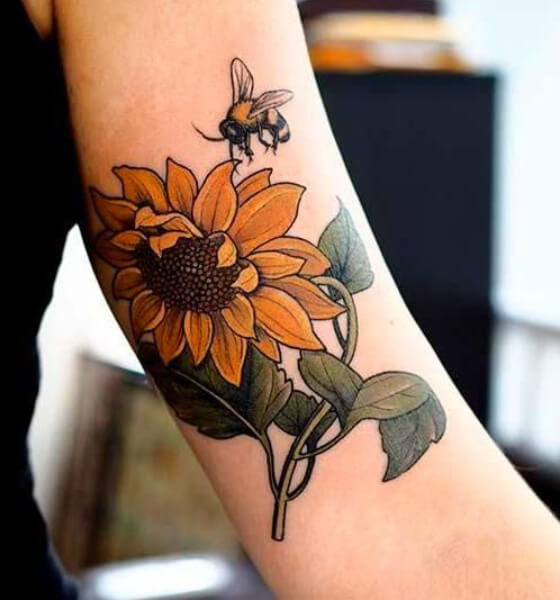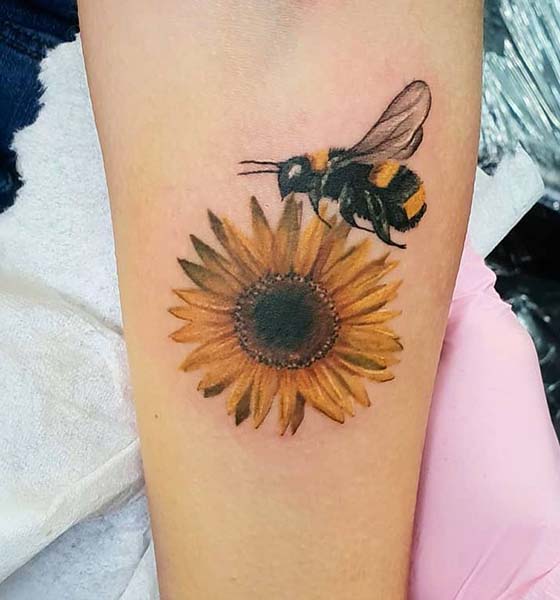 Sunflowers and bees are inextricably linked. If you like the two of them together, a sunflower tattoo with a bee is the design for you.
3. Minimalist Sunflower Tattoo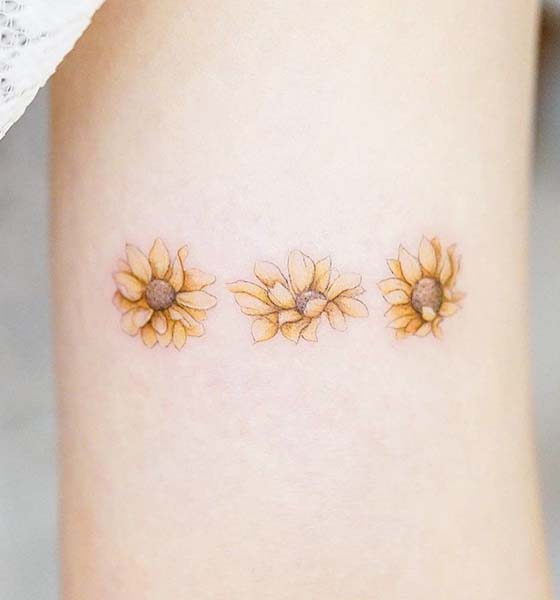 Some people really don't like overdoing their tattoo designs; they prefer minimalist tattoos; if you're one of them, consider a minimalistic sunflower tattoo. All you have to do is stick to black ink and very little shading.
4. Sunflower Shoulder Tattoo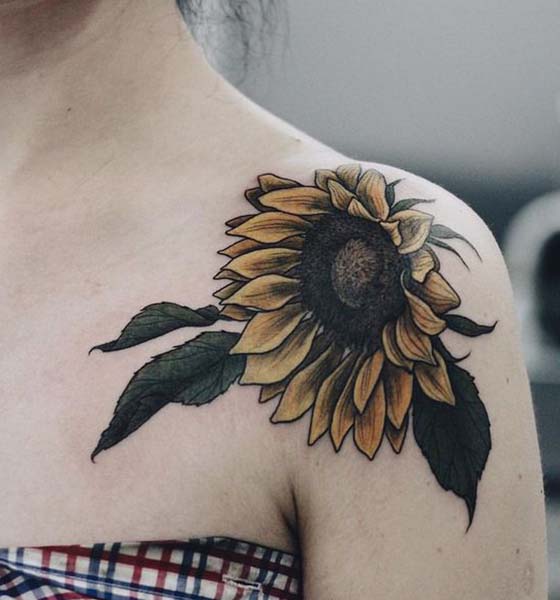 Any tattoo with circular motifs looks good when placed on shoulders, and sunflower is one such tattoo. The curved lines will beautifully complement your shoulder. Make sure you select a reputable tattoo artist skilled in shoulder tattoos. You can either have a small sunflower tattoo etched on your shoulders or get it in medium size with its leaves extending down your arm to form a half sleeve tattoo design.
5. Watercolor Sunflower Tattoo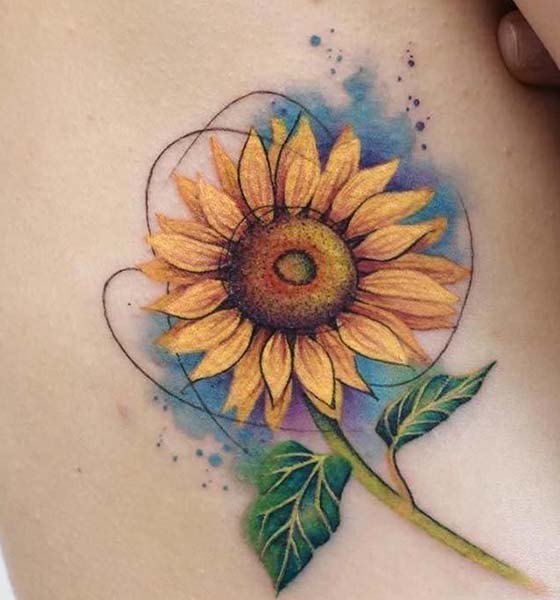 Watercolor tattoos are quite popular among women and young people. These tattoos are etched in color ink, and they appear more like a painting on the body. When inked in watercolor, a vibrant yellow sunflower tattoo will look mesmerizing. Watercolor-style tattoos require special skill sets, so make sure you choose the right tattoo artist for your watercolor sunflower tattoo.
6. Black & White Sunflower Tattoo
Undoubtedly, the vivid yellow color of a sunflower looks excellent as a tattoo; however, these lovely blooms look just as good in black and white ink. Choose a reputable artist for your black and white sunflower tattoo who can add both volume and texture without using color in it. This one is a great tattoo design for those looking for a minimalist tattoo design.
7. Realistic Sunflower Tattoo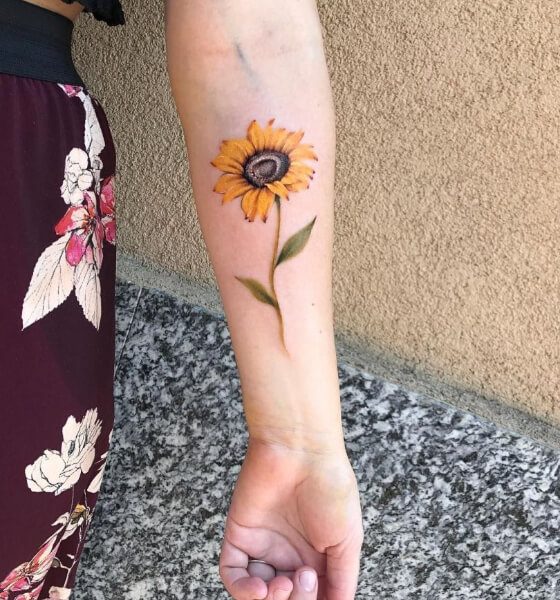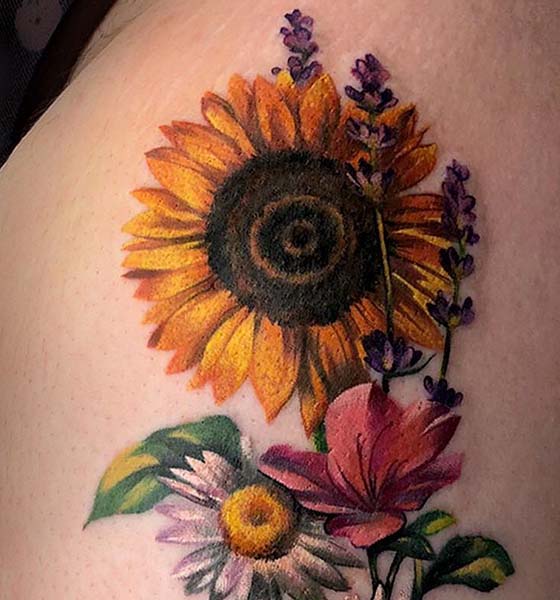 Realistic tattoos are stunning, especially when etched by a skilled artist who can precisely reproduce your design. Make sure your sunflower tattoo has everything, including angles and shadows, for a more realistic effect. It's also crucial that your artist employs accurate colors to create a stunning piece of art.
8. Sunflower and Butterfly Tattoo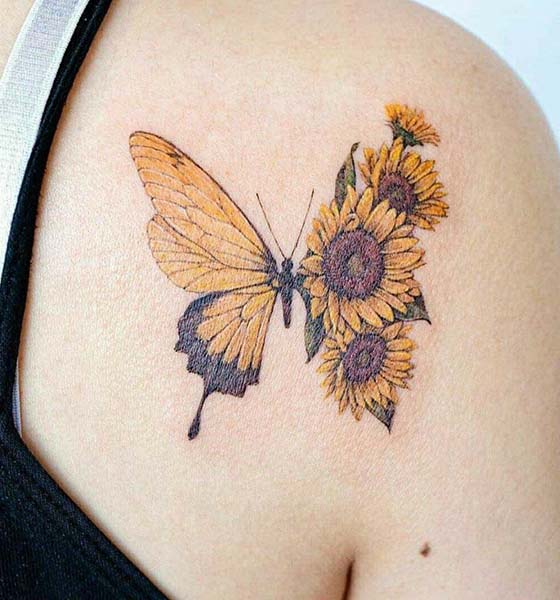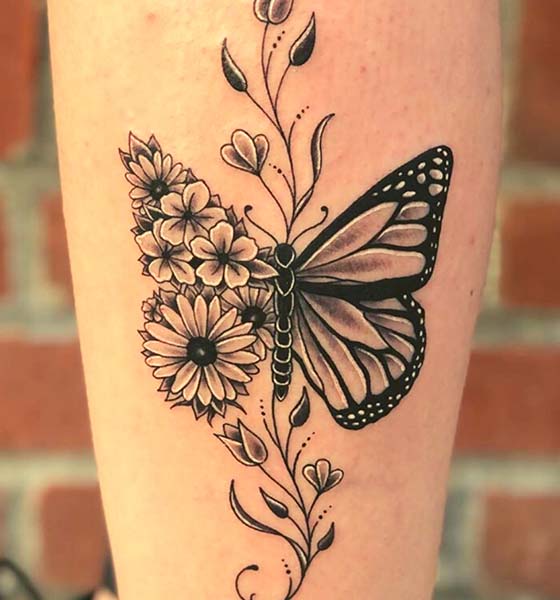 If you're looking for an outside-the-box tattoo design, then a sunflower tattoo with a butterfly is for you. Furthermore, combining a sunflower and a butterfly creates a meaningful tattoo design. Butterflies are among the most beautiful tattoo choice. They represent transformation and freedom. When paired with a sunflower, which represents life, happiness, and joy, the result is a powerful and positive tattoo. Make sure you get it in color ink on your shoulder, or if the size is small, then your wrist is the perfect place.
9. Sunflower Tattoo with Quote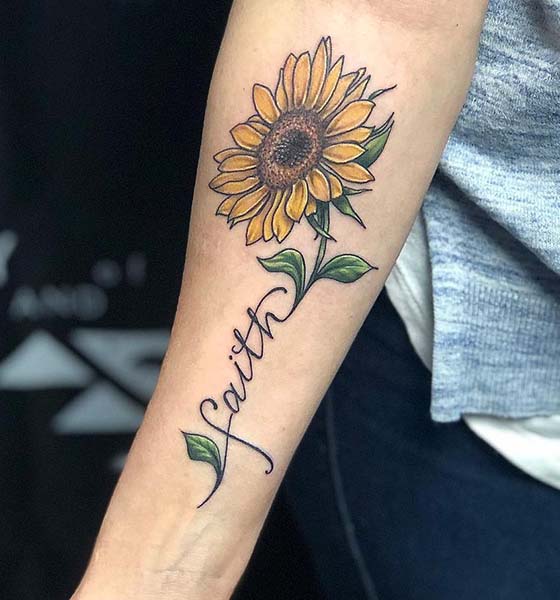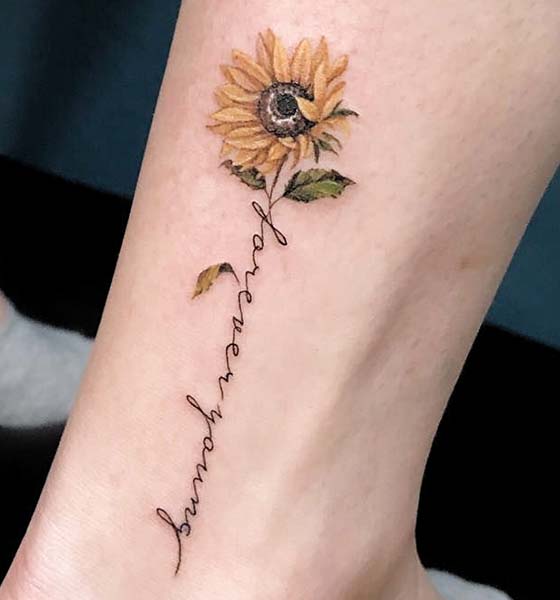 Quote tattoos are beautiful, and when mixed with sunflowers, they become much more so. You can have a sunflower tattoo with your favorite quote etched along with it. You can have a phrase etched with a sunflower in a variety of ways, including a sunflower tattoo with a quote etched in lieu of the stem or a quote etched beside the sunflower tattoo, depending on your preference.
10. Sunflower and Name Tattoo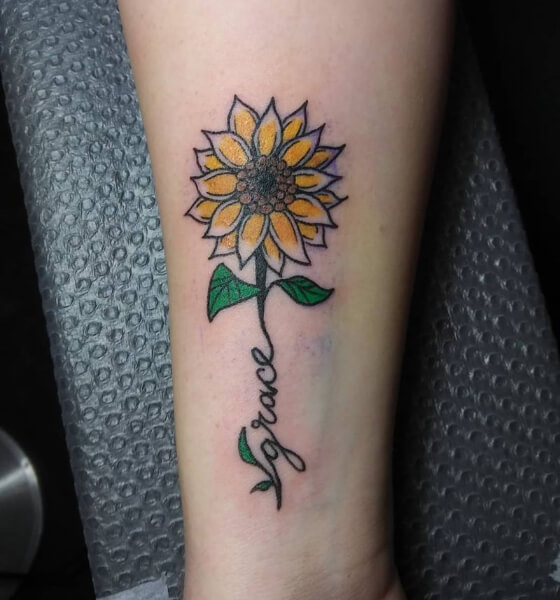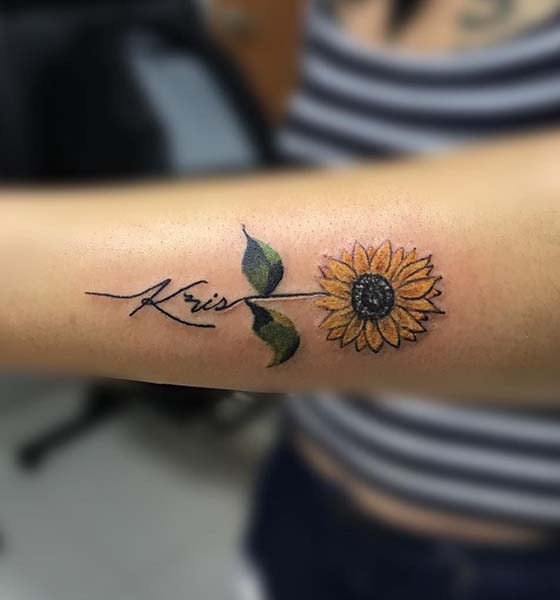 A sunflower and name tattoo design are ideal for you if you want someone special or a loved one's name etched alongside your tattoo. You can have your loved one's name or initials etched in place of the stem of the sunflower tattoo to make it more appealing. A bright yellow blossom with a black name carved on it will look fantastic.
11. Miniature Sunflower Tattoo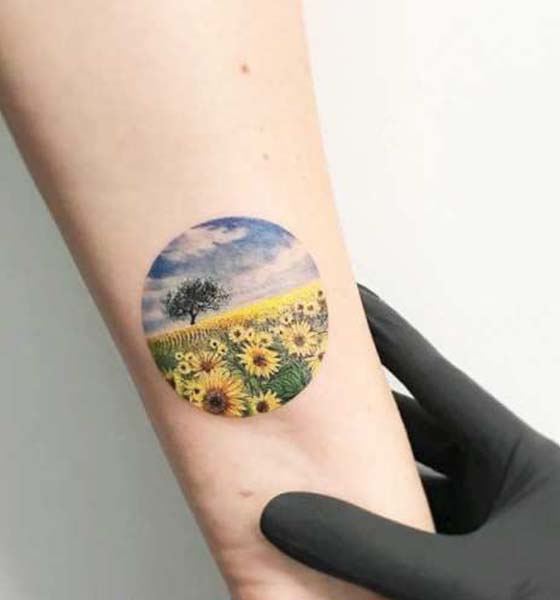 How about getting a sunflower tattoo in a small size? So, if you haven't thought about it yet, now is the time to do so. A little sunflower tattoo on your wrist, fingers, or ankle will be stunning. You have the option of having it etched in colored ink or just black ink. Whatever you decide, make sure a competent tattoo artist does your small sunflower tattoo design.
12. Sunflower Tattoo Behind Your Ear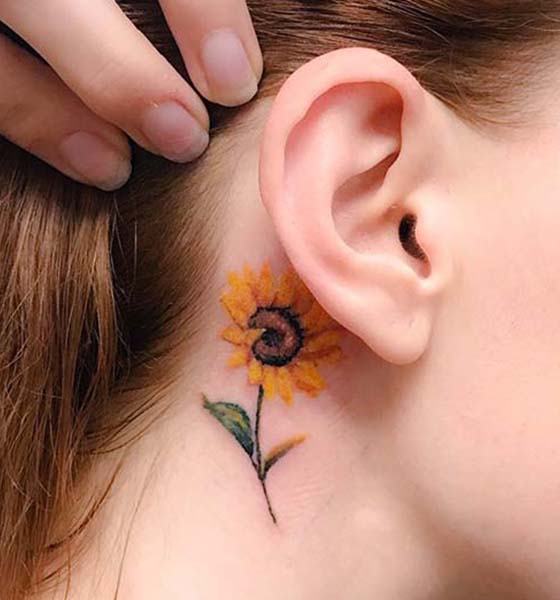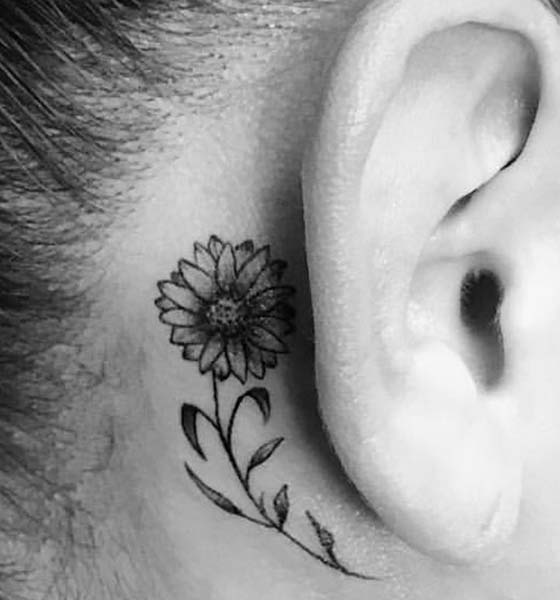 The area behind your ear is ideal for tattoo design placement. Furthermore, it is one of the most significant tattoo locations. The coolest thing is that your hair will hide your behind-the-ear sunflower tattoo. Many people prefer getting a tattoo behind their ears to reflect ideas and symbols that are near to their hearts. So, if you adore the symbolism of sunflowers, consider having it etched behind your ear.
13. Sunflower Ankle Tattoo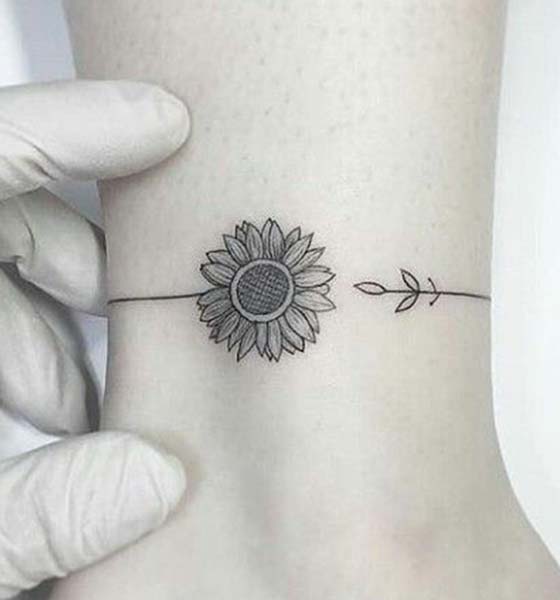 Are you seeking for a little sunflower tattoo but don't know where to get one? Your ankle, in particular, is an ideal location for a sunflower tattoo. A little yellow sunflower etched on your ankle will look fabulous. If you haven't thought of it, do it now! You won't regret your choice at all!
14. Sunflower Chest Tattoo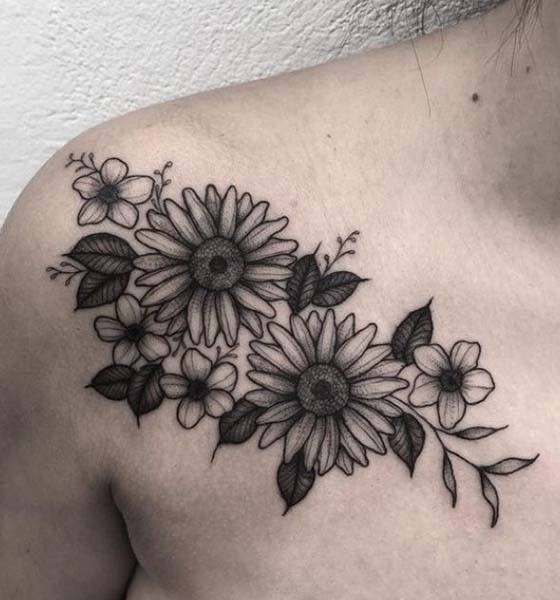 If you want a tattoo that can be hidden when you want it, the greatest place to get one is on your chest. On the chest, sunflower tattoos are elegant and attractive. On your breast, carve a small to medium-sized sunflower in color or black ink. There's no doubt it'll look fabulous.
15. Sunflower Foot Tattoo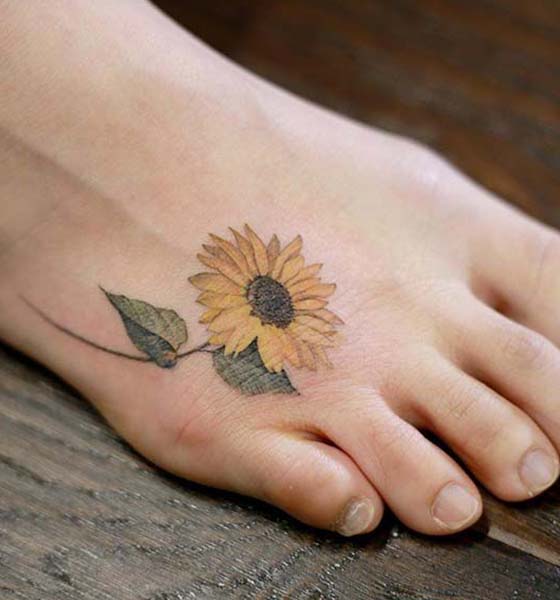 Foot tattoos look excellent. However, the foot is one of the most painful places to have a tattoo. It is because of the thin skin and boney region it causes excruciating pain. The threshold to tolerate the pain that comes with a foot tattoo will vary from person to person.
16. Sunflower arm tattoo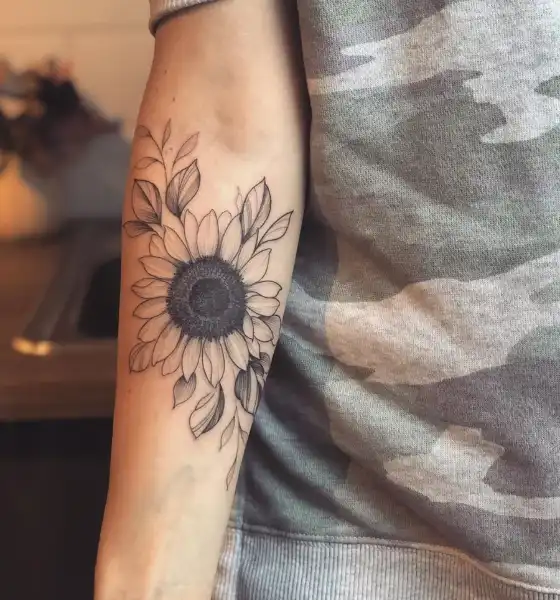 Wrapping it up…
So that's all there is to it when it comes to Sunflower Tattoos and various sunflower tattoo designs to get you inspired. Hopefully, this article will assist you in obtaining the best sunflower tattoo that you will appreciate for the rest of your life. All you have to do now is choose a reliable, professional, and experienced tattoo artist. It's pointless to choose a tattoo artist at random because it can lead to disappointment and regret.
Besides, it is also vital to decide your tattoo size and placement in advance. Knowing in advance what exactly you want can help your tattoo artist to give you your dream tattoo.
Happy Tattooing… ☺ ☺
Please follow and like us: