250+ Crazy 3D Tattoos That Will Twist Your Mind
Posted on
3D tattoos are one of the most exciting and enthralling tattoos you can ever come across, they are so awesome, that no one can ever resist having a brief look at their details and significance. These tattoos Designs are alive and create such an illusion to everyone who look at them, that they actually look alive and breathing.
You can have as many normal tattoos you want, but none can beat the realism of a 3D tattoo. Some look like that they are tearing your chest apart to give way to the hidden superman, some makes your bones appear like arms of a robot, or some make your arm looks like that your inner muscles and veins are visible clearly.
3D tattoo designs are just awesome, and surely my favorite tattoo category, if there is any tattoo design, who can make your engravings seem alive and to bring out the summit of your intended message, it is surely the 3D tattoo design.
3D Tattoo Ideas in 2022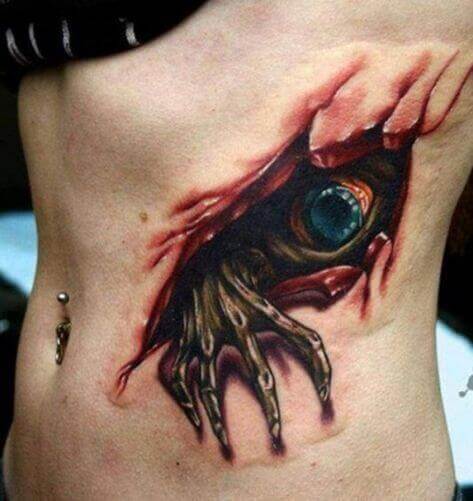 You can have anything you want to be engraved on yourself, breathing and living through a 3D tattoo, it is totally dependent on your imagination and the talent of the tattoo artist. A snake living on your arm, a devil whose fingers are piercing your skin to come out, a ribbon who is holding your flesh together. The scope of artistry in a 3D tattoo is just limitless.
One thing which we have to consider while having a 3D tattoo is to make sure you have it from a good tattoo artist, not all tattoo artists are skillful enough to bring out a 3D effect in a tattoo. Moreover, there is no scope of a 3D tattoo going wrong. The only line of difference between a disastrous tattoo and one of the most thrilling tattoos you ever had is your 3D tattoo artist.
People just go for anything, when they are deciding their 3D tattoo design, but they are still some tattoo designs who are most looked out for in 3D tattoo category, such as
Butterfly 3D tattoos
Butterflies are one of the most beautiful and delicate creatures, you can ever come across, they are vibrant and colorful, moreover, they are available in almost countless patterns and designs, making them one of the most popular creatures to have as a tattoo among women. On top of that, if they are given a 3D touch, it makes them totally irresistible. A 3D butterfly tattoo feels like a beautiful butterfly is sitting on you, resting or just about to take her flight. These designs are adorable and surely one of the best designs I have ever come across.
See: 75+ Cool Butterfly Tattoo Designs & Ideas
3D tattoos with their impeccable accuracy and skills of a tattoo artist have this power to create most jaw-dropping and awe-inspiring tattoos, among all the other tattoo categories. No one can resist the illusional results 3D tattoos can have on your skin. Have a look at our awesome and some of the most shocking 3D tattoo designs, you will just love them if not mesmerized by them.
Please follow and like us: