World Record on Tattoos – Part 1
Posted on
Tattoos are everybody's love, they help you convey your deepest desires and emotions permanently with ease. There are almost endless ways to have awesome tattoo designs over your body, in various sizes and color combinations.The art of tattoo designing is with humans from a long time now, you can easily find shreds of evidence of earlier tribes having interesting tattoo patterns engraved on them. These tattoo designs were the symbols of social status for the tattoo wearer.
In recent times, tattoos have emerged as the new cool language of the young generation, through which they love to express their beliefs and distinguish themselves from the crowd. Tattoos are the new language signifying anything you want that too permanently.
Tattoos are the art is famous among both men and women, and they love to engrave themselves with anything they find fascinating in their lives or the environment. Tattoos who were earlier considered as a taboo in many cultures have now become the new fashion statement for the young generation.
There are many people who love the idea of engraving themselves with eternal patterns, close to their hearts, they love to visualize animals, plants, flowers, birds, fictional characters such as dragons, ghosts, superheroes etc. on their body.
Some are passionate about having their loved ones, family members or beloved mate on their body, engraved as an eternal tribute of their pure love for their special ones. Actually, you can have your favorite tattoo design on you any way you want. Yes, it is a bit painful to have and you have to take extra care of your tattoo for a few days, but that beautiful designs will never miss to mesmerize you with its awe-inspiring looks.
This is the reason that many people around the world are completely in deep love for this awesome tattoo art, these people have pushed themselves beyond the limits of normal tattoo designs, and have more way forward to create interesting world records due to their unconditional love for tattoos.
Oldest Tattoo – Otzi Mummy
A mummified man, Otzi holds the Guinness world record of the oldest tattoo. This mummy was discovered at Italian Alps in 1991. The mummified body of Otzi had 61 different tattoo designs adorning his body.
It is believed that his mummified body is 5300 years old. Signifying the fact that tattoo art is practiced and cherished since ancient times. In ancient times, tattoos were used as a status symbol in the society. Moreover, tattoos were also used to symbolize the start of adulthood of boys in various communities.
The Journal of Archaeological science confirmed in February 2016, that Otzi's mummy is at least 500 years older than its main opponent, which is also a mummified body, found in South America.
This Chinchorro people's mummy is famous for its tattooed mustache, among many other tattoo designs. On the other hand, Otzi's mummy had tattoos in many places such as back, lower legs, left wrist, and ribs.
At that time, these tattoos were a very painful experience and were created by slicing the skin and rubbing the charcoal powder over it. Just the sound of this is painful.
Most tattooed man – Lucky Rich
[ Current Most Tattooed Man 72-Years-Old Wolfgang Kirsch ]
If you want to have a look at the epitome of eternal love for tattoos, Australian personnel named Lucky Rich will be a perfect example for the same.
Lucky Rich hold the Guinness world record of most tattooed man in the world since 14th March 2006. He has his complete body covered in tattoo patterns. He has spent more than 1000 hours to get outstanding tattoo designs over his complete body.
His love for tattoos and desire to use his body as a canvas is totally at the next level stuff. He opted to cover his full body with black ink, followed by designs of white color over the black ink, and on top of the white ink, he opted for various colorful designs.
Even his eyelids, his gums, and skin inside his ears are covered totally with ink, making him the owner of this unique and astonishing record.
Most tattooed woman (ever) – Charlotte Guttenberg
Tattoos are not only famous among men but these beautiful patterns are popular among women as well. This fact can be very well depicted by the most tattooed woman ever Charlotte Guttenberg.
The world record of the most tattooed woman ever is owned by Charlotte Guttenberg, a resident of the United States, she has 98.75 percent of her body engraved with tattoo designs. The record was created on 7th November 2017.
This record measures the total percentage of body surface area covered in tattoo patterns. The participant has to go through a total body surface area assessment.
First Prosthetic Tattoo Gun Arm – JC Sheitan
Not only people are crazy about having beautiful tattoo designs over their body, but there are also few awesome tattoo artists, who went to the next level to deliver awesome tattoo designs using a prosthetic tattoo gun arm.
Meet JC Sheitan Tenet a resident of France, holds the Guinness world record of the first prosthetic tattoo gun arm since 2016. This prosthetic tattoo arm was designed and created by JL Gonzal.
JC Sheitan Tenet is famous for creating awesome tattoos, using his prosthetic tattoo arm.
The oldest person to receive their first tattoo
Tattoos are really awesome not only they look cool, but they are also an extremely efficient way to express your inner feeling and beliefs. that is the reason why there is no age, culture, or gender to have a tattoo on you.
Meet jack Reynolds, a 104 years old young man from Chesterfield, United Kingdom, who holds the Guinness world record of the oldest person to receive their first tattoo since 6th April.
jack had a "Jacko 6.4. 1912" tattooed on his upper arm on his 104th birthday, on 6th April 2016. he had his tattoo at Pete who's tattoos in Chesterfield. this event was covered by a UK news agency, namely good morning Britain.
Most flags tattooed on the body
Tattoos are a totally different level of cool shit to have on your body. You can actually do anything with them, you can make them any way you want, this is the reason why, a man from Delhi, India has 366 different national and other flags over him.
Guinness Rishi has a total number of 366 flags engraved over his body. Which makes him the Guinness world record holder of most flags tattooed on a body since 21 July 2011.
He already held this record, with 305 flags on May 2010, but went for 61 more flags to get a total of 366 flags over him. Most of his flags were drawn between July 2009 to July 2011.
His latest 61 flags were created at Delhi, by team KDZ tattoos and bodywork. It took them almost 3 hours to draw these 61 flags over Guinness rishi body.
Most tattoos of the same cartoon character tattooed on the body
Cartoon characters are everyone's favorite, this is the reason why people love to have their favorite cartoon characters on them. One of such cartoon tattoo lovers is a New Zealand resident, Lee Wier.
He has 41 tattoo images of Homer Simpson on his left arm. He holds the Guinness world record of most tattoos of the same cartoon character on the body, since 5th June 2014.
As per Guinness World Records website, he has Homer Simpson in many ways, such as grim reaper, hulk, donut, jack-in-the-box, etc.
Most Henna Tattoos Completed in an Hour – Pavan Ahluwalia
Heena tattoos are beautiful, they are used in many cultures to signify love and togetherness. Henna tattoos are made on the hands of girls, getting married in many religions, such as Hinduism, Islam, etc. Henna gives you awesome looking, temporary patterns in red color.
Once you have applied henna over your body, give it some time to dry and when you will wash it, it will leave a beautiful red pattern over you. People love henna tattoos, one of them is Pavan Ahluwalia, from London, United Kingdom.
On 27th February 2012, a total of 511 henna tattoos were made by Pavan Ahluwalia in an hour. Making him the Guinness world record holder of the most henna tattoos completed in an hour.
This world record was created at Goodmayes primary school, where 256 participants gathered. And received a henna tattoo on each of their arms, like a henna armband tattoo.
Most Jigsaw-Puzzle pieces tattooed on the body – Enigma
Many of us like a jigsaw puzzle, not all. They are hard to crack and who can complete them boast about it. There is a named Enigma in the United States, who holds the Guinness world record of the most jigsaw-puzzle tattooed on the bod, since 13th April 2011.
He has 2123 jigsaw puzzle tattoo engraved on his body. The Enigma (USA) aka Paul Lawrence. He is a musician, actor, and a sideshow performer. He loves to modify his body, with horn implants, body piercing, and ear reshaping. He also has full body jigsaw puzzle tattoos over him.
He had his first tattoo on 20th December 1992, "Katzen the Tiger Lady" created these tattoos on his body. They later get married and divorced.
Also See: Travel Tattoo Designs and Stamp Tattoo from Around the World
Raised in Seattle, the Enigma started learning music, from a very small age. He founded Jim Rose Circus, 1991 and traveled with them for 7 years. After that, he started touring with Katzen playing music under the moniker "Human Marvels". Later, in 2007 he also performed in the Orlando's Halloween Horror Nights event, which is a Universal Studios franchise.
His site TheEnigmaLive.com often show him doing tricks with power tools, blades, and fire.
Most bones tattooed on the body – Rick Genest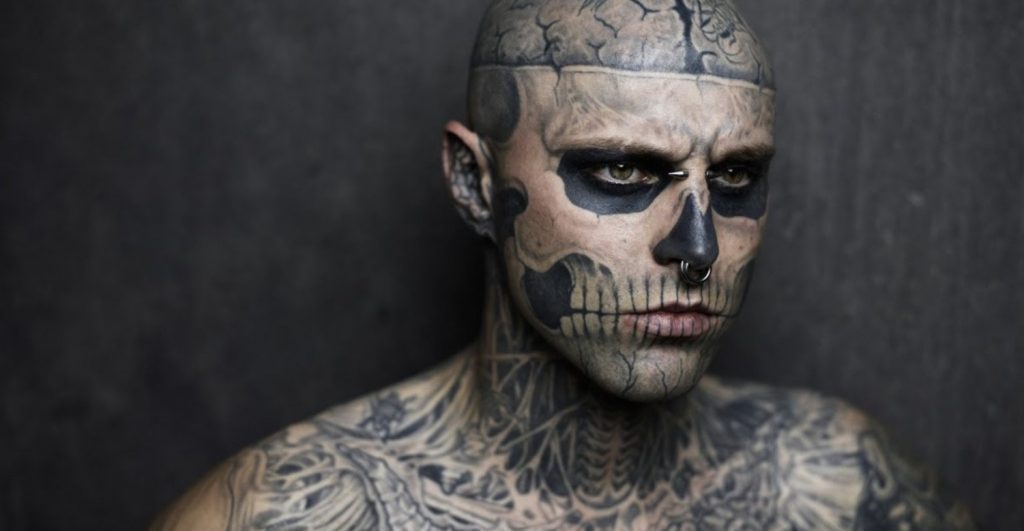 People love to engrave themselves with patterns of something they like in their outer world. Here is a guy, who loves to showcase his inner self, with the most bones tattooed on the world.
Meet Rick Genest aka "Rico" from Canada who holds the Guinness world record of the most bones tattooed on the body, since 27th April 2011.
He has 139 human bones tattooed engraved on his body, showing off his skeleton, this fact is verified by Lo Show Dei Record, Milan, Italy.
He is a Canadian artist, born in Montreal on 7th August 1985. He is a fashion model, and is famous with the name "Zombie Boy".
He also got featured in Lady Gaga's video "Born this way". In the video, Lady Gaga is shown wearing makeup mimicking Genest tattoo designs. In fact, he was discovered by Gaga's stylist Nicole Formichetti on Facebook.
Genest always loved tattoos and his idea to portray a decaying corpse in front of the world, still, he had his first tattoo at the age of 16, and as per his mother, he waited due to his parents, till 16.
At 17 he graduated from high school and left his home. But at the age 21, he got his iconic tattoo patterns, by Frank Lewis a Montreal tattoo artist, who engraved majority of his tattoos on him.
He spent thousands of dollars over the time span of 3 years, to get these skeletal imprints on him.
---
Above we saw ten strange and exciting Guinness World Records created by individuals out of their pure emotions and adoration towards the tattoo art. They see these tattoos not just as external patterns, but an efficient way to depict their inner self to the world.
They love to completely utilize their body canvas and bring out some awe-inspiring outcomes, surprising everybody around them.
We salute their courage to follow their heart, and their ability to inspire others.
Please follow and like us: