Best 40 Inspiring Raven Tattoo Designs and Ideas with Meaning
Posted on
Welcome to the world of Raven Tattoo Ideas! Whether you're looking for something traditional or modern, bold or subtle, plenty of options are available in this ever-growing trend. Raven tattoos can make powerful statements about who we are as individuals and how we want to be perceived by others.
From unique symbols like stars and hearts decorating feathers on wings to detailed drawings that tell stories from our pasts – these designs will capture people's attention wherever they go. With so many possibilities for creative expression through ink, let me guide you through finding the ideal raven tattoo suited just to you!
Raven tattoo meaning
Raven tattoos symbolize intelligence, wisdom, and protection. For centuries, several cultures have believed in the power of ravens to bring luck or ward off bad omens from those who wear them. Many consider these majestic birds to be symbols of death and rebirth, as their black feathers represent darkness while their white chest depicts new beginnings.
It is also said that a raven brings knowledge when it perches itself atop someone's shoulder – an act often seen in ancient literature as well. If you are looking for something meaningful with deep symbolic significance, getting a Raven tattoo could be worth your consideration!
1. Neo-traditional raven tattoo
This neo-traditional raven tattoo will bring a unique, ornate style to your look. This fine-lined design has elements of minimalism while incorporating subtle details that make it stand out from the rest. With an impressive display of colorings and shapes, this tattoo will surely draw attention wherever you go! The detailed feathers create movement as they sweep across its back like windblown clouds in the sky – making every glance reveal something new about it.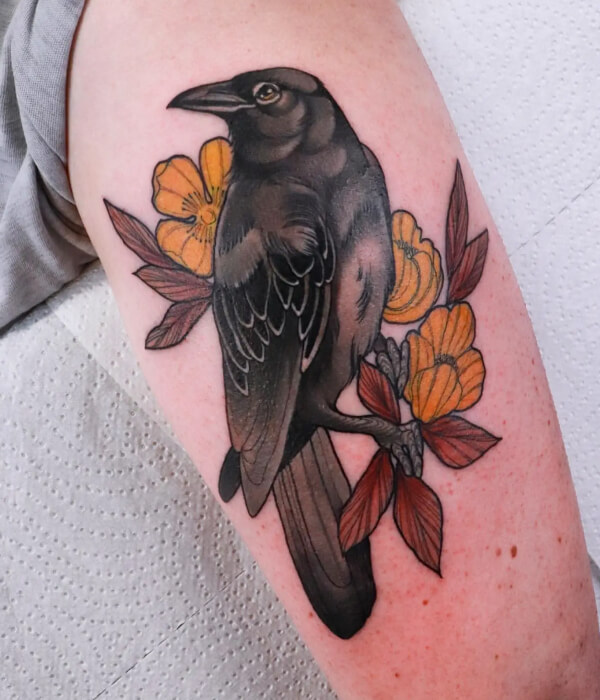 It's the perfect raven tattoo for those with deep creative souls who want their artistry to show through on their skin without compromising sleek elegance or classiness. Whether you choose black ink only or are looking for more vibrant hues – let us help capture your vision perfectly! It's one of the unique raven tattoo ideas,
2. Full-sleeve black raven tattoo
This stunning full-sleeve black raven tattoo is sure to make a statement and turn heads wherever you go. It features intricate details and bold shading making it the perfect choice for anyone looking to stand out from the crowd. The design can represent anything you'd like, such as freedom, protection, or rebellion – whatever speaks your truth!
This masterfully-crafted full-sleeve tattoo is created using only high-quality inks, ensuring they last longer than ever before, so there's no need to worry about fading or coloring over time. With this powerful raven tattoo design on display all year round, be prepared to get noticed everywhere you go!
3. Gray and black raven tattoo
This Gray and Black Raven Tattoo design is a beautiful expression of art on the skin. With deep, sophisticated grey hues combined with the darkness of black raven feathers, this tattoo will surely make an impression wherever it's seen. The sharp lines that draw out the bird create depth within each feather while highlighting its graceful wingspan in stunning detail.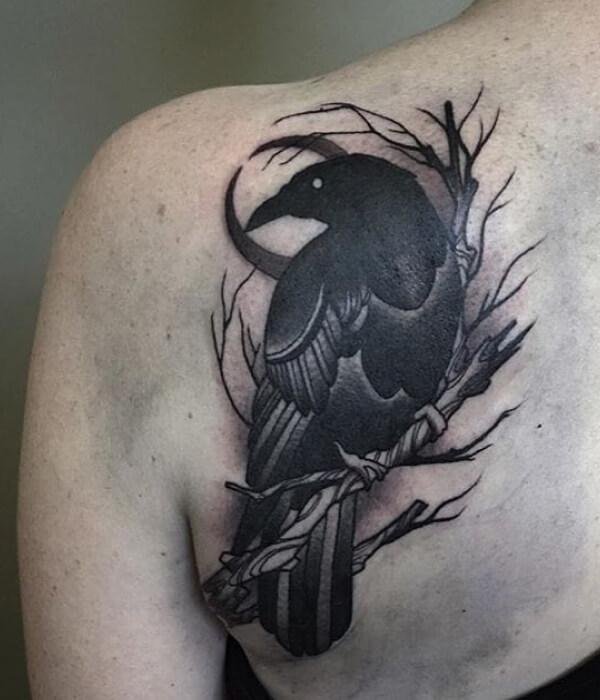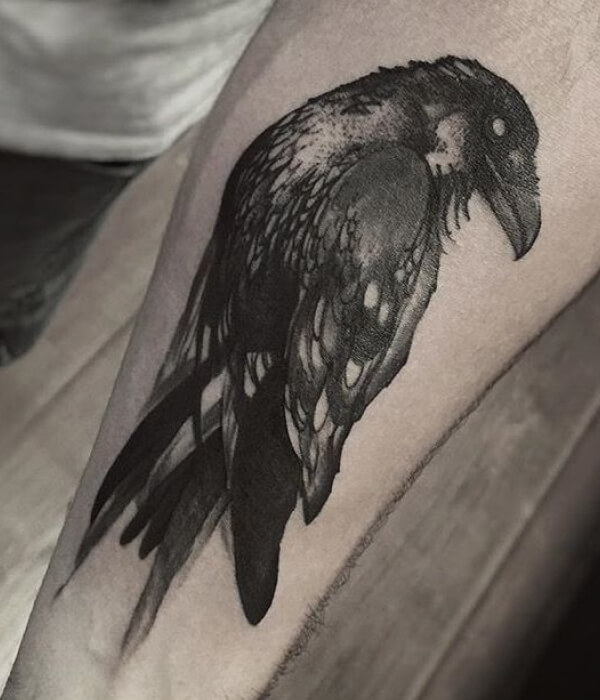 This piece can represent strength, wisdom, or loyalty – depending on how you interpret it! There are endless customization options when adding color or shading for those who want something unique and special just for them. Get your dream design today by visiting our studio!
4. Viking raven tattoo
This stunning Viking Raven tattoo ideas is certain to catch the attention of everyone. Its unique design makes it stand out from traditional tattoos, and its intricate detail will amaze you. The raven symbolizes wisdom and protection in Norse mythology, making this a meaningful piece for all who appreciate the values of the Vikings.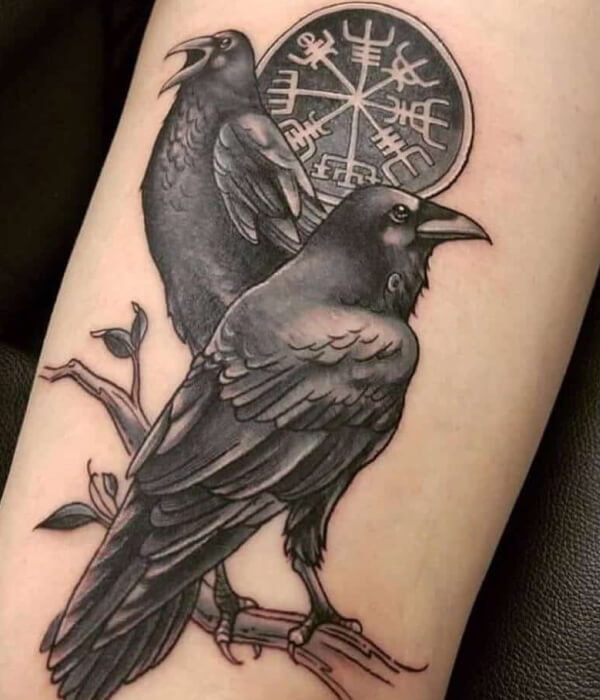 An experienced artist has expertly applied this bold black ink tattoo with many years of experience in professional body art techniques – they have used their skill to bring life into each feather on the wings so that your new addition looks incredibly realistic! Get ready for admiration every time you show off your beautiful Viking-inspired artwork.
5. Skull raven tattoo
This stunning Skull Raven tattoo design is a unique and captivating design that will be etched deeply into your skin. Inked by experienced professional artists, the attention to detail in this image brings out its intricacy and beauty. It features two majestic ravens with a skull that has been highlighted with bold black lines for an iconic finish.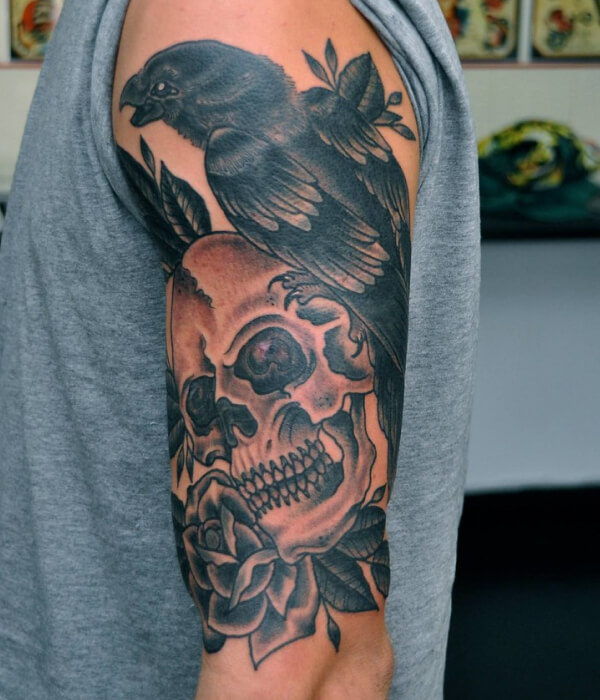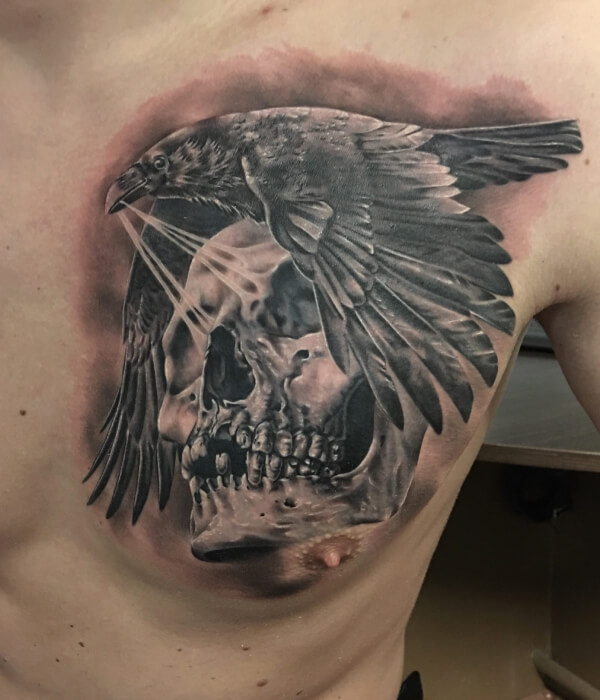 This powerful piece captures life's mortality while celebrating our time on earth – perfect for those wishing to immortalize their story with ink! Ideal as both a standalone art or part of an intricate sleeve design, you are guaranteed to get compliments from admirers wherever you go wearing this incredible artwork!
6. Black raven tattoo with spread-out wings
This black raven tattoo with spread-out wings is a stunning piece of art that will easily attract attention. This professional design can bring your body to life through intricate details and bold liner work, creating a unique image.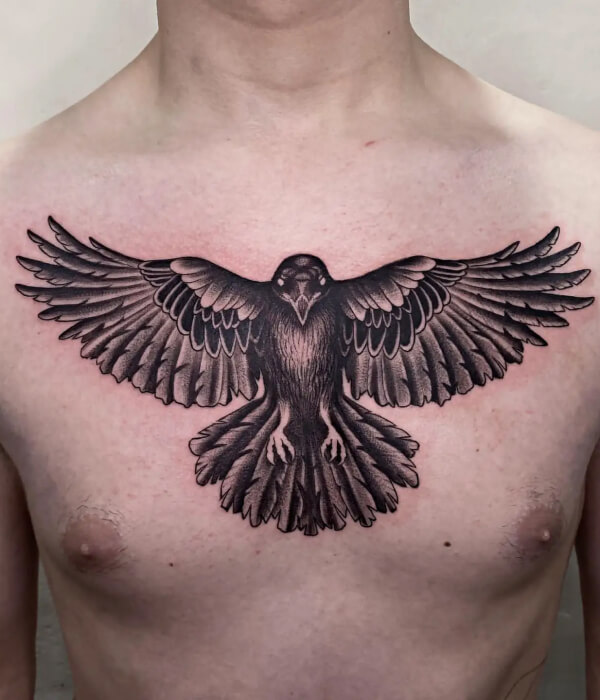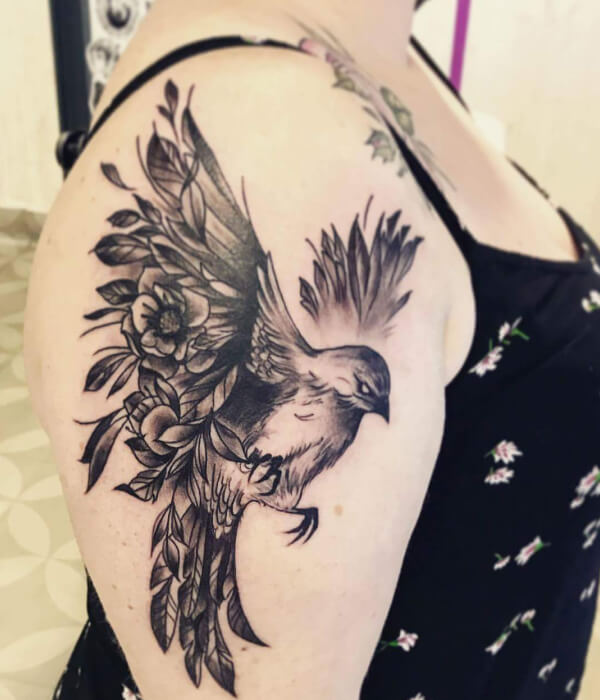 The inky black ink stands bright against any skin tone for maximum impact, and the shading gives this classic style a modern twist without sacrificing its original elegance. With careful placement on the body or arm, you'll love showing off your new artwork every chance!
7. Black raven tattoo with chains
This black raven tattoo with chains is sure to make an eye-catching addition to your body. Featuring life-like details, this bold design radiates strength and mystery. The intricate inkwork draws attention to its dynamic figure as the majestic wings are adorned in chain links for a unique touch of great artwork.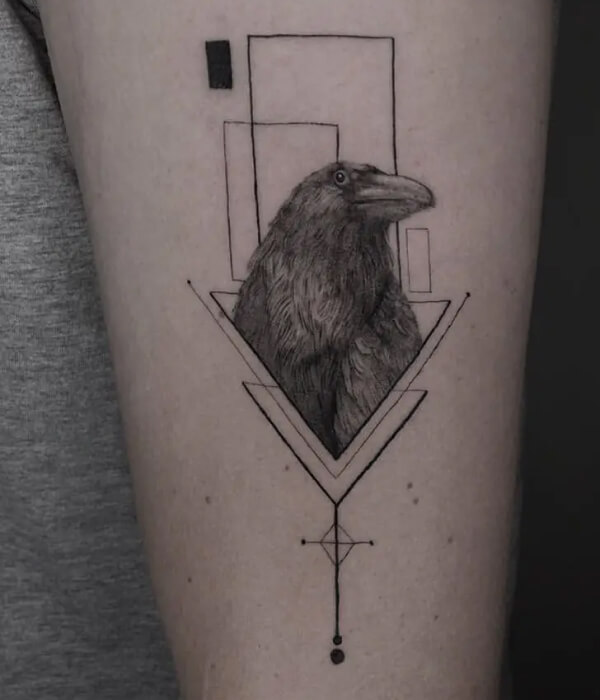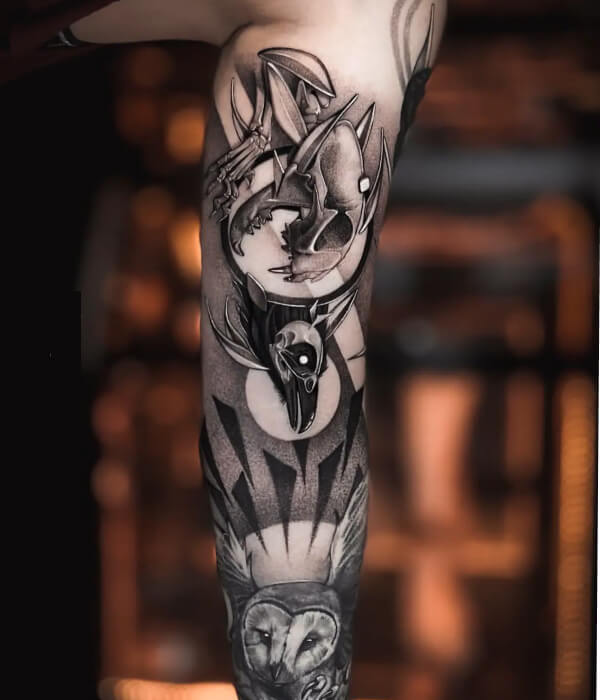 Ideally suited for those seeking something different and statement-making, this is an iconic symbol you will never forget! Get ready to show off your rebellious style with our top-quality black raven tattoo, complete with edgy metallic accents! It's one of the best raven tattoo ideas.
8. Black raven tattoo with a feather
This black raven tattoo with a feather is an exquisite piece of art, perfect for those looking to make a bold statement. An impressive symbol of intelligence and mystery — the ideal embodiment of resilience and strength in times when you need courage most.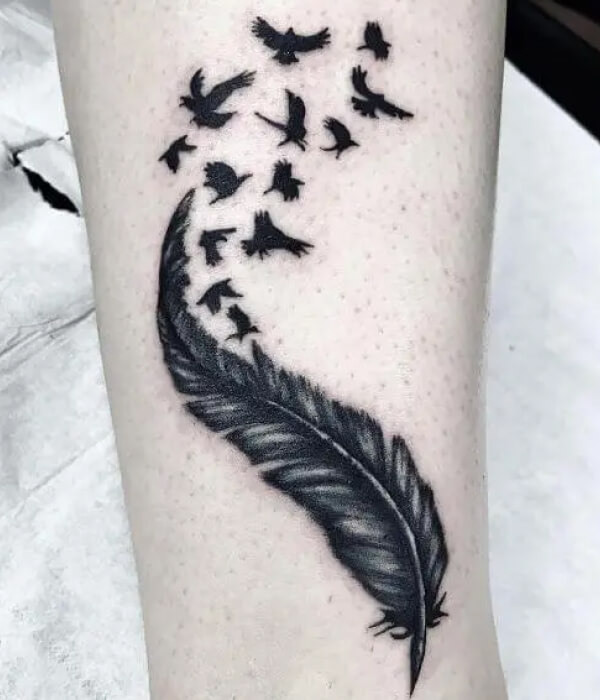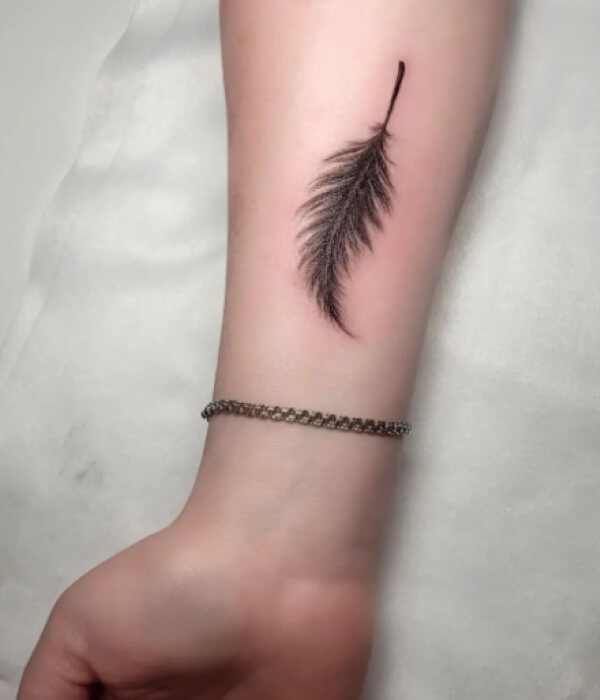 The detail on this tattoo is stunning; precise lines convey fascinating intricacy, while its elegant design exudes sophistication that will draw attention wherever it's seen. It blends beautiful traditional aesthetics with modern styling to create something truly unique that can be cherished for years ahead!
9. Black raven tattoo with rose
This beautiful and unique black raven tattoo with a rose is an outstanding piece of body art that will be liked forever. Meticulously crafted, this design features intricate detail from head to toe on the mysterious bird combined with an elegant red-hued flower. Expertly inked by our skilled artist, you can rest assured it won't fade or distort over time while still looking stunning year after year.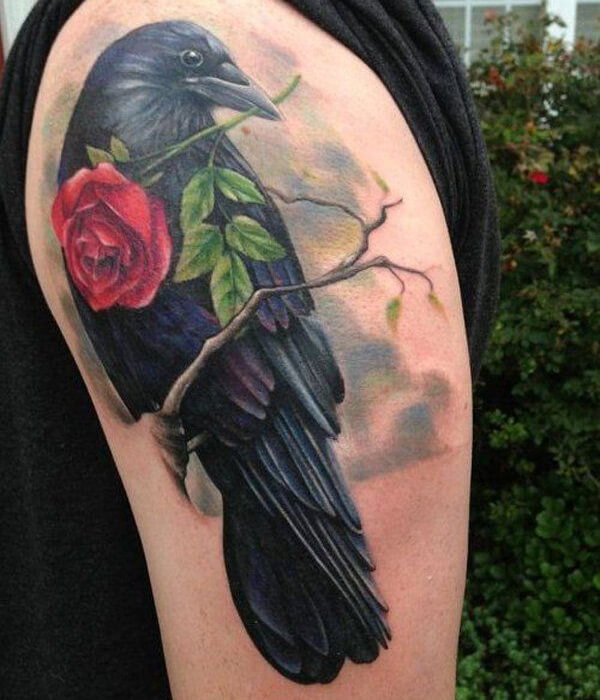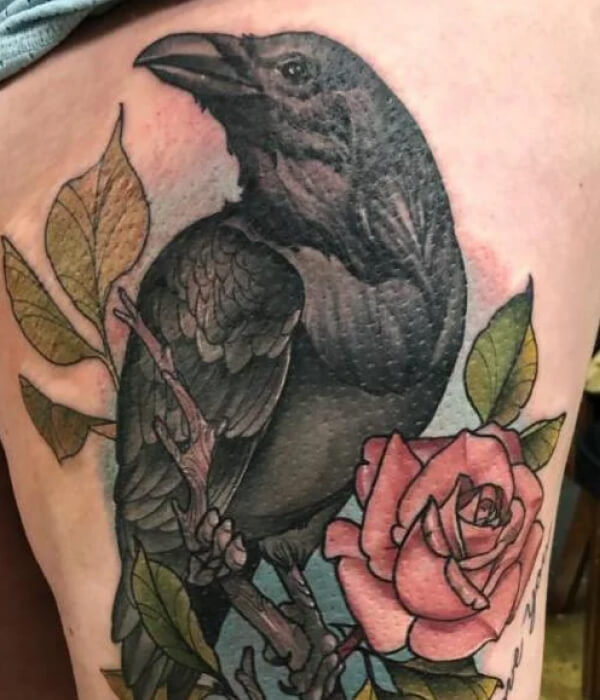 Combining these two elements makes this artwork especially appealing as they boast differing qualities – strength and beauty – perfectly fused into one awe-inspiring image! You can have your own customized masterpiece created just for you!
10. Black raven tattoo with a snake
This unique black raven tattoo with a snake is sure to grab attention. Hand-drawn and delicately detailed, this piece features an intricate Raven perched atop a coiled Snake in striking contrast against the darkness of the ink's background.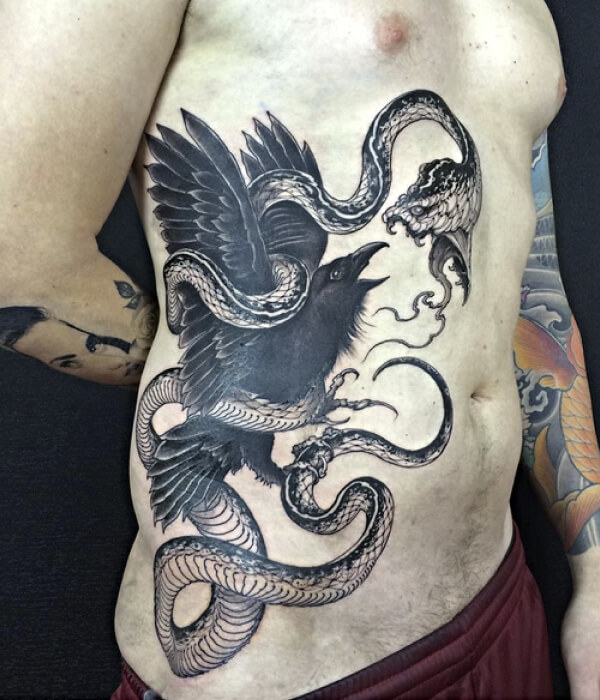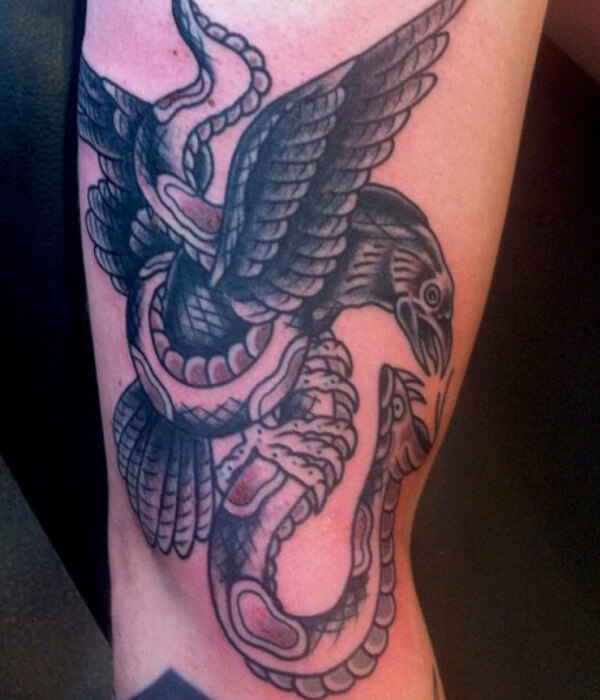 The combination of curves and lines that form each creature creates an eye-catching display while capturing their essence and how they work together in perfect harmony. This versatile design will look great on any part of your body – small or large – allowing you to show off your creativity wherever you go proudly!
11. Geometric raven tattoo
This stunning geometric raven tattoo is a true masterpiece. With bold lines and remarkable depth, this piece of artwork captures the beauty and mystery of these iconic birds in a truly captivating way. The intricate design exudes power, strength, and mystical energy to draw people's attention wherever it goes. It has an abstract quality to it, which gives off a unique vibe – one that cannot be easily replicated or forgotten about any time soon!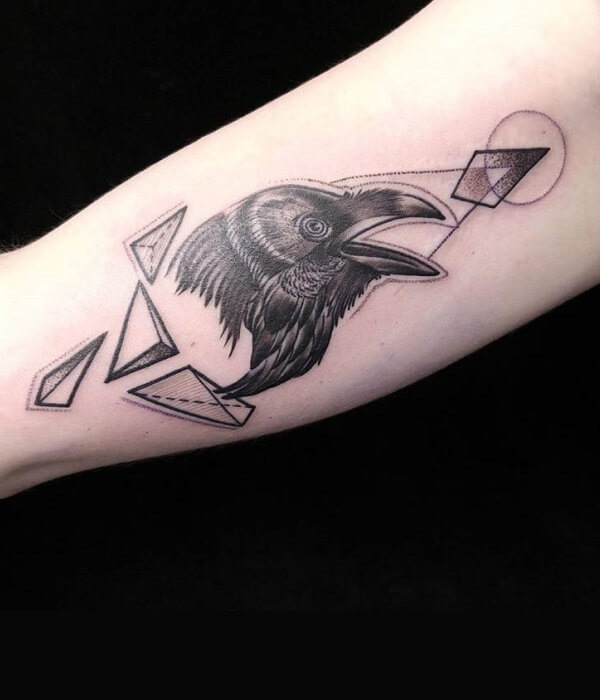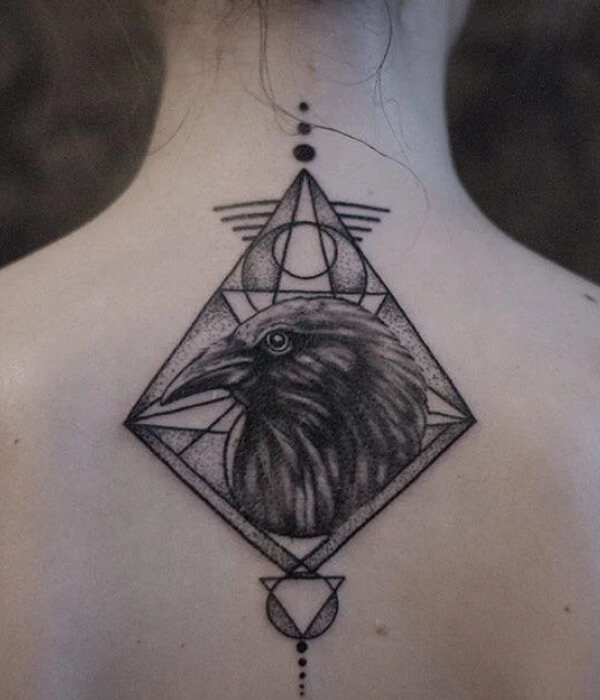 Despite its complexity, each element plays its part perfectly; every line flows seamlessly into the following like puzzle pieces weaving together for something beautiful. Whether intending to show love for nature or provide inspiration for further creativity – this tattoo does both with gracefulness & excellence!
12. Raven tattoo with a quote
This raven tattoo is an inspiring form to unleash your imagination. With it comes a meaningful quote that captures the essence of who you are. The intricate black design features sweeping wings and feathery detailing, making it an eye-catching addition to any part of your body.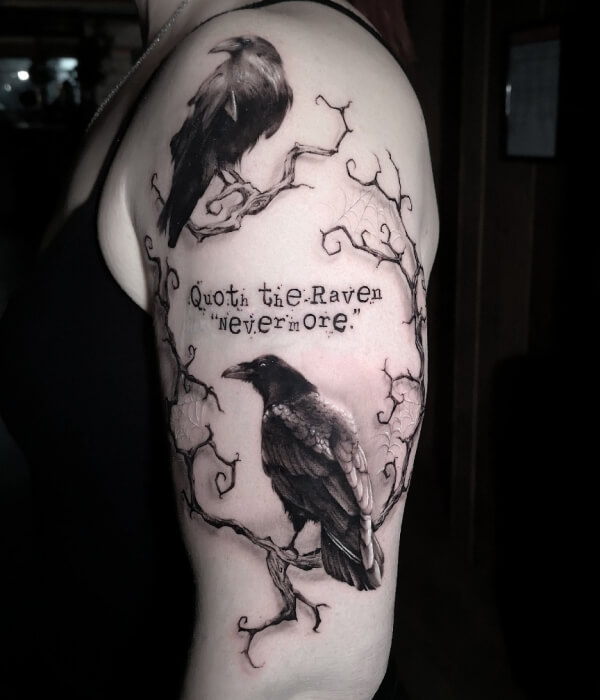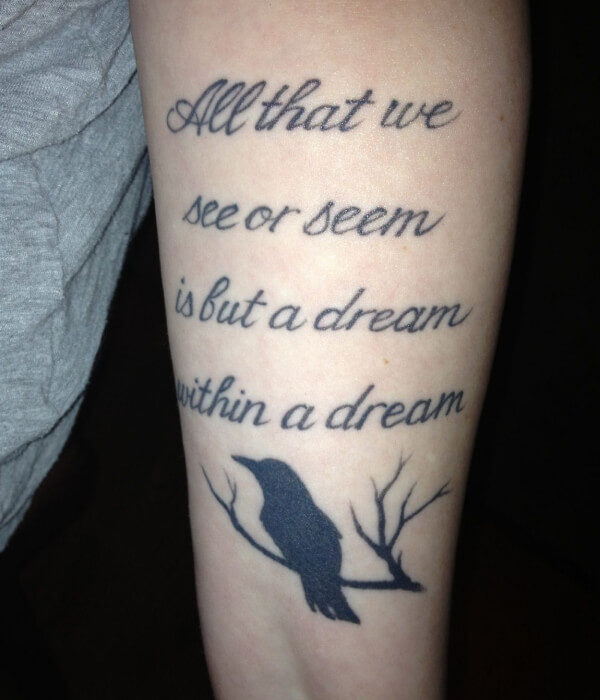 As a symbol of wisdom and intuition, this permanent artwork will show your strength in style while reminding you how far you've come on life's journey each day. Ensure this powerful piece brings out its best with quality ink from experienced professionals – so the message can remain intact well into the future!
13. Realistic raven tattoo
This realistic raven tattoo is a striking complement to any collection. Capturing the beauty and power of this majestic bird, it's an eye-catching piece that would add style and sophistication to any body art project. From its intricate detailing in black ink to its dynamic pose design – this timeless tribute shows off your appreciation for nature's wonders with bold confidence.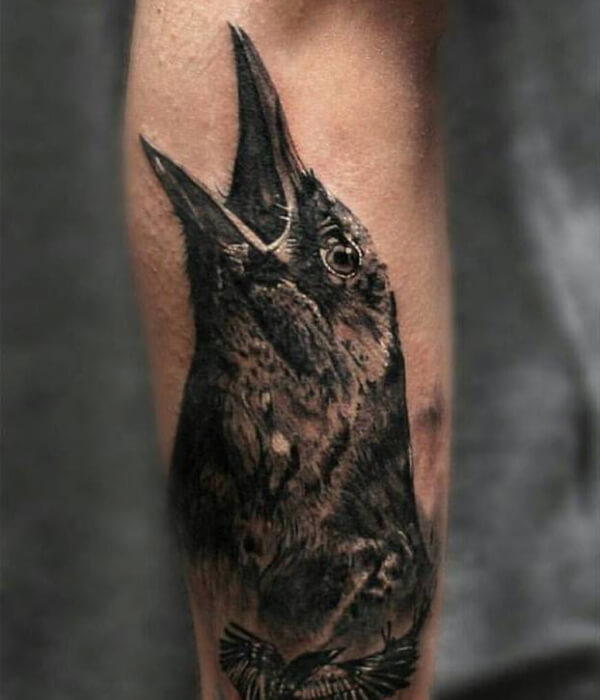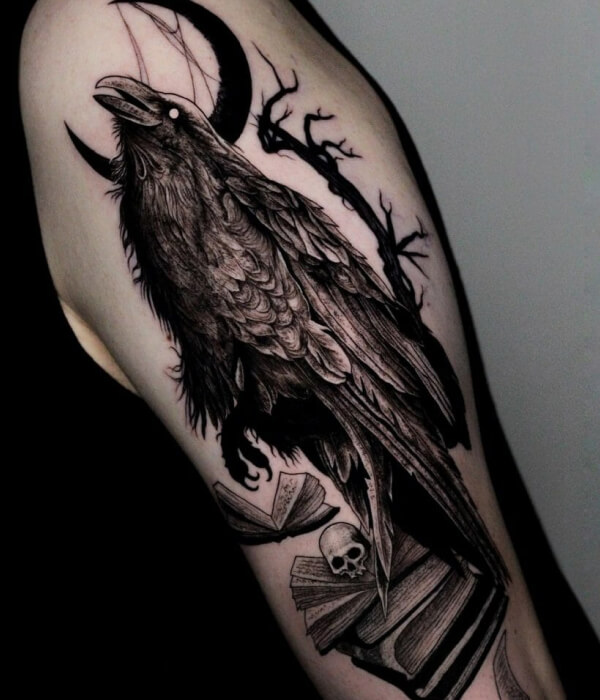 Crafted by experienced master artists with years behind their craftsmanship – you can be sure of lasting quality from start to finish!
14. Moon raven tattoo
This Moon Raven tattoo is stunning! The detail and artistry portrayed in this unusual piece of artwork are one-of-a-kind. It utilizes a combination of muted colors to bring depth, texture, and emotion to the eye. This symbolic representation brings together black ravens with an abstract moon backdrop that will undoubtedly turn heads whenever you show it off!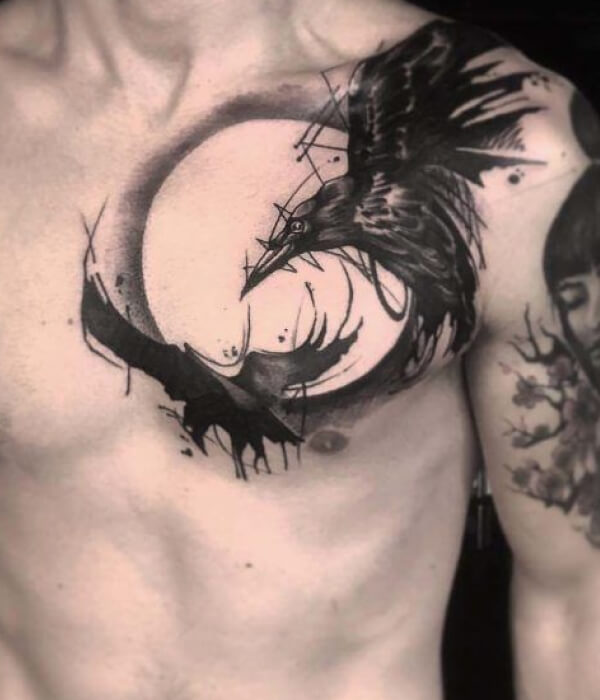 With its classic yet modern design, your new tattooed creation has all the characteristics necessary for making a powerful statement about who you really are – mysterious, resilient, and brave. Get ready for compliments galore as everyone marvels over your beautiful work of art!
15. Old school raven tattoo
Raven tattoos are signs of power, knowledge, and freedom. The raven is typically associated with the dark forces in mythology but can also be found as a symbol of protection, guidance, and even divinity. Old-school raven tattoo designs have been popular for centuries due to their mysterious appeal that captures attention from all ages.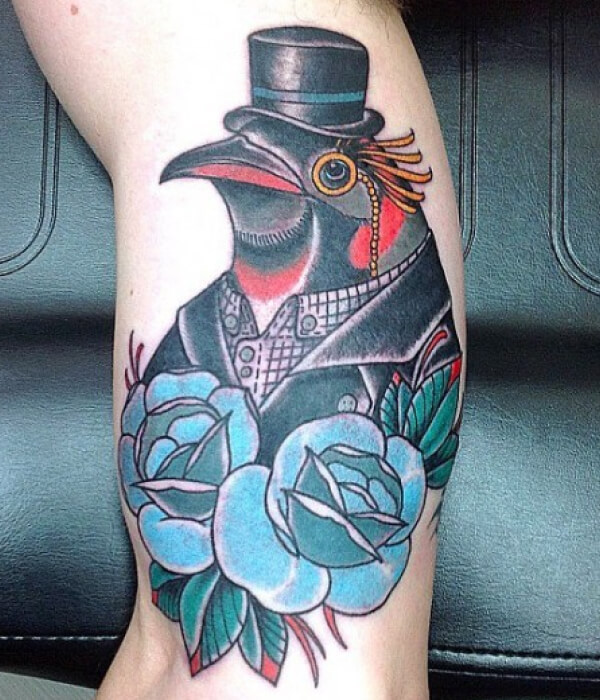 One look at this iconic bird will evoke feelings of mystery, power, and beauty, making it an ideal choice for anyone who expresses themselves artistically on their body through permanent ink. From monochrome designs to brightly colored illustrations – old-school ravens are timeless pieces that never go out of style!
16. Watercolor raven tattoo
This watercolor raven tattoo is the perfect choice to represent beauty and mystery. Its delicate black, blue, and violet gradients are aesthetically pleasing while adding a hint of danger with its sharp edges. Uniquely crafted feathers stand out among flowing brushstrokes that bring this piece to life.
With attention-grabbing details like eyes lined in gold ink, it's sure to turn heads wherever you go! This design will be an original addition for any collector looking for something extraordinary from their next excellent body art masterpiece.
17. Sun raven tattoo
Experience the power and beauty of a sun raven tattoo with its deep symbolism. Such tattoos hold personal meaning to those who choose them, symbolizing rebirth, transformation, and spiritual growth. This majestic bird has been seen as an omen throughout history and can be used to represent wisdom, magic, or even love.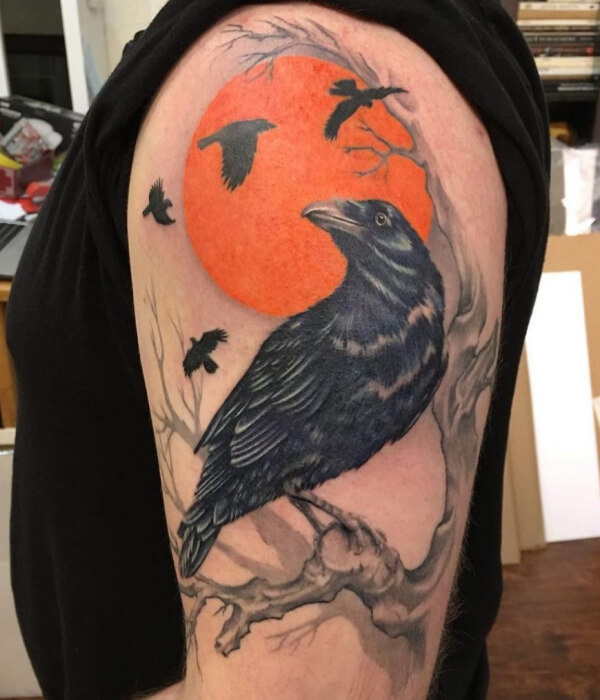 Whether you are looking for something unique on your skin or need inspiration for a lasting piece of art, these stunning designs will make any look stand out from the crowd – showcasing both style and resilience! Get creative in blending black ink textures with vibrant colors like yellow or gold, emphasizing each twist & turn of this beautiful creature's wingspan design.
18. Wolf with raven tattoo
This unique and striking wolf with a raven tattoo, created by a professional artist, is sure to make an impact. This bold statement celebrates courage and power while adding a touch of mystery, featuring a detailed etching of the intricate design in black ink on the skin.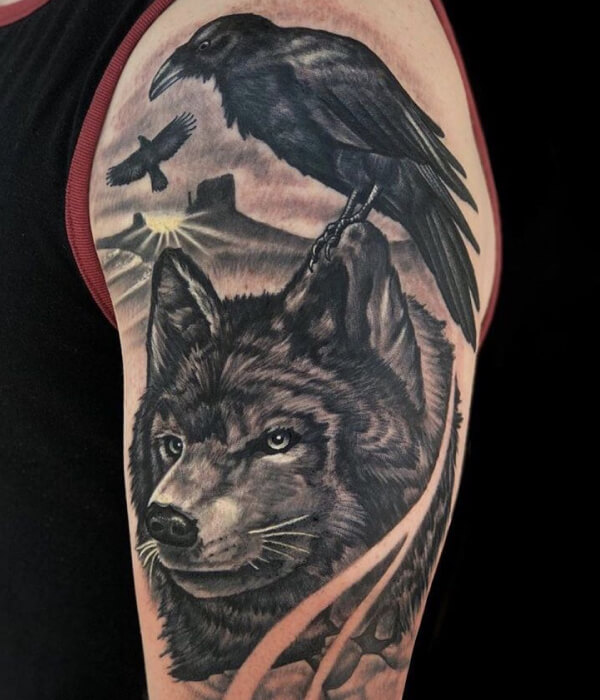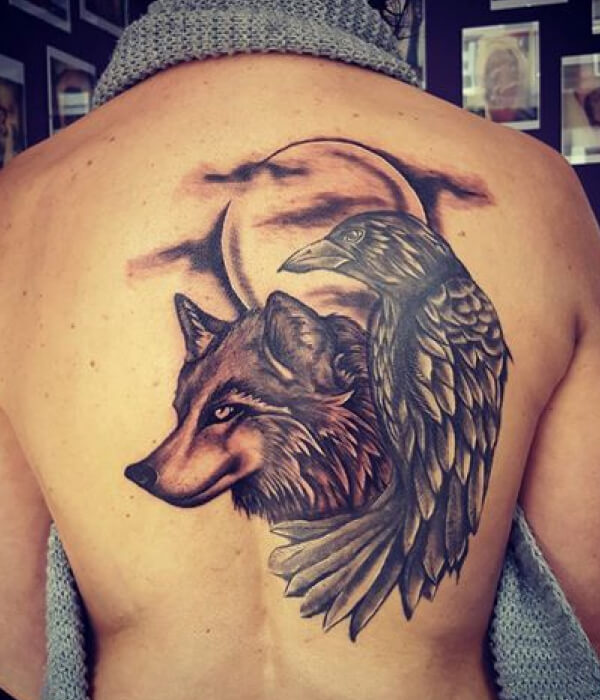 The symbolism behind the image conveys physical and emotional strength that can be seen as symbolic protection or guidance as you move through life's journey. Let your inner spirit shine brightly- book now for this captivating piece!
Conclusion
Raven tattoos are beautiful and meaningful, catching the nature of the animal it symbolizes. There is a lot of room for creativity when creating raven tattoo ideas – from intricate designs to more abstract styles, there are countless ways you can express your personality with this timeless art form.
Consult an experienced artist who will help create something unique and special just for you, no matter which designs you choose! With careful planning and creative ideas from professionals like these, anyone looking to get a stunning raven tattoo won't regret choosing one! We hope this blog on raven tattoo ideas is useful to the readers.
Please follow and like us: