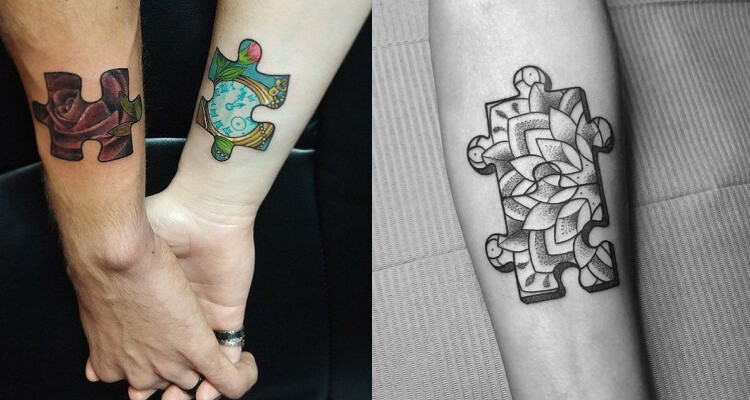 25 Best Puzzle Piece Tattoo Ideas With Meaning
Posted on
Tattoos have become pretty popular among people. Individuals from all around the world get tattoos. Research indicates that approximately 225 million individuals worldwide have tattoos, with 60% of women embracing the body artwork. The best thing about body artwork is that anything from an edible item, such as Pizza to a puzzle game, can be etched as an amazing tattoo.
Yes, you can get a stunning puzzle tattoo on your skin. All you have to do is to be a little creative and find a reputable tattoo artist. Tattoo puzzle piece is a great way to express your passion for puzzles. Yes, many people love to solve puzzles; if you're one of them, then trust a puzzle tattoo is an excellent design for you. A personalized puzzle tattoo is an ideal way to honour your love for puzzles while also flaunting your unique style.
So, if you're thinking about various puzzle tattoo ideas, then this is the post for you.
In this post, we shall discuss with you some of the stunning autism tattoo designs with you.
Let's get started…
Before we get to puzzle tattoo designs, let's first understand what exactly a puzzle piece tattoo means. Here we go…
Puzzle Piece Tattoo Meaning
Jigsaw pieces make for perfect puzzles. Arranging each piece carefully leads to the successful completion of the puzzle. And such is the life. Achieving any goal in life can be compared to putting together a puzzle. Of course, to achieve any goal, you need to take small steps, just like solving a puzzle. You can't see the whole path to success until you're really walking it. You'll get to each stage when it's time, and you won't have to plan ahead. Of course, you face challenges and failures in order to rearrange a few things here and there to get to your goal.
Puzzle piece tattoos can hold a deep and meaningful significance that is unique to each individual. A puzzle tattoo symbolizes connection, arrangement, and much more. We all rely on arrangements and rearrangements to lead a life of our dreams. A puzzle tattoo is a great way to showcase your dedication toward future endeavours without getting affected by current situations. In addition, it also represents autism.
Some individuals choose to get this tattoo as a symbol of autism awareness and acceptance, representing their personal connection to the autism community. At the same time, others opt for a puzzle piece tattoo to signify the complexity and uniqueness of their own personality or life experiences.
For some people, a puzzle tattoo is an expression of a special connection to a community of puzzle enthusiasts. In addition, a puzzle also serves as a reminder of your personal growth, challenges you've overcome, or even autism awareness.
There are many puzzle piece tattoo designs and variations that are currently trending. Let's now take a look at some of them…
Top 15 Puzzle Tattoo Designs
When it comes to puzzle piece tattoos, the possibilities are endless. There are countless variations that can be tailored to reflect your unique expression and creativity. Here are some of the best puzzle tattoo ideas to get some inspiration. Take a look…
1. Customized Puzzle Tattoo
Puzzle piece tattoos have gained popularity not only among puzzle enthusiasts but also among individuals who value their symbolism. A customized puzzle tattoo is one of the best tattoo designs for people looking for one-of-a-kind body artwork. You can customize a puzzle tattoo as per your preference and taste.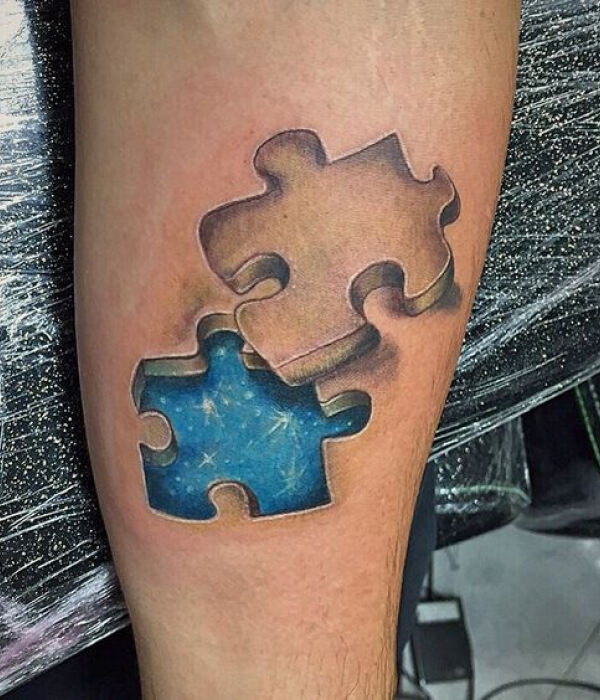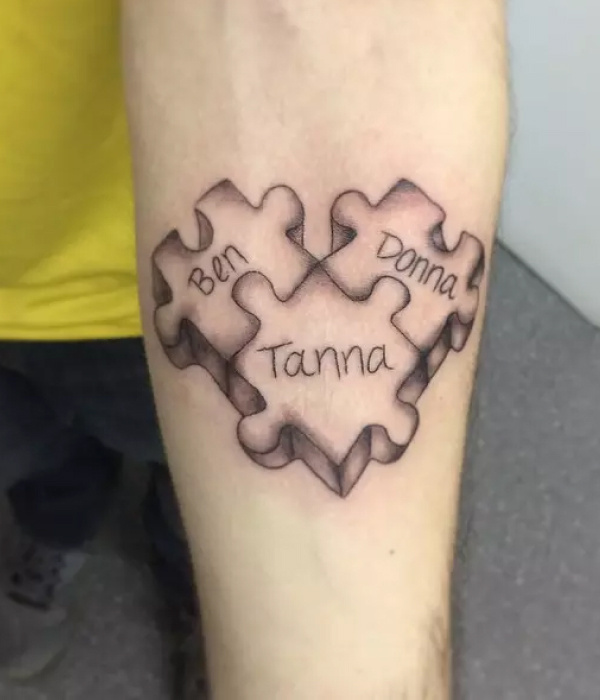 2. Tiny Puzzle Tattoo
If you want to have a tattoo design that is not easily visible, then a tiny puzzle tattoo design is for you. You can get a tiny puzzle piece etched on your skin in black ink. The ideal location for this tattoo design could be your arm or wrist.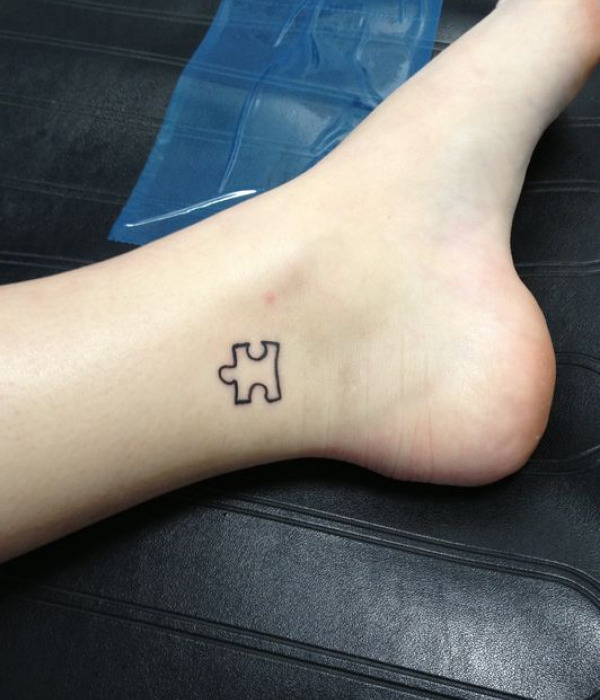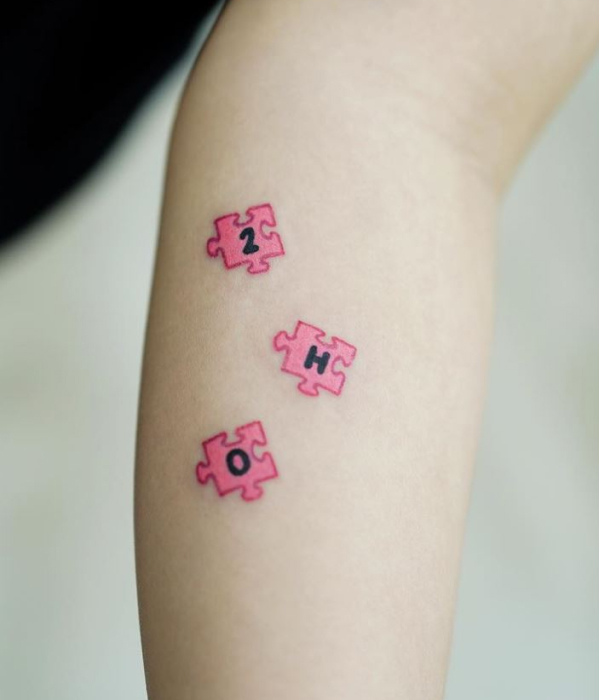 Also See: 55 Amazing Tiny Tattoo Designs
3. Colourful Puzzle Tattoo
Bring your creativity to life with a colourful puzzle tattoo design. You can incorporate multiple colours, from red to purple, green to blue, to have an eye-catching piece. The location for this tattoo will vary based on its size. For instance, if you are planning to get a medium-sized puzzle tattoo, then your shoulder or calf is an ideal location.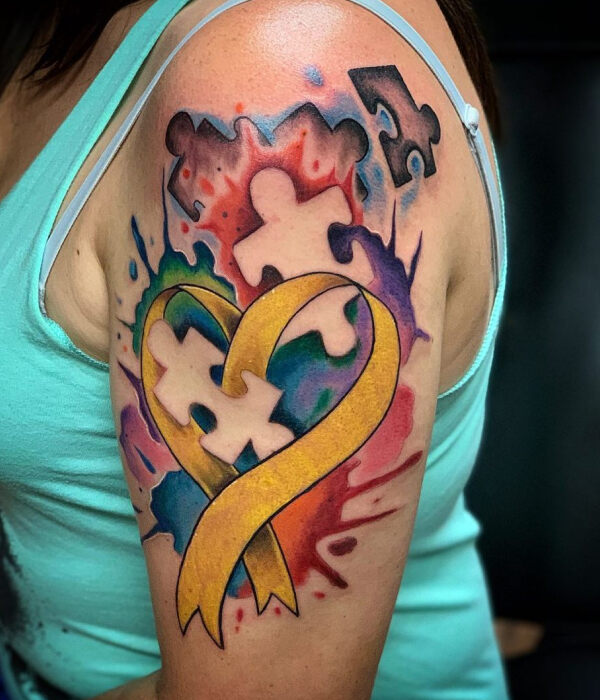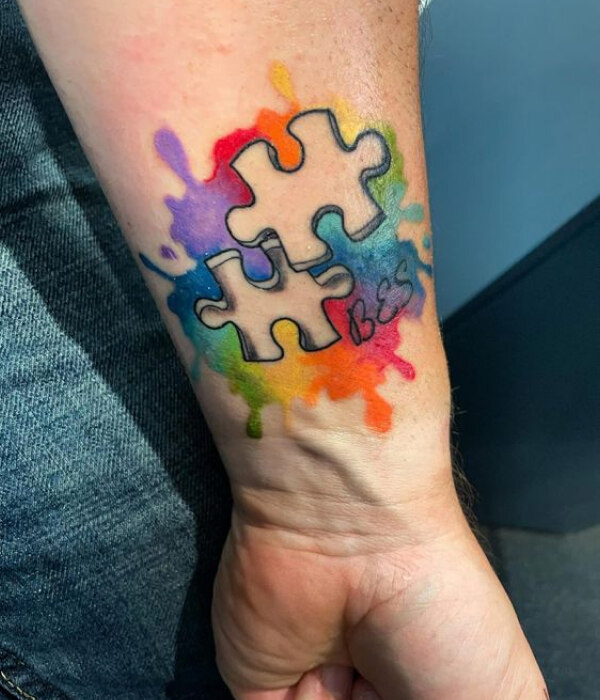 4. Interlocked Puzzle Tattoo
An interlocked puzzle makes for a captivating puzzle tattoo design. This design has two or more puzzle pieces interlocked with each other seamlessly. An interlocked puzzle tattoo is a great way to showcase the concept of completion and wholeness, as each piece is necessary to form the entire image.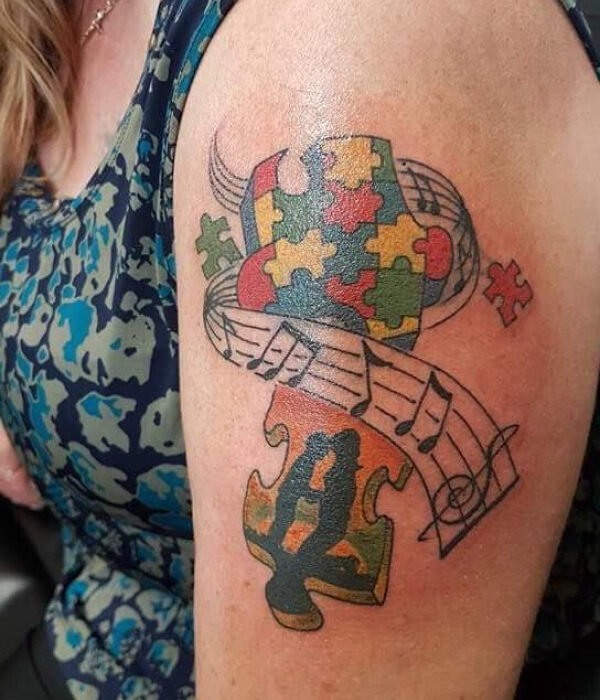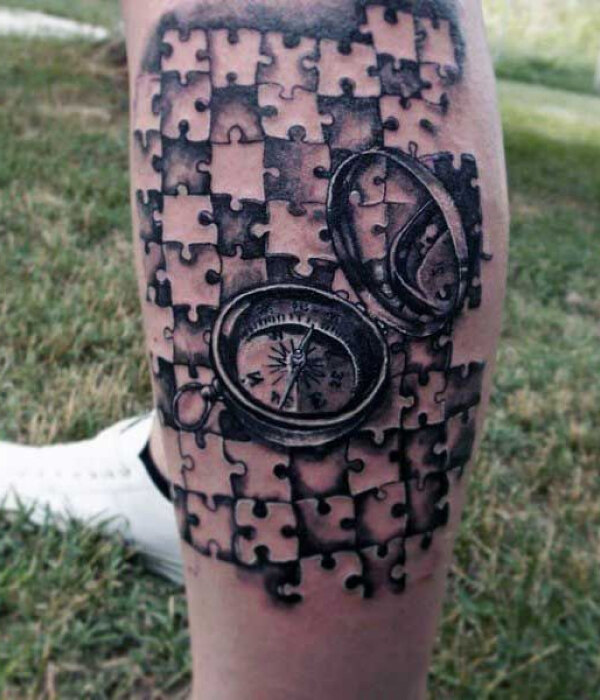 5. Single Puzzle Tattoo
You need not to make your tattoo complicated with too many interlocking puzzles. A single puzzle can also make for an adorable tattoo piece. A single puzzle piece tattoo represents a lack of ties. So, if you are a person who loves to stay alone or always remain firm even in the face of adversity, then a single puzzle tattoo design is for you.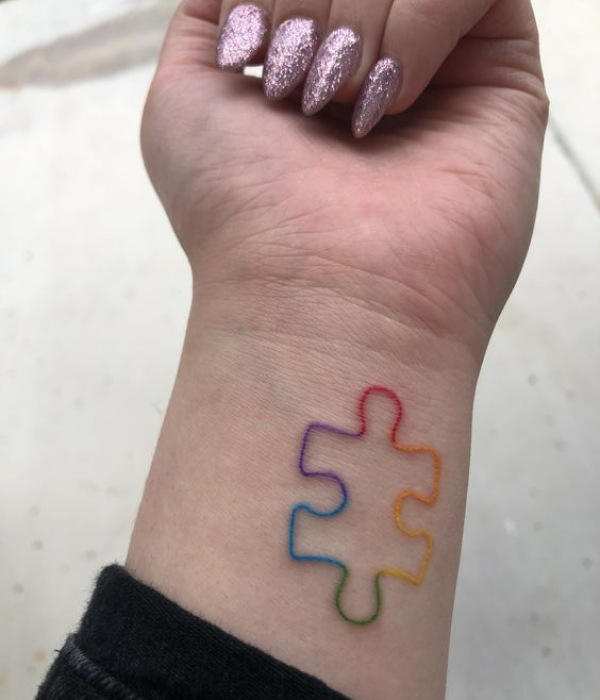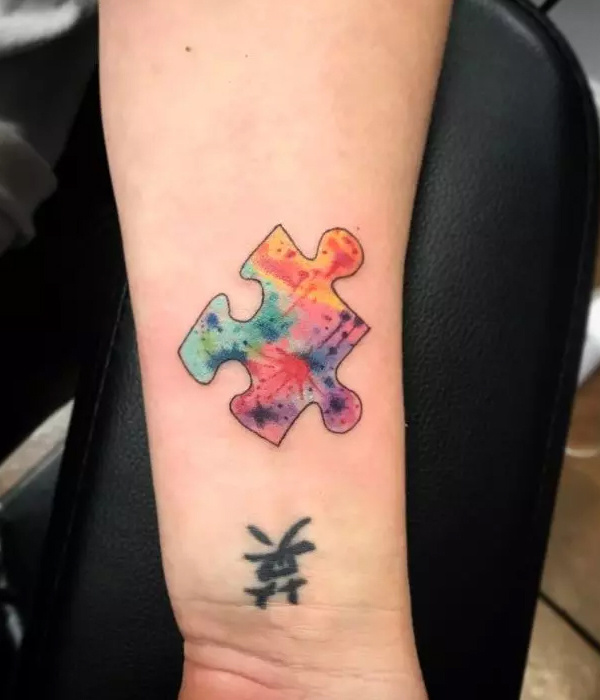 6. 3D Mechanical Puzzle Tattoo
If you are fond of machine elements, then a 3D mechanical puzzle tattoo is for you. All you have to do is to choose your favourite machine elements to get them incorporated into a single puzzle. In this design, the puzzle piece will have machine elements in it. Get it etched in a small size on your arm.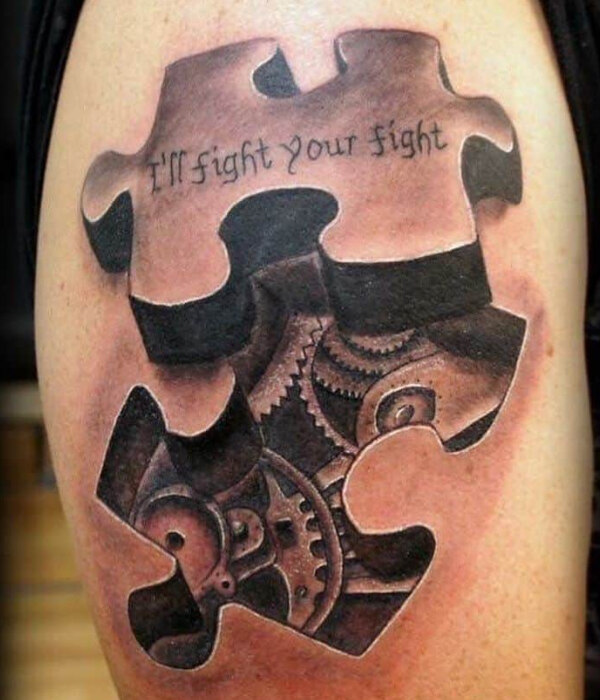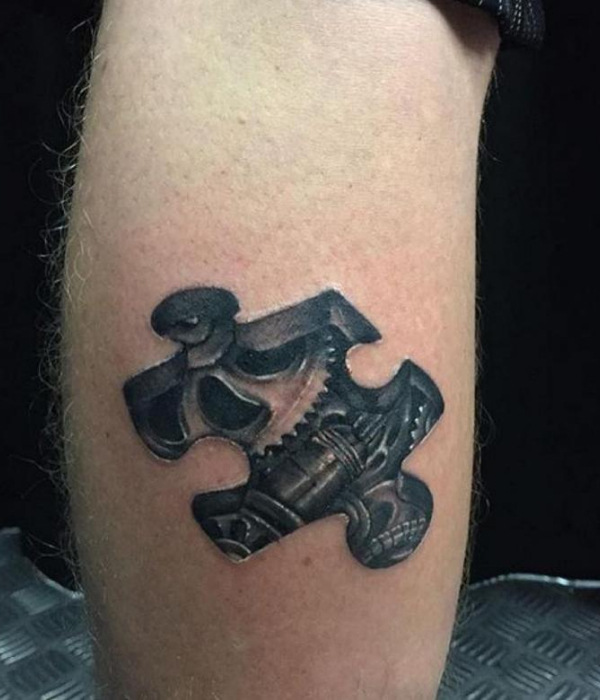 7. Puzzle Tattoo with Nature
If you want a tattoo that is both unique and detailed, this puzzle tattoo is for you. You can get a tattoo that features an element of nature, such as a flower or a leaf.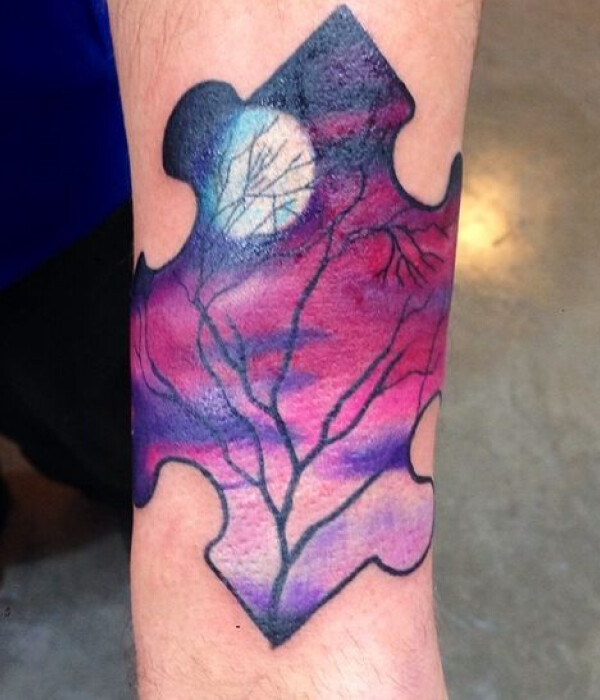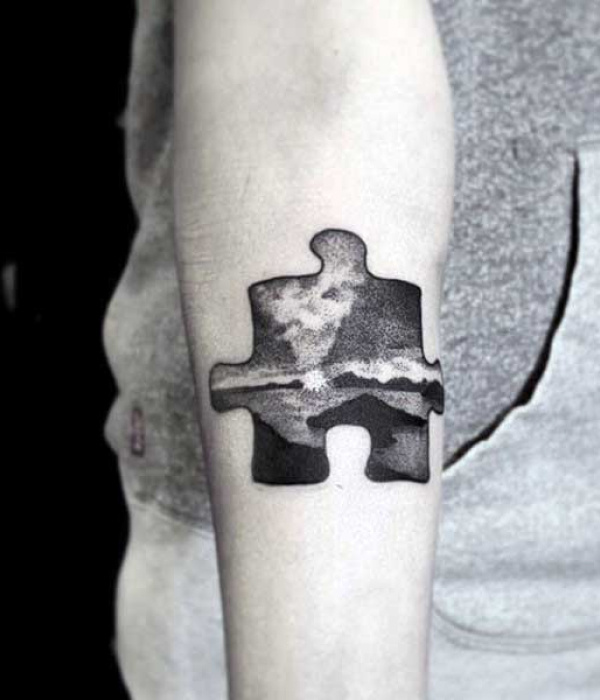 8. Heart Puzzle Piece Tattoo
You can even arrange puzzle pieces to create a heart-shaped puzzle piece tattoo. A heart puzzle piece tattoo looks awesome in beautiful colours. You can get it etched on your arm or wrist, depending on its size.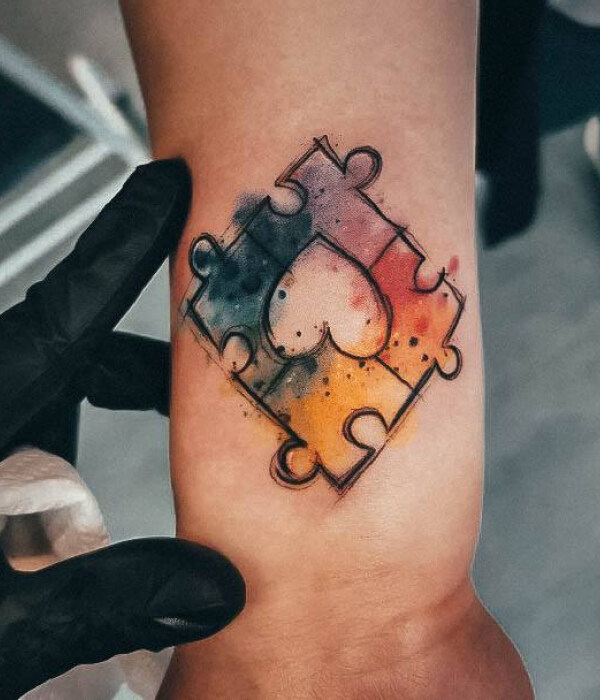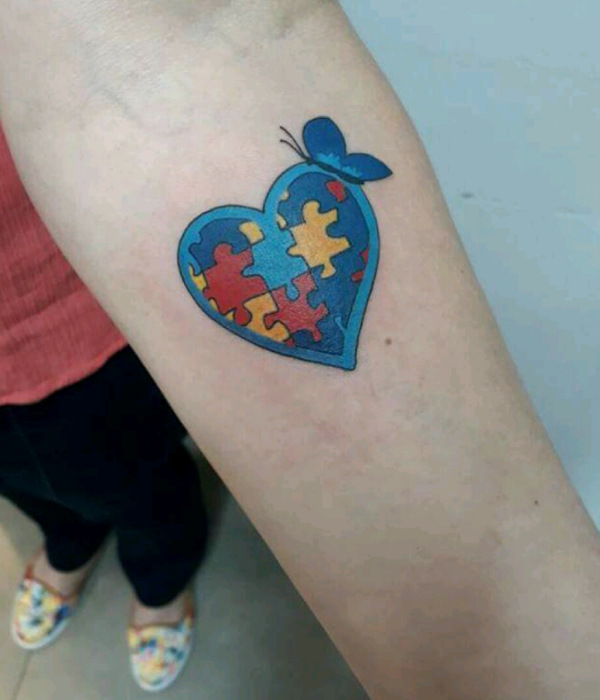 9. Star Puzzle Piece Tattoo
Another shape that can be created with puzzle pieces is a star. Star tattoos make for excellent tattoo designs for females. If you shine like a star even in the face of adversity, then this is the design for you.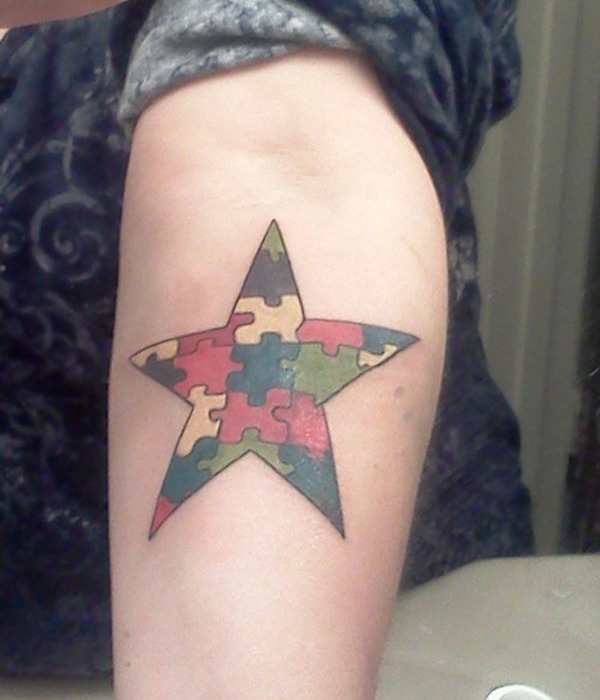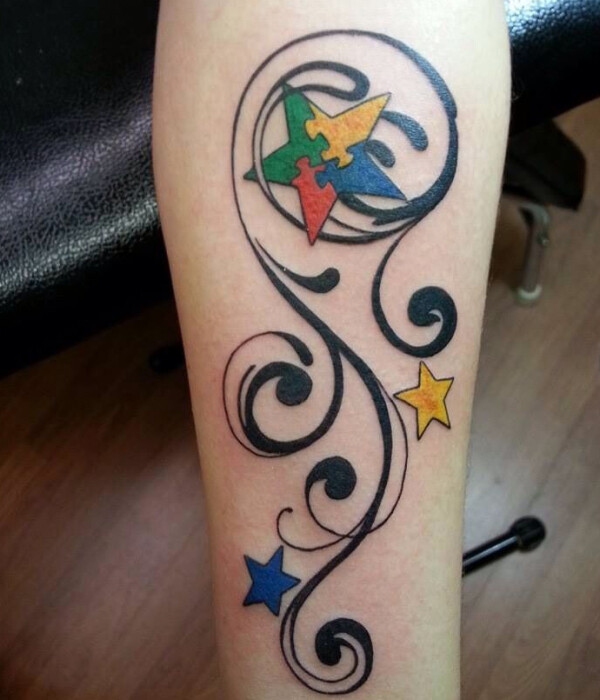 9. Infinity Puzzle Piece Tattoo
This is yet another beautiful puzzle tattoo design. You have the option to get a unique tattoo design that includes either a missing puzzle piece with an infinity symbol or two puzzle pieces, with one of them featuring an infinity symbol. Get it etched on your forearm for stunning placement.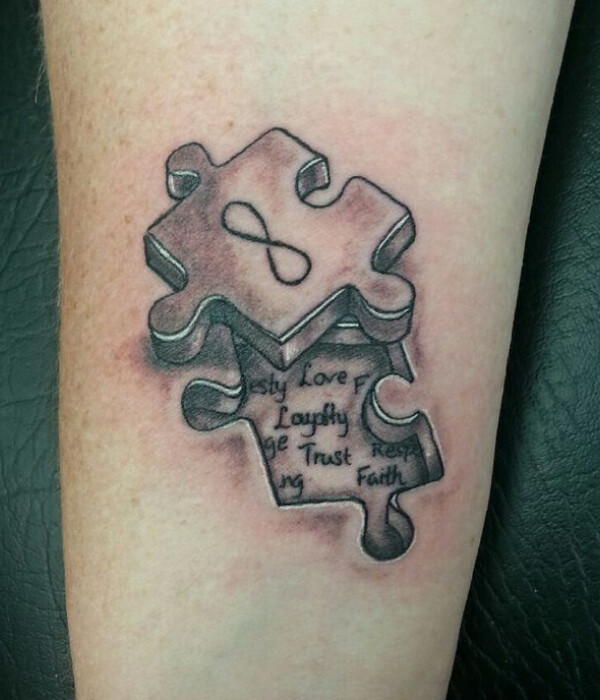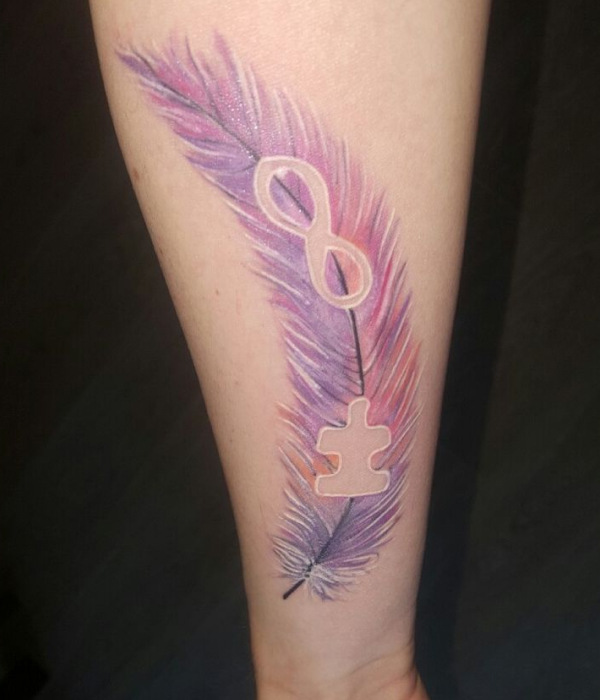 10. Custom 3D Puzzle Piece Tattoo
If you're looking to incorporate depth and dimension into your tattoo, 3D puzzle piece designs are a fantastic option. This particular puzzle tattoo has the potential to look exceptionally captivating. Get it etched on your shoulder.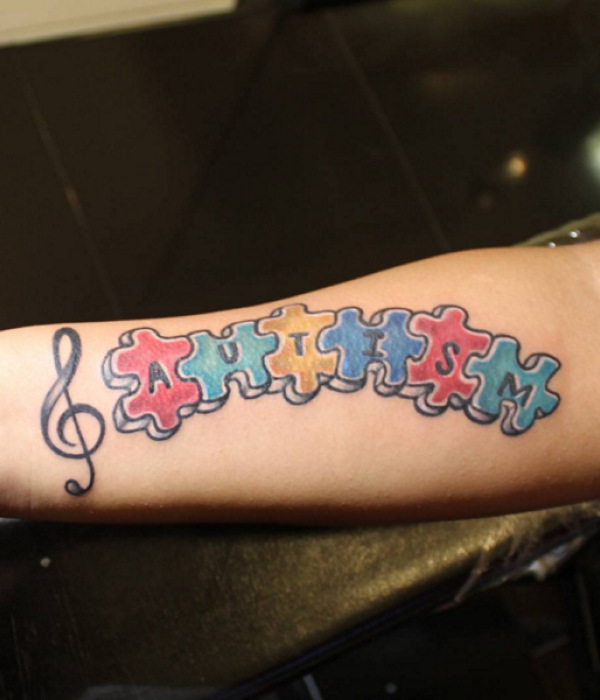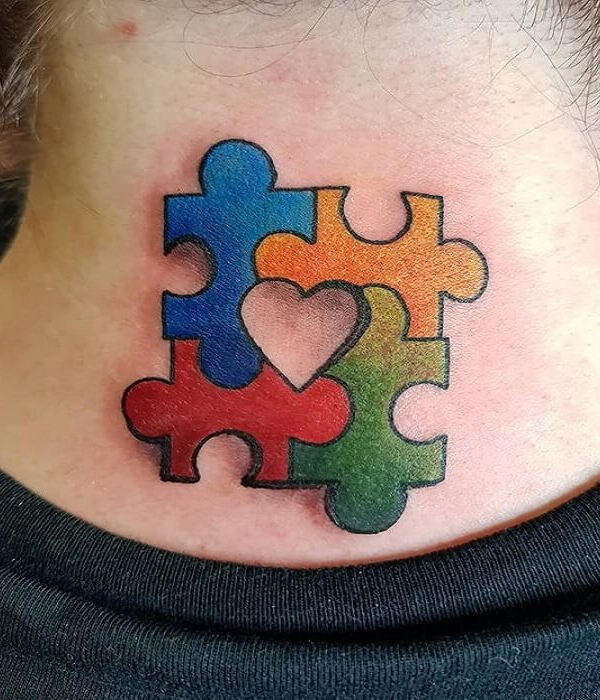 11. Full Sleeves Puzzle Tattoo
If you're looking for a bold tattoo design, consider getting a full sleeves puzzle tattoo. It spans your entire arm and looks good in vibrant colours. So, for a truly one-of-a-kind experience, consider getting a full sleeves puzzle tattoo in multiple vibrant colours.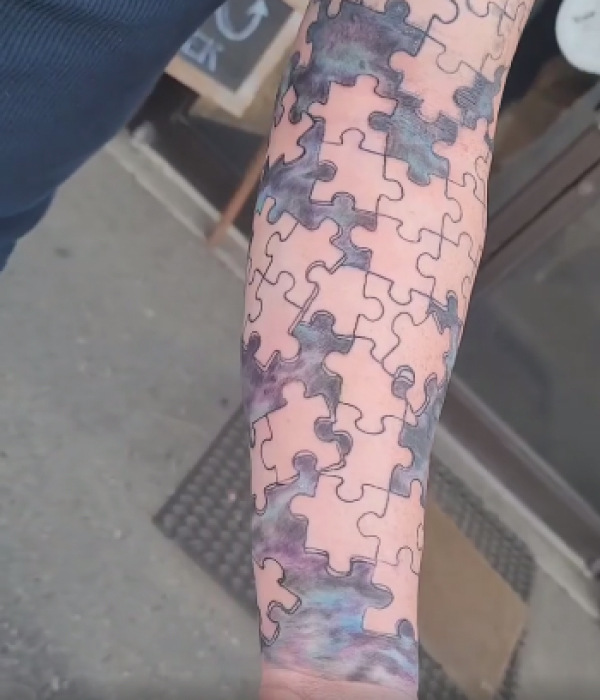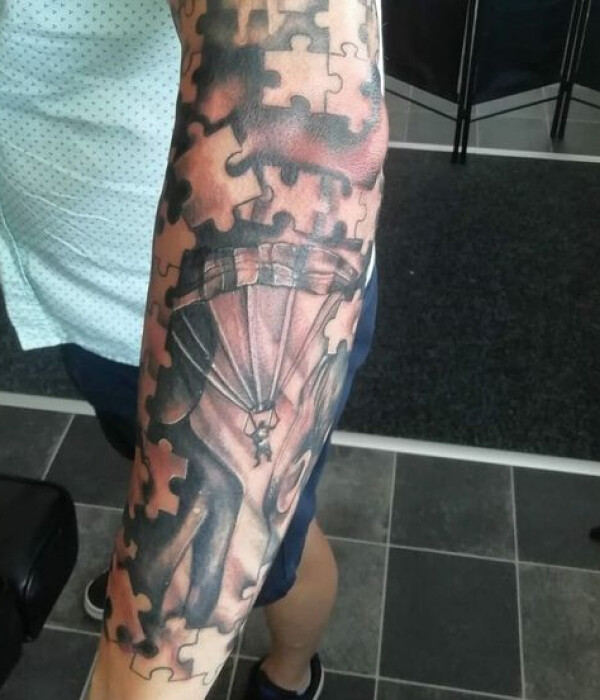 12. Puzzle Piece Matching Tattoo
If you're looking for a one-of-a-kind matching tattoo, then get a missing puzzle piece matching tattoo. You can have missing puzzle pieces etched on both your arms.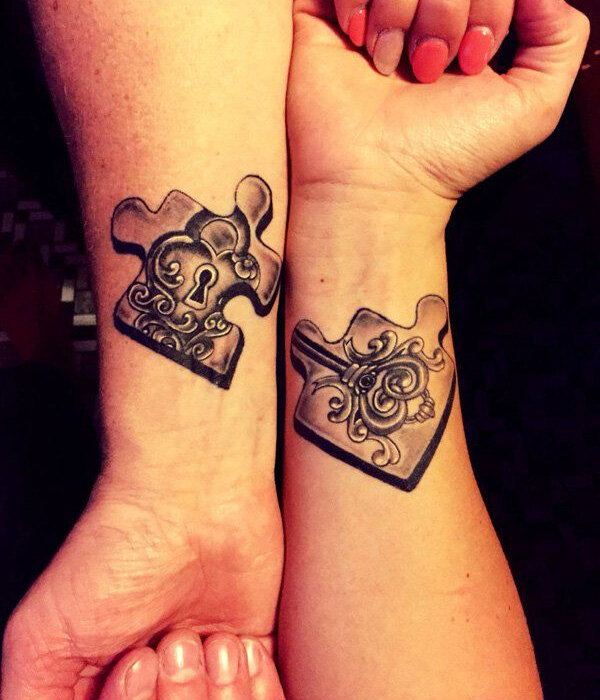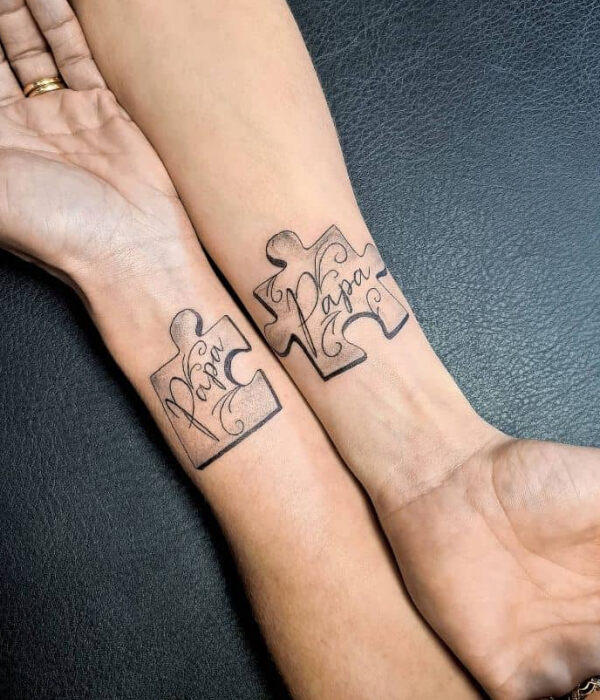 13. Puzzle Piece Matching Couple Tattoo
If you and your partner or your best friend are planning to get a unique tattoo, then get a puzzle piece matching couple tattoo. Both of you can have single puzzle pieces etched on your body. The ideal location for single-piece matching couple tattoo is your arm. It is because both of you can flaunt your pieces boldly to the world.
You can have some elements from nature or any of your favourite elements incorporated to your puzzle matching tattoo.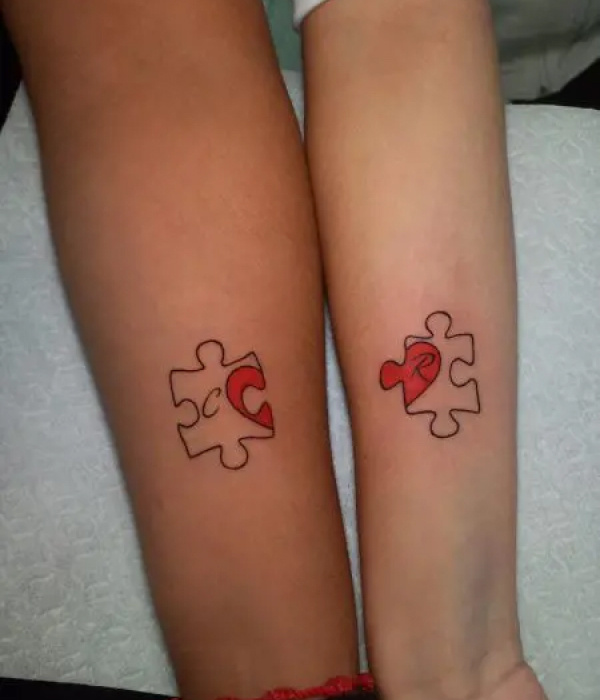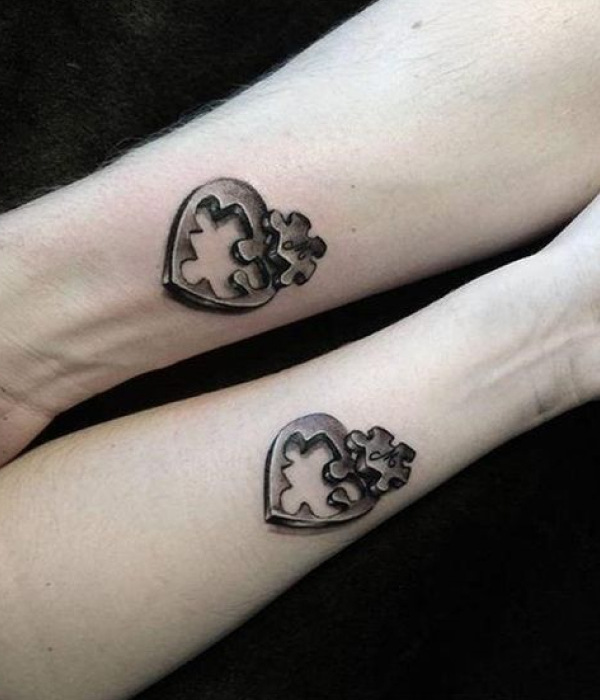 14. Shoulder Puzzle Piece Tattoo
The shoulder is an excellent choice for puzzle tattoo designs. When it comes to flaunting timeless tattoo designs, the shoulder comes first. The best part about your shoulder is that you can easily have a mid-size tattoo etched on your shoulder. Also, shoulder puzzle tattoos are pretty easy to conceal as and when you want.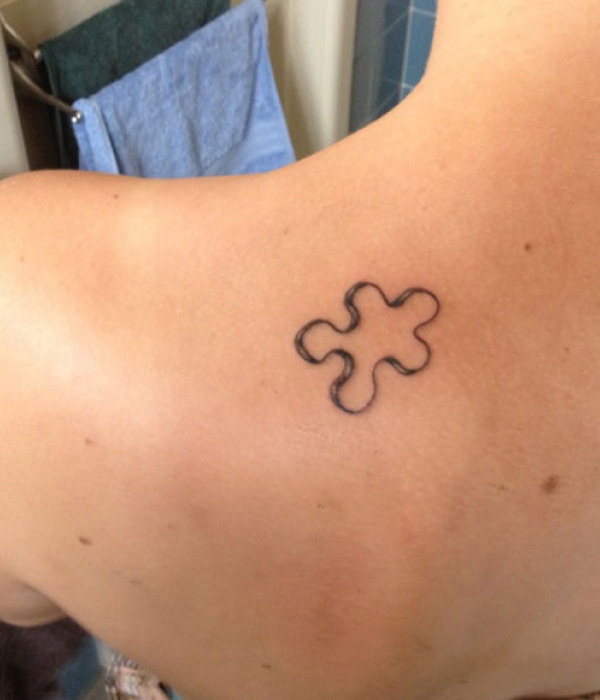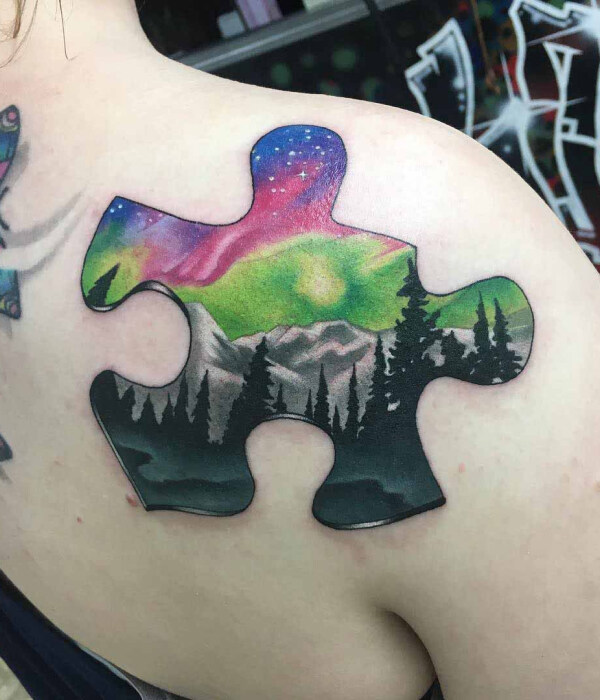 15. Wrist Puzzle Tattoo
The wrist is an ideal location for tiny tattoo designs, including puzzle piece tattoos. The only thing that you need to keep in mind is that wrist tattoos are not easy to conceal. So, it's important to keep everything, including your work conditions, in mind while getting a wrist puzzle tattoo.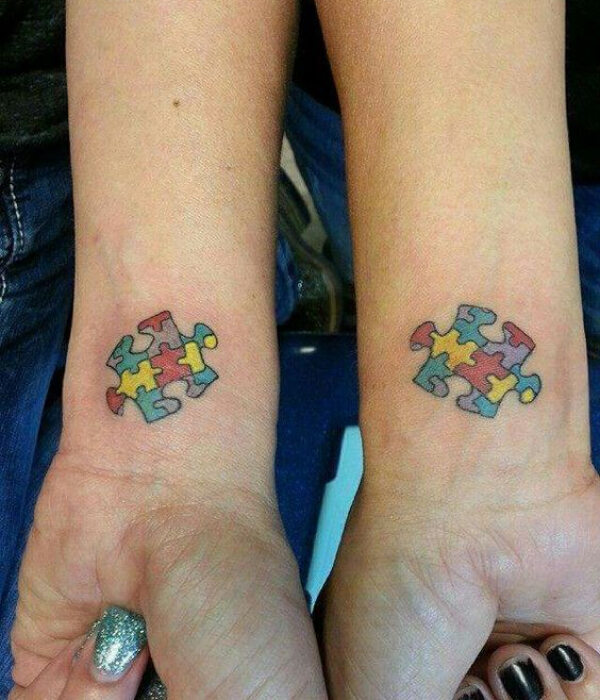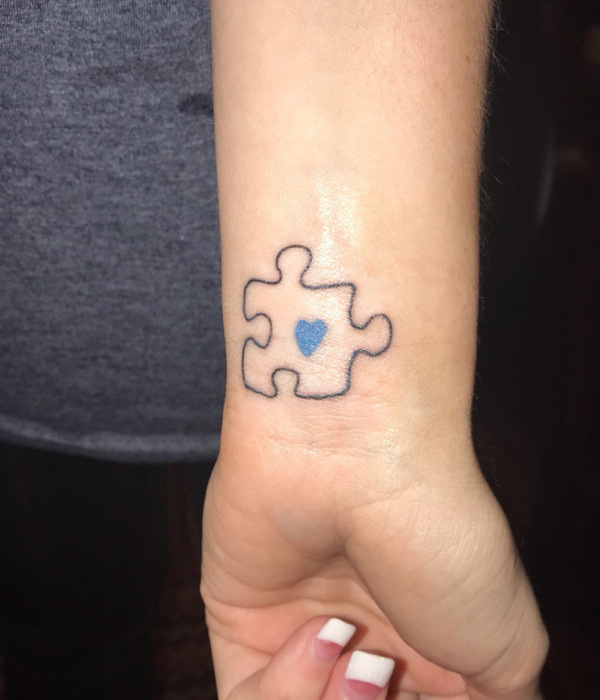 You can get a simple single puzzle piece etched on your wrist in black. If you really don't want to overdo your tattoo design, then get only the outline of a puzzle piece tattoo.
Wrapping it up…
So, there you have it: the top 15 puzzle tattoo ideas that you can consider to sport. With puzzle tattoo designs, you always have the flexibility to add some creative elements to your design that best fit your specific needs.
Make sure to choose your tattoo design and its size very well in advance. Doing so will help your tattoo artist give you the piece of your dreams effortlessly.
FAQs
1. What does a Puzzle Tattoo Signify?
A puzzle tattoo signifies a lot of things, including your deep affection and bond with another person. Getting a matching puzzle tattoo with someone can be an excellent way to show a lasting commitment. Aside from that, a puzzle tattoo is a great way to showcase life's unpredictable qualities of life.
2. Where shall I place my Puzzle Piece Tattoo?
When it comes to your puzzle piece tattoo, finding the perfect placement is crucial. The placement of a puzzle tattoo depends on the size and design of the tattoo. For instance, if you plan to get a small-sized puzzle tattoo, then the wrist, ankle, fingers, etc., are a great place for it. While for a large-sized piece, your back, calf, arms, etc., are wonderful locations.
Here is a list of places where you can get your puzzle piece tattoo:
Fingers
Arms
Chest
Nape
Near the ear
Shoulder
Wrist
Full Sleeves
Ankle
Calf
Forearm, and so on.
3. How much does a matching puzzle piece tattoo typically cost?
The cost of a puzzle tattoo depends on various factors, including the design, size, placement, and whether you choose to have it in colour or not. Also, the cost of body artwork can vary from shop to shop, location to location, and so on. Therefore, it is crucial to consult with the tattoo artist directly to get an accurate estimation of the price.
Typically, a small-sized puzzle-piece tattoo costs you somewhere around $20 to $50. In contrast, a large-size puzzle tattoo with lots of colour and additional elements can cost you somewhere around $200 to $500.
Happy Tattooing… 😊 😊
Please follow and like us: