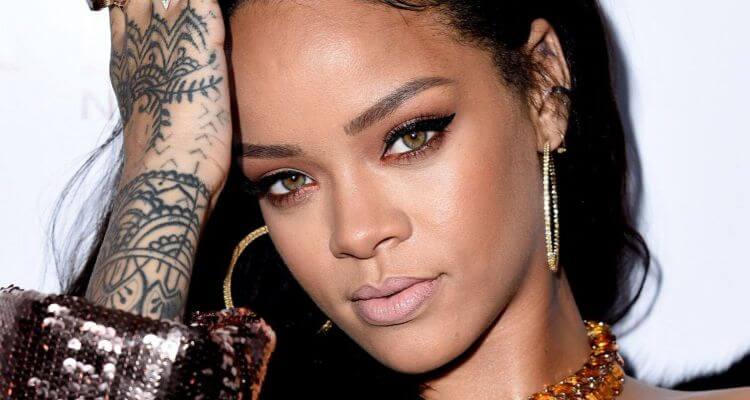 Rihanna's Tattoos And Their Surprising Meaning
Posted on
Rihanna, also known as RiRi, is a well-known celebrity singer who enjoys expressing her personal style through the art of tattooing. Here's a comprehensive list of Rihanna tattoos with meanings. Take a look…
All her tattoos signify something special to her. Here is the list of 25 tattoos that Rihanna has got etched on her body:
Music notes on her foot
Pisces sign behind her ear
Star inside her ear
Sanskrit prayer on her hip
Skull on her ankle
"Love" on her finger
"Shhh" on her finger
Roman numeral on her upper shoulder
Stars down her back
Tribal tattoo design on the back of her hand
Gun on her ribcage
"Never a failure Always a lesson" on her chest
Arabic quote on her rib cage
"Rebelle fleur" on her neck
"Thug Life" on her knuckles
Egyptian Queen Nefertiti on her ribcage
Tibetan script on her butt
Tiny cross on her collarbone
Falcon on her ankle
Goddess "Isis" tattoo on her chest
Chevron and lines on the back of her hand
Henna inspired tattoo on the back of her hand
Large cross on her wrist
"1988" on her ankle
Shark on her ankle
Wondering what all her tattoos mean?
Well, read ahead! Here is everything you would love to know about Rihanna tattoos with meaning.
1. Rihanna's musical note foot tattoo
In 2006, Rihanna got her very first tattoo. Her love of music and her early days in the music industry inspired the two music notes – a treble clef and a sixteenth note.
2. The Pisces sign behind her ear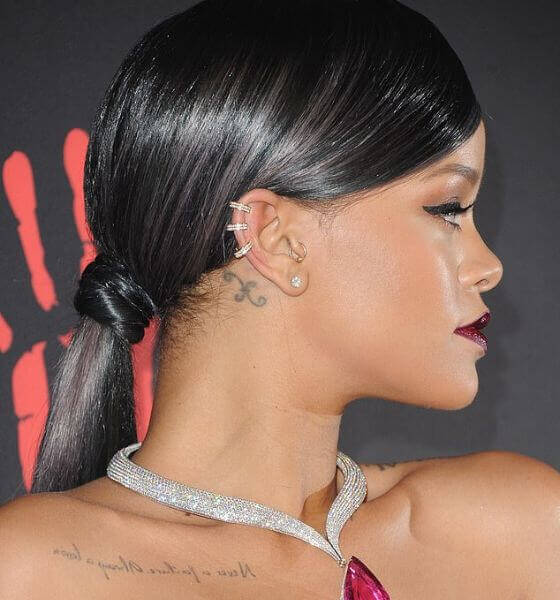 Ri has got the Pisces symbol etched behind her right ear. Pisces is her astrological sign. It was done by a renowned Brazilian artist who requires his clients to book three years in advance. Ri was lucky enough to get her tattoo immediately, as they were both in Tokyo at the same time.
3. Star inside her ear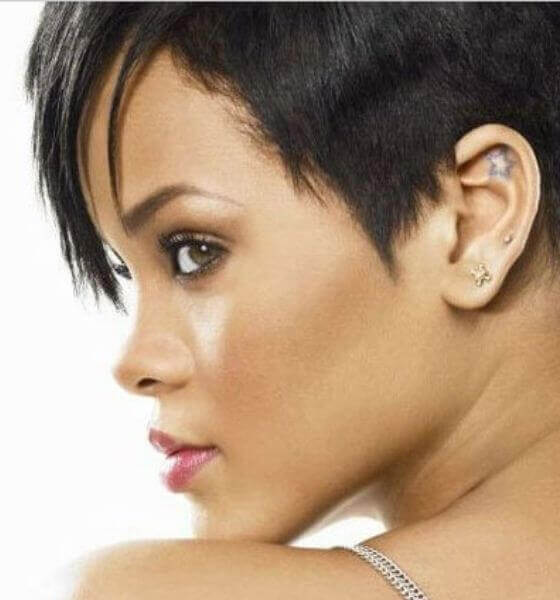 Rihanna and her best friend got matching tattoos in New York City. Both Rihanna and her best friend from Barbados were in New York City, and both of them wanted to try something crazy. So, they got the star matching tattoo etched.
4. The Sanskrit prayer on her hip
Ri has got a quote from Sanatana Dharma etched on her hip. The Sanskrit prayer on Ri's hip was supposed to translate to "forgiveness, honesty, suppression, and control." Unfortunately, the tattoo was misspelled and actually meant "long-suffering, truthfulness, self-control, inward calm, fear, and fearlessness."
5. Skull and crossbones on her ankle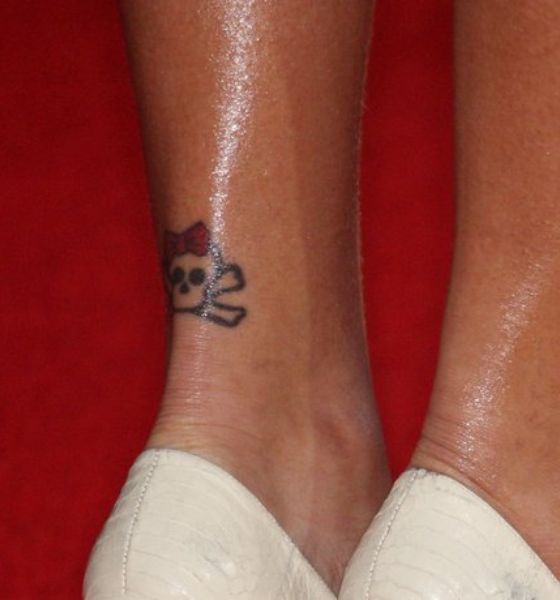 Rihanna's only color tattoo to date, she got it done in Miami in 2008. The pink and red bow, worn on her left ankle, is said to make the infamous skull and crossbones appear more feminine and cute.
6. "Love" on her finger
Rihanna's discreet 'Love' tattoo, written in cursive writing on her opposite hand, complements her famous "Shhh" finger tattoo. Ri got this tattoo etched in Los Angeles in the year 2008.
7. Rihanna's "Shhh" tattoo on her finger
Rihanna's "Shhh" finger tattoo is another well-known inking. Many other celebrities, including Lindsay Lohan and Lily Allen, have imitated this tattoo. They were unaware that Ri had it at the time; Cher Lloyd and many of Rihanna's fans have also got this one etched. The idea is that when you put your finger to your lips to shush someone, the tattoo will be revealed.
8. The roman numerals on her upper shoulder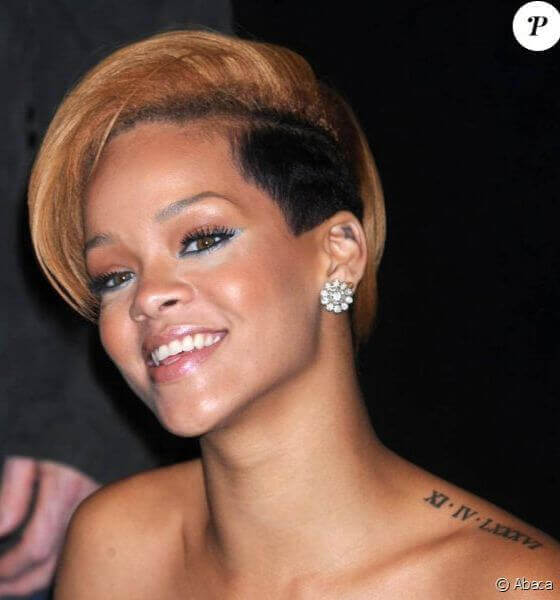 Rihanna got the birthday date "11-4-86" in Roman numerals (XI-IV-LXXXVI) of her best friend and manager, Melissa Forde, tattooed on her shoulder in Roman numerals in June 2008. Forde got the same tattoo as Rihanna, but she got Rihanna's birthday tattooed on her.
9. Stars down her back
Rihanna appears to have made 2008 the year of tattoos, as she received her ninth tattoo in the same year. She got a slew of stars tattooed down her back in 2008. It is one of her most visible and well-known tattoos. It was begun by a tattoo artist in Los Angeles and completed in New York by her favorite tattoo artist, Bang Bang. The stars correspond to Chris Brown's trio of stars behind his ear.
10. Tribal dragon claws on her hand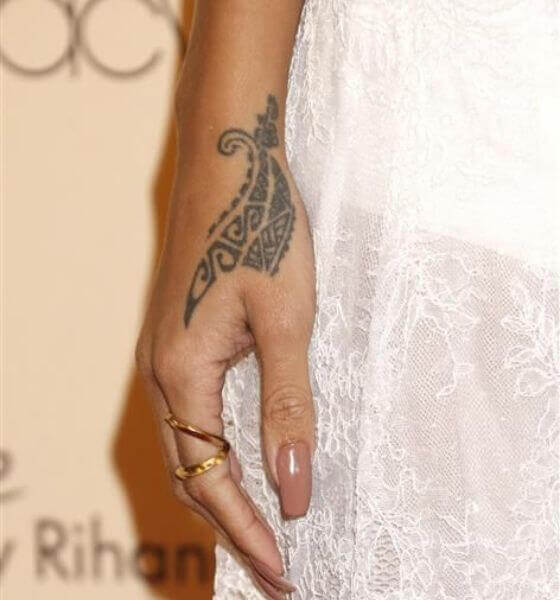 Ri's geometric claw tattoo was her first exposure to the Maori people of New Zealand's traditional chiseling technique. It represents the Hawaiian words Aroha (love, affection, peace) and Mana (strength). Her ex-boyfriend Chris Brown also has the same design tattooed on the same hand. It's a henna-style tribal dragon claw that she got on her right hand during her November 2008 tour in New Zealand.
11. Gun on her ribcage
In March 2009, Rihanna got a small handgun tattooed beneath her right armpit. She apparently flew her favorite artist, Bang Bang, out to Los Angeles to get a tattoo for a friend's birthday and decided to get one for herself at the same time. While this controversial tattoo was initially criticized for promoting violence, Bang Bang stated that it simply represents the singer's strength and power.
12. Quote "Never a failure, always a lesson" on her shoulder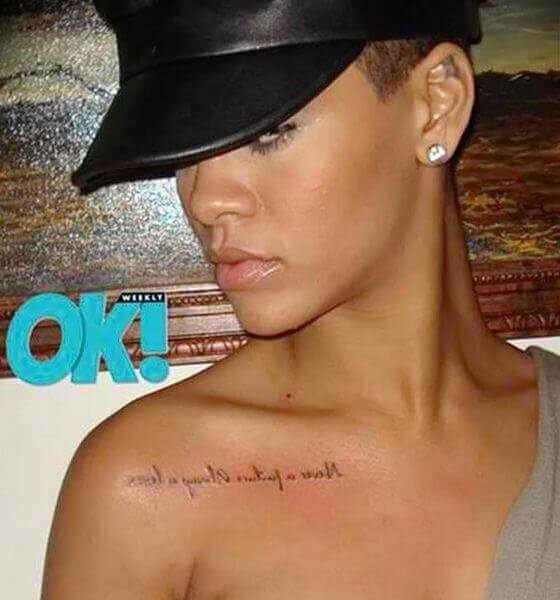 Rihanna had her personal motto, "Never a failure, Always a lesson," tattooed on the right side of her chest in December 2009. Because she wanted to be able to read it in the mirror, she wrote it backward on her skin.
13. The Arabic quote tattoo on her ribcage
Rihanna has got an Arabic quote tattoo etched on her ribcage. Rihanna's lower rib cage script reads "Al Hurria fi Al Maseeh," which translates to "Freedom in God."
14. 'Rebelle Fleur" on her neck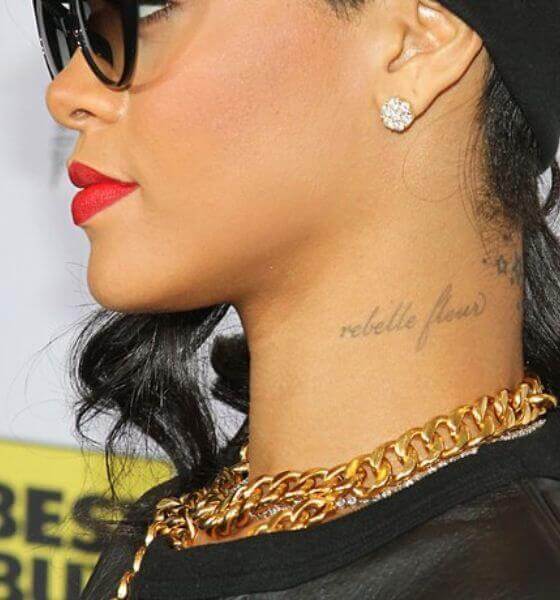 Rihanna got "rebelle fleur"written in script on the left side of her neck in August 2010. The tattoo simply means "rebel flower." Many people questioned whether the phrase should be translated as "rebel flower" or "fleur rebelle" to be grammatically correct. However, RiRi clarified the situation with her tattoo artist Bang Bang, saying, "Rebelle Fleur translates to rebel flower, NOT rebellious flower, its two nouns, so fleur does not HAVE to be first!"
15. "Thug Life" on her knuckles
Rihanna got "Thug Life" etched across her knuckles in January 2012 as a tribute to legendary rapper Tupac Shakur. Mark Mahoney, the tattoo artist, used semi-permanent white ink to create the design. Rihanna flaunted her new tattoo in a photo posted to Twitter.
16. The Egyptian Queen Nefertiti on her ribcage
Rihanna unveiled her new tattoo – a bust of the ancient Egyptian Queen Nefertiti – in a photoshoot with Terry Richardson in January 2013. The tattoo's meaning is unknown to Rihanna, but it is private and rarely seen due to its placement. Queen Nefertiti was a beauty icon who held numerous titles such as Hereditary Princess, Great of Praise, Lady of Grace, and Sweet of Love.
17. The Tibetan script on her butt
Rihanna got the Tibetan script all over her buttocks. The tattoo translates to the Tibetan word for "lover." While Ri has yet to reveal what the tattoo means to her publicly, it is widely assumed that this piece of art represents the people she loves and those who love her.
18. The tiny cross on Ri's collarbone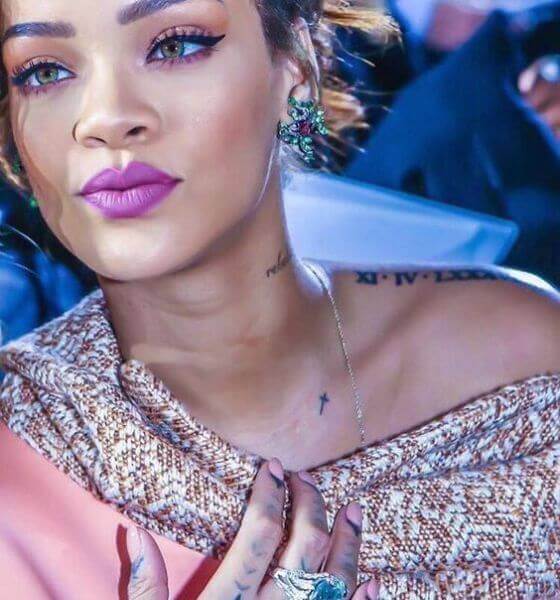 Another tattoo dedicated to Rihanna's faith in God is a tiny, fine cross etched on her collarbone. This tattoo sparked debate at first because of its connection to the Illuminati and Freemasons.
19. Rihanna's Falcon tattoo on her ankle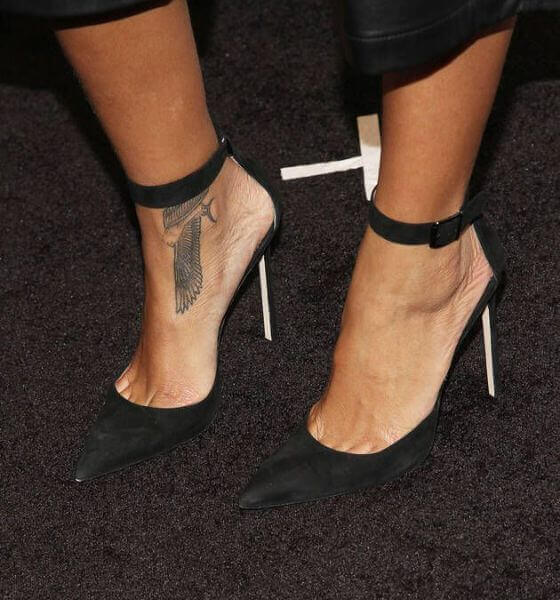 A 2,300-year-old faience falcon influenced Rihanna's falcon ankle tattoo on display at New York City's Metropolitan Museum of Art. Ri was inked again by Bang Bang, and this time she used a design to cover up her first tattoo, a pair of music notes. Rihanna revealed the meaning of her tattoo to Oprah: "Back in the day, they would carve into the walls, and they would carve a falcon because they didn't have another way of saying a king in the sky."
20. The Goddess Isis on her chest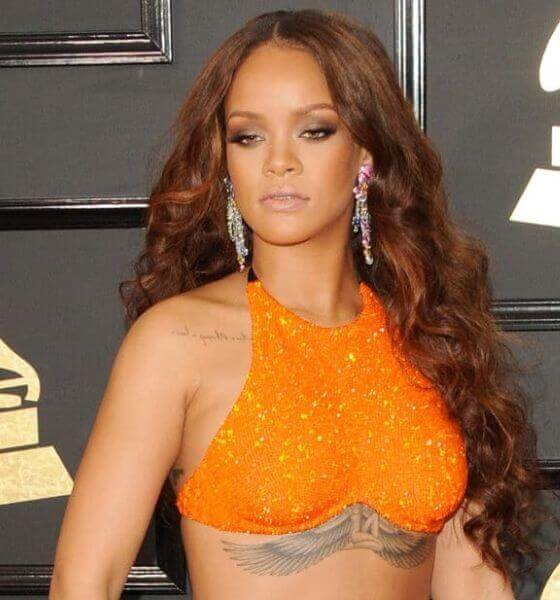 Rihanna's chest was adorned with the wingspan of the Egyptian Goddess Isis, who was revered as the ideal mother and wife. The tattoo, which Ri got in London's Soho district, is a tribute to her beloved grandmother, Dolly.
She took to her Twitter handle to tweet the picture of her new tattoo. She tweeted it with the caption: "Goddess Isis – Complete Woman – Model for future generations – #GRANGRANDOLLY – always in and on my heart."
21. Chevron, lines on the back of her hand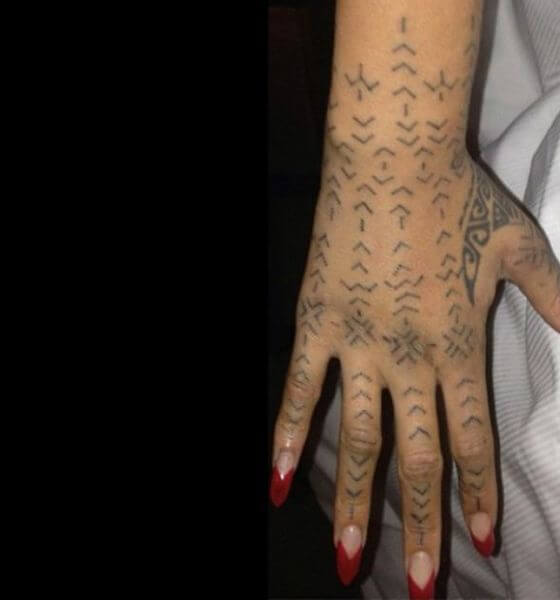 In October 2013, Rihanna got Chevron lines on the back of her hand. She expanded her hand tattoo in two sessions. She started by drawing chevrons and lines on her fingers, hand, and wrist. These lines can still be seen in the finished tattoo.
22. Henna inspired tattoo on the back of her hand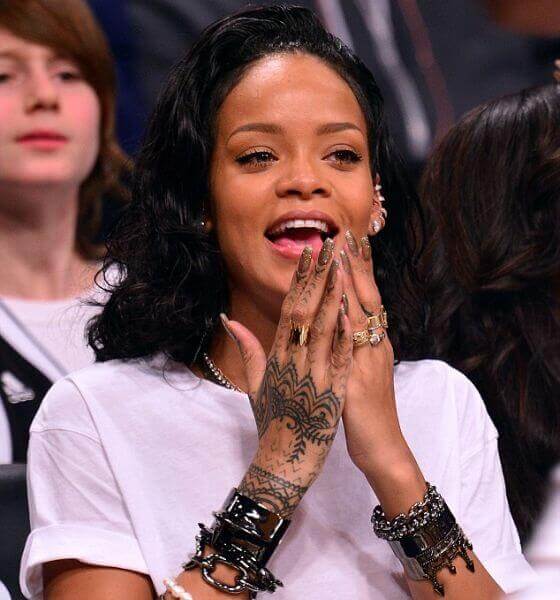 Rihanna reportedly flew her favorite celebrity tattoo artist, Bang Bang, out to the Dominican Republic to get a cover up tattoo on her hand and wrist with an impressive henna-style mandala inking after being dissatisfied with her traditional Maori tattoo.
In October 2013, she got this hand tattoo that included both the Maori tribal design near her thumb and the chevron lines. It's an abstract design inspired by henna art from India. Bang Bang and Cally-Jo collaborated on both the design and execution of this tattoo. The pair pulled out their needles and began working on different sections at the same time.
23. The large cross on her wrist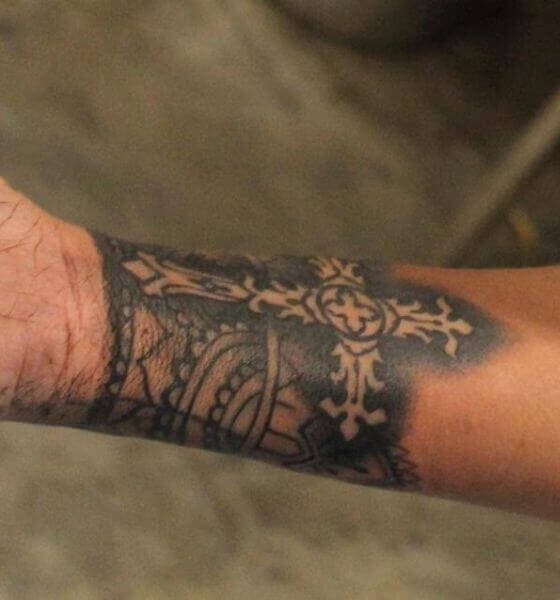 Rihanna had her wrist decorated with an elaborate cross design in 2014. Rihanna received this tattoo from artist Bang Bang. The intricate cross design is created using negative space and surrounded by black ink. The singer allegedly entered her New York studio at midnight and didn't leave until 5 a.m., proudly showing off her new tatt, representing her faith.
24. '1988' on her ankle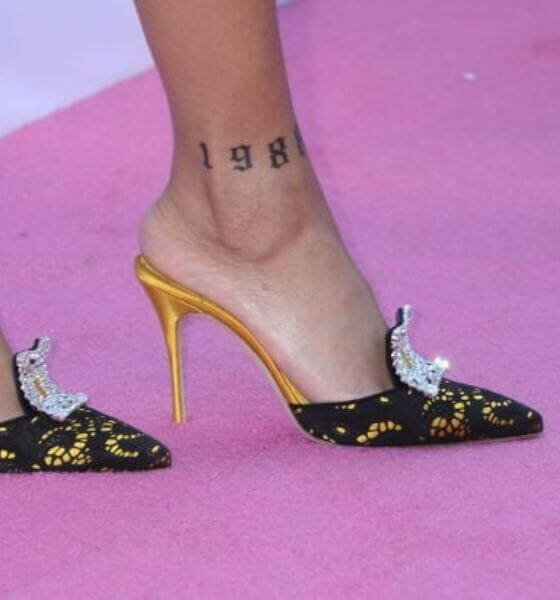 In August 2015, Rihanna added new tattoos to her collection. She chose a Gothic-style '1988' tattoo to memorialize the year she was born. Bang Bang, her favorite tattoo artist, did this tat on her right ankle at his Tattoo Parlor in NYC. The bad gal Ri was born on February 20, 1988, in Antigua.
25. The shark on her ankle
Rihanna's most recent tattoo is a camouflage-print shark tattoo on her left ankle. Bang Bang, her favorite celebrity tattoo artist, reportedly inked RiRi's shark tattoo in Drake's Miami dressing room in September 2016. According to the celebrity singer, the tattoo was inspired by a stuffed shark. Drizzy got Rihanna during a date at a Toronto aquarium, and he also got a matching tattoo on his arm. However, Rihanna reportedly covered up the tattoo in June 2021. A crown had taken the place of the shark.
Wrapping it up…
So that's it for Rihanna tattoos with meanings. Her tattoos are all meaningful and well-thought-out. I hope her tattoo designs inspire you as much as they have me.
Happy Tattooing… ☺ ☺
Stay Home, Stay Safe!!
Please follow and like us: