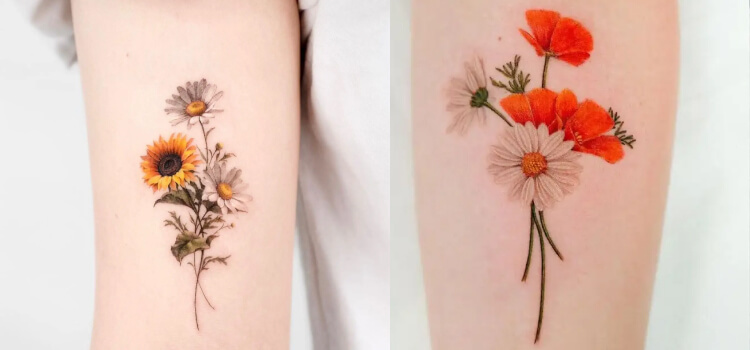 35+ Unique Daisy Tattoo Designs And Ideas With Meanings
Posted on
Are you looking for inspiration and ideas regarding a Daisy tattoo? With the right design, this iconic flower can be your perfect choice as an expressive piece of body art. Whether you're deciding on what type of Daisy or where to put it, we have some excellent suggestions to help ensure your ink looks its best!
From classic designs with bright petals radiating outward in yellow and orange tones; delicate watercolor shaded English Daisies; tiny gingham-patterned varieties drawn down one arm; larger scale sleeve pieces made from linked circular blooms – there's something here for everyone. Read our blog post now and get inspired by all the beautiful options.
Daisy tattoo meaning
Daisy tattoos are a widespread preference for many individuals. Their cheerful and optimistic symbolism makes them attractive for beauty and sentimentality. Not only does the flower's bright hue stand out on its own, but it also has layers of meaning to draw from – innocence, youthfulness, and new beginnings.
Daisy tattoos have been known to commemorate unique relationships or milestones such as birthdays or anniversaries; they can even be used as reminders that no matter how life may seem, there will always be something fresh ahead waiting just for you! Whether looking for an inspirational piece of artistry or simply wanting something aesthetically pleasing to adorn your skin with – daisies make a great tattoo option!
Here are the best daisy tattoos
1. Daisy tattoo minimalist
This minimalist Daisy tattoo is a work of art. It's elegant and simple, with bold lines and gorgeous shading that bring the Daisy to life. The flower features vibrant petals, while its stem curves gracefully in an eye-catching pattern around your body. Whether you want something subtle or more prominent, this tattoo will make heads turn wherever you go! With expertly applied ink, it won't fade quickly over time nor wash away easily when washing – making it ideal for those who like their tattoos permanent but also stylish too!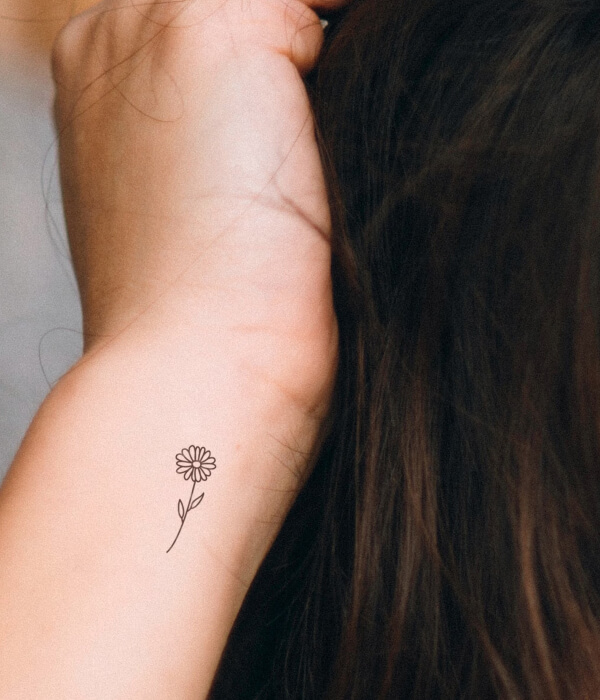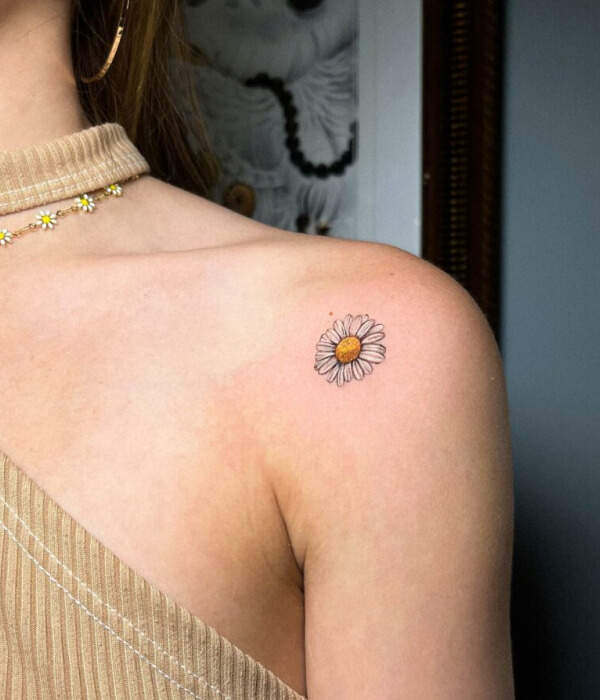 Get creative by pairing the Daisy with other floral motifs or abstract designs for a unique look; whichever way you wear it, show off your style without compromising on quality thanks to this stunning piece of body art from professional artists today!
2. Black and white daisy tattoo ideas
A black and white daisy tattoo is a beautiful way to express yourself. Not only do they have great symbolism, but they also look fantastic when done in contrasting colors! A professional artist will craft an intricate design that will draw attention to the hidden details of this timeless flower.
The deep contrast between the two shades gives off the depth and brings out unique characteristics within each petal or leaf – it's truly mesmerizing! Get creative with your color choices as well; vibrant yellows, greens, and blues can add interest too.
Add some sparkle for an eye-catching addition that is perfect for any occasion. Go classic by sticking with just black & white, or spice things up according to your personality – either way, you'll be satisfied with how attractive this floral piece looks on your body art canvas!
3. Realistic daisy tattoo ideas
A realistic daisy tattoo is an excellent way to express yourself and communicate with your body. With its delicate petals, the simple beauty of this flower has made it one of the most popular choices for tattoos among women worldwide.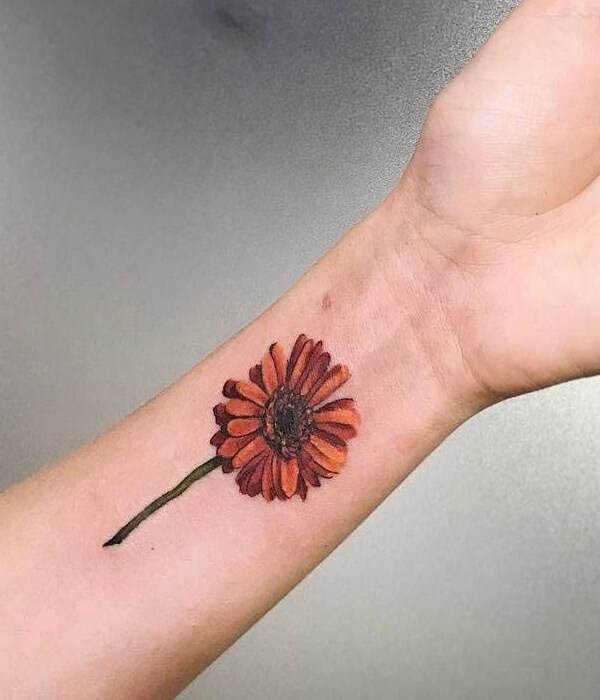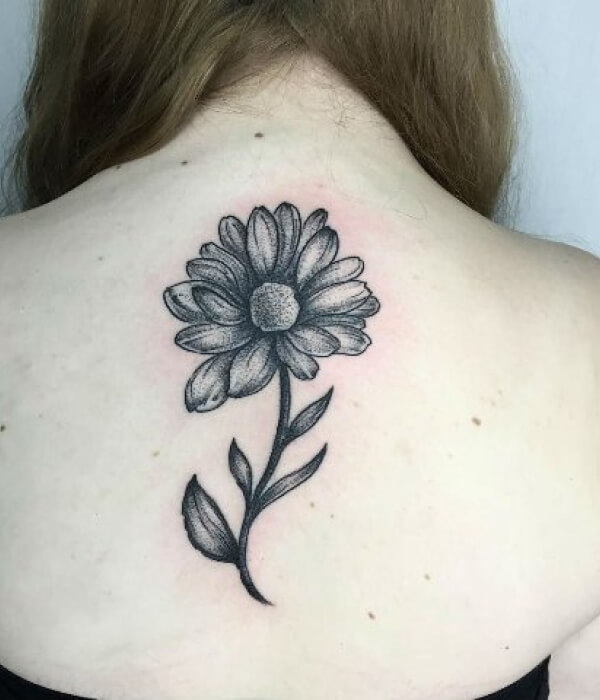 For those who want something unique, an experienced artist can bring realism into these designs by adding beautiful colors and shading, which will stand out from other people's tattoos. This classic design also looks great in any size or placement – whether you choose a small wrist piece or even a larger back piece!
4. Small daisy tattoo ideas
Small daisy tattoos are an extraordinary form to define yourself artistically and stylishly. The possibilities for customized creativity are endless, from cutesy designs featuring tiny yellow-petal blooms to bolder placements with intricate detailing on larger flowers.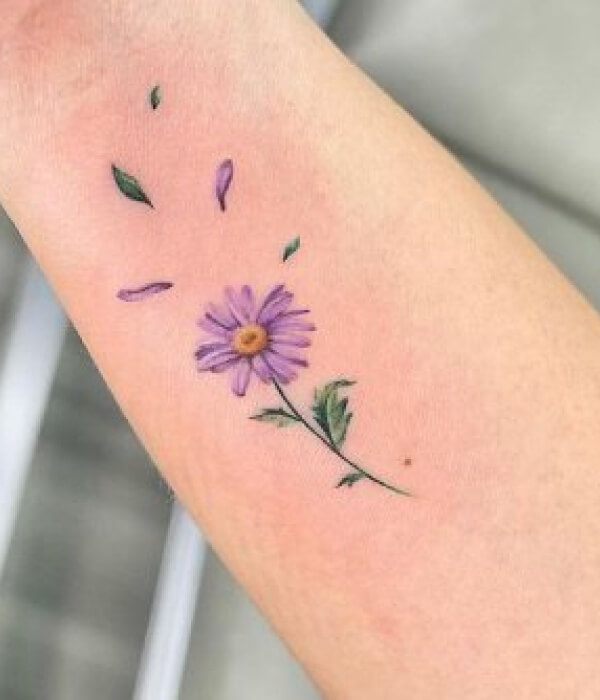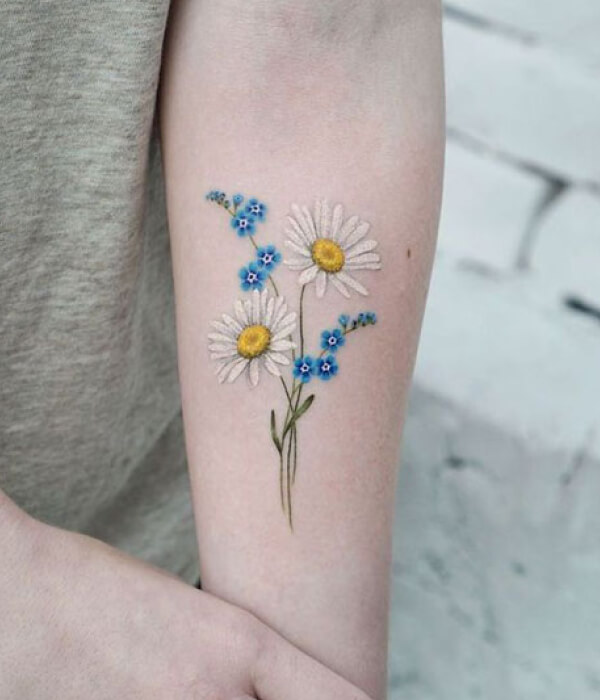 Whether you're looking for something small enough to be fine with work attire or long-lasting art inspired by nature, these delicate but meaningful images of daisies offer unique insight into personal style. When working closely with your tattoo artist, they can help advise placement ideas and design size depending upon lifestyle needs and aesthetic preferences – create a design that stands out without removing its simple beauty!
5. Simple daisy tattoo designs
Simple daisy tattoo designs provide a unique, elegant way to showcase your personality and express yourself. They have a timeless nature that blends modern trends with classic charm, combining intricate details of delicate petals with bold colors. Whether you're examining something unpretentious or rich, these tattoos will make an eye-catching statement while remaining tasteful.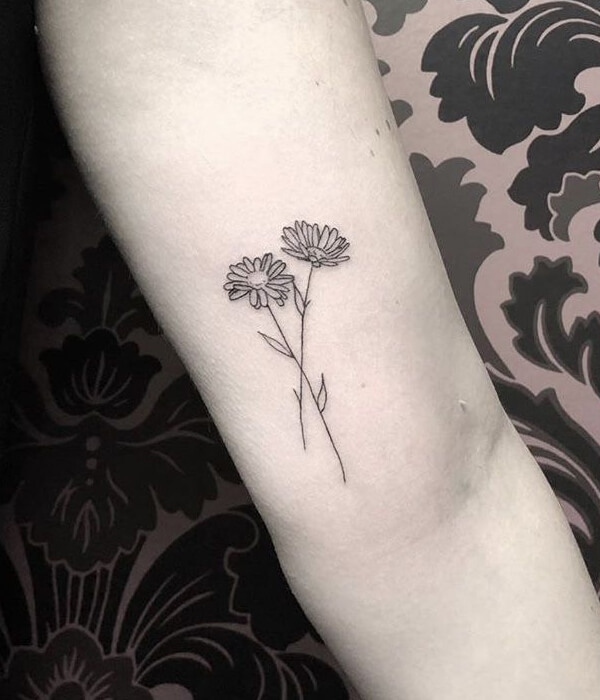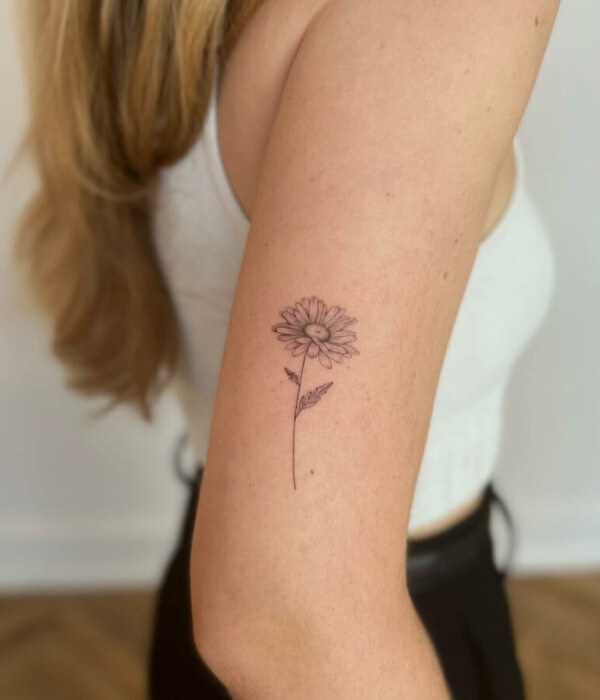 Not only do they look great in any size and color combination, but they also carry meaningful symbolism by representing innocence, beauty, and positive energy. If you want to show off your style without being too edgy or over the top––a simple daisy tattoo design is a perfect choice!
6. Colorful daisy tattoo designs
Daisy tattoos are popular for many, offering bold and beautiful designs. They can range from colorful blooms to simple daisy silhouettes – perfect for any style or look. Creative variations may include vines wrapping around the flower with little flying insects alongside it.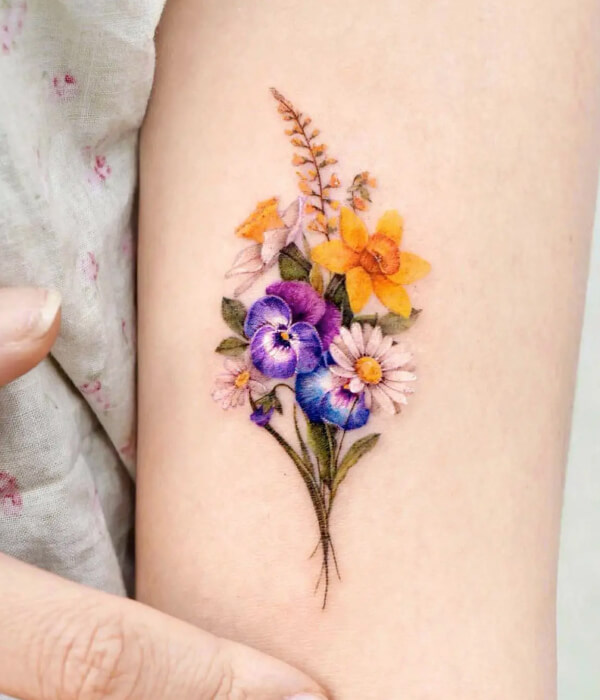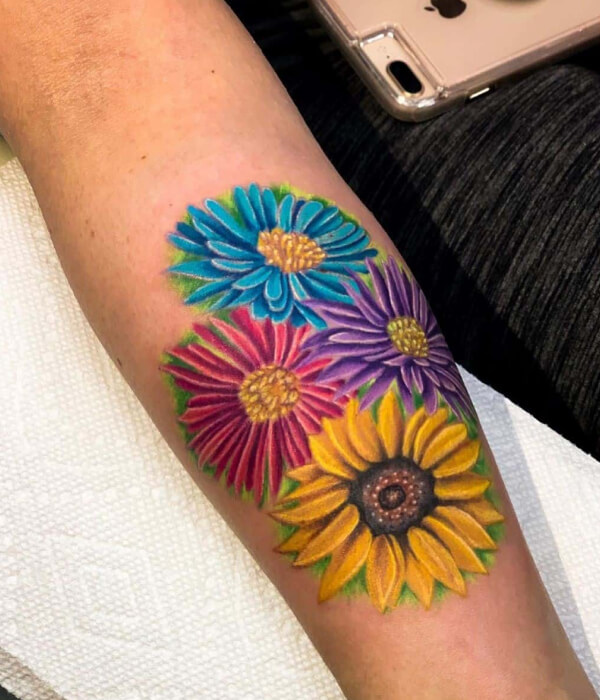 Any professional artists use high-quality inks, ensuring long-lasting vibrant colors and creating unique pieces of art that will be admired by all who see them! Whether you're looking for something subtle or colorful and eye-catching – Colorful Daisy Tattoo design has something special just waiting to become part of your body art journey!
7. Greyscale daisy tattoo
This beautiful greyscale daisy tattoo is sure to make a statement! The intricate details and shades give it an artistic, unique look. Its subtlety provides the perfect balance between classy and edgy for any wearer. Perfectly placed on your wrist or other chosen body part, this timeless piece of art will express your style elegantly.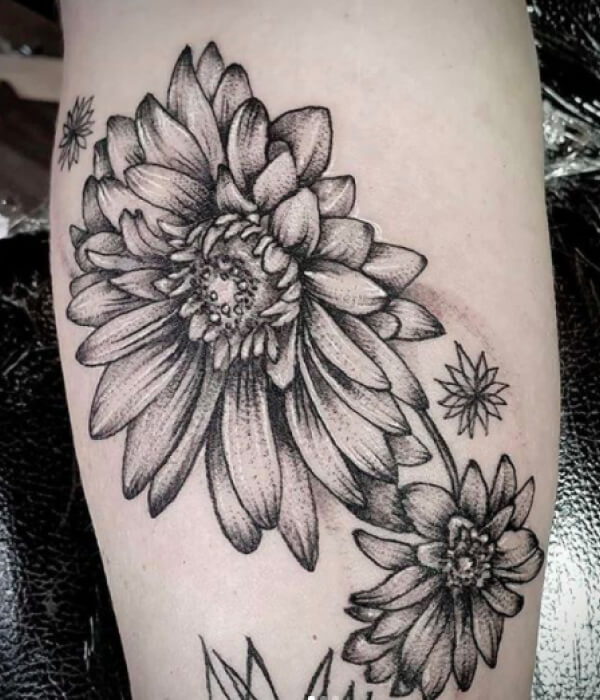 Whether you prefer something traditional or modern – this design's versatility makes it ideal for anyone who wants to show off their personality through ink!
8. Geometric daisy tattoo
This Geometric Daisy Tattoo is a stunning work of art for those looking to make a bold statement. Featuring precise geometric shapes that have been expertly crafted, it stands out from traditional daisy tattoos with its modern and eye-catching design. The black ink gives the tattoo an elegant finish while remaining vibrant.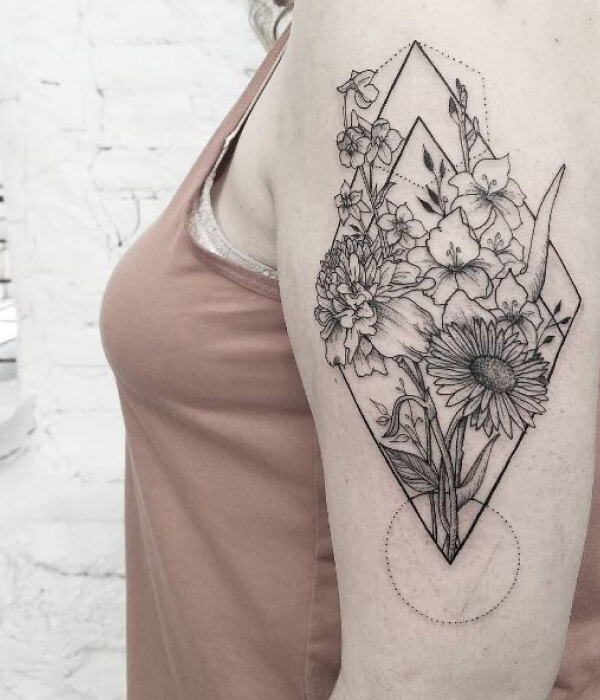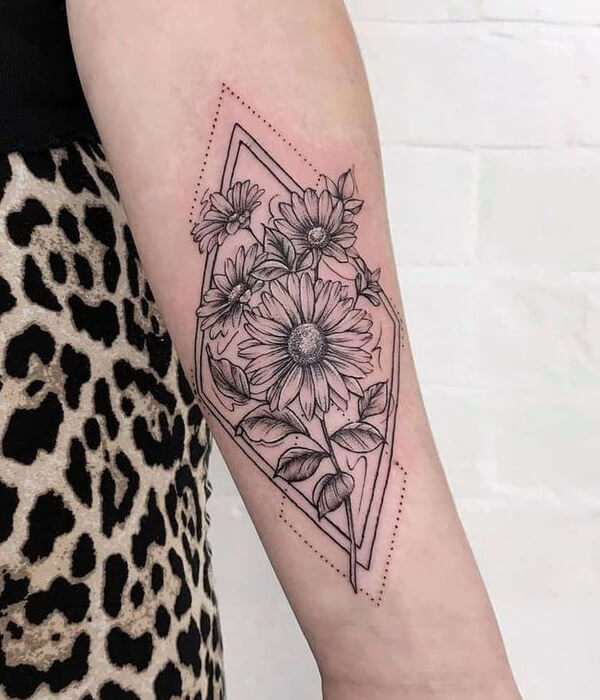 With intricate detail on every petal, this appealing piece can be seen as more than just another flower – instead, as an artistic expression of beauty that looks great no matter where you put it! Whether worn alone or combined with other elements (such as symbols or words), this visually striking tattoo will draw attention wherever you go!
9. Pink daisy tattoo
This unique pink daisy tattoo shows beauty, femininity, and romance. It's an ideal pick for someone looking to express their inner self unexpectedly. The delicate flower is carefully rendered on the skin with vibrant colors that capture your eye and keep you mesmerized.
From its luscious petals, each slightly different from the next to its richly colored center, this artistry will surely draw attention wherever it goes! Whether as part of a larger sleeve design or worn solo on just one arm or leg – this beautiful artwork won't disappoint!
10. Rose and Daisy's tattoo
This rose, and daisy tattoo is perfect for the true romantic. This beautiful piece of art brings together two flowers that are traditional symbols of love, happiness, and beauty – all rolled into one stylish design! Its exquisite combination of rich reds will create a deep impression on your skin. With its detailed precision, you can be sure to draw glances wherever you go with this stunning artistry on show.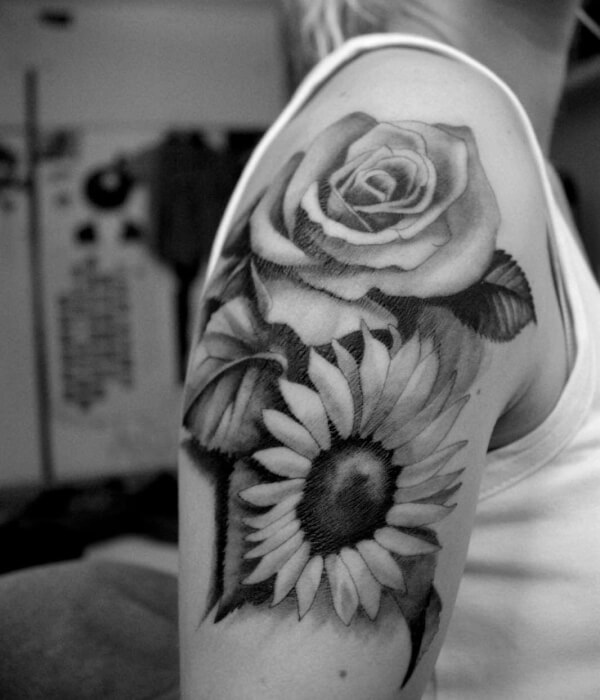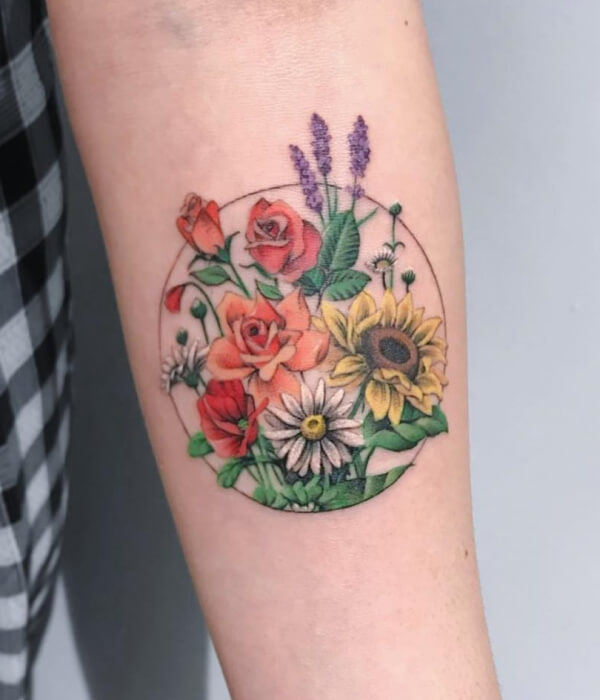 The delicate petals form intricate shapes creating an eye-catching contrast in tones, too – it's truly unforgettable! So whether it's admiration or envy amongst your friends when they see this fantastic ink artwork – either way, we think it's bound to bring plenty of compliments coming your way!
11. Daisy tattoo with the moon
Introducing Daisy's tattoo with the moon! This unique and beautiful body art design captures the delicate flower in its most natural state, framed by a crescent moon. The stunning combination of soft colors brings an ethereal feel that will captivate anyone who takes it all in.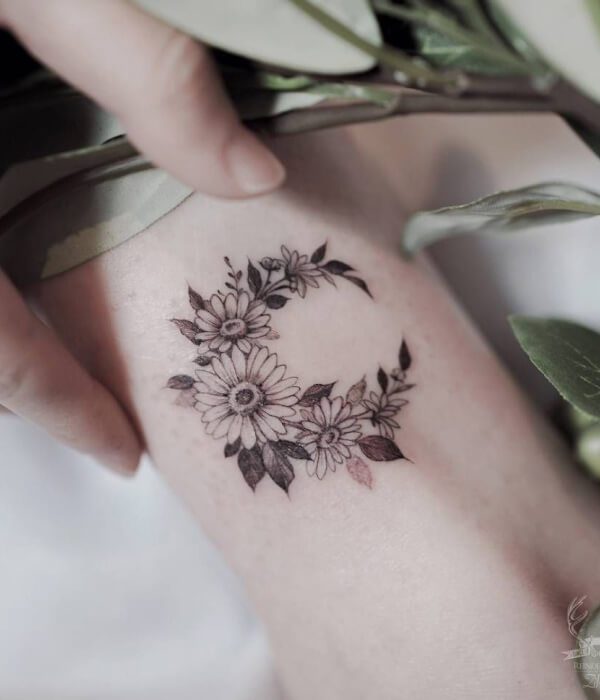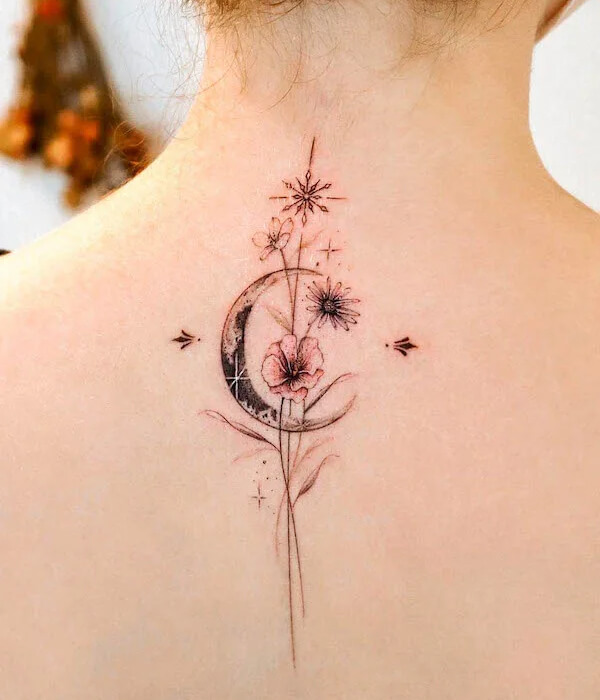 Fine detailing imbues this classic piece of artwork with a timeless style that will be admired for years. Perfect as a statement piece or subtle accent, Daisy tattoo with moon sets itself apart from other designs as truly one-of-a-kind artistry you won't find anywhere else. Feel the magnificence of nature on your skin today—get your special edition now!
12. Daisy tattoo with butterfly
This stunning Daisy Tattoo with Butterfly will turn heads! This premium piece of body art features a daisy encircled by a beautiful butterfly. The tattoo is rendered in exquisite detail, and the colors truly pop out against your skin.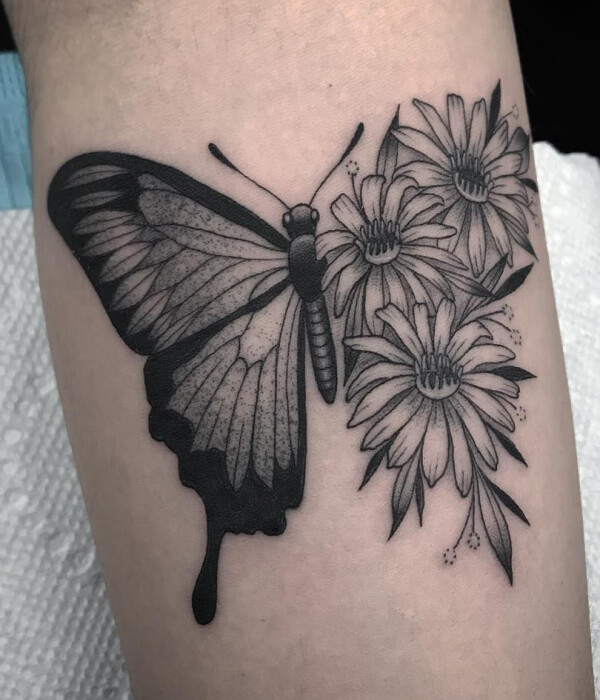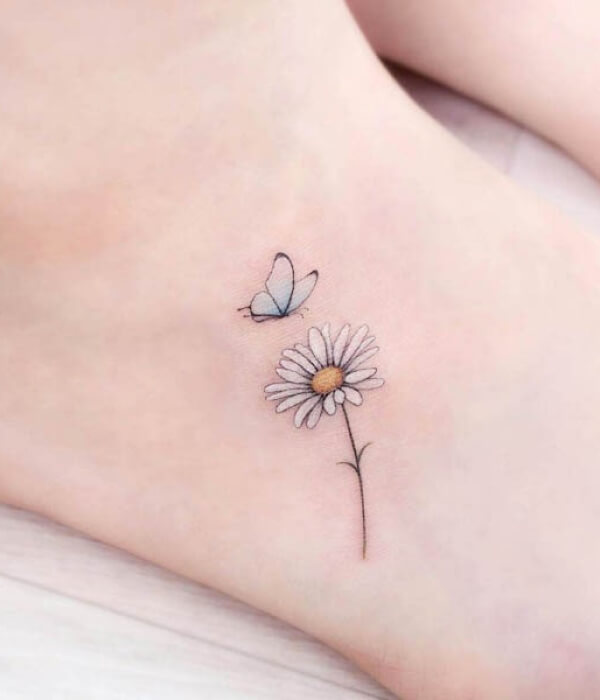 It's the perfect way to make a statement about who you are while adding an element of stylishness that stands apart from the rest. This eye-catching design captures attention wherever you go.
13. Daisy tattoo with a bee
This stunning Daisy tattoo with a bee is perfect for any body art collection. Featuring vivid and intricate details, this design has been expertly crafted for maximum impact. The delicate petals of the Daisy offer soft femininity while contrasting against the boldest detail – that of an elegant honeybee hovering atop its center!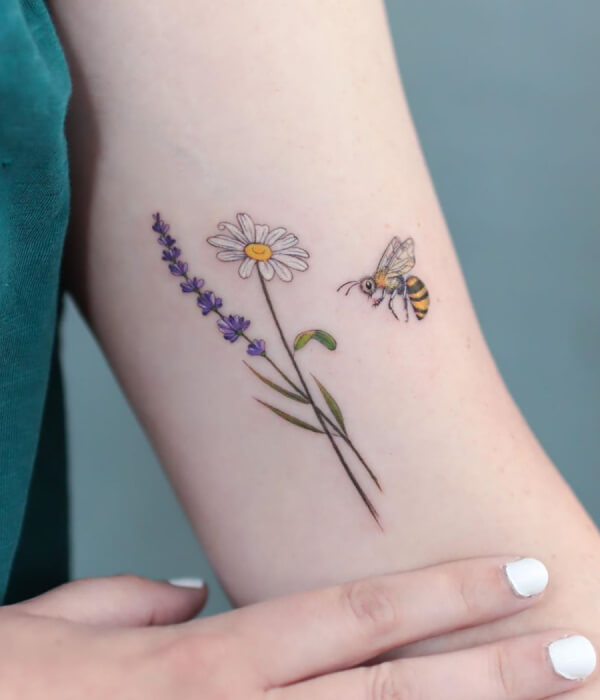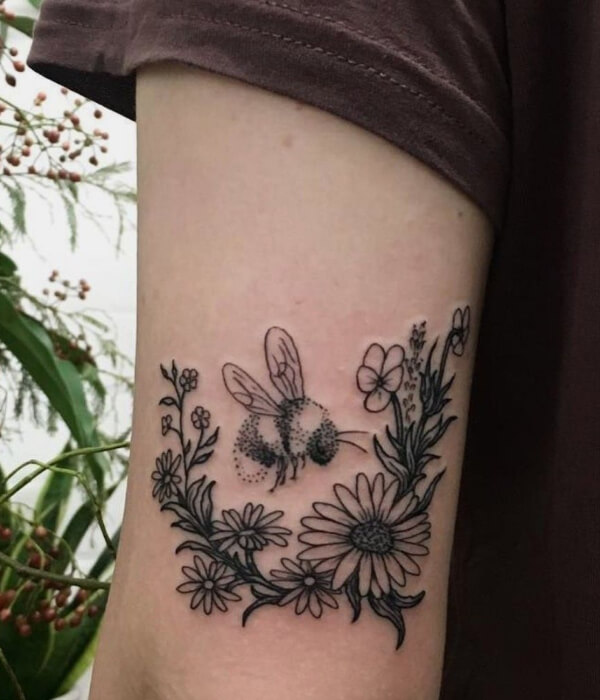 A symbol of strength and rebirth, this distinctive ink will make you stand out from others in all crowds. With our experienced artist crafting your artwork, you can rest assured knowing it's one-of-a-kind and unique to you!
14. White daisy tattoo in a pair
A white daisy tattoo can symbolize innocence and purity, especially when the two are linked together. These white daisies are an elegant way to represent everlasting love or friendship between two people. The delicate elegance of the flower makes it perfect for any location on the body – from the shoulder to the ankle – so you can express yourself wherever it suits your style best!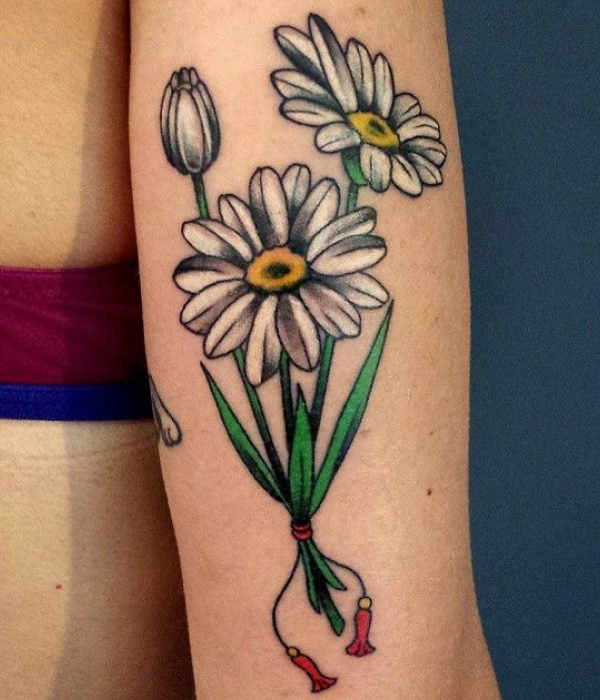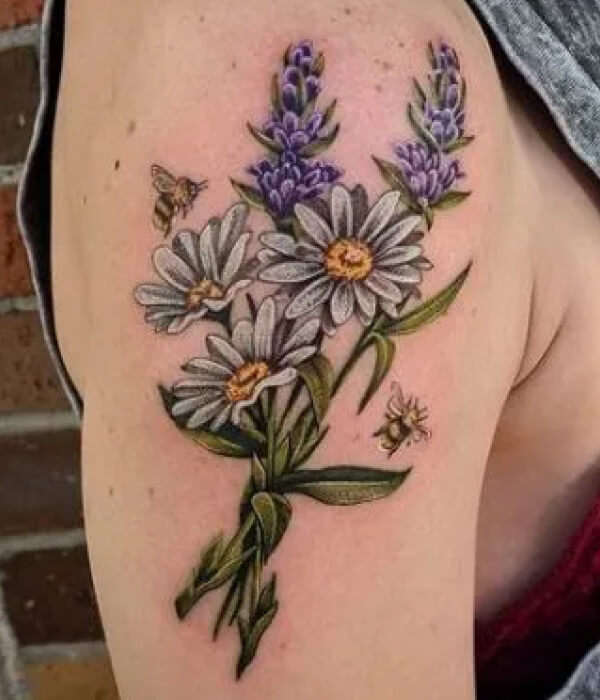 With its subtle beauty and symbolic meaning, this timeless design will ensure that your bond will always stay firm, no point where life takes you.
15. 3D daisy tattoo
This is a beautiful daisy 3D tattoo for those who want to express their individuality and make an unforgettable impression. This stunning design features high-definition detail that will have everyone looking twice when you walk into the room. Not only can it be done in black ink, but color options are also available too! With its intricate petals resting atop graceful stems, this unique body art piece is guaranteed to pull all eyes your way wherever you go.
It would look fabulous displayed on any part of the body – from shoulders and arms down to wrists or ankles, guaranteeing attention whenever you show off your style. Get prepared for praise with this stunning daisy tattoo today!
16. Black and grey daisy bouquet tattoo
This stunning black and grey daisy bouquet tattoo is the perfect choice if you're looking for a bold yet sophisticated design. The vibrant flowers are carefully arranged in an eye-catching pattern, creating the illusion of movement as it wraps around your body.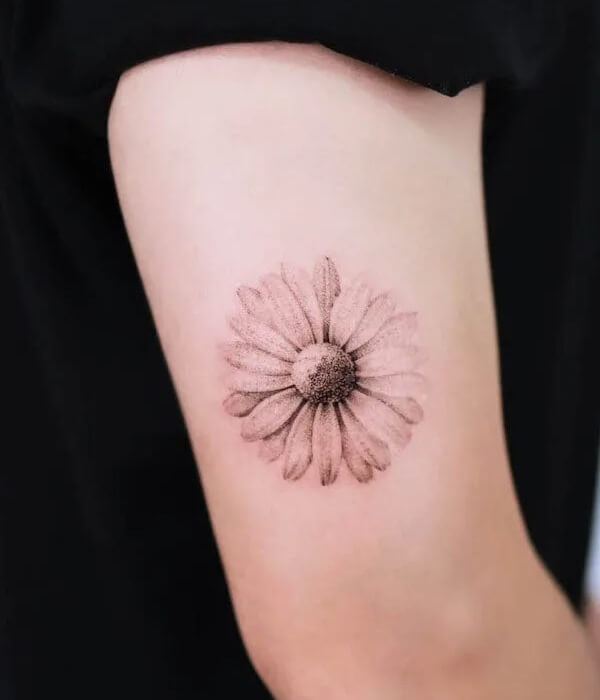 Delicate shading adds an extra dimension to this lovely artwork, while hues of greys give depth to each petal. Whether displayed on your arm, ankle or anywhere else, this beautiful floral piece will be admired by many!
17. Blue daisy tattoo
This beautiful blue daisy tattoo is a perfect design for anyone looking to express their inner beauty and creativity. Its unique, sophisticated style will make you stand out while perfectly conveying your personality. Professional artist brings outstanding artistry and quality to every piece they create so that each person can showcase their statement with pride.
.
The exquisite detail in this stunningly vibrant blue flower allows it to quickly adapt itself to any skin tone or texture, making sure this one-of-a-kind masterpiece lasts forever!
18. Sunflower with daisy tattoo
This stunning sunflower and daisy tattoo is sure to turn heads. The design features a bright yellow sunflower tattoo and a cheerful white daisy set against an earthy brown background. It captures the essence of nature, creating a peaceful atmosphere that will bring joy into your life!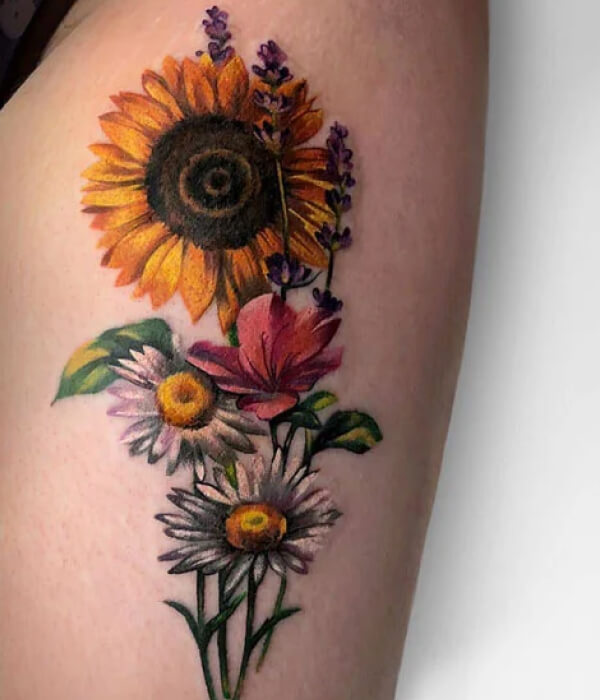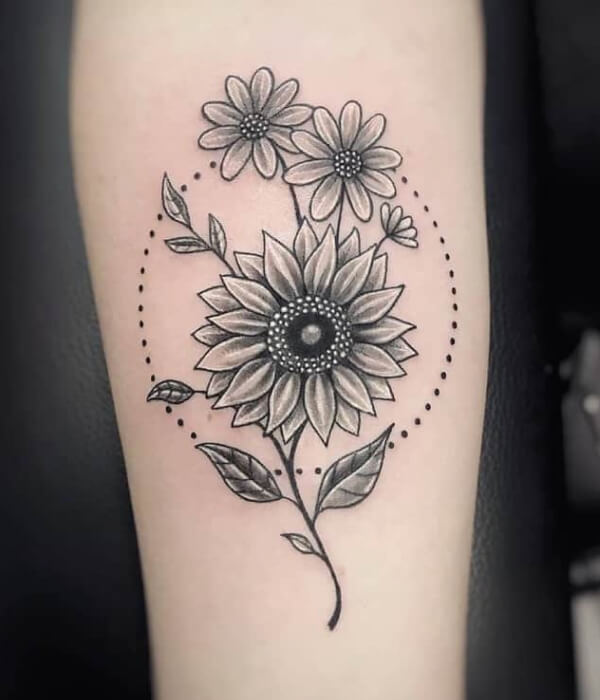 This classic yet modern combination makes this tattoo stand out from others and is perfect for someone who wants something unique on their body. Its professional quality ensures it lasts through time without fading or looking shabby – regardless of where you decide to place it! With its beautiful colors, vibrant symbols, and comfortable placement options, choosing this exquisite artwork could be just what you're looking for in terms of self-expression!
19. Daisy tattoo with names
This beautiful daisy tattoo with names perfectly expresses your love and devotion for someone special. Created by a professional artist with many years of experience in body art, this stunning design will surely make an eye-catching statement wherever it's worn!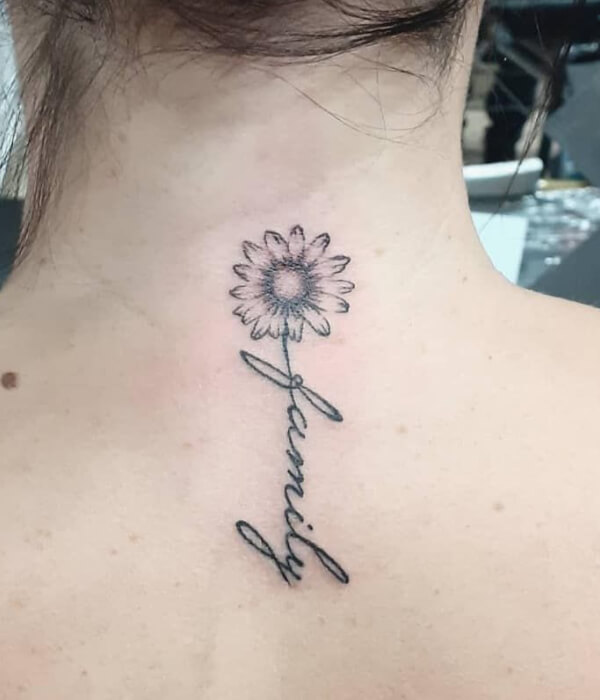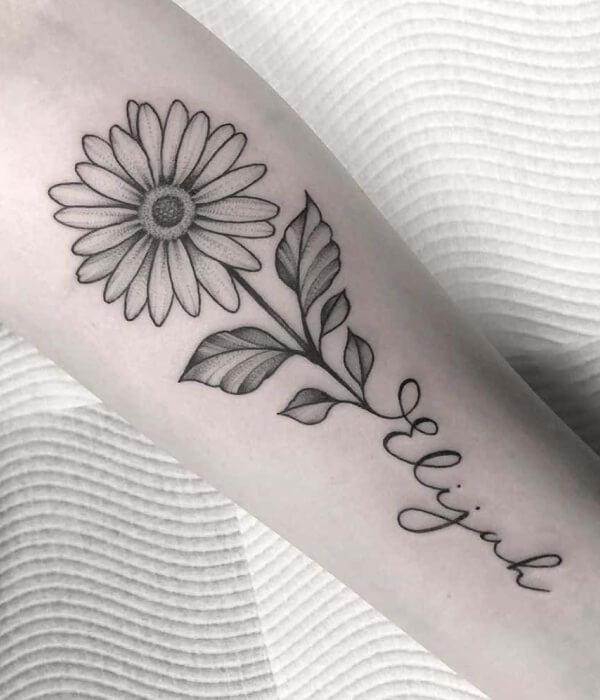 Crafted from high-quality ink and colors that last longer than ever, Daisy Tattoo With Names features vibrant petals surrounding names written gracefully on its center. Enjoy looking at the artwork you proudly bear while making memories that'll never fade away. Get out there and enjoy wearing this unique piece today!
Conclusion
The Daisy tattoo is a simple yet powerful symbol expressing many different feelings. From love and innocence to courage and strength, Daisy has been used by people worldwide for centuries as an expression of emotion or belief. Whether you're looking for something subtle or bolder, countless Daisy tattoo ideas available today offer great ideas when searching for your perfect tattoo design.
And with so many color options at your disposal – from classic black ink to full-color renditions – creating a unique piece of body art will never be difficult! So don't postpone any longer; let your imagination fly and get inked with beautiful daisy tattoo ideas!
Please follow and like us: