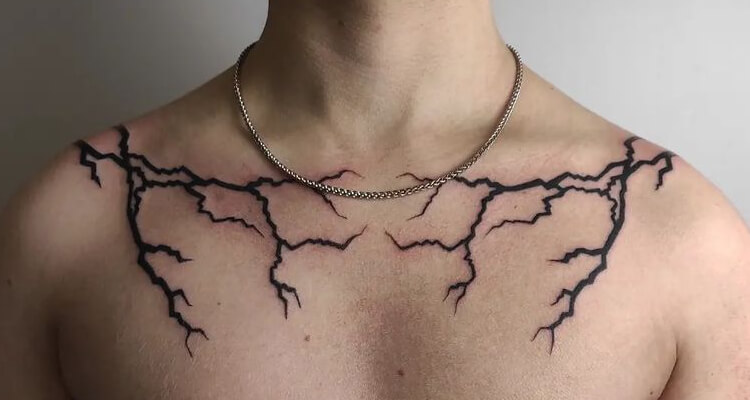 20 Best Lightning Tattoo Designs with Meaning
Posted on
Welcome to the world of lightning tattoo ideas! An electrifying way to make a statement, lightning-inspired tattoos have become increasingly popular in recent years. As with any piece of body art, many considerations must be considered when deciding what type and size of design best suits your needs.
Our experienced team has browsed through hundreds of designs from different artists around the globe so we can provide you with accurate advice on where best to find high-quality lighting tattoo inspiration – unique yet timeless pieces created by professionals who understand how important each detail is for lasting success. Let us guide you along this beautiful journey toward discovering a significant and captivating expression!
Lightning bolt meaning
Lightning bolt symbolism is a powerful representation of strength, speed, and energy. It can also signify progress or transformation, as it often appears at the start of something important. Representing a call to action in many cultures, lightning bolts evoke images of power and authority when used for branding purposes.
As an ancient sign associated with gods and goddesses from numerous civilizations across periods – including Olympian Zeus – this iconic imagery radiates positive vibrancy that inspires awe amongst its viewers. Versatile yet bold; eye-catching yet subtle – the beauty behind lightning bolt meaning gives brands instant recognition capabilities within their marketplaces thanks to its strong presence and symbolic messaging potential!
1. Realistic lightning tattoo
This realistic lightning tattoo is visually stunning and incredibly lifelike. Bold black lines create a dynamic pattern that looks like electrical currents sizzling through the air, resulting in an eye-catching design unlike any other. The curves are artfully crafted to give off an energy of power and strength, making it perfect for those who want their tattoos to make a statement about themselves or show others how strong they can be.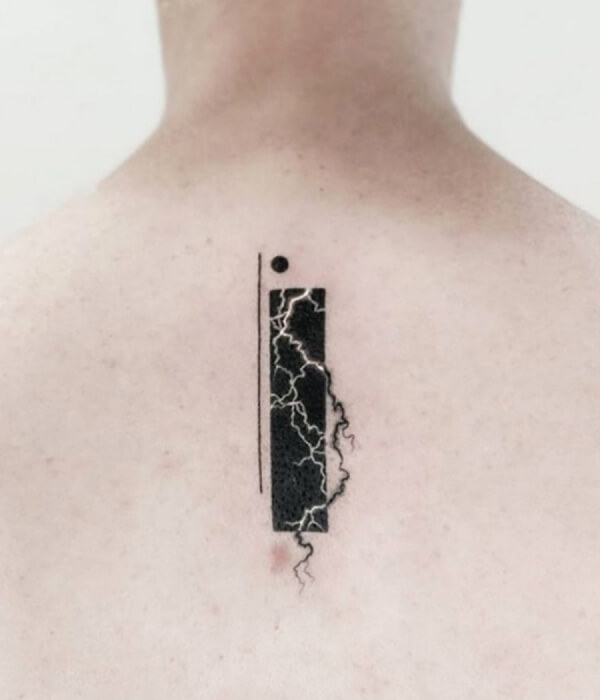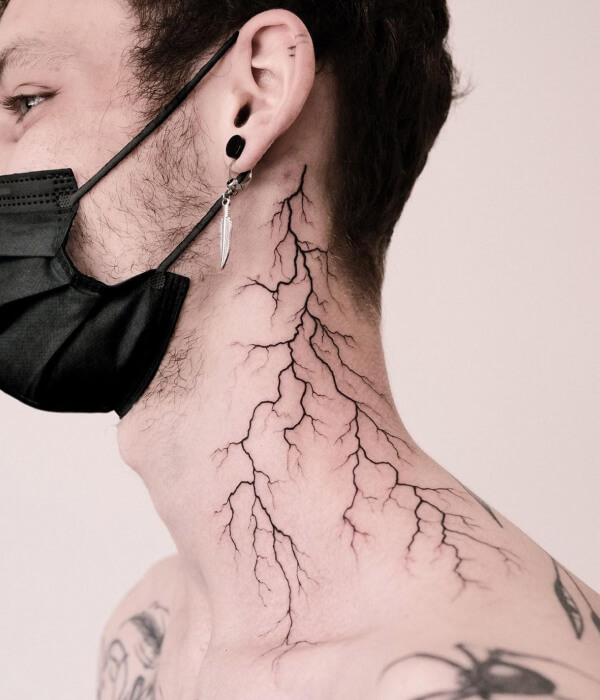 With intricate details, excellent shading techniques, and precise execution making this tattoo one of the highest quality, you're sure to have all eyes on you when sporting this extraordinary piece!
2. Double lightning bolt tattoo
This fantastic double lightning bolt tattoo will surely wow anyone who sees it. The striking black lines create an eye-catching tattoo that will get you noticed. With its symmetrical shape, this unique piece of body art truly stands out from the rest.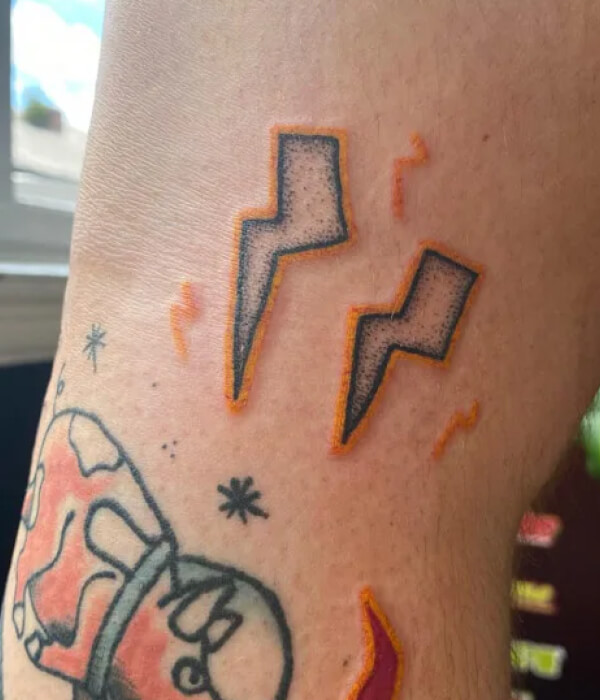 It's made with professional quality ink and applied by experienced artists for a long-lasting look that won't fade or blur over time. Perfect for any occasion, the bold style of this tattoo has become increasingly popular in recent years – making it ideal if you're looking to make a statement without saying much!
3. Dark cloud lightning tattoo
This dark cloud lightning tattoo is a unique and meaningful artwork that can be used to show your strength, determination, and fearlessness. It's an intricate design with an edgy look – the perfect representation of someone who stands for what they believe in regardless of the cost.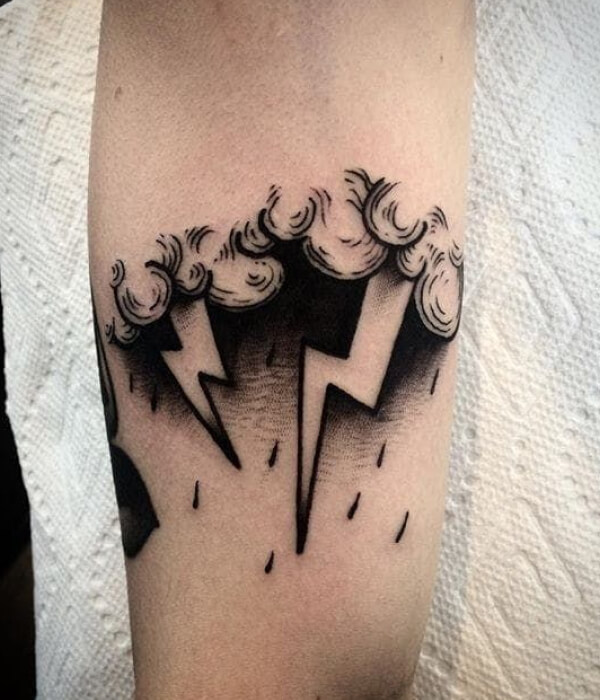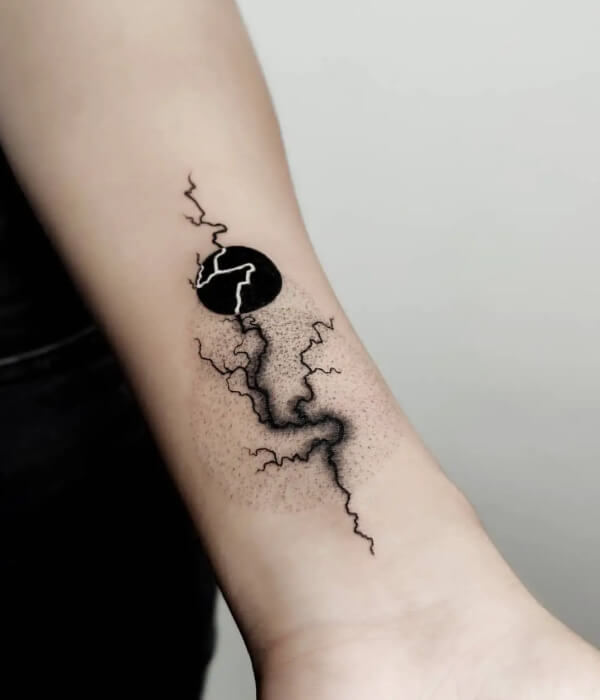 The powerful symbolism behind this stunning image makes it even more special because you'll find yourself connecting to the message on both physical and spiritual levels. Crafted from high-quality materials by professional artists whose artistry will showcase every detail within each stroke, this beautiful masterpiece should not be overlooked!
4. Thunder tattoo with lightning
This Thunder tattoo with lightning is a timeless work of art. The intricate design captures the raw power and energy of stormy weather, making it an ideal choice for anyone who loves nature's beauty. This bold piece features black lines that evoke streaks of lightning, with interspersed shadings to represent thunderclouds.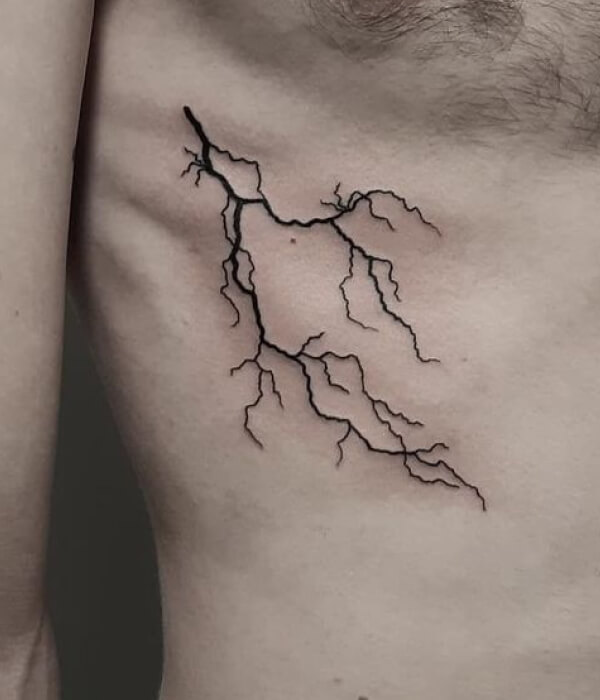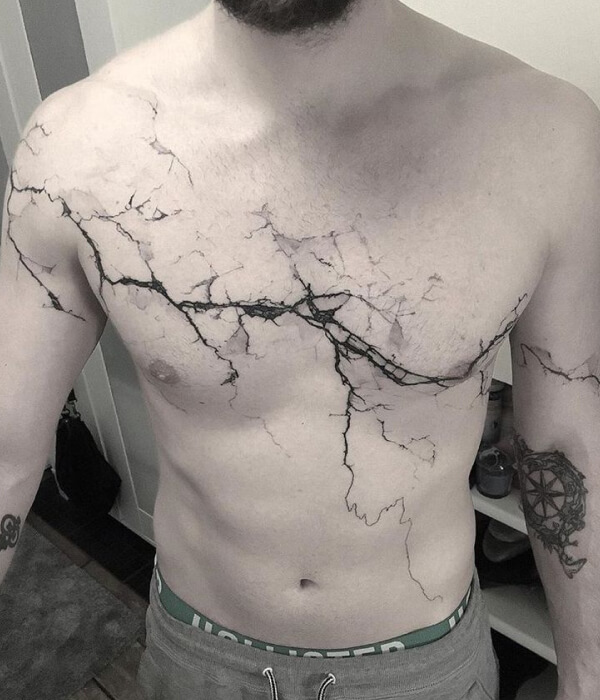 For those looking for something genuinely eye-catching on their skin, this artwork can be personalized to fit any preference or body part desired! With its deep symbolism and stunning visual effect, this ink masterpiece will surely add character and flare to your look!
5. Small lighting tattoo
This small lighting tattoo is the ideal form to make a mark. Handcrafted with care, its intricate design features vivid colors that pop and look amazing even in dim light. Its flexible material enables it to quickly be tailored for any body type or size so you can find your unique style when wearing this piece of wearable art.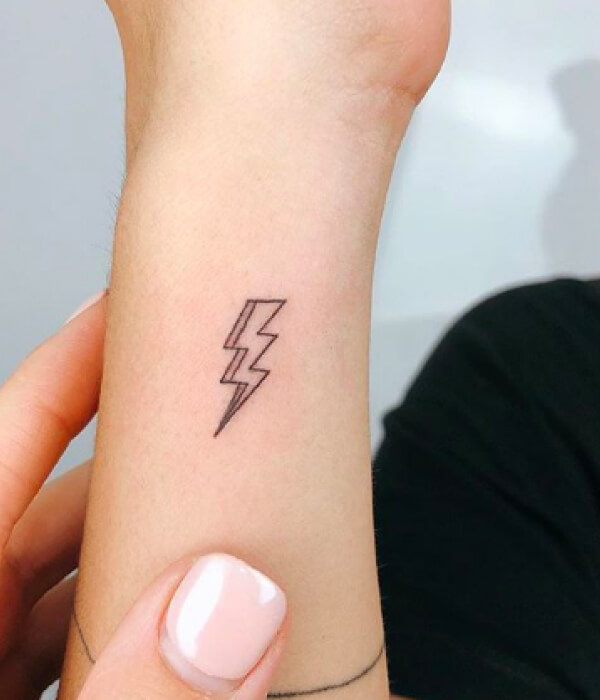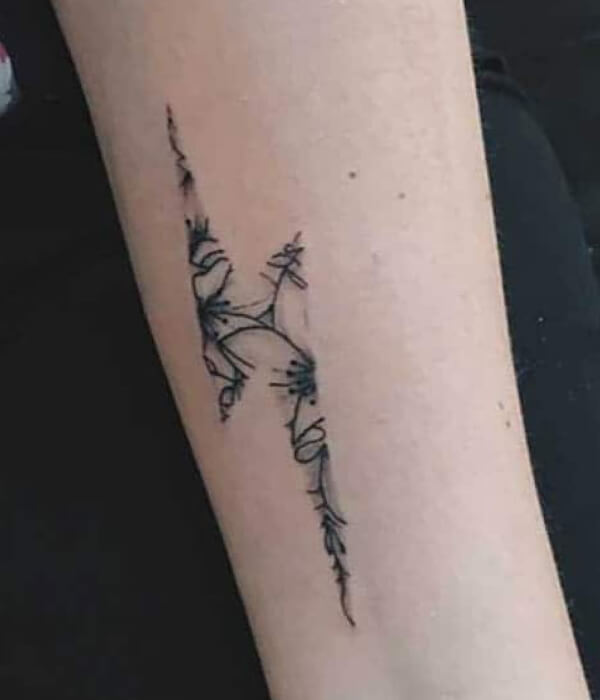 Additionally, the ultra-durable ink ensures it will last years without fading or smudging – letting your bold sense of fashion shine through day after day! So what are you waiting for? Buy now while supplies last, and show off your signature flair today!
6. Colorful lighting tattoo
This unique and colorful lighting tattoo will add a dramatic flair to any occasion. Featuring an array of vibrant hues that blend seamlessly together, this eye-catching design is perfect for adding instant style to your look.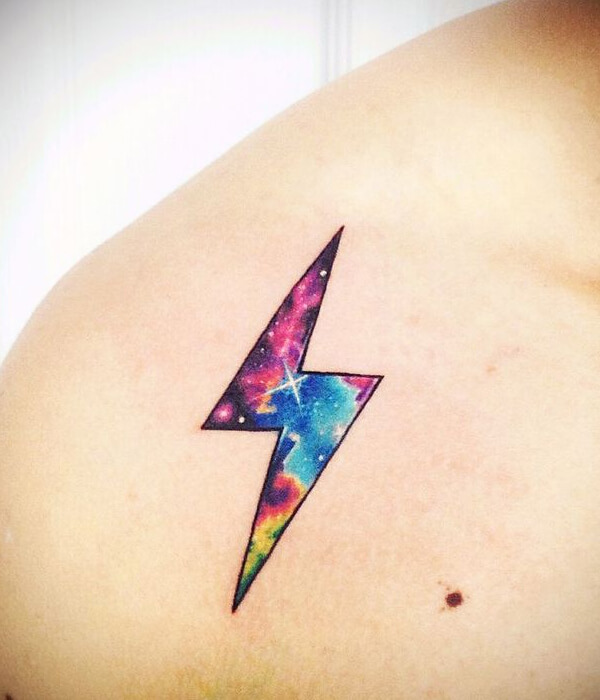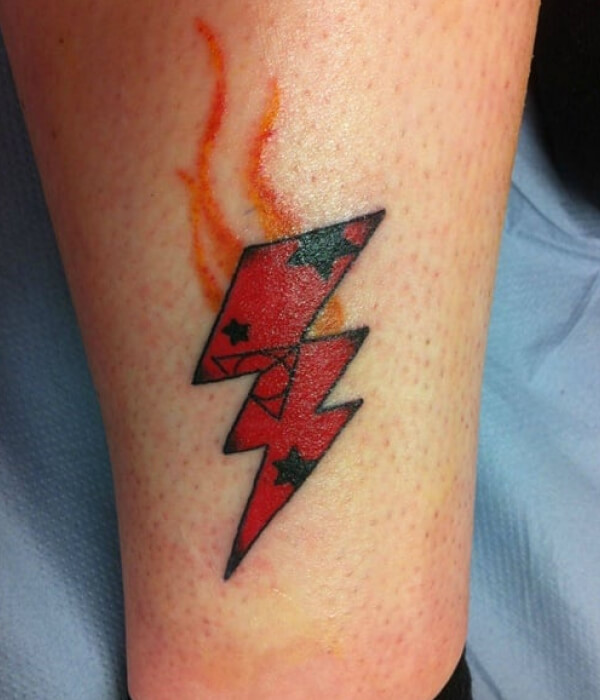 Constructed with intricate detail in mind, each delicate line radiates outward from the point of origin into vivid fractal patterns that give off an almost electric sensation when viewed up close. With its bold colors and captivating designs, this stunning tattoo will turn heads no matter where you go!
7. Blue lightning tattoo
Blue lightning tattoo is a fantastic piece of art that allows you to express yourself. The design evokes feelings of freedom, creativity, and joy with the brilliant blues that dominate this electrifying tattoo style. A great way to show off your love for music or representation of a special memory, blue lightning adds a unique sparkle to any story being told through ink on your skin.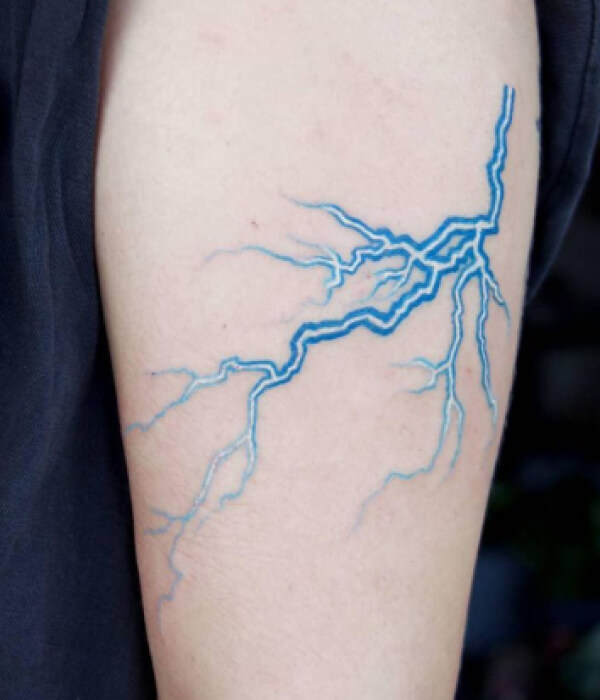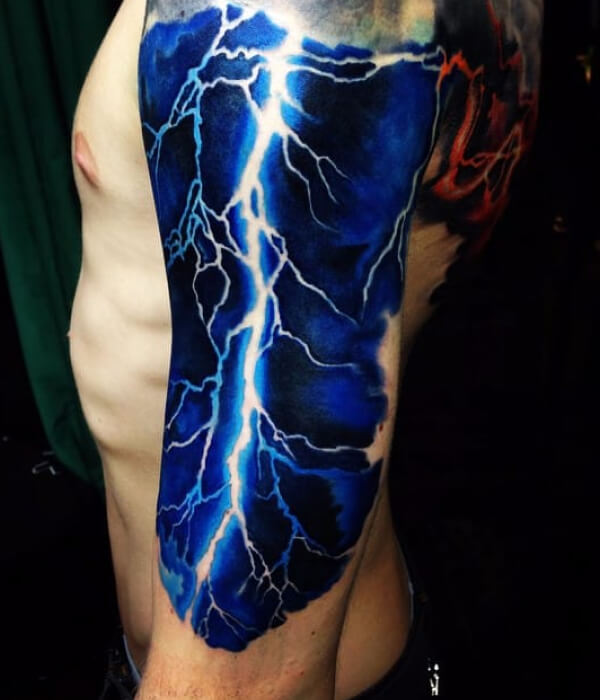 With its bold colors and intricate lines, it stands out as one-of-a-kind in both beauty and meaning, making it perfect for anyone who wants their body art statement to be remarkable yet tasteful all at once!
8. Lightning tattoo with eye
This eye-catching tattoo is ideal for those looking to make a statement. Its bold design exudes mystery and drama, while its intricate detailing creates depth and texture. The lighting aspect of the piece ensures that it stands out in any environment, making it sure to draw attention wherever you go!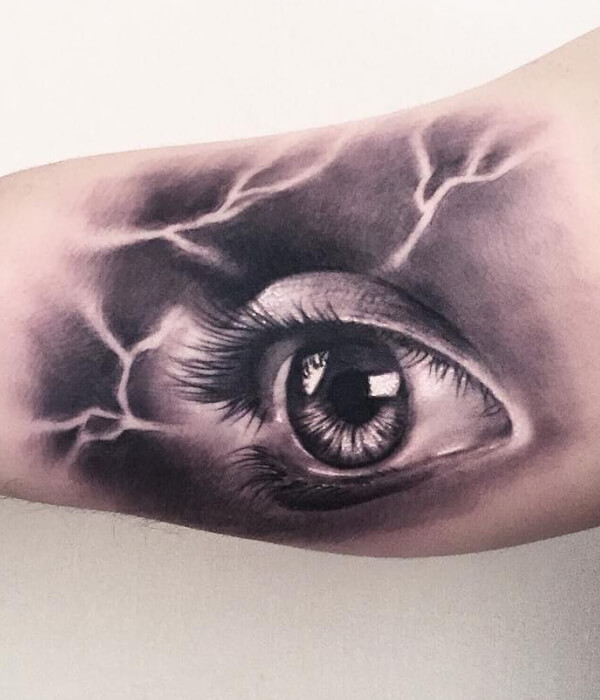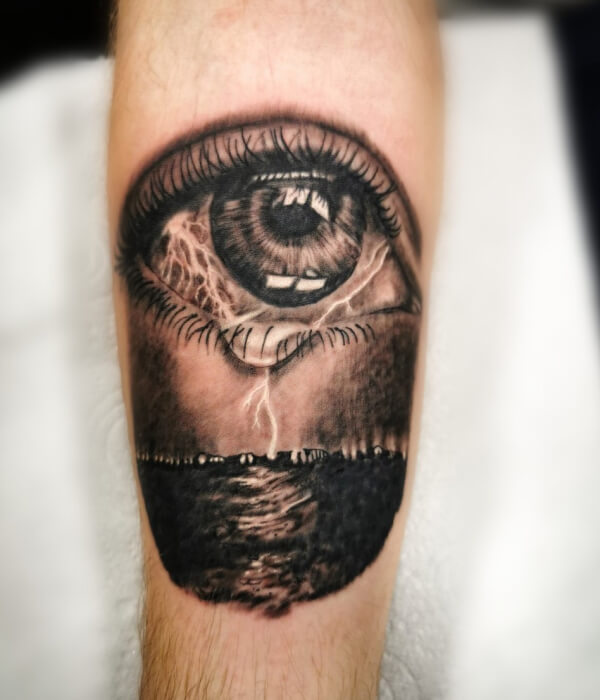 This unique rendering uses careful shading techniques, which bring about balanced lighting effects with long shadows reaching outward like tendrils from the central element – truly captivating anyone who glimpses upon this masterpiece. Plus, due to its size and placement options available on various parts of your body, alluring possibilities are virtually endless!
9. Flowery lightning tattoo
This unique flowery lightning tattoo will add a touch of beauty and mystery to your body art. It features intricate patterns that draw attention with their vibrant colors yet maintains an air of elegance. The design is eye-catching enough to stand out but still subtle so as not to be overly flashy or overwhelming.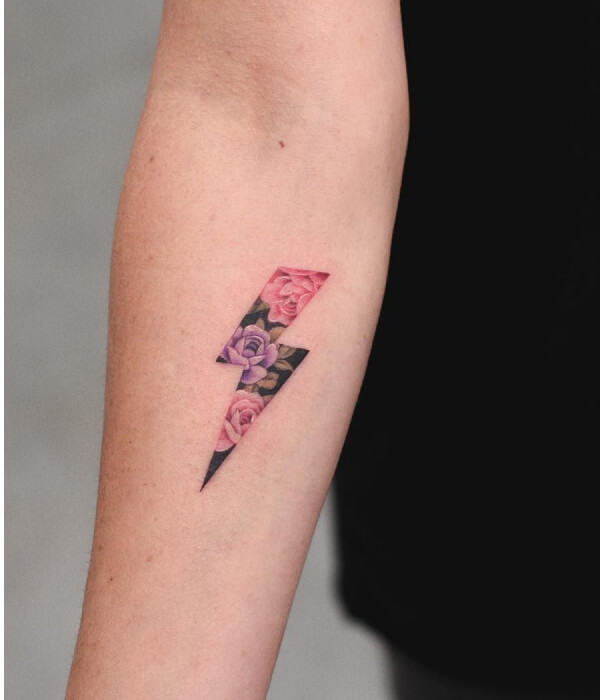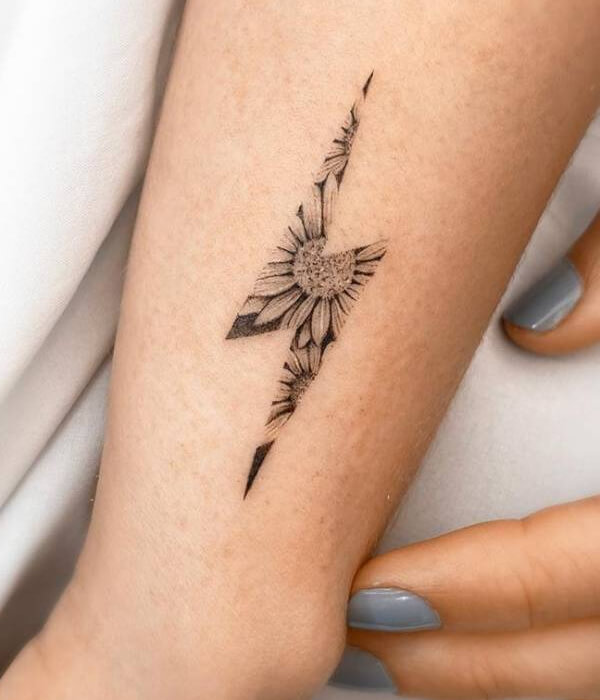 Its artistic symbolism makes it great for expressing originality while also allowing flexibility in how you can customize the tattoo's details according to personal taste! This stunningly detailed piece promises allurement no matter your skin tone or style preference – making Flowery Lightning Tattoo perfect for anyone who wants something extraordinary on their body canvas!
10. Lightning tattoo with skull
This unique lightning tattoo with a skull design is a bold statement for those looking to create an unforgettable impact on others. Its eye-catching aesthetic makes it suitable for any setting, from lively gatherings of friends and family to professional events. The vibrant flash of blue lighting against the black ink outlines creates an intense contrast that's sure to draw attention wherever you go.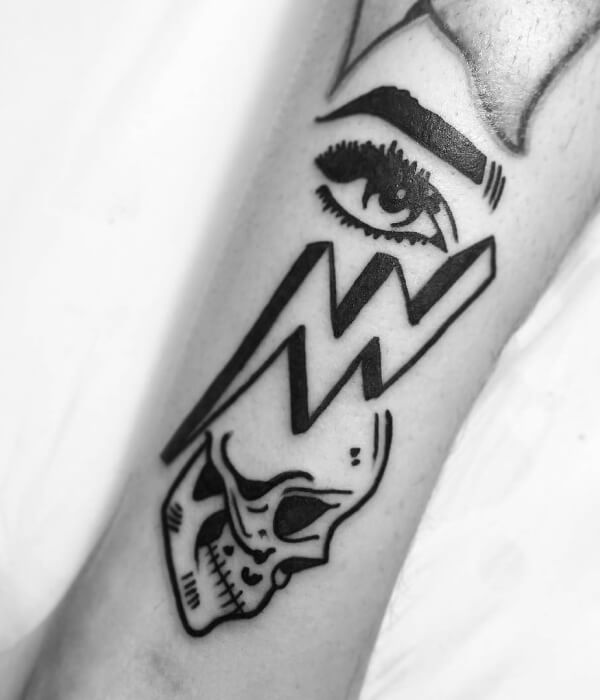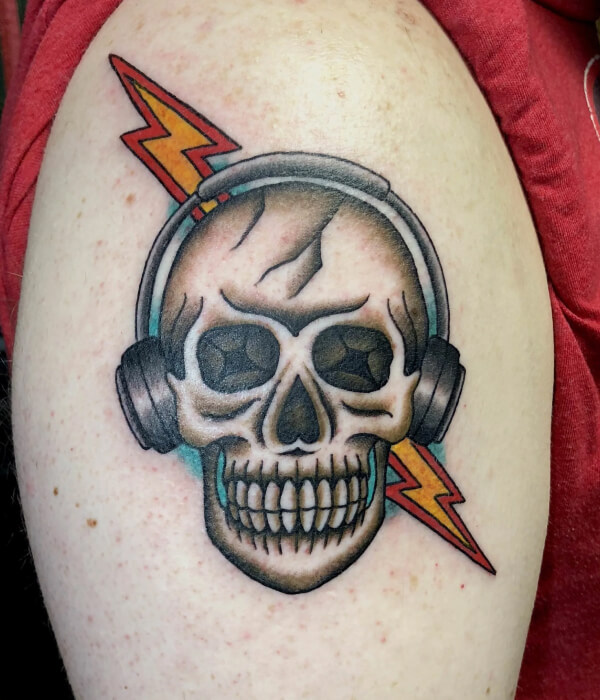 This design features detailed shading made possible through skilled inking techniques, which add depth and dimensionality while still feeling delicate enough that they won't overpower your look or personality. Show off this powerful visual expression of strength by displaying it proudly today!
11. Unique lightning bolt tattoo design
This unique lightning bolt tattoo design is perfect for those looking to show off their individuality and free spirit. The vivid colors illustrate a powerful yet simple message of strength and perseverance, making it the ideal piece of body art to express one's journey in life. Its distinctiveness adds an edgy vibe that can't be found anywhere else; its bold shape serves as a reminder to confront life with courage.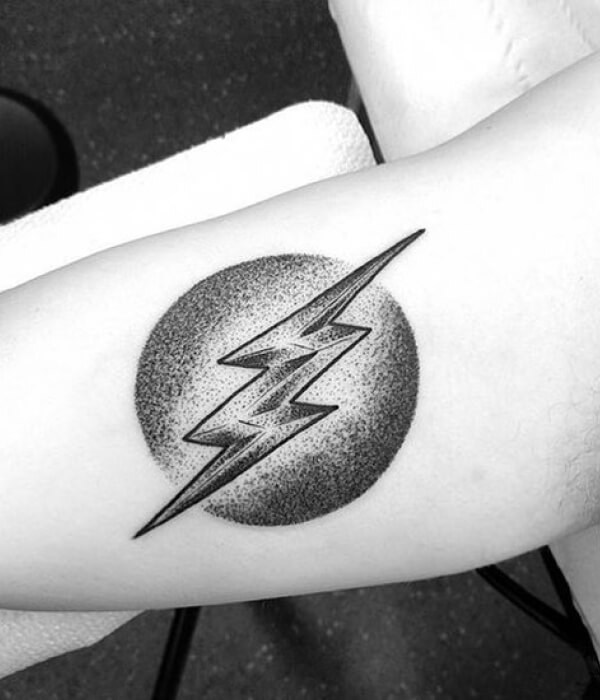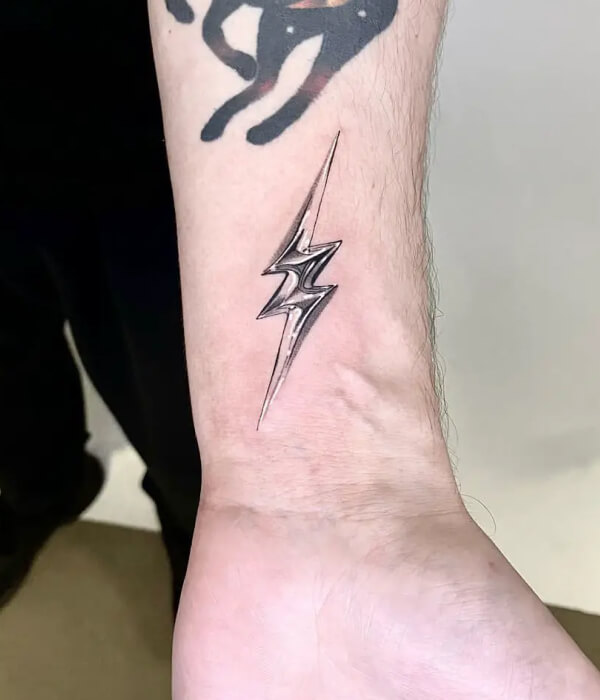 This modern tattoo symbolizes power, control over destiny, and dominance – qualities appreciated by many inspiring individuals worldwide who want something extraordinary on their skin! This tattoo holds a unique bolt of lightning meaning.
12. Lightning tattoo with lighthouse
This stunning lightning tattoo with a lighthouse is genuinely unique! The artwork itself draws you into the powerful and dynamic scene. Its intricate details are echoed around the glowing shoreline of an old-fashioned Lighthouse, illuminated against a bright sky full of electricity.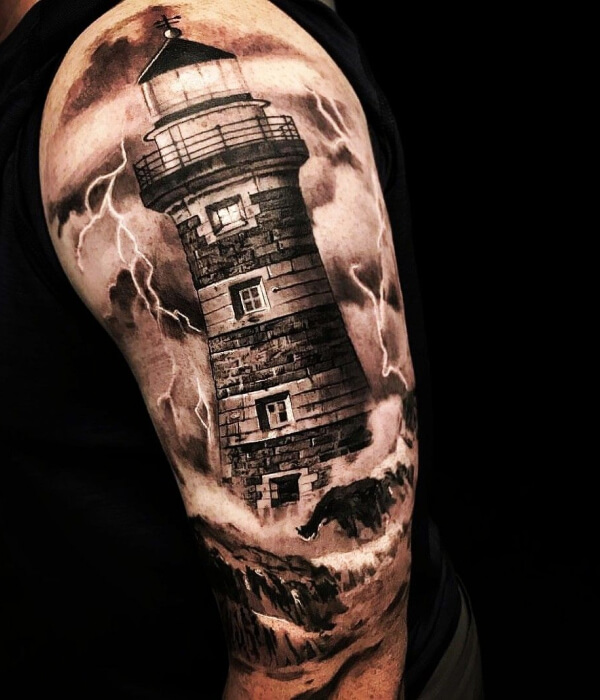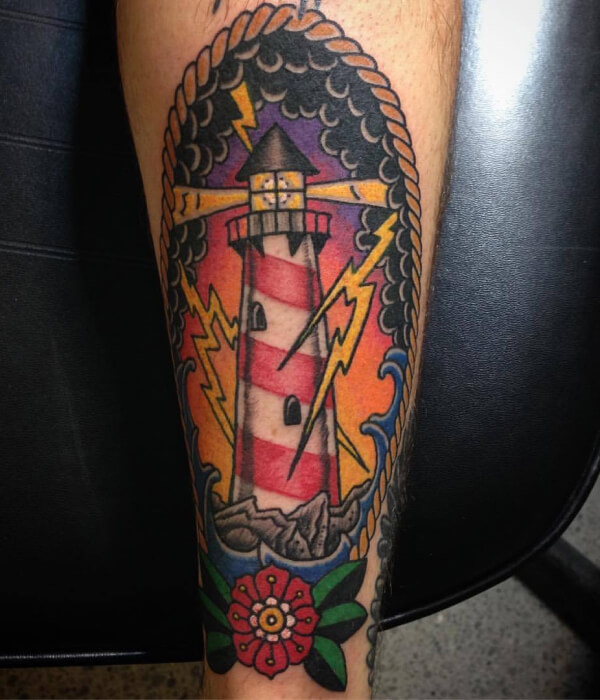 Whether it's to symbolize newfound courage or joy in your life, this creative piece will speak volumes about who you are as a person when showing off to friends and family alike. Let its timeless beauty start conversations anywhere – get yours today!
13. Lightning tattoo with boat
This striking lightning tattoo with a boat will surely add an edge of intrigue and flair to any look. Crafted using high-grade materials, this design highlights the precise lines and intricate shading that beckon attention from onlookers.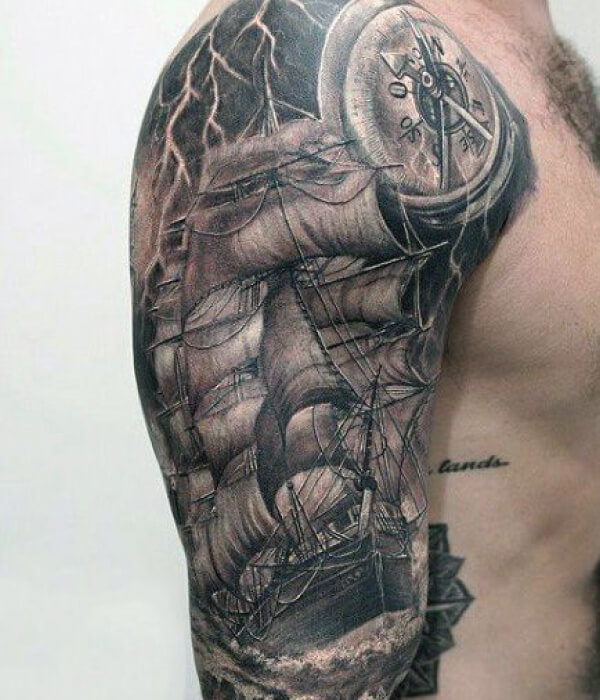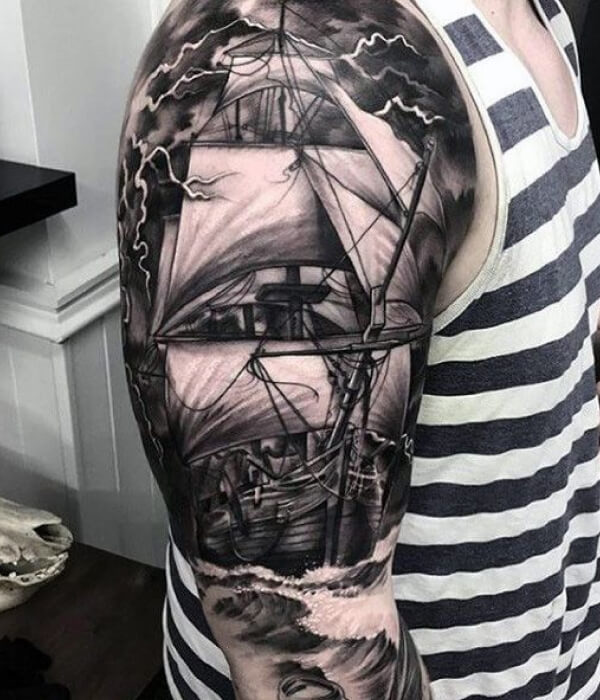 Representing protection against tempestuous currents, this unique representation will surely bring forth feelings of determination in anyone who wears it proudly on their body – no matter what storms they face ahead! With cool, vibrant colors displayed throughout the piece, we guarantee you're getting quality craftsmanship at its best. Sail towards your ambitions by wearing this sleek statement tat today!
14. Sleeve lightning tattoo
A sleeve lightning tattoo is a unique and bold way to display your style. It blends modern art, symbolism, and fantasy into one attractive design that stands out from the crowd. This beautiful body art consists of large black lines with vivid yellow or red lighting bolts striking through them, creating an eye-catching contrast of lightness and darkness in perfect harmony.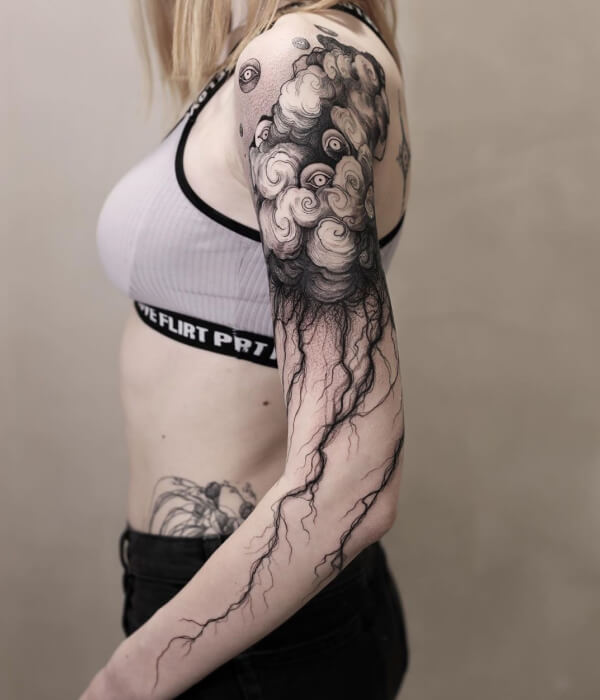 A professional artist can help you make this edgy look using several techniques, such as shading, color gradients, and detailed embellishments, for maximum impact without being overly flashy or tacky. Choose this beautiful tattoo if you want something just different enough from everyone else's!
15. Back lightning tattoo
This back lightning tattoo is a unique design for those looking to convey their brave and daring fashion. Featuring striking colors and intricate details, this tattoo will invariably attract attention. Its vibrant combination of blue and red hues gives it an eye-catching look that finishes any outfit with flair.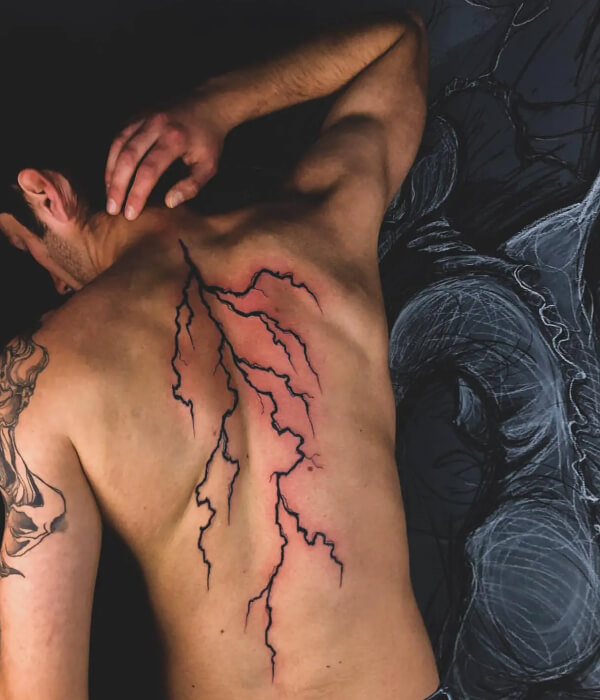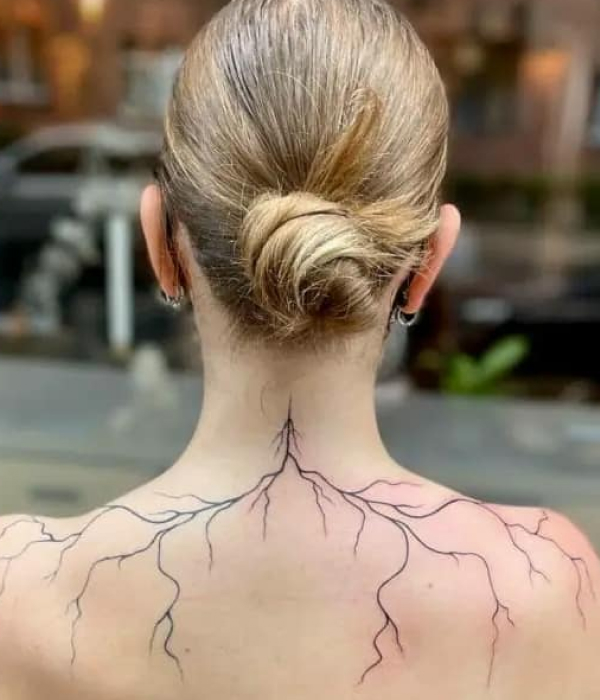 In addition, the lightning bolt symbolizes power and energy, giving your body art even more meaning while still keeping its fun appearance intact! Whether going out on the town or just hanging around in the backyard, you can be sure that this classic piece of ink will turn heads everywhere you go!
16. Lightning tattoo with a shark
This Lightning tattoo with a shark is an impressive piece of art. It's unique, full of detail, and captivating to look at! The bright colors make this design stand out from the crowd in any setting. It symbolizes strength, power, and determination – perfect for someone looking to express their inner fortitude.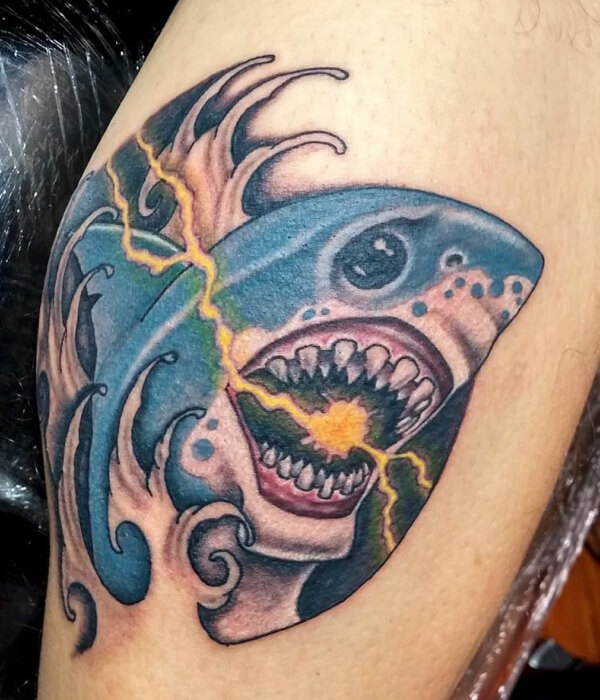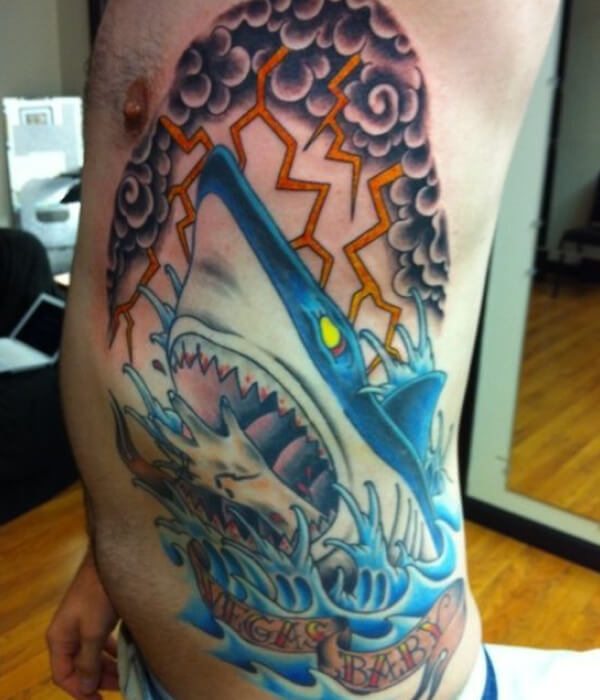 Its intricate detailing also conveys a sense of responsibility that comes along with being so powerful – this speaks volumes about the character too! This incredible lightning tattoo will surely turn heads wherever you go, as it exudes confidence while providing a striking visual statement.
17. Lightning tattoo with ship and anchor
This lightning tattoo with the anchor is a great way to show appreciation for the sea or make an impactful statement. The intricate details of this design accurately represent its symbolic meaning – stability and protection in life's journey.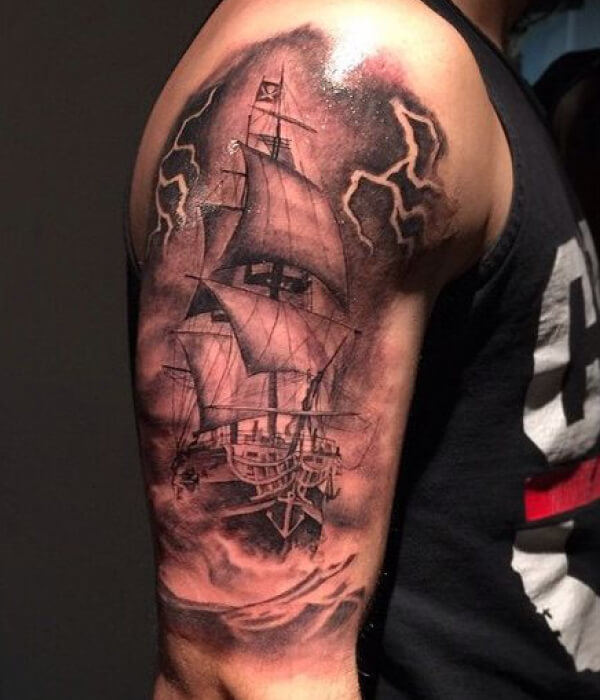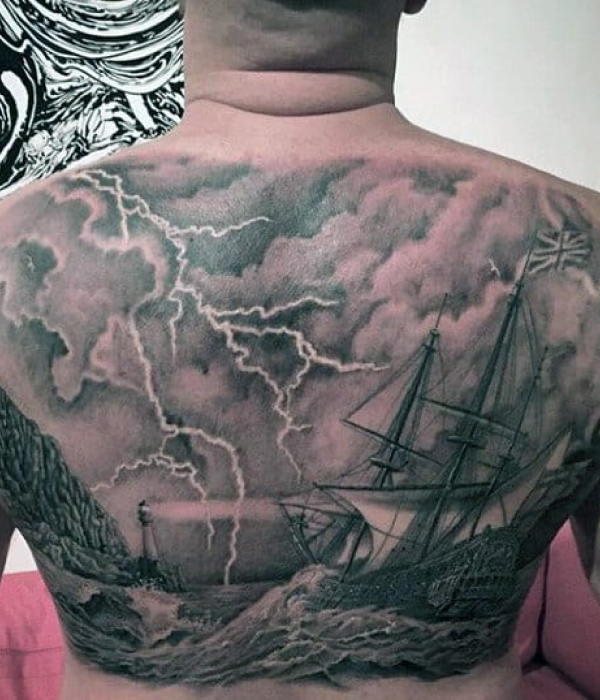 Whether you want to evoke emotions of wonderment, strength, or courage while sailing through challenging times, Lightning Ship & Anchor Tattoo can help express those feelings on any part of your body. Showcase the beauty and power of mastering one's environment – create a memorable statement about who you are today!
18. Lightning tattoo with bird
This beautiful and unique tattoo features a striking bird with open wings, illuminated by an atmospheric lightning effect. The intricate details of the feathers are wonderfully balanced against its luminous surroundings, creating an image that is both elegant and awe-inspiring at the same time.
.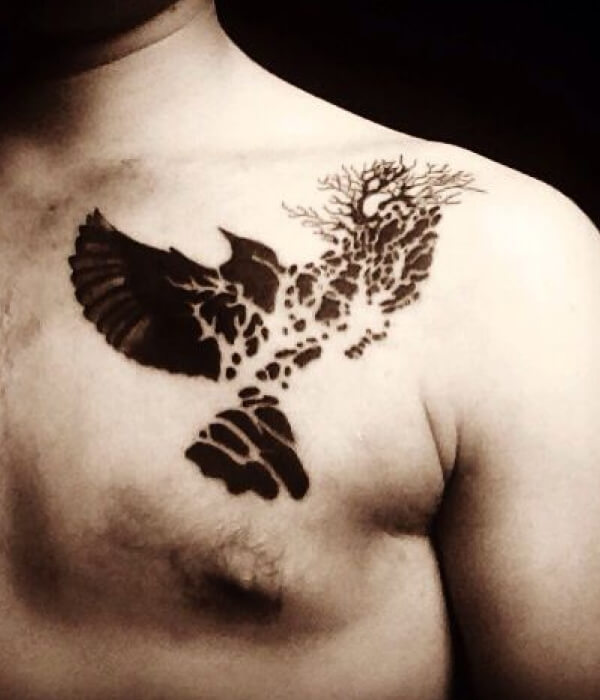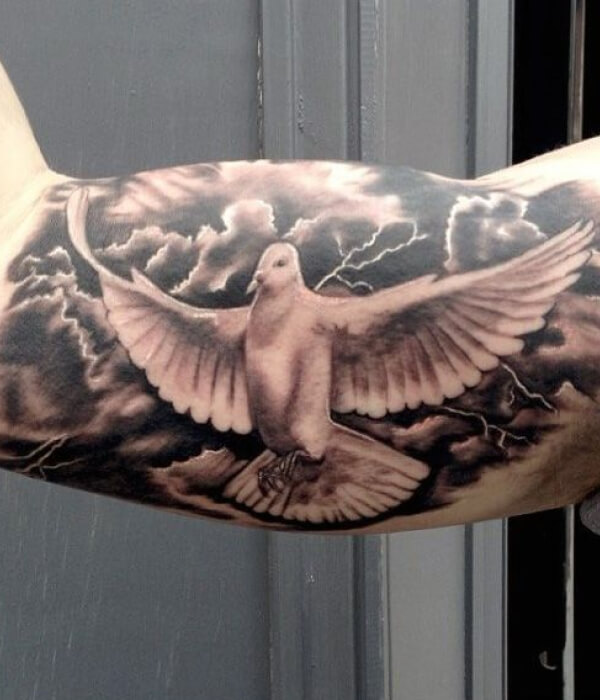 By carefully crafting each line and shape with precision, this artwork gives off an incredible visual spectacle for viewers to admire from afar or up close. With vivid colors blended beautifully together in such tasteful mannerisms within each feather tip, get ready to marvel at this one-of-a-kind masterpiece!
Conclusion
The lightning tattoo ideas offer a unique opportunity for creative individuals to express themselves in an eye-catching and meaningful way. It is an excellent choice of design that works well on any body part, making it one of the most popular tattoos today. With its symbolism rooted deeply in mythology and folklore, lighting tattoo has also become increasingly fashionable as more people choose to add flashiness and intensity to their bodies using these bold designs.
By taking advantage of this trend, those who desire something striking with long-lasting impact can benefit from choosing a lightning-inspired piece artfully designed by experienced professionals.
Please follow and like us: