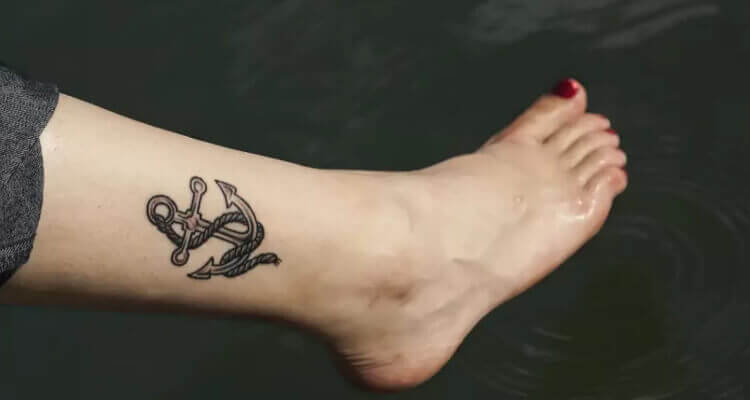 45+ Stunning Anchor Tattoo Designs for Men and Women
Posted on
Anchor tattoos are very famous amongst young men and women. It is one of the most versatile tattoo designs. There are myriads of anchor tattoo designs one can choose from. Not just that, an anchor can be used as an element with many other tattoo designs, such as a travel tattoo, ship along with an anchor, etc. Anchor tattoos look stunning. And the best thing is they can be placed anywhere and in any size from small to large.
Here in this post, we will discuss everything about anchor tattoos, including the history of anchor tattoo, meaning of anchor tattoos, anchor tattoo finger, anchor tattoo ideas, and many more. We hope that this article helps you decide on the right anchor tattoo design.
Here we go……
History of Anchor Tattoo
We all know that anchors are a famous maritime symbol. However, not many know that the anchor is one of the oldest tattoo symbols. Traditionally, sailors used to wear anchor tattoos. The anchor is a renowned symbol that has been there for many centuries. Besides being associated with sailors, the anchor also has an association with Christianity. There was a time when Christians were a persecuted minority. During those days, Christians used to replace their cross sign with the anchor symbol. They did so to hide their religious belief.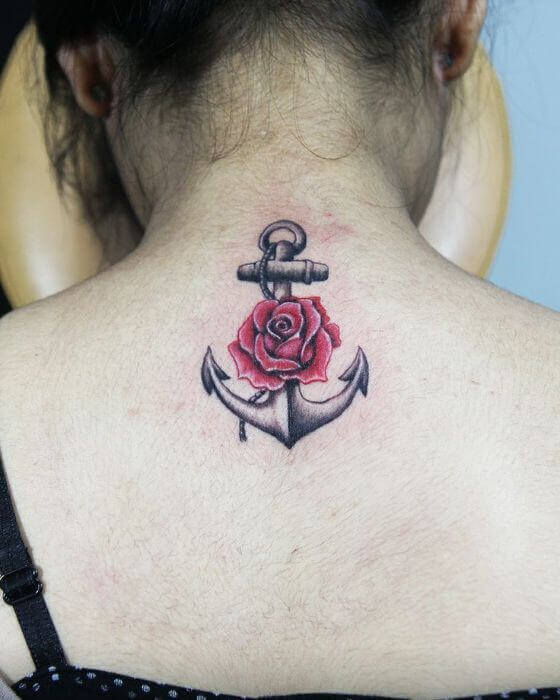 Sailors were the first to get anchor symbols etched on their bodies. These tattoos were used as the mark of their achievements. Besides, the anchor also shows their association with the sea. Sailors crossing the Atlantic Ocean would get the anchor tattoo as a symbol of their accomplishment. Later, people associated with the Marine and Navy started to get anchor marks on their bodies to signify their affiliation. Anchor tattoos have always been a symbol of pride for these people as they get an anchor etched with a ship or their country flag, etc.
Today, anchor tattoos are popular amongst both men and women. People flaunt anchor tattoos in almost all sizes, from small to large. Anchor makes for a sober tattoo design; that is why most people like it.
Here is more about anchor tattoo designs…
Anchor Tattoo Meaning
An anchor tattoo signifies "Stability," both emotional and mental. Undoubtedly, stability represents different meanings for different people; for some, it could be stable in a relationship; for others, it could be steady in life. The idea is everybody's life is full of struggles, but the ones who are steady in both good and bad situations are called stable. And anchor stands for that state of mind.
Anchor Tattoo Designs
Here are the 45 best anchor tattoo design ideas for you. Take a look at various anchor tattoo designs……
1. Small Anchor Tattoo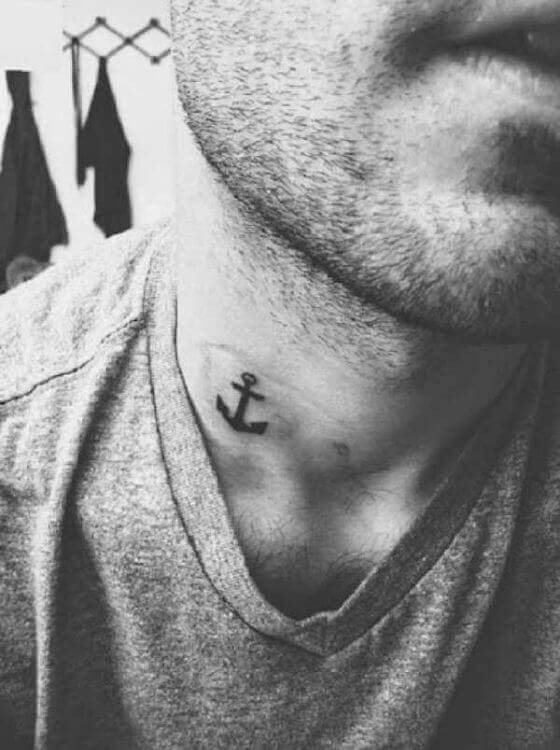 If you like minimalistic tattoo designs, then a small anchor is a go-to tattoo design for you. Small anchor tattoos can be etched anywhere, from your nape to your finger. And the best thing is they look amazing, no matter what.
2. Heart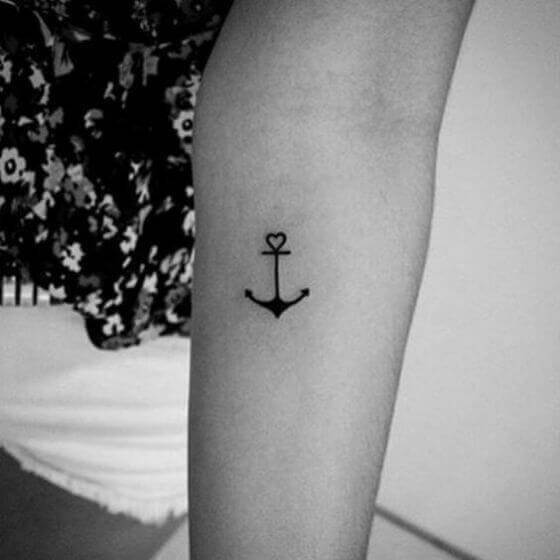 Anchor with heart tattoo makes for Female Anchor tattoo designs. These tattoos are also small in size and can be etched anywhere. However, the best they look at is the forearm.
3. Bird Tattoo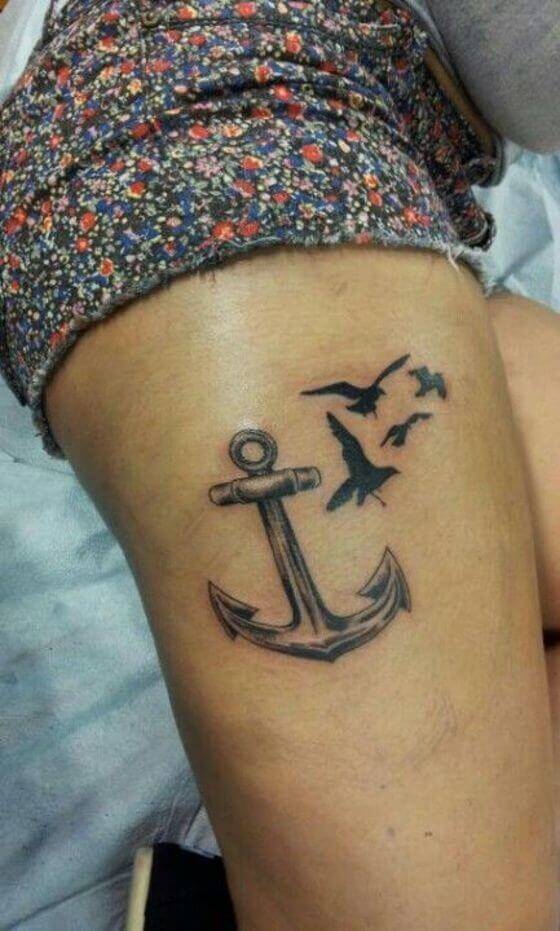 Another wonderful Anchor tattoo for women is this. Anchor with Bird tattoos looks amazing. Just get an anchor etched along with two or three flying birds on your arm. This makes for an eye-catching tattoo design, trust me!
4. Compass with Anchor Tattoo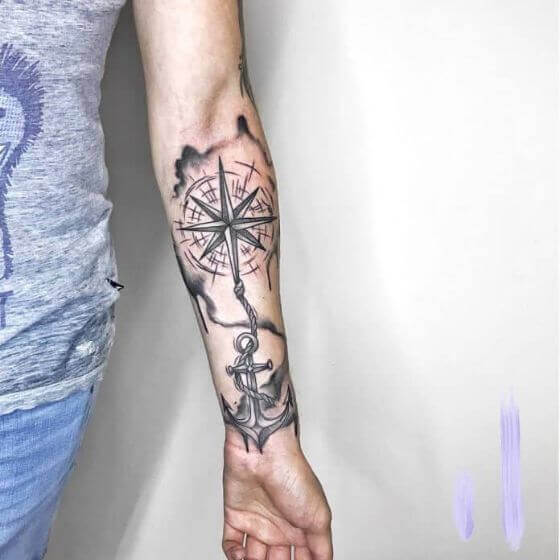 Another very popular anchor tattoo design is a compass with an anchor tattoo. More often than not, people are always on the move, meaning traveling, or those who love traveling get this particular tattoo design to flaunt their love for travel.
5. Infinity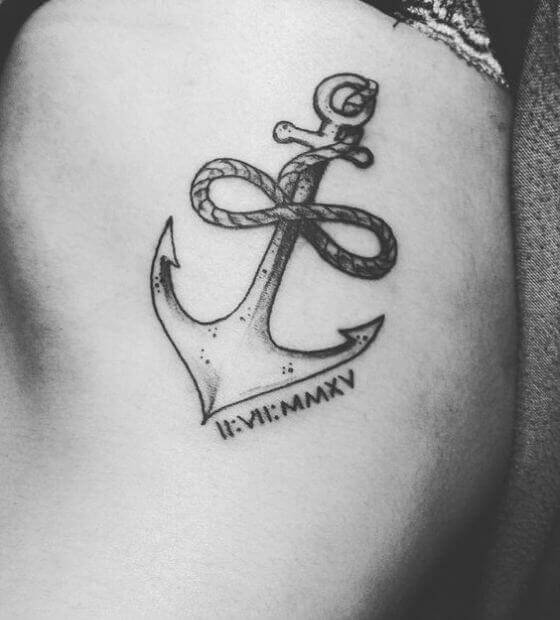 This is again a very famous tattoo design amongst men and women. Infinity with an anchor tattoo looks awesome when etched on the chest in small size. And women can get it etched on their ribs, a nice way to flaunt your toned figure.
See More: 40 Best Infinity Tattoos Designs and Ideas
6. Navy Anchor Tattoo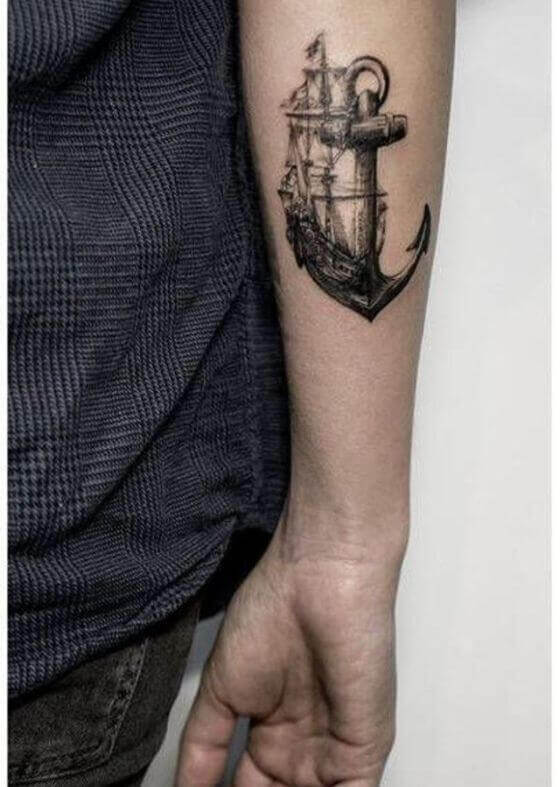 Navy anchor tattoos include an anchor etched either along with the flag of the nation, or ship, or their dress number, etc. Navy anchor tattoo is a symbol of pride for Navy people; they use it to represent their affiliation.
7. Anchor Heart Tattoos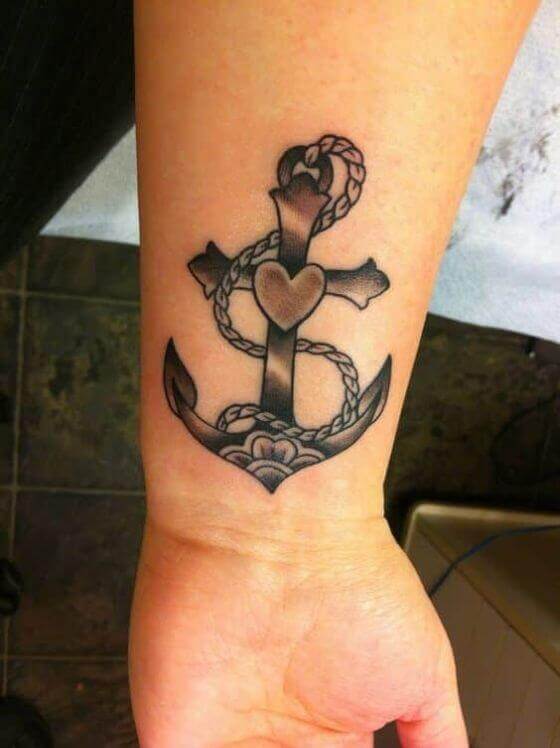 Anchor heart tattoos are for the ones who are madly and deeply in love and who want to flaunt their love for their partner. This tattoo can be etched in black ink or in color; it looks amazing.
8. Anchor Love
An anchor etched along with the heart looks awesome. A good way to flaunt your profound love for your partner.
9. Anchor with Family Tattoo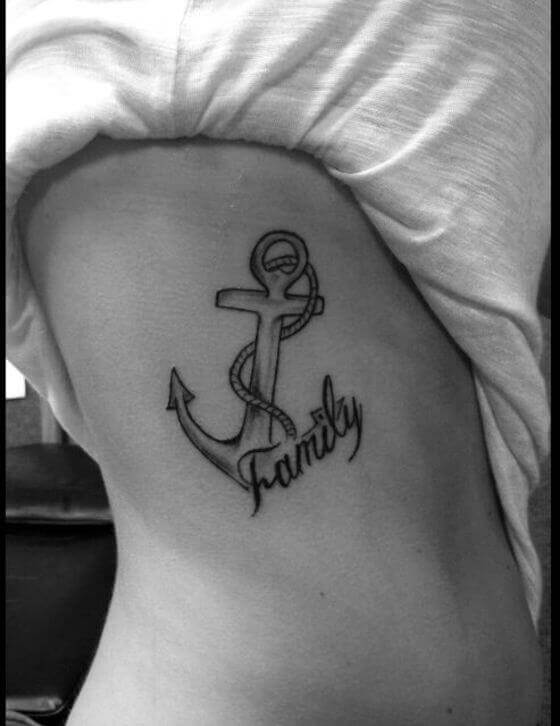 A great way to represent your stable surroundings. Get an anchor tattoo etched along with a ribbon across with "FAMILY" on it. People who are lucky to have a strong connection with their families go with an anchor with a family tattoo.
10. Anchor with "MOM" and "DAD"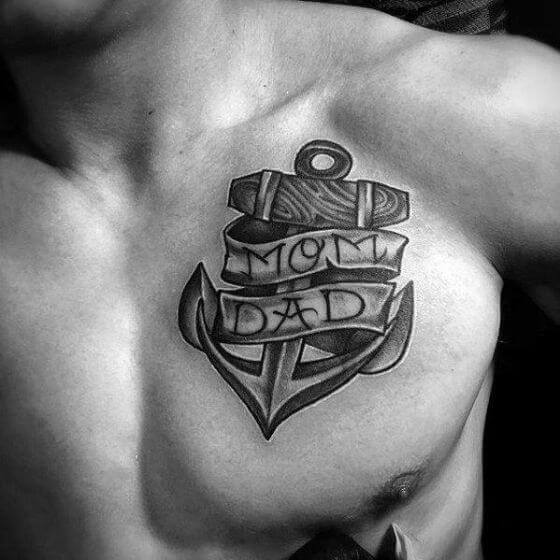 Another variation to the anchor with a family tattoo is this. If you love your parents and want to dedicate your body art to them, this is the tattoo design. Get an anchor tattoo with "MOM" and "DAD" depicted on it.
11. Anchor with Child/Children Name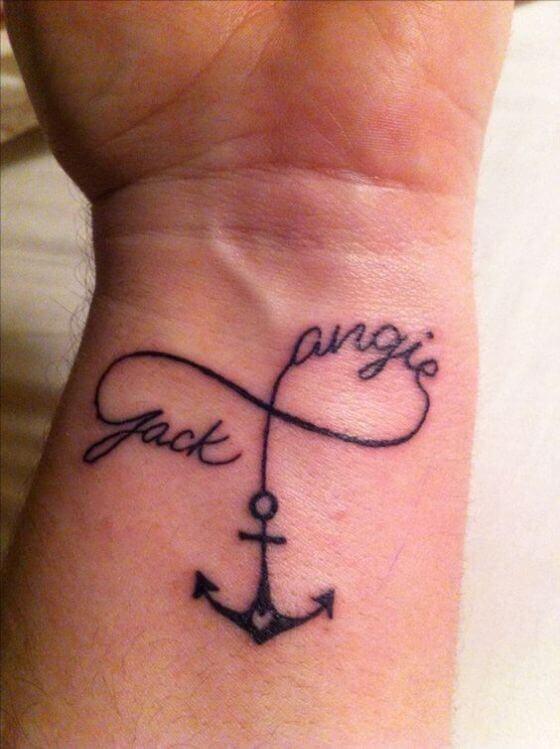 Get an anchor tattoo etched along with the name of your kids on it. Yet another way to show a strong family bond! Maybe you will inspire others to understand the importance of family in their lives!!
Also See: Name Tattoo Designs
12. Matching Tattoo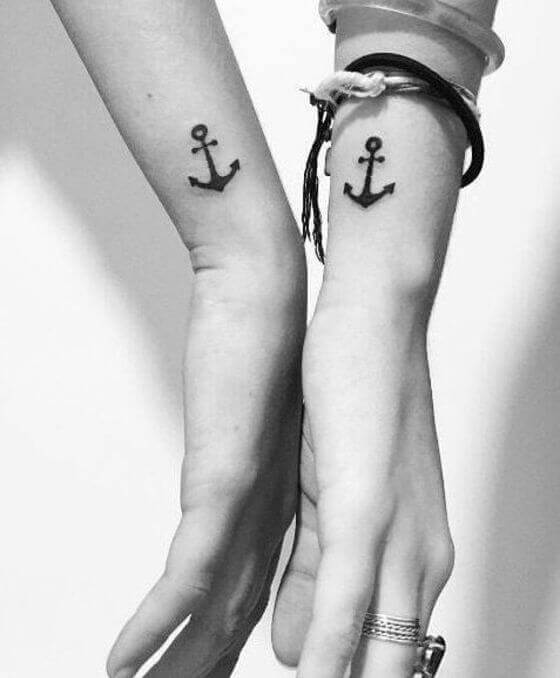 Matching anchor tattoos are for couples. More often than not, couples choose matching anchor tattoos as the symbol represents stability. It is a great way to show a steady relationship, and yes, cute also!
13. Anchor with Nautical Stars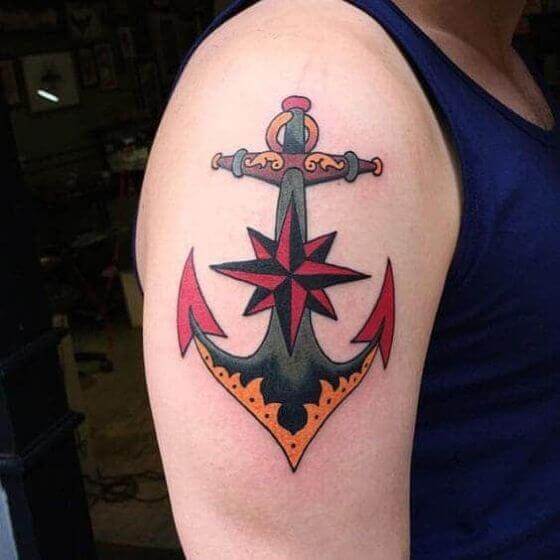 Another wonderful anchor tattoo idea for those who are looking for an outside the box tattoo design. You can be creative while getting this one.
14. Anchor with Eagles Tattoo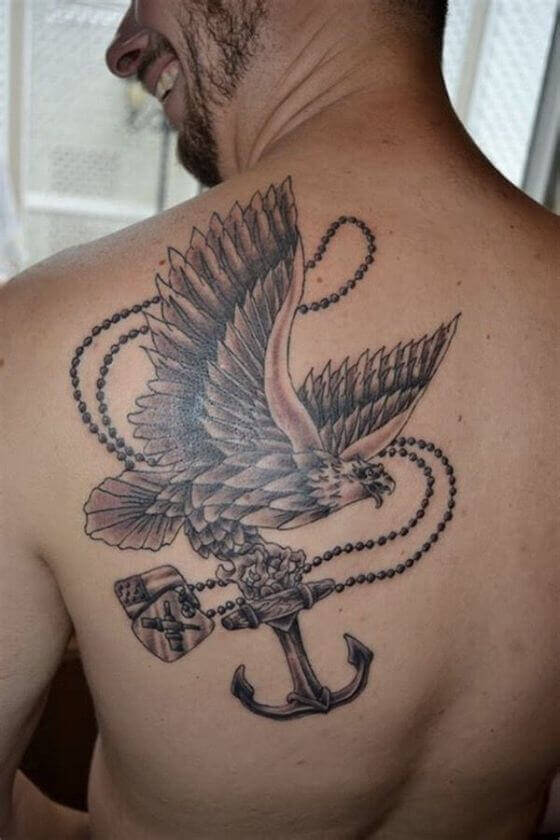 Anchor with Eagles tattoo is very popular amongst marine and navy people. If you want, you can also get this one, as it looks stunning. Get this on your chest or your back.
15. Anchor with Skulls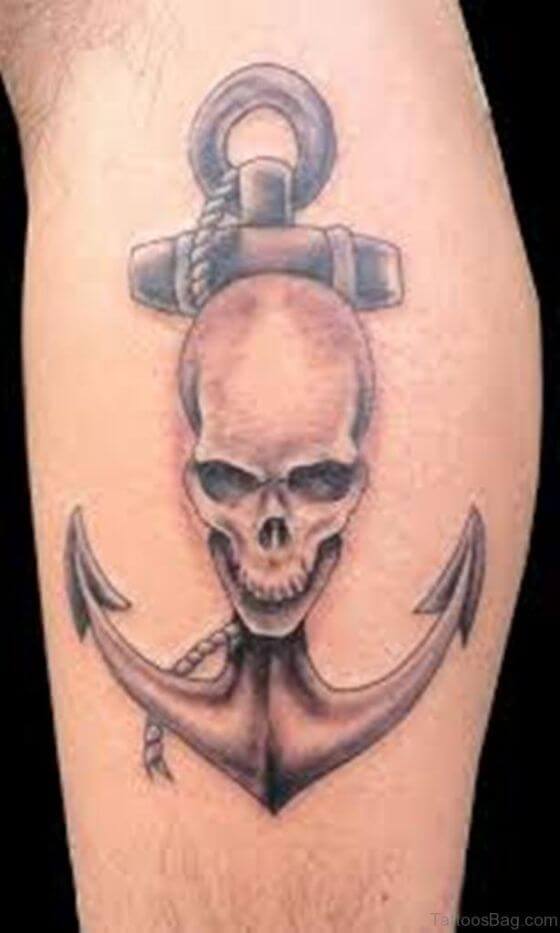 Anchor with skulls is another beautiful anchor tattoo idea for you. If you really want to have a unique tattoo, then this one can be a good try!
16. Feminine anchor tattoo
See More: Skull Tattoo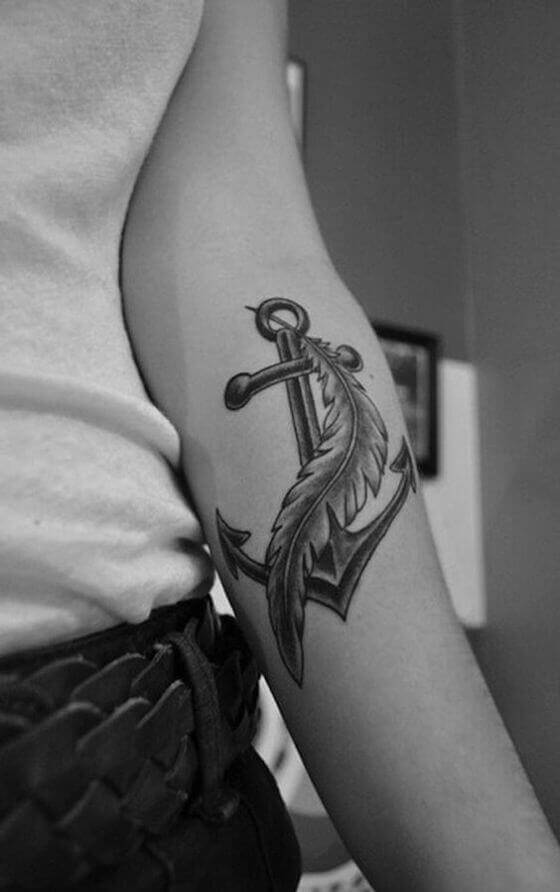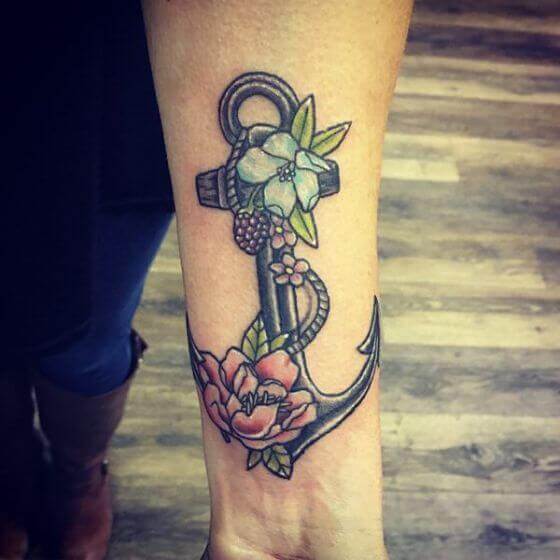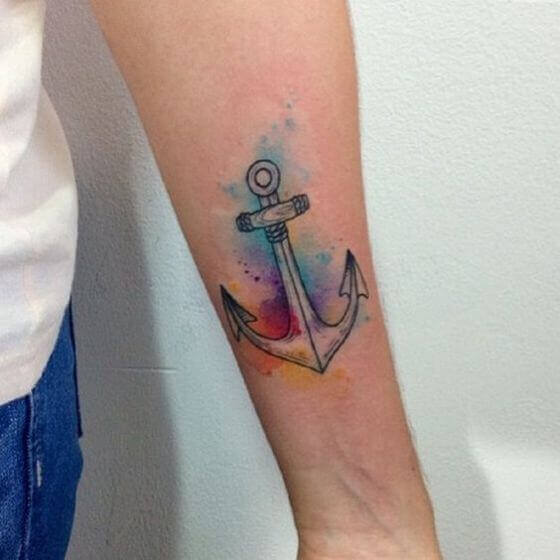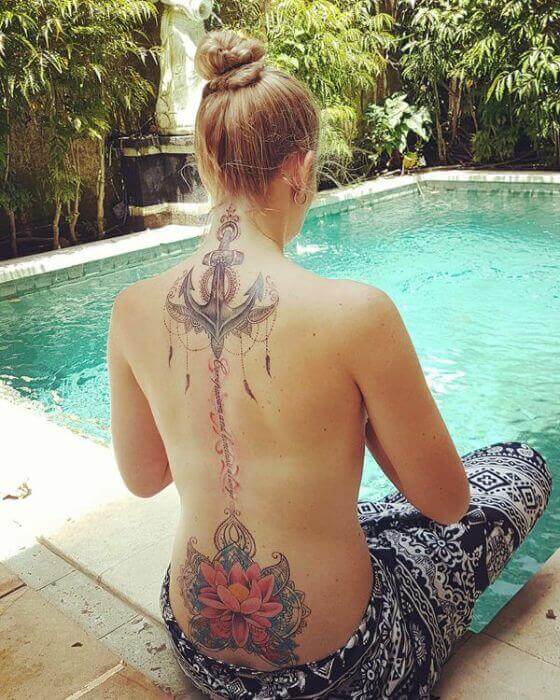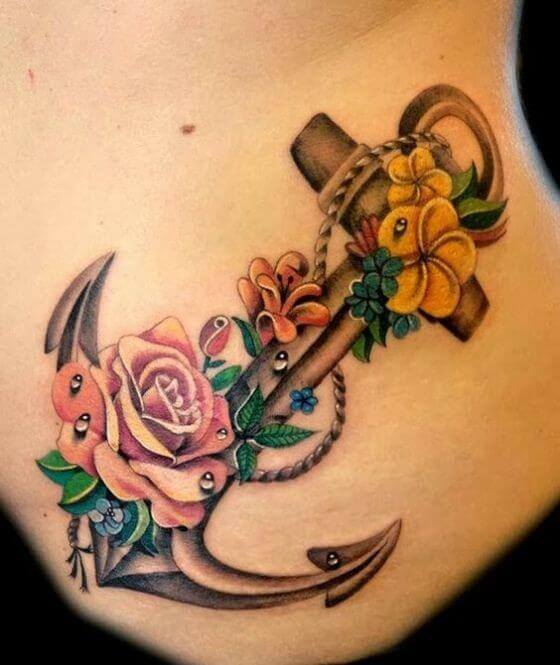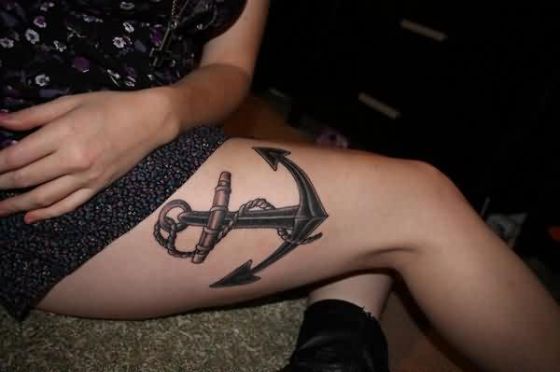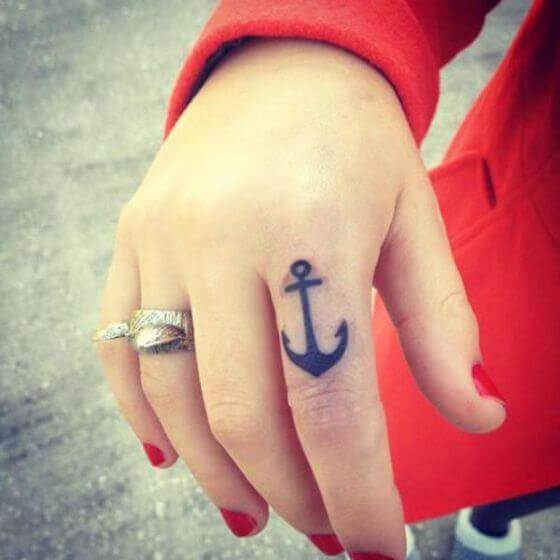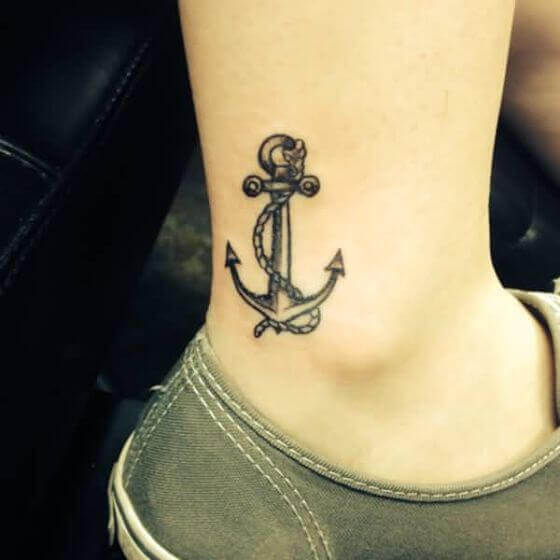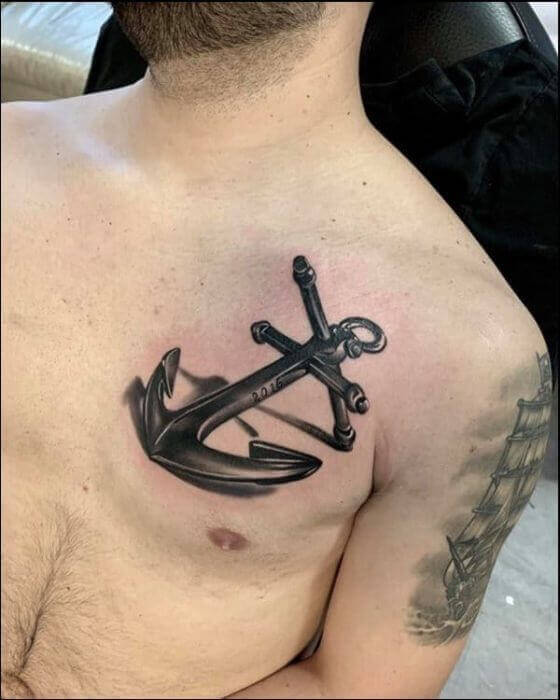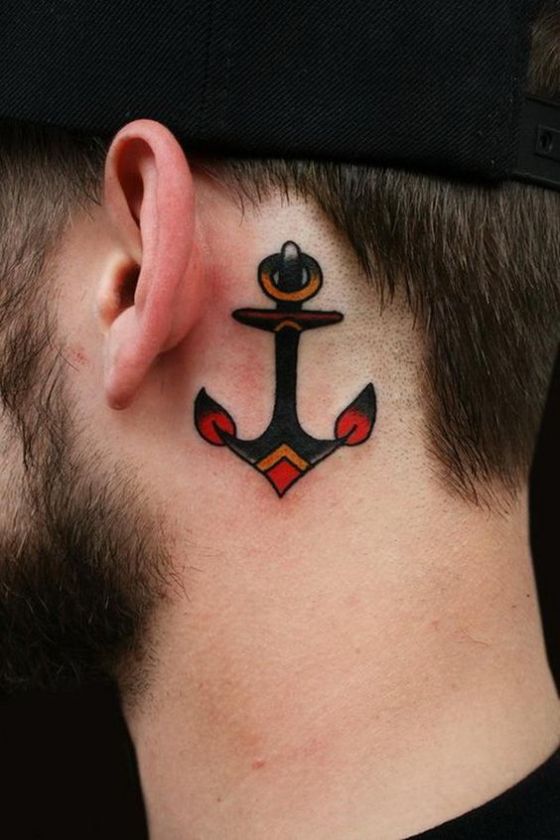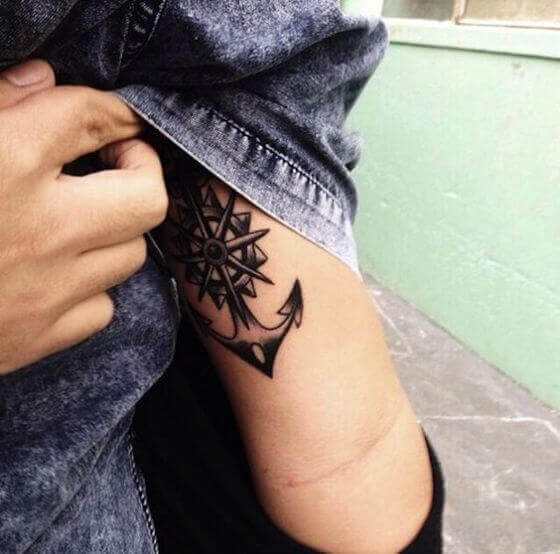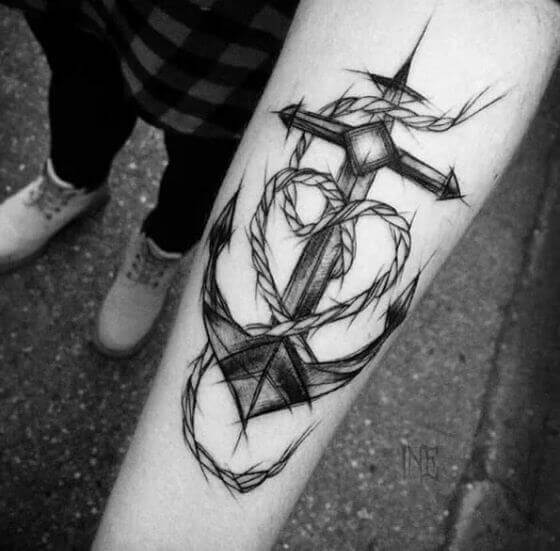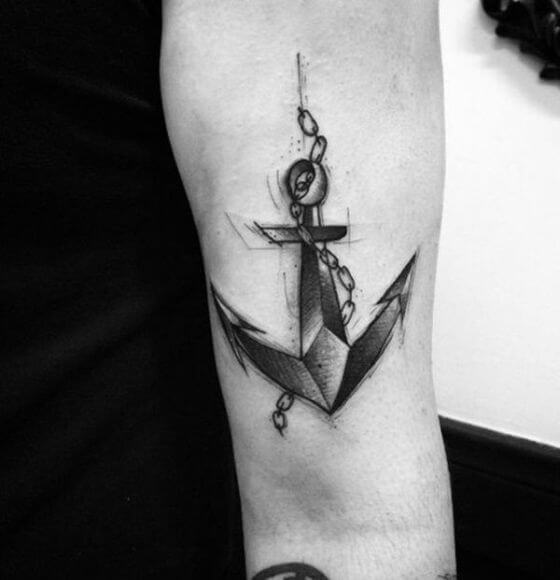 So, these are the 45 best anchor tattoo designs. You can get any of these etched on your body. Besides these, there are several other elements that you can get etched along with an anchor tattoo. Remember that every tattoo looks unique if it has some personal touch to it. A tattoo should be significant to your personality; it should be meaningful. Therefore, it's imperative that you choose a tattoo design that you can relate to.
Apart from this, it is important that you do enough research work before you head to get the final design. Getting a tattoo without doing research is not a great idea. Often people who get their tattoos without thinking regret their decisions later. That is why it becomes crucial that you find the right tattoo design that fits your personality well.
Also, get an anchor tattoo etched from a professional tattoo artist who is skilled and trained!!
Happy Tattooing…. ☺ ☺
Please follow and like us: