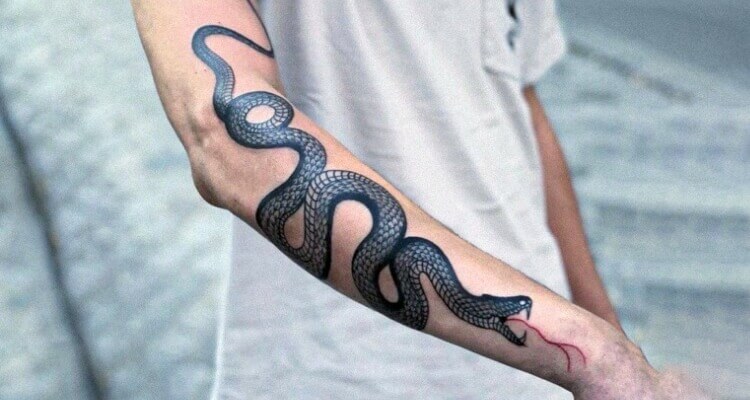 60+ Amazing Snake Tattoo Designs for Men and Women
Posted on
There is something about snakes that attracts people. It's the way they move around or coil themselves before striking. Many like the power snakes have with their venom. In addition, snakes are the most mysterious reptiles on the planet, making snake tattoos attractive. You can find a wide variety of snake tattoos, from traditional designs to ones that use color or other elements to make your body art stand out. 
Before you get a snake tattoo, we have penned the most unique, best-looking, and most fantastic snake tattoo designs for you. 
Snake Tattoo Meaning-
Snake tattoo has different meanings in all different cultures around the globe. The snake symbolizes power, fertility, temptation, and rebirth.
In the Hindu and Buddha religion snake symbolizes mortality, rebirth, and death. In native American culture, the snake symbolizes life and rebirth, while in African culture snake is associated with wisdom.
In this article, we have compiled our favorite snake tattoo designs so you can see what types of snakes are popular.
➣ The Skull and the Snake Tattoo
This tattoo is the modern version of a classic biker tattoo and looks incredible. You get a shaded and detailed skull and a great-looking snake wrapped around the skull.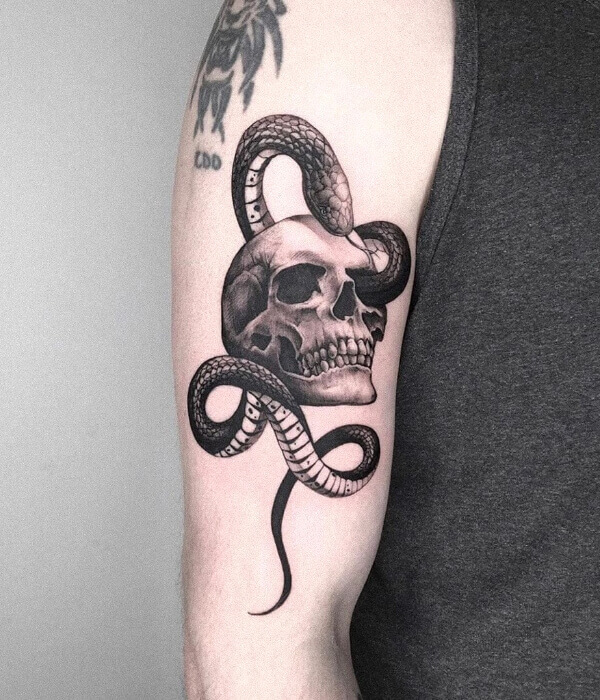 ➣ A Kingsnake Tattoo
We are unsure if this is a coral snake or something else, like an elapid snake. But we are confident this is one of the most exemplary serpent tattoo ideas. This beautiful tattoo has a natural flow moving from the ribs to under the chest.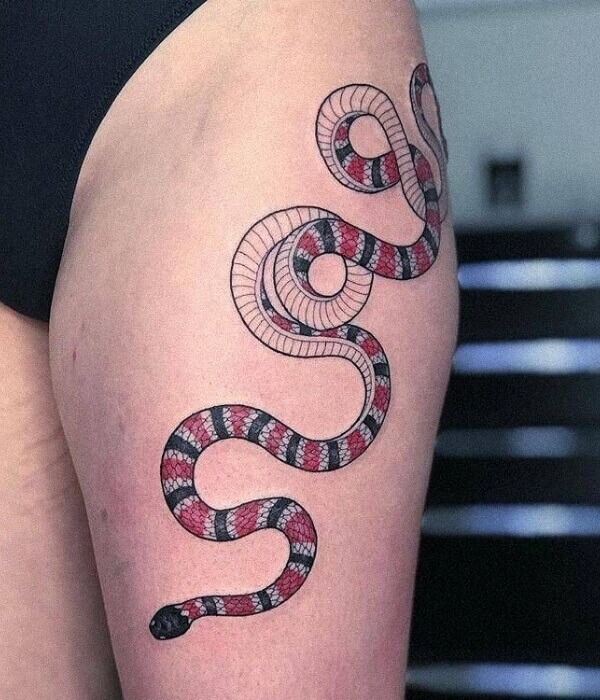 ➣ Black and Gray Snake Tattoo
The shading of this tattoo gives it a natural and relaxed effect. There is a shine of light reflecting from the snake's eye. You must be careful after getting inked, as it can scare someone.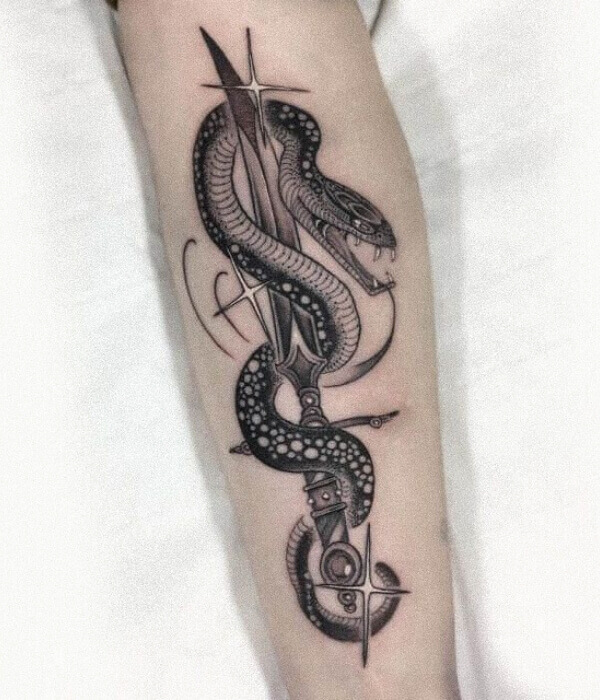 ➣ Life, Death and a Viper Tattoo
The tattoo looks realistic in black and grey, created by Vitor Masella, who belongs to Brazil. Vitor has a beautifully designed viper surrounded by sunflowers, a broken skull, and a butterfly that depicts the beauty of life and death.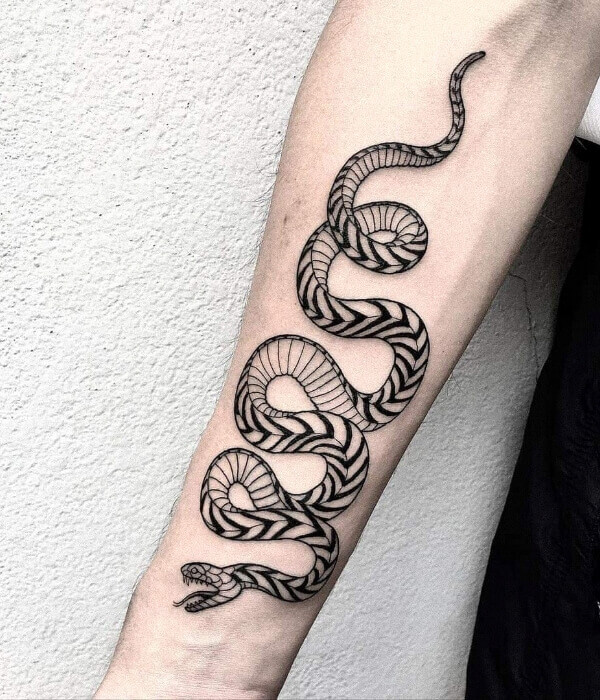 ➣ Black Skeleton Snake Tattoo
You often look for a tattoo that means don't mess around with me, and EKA from Thailand has done a splendid job by conveying this message with this scary-looking tattoo. The white ink highlights the details of the snake's skeleton.
➣ The Snake of Evil Medusa Tattoo
Medusa Tattoos are trendy snake tattoo ideas. It's a unique snake tattoo with cracks on the lovely face of Medusa with white-out ghost eyes. The format makes it more intriguing than other snake tattoos.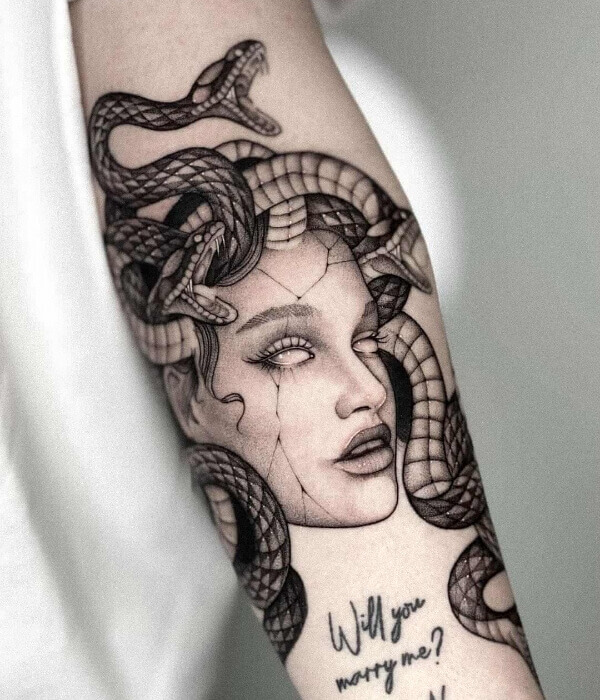 Also see: Powerful Lion Tattoo Designs for Men and Women
➣ Black Snake and Peony Forearm/ Wrist Tattoo
Women make a great effort in the placement of this particular tattoo. This floral design is one of the best snake tattoos on the forearm.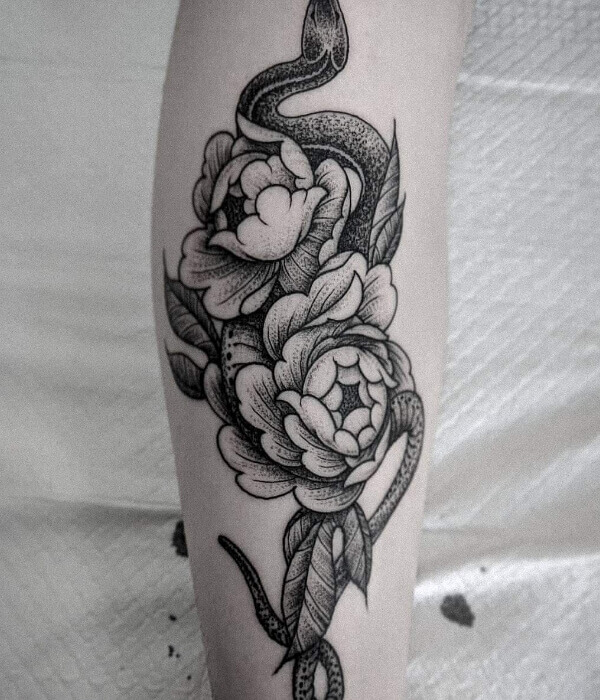 What's so good about this tattoo
The peony is pleasing, and so is the shading of the leaves.

Look at the elegance with which the snake's body twists and bends.
➣ A Little pet snake Wrapped around the Wrist Tattoo
Check the breathtaking pattern; you will appreciate the artist's apparent gaps in the negative space, which makes this tattoo stand out.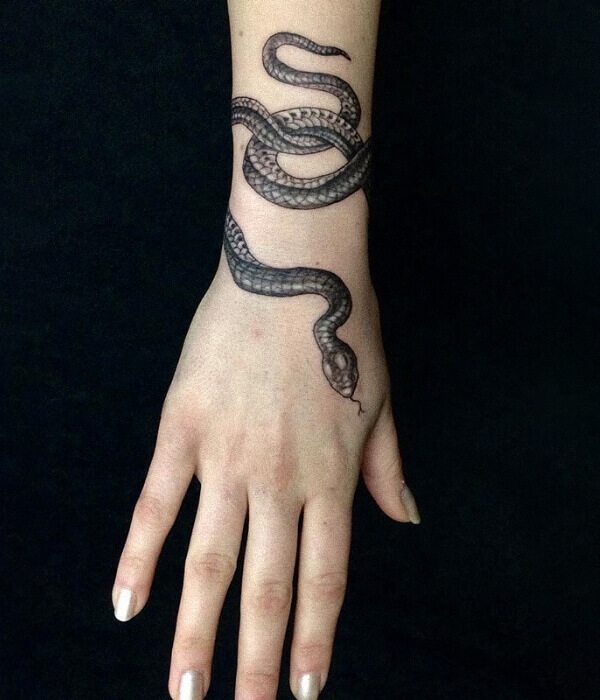 ➣ Smoke Rose and Snake Tattoo
This tattoo is generally inked on the calf. However, you will feel like having one if you don't have one. The Rose and the Snake look really lovely with smooth shading.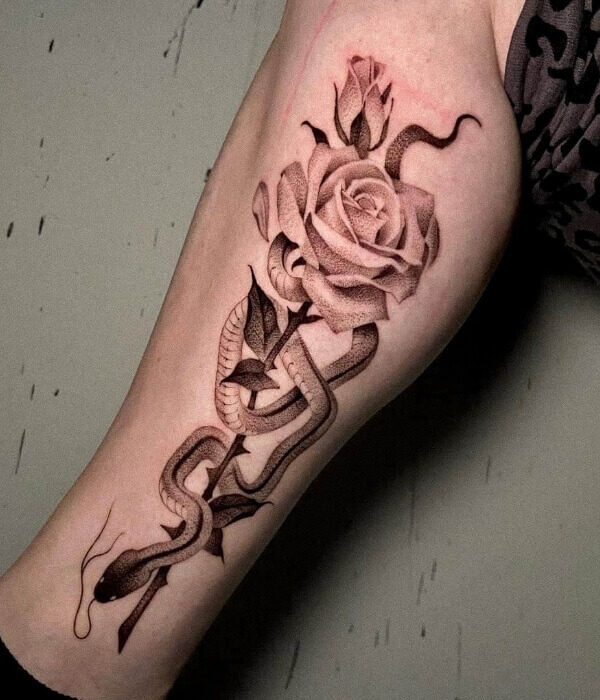 ➣ Tap of Forearm Rose and Snake Tattoo
The tattoo looks very cool. The Head and Tail of the snake take up the length of the top forearm, while the remaining piece shrinks as it wraps inside the forearm. The shading is done in detail and looks astonishing.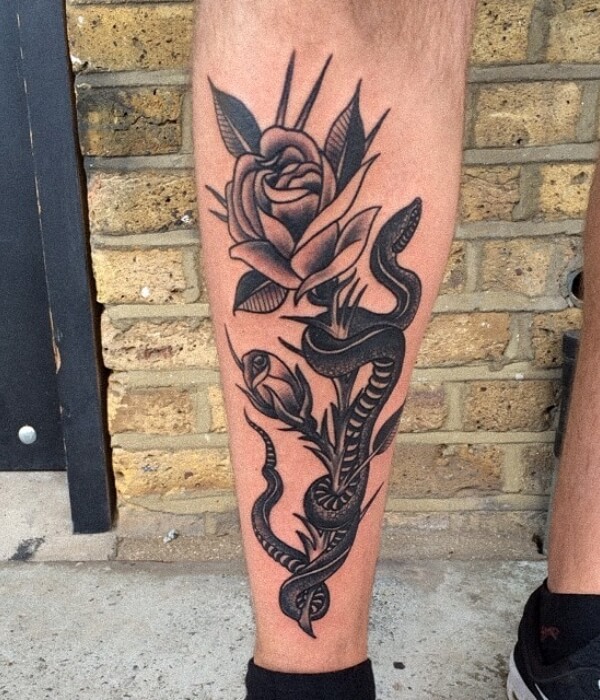 ➣ Black Skeleton Snake Tattoo on Arm
This tattoo looks scary but cool; it shows I care a damn attitude. Technically speaking, the use of white ink looks unique with all the minute details of snakes which is a treat to watch.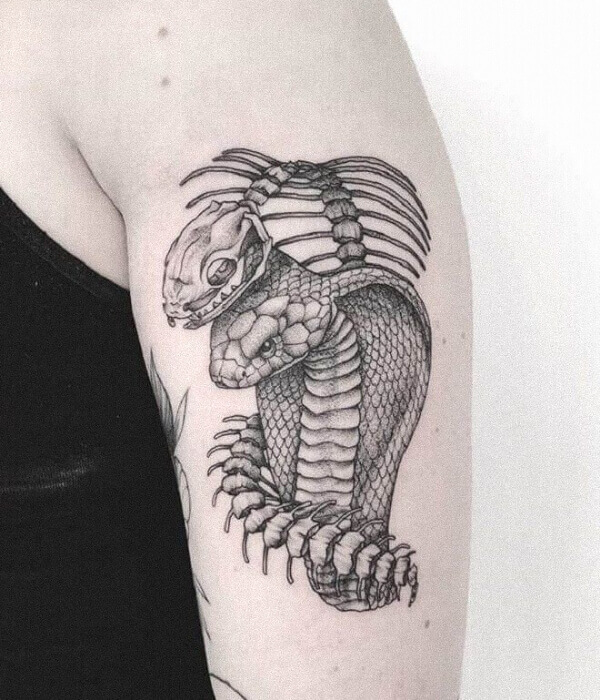 ➣ Simple Snake Tattoo
The Main plus point of having a snake tattoo is the variety you get to select. In addition, the tattoo shows a great result after it's done. Therefore, if you are looking for a minimal snake tattoo, you can use a simple snake tattoo, as the inking process is less than big tattoos.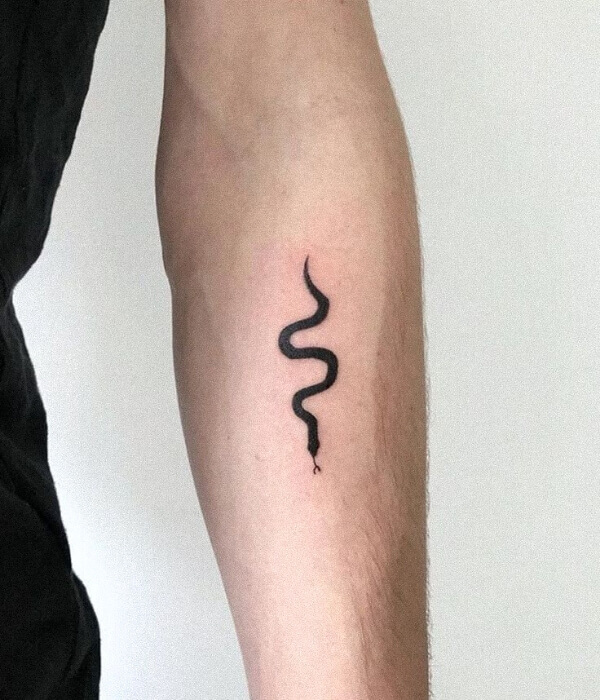 ➣ Small Snake Tattoo
A small snake tattoo is the best option if you want a minimal tattoo. The small snake tattoo is ideal if you are looking for a snake tattoo on the finger, behind the ears, or hands. The small tattoos are generally inked in black to enhance the tattoo to stand out.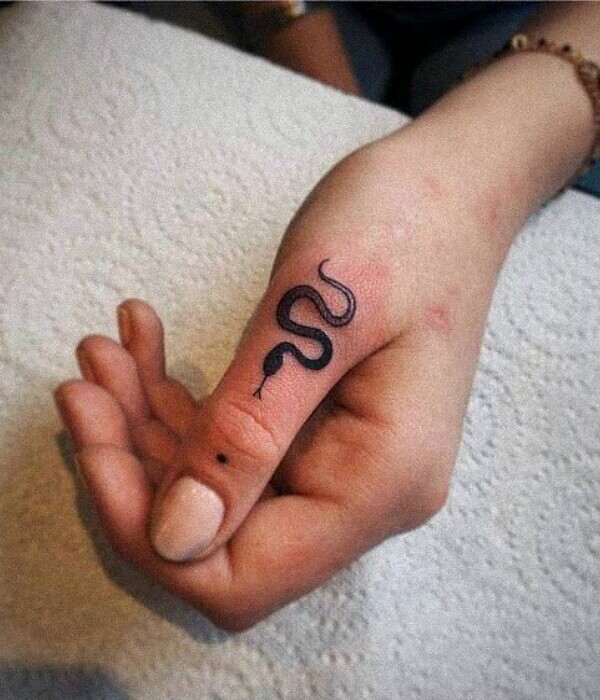 ➣ Snake Tattoo on Thigh.
A thigh tattoo is the best preference for anyone looking for an extensive tattoo that can be easily covered. The other advantage of a thigh tattoo is that the process is less painful than on different body parts. Some options that may look great are a striking cobra, a realistic 3D snake, or a curved snake design.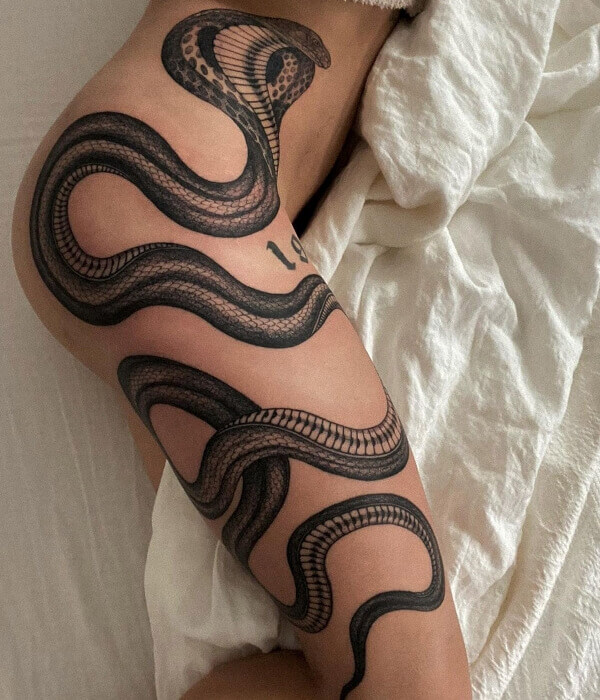 ➣ Snake Tattoo on the back.
You can choose a back tattoo for the ultimate snake design. It can be an ideal spot for an extensive, detailed snake tattoo. You can choose many options, like a back snake tattoo with a dragon or a tiger or a Japanese snake tattoo with traditional symbols.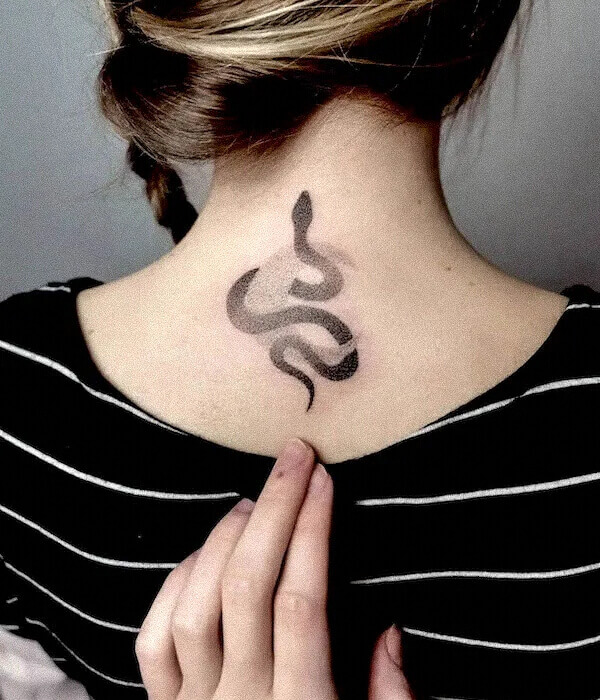 ➣ Snake Tattoo on the leg
Leg tattoos are becoming very popular daily, and snakes can be a great choice if you want a leg tattoo. The shape of the snake can adapt itself to fit your leg without warping around the muscle. There are many unique snake tattoo designs you can select from.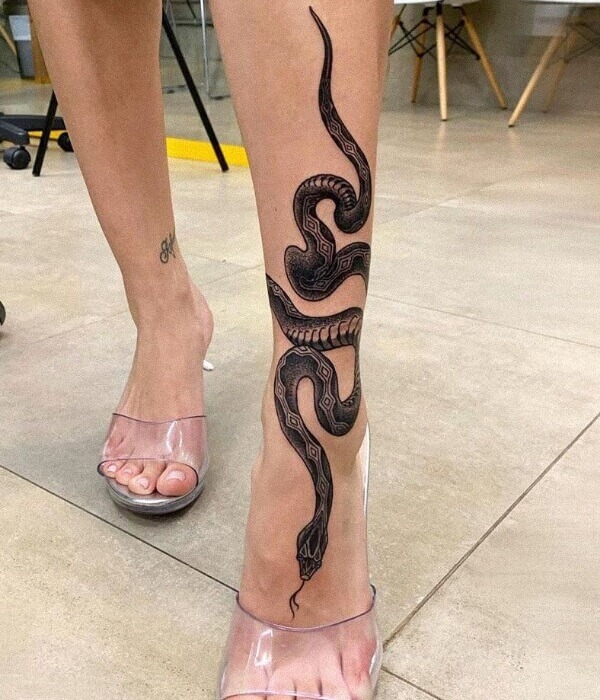 ➣ Snake Tattoo on the Wrist
The wrist is the ideal spot to have a serpent tattoo. There are ample choices available for the same, and it's a great snake tattoo idea for guys. You have a great option to select the tattoo for your wrist; you can get inked for a simple, small, coiled snake or extend the tattoo up to your arm for more impact.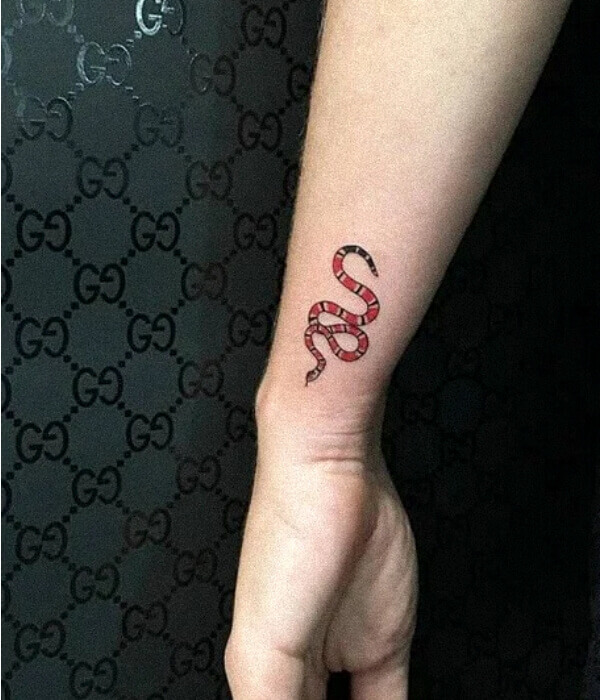 ➣ Two-Headed Snake Tattoo
A two-headed snake tattoo has a significant meaning. The two snakes represent the battles inside us—the opposite sides of your persona that need to be united, like the peaceful and the aggressive side. So a snake tattoo on hand is also a good idea. The two-headed snake tattoo also means having two passages in life and making hard choices.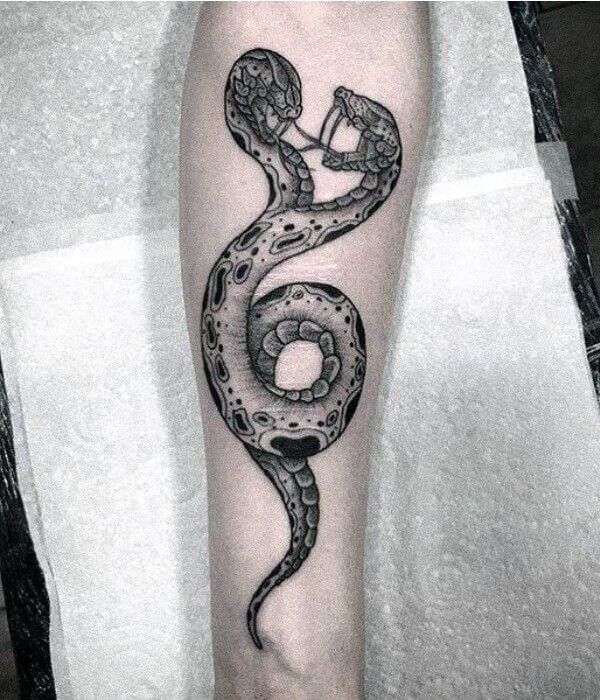 ➣ Realistic Snake Tattoo
If you want ink that makes you stand out from the crowd, you should surely go with a realist snake tattoo. Your tattoo artist can create a lifelike 3D design using the shading technique. A realistic tattoo is far better than a spartan tattoo, as the tattoo is done in detail. It will suit your back, chest, and leg as they give a large area to the artist.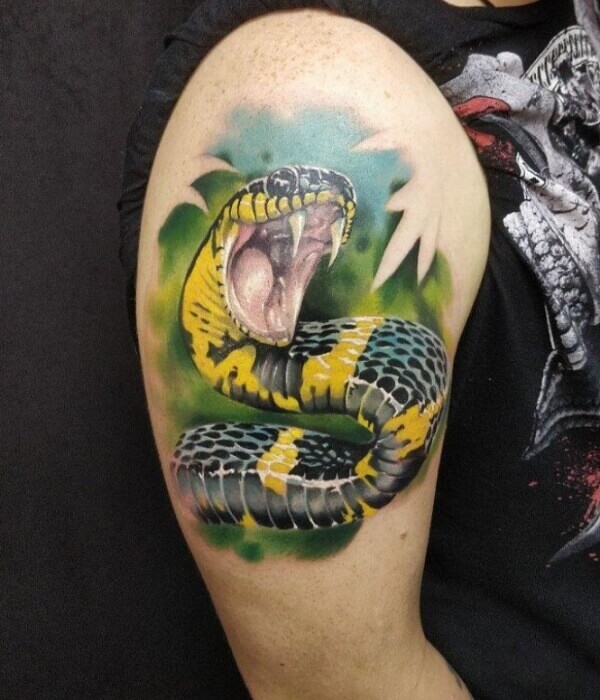 ➣ Unique Snake Tattoo on Spine.
Getting inked on the spine can be really painful. However, the spine tattoo on your body shows you are brave and can quickly bear the pain. You can select from many designs available for spines, like feather spine tattoos, tribal art, colorful spine tattoos, and many more.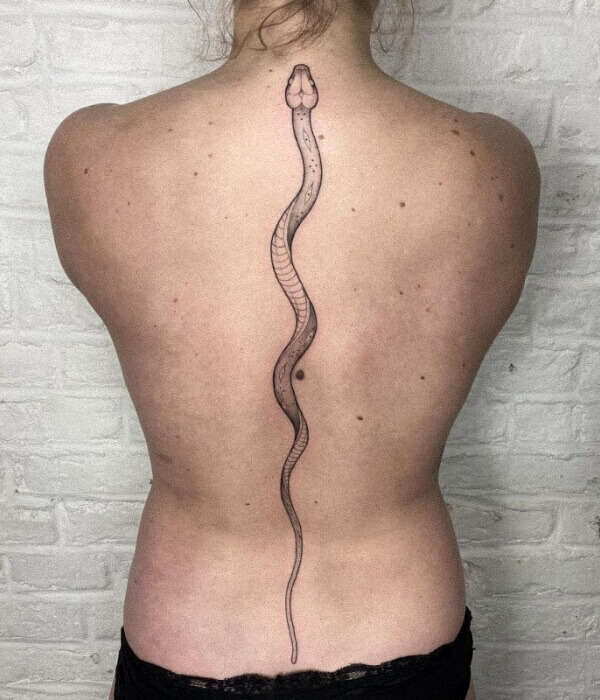 ➣ Red Snake Tattoo.
The red snake tattoo is a trendy design for people who want a snake tattoo on their bodies. It can be used as an image of power and strength, or it can just be used as a statement that you like snakes. If you want to get this type of design done, then it must be done by someone who knows what they are doing so that your end product looks good and doesn't hurt when being touched or worn out in public spaces where people may bump into it while walking around town or at work.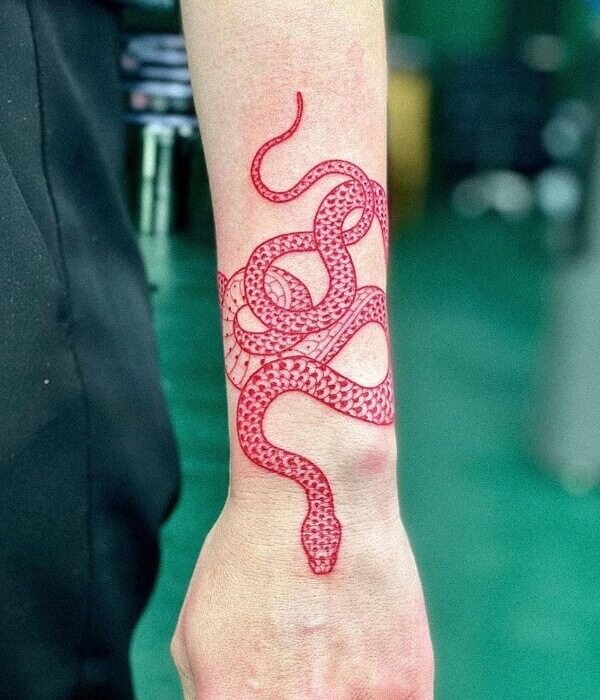 ➣ Snake Head Tattoo
Snakehead tattoos are the most incredible tattoos you will come across. It's a perfect tattoo idea for guys looking for a masculine tattoo. The ink shows off the hazardous side of the reptile. Snakehead tattoos have a lot of movement and energy and seem to jump off your hand or the body part where it is inked.
➣ Snake Tattoo on the Shoulder
The snake tattoo on the shoulder is not only cool but grabs a lot of attention. A lot of guys go for striking snake- ready to attack. But if you opt for an intimidating one, you can go for a regular snake that focuses on the creature's protective and wise side.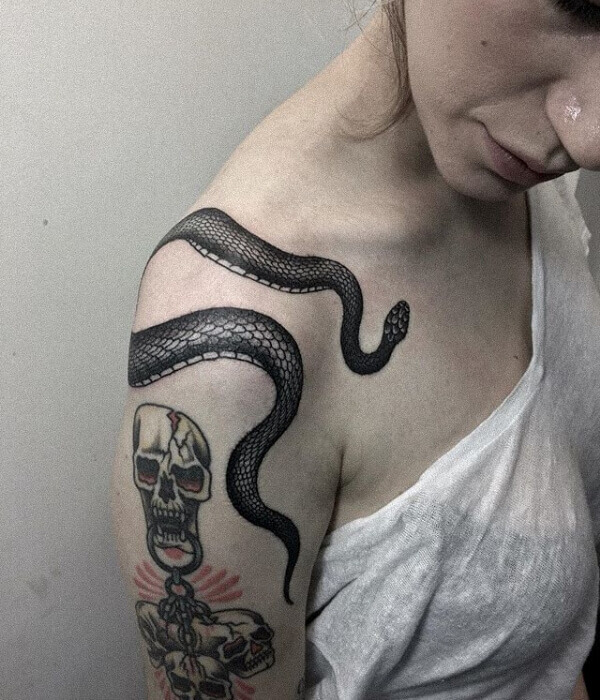 ➣ Snake Tattoo on Hand
Snake tattoos don't just look cool on narrow and long body parts- they can even be inked on the flatter place like your hands. But these tattoos on your hands fade faster as they are washed more frequently, and the hands are primarily used. You can get inked with a simple black snake tattoo that will be simple to take care of and can be freshened up after some time.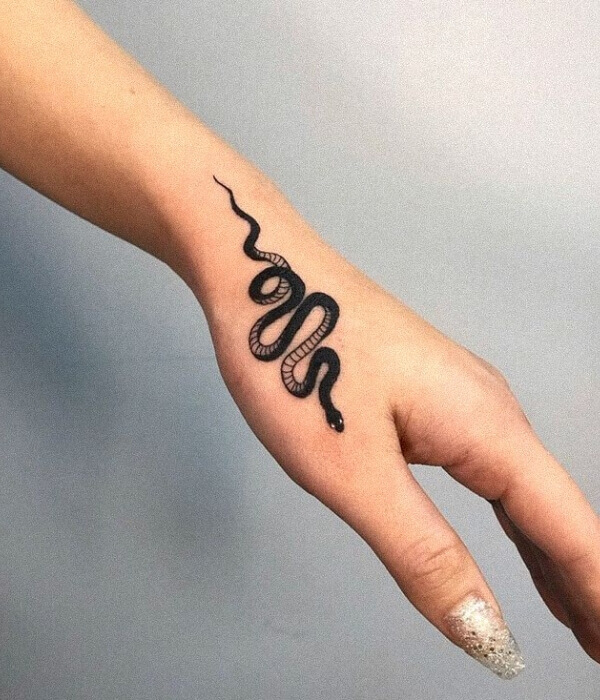 ➣ Snake Tattoo on the chest.
Like your back, even a chest is great for a large and detailed tattoo. You can get inked with a variety like a snake and a dragon or snake and an eagle- it would look outstanding. A chest tattoo is a thing to show off for guys; they just have to remove their shirt to flaunt the tattoo.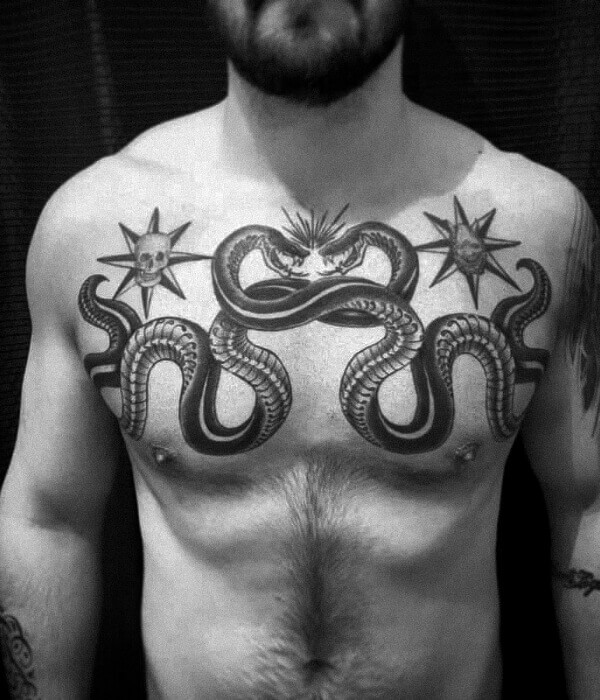 Conclusion
Snake tattoo designs are one of the most popular designs for the body. It symbolizes strength and power that shows you are a fighter. These designs can be drawn on the wrist, ankles, chest, or back. There are many variations of snake tattoos, so you should choose wisely if this is something you want to do yourself.
Please follow and like us: