25 Beautiful Back Tattoo Ideas for Women in 2023
Posted on
Tattoos are in fashion as more and more people are now getting their bodies tattooed. The best thing about tattooing is that you can get a tattoo anywhere on your body, including your back. Back tattoos look awesome. However, finding the perfect tattoo for one's back might seem challenging at first. It is because there are numerous tattoo designs that you can consider for your back.
More often than not, women opt for back tattoos, especially the ones who desire a large tattoo design. Back offers a broad canvas to help tattooists create any design, from intricate to detailed tat. A tattoo on the back can create a stylish, feminine, and seductive style that complements the female figure. If you are thinking about getting fresh ink, consider getting a tattoo on the back.
It doesn't matter if you want a one-of-a-kind design that has a significant significance or if you just want a stylish little and simple piece; there are various amazing back tattoos for women to explore.
And in this post, we shall discuss some of the best tattoo ideas for women's backs.
So, let's dive in…
1. Upper Back Tattoo
Upper back tattoos are trendy for women who want a design they can hide and show off as and when they want. The upper back is a great place for simple or elaborate artwork that reaches the neck and shoulders. You can flaunt your sexy tattoo design with your off-the-shoulder dress.
The best thing about upper back tattoos is that they are the least painful because of the thick skin there. You can get any design, from a small flower to a thoughtful symbol on your back.
2. Mid Back Tattoo
Middle back tattoos are not usually visible; however, you can be as creative as you want with these tattoos. This is one of the best options for working women, as these tattoos remain hidden. You can flaunt them while you are at a beach or on vacation.
The best thing about mid-back tattoos is that you can have a larger piece etched in there. A mirrored image or a huge pattern that encompasses the spine and adjacent areas is a great option for mid-back. Make sure to get a detailed piece on your mid back.
Japanese back tattoo female, phoenix back tattoo female, mandala back tattoo female, or lion back tattoo woman are some of the great choices for your mid back.
3. Lower Back Tattoo
The lower back is one of the most popular places to get female back tattoos. Angel wings, tribal designs, and robust American traditional styling look great on the lower back. You can even choose a meaningful quote or a small mandala for your lower back.
Like upper back tattoos, you can keep your lower back tattoo hidden as and when you want. You can flaunt your tattoo design with low-waist jeans and crop tops. A lower back tattoo is a great way to flaunt your curves.
4. Full Back Tattoo
If you're one of those people who love larger tattoo pieces, then a full-back tattoo is apt for you. Full back tattoos make a dramatic statement and might be cool for a woman like you. You can consider getting a full back animal tattoo, or large sized mandala, or a portrait work etched on your back. Aside from these, there are many beautiful full back tattoos to choose from, including lions, dragons, and flowers.
Know that full back tattoos are painful endeavors. Also, these tattoos require a lot of time, as your tattoo artist may complete them in three to four sessions.
5. Back Neck Tattoo
Your back neck is another wonderful place for a cute back tattoo design. Back neck tattoo designs female is quite popular among those who do not want to overdo their tattoos.
You can have any of your favorite symbols, such as OM, Hakuna Matata, or a small quote etched on your back. Some celebrities, including Kangana Ranuat, already flaunting their back neck tattoos
6. Side Back Tattoo
The side back is an excellent place for classy tattoo pieces, such as a long quote, guardian angel, and so on. You can have this tattoo etched from beneath your arm, progressing towards your chest or waist.
You can also tattoo a crescent moon, a series of flying birds, or butterflies on your side back.
7. Dragon Back Tattoo
Dragon back tattoo female is one of the best choices for the ones looking for a one-of-a-kind tattoo piece. Dragons make for wonderful tattoo designs. They look amazing when etched on the spine. Dragon back tattoos symbolize strength, intelligence, and passion.
Your artwork might be demure with subtle shading and delicate lines or forceful and purposeful in Japanese or Chinese style. However, know that spine-length tattoos are one of the most painful tattoo designs. So, make sure you are ready to endure the pain that comes with spine tattoos.
8. Small Back Tattoo
You can get a back tattoo to honor a loved one or represent your values. Words, phrases, and initials are widely used to represent individuals. A rose can be a better option when it comes to having a small back tattoo. It symbolizes eternal love. So, if you have someone in your life to who you want to dedicate your tattoo, a small back tattoo is for you.
Also see: Fine Line Tattoo Ideas
9. Wings Back Tattoo
Wings tattoo on the back female looks unique and makes for stunning pieces. You can have wings tattooed in large size or in medium size; absolutely up to you. All you have to make sure of is finding a professional tattooist for your back tattoo design. Placement might affect your piece's size and shape, so choose wisely.
10. Spine Tattoo
A seductive spine-length tattoo is a great way to flaunt your style. You can get the ink down your spine to make a beautiful spine tattoo. Florals, fanciful motifs, mandalas, and lace are some of the best designs to consider. Aside from that, a spine tattoo with sweeping lines and curves can be sensuous and enticing.
11. Japanese Back Tattoo
Authentic Japanese back tattoos are beautiful and colorful. Irezumi, the traditional Japanese tattooing method, features stylized linework, familiar topics, and bold colors. These designs include masks, koi fish, cherry blossoms, and ancient symbols.
12. Mandala Back Tattoo
Mandala back tattoo female look gorgeous. These designs look aesthetically appealing. Mandala tattoos make for ideal tattoo designs for women looking for intricate pieces. You can have a mandala back tattoo on your middle back.
You can keep it hidden whenever you want to and flaunt it otherwise. Make sure to choose a reputable tattoo artist for your mandala tattoo work.
13. Tiny Back Tattoo
Tiny back tattoos are quick to get, inexpensive, and less painful. So, if you're looking for all these three features in a tattoo design, get a tiny back tattoo. You can have a tiny symbol or initials on your back. The perfect place for your tiny back tattoo is your nape.
14. Dreamcatcher Back Tattoo
A charming dreamcatcher back tattoo can be very feminine. Dreamcatchers in bright colors make for popular back tattoo designs among women. These pieces look elegant and simple at the same time.
Related Search: 30 Sexy Tattoo Ideas For Women
14. Lion Back Tattoo
Lion tattoos symbolize family, strength, courage, and leadership. If you want to flaunt the courageous side of your personality, then this is the tattoo for you. You can have just the face of the lion etched on your back. Another beautiful way to have a lion is to get it etched with additional elements, such as flowers, for a feminine take on lion art.
15. Classy Back Tattoo
Classy back tattoos look ageless and stylish. You can opt for any tattoo design, from a dragon to a floral garland for your back. But make sure you give enough thought to your tattoo design before getting one on your back. An attractive tattoo design requires a lot of planning and brainstorming as it will be there on your body for a very long time.
16. Skull Back Tattoo
A skull back tattoo exudes confidence and strength. Skulls symbolize death, yet they can also represent boldness and bravery. You can choose to have a single skull or add geometric designs, butterflies, or soft pastels to your piece to make it unique.
17. Sleek Back Tattoo
Sleek back tattoos are quite popular among females. The spine is the finest location for sleek tattoos on your back. Vertical artwork makes use of the spine's highlighted line. Back tattoos with slogans, patterns, heavenly bodies, and Chinese characters are typically sleek.
18. Floral Back Tattoo
A floral back tattoo is timeless. Floral art signifies growth, change, transformation, and love, which women find beautiful. When it comes to floral back tattoos, there is no dearth of designs at all. Roses are a classic choice since you may add bold colors and thorns. Aside from that, a colorful sunflower can just add to your personality. You can even consider combining blossoms across your back to create a truly gorgeous ensemble.
19. Tribal Back Tattoo
When it comes to sexy back tattoos for females, tribal tattoos top the list. A unique and imaginative tribal back tattoo is a great way to represent your roots. Depending on your culture, you can get a classic tribal tattoo with flowers, animals, and arrowheads. A beautiful tribal back tattoo can help you connect to your culture and ancestry.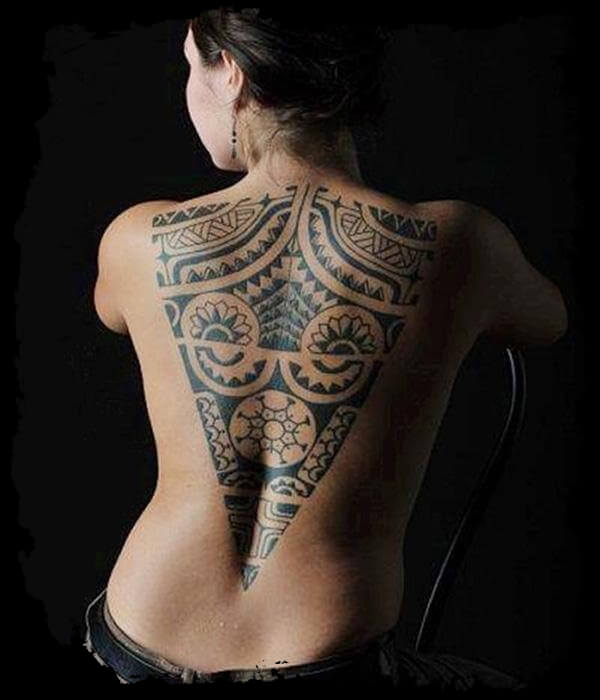 20. Quote Back Tattoo
Quote tattoos make for excellent tattoo designs. These designs are not only meaningful but also minimal. So, if you're looking for a minimalistic tattoo design for your back, get a quote tattoo etched on your back. You can have any of your favorite quotes from a movie or a book etched on your back.
If you're planning to get a different language quote on your body, make sure you know its meaning. Because tattoo removal is a painful and expensive procedure. Of course, you would never want to have any tattoo regrets later. The spine or lower back is great for single-sentence phrases, but if you have a high pain threshold. A tiny sentence over your ribcage or upper back looks chic.
21. Cross Back Tattoo
A cross back tattoo is a classy way to show your devotion and devoutness towards your religion. You can get a cross back tattoo as a standalone piece or add additional elements, such as flowers, to make it look more beautiful.
22. Medusa Back Tattoo
Medusa back tattoos are quite popular among women. A tattoo of a medusa can either serve as a shield against evil or as a memorial to those who have been hurt. Some see Medusa as a metaphor for the impotence of women and the injustices that have been committed against her under the guise of malevolence and might. Medusa makes for a very meaningful back tattoo for women. If you're looking for unique artwork, this is the one for sure!
23. Polynesian Back Tattoo
Polynesian tattoo designs are one of the oldest tattoo designs. Polynesian back tattoos female are very popular tattoo designs. These designs look seductive and beautiful at the same time. A Polynesian back tattoo is a great way to represent your culture. These tattoos show a person's status in a hierarchical society, in addition to sexual maturity, genealogy, and one's status within the community.
24. Phoenix Back Tattoo
Phoenix back tattoo female is a popular tattoo design. This mythical bird represents rebirth, eternity, and strength. It is also said to die and then be reborn. The idea that this legendary bird is reborn from the ashes of the fires of death is symbolic of a journey through testing circumstances. A phoenix back tattoo is a fantastic approach to convey a change or to celebrate the fact that you overcame adversity.
25. Tree Back Tattoo
If you're looking for a unique tattoo design, then a tree back tattoo female is a perfect choice. Tree back tattoos have multiple meanings, including strength, spirituality, sustenance, immortality, fertility, and liberation. They are also associated with the concepts of knowledge, growth, and wisdom. So, if you possess these qualities and want to flaunt them via meaningful tattoo design, then this is the one.
Putting it all together…
So these are some of the best back tattoos for women. Aside from these, you can come up with your own unique tattoo design for your back using your creativity.
When planning a back tattoo, make sure to choose your design and placement wisely. It is because a tattoo, once done, is not easy to remove or re-do. You will have to get it removed via laser or surgical procedure, which is very painful in all. Simply work with your artist to develop a beautiful design that reflects your personality.
Female Back Tattoo FAQs
1. Is getting a tattoo on your back a healthy decision?
There is no problem in getting a back tattoo. All you have to make sure of is finding a reputable tattoo artist for your back tattoo design. When you get your tattoo done by a professional, they will follow all of the necessary protocols so that you can receive a wonderful piece without putting your health at risk.
2. Is it difficult to take care of tattoos on the back?
Aftercare for back tattoos can be challenging to manage since they are difficult to access, their dimensions might vary, and the natural movements of your body can interfere with the healing process. However, you can always ask for assistance who can clean and moisturize the tattoo for you twice a day.
3. After getting a tattoo on my back, will I be able to wear a bra?
Newly etched tattoos are no less than an open wound. Wearing a bra on a newly etched tattoo can hamper the healing process. Bras exert a constricting force on the area of the tattooed region, which increases the risk of infection. Therefore, it is a good idea to avoid wearing a bra for a few days.
4. How painful is it to get a tattoo on your back?
Well, it depends on the placement of your tattoo design. For instance, tattoos on the upper back are less painful than the ones on spine-length tattoos. The skin on your upper or lower back is thick and has few nerve endings, getting a tattoo there typically generates a level of discomfort that falls anywhere between low-moderate, and moderate. When you get a tattoo on areas with bones and nerve endings, you'll have to endure a lot of pain.
5. How much does a tattoo on the back cost?
The cost of the back tattoo may vary depending on the size of the tattoo, the design, and the number of colors and details included. A small back tattoo may cost you somewhere around $100 – $200. In contrast, a large and detailed tattoo design can cost you anywhere between $1,500 to over $3,000.
Happy Tattooing… ☺ ☺
Please follow and like us: