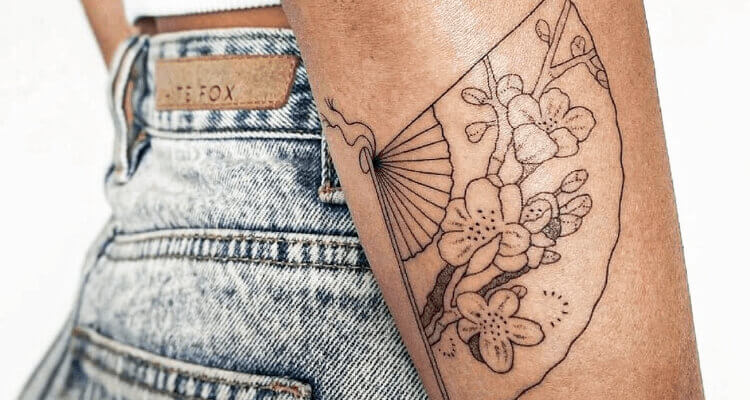 40+ Gorgeous Fine Line Tattoo Ideas & Designs 2023
Posted on
Fine line tattoos are a splendid method to add style to your body. However, they're also very delicate, so they need careful attention and skill from the artist to complete them successfully. A fine line tattoo can be done on any part of the body, but it's most commonly seen on wrists, ankles, or neck, with matching tattoos on other details such as hips or lower back.
A tattoo with a fine line is an excellent alternative to the popular large tattoos that can make you look challenging and intimidating. This can be pretty complex, but it usually boils down to small tattoos looking incredible. However, there's more to fine line tattoos than just being 'cool' – these tiny ink masterpieces reflect some of the wearer's personality traits or reveal essential details about their interests or hobbies, thus making them unique and eye-catching at the same time. If you are looking for inspiration on what kind of delicate line tattoo designs you should get, here's a list of the best fine line tattoo ideas to choose from!
What does a fine line tattoo mean?
A fine line tattoo is a design that uses very delicate strings of ink. The thickness of the lines can vary depending on the priorities of someone getting tattooed and what type of needle they use. 
Sometimes, a fine line tattoo may be added to an existing design to give it more detail and depth without going overboard. This option may be for those who want to add more information to their tattoos but don't want something that's too overbearing.
Why Fine Line Tattoos are So Popular Right Now?
The popularity of tattoos is increasing, and many people opt for a less bold style. Fine line tattoos create the appearance of a tattoo without making it evident to the eye. Some people are drawn to this look because they don't want to be judged, while others are taking advantage of this trend to enjoy their new ink while maintaining an innocent appearance.
From initials on the wrist or an outline of a heart, there's something for everyone when it comes to fine line tattoos. The best part? You can cover them up whenever you like with clothing or makeup!
The technique of fine line tattooing requires a high level of precision to ensure each line is clean, sharp, and straight. Some may call it micro-needling, but there's much more to it. It takes a steady hand, good eye-hand coordination, and patience, as well as being in good health with no health conditions that would make the artist unable to use the machine safely or cause any discomfort.
You also need to know about your body's anatomy to see where certain lines should be placed on your arm or leg, so they look consistent with other tattoos nearby. 
Fine line tattoos can capture the most minute details with a feminine result that gives us all the feels.
Fine line tattoos are a single linear line created by using a needle at an angle and dragging it across your skin.
The basic technique involves using a sharp instrument (typically an ink pen) to puncture the skin repeatedly, depositing ink into the dermis layer of your epidermis. 
This causes tiny cracks in this layer, allowing for better absorption of color pigments into your body and increased longevity due to reduced stress on surrounding tissue over time – similar to how watercolor works when painted onto paper! 
These tiny details are simple yet elegant.
Fine-line tattoos are not easy to tattoo to get right. They require a lot of skill, concentration, and patience. But, if you're looking for a fine line tattoo that looks elegant, this article is for you!
In this article, we will go over some of the best fine line tattoo ideas that can make your work stand out from others in the same field.
➢ Wrist Fine line tattoo
Fine line tattoos look great on the wrist and can be used as a symbol, single word, phrase, name, date, or even an image. Tattoos date back to ancient times in various cultures and are now gaining popularity among modern Millennials.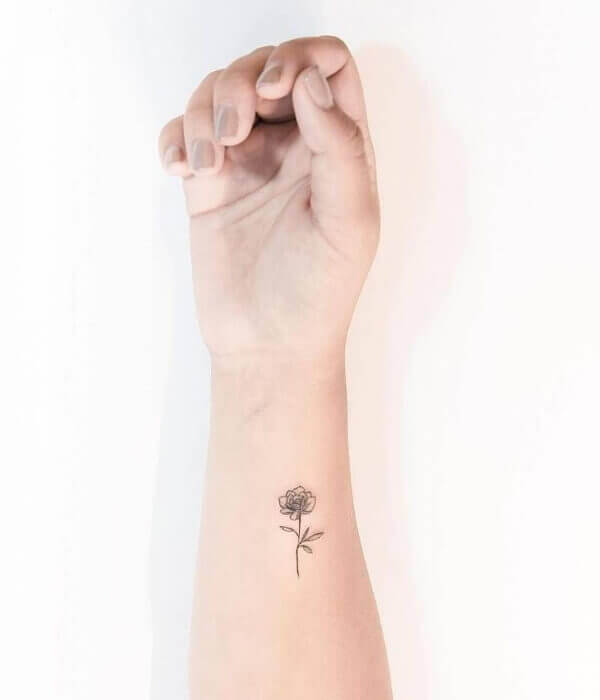 One of the typical body parts for tattoos is the wrist. The wrist is a perfect place for tattoos because it is usually covered by clothing and does not interfere with daily tasks such as typing or driving. Wrist tattoos are often small and simple such as a word, heart, or symbol. A good example has your initial on your wrist.
Also See: 140+ Eye-Catching Wrist Tattoo Ideas
➢ Initial Fine Line Tattoo
The design can be placed anywhere on the body, and it's easy to find inspiration for this kind of tattoo if you look at other people's work.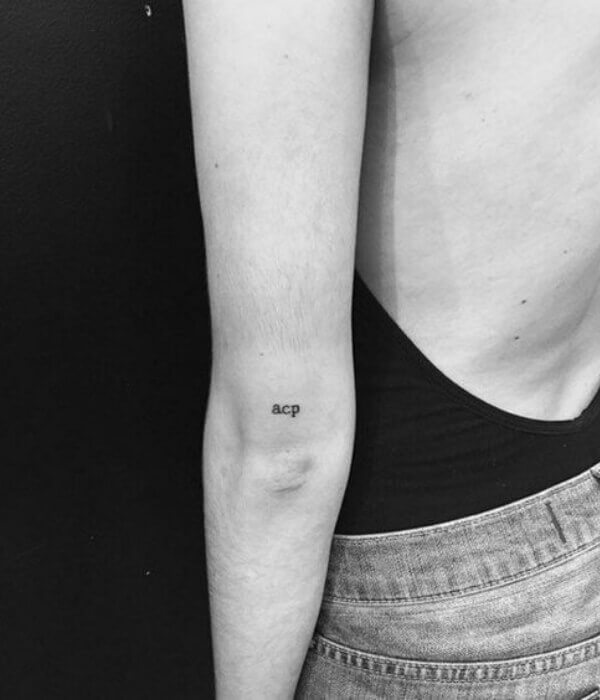 Also Read: Top 70 Amazing Initial Tattoo Designs With Meaning [Cool Ideas]
➢ Tattoo With Love Symbol
The heart is a ubiquitous sign of passion and love. It can be used as a tattoo design on its own, but it's also part of a larger piece like this one.
This fine line tattoo features two hearts, one with wings and another that has an arrow through it. The hands symbolize life or direction, while the wings represent flight, freedom, and adventure.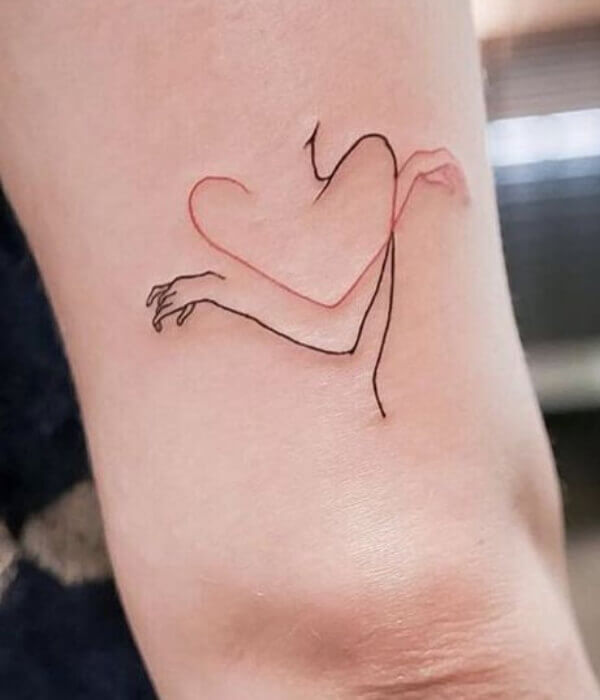 ➢ Matching Fine Line Tattoo
Matching fine line tattoos are a great way to get inked with your partner, best friend, or family member.
Get a matching tattoo with your partner. If you're into each other and want to express that love by getting matching tattoos, this is the perfect idea for both of you!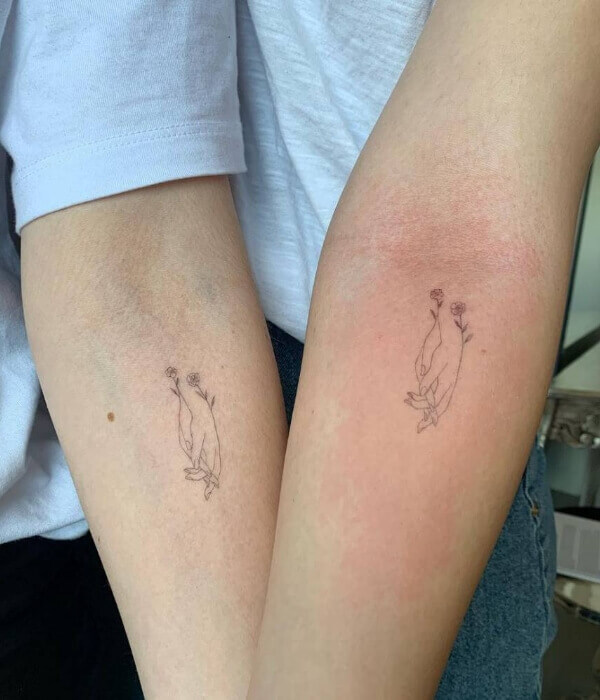 ➢ Infinity Symbol Fine Line Tattoo
The infinity symbol tattoo is a popular tattoo for couples, representing love and eternity. It's also known as the lemniscate or sign of infinity, which is a mathematical and philosophical concept.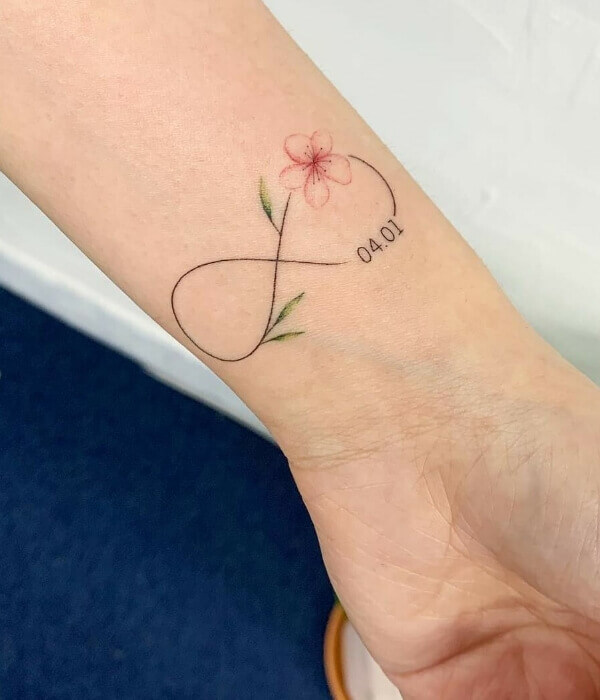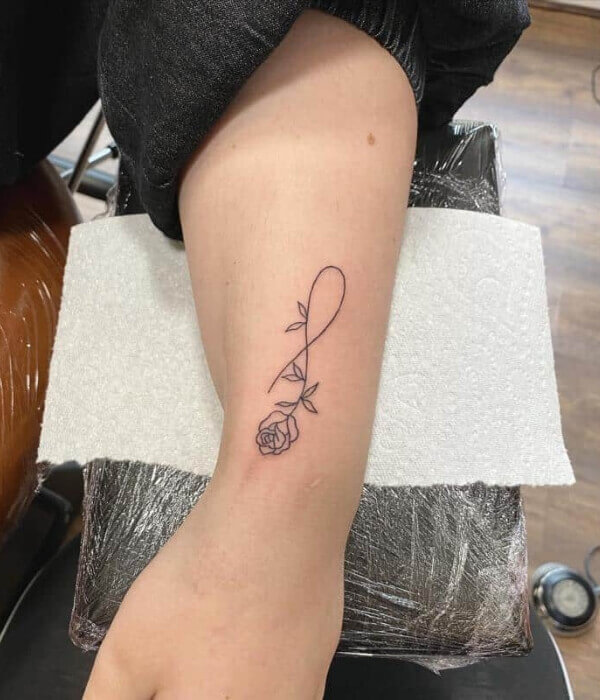 ➢ Fine line tattoo on the neck
A fine line tattoo on the back of the neck is perfect for both men and women. A fine line tattoo is a great way to add a nice and subtle tattoo to the back of your neck, it fits with many different styles and can be used to create some interesting designs.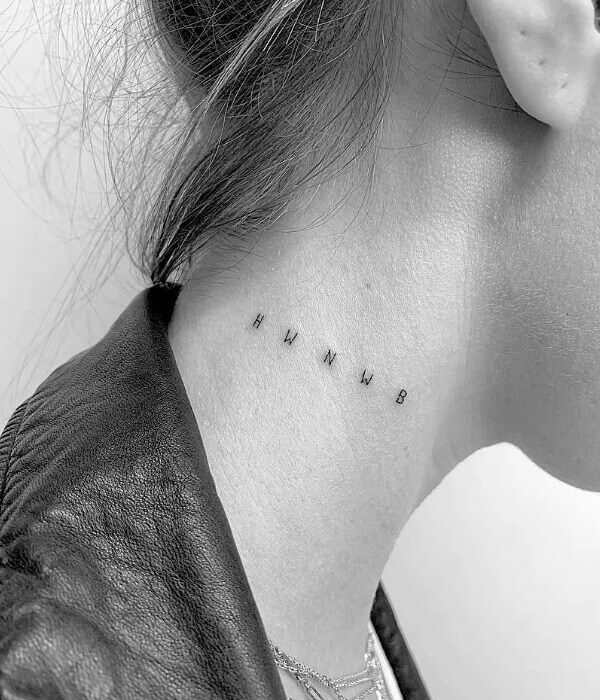 ➢ Fine Line Tattoo With Rose
The fine line tattoo is a popular choice for small tattoos. It's effortless to see, and you can make it as extensive or as little as you desire. A tattoo with a fine line, the rose is a delicate flower that is easy on the eye.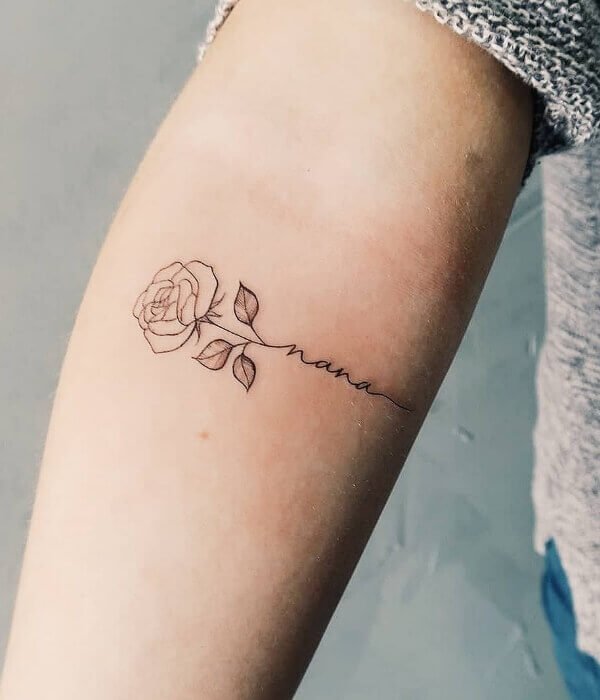 The rose has always been associated with beauty and affection, making it a perfect choice for anyone who wants to show off their love for someone else but is not confident about getting a traditional portrait-like tattoo. 
Also See: 220+ Amazing Rose Tattoos Designs For Both Men And Women
➢ Fine Line Tattoo on your back
We have fine line tattoo designs that are perfect for making your back body beautiful. Our artist will draw fine lines and create a cute skull design on your back. This fine line tattoo adds a classic touch to your body, a subtle balance between the lines of your back, and the dots mimic the zenith of your body.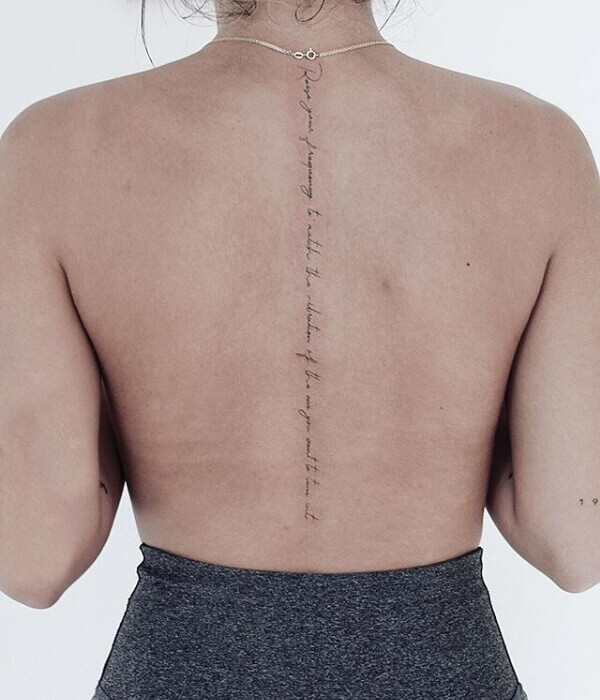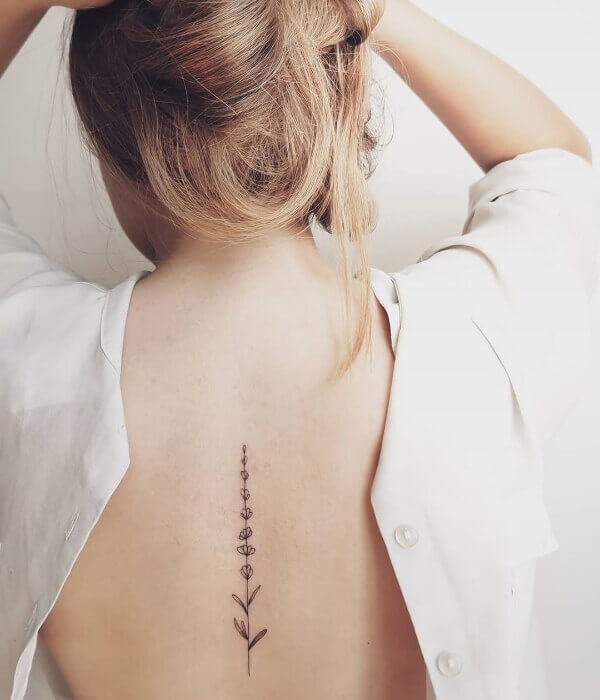 ➢ Fine line tattoo on your collarbone
They have a very delicate look, so you must be careful not to mess it up by wearing loose clothing or jewelry. Wear your collarbone with a fine line tattoo. The design is modern and classy, with a beautiful faded look that shows the age of your skin.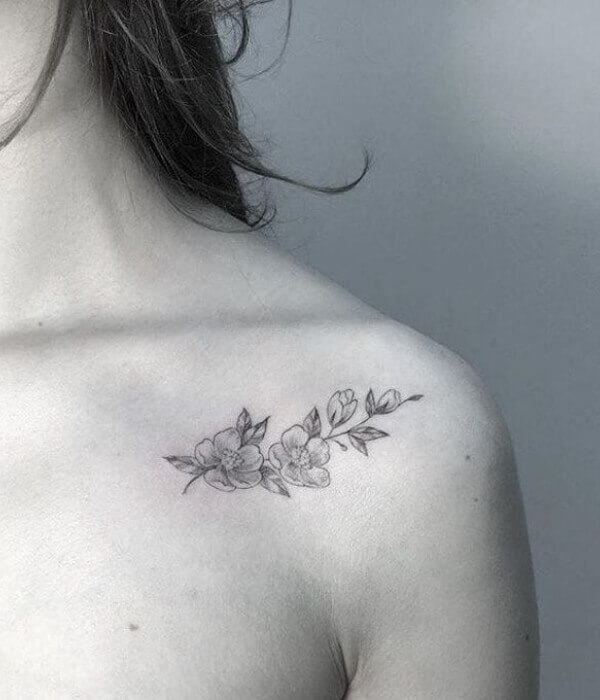 Also See: Attractive Collar Bone Tattoo Designs
➢ Fine Line tattoo on your ankle 
Fine line tattoos on the ankle are trendy as they don't need much space, and ankle tattoos go unnoticeable compared to other body parts. Ankle tattoos also heal faster and look fabulous.
Also See: Ankle Tattoo – More Sexiness For Girls
➢ Fine line tattoo with butterfly
A fine line tattoo with a butterfly stands out, as a butterfly is a symbol of beauty. These tattoos are meant to be elegant yet simple. These tattoos are usually done in a single color and are kept minimal. But, many tattoo enthusiasts prefer it in black ink with many shading techniques.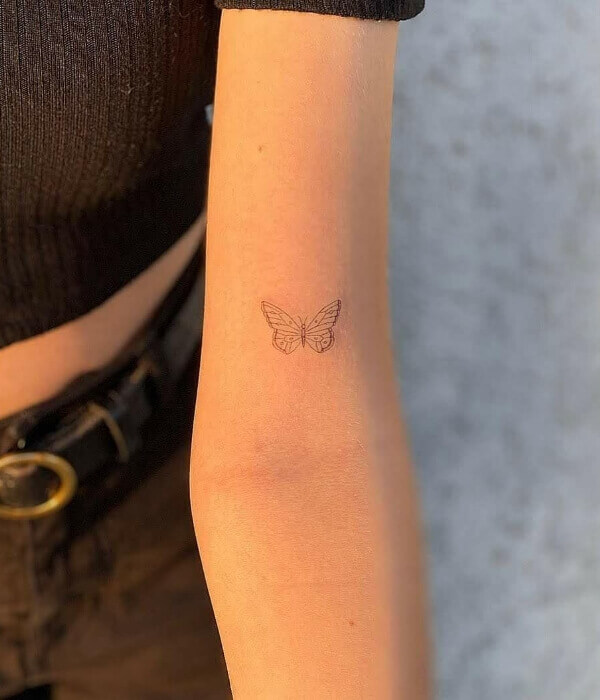 Also See: 75 Butterfly Tattoo Ideas And Designs
➢ Fine line tattoo with Cross
Cross tattoos are common in the Christian religion because of the individual's faith. They are usually done along with Crist's face or other religious symbols.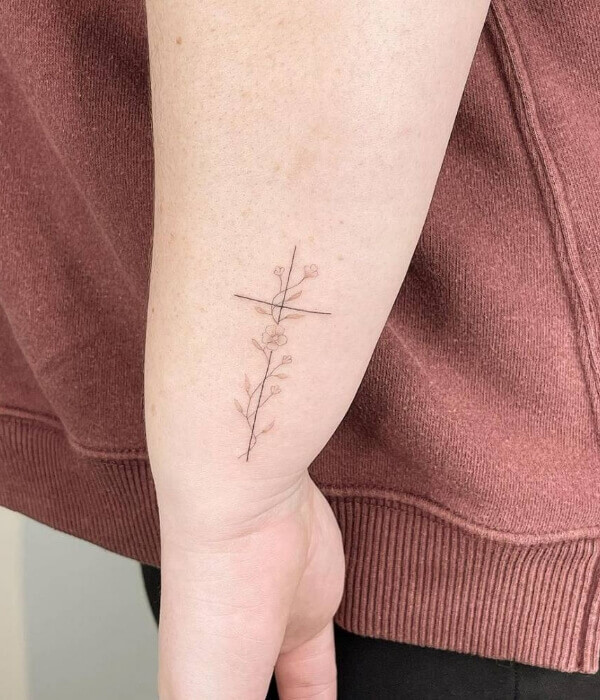 ➢ Fine line tattoo with cat
Cat is popularly used in tattoo ideas, and the cat goes very nicely in a fine line tattoo. The fine lines in this particular design are detailed with excellence, and cat lovers will simply love it.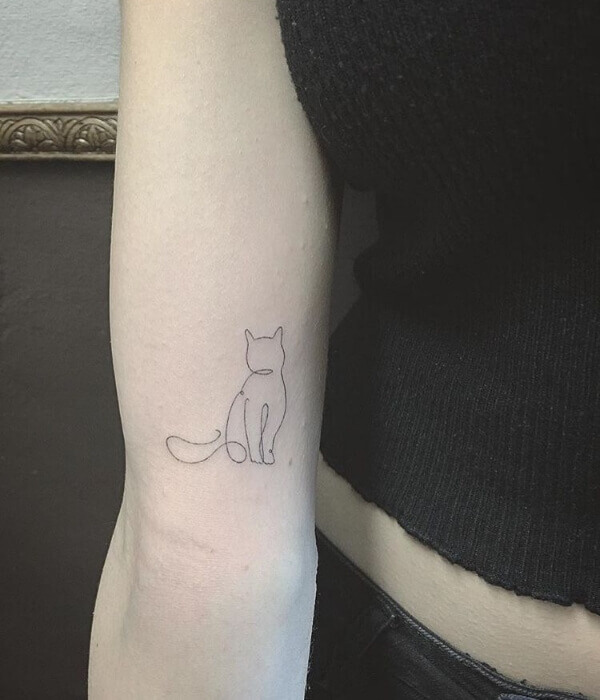 ➢ Fine line tattoo with a Moon
Moon is commonly used in fine line tattoos. Moon tattoos can be done on any body part, and you can have one or several moons on your arms or feet. In this particular tattoo, the artist has beautifully inked the moon in a simple and elegant style.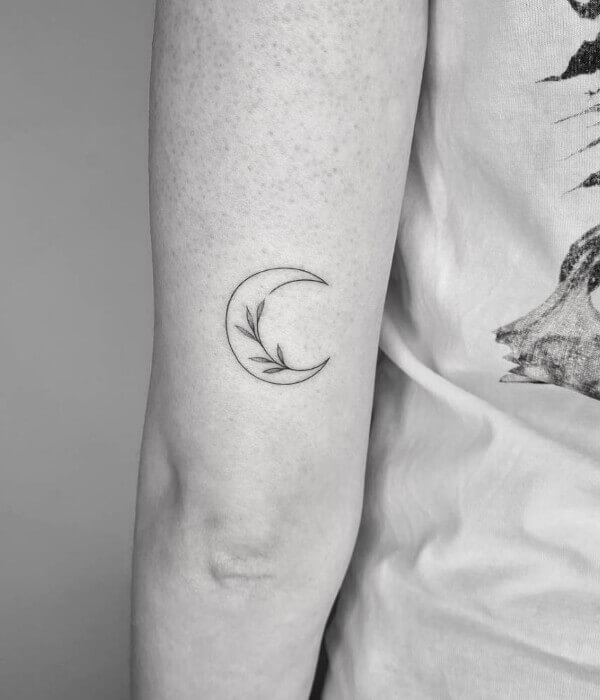 ➢ Fine line tattoo with Sun
They are many variations in sun tattoos, and the most significant advantage is that they are very easy to cover if the wearer wants to hide them at school or work.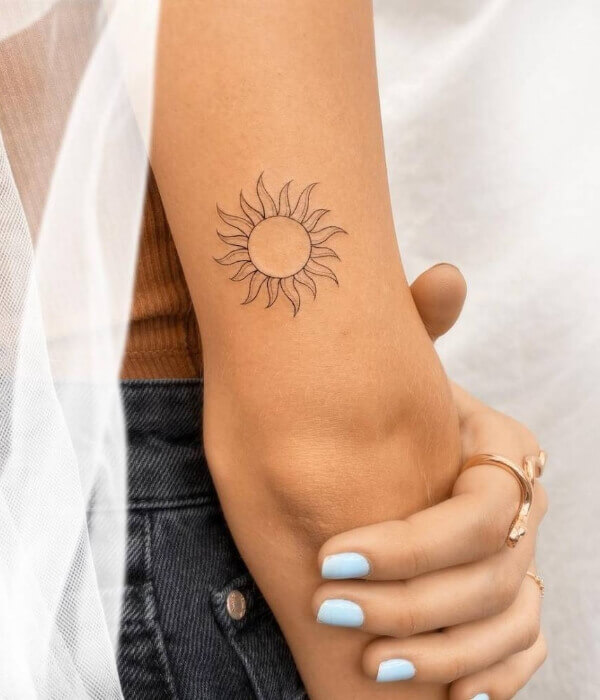 ➢ Fine line tattoo with sword
The popularity of sword tattoos has grown a lot in the past few years. There is a lot of variety in sword tattoos, from simple to complex designs. The sword is considered the symbol of power, strength, and courage.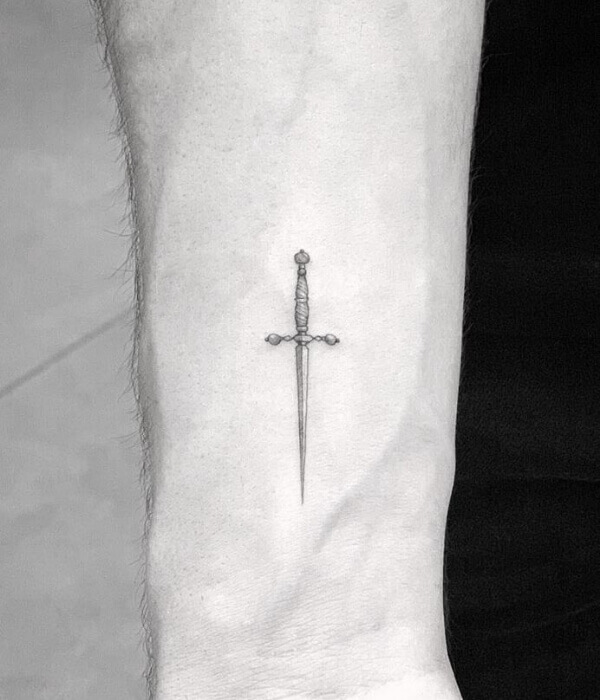 ➢ Small fine line tattoo
A small tattoo is for someone unsure about having a larger one but wants to get inked. These kinds of tattoos can be inked on any body part, and you can easily find a perfect design that suits you.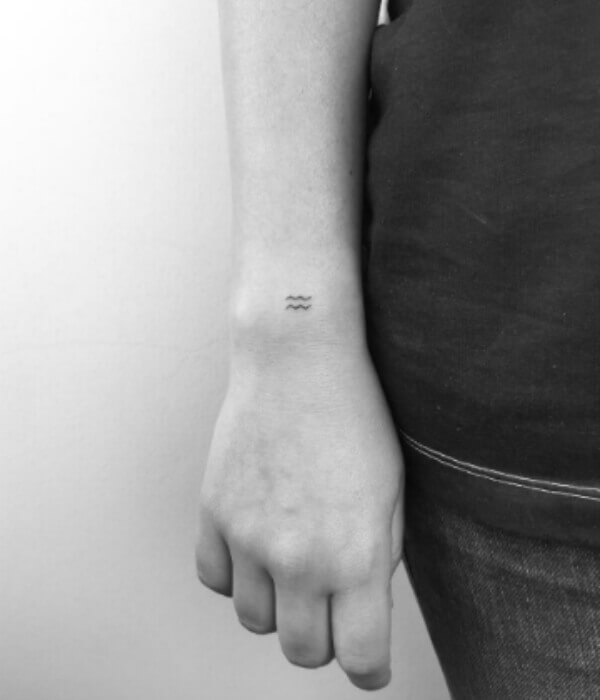 ➢ Fine line tattoo with quote
A fine line tattoo fits the bill if you are looking for simple sayings or quotes. You can be very basic and creative or use some flowers around the words.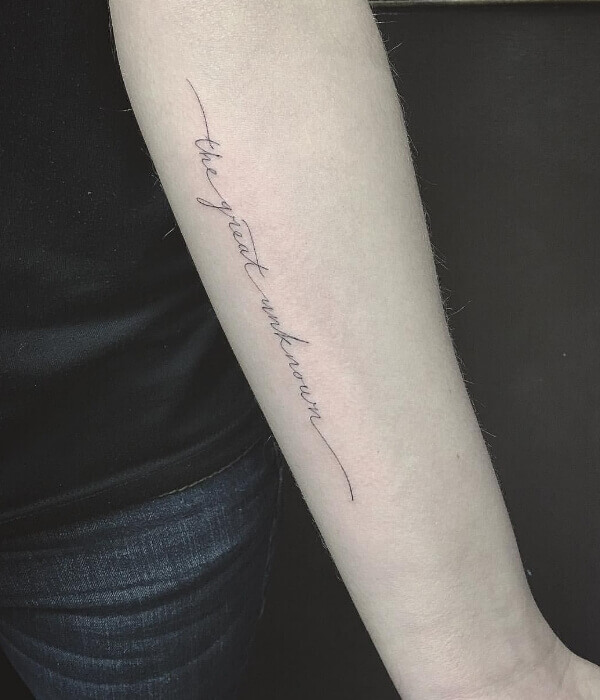 ➢ Fine line tattoo with lotus
Lotus symbolizes rebirth, beauty, and purity.
In Hindu and Buddhist religions, the lotus represents divine beauty. In addition, a lotus tattoo looks very unique and appealing. There are a lot of varieties of lotus tattoos you can choose from.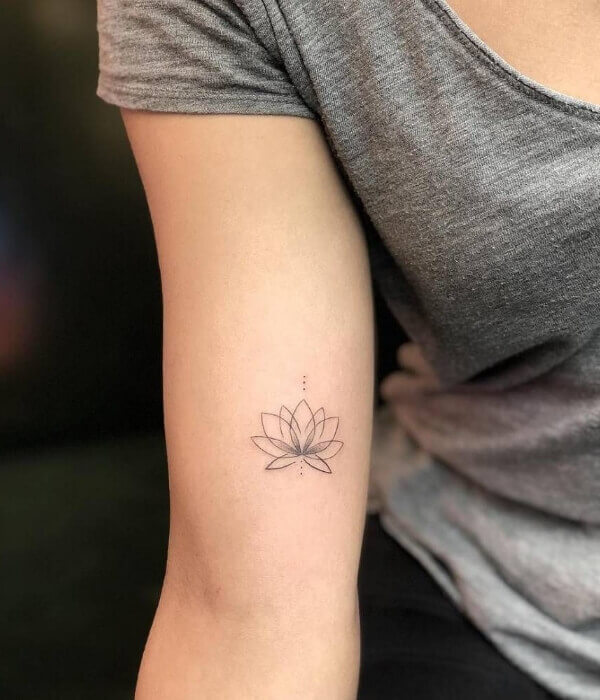 ➢ Fine line tattoo with face
Fine line tattoos are getting widespread over time. With a minimalistic approach, this face tattoo looks cool and innovative on the hand.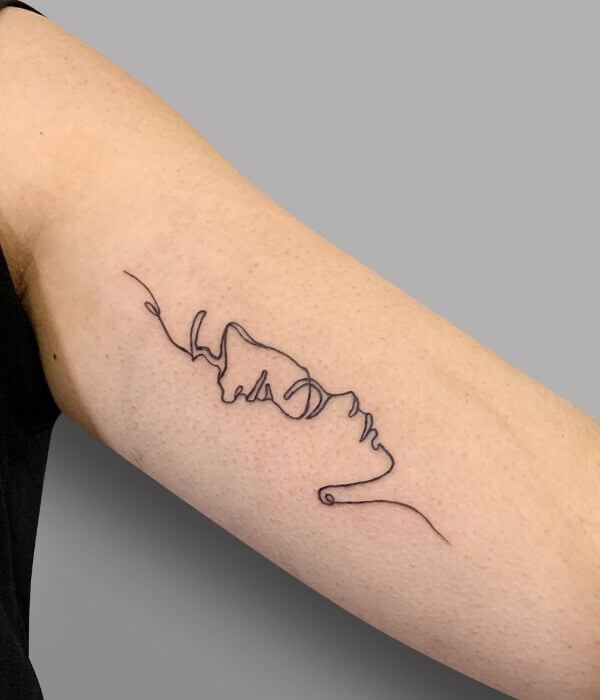 Conclusion
These fine line tattoos are the best way to stay trendy and keep up with your personal style. Because of the numerous styles and designs on demand, discovering one that fits your personality will be a breeze! We hope this article on Best Fine Line Tattoo Ideas helped you better understand what kind of tattoos you like!
Please follow and like us: