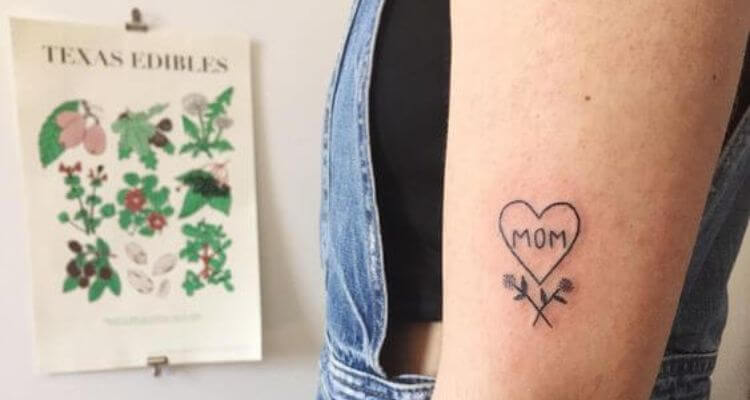 Best Mom Tattoo Ideas To Appreciate Your Mother
Posted on
There is no greater love than the love shared between a mother and a child. She gives birth to the baby with great difficulty after nine months of carrying the baby inside her womb. And the baby comes out, screaming at the top of his lungs, taking his first breath to meet his mother for the first time, and making eye contact with her. That connection formed at that moment can never be broken. That is why Mom Tattoos are so special and meaningful.
In a nutshell, Mom Tattoos are artistic representations in the form of tattoos that honor the mother who brought you into this world.
Just like parents get a tattoo of their child's name to commemorate the birth of their child, kids also get mom tattoos etched. It could be anything from a willow tree quote to I love you mom tattoo, and other tattoos that express mommy love are popular. Mom tattoo inks come in a variety of vibrant colors and are simple to apply. In this article, we'll go over everything there is to know about mother tattoos, including different mom tattoo ideas and the history of mom tattoos.
Let's get started…
The History of The Mother Tattoo
Tattoos have been around for a long time. There have been several tattoo trends that have started, stopped, and restarted over the years. However, when and why the good old "Mom" tattoo first appeared comes across as a bit of a mystery. A tattoo artist stated that he was unaware of how the popular trend began but was told a story by his mentor about how the "Mom" tattoo came into existence.
The story goes like this – an Irish sailor got a tattoo after being exposed to New Zealand natives in the late 1800s. He got a tattoo of a heart with a sabre and the word "Mother" in it. The inspiration came from an Irish drinking song in which the singer says he "saluted father dearly and kissed me darling mother" before leaving home for the first time to work.
It remains to be seen whether or not this story is true. However, this traditional type of tattoo was started by a sailor or serviceman. The traditional "Mom" tattoo can be found on a wide range of people, but it is most popular among servicemen, bikers, and men in general. However, some women have been known to have their own "Mom" tattoo, but women tend to go in a less traditional direction and come up with some sort of adorable design with the word "Mom" or "Mommy" in it.
Why Get A Mom Tattoo?
Here are some of the reasons why you should get a mom tattoo etched on your body:
Express your feelings for your mother.
Show off your love for your mother by getting a mom tattoo.
Paying tribute to her (if she is not in life anymore).
Celebrate your heritage by getting a Mother Tribute Tattoo.
And so on…
Aside from these, there could be any reason to get a mother tattoo. If you're thinking about getting a mom tattoo, consider what it means to you. As can be seen, this tradition has a long history in body art culture. You should give careful consideration to the type of mom tattoo that is best for you.
Now it's time to look at some of the best Mom tattoo ideas…
Here we go…
1. Willow Tree Quote Tattoo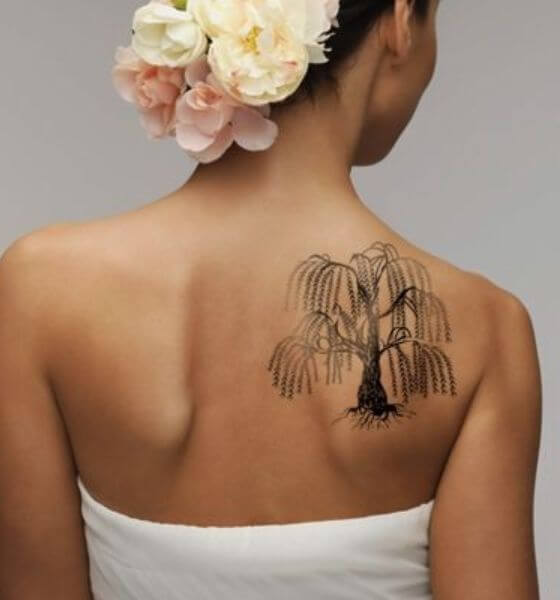 For all of us, family is one of our most prized possessions. It gives me strength, love, and hope. We all learn the fundamentals of social behavior in school. And willow tree quote tattoo is one of the best tattoo designs in mom tattoo categories.
A lush green willow tree represents renewal and rejuvenation. A dried or dying tree does not always indicate the end of something or someone. In fact, it denotes the end of problems and challenging times, as well as the arrival of new life… just as the tree does in spring. It makes for a beautiful tattoo design for both men and women. The perfect place for a willow tree quote tattoo can be your back or shoulder. Try it out!!
2. Minimalistic Family Portrait Tattoo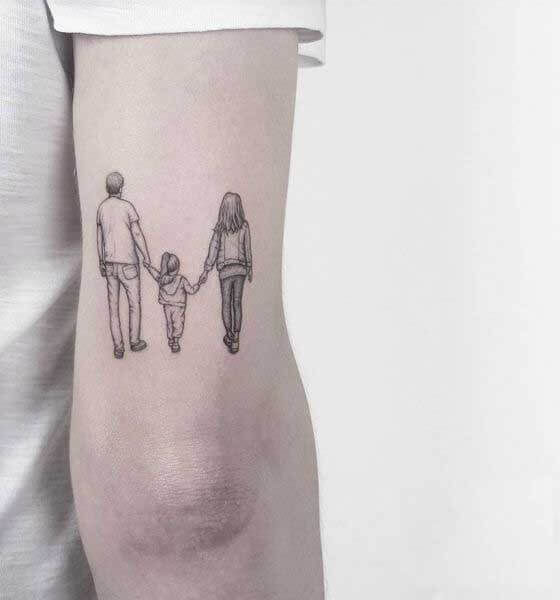 There are myriads of ways to honor your family and what it means to you in the form of a tattoo. For example, there's a mother and child tattoo design and the standard "Family" written in cursive, mom and dad in a heart, Bird Families, and so on. However, if you believe that these tattoo designs have already been overdone and you want something new, something that will fit your urbane design aesthetics, in that case, minimalist family portraits are exactly what you're looking for.
The minimalistic family portrait tattoo is a unique trend pioneered by Turkish tattoo artist Alican Gorgu (also known as PigmentNinja), who turns his clients into walking photo albums. Using old family photos as inspiration, the Istanbul-based artist tattoos people with whatever childhood memories they want to be immortalized on their bodies in his own distinct "Retro Minimal" style. You can get a minimalistic family portrait tattoo in black or colored ink on your shoulder or back.
3. Birth Time Tattoo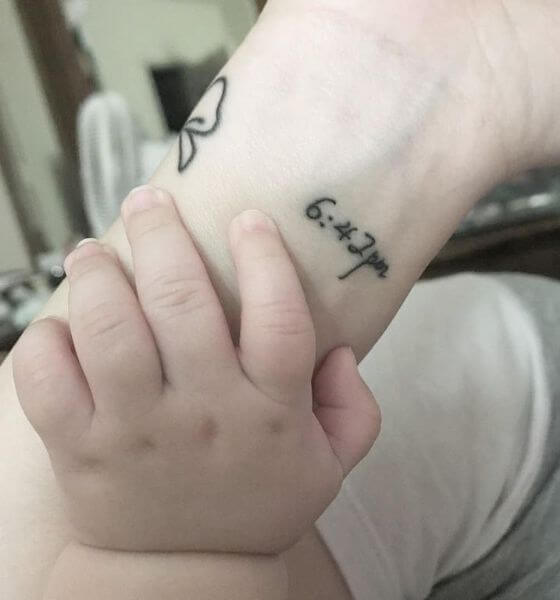 Getting some ink to honor your child or children is a lovely way to commemorate that special bond. After all, once a person becomes a parent, it is a role they will have for the rest of their lives. Honoring that special moment of your child's birth is a unique and excellent reason to get a permanent tattoo that will last a lifetime. Birth clock tattoos are such a unique tattoo idea because they are all about reminiscing that exact moment when they entered the world.
A clock tattoo can represent your desire to seize every opportunity. It can represent your realization that a person's life is limited and that it is critical to seize the moment and make the most of it. It can also represent a moment in time that will live on in your heart forever, such as the birth of your precious child. Your forearm is the best place for a birth clock tattoo. Clock tattoos are frequently detailed and intricate, so only have it done by a professional tattoo artist.
4. Bird Family Tattoo
Birds, like other creatures, make very caring and loving mothers. Birds, particularly flying ones, are often associated with liberation, with a desire to be free of constraints and conventions. Different types of birds have different meanings, so you must decide what you want. Whatever tattoo you choose, whether it's small and subtle or large and bold, black or watercolor, you should feel comfortable with that. Bird family tattoos are an excellent way to express your affection for your family. These mother tattoo designs are typically placed on the arms or hands.
5. I Love Mom Tattoo
Mothers are the pinnacle of what nature has to offer. Whatever you call them, whether mom, mum, mama, or aayi, one thing remains constant: they radiate love and inspiration. They are the 'air beneath our wings.'
We are all grateful to our parents, especially our mothers, for bringing us into this world. They raised and cared for us until we were able to stand on our own feet and survive by ourselves. Whether we admit it or not, our mothers directly or indirectly influence everything we are, want, and aspire to be. A simple, cursive "I Love You Mom" tattoo is one of the best mom tattoo ideas. You can have it done on your arm in simple cursive writing.
6. Mother's Heart Tattoo
We all know that the mother's heart is the most divine on this earth. It is the source of unconditional love–love that is patient, kind, and does not envy; love that empowers and never undermines anyone or anything. So it stands to reason that a mother's heart is unrivaled.
It desires nothing more than the best for her kids, even if it means sacrificing her own happiness and well-being. And a mother's heart tattoo on your shoulder or back will perfectly and succinctly embody qualities. Get it done in colored ink; it will look mesmerizing!
7. Mom and Daughter Tattoo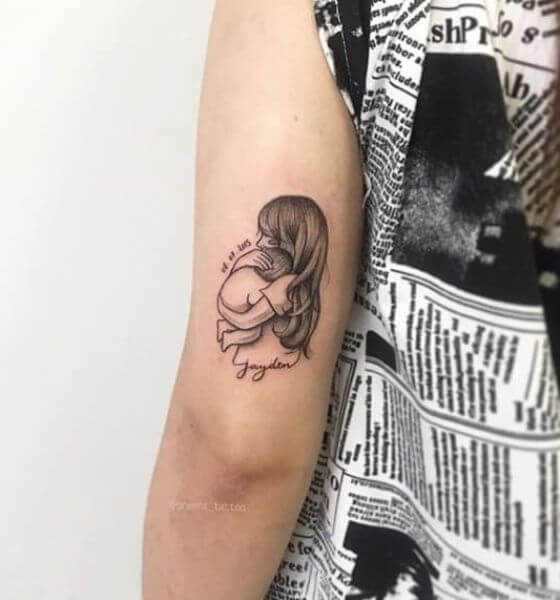 A mother and daughter tattoo is extremely attractive. It not only appears simple, minimal, and subtle, but it also reveals a lot about the bond between a mother and her daughter. A mother's love for her precious child is perfectly captured in a mom and daughter tattoo. It does not require any fancy shading or brash coloring to convey its message. You can get this tattoo on your back, nape, neck, and anywhere else you want it to be.
8. "Like Mother Like Daughter"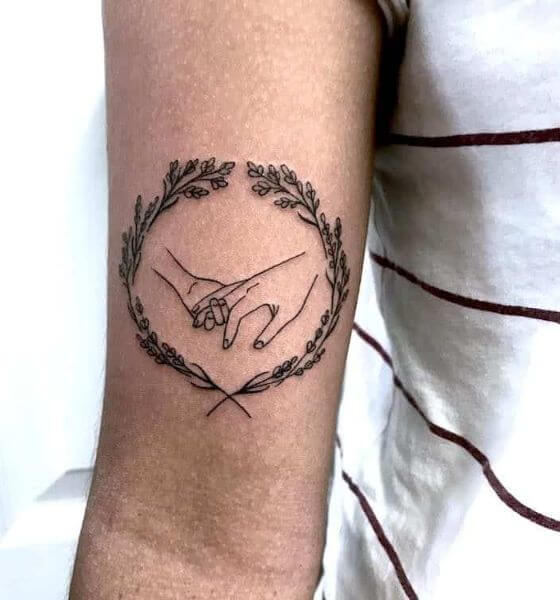 This is one of the most touching and meaningful tattoos available. A daughter is honoring her mother, and a mother is showing her love for her daughter in the form of permanent body artwork. One of the best tattoo designs to commemorate the bond between mother and daughter is a "Like Mother, Like Daughter" tattoo. This tattoo design would look best on your forearm, chest, or ribs.
9. Infinite Mom Tattoo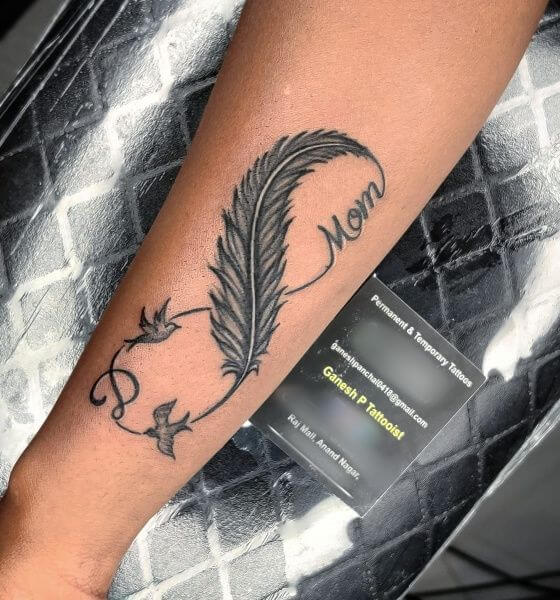 A mother's love is infinite; it cannot be measured as it has a beginning but no end. A beautiful infinite mother tattoo with Mom written on the symbol makes for a candid tattoo design. The message that it represents is worth the pain, time, and money it took to complete. You can get this one in the black and grey tattoo on your back or shoulder.
10. Mother & Child Symbol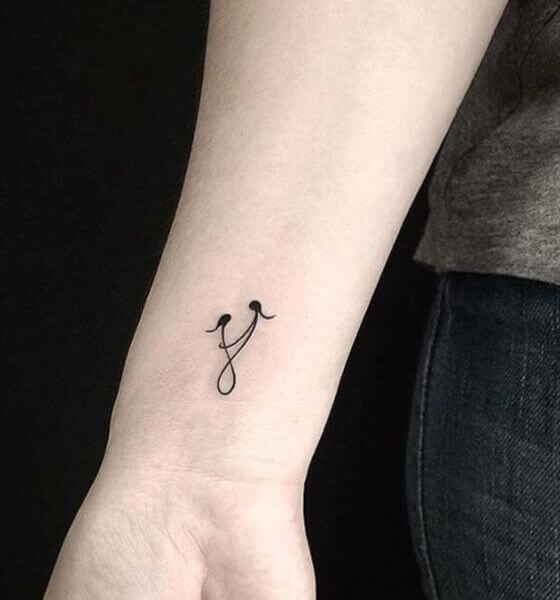 The mother and child symbol makes for a stunning and subtle tattoo design in mom tattoo categories. This is one of the most popular tattoo designs that most women prefer to wear on their bodies. If you are looking for a minimal mom tattoo design, this is the one to opt for. Make sure to get it done by a professional tattoo artist who is both skilled and experienced.
11. White Ink Infinity Mom Tattoo with Heart
It's delicate, subtle, and opulent. It may be small, but it looks impressive, unlike any other mom-inspired tattoo on the market. It encapsulates a mother's love for her family–not just for her children but also for her adoring husband. The white ink mom tattoo will stand out thanks to its bold, solid borders. You can dedicate any design of your choice to your mother in white ink. A heart with infinity, on the other hand, will look fantastic. The heart in the design represents a mother's love for her children, while the infinity symbol represents eternity.
Wrapping it up….
So there you have it, the 11 best mom tattoo ideas to consider when getting your next body art. Aside from these designs, there are a plethora of others to draw inspiration from. You can even get a personalized mother tattoo by incorporating your favorite elements into your mother tattoo design.
Happy Tattooing… ☺ ☺
Please follow and like us: