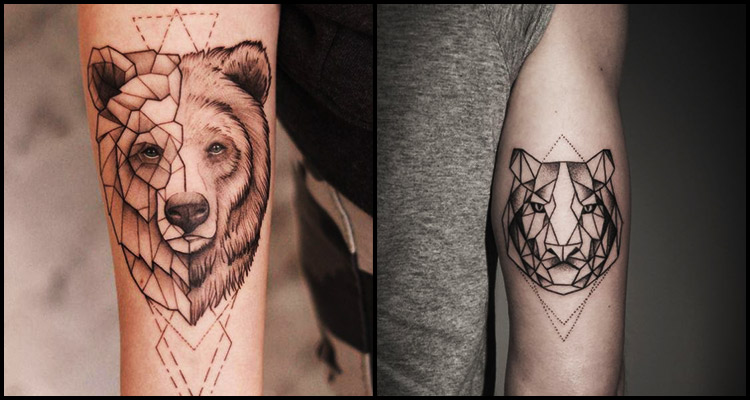 Top 16 Geometric Animal Tattoo Design Ideas for 2023
Posted on
Geometric tattoos are drawn from shapes such as circles, lines, triangles, squares. Joining these shapes gives beautiful and complex structures that get many individuals who are tattoo lovers festoon.
Geometric tattoos are pretty popular among tattoo lovers, and the most loved design include geometric animal tattoo designs. More often than not, geometric tattoo designs are conceptual. When an individual thinks of a shape for a tattoo, the first shape that comes to mind is geometric. There are other tattoo shapes like abstract and organic. The geometric shapes that are designed in tattoos are triangles, circles, diamonds, ovals, squares, rectangles, and lines.
To get an accurate geometric tattoo, you will need someone perfect in tattoo artwork to get the best piece of work. Not all tattoo artists have a constant hand when drawing a geometric tattoo. A geometric animal tattoo design is done in different ways. A tattoo artist must be very creative in order to make a unique design of an animal tattoo.
A lot is involved when considering having a tattoo drawn on your skin. You have to agree on the type of shape or design that you want.
So, if you're looking for a stunning geometric animal tattoo design idea, this is the post for you.
What Is the Meaning of Geometric Animal Tattoo?
Just before studying human behavior and their personalities, animals were a means through which human attitudes were studied.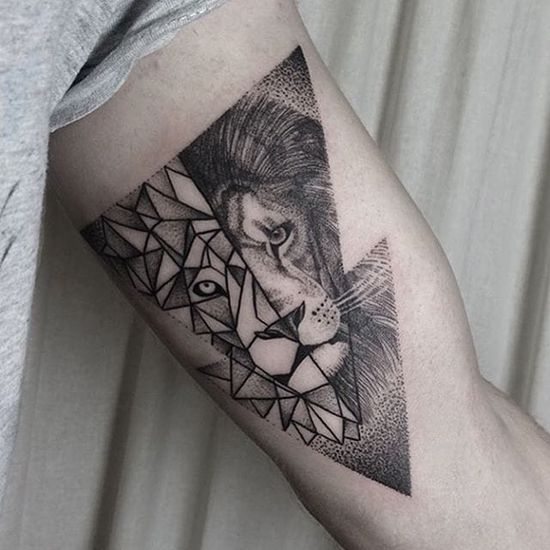 A geometric animal tattoo is simply a combination of geometric elements with the animal spirit. Animals are known to display an individual's personality, which seems to be a spiritual means of guidance for an individual. Different geometric animal tattoos signify different aspects of life. This gives the freedom to tattoo lovers to choose their designs matching their personalities.
Generally, people have this mindset that someone with a geometric animal tattoo is connected to the kind of animal etched on their skin. But in actuality, the meaning of the geometric animal tattoo varies for every person.
Geometric Animal Tattoo Design Options
Artists specializing in etching tattoos sometimes combine the diagrams of animals inside the geometric tattoo design to create unique geometric animal tattoo designs. The common animals that are incorporated into a geometric shape to make a complete tattoo design include the following;
Wolves

Owl
Lion
Bears
Deer
Cats
Fish
Tiger
Turtle
Fox
Elephant
Dog head
Butterfly
Jaguar
Dragon
Birds
Here is different symbolism for different animals:
1. Wolves
They are spirited solid animals that have a lot of strength on the inside for freedom. A geometric wolf tattoo has its own symbolism. It signifies a powerful relation with nature, generosity, communication, and power. The geometric tattoo design of a wolf is very captivating and attractive to every eye that sees it. Wolves by nature values family, so it's advisable for tattoo lovers who want to express their love for family to have a wolf tattoo drawn on their skin.
2. Owl
A geometric owl tattoo signifies an intense link between insight and intuitive knowledge. It also stands for knowledge, self-awareness, and liberty. If you really want lovely artwork on your body, an owl geometric tattoo design is an excellent option.
3. Lion
They are fighters who are never given up. Lion tattoos are symbolic of authority, judgment, honor, dignity, bravery, and dominion.
A lion geometric tattoo is the greatest choice for those who value strength, bravery, and honor. There are numerous methods and modes by which these tattoos can be etched on the skin, but the geometric tattoo is the most popular pattern. The geometric lion tattoos make for a distinct and eye-catching tattoo design that never fails to wow. Moreover, the lion is regarded as the forest king; it is always in command.
4. Bears
The spiritual meaning of the bear is strength and endurance. Having a geometric bear tattoo on your skin represents the spirit of a fighter, as well as luck, courage, and protection. Aside from that, this mammal is widely regarded as an extremely powerful creature.
5. Deer
A deer is a symbol of a peaceful and bold spirit, which is inherent in the animal. The geometric deer tattoo represents a number of different things, like supremacy, unity, cherish, tenderness, and others. Because of the meaning of the animal, this geometric animal tattoo design is ideal for someone who wishes to start afresh.
6. Cat
It stands for intelligence, liberation, chance, mystery, and a naughty personality. This makes for an excellent tattoo design for those who own a cat or have lost one. They can get a geometric cat tattoo etched to show their love for their beloved cat.
7. Fish
Fish is another beautiful animal that can be etched in geometric shapes. A geometric fish tattoo symbolizes excess, riches, patience, fortune, recovery, and cleansing.
8. Tiger
The tiger's spirit is defined as having a strong will, exceptional stamina, and motivation. As a result, tattooing a tiger's head on a geometric shape represents dominion, security, and an emotional state. Like lions, tigers are also considered to be a beast of the wild. It has a catty appearance, and other animals are generally afraid of it. It is imperative in some people's cultural traditions. This tattoo becomes even more enticing and appealing when created in a geometric pattern.
9. Turtle
The spiritual meaning of a turtle is forbearance. A geometric representation of this animal depicts soundness, calmness, connection to the sea, and longevity.
Related Search: 40 Cutest Turtle Tattoo Ideas
10. Fox
A geometric fox tattoo design has an exciting and unique interpretation. It is related to the cunning and deceptive behavior of an individual. But it doesn't mean that you cannot have a fox tattoo. It makes for a stunning geometric animal tattoo design that many people prefer to have.
11. Elephant
A geometric animal elephant tattoo signifies stability and understanding. They are known to have a majestic nature in the animal kingdom due to their size. They have a long memory, and they are intelligent. The steps of an elephant are also splendid. Most females love to have the head of an elephant inked on their skin in a geometric shape.
GEOMETRIC ANIMAL TATTOO DESIGNS
We have complied a list of top Geometric Animal Tattoo design ideas for you to help you get some inspo. The list is divided into two categories, tattoo designs for females and males. Take a look…
Geometric Animal Tattoo Designs for Females
Female tattoos are adorable and are mostly admired by many. The geometric animal tattoos mostly drawn on females' skin are butterflies, cats, owls, elephants, bees, birds, deer, bears, fish, snakes, dogs, lionesses, and others.
Tattoos can be drawn on any part of the skin, depending on the individual's choice. For females, some prefer to have their geometric animal tattoos drawn on their necks, legs, ankles, while others prefer to have a geometric tattoo design etched under their breasts, forearm, or thigh. The most popular geometric animal tattoos among females are;
1. Owl Geometric Tattoos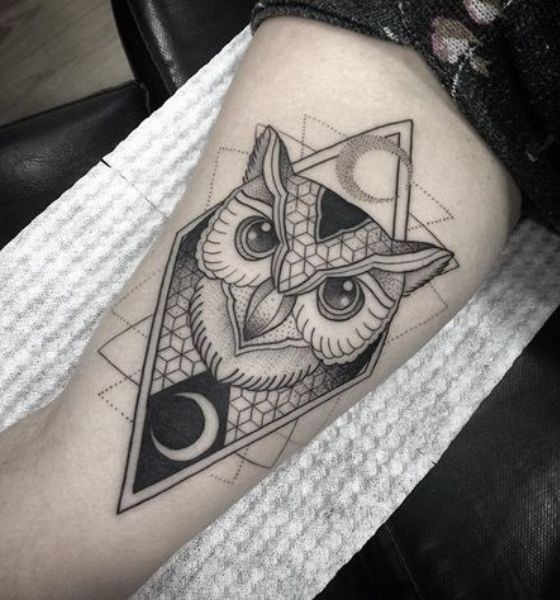 It appears to have been inked primarily on girls, most likely because of its symbols. As a result, some seek to have it drawn on their flesh for the sake of fashion. Owls have the characteristic of being clever and knowledgeable, which attracts the attention of females to this species.
2. Bee Geometric Tattoos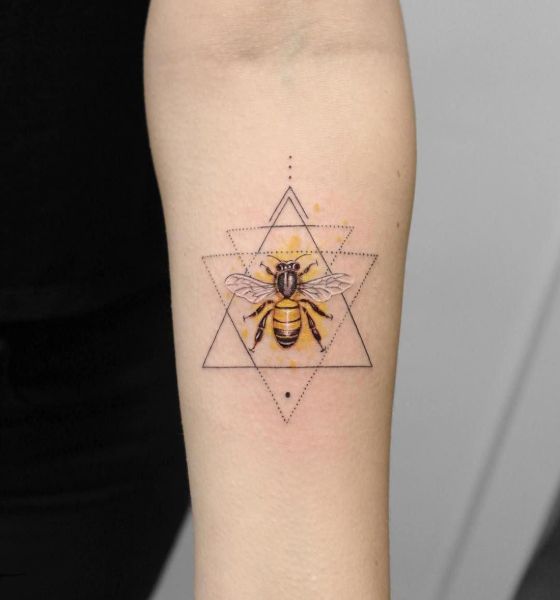 Some female cult groups in Africa and other parts of the world get bee geometric tattoos etched on their skin as a group symbol. These tattoos are quite popular in these parts. Bees are hard workers in the natural world, yet they are also loyal and dedicated. To achieve their aim, they must work together as a team. It is natural for females who are motivated by the nature of the bees to desire to have it tattooed on their skin. Additionally, the addition of colors to this bee tattoo will enhance the overall appearance of the tattoo.
3. Cat Geometric Tattoos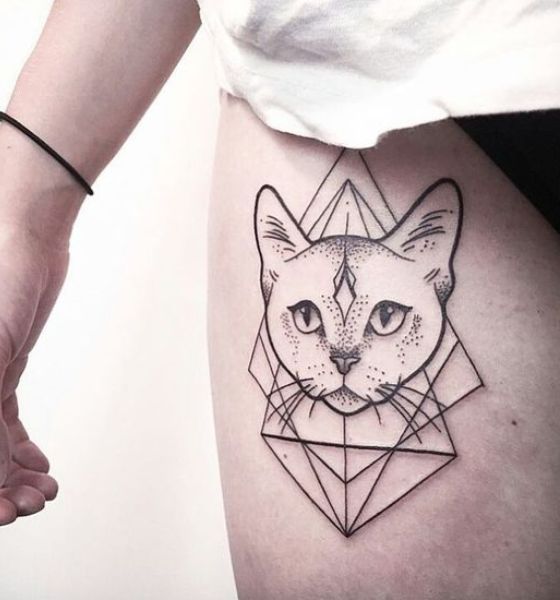 Cat geometric tattoo designs are quite popular among women. Because of the characteristics that cats possess, some girls are naturally pulled to them. You can choose to have the cat designed in a distinctive and eye-catching manner that people will admire for sure. You have the option of making the tattoo size huge, tiny, or medium; the decision is all up to you and how prominent you want it to be.
Related: 40+ Cute Cat Tattoo Ideas With Meanings
4. Butterfly Geometric Tattoos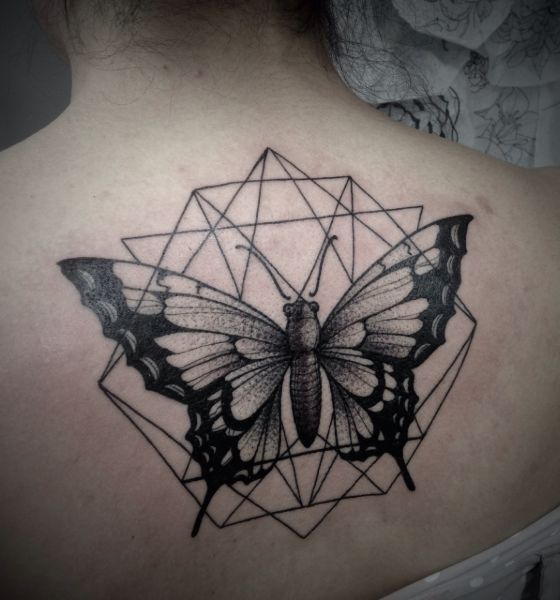 Because of the serene, innocent, and noble quality of butterflies, a butterfly tattoo is always linked with females – and for all the good reasons. Over the years, it has become the most popular tattoo design, with the majority of females getting butterfly tattoos etched on their skin.
The beauty and liberty of the bug are what make it so popular. The best thing about a butterfly tattoo is that it can be etched in myriads of colors.
5. Eagles Geometric Tattoos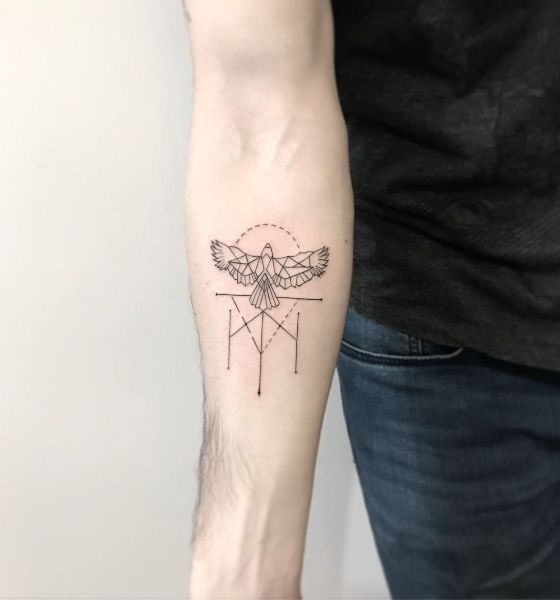 Eagles Geometric Tattoos have a striking appearance. It is always visually appealing and eye-catching when this is drawn in a geometrical pattern. Even if you are not a fan of tattoos in general, viewing geometric eagle tattoos will be a thrill.
Geometric Animal Tattoos for Men
Animated geometrical pattern tattoos for men are much more common than those for women. Men have certain characteristics that can be depicted on their skin by inking them with the animal that best characterizes them or is associated with their nature. The majority of males like to have their tattoos boldly designed. Undoubtedly, some animal tattoos make for bold and striking tattoo designs for men; here are some of them
6. Geometric Black Panther Tattoo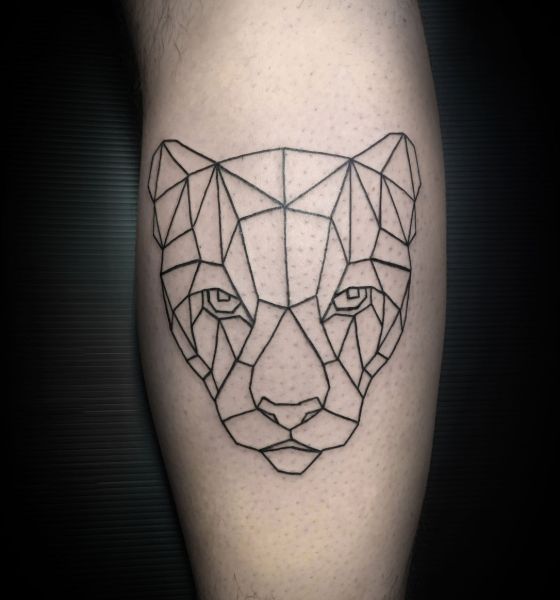 This is a one-of-a-kind animal tattoo in the world of tattooing. Some people prefer to have a black panther tattoo to pay homage to the late actor Chadwick Boseman, a legendary performer in Hollywood. In contrast, others opt for this design due to its unique symbolism and significance.
7. Animal Skull Tattoo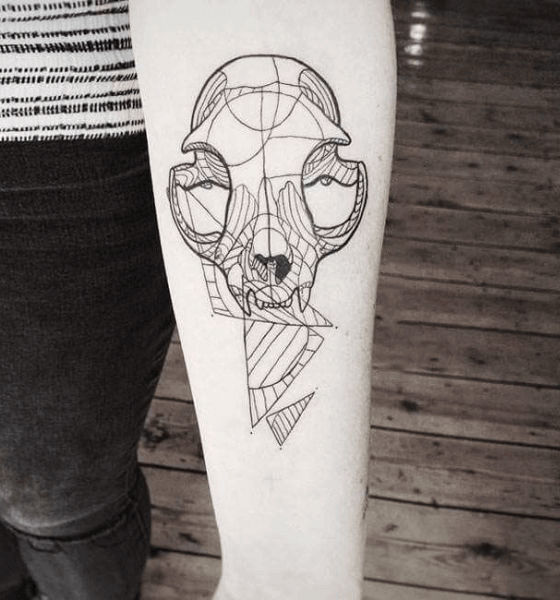 This is common among men. They love to have an animal skull tattooed on them. It could be the skull of a bull, cat, bear skull, or any type of animal skull. Animal skull tattoos look mesmerizing in geometric shapes. You can choose to have any animal skull etched in a geometric shape on your body. This will make for a head-turning tattoo design.
8. Fox Geometric Tattoo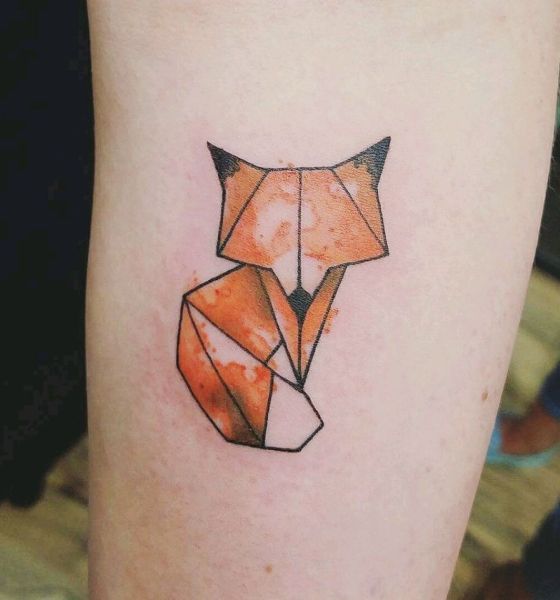 A geometrically patterned fox tattoo on the human skin is perfect for men. You can get a fox geometric tattoo on your arms, thighs, or ribs. These tattoos can be etched in any size, from small to large, depending on how prominent you want them to be.
9. Bear Geometric Tattoo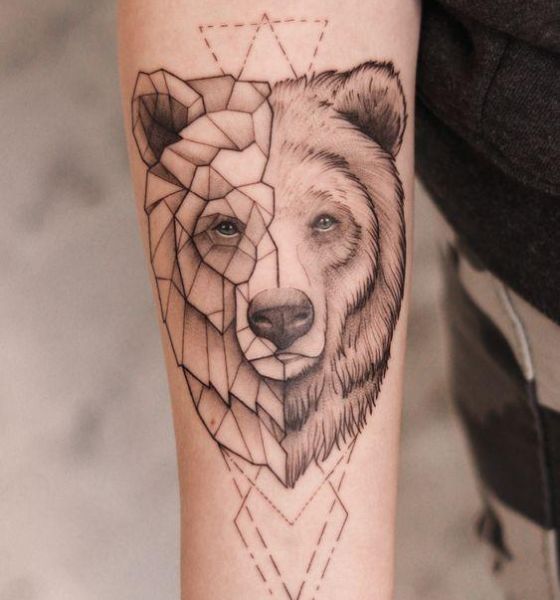 Bear tattoos are also very popular among men. Many men choose to have geometric bear tattoos etched on their skin. They get it etched in a bold manner so as to differentiate the design from those etched on females.
10. Dog Head Geometric Tattoo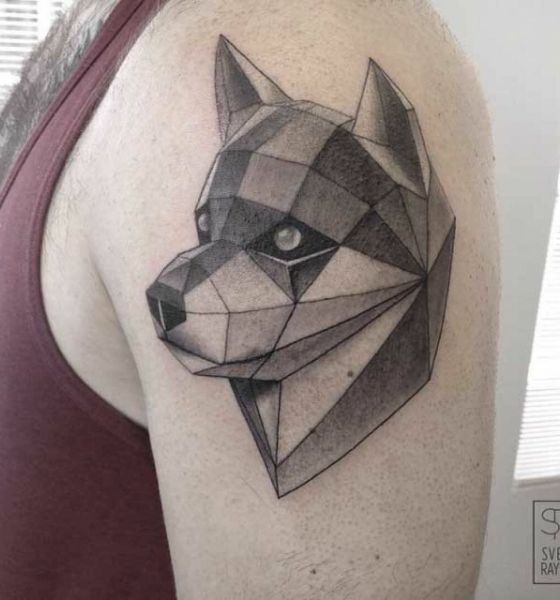 Dogs are well-known for their devotion, sensitivity, emotive attachment to their owners, and protective disposition toward those around them. The majority of guys who love to have dogs prefer to get the head or paws of a dog tattooed on their skin. If you are a dog lover and believe that dog is your closest friend, then a geometric dog tattoo is for you. You can get it etched on your arm, shoulder, back, or any other favored portion of your body to show your support for this loving animal.
11. Panda Geometric Tattoos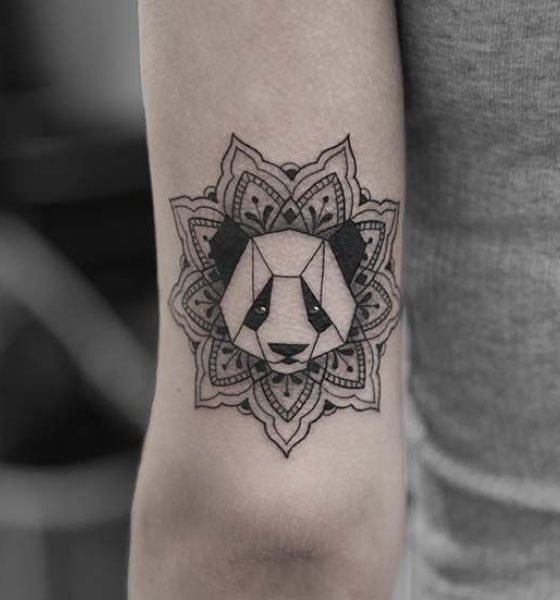 This is also commonly known as a men's tattoo. The pandas are naturally dreadful and also calm. In China, they are the most popular animal. So, if you love pandas or are inspired by their distinct nature, this is the tattoo for you.
12. Shark Geometric Tattoos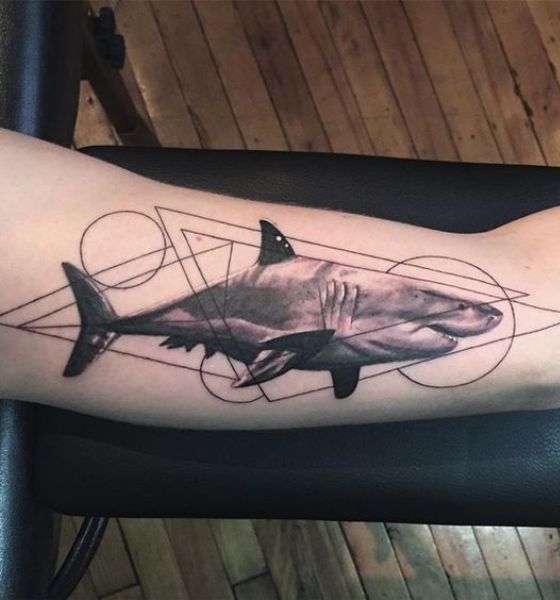 If you are a fan of aquatic animals, then getting a geometric shark tattoo on your skin isn't a bad idea. This is likewise mostly intended for men.
They are the most dreaded aquatic animal on the planet. Both marine creatures and humans are frightened of this creature. Sharks are known for never losing sight of their prey since it is in their nature to do so.
A geometric shark tattoo will be ideal for a man who wants to continually impress in his heart while striving to attain his goals consistently.
13. Reptile Geometric Tattoos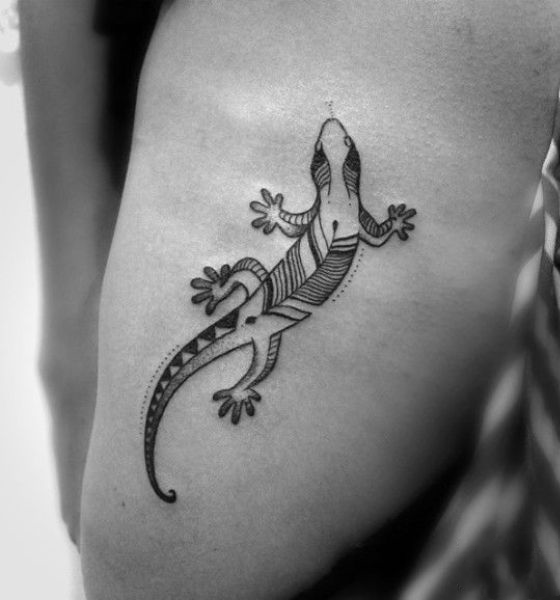 This can include all kinds of reptiles, depending on our choice of reptile. Reptile tattoos etched in geometric shapes look amazing. All you have to do is to choose a reptile that you want to be etched on your skin and let your tattooist know your choice. Snakes make for an amazing reptile geometric tattoo. So, if you're fond of snakes, get it etched on your skin.
14. Phoenix Geometric Tattoos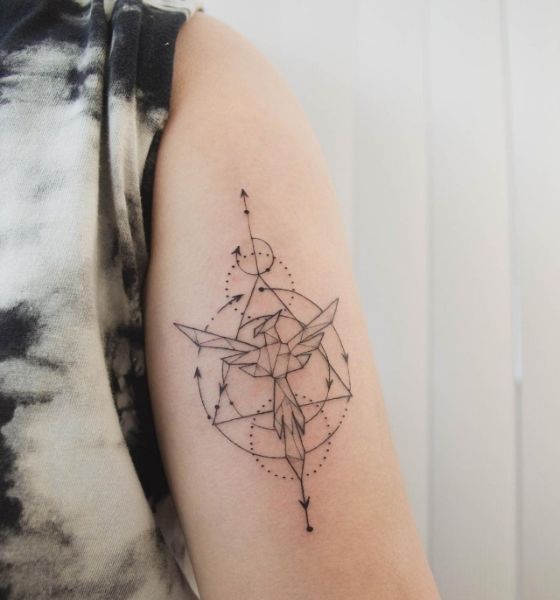 This type of bird is in a league of its own, and it is also considered a mythological bird. Men who have been through difficult events and difficult times prefer getting this bird tattooed on their bodies. A phoenix geometric tattoo is an excellent way to show your ability to sail through tough times and come out as a winner.
15. Lion Geometric Tattoo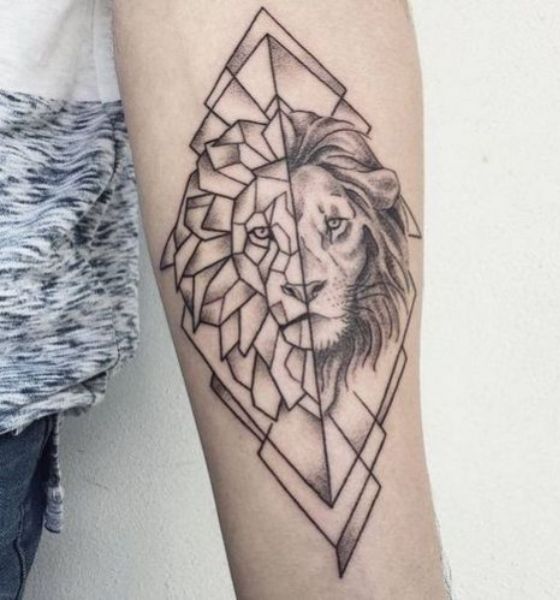 They are never-say-die fighters. Lion tattoos are a representation of domination, authority, judgment, honor, dignity, bravery, and honor. A lion geometric tattoo is an ideal choice for people who respect strength, bravery, and honor. So, if you're a die-hard fan of the kind of Jungle, then this tattoo design is for you. You can either get a whole lion etched in a geometric shape or just the face of the lion to have that unique tattoo design. Lion tattoos look mesmerizing.
16. Tiger Geometric Tattoo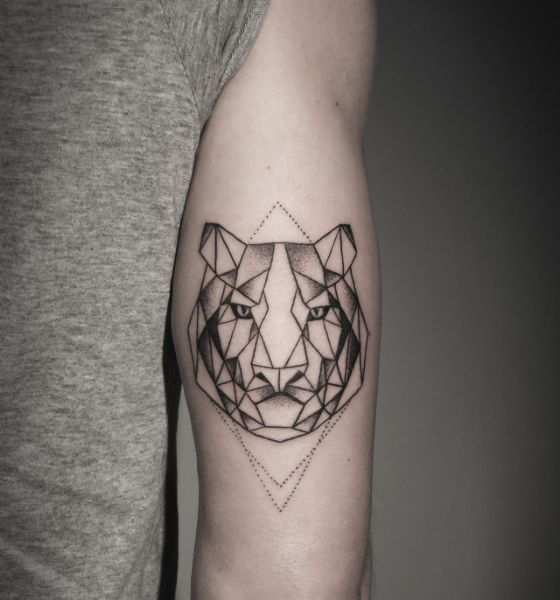 You can even choose to have a tiger animal tattoo instead of a lion tattoo. Tiger tattoos look ferocious and make for bold tattoo designs for males. A tiger's head tattoo on a geometric shape represents dominion, security, and an emotional state. Like lions, tigers are also considered to be a beast of the wild. It has a catty appearance, and other animals are generally afraid of it. So, if you want a bold tattoo design, Tiger Geometric Tattoo is for you!
The Bottom Line
So, these are the top 16 geometric animal tattoo designs for you. We believe you will get some inspiration from these geometric animal tattoo ideas for your next tattoo design.
Getting a tattoo on your skin can be done for a variety of reasons and objectives. And all of these tattoos are meaningful and can be etched by both males and females. Whatever your reasons are, the tattoos outlined above look incredibly stunning; choose the one that matches your personality.
Happy Tattooing… ☺ ☺
Please follow and like us: