Horse Tattoo Ideas for Horse Lovers
Posted on
Tattoos come with no limitation, you can get a tattoo on any part of your body. Gone are the days when a tattoo was treated as a mark of shame or people with tattoos were not treated well. Today, getting inked is no problem, in fact people love to flaunt their tattoos. However, there are unlimited tattoo designs, but if you love horses and like to spend time with them and on them, then I am sure you know how great it will be to get a horse tattoo on your skin.
Horses are not only magnificent looking, but also they possess an immense power along with that they embody graceful movements. Whether you love horse or do not love horse, a horse tattoos will not only fascinate you, but also it will fascinate everybody who ever will see it.
You can get this majestic and beautiful equine creature on any part of your body. Also, this beautiful looking animal makes for a perfect tattoo design even if it is mixed or combined with some other elements.
Why should you choose a Horse Tattoo Design?
First things first, if you love this beautiful creature then what other reason you want to get it on your skin. But, to show your love, fascination and wonder of horses you can get it inked on your body. A tattoo makes for a perfect reason to flaunt your love and passion for the animal. Upon having a horse tattoo you will have an eye-catching tattoo on your body, which is going to be your lifetime commitment for the creature.
See whatever your reason is to get a horse tattoo, but the truth remains that horses are a great subject to make a perfect manly tattoo design. You can either choose to get a realistic looking horse tattoo design or if you want you can even pick up a fantasy-based designs that feature this beautiful creature.
Also, you can either go for a horse only tattoo design or you can add it with other elements from nature. Or from galaxy. Or from history, Or from geometry, etc. Horses can be done as a lonely splendor on your body or as a part of a group with other horses. You can show them grazing peacefully on a pasture or racing competitively on the track with other horses. Horse tattoos create really great visual impact, and people love the whole pattern made with horses.
Here are some tattoo design ideas for horse lovers to choose from:
1. Horse head only tattoo on your arm
Just imagine the head of a horse inked on your arm with its beautiful mane and attractive eyes, will make for a perfect tattoo design for you. Horsehead look very attractive on the body. Also, the flair of its nostrils, with the movement of the ears and the mouth will complete your tattoo making it a mesmerizing picture on your arm. Horse head tattoo on your arm will be visible easily to others, and if you don't want to flaunt it, you can hide it with your long sleeves. So, now no need to think much about it, just go for it and let the people around turn their heads to see your amazing design.
2.

A warrior riding on the horse to the battleground on your tummy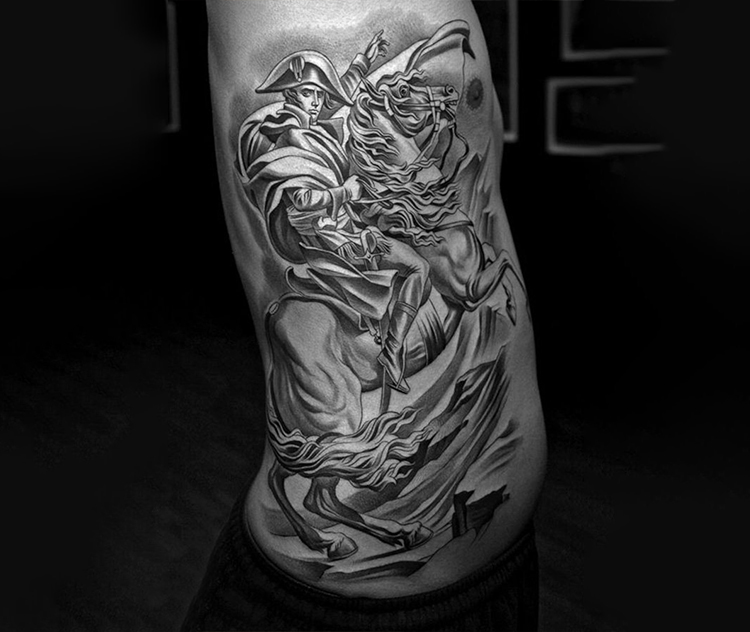 I am sure you must have seen this in many movies and historical serials. But trust, the design still makes for the perfect tattoo. Also, this design is for the ones who are looking for some big tattoo design. This tattoo design will look not only look extraordinary design but will also showcase how the horses were helpful towards the warrior riding on them to fight in the battleground. Also, we all know horses are very powerful and faithful creatures, and that all will be portrayed in this tattoo design on your tummy area. This is an intense and meaningful tattoo design that will help you flaunt your love and passion for the fabulous equine.
3.

Full body horse design on your tummy area
How about having a full-body horse design on your tummy. This tattoo design will make for a big tattoo design. The full horse design if done superbly on your body will make a great impact on your personality. Your full-body horse design will look good when the horse is drawn in motion, as it will appear majestic. Ask your tattoo designer to bring add all the details to the design, so that it will look more attractive.
4.

A running horse on your forearm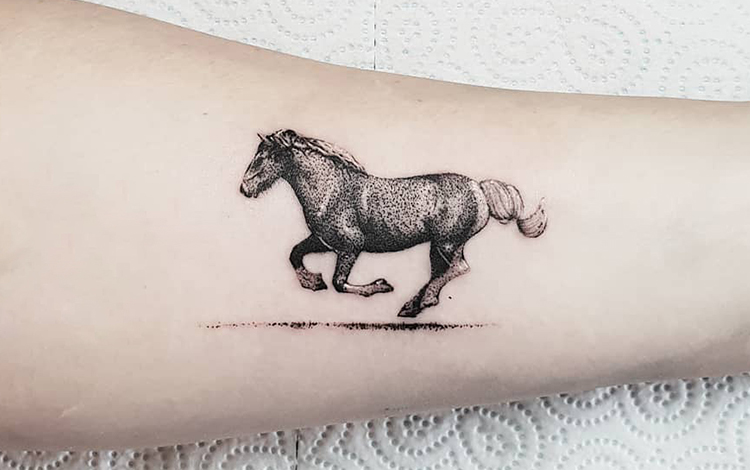 A horse in motion can make for a perfect head-turner tattoo design. People around will definitely ask about your magnificent tattoo design. This tattoo with a horse in motion will make the whole thing look easy and effortless on your forearm. A tattoo will have a running tattoo that will be running very fast, which will look natural. Tell your tattoo designer to make your tattoo such that it looks as if it is talking to the wind itself.
5.

A horse with a slogan or quote in a different language on your back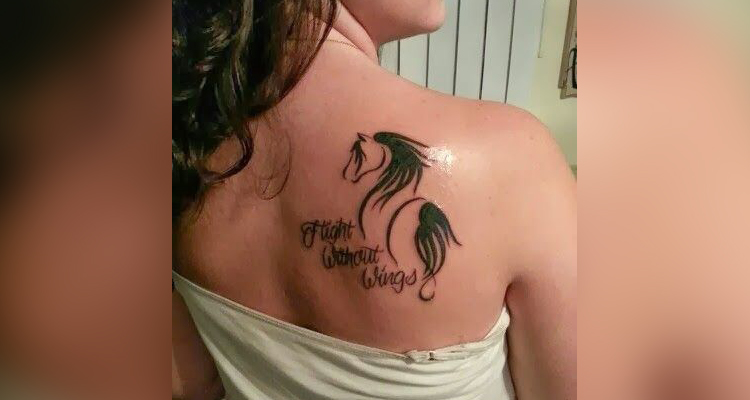 If you will see in the history you will find many such designs. Our history is full of such designs with horses, which you can easily turn to a perfect tattoo design on your body as well. Go for a horse with a slogan, and trust it is going to be an eye-catching tattoo. Not only your friends but also strangers will admire your tattoo design. Get this one on your back, it will look good there.
Also See:
6.

Horse head with flowers around on your arm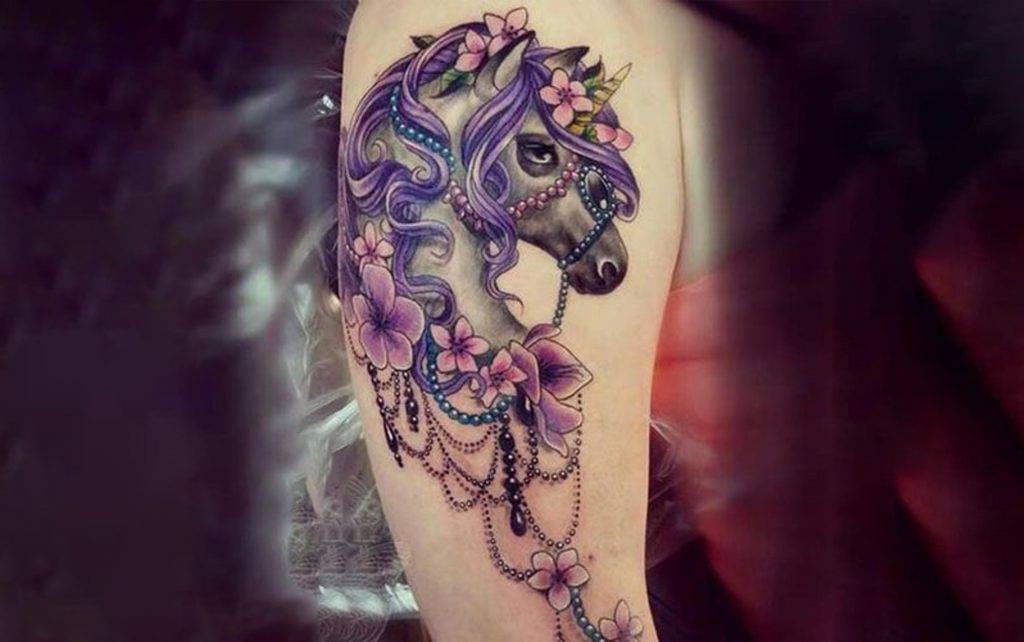 Adding elements from nature with the horse head will make a beautiful horse tattoo design that you will love to flaunt. Flowers and horse heads will look very beautiful on your arm, and this design is actually for the ones who want a horse tattoo but in small size. If you also want something like this, go for it. You will love the design for sure!!
7.

Horse tattoo design from Indian Shastras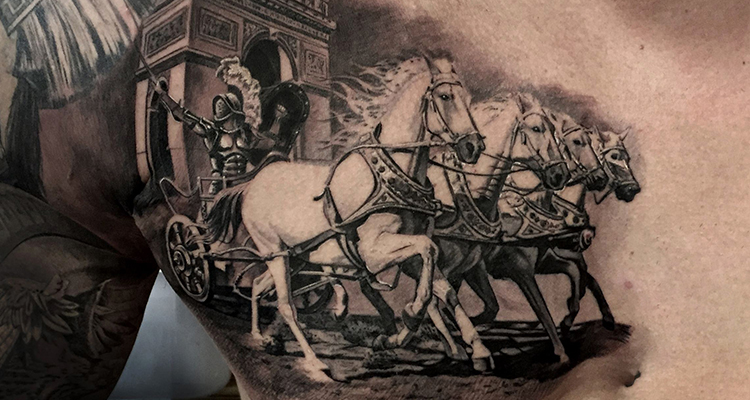 Believe it or not, but Indian mythological books will help you find the best tattoo design for yourself. You can go for a horse or a group of horse designs on your body. For instance, one design is from Bhagwad Gita, which also has a Sanskrit shloka with it, will make for a beautiful scenic tattoo design on your body. Get this done on your back either, or on your tummy area.
8.

A horse rearing up with its hind legs in the air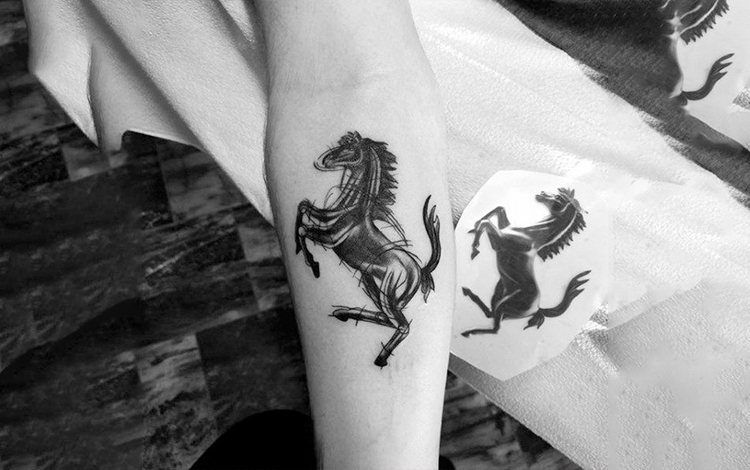 This one is for those who are a bit of ferocious by nature… For the ones, who is actually looking for something to get his inner turmoil turn into a beautiful tattoo design! And yeah, nothing negative about it. Actually, the tattoo itself exhibit some ferocity and anger, as the pose is such. Whenever the horse raises up its hind legs, it is most often for showing its anger. The pose is actually the symbol of protest and insurrection, which the horse usually display in this manner. If you also want to delineate your inner turmoil and want to break free of shackles, then this tattoo is specifically meant for you. Go for it!!

See More: Animal Tattoo Designs and Ideas
9.

A horse with an expert rider on your thighs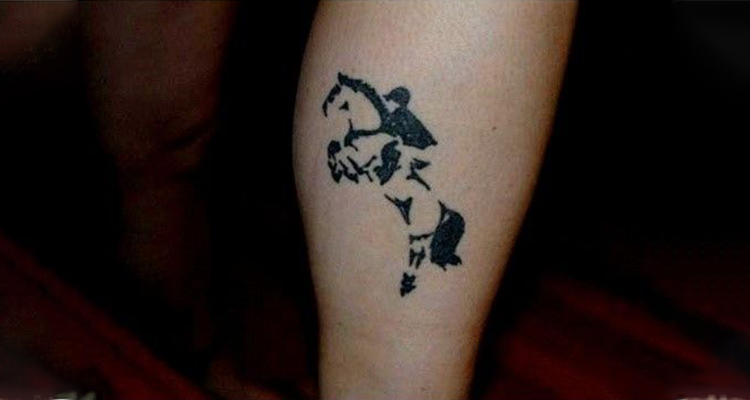 If you are an expert rider and want to flaunt your skills to the world via beautiful tattoo design, then this one's for you, trust me!! However, you can get it on any part of your body, but it will look great on your thigh area. Just imagine the scene when an expert rider gets on his horse and together they take off, it is worth having on your body. This is going to be a magical tattoo on your body. It is going to depict how the rider and the beautiful creature become one and the same while they ride in very fast speed. Ask your tattoo designer to give it a wonderful detailing. It will look perfect!
10.

Pegasus, the mythical horse on your arm area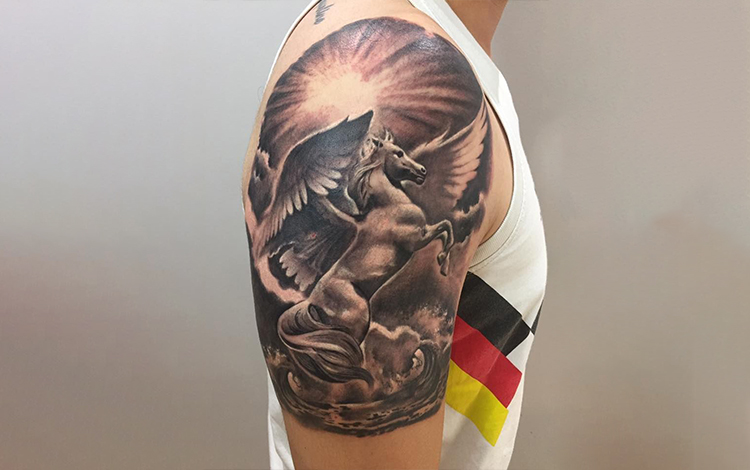 If you are confused with the design, I mean which one to get the get a Pegasus on your arm area. Pegasus is a mythical winged divine horse, and it is one of the most recognized creatures in Greek mythology. More often than not, Pegasus is depicted as pure white, it is the offspring of the Olympian god Poseidon. Pegasus is the brother of Chrysaor and the uncle of Geryon.
Well, there is a long story about this mystical winged divine horse, but trust the winged horse in white color will make for a wonderful tattoo on your arm. Trust me, this one is going to make for the best horse tattoo design. Because a horse with wings is not only considered divine, but also an amazing creature in all.
AND FINALLY…….
Horse tattoos are a wonderful tattoo ideas for all the horse lovers and if you think you also love horses and want to show off your love for the creature to the world. Then it will be a great idea to get a tattoo on your body to flaunt your love for the beautiful equine. Permutations and combinations for getting a horse tattoo design on your body are many. Whichever element or combination you like, you can just amalgamate it with your horse tattoo and the outcome will be simply perfect!!
Happy Tattooing…… ☺ ☺
Please follow and like us: