Top 20 Beautiful Leg Tattoos For Women
Posted on
Women are becoming fond of body artwork. Research indicates that approximately 59% of females have at least one tattoo, compared to 41% of males. And when it comes to the best placement for a stunning tattoo design, leg tattoo women top the list.
The leg is a fantastic choice for a place to get body art if you are seeking a good spot to do it. Leg tattoos are pretty popular among women. Leg tattoos look gorgeous, are versatile, and the best part is that they can be kept hidden as and when you want.
Moreover, the leg is a good place for having large tattoo designs as the leg offers plenty of room to create a rich and detailed tattoo design. You can have a small tattoo design or can have your entire leg covered with tattoos. All you have to make sure of is to choose the design that conveys your thoughts and feelings while also making a statement.
Leg tattoos for females are a great way to draw attention to your toned muscles and show off your legs at the same time.
When it comes to pain level, leg tattoos can range from mildly to moderately painful. So, make sure you choose the right spot for your leg tattoo idea.
In this post, we are sharing some of the best leg tattoo ideas for women. Take a look…
1. Full Leg Tattoo for Females
Full leg tattoos are quite popular among women. Of course, the leg is a common location for body art because it can accommodate designs of varying sizes and complexity. If you have a large piece in mind, then surely a full leg tattoo is your best bet.
A full leg tattoo will span the entire leg. Depending on how you arrange the various designs that you want to include, you can create a stunning story.
Full leg tattoos look gorgeous. They are an excellent way to express your creative side. It is preferable to stick to a single theme or aesthetic to attain the best results and provide the appearance that the artwork is more cohesively assembled.
2. Butterfly Leg Tattoos for Females
Butterfly make for the cutest tattoo designs and are quite popular among women. More often than not, women choose to get a butterfly, and the leg is an excellent location for a butterfly tattoo design. The butterfly is a stunning creature that symbolizes metamorphosis and personal development.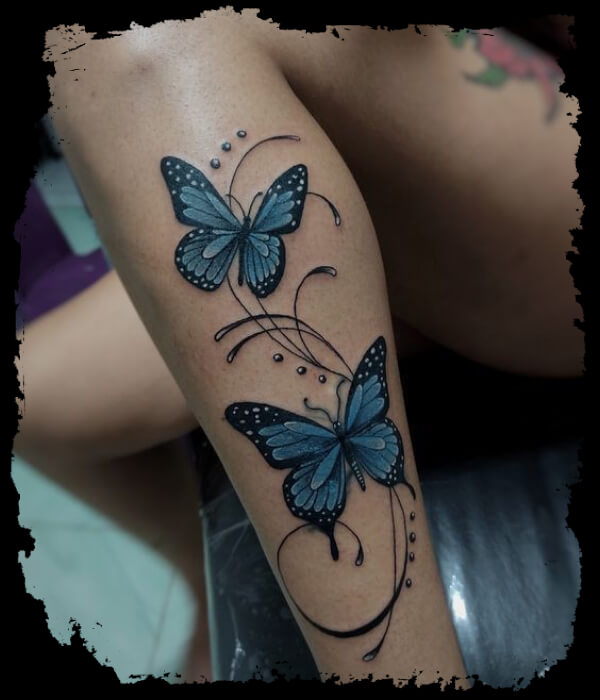 You might get it tattooed to symbolize a period of transition or change in your life. Moreover, the butterfly will also remind you that you are free and capable of achieving everything your heart desires.
When it comes to leg tattoos women, there is a lot of room for variety, and butterflies look wonderful irrespective of their size. If you want a large piece, you could use multiple butterflies to create the illusion that they are flying across your leg. Else you could keep things straightforward by using just one butterfly.
The best thing about butterfly leg tattoos for females is that they can be as colorful and vibrant as you want.
3. Back of Leg Tattoo
If you're looking for a minimal tattoo design, then the back of leg tattoo is an excellent choice. You can have a half-leg tattoo or just a calf tattoo. The best thing is that these tattoos are less painful. It is because of the thick skin, fat, and muscle that acts as a cushion in this location.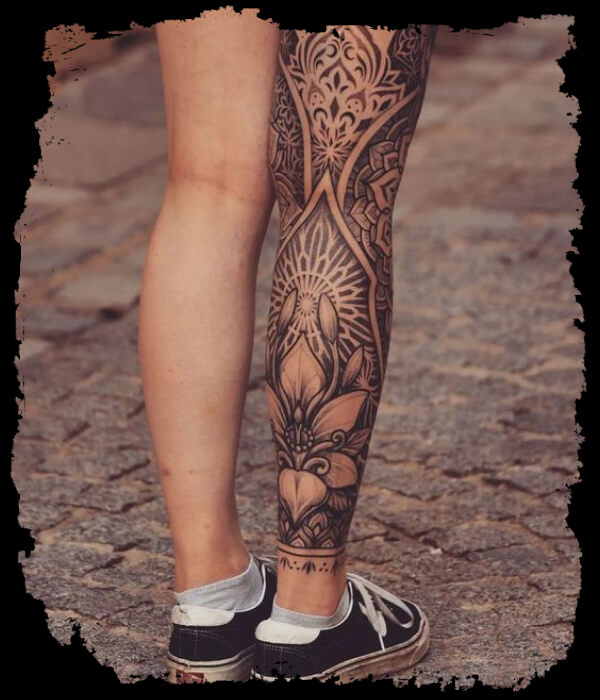 4. Cute Leg Tattoos for Females
If you're looking for a cute tattoo design, then a cute leg tattoo for females is the best choice. You can have any design of your choice, such as a cat's paw, dog's paw, or a floral tattoo design on your leg.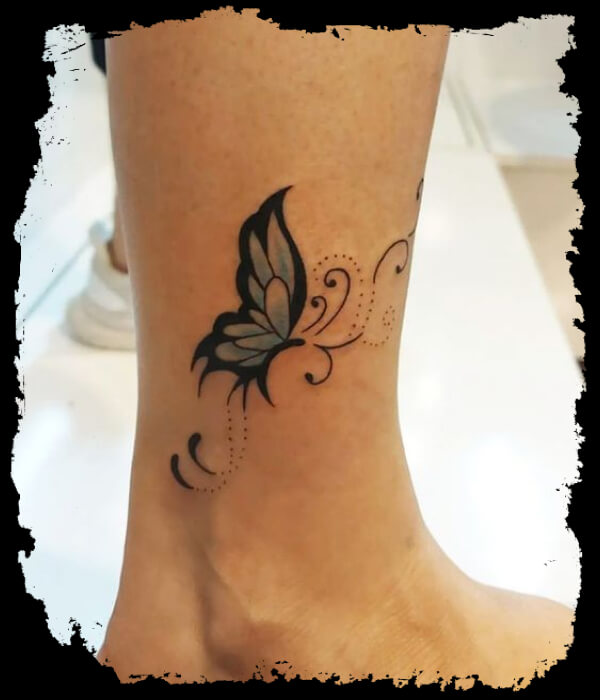 5. Tiny Leg Tattoo
The leg provides you with a vast area to get inked, giving you the freedom to get creative with the placement of your design. You can opt to get your design inked on the thigh, or you can get artwork on your ankle. Undoubtedly, large pieces look fantastic. However, small tattoos can be equally as meaningful as larger ones. And tiny leg tattoo designs can range from something as simple as a butterfly to as intricate as a mandala. Your design can appear dainty and feminine, and any flaws in it are simple to hide away. The best thing about tiny leg tattoos is that they cost you less.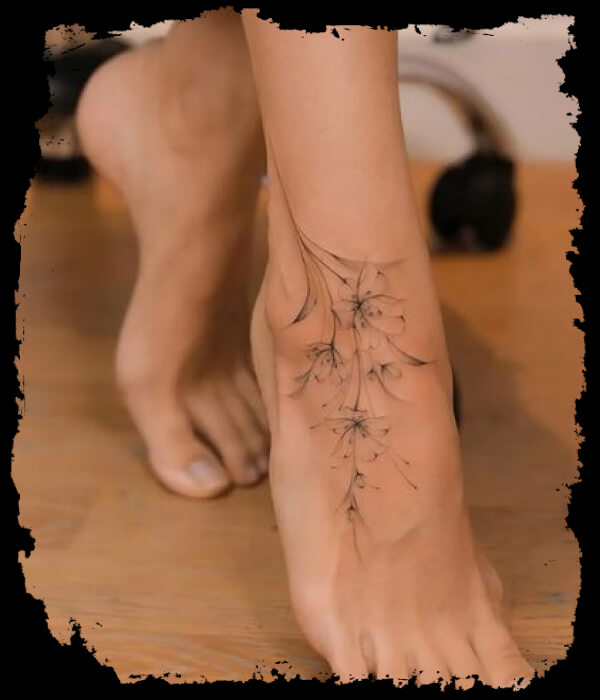 6. Lion Leg Tattoo
Lion leg tattoos are for those who are courageous. So, if you want to flaunt your brave side, a lion leg tattoo is for you. The bearer of a lion tattoo is expected to exhibit bravery and courage in all situations. These tattoos frequently denote a courageous character or recognize the individual as having triumphed over adversity by showing courage.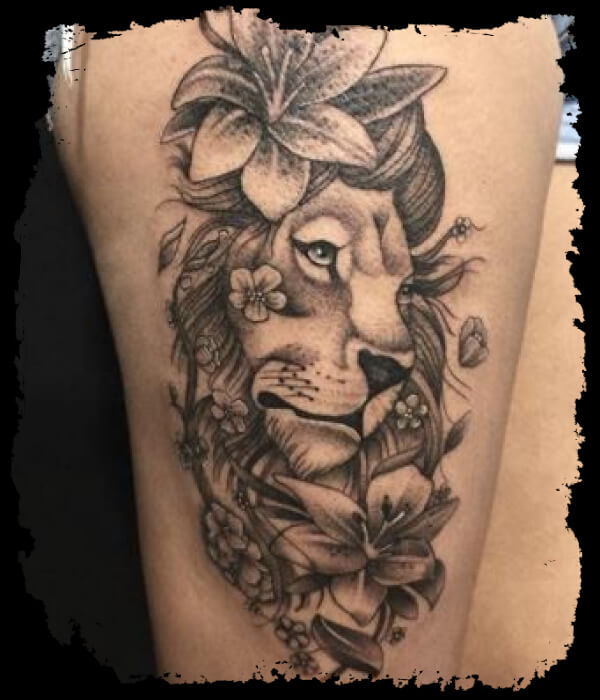 7. Koi Fish Tattoo
A Koi fish tattoo is one of the most popular leg tattoo ideas for women. Tattoos of koi fish are thought to represent tenacity. They are frequently used to represent the challenges that a person went through all his life. If you're facing some difficult situation in life and want to portray the same in the form of a meaningful tattoo design, then a koi fish tattoo is for you.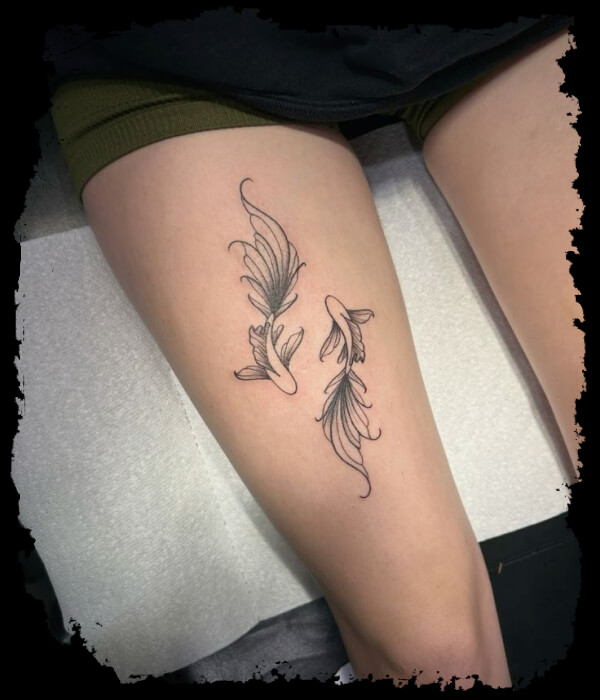 8. Lotus Flower Leg Tattoo
A variety of meanings are associated with lotus blossoms. Getting a lotus flower leg tattoo is sure to be one-of-a-kind. The flower is symbolic of overcoming one's weaknesses and maturing into a more admirable individual. In Hinduism, lotus blossoms are referred to as the Padma, and they are believed to represent attractiveness, purity, and the awakening of one's spiritual self. So, if you have started to walk on the path of spirituality, this is the design for you.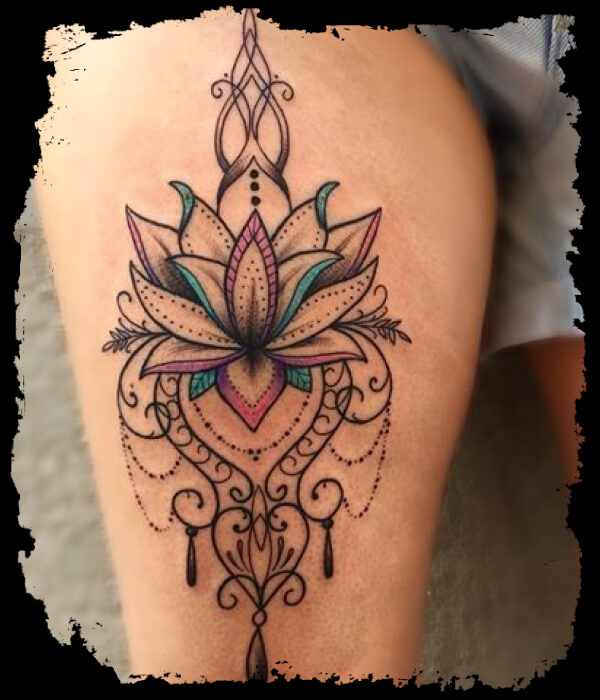 9. Sexy Leg Tattoos for Women
These days, the bohemian aesthetic is all the rage. Adding a Bohemian design to a women's leg tattoo is a great idea. They have a lovely and sophisticated appearance. Boho motifs make for a wonderful foundation from where to get started. Whether you want them on the bottom of your foot or the outside of your ankle is entirely up to you. It is up to you how you want it to be.
10. Wraparound Leg Tattoo
When it comes to feminine leg tattoos, wraparound leg tattoos look awesome. Wraparound tattoos are great for when you want a simple design that makes a statement.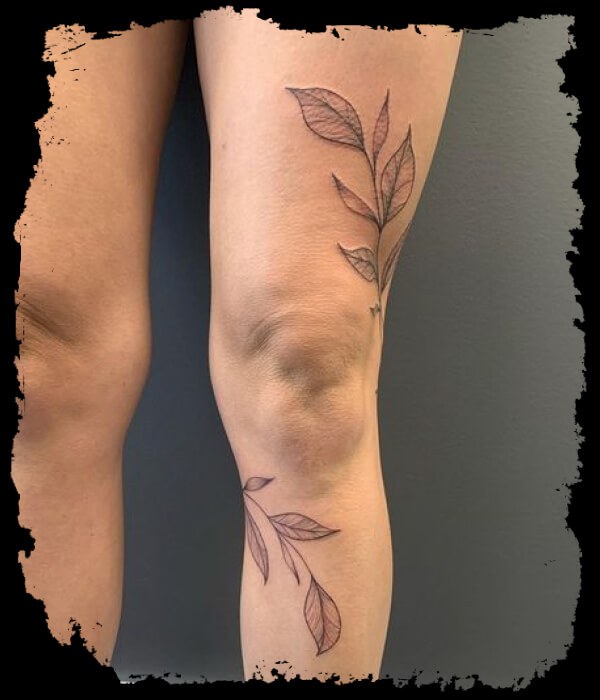 11. Leg Lace Tattoo
A leg lace tattoo can be interpreted in a variety of ways, such as sensuous and appealing as well as romantic and elegant.
The intricate pattern of lace lends itself quite well to being transformed into a delicate tattoo design. These tattoos garner the attention and curiosity of everyone you come into contact with. You can have a simple black ink lace tattoo design etched on your leg. Or you can have a colorful and vibrant leg lace tattoo; the choice is totally yours.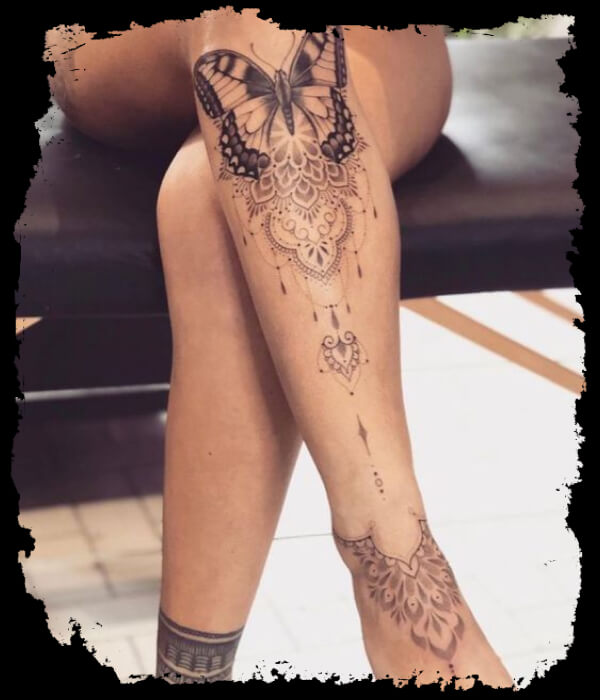 Related Post: 30 Sexiest Garter Belt Tattoo Designs For Women
12. Dragon Leg Tattoo
Dragons make for excellent lower leg tattoos for females. A dragon is a powerful creature that is revered as well as feared. In the West, it is a symbol of avarice and all that is evil, but in the East, it is associated with knowledge, protection, and even good luck.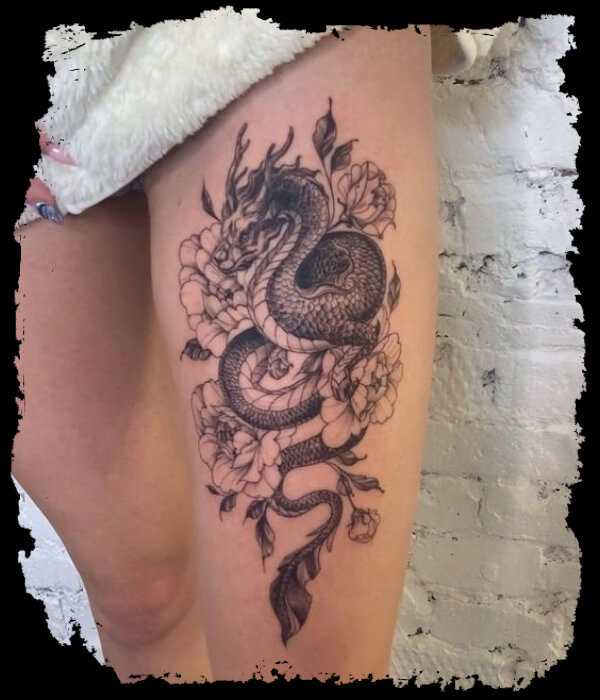 It is also one of the most popular leg tattoos for women. Think about what the image represents to you and experiment with a few different techniques before settling on the design for your dragon tattoo.
You have the option to get a simple dragon, or you might want a massive and multicolored dragon that wraps around your entire leg. It just depends on your own preference. You can change the meaning of it by adding additional elements to it, such as flowers.
13. Floral Leg Tattoo
Floral leg tattoos are quite common among females as they are both lovely and meaningful. Know that flowers are associated with expansion, beauty, life, and love. There are numerous floral designs to pick from, from a rose tattoo to a tulip tattoo design. You can even combine several different flowers to make an excellent piece.
The best thing about a floral leg tattoo is that you can get it as colorful as you want. Make sure to give your floral tattoo a nice thought before selecting a design for yourself.
14. Side Leg Tattoos for Females
When it comes to stunning side leg tattoo for females, quotes are the best option. Whether you like a favourite quote from a book or a movie, get it etched on the side leg. Quote tattoos are a great way to express your ideas or values to the world. You could get your favorite motivational quote or some quote that makes you feel stronger.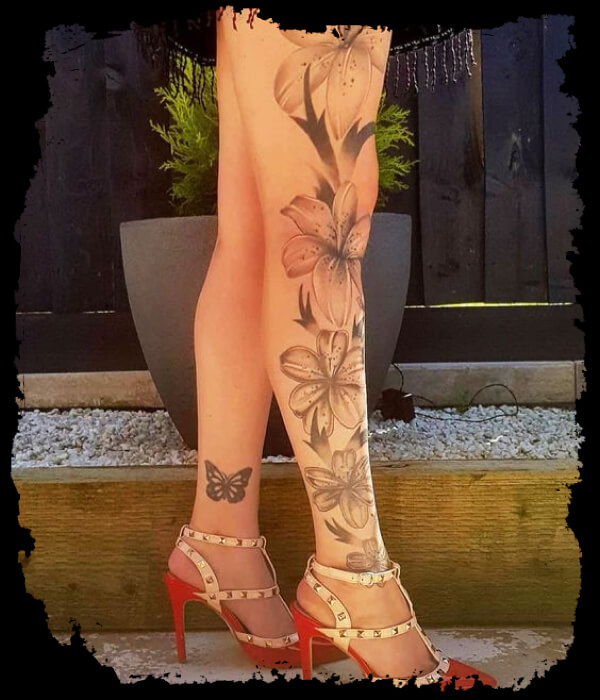 15. Rose Leg Tattoos for Females
Rose leg tattoos look awesome. People have always looked to the rose as a representation of their deepest feelings, and rose tattoos have become increasingly common as a result. This flower strikes a perfect balance between aesthetics and feeling, and no other flower can match both its beauty and significance. The rose can also make for a beautiful design when coupled with other images, such as a butterfly or a skull. This may also contribute to the larger meaning that your piece conveys.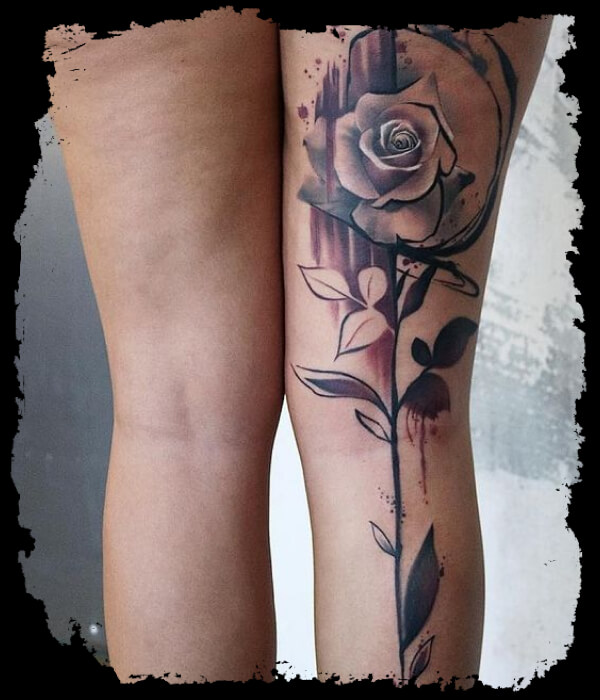 16. Thigh Leg Tattoo
Thighs are a great location for amazing leg tattoo designs. The best thing about thigh tattoos is that they can be kept hidden as and when you want. Moreover, thigh tattoos are the least painful tattoo designs as it does not hurt too much there because of the thick skin, fat, and muscle that surround them.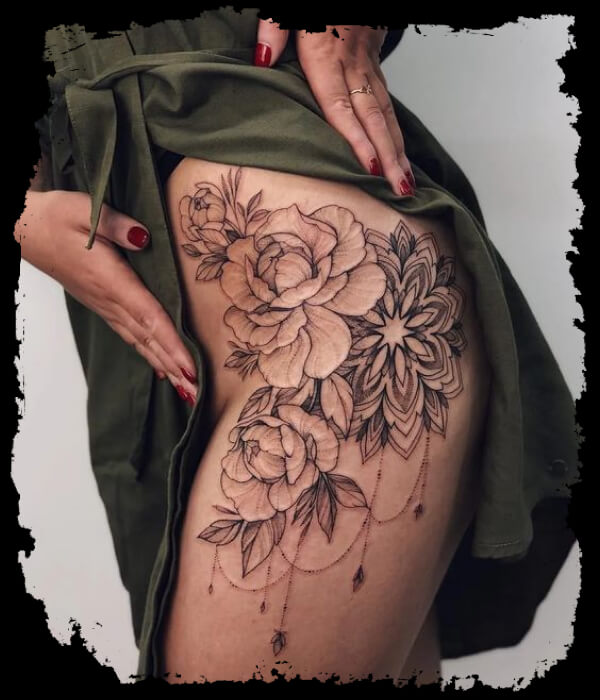 Thigh tattoos are common for the simple reason that the thigh is a large enough region that the design options are virtually limitless. You may also experiment with the placement by placing it on the interior of your leg or higher up on your thigh for a more covert look.
17. Wolf Leg Tattoo
Wolf leg tattoos make for excellent legt tattoos women. The animal is connected with the concepts of love and faithfulness in families. It is dependent on the cooperation of its fellow members for both its survival and its ability to hunt successfully. Many people believe that this is symbolic of how they feel about their loved ones and how having them in their lives makes them feel stronger and more successful. Native Americans deeply revere the animal, and they see it as a symbol of bravery, strength, and devotion. It has been invoked to cure and maintain good health. When selecting a design for your wolf tattoo, you have a wide variety of options to pick from. These styles range from accurate representations to more imaginative ones and feature the addition of other pictures or elements to make them more stunning.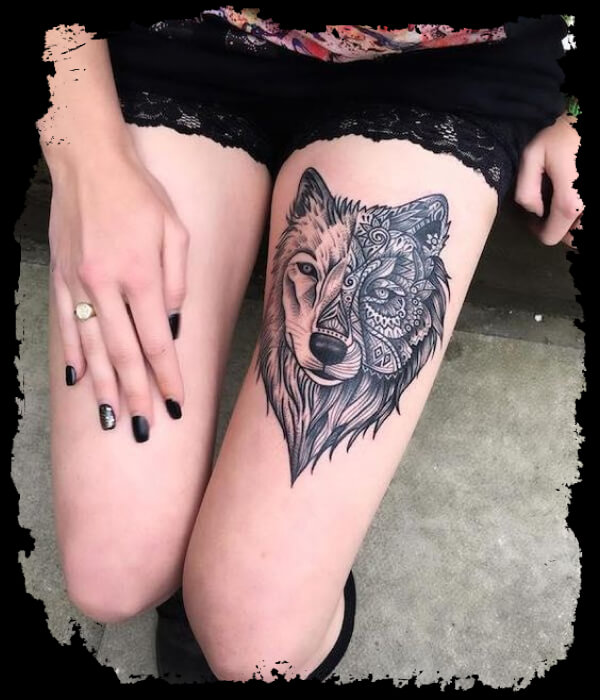 18. Mandala Leg Tattoo Female
Mandala tattoos are typically designed in a cyclical pattern and are created utilizing various geometric patterns and symbols. In addition, they are capable of taking on a variety of forms, such as floral artwork.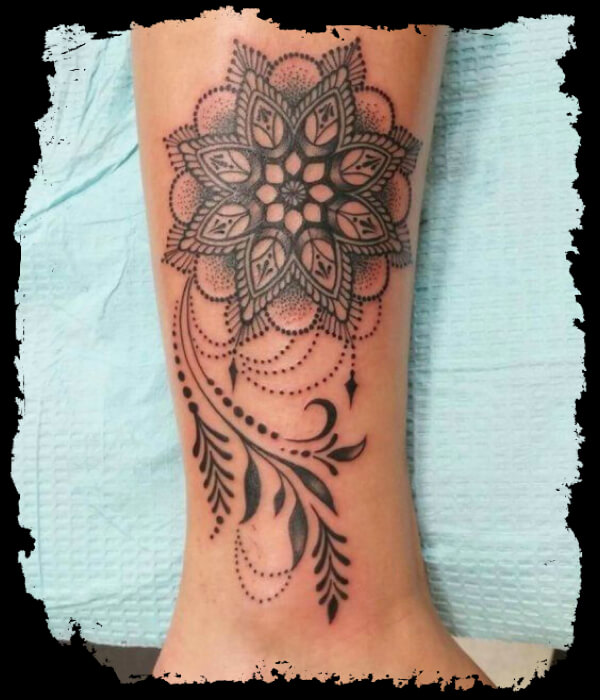 These artworks have a lot of attention to detail, making them look really stunning. They are typically connected with harmony, balance, and tranquility. You can have a mandala leg tattoo on your thigh or calf as both of these places provide larger room to create a stunning tattoo design.
19. Portrait Leg Tattoo
Portrait tattoo designs look great as they mimic portrait painting. You can get a portrait tattoo of anyone in your life, from a loved one who has passed to your favorite celebrity or an artist. Portrait tattoos make for meaningful tattoo designs. More often than not, people get portraits etched on their bodies to flaunt their love for the person. If you also have someone such in your life, get a portrait leg tattoo etched. All you have to make sure of is to find a skilled tattoo artist who has expertise in portrait tattooing. Also, think about the size of the tattoo before deciding where to put it on your leg. If you want more room to work with, the thigh is a great option. And the best thing about the thigh is that it is less painful due to the thick skin, muscle, and fat there.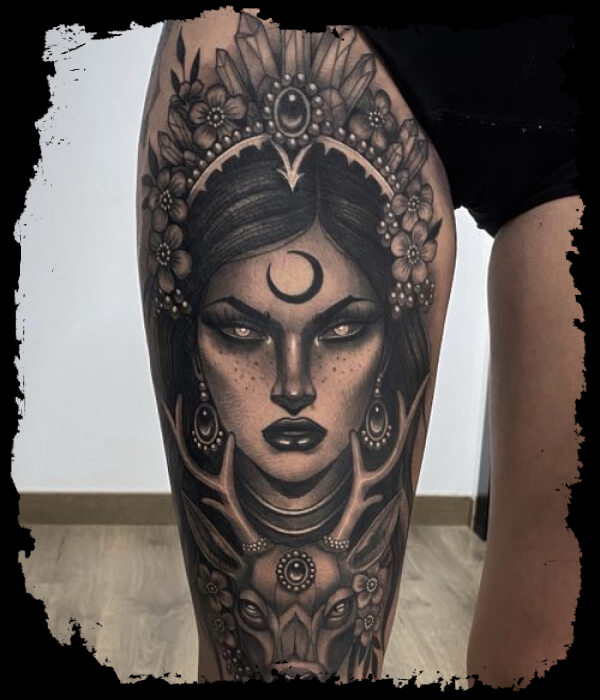 20. Skull Leg Tattoo
Another quite popular leg tattoo woman includes a skull tattoo design. This is one of the best leg tattoo ideas for woman who love to flaunt their unique side. A skull tattoo can be both eye-catching and thought-provoking. It will help you show your disdain for life. The best thing about skull leg tattoo is that it can be styled in a variety of ways. Also, adding additional symbols such as flowers and butterflies can give it a more feminine appearance.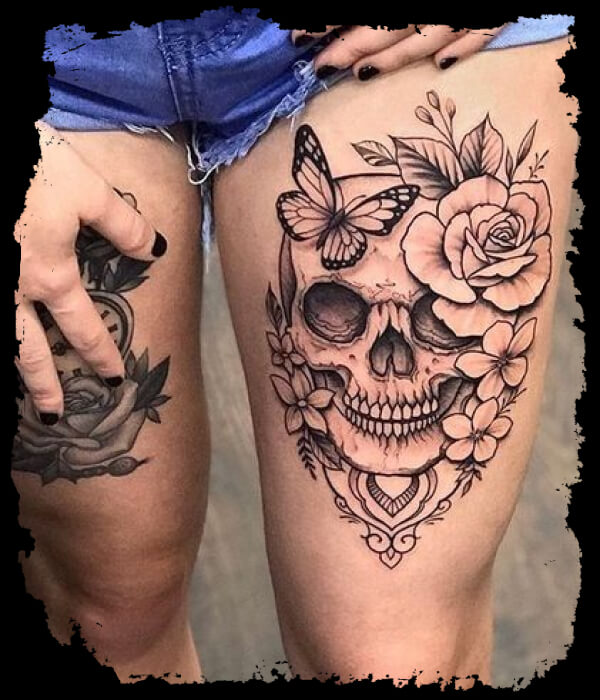 21. Leg Sleeve Tattoo
Last but not least, we have on the list is the leg sleeve tattoo. The design of your leg sleeve tattoo can be anything you want it to be. You have complete creative freedom. Leg sleeve tattoos are not only fashionable and distinctive but also provide a great deal of opportunity for wearers to express themselves. You might think of these tattoos as a way to convey your one-of-a-kind tale to the rest of the world. However, know that these designs are detailed and time-consuming.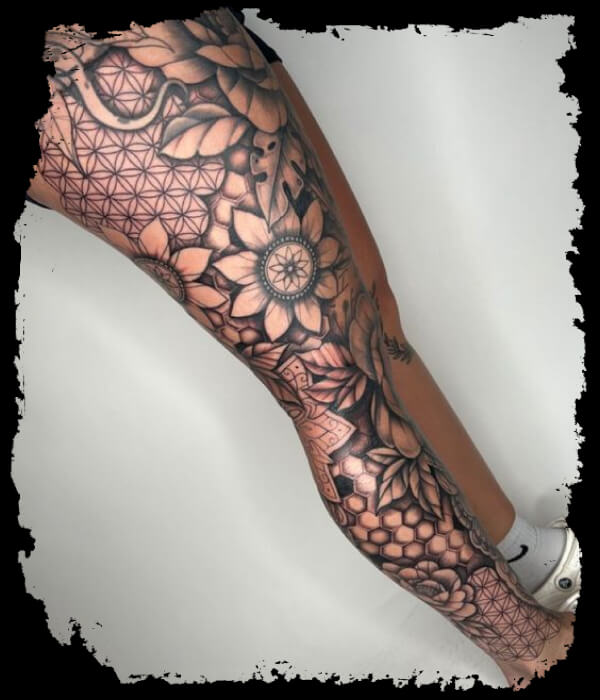 Wrapping it up…
So there you have it, the 21 best leg tattoo ideas for women. Aside from these, you can have any design of your choice, or you can consider coupling two or three elements to create a unique design of yours. Just make sure that you pick the right elements that help you express yourself well.
FAQs
Q- Why are leg tattoos popular among women?
Leg tattoos are quite popular among women because they are easy to hide. One can flaunt them as and when they want and keep them hidden the rest of the time.
Q- Which is the least painful location for leg tattoo women?
When it comes to the least painful places for a leg tattoo, your thigh and calf top the least. Both the places are least painful due to the thick fat and muscles there. If you're unable to endure pain but still want to have a leg tattoo, then get one on your calf or thigh.
Q- Which is the most painful place for a leg tattoo design?
Your knee will pain the most as it has the least fat there. So, if you're considering a full leg or leg sleeve tattoo, then know that your knee will also be covered.
Happy Tattooing… ☺ ☺
Please follow and like us: