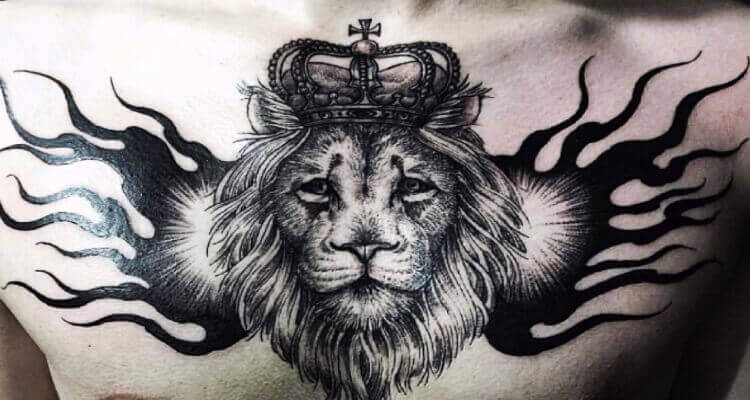 30 Best Lion With Crown Tattoo Designs
Posted on
Believe it or not, animal tattoos look wonderful. No matter you get a cat etched on your arm or a lion tattoo with a crown on your back. Animal tattoos make for wonderful tattoo designs. Here in this post we will discuss Lion Tattoo with Crown.
There are a variety of different ways you can get a Lion with crown tattoo on hand or any other part of your body. Mainly lion tattoos are worn by men; however, some women also get them etched occasionally. "The king of the jungle" or "the king of the animal kingdom," makes for great tattoo designs for men.
Like any other animal tattoo, a lion with a crown tattoo also represents certain attributes and traits of the lion. Here is what does a lion with a crown mean…..
What does a lion with a crown mean?
There are many different meanings and beliefs associated with the lion tattoo. A lion tattoo signifies various traits and qualities, which include, power, strength, courage, balance, family, love, transformation, guardianship, hope, and wisdom.
A lion with a crown tattoo is not considered to be a mainstream tattoo; however, it is a quite popular tattoo design amongst men. Because of its detailing and intricate design, a lion with a crown is always etched in a bigger size. More often than not, the design only displays the head of the lion with a crown. You can choose for different crown designs according to your lion's color and shading. Some people even prefer to go for the entire lion tattoo, which also looks quite unusual and cool.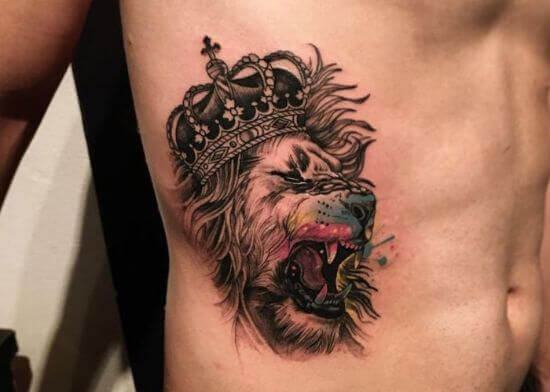 The best place to get a Lion with Crown Tattoo
As said earlier, lion tattoos are comparatively bigger in size, hence they should be placed either on your back, hand, arm, shoulder, chest, forearm, thigh etc. As these places are the ones where large tattoos can be done easily without much effort.
Now it's time to have a look at some lion with crown tattoo designs in 2021.
Here we go….
1. Lion with crown on hand
A lion with a crown tattoo on hand looks mesmerizing. You can get just the head of the lion along with a yellow crown etched on your forearm. The beautiful shades of the lion's beard and hair will make the whole tattoo look stunning.
2. Fierce Lion with Crown on Forearm
Another wonderful way to flaunt your fierce side is – get a lion with fierce expression etched on your forearm. And yes, don't miss to get a crown along with the lion.
3. Cool Lion with Crown on Back
Back is a perfect place for a large lion tattoo. You can get as big a lion tattoo as you want on your back. A great way to attract the public on a beach vacation.
4. Lion with Astral Crown
Lions with Astral Crown tattoos look perfect. You can get this design either on your back or on the backside of your hand. This tattoo looks cool.
---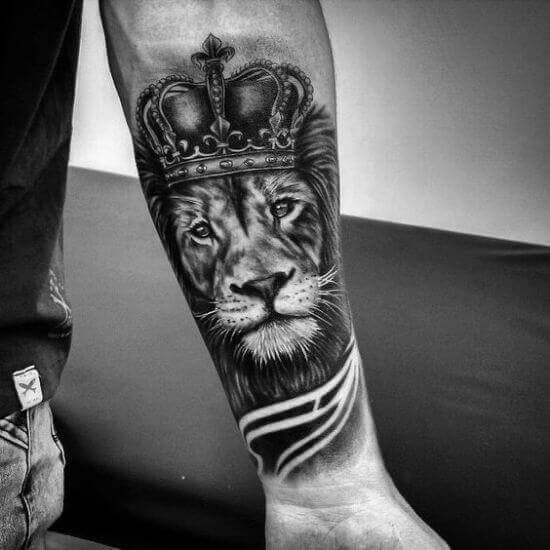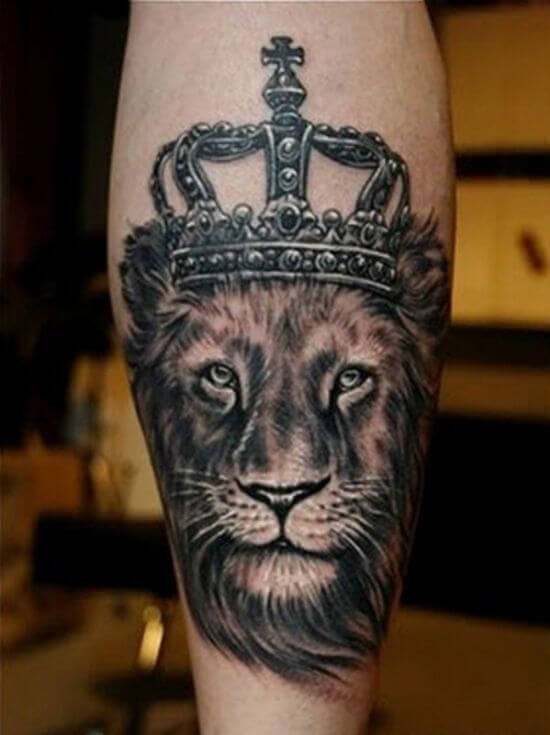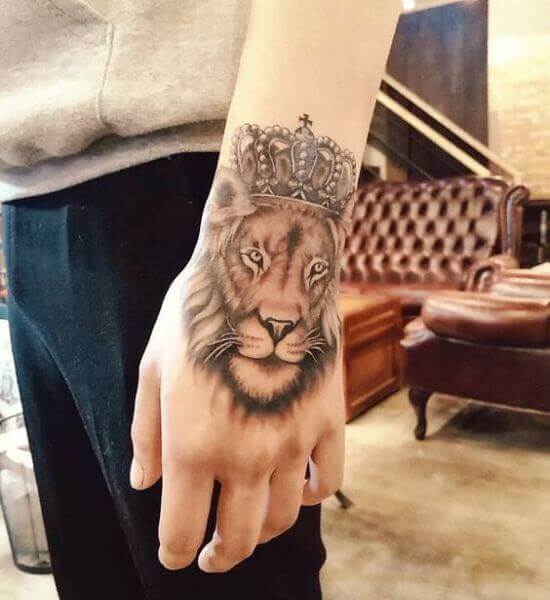 See More:
---
5. Lion with Bohemian Crown Tattoo
Another beautiful lion tattoo design is this. The Bohemian crown simply adds to the fun and beauty of the tattoo. You can get it etched on your arm or thighs.
6. Lion with Bavarian Crown Tattoos
Like Bohemian crowns, Bavarian crowns also look stunning. You can get a stunning lion tattoo with Bavarian crown etched on your forearm.
7. Grey and Black Lion with Crown Tattoo
Lion tattoos look stunning in grey and black shades; however, you can get them in color shades also. This tattoo will look simple yet elegant.
Also See: 35 Mind-Blowing King And Queen Tattoo Design With Meaning
8. Lion with Color Crown Tattoos
This is absolutely your choice, whether you want to have the entire tat in color or just the crown in colored ink. Any ways this design looks gorgeous.
---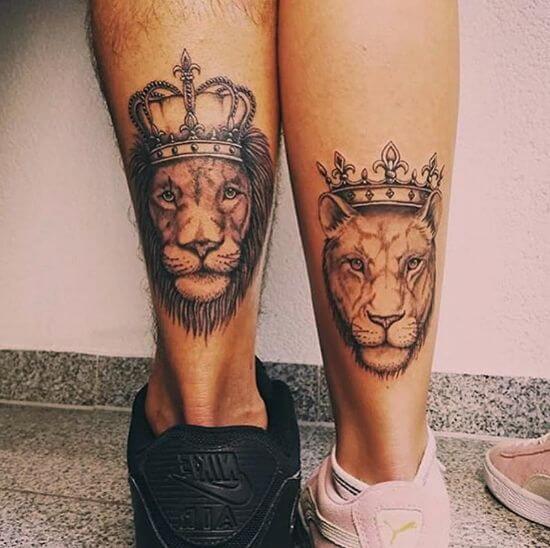 See More: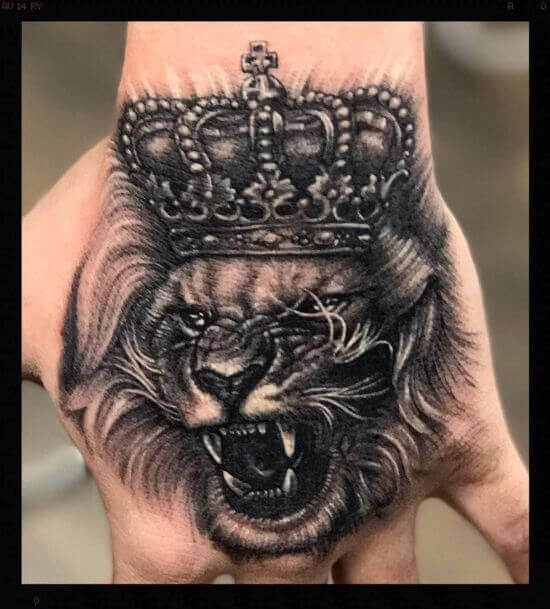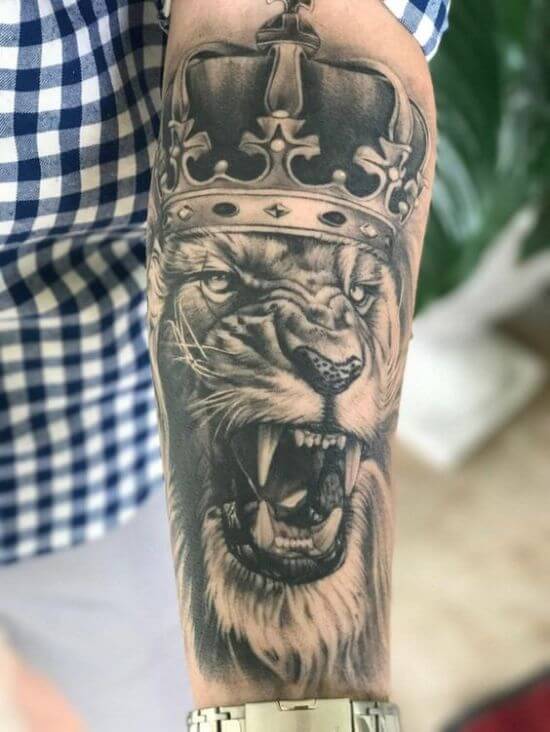 ---
9. Color Lion with Crown
If you want to jazz up your tattoo, then get it in colored ink. A colored Lion crown tattoo will look perfect on your arm.
10. Lion Tattoo with Crown and Roses
Here you have the privilege to play around some really wonderful colors. Like you can leave your entire tattoo in grey and black shades and add red roses to it. The red color of roses will make your tattoo look fab!
Also See: 50+ Amazing Basketball Tattoo Ideas And Designs With Meaning
11. Lion Tattoo with Camp Crown
Camp crowns are simple yet elegant, if you are looking for an elegant lion tattoo design, then a lion with a camp crown will do.
12. Lion with Circlet Crown
Circlet crowns look seriously beautiful, they just add to the lion tattoo. Get a lion head etched with a circlet crown on the back of your arm.
---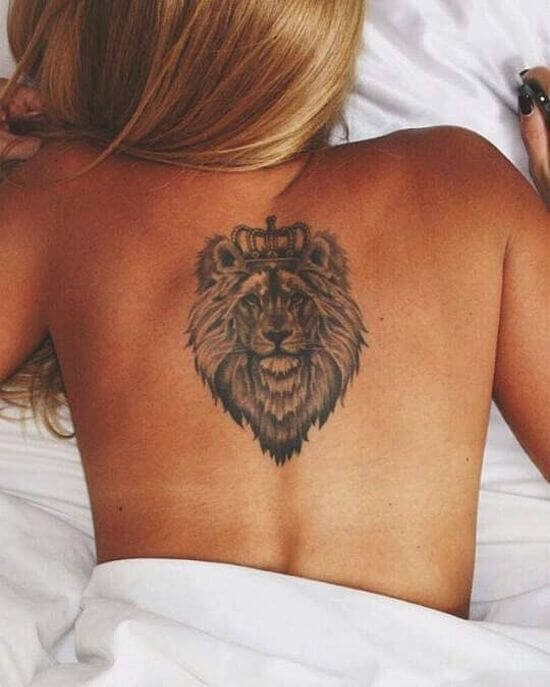 See More: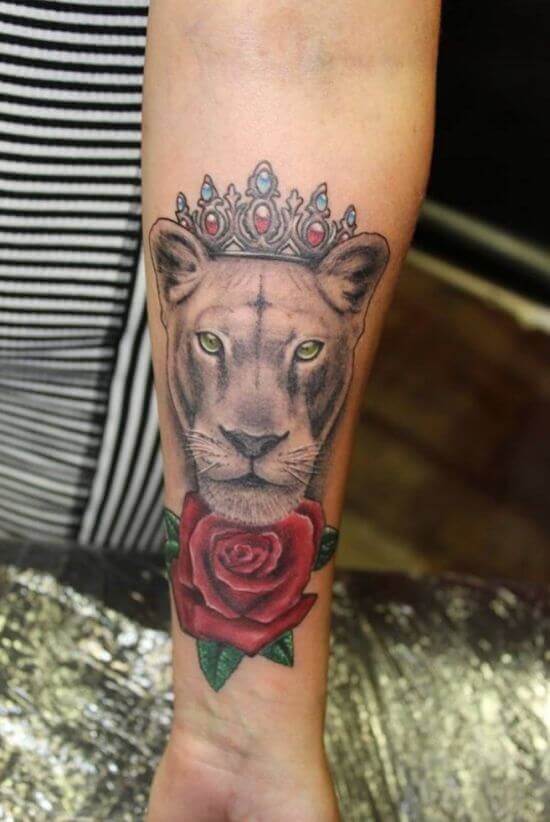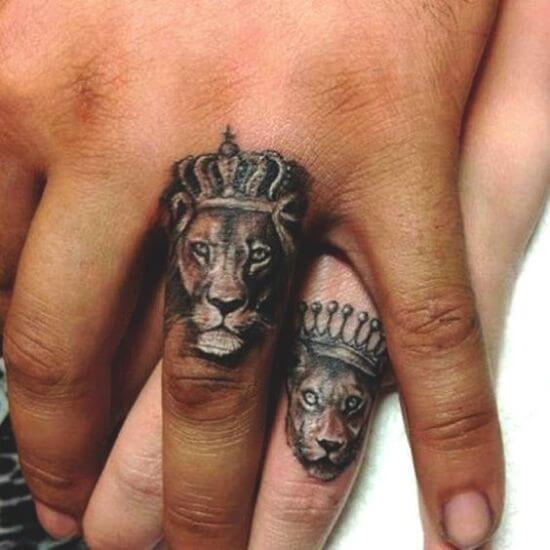 See more:
---
13. Lion with Civic Crown Tattoo
Lion with civic crown tattoos are another wonderful tattoo idea for men. You can get it either on your back or forearm depending on your choice.
14. Lion Tattoo with Royal Crown
How can we forget about the royal crowns, which simply add to the royalty of the design! A perfect lion tattoo for the ones looking for something really classy.
15. 3D Lion Tattoos with Crown
Like any other 3D tattoo design, this design also looks real and live. If you are looking for an outside tattoo design, then this is for you.
16. Lion with Crown and Quote
Another wonderful way to beautify your normal tattoo is add quotes to it. Yes, you can add your favorite quote with your lion with crown tattoo to make it look complete or have additional features.
---

See More:
Rib Cage Tattoo for Girls and Boys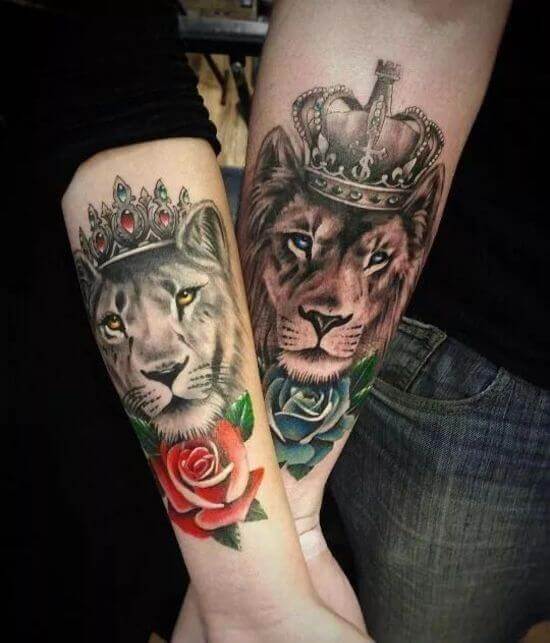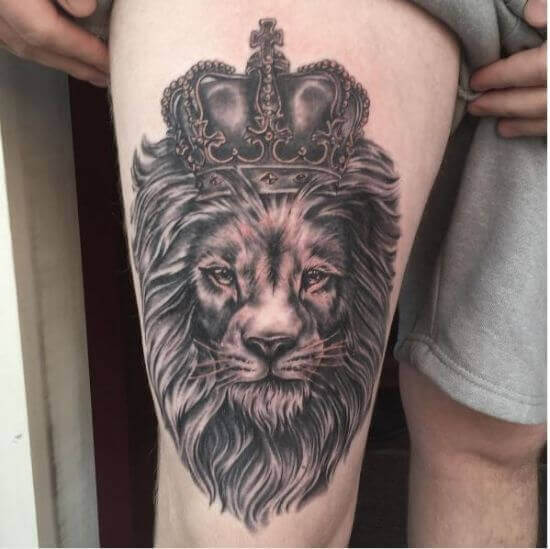 ---
17. Abstract Lion with Crown Tattoo
Abstract tattoos are worth it! However, these designs are not easy to etch, your tattooist needs to be really perfect and experienced.
18. Angry Lion with Crown
Angry lions make for perfect tattoo designs on arms. You can also get this one to flaunt the other side of your personality.
19. Lion with Feather Crown Tattoos
Feather crowns look tribal in appearance. If you want to give your lion tattoo a tribal touch, then a feather crown will do the needful. The feather crown can be designed big or small as per your convenience.
20. Lion with Raven Crowns
Raven crowns are worn by the kings of Bhutan. Raven crowns look cool, if you want to have a unique lion with crown tattoo, then a raven crown will do.
---

See More: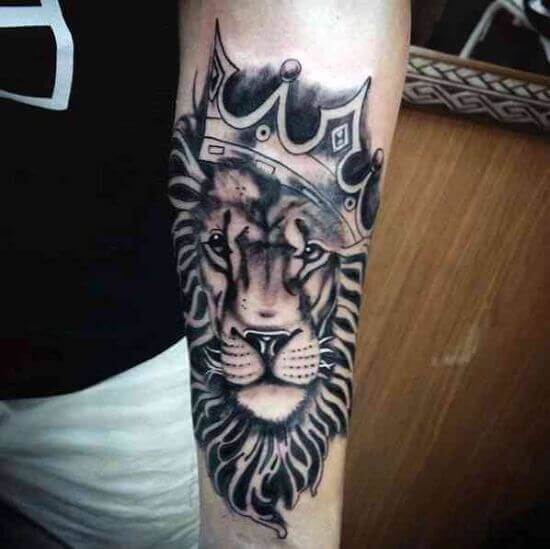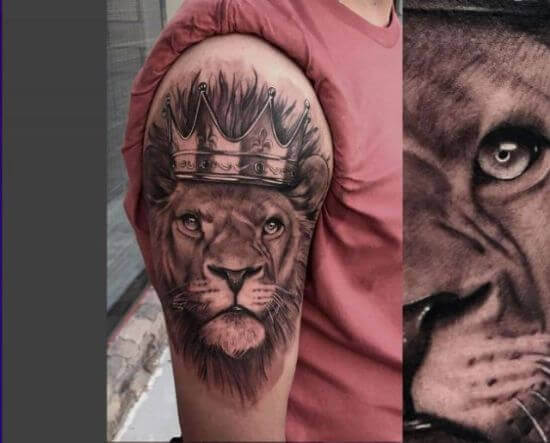 ---
21. Lion with Egyptian Crown
Egyptian crowns look mesmerizing! An Egyptian crown will simply add to our lion tattoo. You will surely love the design.
22. Votive Crown Lion Tattoos
Add a votive crown to your lion tattoo, it will look stunning! You can get this tattoo inked on your forearm.
23. Peaceful Lion with Crown Tattoos
Yes, lions are also peaceful creatures. And you think you also have this trait in you, then you can have a peaceful lion with a crown etched on your arm.
24. Couple Lion
If you are looking for a matching lion tattoo in 2021, then you can restyle them as king and queen lion tattoos. Many couples choose lion and lioness with crown tattoos for themselves to flaunt the similar tattoos design.
25. Lion with Floral Crown
Believe it or not, floral crowns look stunning! Specifically for women, they can get a lioness with a floral crown tattoo etched on your forearm or back, it will look gorgeous!
---
See More: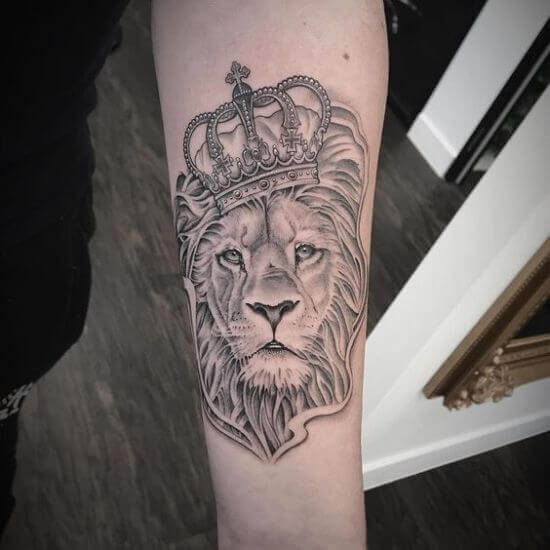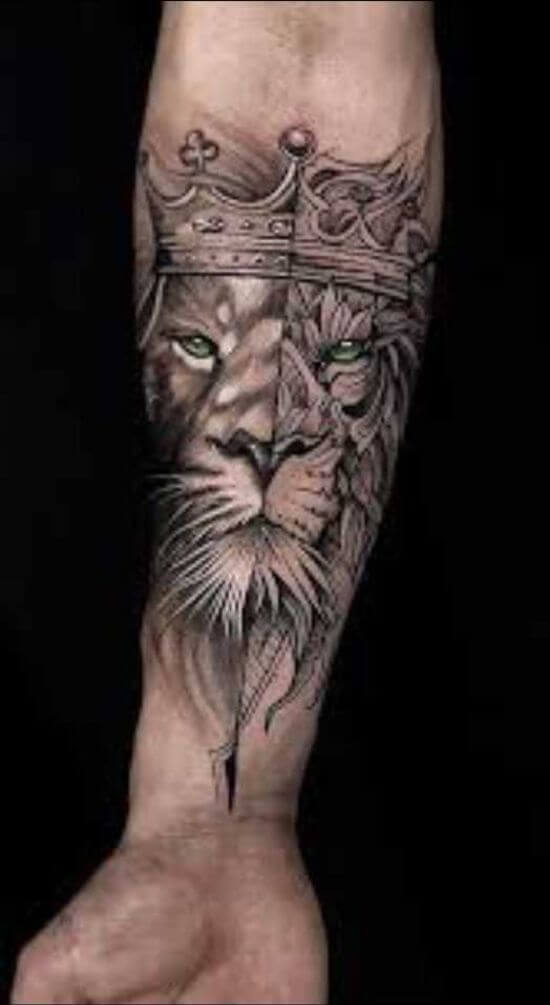 To conclude…..
Before you get a lion tattoo make sure you research all the different tattooing styles, designs, and meanings. It will help you get the right tattoo inked on your body, as you have to keep in mind that tattoos are not easy to remove! So, there is no point going unprepared and getting disappointed later. There are myriads of tattoo designs, and styles to choose from. That's why it is very important to spend time researching the right tattoo design. The ones who rush into the tattooing process without much research, often end up getting a disappointing artwork. Avoid doing this as your tattoo will be with you for the rest of your life.
Also, it is important that you go to a tattoo artist that you completely trust. To get a trustworthy tattooist you can either search online or ask for the reference from the ones who already have a tattoo. While searching online, don't miss to look at tattooists' reviews and past work. It will help you make the right choice! Yes, a bit of exercise is always required if you want to get perfect body art!
Hope you enjoyed this Lion With Crown Tattoo Ideas and Designs article! Happy Tattooing…… ☺ ☺
Stay Home, Stay Safe!!
Please follow and like us: