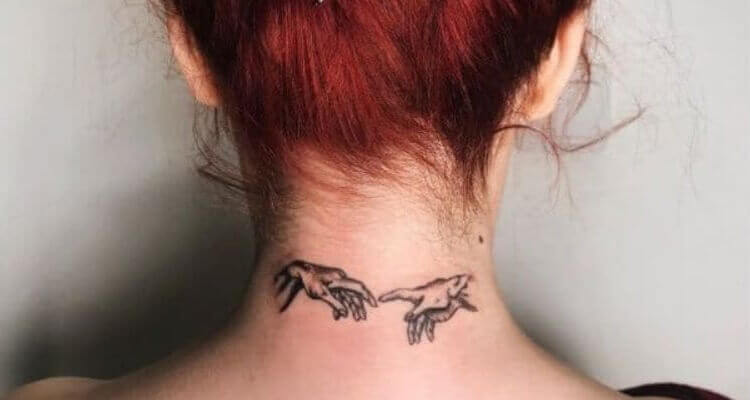 30+ Attractive Neck Tattoo Designs with Meaning for Women
Posted on
Planning to get a tattoo???
Wow! That's great! Tattoos look cool!
Don't know where to place it???
Well, that's a matter of concern!
How about your neck???
If you haven't thought of it, then do!
The neck is the best place to have chic tiny delicate pieces. When it comes to small tattoo designs, the neck is the most preferred location. Cute neck tattoos for females, whether it is rose neck tattoos for women or small neck tattoos for women, look awesome. And here, in this post, we shall share some of the best neck tattoos for women.
Take a look…
Table of Content:
Rose Neck Tattoo
Small Neck Tattoo
Bird Neck Tattoo
Flower Neck Tattoo
Tree Neck Tattoo
"Tree of Life" Neck Tattoo
Word Neck Tattoo
Symbol Neck Tattoo
Elephant Neck Tattoo
Fish Neck Tattoo
Name Tattoo on Neck
Dog Paws Neck Tattoo
Cat Tattoo on Neck
Butterfly Neck Tattoo
Bumblebee Neck Tattoo
Heart Neck Tattoo
Warrior Angel Neck Tattoo
1. Rose neck tattoo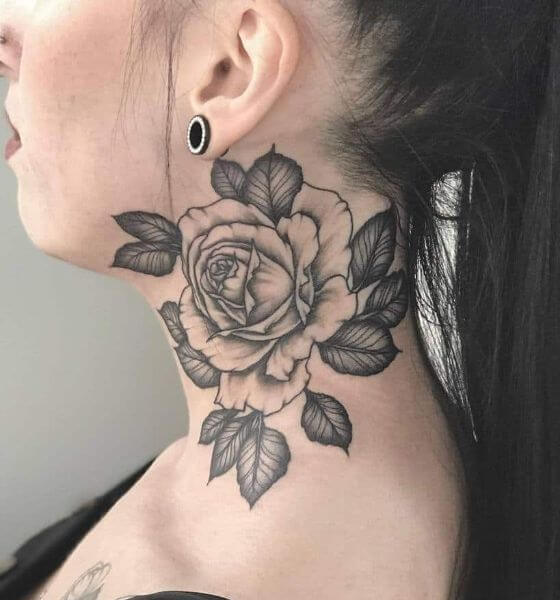 Roses are pretty, and we all know that. BUT, what most people don't know is that rose tattoos look stunning on the neck. Yes, a rose neck tattoo can be a head-turner if you get it done by the right tattoo artist. A small-sized rose etched on your nape or just down the ear will look gorgeous. And yes, you don't go with the red color rose. Try out a black one! Try this one, and you'll thank us later!
See More: Most Beautiful Black Rose Tattoo Designs
2. Small neck tattoo
Small tattoos look great on the neck. The best thing about neck tattoos is how easy they are to conceal. Yes, this is why small neck tattoos for women are so popular. They can cover up their neck tattoo with their hair or by wearing high neck tops. Furthermore, these tattoos are appropriate for women from conservative or orthodox families, where tattoos are not welcomed.
You can get any design of your choice, such as bird, tree, animal, flower, etc., etched in small sizes. All of these make for great small neck tattoos for women.
3. Bird neck tattoo
Have you ever considered getting a bird tattoo? If so, get a small bird tattooed on your neck. Believe you me; people will not be able to avoid looking back. Of course, there are numerous ways to get a bird tattoo, such as a watercolor bird tattoo or a geometric style bird tattoo. The small-sized solid black-colored bird tattoo, on the other hand, will look the best. You can also search the internet for more ideas. There are motley lovely solid bird tattoos to be inspired by. It's a wonderful tattoo design for women to consider – A small bird sitting on your neck will look appealing!
4. Back neck tattoo
A back of neck tattoos women is an outstanding tattoo design, that is widely popular amongst women.
4. Flower neck tattoo
Are you looking for some girly tattoos? Then go with a flower! You can get a simple pastel, or neutral color flower etched on your neck. And if you're looking for a charming flower tattoo that stands out, go with a dandelion flower. Dandelions are not only popular but are very cute flowers that look good not only in real but also as a tattoo. Get a beautiful dandelion etched just below your ear, and see how tempting it will look.
5. Tree neck tattoo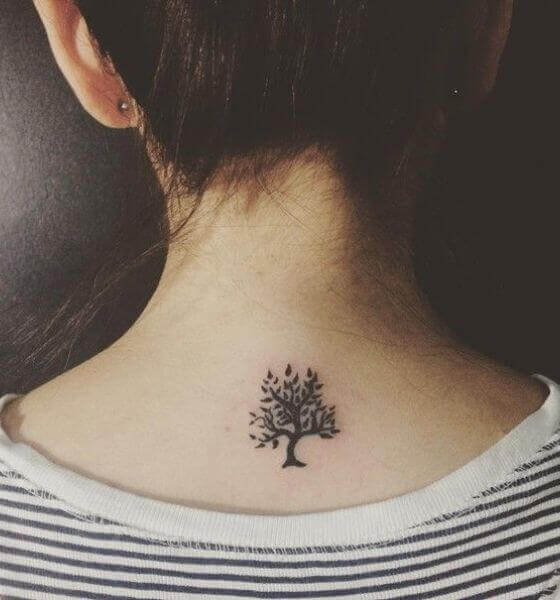 If you want something more unique, get a tree tattoo. It is symbolic of the "circle of life," regeneration, and harmony. Get any of your favorite trees etched either in color or in black etched on your neck. Or you can have a red and black tree tattoo on your neck. These pieces are easily concealable for job interviews and other occasions. A tree tattoo on the neck will show how thoughtful placement can improve the overall appeal of a piece.
6. "Tree of life" neck tattoo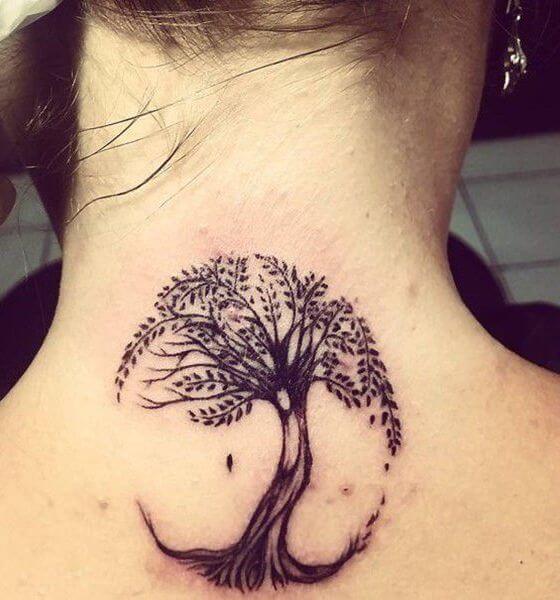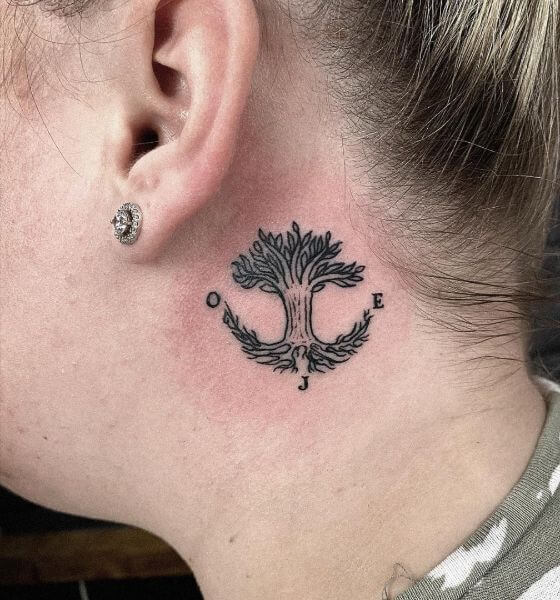 It is one of the most meaningful and thoughtful tattoo designs. "The Tree of Life" is one of those tattoo designs that, regardless of its origin, pervades folklore cultures. It is an ancient symbol that has pervaded numerous cultures, religions, and philosophies. The meaning of this tattoo varies from one culture to another. However, the crux of it remains the same. It represents the interconnections of all life and demonstrates that all knowledge, hope, life, and love originate from the same source. Engrave a small tree of life tattoo on your neck. This is one of those tattoos that acts as an icebreaker, especially if you're naturally shy.
7. Word neck tattoo
Quotes also look good on the neck, but a word tattoo can change the whole game. Word tattoos look provided placed in the right location. And your neck is perfect for a word tattoo. The best part is you can choose to engrave a word that goes well with your personality, for example, "FREEDOM," "LOVE," "HOPE," etc. And if you're looking for a badass neck tattoo, then words like "PATAKHA," "BOMB," etc., make for the perfect back of neck tattoos for women. Not just that, you can even choose a word from another language to have a unique word tattoo design. BUT, make sure you know the meaning of the word. Also, see it is spelled correctly while getting your neck tattoo. The best is to research it well before getting a word neck tattoo in a different language.
8. Symbol neck tattoo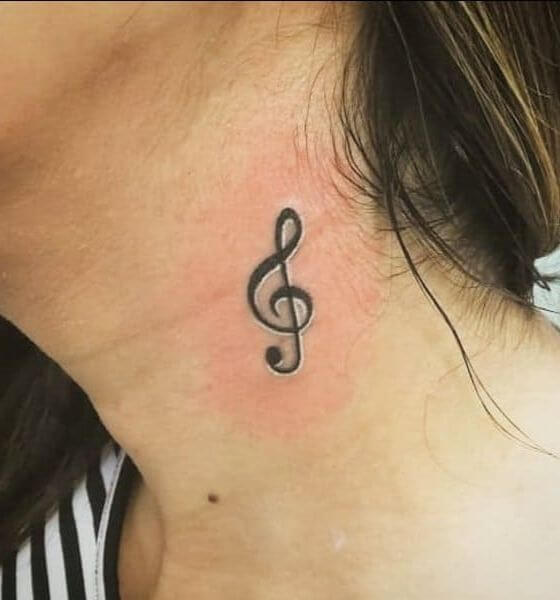 Symbol tattoos are very popular amongst women, especially with those who do not want to overdo their tattoo designs. There are numerous symbols, such as mother-daughter, Hakuna Matata, infinity symbol, etc., to get etched on your body. However, the most important consideration is the size of the symbol. If you want to get your favorite symbol etched in a small size, then your neck is apt for that. As said earlier, small pieces look awesome on the neck, especially if it is sleek. Make sure you choose a symbol that signifies your values and reflects your personality correctly. A very well-made symbol tattoo can be a head-turner piece, trust me!
9. Elephant neck tattoo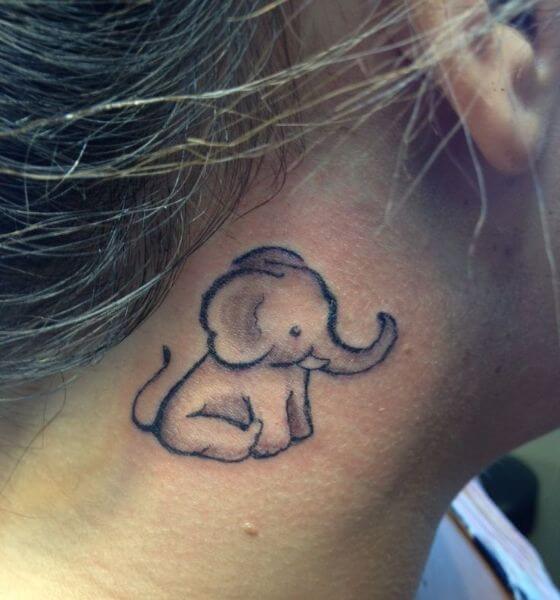 Believe it or not, this giant creature makes for a unique tattoo design. An elephant, a universal symbol of strength, divinity, loyalty, and good luck, makes a spellbinding tattoo design when carefully planned and properly placed on your body. The best part is that you can get this design on the front of your neck as well as the back. Aside from that, you can have an elephant's trunk face and trunk engraved on your body temple. Alternatively, you can have the outline of an elephant etched beneath your ear in a very small size. This will undoubtedly make an eye-catching tattoo design! Try it out!
10. Fish neck tattoo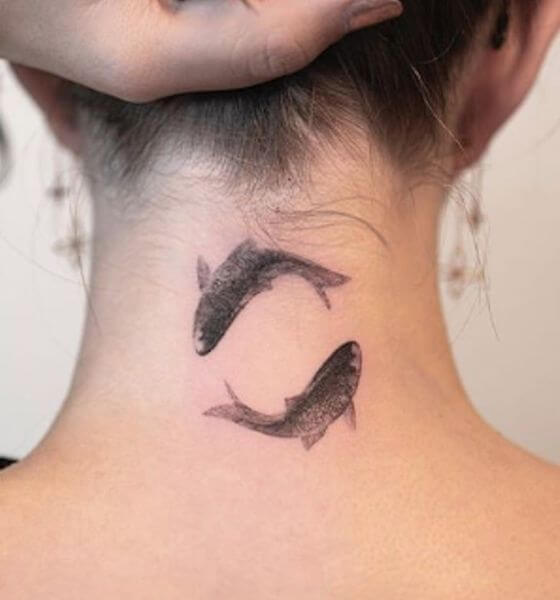 You may be surprised to know that these aquatic creatures make for incredible neck tattoos. A fish represents strength, determination, independence, prosperity, perseverance, and good luck, among other things. If you've all of these, and you're really looking for an outside-the-box tattoo design, this is the one to go with. The best thing is that fish come in a variety of different colors and designs. It means you can get any of them etched on your neck. Some of the very popular fish tattoos include Koi Fish Neck Tattoo, Geometric Fish Neck Tattoo, Chinese Fish Neck Tattoo, Kissing Fish Neck Tattoo, Realistic Fish Tattoo, StarFish Neck Tattoo, and so on. Get any of these etched on your neck; it is going to turn heads for sure.
11. Name tattoo on neck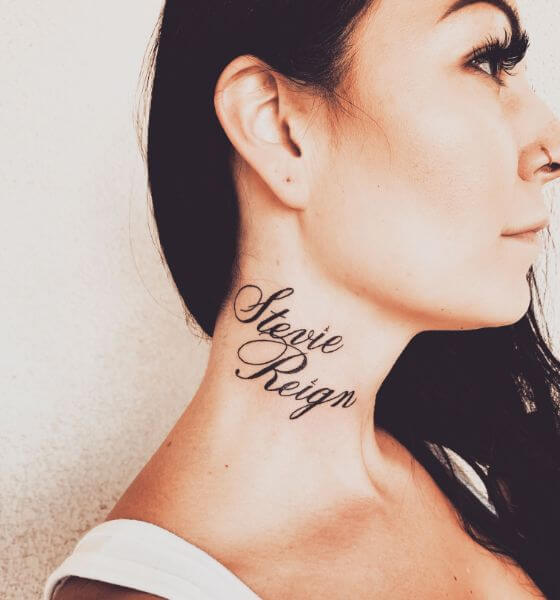 Another outstanding tattoo design that is widely popular amongst women is the neck name tattoo. Undeniably, name tattoos make for an excellent piece of body artwork. However, you have to be really, yes, really sure about your relationship with the person. Otherwise, it will turn out to be a source of disappointment and pain rather than a source of confidence. More often than not, people get their partner's name tattooed on their body, and after some time, they break up. Then the option they're left with is to remove that tattoo or get a cover-up. Deepika Padukone, the Bollywood actress, is a very famous example. Married people can get their spouse's name etched. But if you're planning to get your boyfriend's name etched, then you should first make sure your relationship will work. Also, this is one of the tattoo designs that need a lot of introspecting. It is without a doubt the best way to express your love to another person. BUT, does the other person deserve it? Ask yourself!
12. Dog paws neck tattoo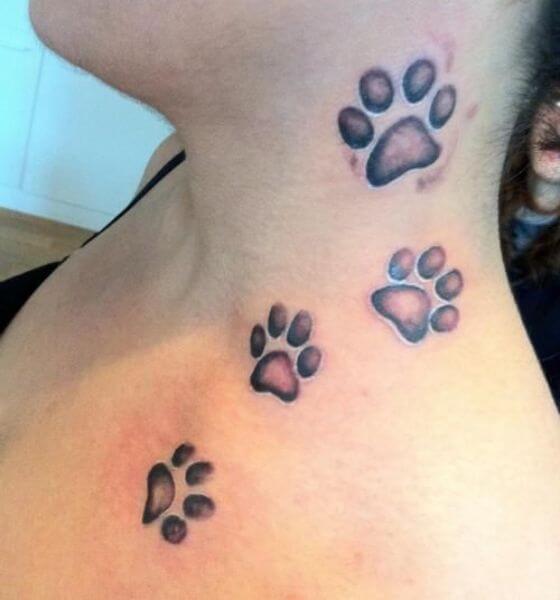 If you're looking for a tattoo design that you can cherish all your life – then get dog paws neck tattoo. Dog paws are quite popular tattoo designs. And they serve the best when you want to etch a tattoo in the memory of your beloved dog. Paws also express movement, especially forward and advancing in some sense. Dog paw tattoos are a great way to express your dog's loyalty, love, and affection. If you also have a dog or had one in the past, this is the perfect neck tattoo design. You don't have to overdo anything; just get the paws etched in black ink on your nape or side of the neck. This tattoo design is one of the best neck tattoos for women. When it comes to tiny tattoo designs, Dog paw tattoos top the list – as they are the most preferred tattoo designs for people who own dogs.
13. Cat tattoo on neck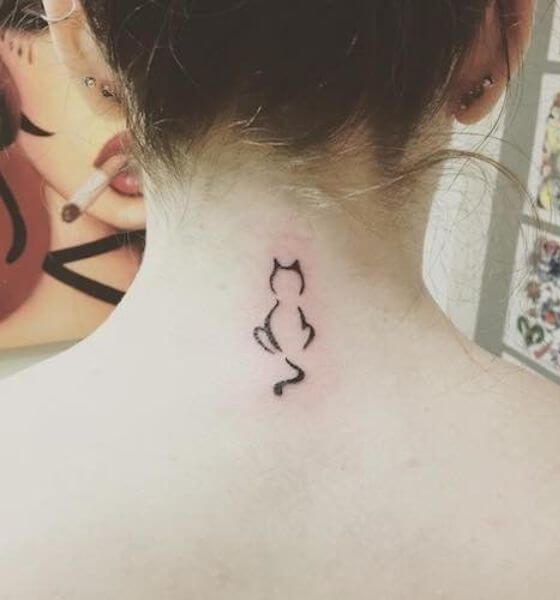 A cute kitten sitting on your neck will look awesome, trust me! If you haven't finalized any tattoo design yet. And if you're looking for a funky neck tattoo idea, then this is the one to go with. Cat tattoos are simple and elegant tattoo designs. However, they look incredible. People will be amazed to see your cat tattoo for sure. The cat tattoo is frequently associated with good fortune, life after physical death, mystery, quiet intelligence, and grace. Of course, there are numerous variations of feline tattoos, each of which alters the art's more profound meaning. A cat tattoo may simply represent love for a deceased pet for some people. You can get a cat tattoo in black or just the outline; either way, it's going to make a fantastic piece.
14. Butterfly neck tattoo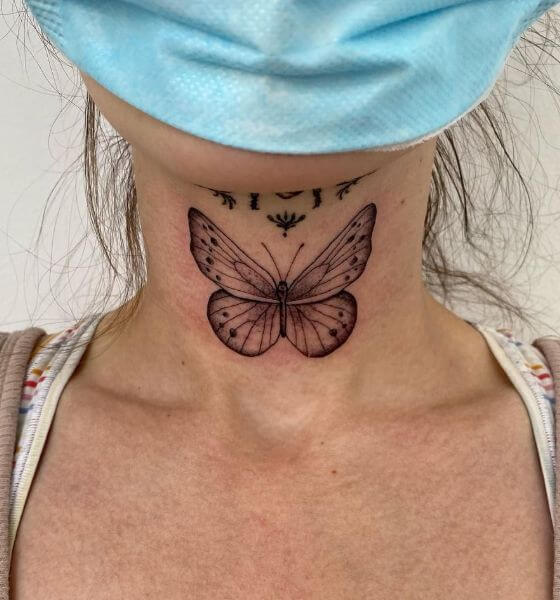 Butterflies make adorable neck tattoos for women, in addition to representing transformation, beauty, and freedom. You can have a small butterfly etched on your neck in either color or black ink, and it will look great. Butterfly tattoos are ideal for women who don't want to go overboard with their tattoo designs. These tattoos appear to be sober and subtle. Your butterfly neck tattoo design can be altered to suit your preferences. Make sure you select the right person to etch your neck tattoo. Whether you believe it or not, selecting the right tattoo artist is critical, especially when it comes to delicate tattoo designs. Not every tattoo artist can give you exactly what you want. As a result, it is critical to select a professional artist for your tiny neck piece.
15. Bumblebee neck tattoo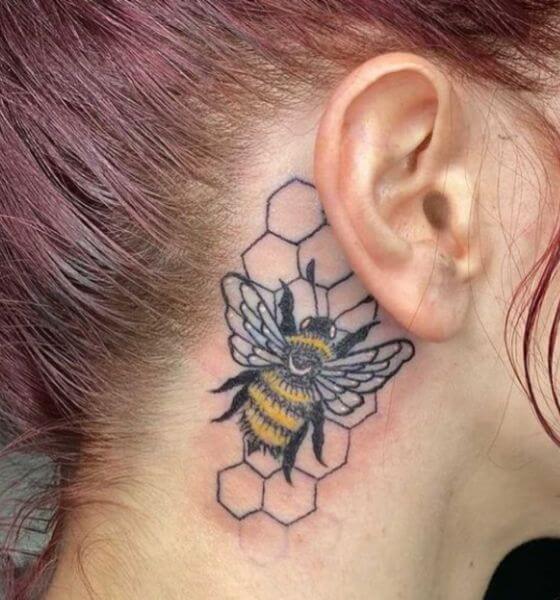 This cute little creature would make a great neck tat. Bees have been important to many cultures since ancient times. These brightly colored insects are essential to maintain a balanced ecosystem, and they play a significant role in crop growth success. The bee, as one of the most hardworking and loyal species, has become a popular tattoo design. So, if you're thinking about getting a bee tattoo, get it on your neck. Bumblebees make for an incredibly sophisticated neck tattoo design. It is one of the best back of neck tattoos for women. You can get a bumblebee etched either on your nape or on the side of your neck – it's going to turn heads!
16. Heart neck tattoo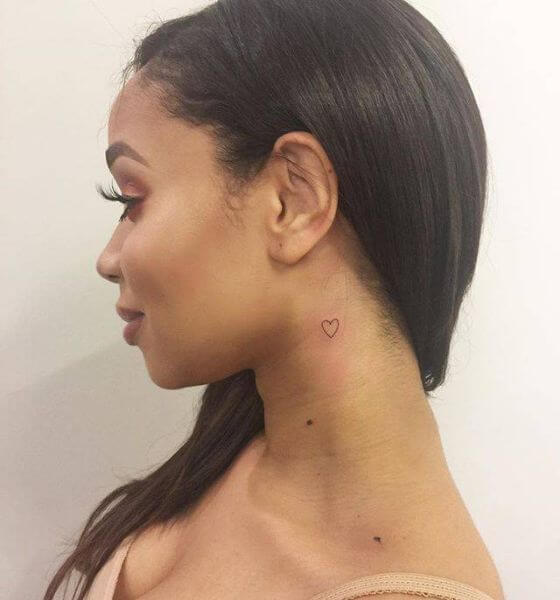 Hearts make excellent neck tattoos for women because they can be etched in any size and still be recognized. Heart tattoos give a more intimate feel when worn on the front or back of the neck or nape. The meaning of a heart tattoo is subjective and unique to each individual. It may remind us of someone, or it may not. The coolest thing about a heart neck tattoo is that it can be designed in a variety of styles to suit your needs and aesthetics, ranging from a simple outline placed below the ear to an intricate Celtic design featuring interlocking knots and weaving. A heart tattoo can also vary in size, shape, and placement. In addition, you can even add another symbol or image to your heart neck tattoo. Including another symbol or image to your heart tattoo can take it to the next level.
17. Warrior angel neck tattoo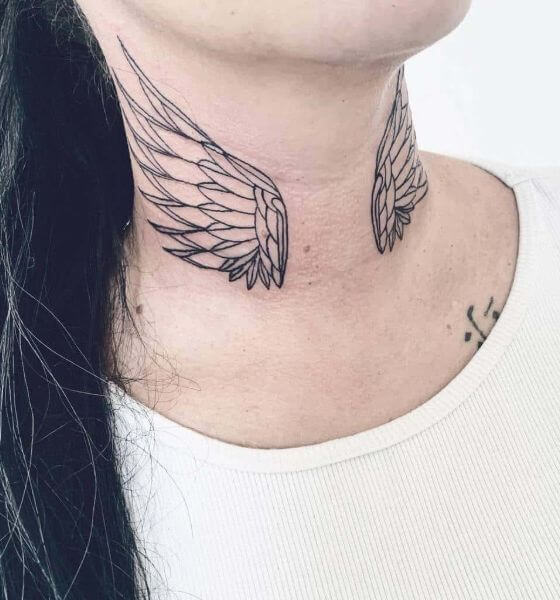 Have you ever seen Bollywood actress Kangana Ranaut's neck tattoo??? Isn't it splendidly awesome?
Yes, her neck tattoo looks incredibly beautiful!
She has got a warrior angel etched on the nape of her neck. Her Warrior Angel tattoo symbolizes three aspects of her life. The crown on top of the sword denotes her power as she feels like a princess, the wings on the sides of the swords depict her desires, wishes, and freedom that led her to pursue her own path of becoming an actress despite having a non-filmy background. The sword represents her unflappable attitude toward her struggles in Bollywood. She is very proud of her Warrior Angel Tattoo. This tattoo, according to her, not only represents the three stages of her life, but it is also a source of strength for her invincible attitude in life. If you like her tattoo design and are inspired by it, it's perfect for the back of neck tattoos for women.
18. Feminine Neck Tattoos
Putting it all together…
So this is all about neck tattoos for women. Hopefully, the 30 neck tats for women listed above will assist you in getting started. If you have any additional suggestions, please leave them in the comments section below. We would be delighted to include your suggestions in this post to help others.
Make sure you give a nice thought to your tattoo design before getting one. Also, extensive research is required to obtain the desired piece that you can cherish all your life. Remember that tattoos are a permanent mark on your body. Once you've done it, it's not easy to get rid of them. That is why it is critical to get a tattoo that you will be able to live with without any issue for the rest of your life. And for that, you'll need to spend some time searching for a reputable tattoo artist! Hope, it isn't too much work for you! As it can change the whole game, believe you me!
Happy Tattooing… ☺ ☺
Please follow and like us: