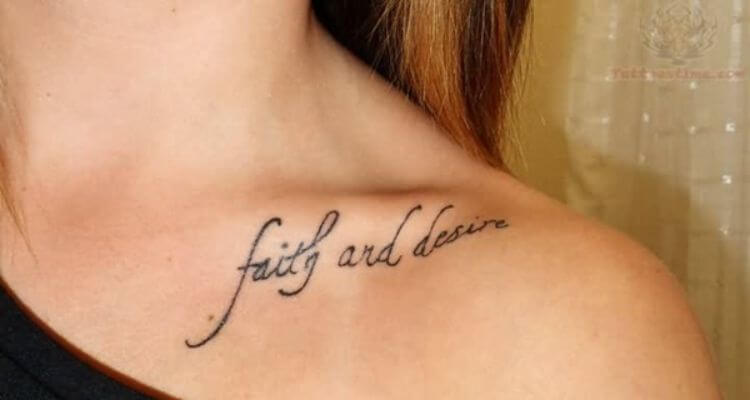 20 Inspirational Quotes Tattoo Ideas for Women
Posted on
Tattoos are more than just a form of "body art." They are a form of artistic expression and storytelling that reaches far back into human history. There are numerous tattoo designs; however, some look truly outstanding, such as quote tattoos. Quote tattoos are very popular tattoo ideas among females.
An increasing number of women are opting to have words tattooed on their bodies rather than a picture or drawing. There are some very meaningful quote tattoo ideas for women that you can choose from and have tattooed on various parts of your body. However, it is critical to select quotes that are personal to you and have special meaning for you. It's an excellent way to sum up your way of life, and a tattoo quote will serve as a constant reminder of the message.
If you want to get a quote tattoo, you've come to the right place. This post will cover everything there is to know about quote tattoos, including Quote tattoo ideas for women.
Here we go…
20 Inspirational Quote Tattoo Ideas for Women and Girls
1. "Even angels fall" Quote Tattoo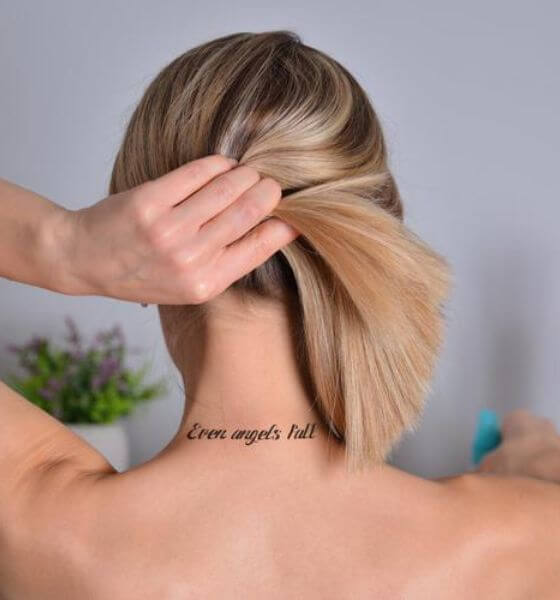 A cute and crisp quote to describe your way of life. Go for this one if you believe the same. Perfect place for this Quote is your arm, shoulder blade, ribs, and back.

2. "Aut Viam Inveniam Aut Faciam" Quote Tattoo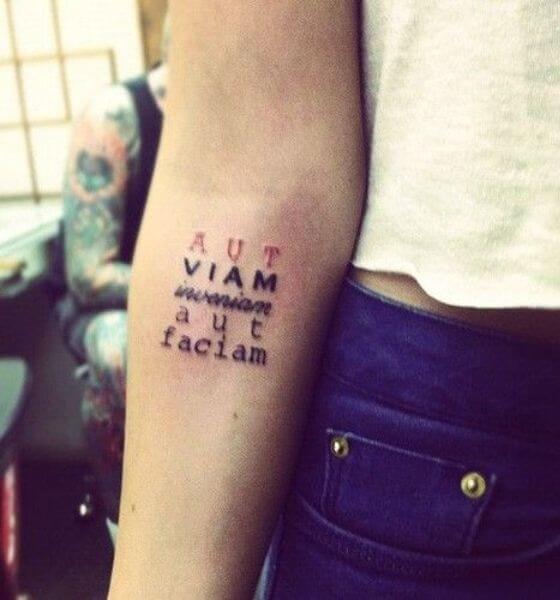 It's a Latin saying that translates to "I will find a way or make my own." A very strong message for displaying the strong side of your personality. Even Bollywood Diva Sushmita Sen has this etched on her arm.

3. "by grace through faith," Faith Quote Tattoo
A wonderful quote to express your beliefs. "by grace through faith" is an excellent quote for people who are looking for Faith Quote tattoos.

Related: 30+ Neck Tattoo Designs With Meaning For Women
4. "Love me for who I am" Quote Tattoo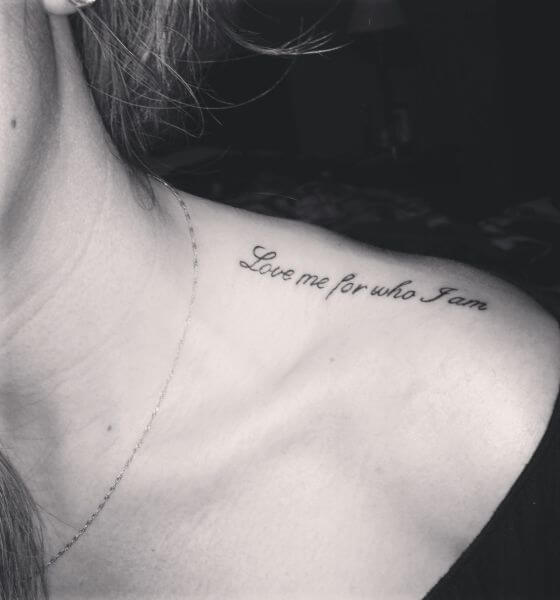 An excellent way to tell the other person to accept you as you are. Get it etched on your chest, or back or anywhere you want it to be.

5. "Float like a butterfly, sting like a bee" Quote Tattoo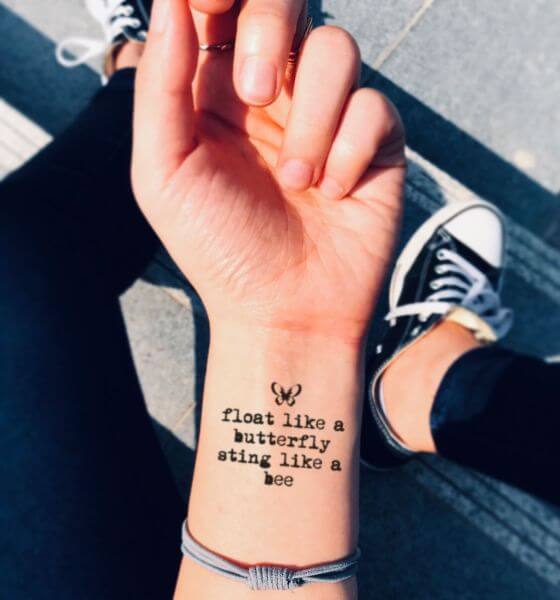 A fantastic quote to live by. Get it tattooed on your ribs or arm. It will not only look good, but it will also communicate to others that you are not easy to be around!

6. "Have Faith" Quote Tattoo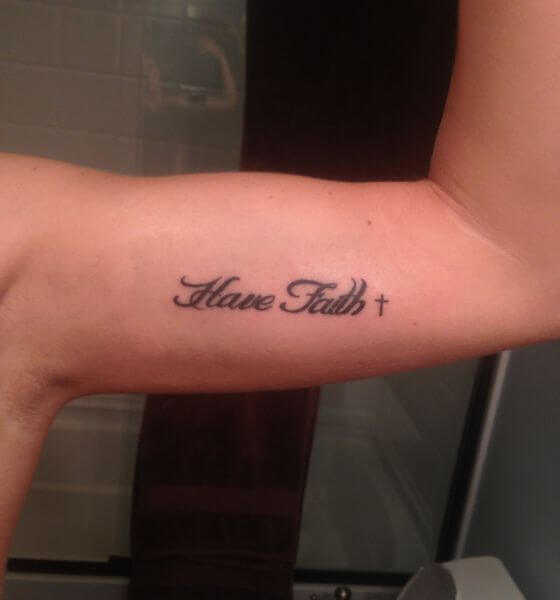 This short, simple, and crisp Quote will make for an excellent tattoo quote phrase for you. Get it etched on your wrist or chest.

7. "For every dark night, there's a brighter day" Quote Tattoo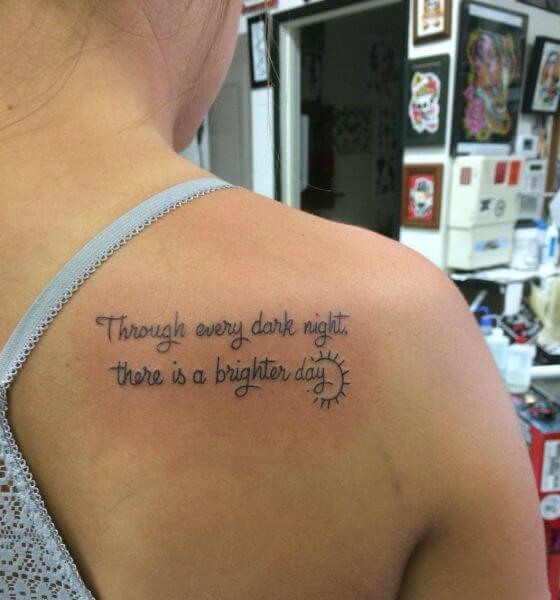 A fantastic way to maintain an optimistic outlook in life. Get it tattooed on your arm, so it's visible to you and keeps you motivated even when you're not going through good in life.

8. "Don't dream your life, live your dream" Quote Tattoo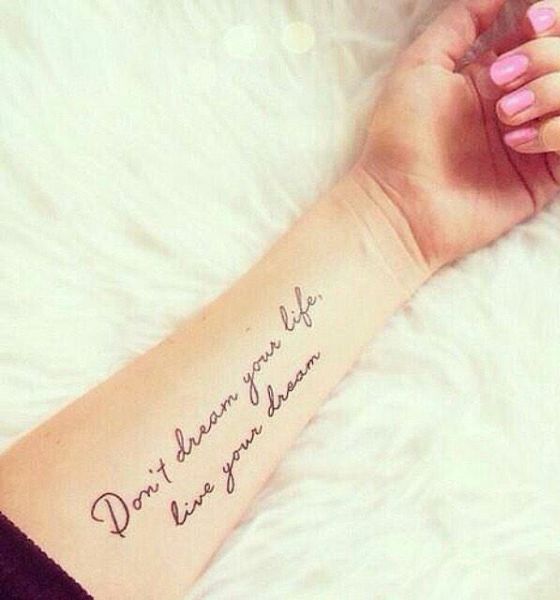 This is the Quote for you if you believe in yourself and know that all of your dreams will come true. Get it tattooed on your back.

9. "Be Strong" Quote Tattoo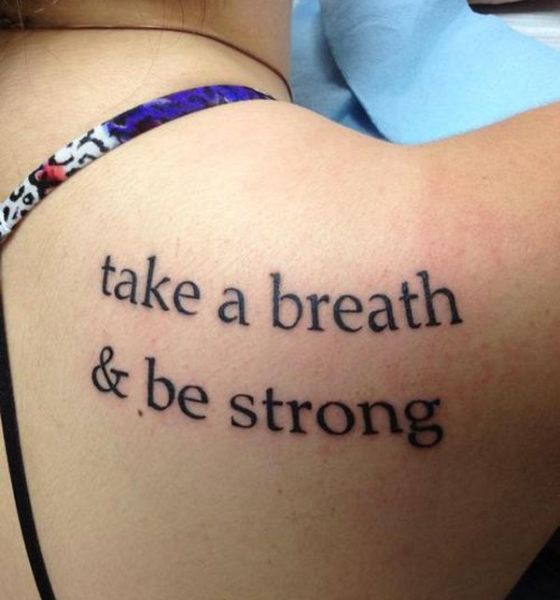 This is the Quote for you if you are strong enough to face any challenge that life throws at you. It can be engraved on your finger, back, or wrist.

10. "Je ne regrette rien" Quote Tattoo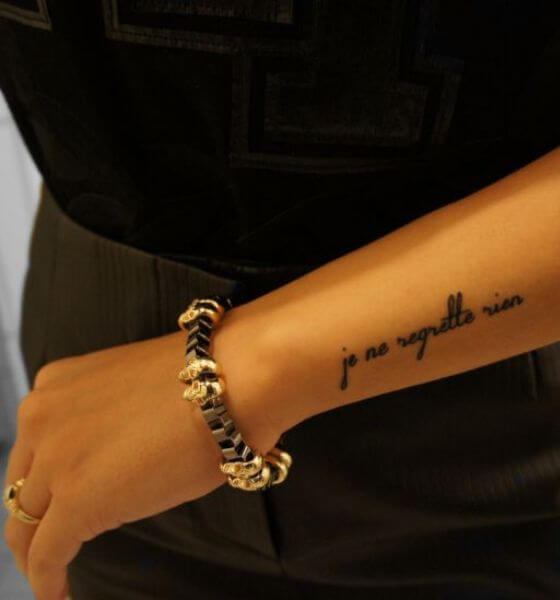 "Je ne regrette rien" is a French expression that translates as "I regret nothing." If you don't have any regrets and accept responsibility for your actions, this is the Quote for you.

11. "Hakuna Matata" Quote Tattoo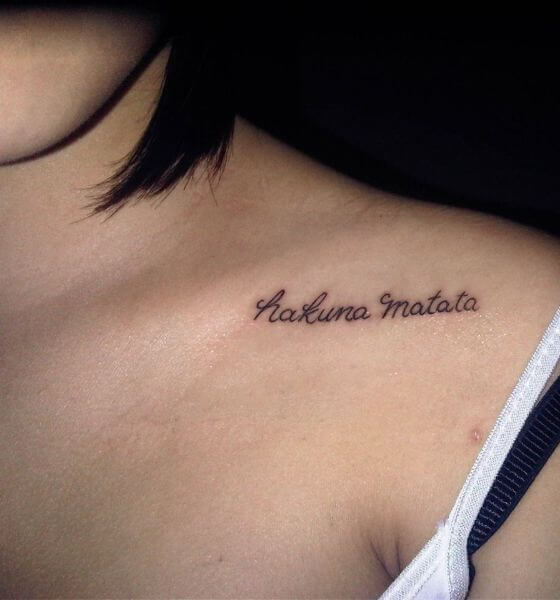 The Lion King, a Disney film, made this phrase extremely popular. The phrase "Hakuna Matata" is derived from Swahili, a southeastern African language. This phrase translates to "no worries." It makes for an excellent short and crisp quote tattoo. Get it etched on your back or neck.

12. "Ancora Imparo" Quote Tattoo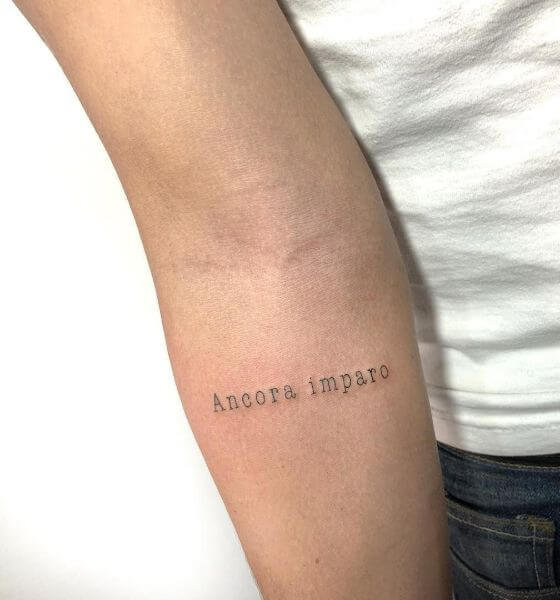 "Ancora Imparo" is an Italian phrase that translates to "Still I am learning." It is frequently attributed to Michelangelo, the great Renaissance genius, and was allegedly observed by him at the age of 87. If you also believe that learning is a process that never stops, then this is the Quote for you.

13. "Do What You Love" Quote Tattoo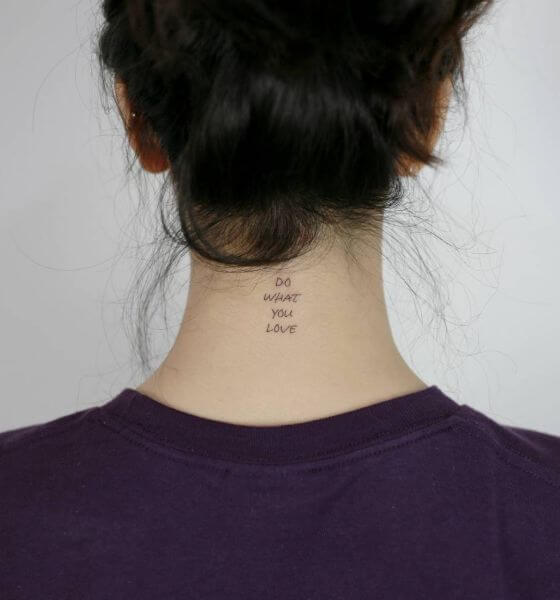 It's a fantastic quote tattoo idea for women who believe in themselves and follow their dreams. Make it a point to etch it somewhere; you'll see it again and again. It will serve as a constant reminder of your determination.

14. "Life Goes on" or "It Goes On" Quote Tattoo
A fantastic tattoo quote for women who are invariably positive and optimistic in their outlook on life. Get it etched somewhere where others can see it so that they can learn to be positive as well.

15. "Get busy living or get busy dying" Quote Tattoo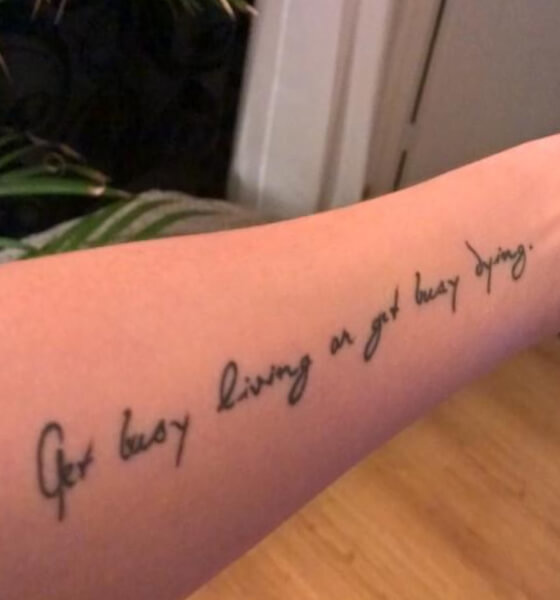 A very popular quote from the blockbuster movie "Shawshank Redemption." If you have watched this movie, then you'll know how powerful and impactful this Quote is. Get this one etched on your arm or ribs.

16. "Walk by Faith, Not by Sight" Quote Tattoo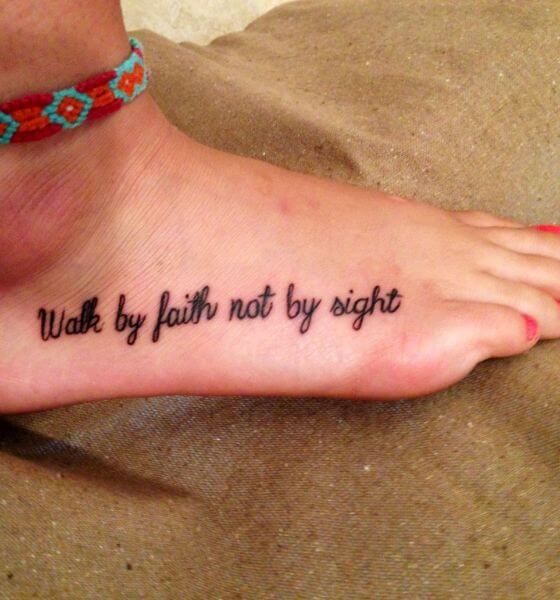 Another faith tattoo that brilliantly expresses your beliefs. Get it tattooed on your arm or wherever you want.

17. "Que Sera Sera" Quote Tattoo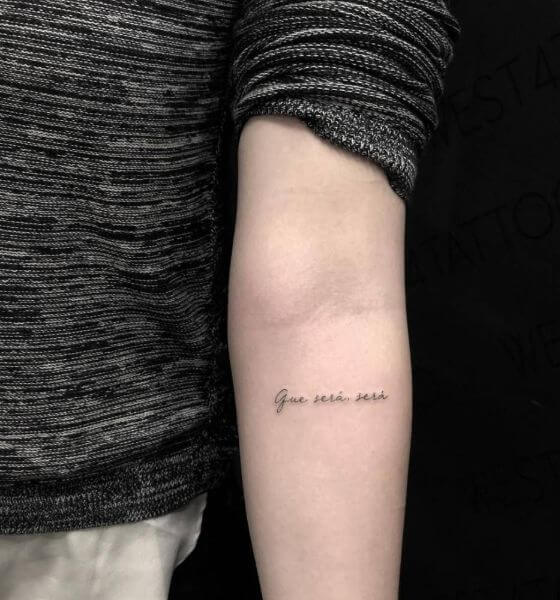 "Que sera, sera" is an Italian phrase that translates as 'whatever will be, will be.' The phrase became a significant part of the lexicon when Doris Day's song 'Que Sera, Sera' received widespread acclaim.

18. "अनुगच्छतु प्रवाह" Quote Tattoo for Girls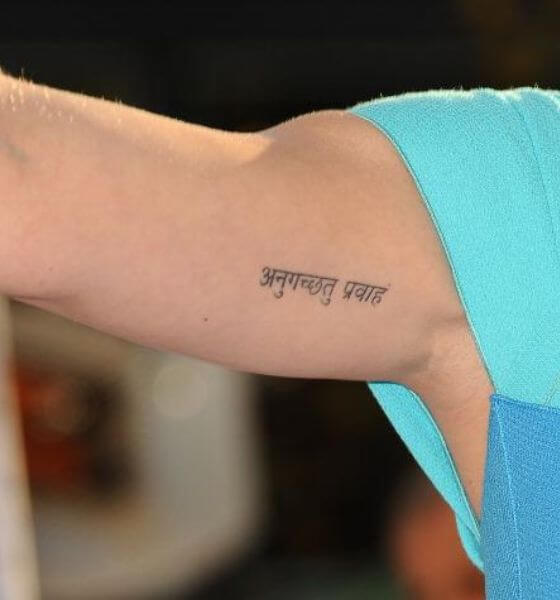 "अनुगच्छतु प्रवाह" is a Sanskrit phrase that translates to "Go with the flow." This Sanskrit quote tattoo is made famous by Katy Perry. If you also believe the same, then this Tattoo could be the perfect pick for you.

19. "This Too Shall Pass" Quote Tattoo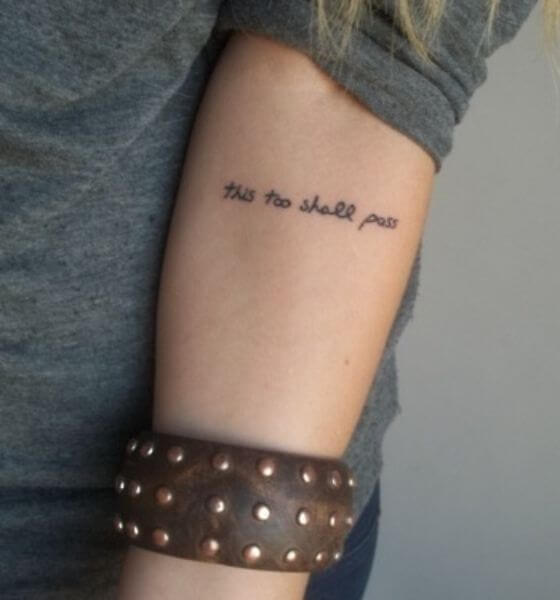 It is one of the most thoughtful quote tattoo ideas for women who understand that everything in the world, including their own existence, is ephemeral. This Quote is ideal for maintaining a positive attitude in the face of adversity because it will remind you that any adversity is temporary and will soon be gone.

20. "Count every beautiful thing" Quote Tattoo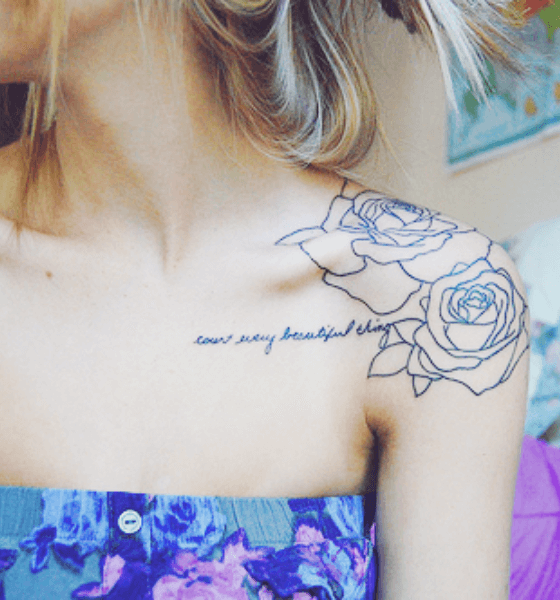 Finally, "count every beautiful thing." It's an incredible quote that will constantly remind you to be thankful for all the good things in life. Whether you believe it or not, counting your blessings allows you to manifest more happiness in your life. And having it permanently tattooed on your body will allow you to have a lot of it.
So, there you have it: the 20 best quote tattoo ideas for women to get you started. Now, let's take a look at some critical considerations you should think about before getting a quote tattoo. Yes, there are a few things you should know before getting quote tattoos on your body. Read on to know what you should consider before getting a quote tattoo.
Let's get started…

Important Considerations Before Getting Quote Tattoo
#1. Find a tattoo artist who is well-versed in tattoo quotes or phrases. You would want to collaborate with an artist who is skilled at drawing scripts and letters. Make sure you see samples of their work ahead of time. Because the lettering for these tattoos will be small, you'll want an artist who knows what they are doing and doesn't let the letters run together.
#2. Make sure that the lettering you select is of a legible style and font. Of course, if you don't want the words easily readable, you can choose to get it done with a difficult-to-read script.
#3. The use of too-small lettering is discouraged. Over time, small letters will run together and become impossible to read. So avoid using lettering that is too small.
#4. Think in advance about where you want the Tattoo to go on your body. This is always important for a tattoo, but it is especially important for a quote tattoo. The human body tends to change as we age. Some parts of the body expand, while others contract and sag. Consider what will happen to the body area where the lettering will be placed as you age.
#5. When choosing different language quotes or phrases, make sure you spend some time researching their meaning and other aspects.
#6. Remember that Tattoo is a permanent mark, and it is difficult to remove a tattoo once it is done. And an erroneously etched tattoo can be a source of disappointment for you.
#7. Take into account in advance what color ink will work best for your tattoo phrase. In most cases, the artist will advise you to use black. That is a color that will stand out the most and last the longest. It is also the color that will fade the least.
#8. Although you may prefer long phrases or quotes, shorter inspirational quotes are generally preferable. Long phrases can only be etched in a few places on the body. With a shorter phrase, you will have more options.
#9. Think about just what you want the Tattoo to say. Quote tattoos are more than just body art; they also reflect your personality. It is a way of expressing to the world who you are and what you strongly believe in life. As a matter of fact, it's critical to consider what the words mean and whether you'll be wearing the same message even when you're older.
#10. Last but not least, stick to what you choose. Yes, it is imperative; more often than not, people start to get bored of their tattoo quotes. I can't stress enough on doing enough research before you get a tattoo quote etched on your body. This is going to be a saying or quote for the lifetime; that's why it is critical to give it a nice thought before getting it!
Wrapping it up…
That concludes our discussion of phrase or Quote tattoo ideas for women. Hopefully, this article helps you get some inspiration for your quote or phrase body artwork. Quote tattoos are undeniably an excellent way to make a statement. All you need to do is find a tattoo that is both personal and meaningful to you.
Happy Tattooing… ☺ ☺
Please follow and like us: